Agrochemicals Market Analysis Report 2023-2027:
The Agrochemicals Market size is estimated to grow by USD 49 million between 2022 and 2027 accelerating at a CAGR of 4.48% during the forecast period. The growth of the market depends on several factors, including the increasing use of herbicides, the growing demand from developing countries, and the technological improvements leading to efficient methods of agriculture.
This agrochemicals market research report extensively covers market segmentation by product (fertilizers and pesticides), application (cereals and grains, oilseeds and pulses, and fruits and vegetables), and geography (APAC, North America, Europe, South America, and Middle East and Africa). It also includes an in-depth analysis of drivers, trends, and challenges. 
What will be the Size of the Agrochemicals Market During the Forecast Period?
To learn more about this report, Request Free Sample
Agrochemicals Market Definition
Agrochemicals are broadly classified into two categories: fertilizer and pesticide. Fertilizers are segmented into three categories, which include nitrogenous, phosphatic, and potassic. Different segments of pesticides include insecticides, herbicides, fungicides, and others.
Agrochemicals Market Segmentation by Product, Application,  Geography
Product Analysis
The market share growth by the fertilizers segment will be significant during the forecast period. The fertilizers segment shows a gradual increase in the market share of USD 101.97 million in 2017 and continues to grow by 2023. Fertilizers can be further classified as synthetic and biofertilizers. Synthetic fertilizers are subdivided into nitrogenous, phosphatic, and potassic fertilizers. Nitrogenous fertilizers accounted for the largest share of the fertilizers segment in 2020. Nitrogen is one of the vital macronutrients required for the growth and development of crops. Even though there is an abundance of nitrogen in the atmosphere, only some plants have the capability to absorb nitrogen. Nitrogen ensures fast growth and improves the color and texture of plants. It improves the overall productivity of crops as well. Urea, ammonia, and ammonium nitrate are some of the commonly used nitrogenous fertilizers. The use of fertilizers for the production of cereals and grains, fruits, vegetables, and oilseeds will have a positive impact on segment growth during the forecast period.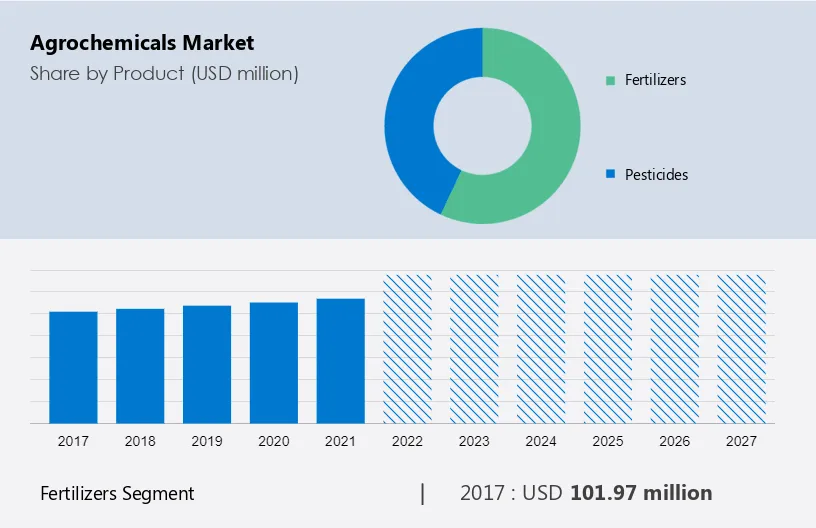 Get a glance at the market contribution of various segments Request Free Sample
Phosphate accounted for the second-largest segment of the global fertilizers market in 2020. Phosphorus is an essential macronutrient that ensures optimum crop production. It is a key constituent of nucleic acid and regulates protein synthesis in plants. It helps in the formation of compounds, including sugars, starches, and oils. Diammonium phosphate (DAP), monoammonium phosphate (MAP), and superphosphate are some of the forms of ammonium phosphate salts applied to plants to overcome phosphorus deficiency in the soil. Extensive use of these salts as fertilizers to cultivate grains and oilseeds is expected to drive fertilizers segment growth during the forecast period.
Application Analysis
The crop-based application includes grains and cereals, pulses and oil seeds, and fruits and vegetables. The increasing consumption of crops such as fruits and vegetables by consumers and increased demand for safe cultivation methods accelerate the demand for agrochemicals. Crops such as rice, wheat, barley, and other cereals and grains crops form an essential part of the traditional diet. The demand for agrochemicals to grow these types of crops is high. Farmers around the world, especially in Europe, North America, and APAC, are demanding agrochemical products. This has escalated the demand for insecticides required for the cultivation of cereals and grains. Since cereals and grains are considered staple crops globally, they have an increased demand due to the rising global population. In addition, farmers in developing regions such as APAC and South America are witnessing an increase in the demand for agrochemical products such as insecticides. Such factors are expected to drive the growth of the grains and cereals segment in the global agrochemicals market during the forecast period.
Regional Analysis
APAC is projected to contribute 50% of market growth by 2023. Technavio's analysts have elaborately explained the regional trends and drivers that shape the market during the forecast period.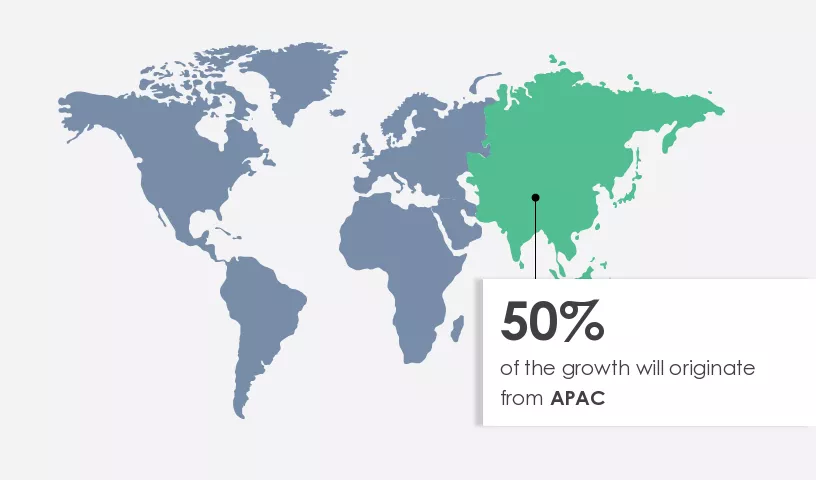 For more insights on the market share of various regions Request Free Sample
Large areas of farmland and good soil fertility, combined with the growing demand for food grains and an ever-rising population, make agriculture one of the largest industries in APAC. The region accounts for almost 60% of the global population and 30% of the total available land globally. It has grown to be not only the largest agrochemicals market across the globe but also the fastest-growing market for pesticide consumption. This growth is attributed to the increasing practice of modern farming procedures and the growing use of agrochemicals. 
Covid Recovery Analysis
In 2020, the COVID-19 outbreak adversely impacted the majority of the industries in the region. In early 2020, the COVID-19 pandemic led to the closure of international trade, which resulted in the decreased demand for agrochemicals from importers, which reduced the growth of the market in APAC. However, a significant in-house demand for fertilizers helped companies to sustain the growth of the market in 2020. Furthermore, the reopening of international trade in Q4 2020 is expected to boost the demand for agrochemicals in APAC during the forecast period.
Agrochemicals Market: Key Drivers, Trends, Challenges
Key Agrochemicals Market Drivers
Increasing the use of herbicides is a major agrochemicals market driver. Investments are being made to develop more effective and environmentally friendly herbicides. These herbicides are designed to decompose quickly after application. They are used in various crops, including cereals, grains, fruits, vegetables, oilseeds, and pulses. The growing demand for fruits and vegetables driven by health consciousness is boosting the use of herbicides in agriculture.
There have been protests against harmful herbicides, but their affordability compared to alternative products keeps them in the market. Industry players are working on bio-based herbicides that are eco-friendly but more expensive than chemical-based options for controlling resistant weeds. These factors are expected to drive market growth in the forecast period.
Significant Agrochemicals Market Trends
The implementation of Integrated Pest Management (IPM) as a new method of crop protection is a significant agrochemicals market trend. Pest control involves almost 35% of a farmer's crop production cost, and pests cause losses of 11%-32% currently. Pesticides play a very important role in controlling pests. However, rising pest resistance to pesticides and environmental and health concerns have led to the reduced use of chemical pesticides.
IPM can be defined as a strategy involving specific procedures for pest prevention in an agricultural environment. It is a prevention method that creates an inhospitable environment for pests through systemic resistance and proper operation design. IPM is an integration of multiple control methods involving inspection, monitoring, and reporting, and a pesticide is only applied when it is assumed to be most effective during a pest's life cycle. Such developments and innovations are expected to positively impact the growth of the market during the forecast period.
Major Agrochemicals Market Challenges
The popularity of organic farming will impede the market growth. Organic crops and crop-based foods have 19%-68% higher levels of antioxidants like polyphenolics compared with conventionally grown crops. These antioxidants reduce the risk of chronic diseases, which include neurodegenerative and cardiovascular diseases and even certain types of cancers. Another point is lower levels of toxic metals and minerals found in organic crops. For instance, cadmium, lead, and mercury is a few metal contaminants for which the European Commission has set certain permissible contamination levels. These contaminants are approximately 48% lower in organic crops than in conventionally grown crops. It is also found that nitrogen is 11% lower, nitrate is 29% lower, and nitrite is 90% lower in concentrations in organic crops than in conventionally grown crops. Organic farming leads to less use of agrochemicals, which is a significant factor influencing health-conscious consumers. Increasing awareness among people will have a greater impact on the agrochemical industry during the forecast period.
Key Agrochemicals Market Customer Landscape
The market research report includes the adoption lifecycle of the market, covering from the innovator's stage to the laggard's stage. It focuses on adoption rates in different regions based on penetration. Furthermore, the report also includes key purchase criteria and drivers of price sensitivity to help companies evaluate and develop their growth strategies.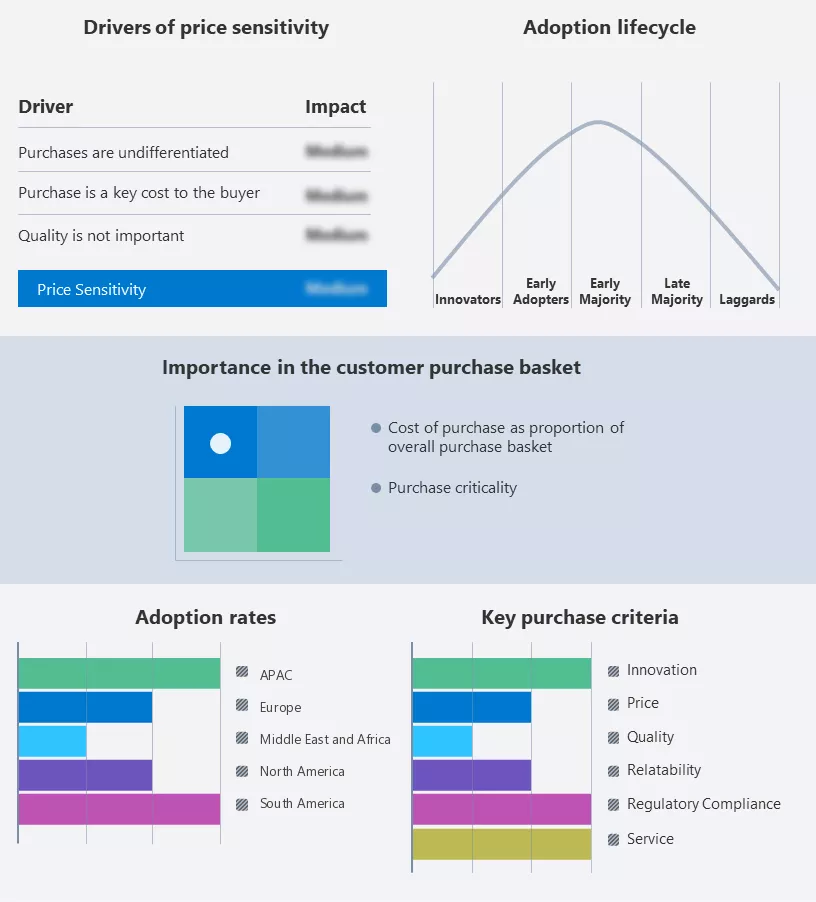 Global Agrochemicals Market Customer Landscape
Who are the Major Agrochemicals Market Companies?
Companies are implementing various strategies, such as strategic alliances, partnerships, mergers and acquisitions, geographical expansion, and product/service launches, to enhance their presence in the market.
American Vanguard - The company offers green solutions and precision ag technologies. Also, through this segment, the company focuses on the development, manufacturing, and marketing of products for agricultural and commercial use.
The agrochemicals market report also includes detailed analyses of the competitive landscape of the market and information about 15 market companies, including:
Archer Daniels Midland Co.
Arysta LifeScience Corp.
BASF SE
Bayer AG
Cargill Inc.
CF Industries Holdings Inc.
Corteva Inc.
Drexel Chemical Co.
Evonik Industries AG
FMC Corp.
Gharda Chemicals Ltd.
Haifa Group
Koch Industries Inc.
Nissan Chemical Corp.
Nufarm Ltd.
Nutrien Ltd.
Rotam CropSciences Ltd.
Syngenta Crop Protection AG
Yara International ASA
Qualitative and quantitative analysis of companies has been conducted to help clients understand the wider business environment as well as the strengths and weaknesses of key market players. Data is qualitatively analyzed to categorize companies as pure play, category-focused, industry-focused, and diversified; it is quantitatively analyzed to categorize companies as dominant, leading, strong, tentative, and weak.
Segment Overview
The agrochemicals market report forecasts market growth by revenue at global, regional & country levels and provides an analysis of the latest trends and growth opportunities from 2017 to 2027. 
Product Outlook ( USD Million, 2017 - 2027)
Application Outlook ( USD Million, 2017 - 2027)

Cereals and grains
Oilseeds and pulses
Fruits and vegetables

Region Outlook ( USD Million, 2017 - 2027)

Europe

U.K.
Germany
France
Rest of Europe

Middle East & Africa

Saudi Arabia
South Africa
Rest of the Middle East & Africa
Agrochemicals Market Scope

Report Coverage

Details

Page number

167

Base year

2022

Historic period

2017-2021

Forecast period

2023-2027

Growth momentum & CAGR

Accelerate at a CAGR of 4.48%

Market growth 2023-2027

USD 49 million

Market structure

Fragmented

YoY growth 2022-2023(%)

3.95

Regional analysis

APAC, North America, Europe, South America, and Middle East and Africa

Performing market contribution

APAC at 50%

Key countries

US, China, India, Japan, and Brazil

Competitive landscape

Leading Companies, Market Positioning of Companies, Competitive Strategies, and Industry Risks

Key companies profiled

American Vanguard Corp., Archer Daniels Midland Co., Arysta LifeScience Corp., BASF SE, Bayer AG, Cargill Inc., CF Industries Holdings Inc., Corteva Inc., Drexel Chemical Co., Evonik Industries AG, FMC Corp., Gharda Chemicals Ltd., Haifa Group, Koch Industries Inc., Nissan Chemical Corp., Nufarm Ltd., Nutrien Ltd., Rotam CropSciences Ltd., Syngenta Crop Protection AG, and Yara International ASA

Market dynamics

Parent market analysis, Market growth inducers and obstacles, Fast-growing and slow-growing segment analysis, COVID 19 impact and recovery analysis and future consumer dynamics, Market condition analysis for forecast period

Customization purview

If our report has not included the data that you are looking for, you can reach out to our analysts and get segments customized.
What are the Key Data Covered in this Agrochemicals Market Research Report?
CAGR of the market during the forecast period
Detailed information on factors that will drive the growth of the market 

 

between 2023 and 2027
Precise estimation of the size of the market  size and its contribution of the market in focus to the parent market
Accurate predictions about upcoming trends and changes in consumer behavior
Growth of the market industry across APAC, North America, Europe, South America, and Middle East and Africa
Thorough analysis of the market's competitive landscape and detailed information about companies
Comprehensive analysis of factors that will challenge the growth of agrochemicals market companies
We can help! Our analysts can customize this report to meet your requirements. Get in touch