The IT market in Argentina is estimated to grow at a CAGR of 8.3% between 2022 and 2027. The size of the market is forecast to increase by USD 6,689.71 million. The growth of the market depends on several factors, including the increased adoption of cloud-based services, the increase in IT consolidation and IT modernization, and the increased adoption of bring your own device (BYOD) concept.
This report extensively covers market segmentation by end-user (BFSI, IT and telecom, government, healthcare, and others), and type (services, software, and hardware). It also includes an in-depth analysis of drivers, trends, and challenges. Furthermore, the report includes historic market data from 2017 to 2021.
What will be the size of the IT market In Argentina During the Forecast Period?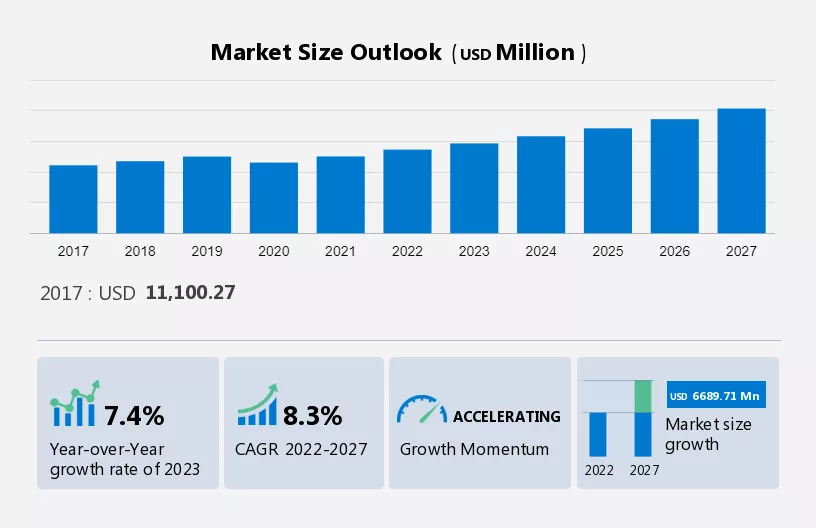 To learn more about this report, Download Report Sample
Parent Market Analysis
Technavio categorizes the IT market in Argentina as a part of the global IT consulting and other services market within the global IT services market. The super parent market, the global IT services market, covers companies offering IT consulting and system integration services, application services, electronic data processing services, business process outsourcing services, infrastructure services, and Internet services. Our research report has extensively covered external factors influencing the parent market growth during the forecast period.
IT market In Argentina: Key Drivers, Trends, Challenges, and Customer Landscape
The increased adoption of cloud-based services is notably driving the market growth, although factors such as the shortage of skilled IT professionals may impede the market growth. Our researchers analyzed the data with 2022 as the base year, along with the key drivers, trends, and challenges. A holistic analysis of drivers will help companies refine their marketing strategies to gain a competitive advantage.
Key IT market driver In Argentina
The increasing adoption of cloud-based services is a key factor behind the growth of the Argentina information technology market. The cost efficiency, flexibility, and scalability offered by cloud-based solutions are essential to digitalization. Cloud-based solutions are helping Argentinian companies overhaul their business models by leveraging technologies such as big data, AI, and IoT that provide a robust platform for the digital transformation of their business. Cloud-based solutions are highly accepted among SMEs and large enterprises in Argentina. SMBs are spending money on public cloud-based data storage services. Software as a Service (SaaS) and large enterprises prefer to outsource their private cloud operations to IT service providers.
The increasing digitization in end-user segments in the country has led software vendors and service providers operating in the market to include cloud-based solutions in their offerings. These solutions have eliminated the need for the procurement and installation of IT infrastructure for enterprises in Argentina. As a result, enterprises benefit from process alignment and business consistency, which enable internal and external users to access applications from anywhere. The pay-as-you-go subscription model of infrastructure as a service, platform as a service, and software as a service drives the adoption of cloud-based solutions and is anticipated to facilitate the growth of the IT market in Argentina during the forecast period.
Significant IT market trend In Argentina
Increasing adoption of mobility solutions is a major trend in the Argentina information technology market. Mobility enables e-government initiatives in tier-2 and tier-3 urban and rural areas that lack IT infrastructure. Therefore, mobility enables uninterrupted data exchange. Financial inclusion can be achieved through mobile solutions, making m-commerce, mobile banking, and mobile money accessible to those without access to a bank. The unprecedented growth of the smartphone market will lead to an increase in the number of users of mobile applications.
Mobile application developers need IT services such as backend as a service (BaaS) and web-integrated development environments (IDE) for innovative mobile application development solutions. IT services such as BaaS solutions help mobile app developers reduce application development time, improve front-end tasks such as design and content development, and enhance user interface (UI) design for a better user experience. helps. Therefore, the above factors are expected to drive the growth of Argentina's IT market during the forecast period.
Major IT market challenge In Argentina 
The shortage of qualified IT professionals is a major challenge to the growth of the Argentina information technology market. Argentinian companies are currently facing a serious shortage of qualified IT specialists. They face significant challenges in recruiting and retaining employees in their IT departments. A lack of professional qualifications is reducing the number of candidates for vacancies. As a result, small businesses and public sector companies face difficulties in recruiting the right candidates. The recruitment process relies heavily on online platforms. The company publishes job vacancies on its own website or relevant career portals.
Moreover, the number of IT-related job vacancies increased by 2% in 2022 compared with the previous year. However, these positions have lain vacant for nearly five months. The lack of skilled IT professionals in the areas of cloud, AI, Big Data, and IoT can severely impact the digital transformation initiatives of enterprises in Argentina. This can hamper the ability of service providers to meet the increasing demand from the client base, which can adversely affect the IT market in Argentina during the forecast period.
Key IT market In Argentina Customer Landscape
The report includes the adoption lifecycle of the market, covering from the innovator's stage to the laggard's stage. It focuses on adoption rates in different regions based on penetration. Furthermore, the report also includes key purchase criteria and drivers of price sensitivity to help companies evaluate and develop their growth strategies.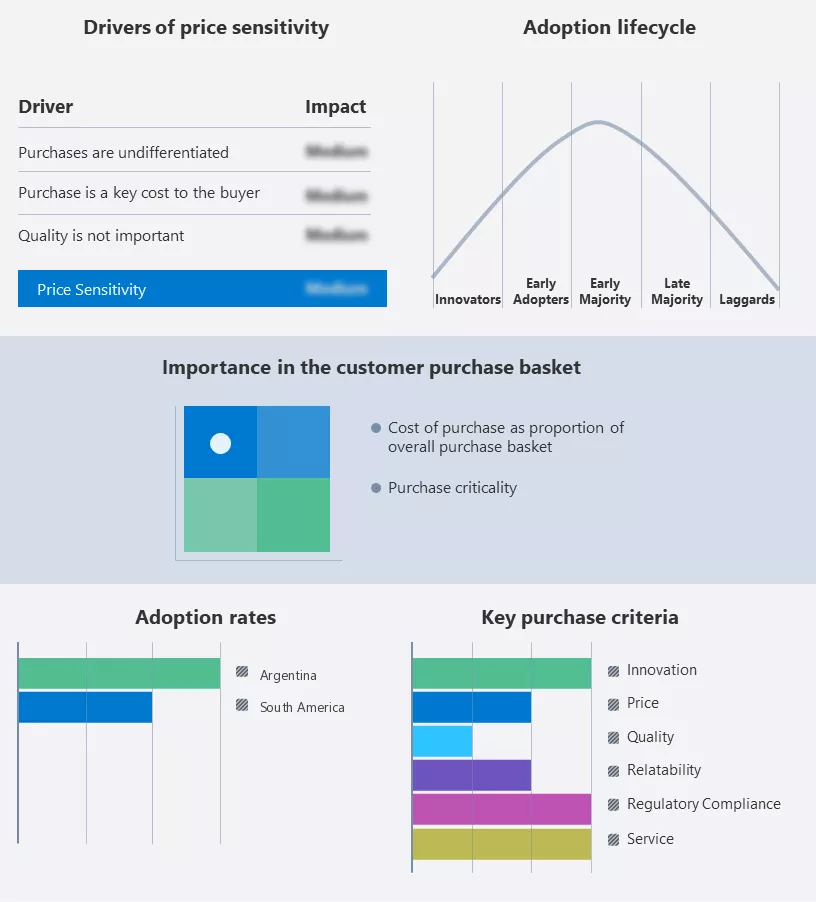 Global IT market in Argentina Customer Landscape
Who are the Major IT market Vendors in Argentina?
Vendors are implementing various strategies, such as strategic alliances, partnerships, mergers and acquisitions, geographical expansion, and product/service launches, to enhance their presence in the market.
Accenture - The company offers IT solutions such as data and analytics, finance, and the metaverse.  
The report also includes detailed analyses of the competitive landscape of the market and information about 15 market vendors, including:
Amadeus IT Group SA
Apple Inc.
AVEVA Group Plc
Capgemini Service SAS
Cisco Systems Inc.
Dassault Systemes SE
Dell Technologies Inc.
Fujitsu Ltd.
Hewlett Packard Enterprise Co.
Hexagon AB
Infosys Ltd.
International Business Machines Corp.
Lenovo Group Ltd.
Microsoft Corp.
Oracle Corp.
Qualitative and quantitative analysis of vendors has been conducted to help clients understand the wider business environment as well as the strengths and weaknesses of key market players. Data is qualitatively analyzed to categorize vendors as pure play, category-focused, industry-focused, and diversified; it is quantitatively analyzed to categorize vendors as dominant, leading, strong, tentative, and weak.
What are the Fastest-Growing Segments in the IT market In Argentina?
The market share growth by the BFSI segment will be significant during the forecast period. The rapid transformation of the BFSI sector in terms of updates of legacy IT infrastructure and systems to implement new and advanced technologies that cater to consumer needs is one of the key factors that will drive the growth of the Argentina IT market in the BFSI segment during the forecast period.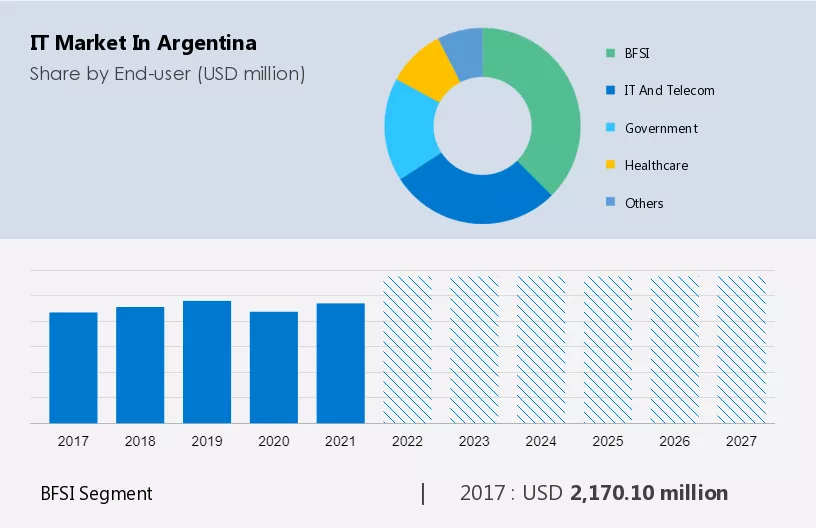 Get a glance at the market contribution of various segments Request a PDF Sample
The BFSI segment was valued at USD 2,170.10 million in 2017 and continued to grow by 2021. Companies operating in the banking, financial services, and insurance (BFSI) sector are investing in IT solutions to reduce costs, find new revenue-generating streams, improve security and compliance systems, and make customer support more efficient. BFSI companies in Argentina are undertaking digital transformation initiatives, thereby offering good potential for software and IT service providers. BFSI companies in Argentina are investing significantly in numerous technology and innovation trends that are emerging in the country. These factors will facilitate Argentina's IT market growth during the forecast period.
Segment Overview
The report forecasts market growth by revenue at global, regional, and country levels and provides an analysis of the latest trends and growth opportunities from 2017 to 2027. The market has been segmented by End-user (BFSI, IT and telecom, Government, Healthcare, and Others), and Type (Services, Software, and Hardware).
End-user Outlook (USD Million, 2017 - 2027)

BFSI
IT and telecom
Government
Healthcare
Others
Type Outlook (USD Million, 2017 - 2027)

Services
Software
Hardware
IT market Scope In Argentina

Report Coverage

Details

Page number

145

Base year

2022

Historic period

2017-2021

Forecast period

2023-2027

Growth momentum & CAGR

Accelerate at a CAGR of 8.3%

Market growth 2023-2027

USD 6,689.71 million

Market structure

Fragmented

YoY growth 2022-2023(%)

7.4

Competitive landscape

Leading Vendors, Market Positioning of Vendors, Competitive Strategies, and Industry Risks

Key companies profiled

Accenture Plc, Amadeus IT Group SA, Apple Inc., AVEVA Group Plc, Capgemini Service SAS, Cisco Systems Inc., Dassault Systemes SE, Dell Technologies Inc., Fujitsu Ltd., Hewlett Packard Enterprise Co., Hexagon AB, Infosys Ltd., International Business Machines Corp., Lenovo Group Ltd., Microsoft Corp., Oracle Corp., SAP SE, Siemens AG, Telefonaktiebolaget LM Ericsson, and TOSHIBA CORP

Market dynamics

Parent market analysis, Market growth inducers and obstacles, Fast-growing and slow-growing segment analysis, COVID-19 impact and recovery analysis and future consumer dynamics, and Market condition analysis for the forecast period.

Customization purview

If our report has not included the data that you are looking for, you can reach out to our analysts and get segments customized.
What are the Key Data Covered in this IT market In Argentina In Country Report?
CAGR of the market during the forecast period
Detailed information on factors that will drive the growth of the IT market in Argentina between 2023 and 2027
Precise estimation of the size of the IT market in Argentina and its contribution to the parent market
Accurate predictions about upcoming trends and changes in consumer behavior
Growth of the market across Argentina
A thorough analysis of the market's competitive landscape and detailed information about vendors
Comprehensive analysis of factors that will challenge the growth of IT market vendors in Argentina
We can help! Our analysts can customize this report to meet your requirements. Get in touch