Autonomous Vehicle Market: Trends, Growth and Future Prospects
The Global Autonomous Vehicles Market size is estimated to grow at a CAGR of 38.45% between 2023 and 2027. The market size is forecast to increase by USD 319.41 billion. The market for autonomous vehicles is driven by factors such as intelligent transportation systems, the development of autonomous cabs for parcel delivery, and the adoption of cloud-based HD maps. US, China, Japan, Germany, and France are the top countries contributing to the growth of the market. The US held the largest market share in 2021 projecting an outstanding revenue of USD 16.80 billion.
Among many market players, Renault Group is a renowned player in the market. The company offers autonomous vehicles such as advanced driver assistance systems. The global AV market size is growing, fueled by substantial funding, particularly for companies like Pony.ai, exploring AV technologies in Asia-Pacific nations and the UAE. Besides analyzing the current market scenario, our report examines historic data from 2017 to 2021.
What will be the Size of the Autonomous Vehicles Market During the Forecast Period?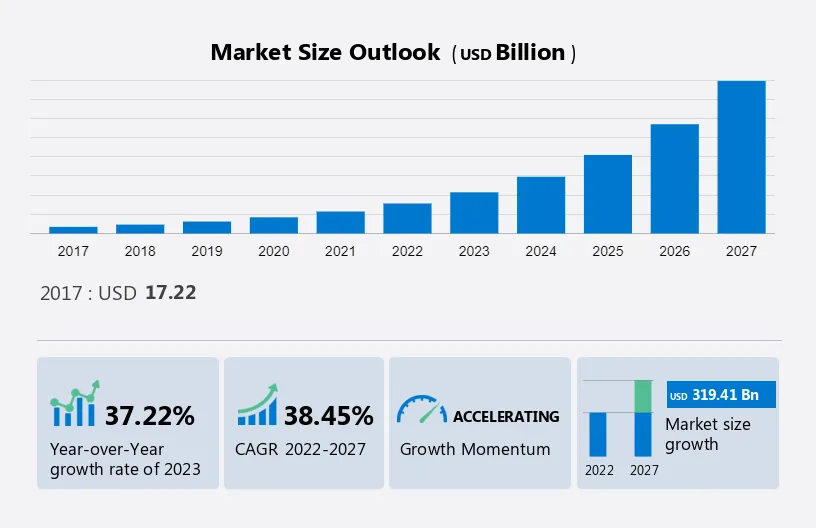 To learn more about this report, Request Free Sample
Market Overview
This autonomous cars industry research report extensively covers market segmentation by application (transportation and logistics and military and defense), vehicle type (autonomous passenger car and autonomous commercial vehicles), and geography (North America, Europe, APAC, South America, and the Middle East and Africa). The global autonomous vehicle market size is projected to grow at a rapid pace in the coming years.
Autonomous vehicles are equipped with advanced technologies that allow them to operate without human intervention.
Companies like Tesla, Waymo, and Uber are major players in the autonomous vehicle market.It also includes an in-depth analysis of drivers, trends, and challenges. 
The automotive industry has been witnessing a transformative shift with the advent of Autonomous Vehicles (AVs). Countries like South Korea, China, Spain, Italy, and others are embracing this technology, recognizing its potential to revolutionize transportation. The pandemic accelerated the adoption of AVs, emphasizing safety concerns and the value they offer to consumers. Amidst uncertainty, AV manufacturers are striving to enhance performance, minimize costs, and address vehicle safety issues.
Types of Autonomous Vehicles
There are various autonomous car in the market. Furthermore, the SoCs used in self-driving cars market ( autonomous cars market) can also power vehicles with additional Level 2 and Level 1 self-driving capabilities.
For instance, Self-driving cars play a crucial role in the evolution of mobility as a Service (MaaS) platforms. AVs are expected to redefine urban mobility by providing efficient, accessible, and cost-effective transportation options. Additionally, autonomous technology has the potential to optimize road traffic flow, minimize congestion, and enhance overall mobility and transportation efficiency.The emergence of shared mobility services and ride-hailing platforms leveraging electric and autonomous technology is transforming urban transportation.Self-driving cars aligns with sustainability goals, reducing greenhouse gas emissions and reliance on fossil fuels, thus contributing to a cleaner environment and future.Hence, the increasing demand for driver assistance systems self-driving cars market is expected to be a crucial driver of the autonomous cars market during the forecast period.
Autonomous Vehicles Market Application Analysis
The autonomous cars industry share growth by the transportation and logistics segment will be significant during the forecast period. The use of autonomous vehicles for logistics is expected to grow significantly during the forecast period. Many manufacturers, autonomous technology developers, and system integrators have been evaluating the commercial viability of fully autonomous buses for transportation and logistics. Different operational modes, such as line-based transit, shuttle services, and others, are under consideration for autonomous buses.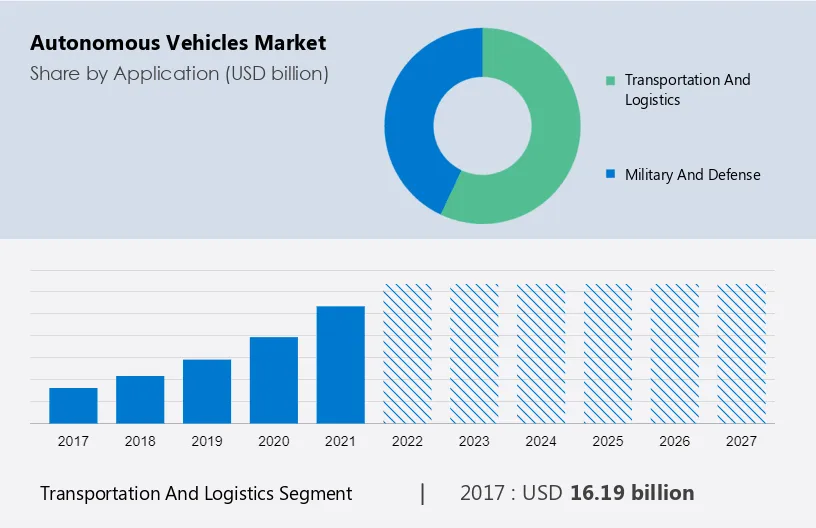 Get a glance at the market contribution of the segments, Request Free Sample
The transportation and logistics segment showed a gradual increase in market share with USD 16.19 billion in 2017 and continued to grow by 2021. The newly emerging modes of public transportation are expected to negatively impact the conventional bus transit system, which will act as a driving force for the deployment of fully autonomous transportation vehicles. Fully autonomous buses will initially find uptake in the public transportation sector as mini-busses that serve as shuttles. Such fully autonomous buses will have small capacities in the range of 12-18 people, enabling them to have a higher frequency in terms of the number of trips.
Military and defence vehicle segments that operate autonomously are known as unmanned ground vehicles (UGVs), which are specifically design for various military operations like transportation, attack, search-and-rescue, and intelligence, surveillance, and reconnaissance (ISR). These UGVs can be remotely controlled or fully autonomous. With the aim of reducing the load on soldiers by keeping them away from logistics convoys, various companies worldwide are implementing automated technology in military and defense operations. For instance, s the AutoMate Convoy Module by Lockheed Martin, which is a hardware and software retrofit system that can convert military trucks into remote-controlled or self-driving cars market. Robots are becoming increasingly important across multiple industries due to their ability to be programmed to perform operations independently and with precision.
The current landscape of transportation is undergoing a profound transformation due to the advent of autonomous vehicles (AVs), intersecting various industries such as automobiles, computing, and vehicle safety technologies. This shift offers an array of market opportunities driven by the escalating demand for safer and more efficient modes of transportation. Analysts project exponential growth within the global autonomous vehicle sector, underpinned by technological advancements and evolving consumer preferences, indicating a substantial market size on the horizon. Features like adaptive cruise control exemplify the disruptions reshaping traditional automotive norms, enhancing driving comfort and safety through sophisticated sensor and control units integration. In this fiercely competition market, both established automotive giants and tech conglomerates vie for supremacy, emphasizing sleek design aesthetics and cutting-edge comfort features to enhance user experience. The commitment to prioritizing passenger comfort and safety remains central to AV development, fostering interior designs that deliver a hospitable and secure travel experience, integrating advanced ergonomic designs and state-of-the-art technologies.
Discussions on business email sphere revolve around fortifying safety measures for AVs, leveraging advanced sensors, AI algorithms, and real-time data analysis to ensure robust vehicle safety standards and reliability. The trajectory of autonomous vehicles signifies a pivotal moment in transportation history, promising a future characterized by safer, more efficient, and technologically advanced modes of travel, reshaping mobility and fostering innovation across various sectors. This rapidly expanding landscape of AVs not only seeks to redefine transportation but also reimagines our relationship with technology and safety standards. For deeper insights or a comprehensive understanding of this groundbreaking industry, delving into available resources or consulting with experts actively involved in shaping this transformative journey is encouraged.
However, the innovation of electric powertrains, autonomous technology, and innovative mobility solutions is revolutionizing the passenger car industry, paving the way for a future of safer, more efficient, and sustainable transportation.
Autonomous Vehicles Market Vehicle Type Analysis 
Based on vehicle type, the market is fragmented into autonomous passenger car and autonomous commercial vehicles. The autonomous passenger car segment dominates the market. For instance, the growing demand for safety systems and driver assistance systems has led to increased adoption of ADAS, eCall, and other safety systems, which form an integral part of a level 3 autonomous system. Maximum vehicular accidents are happening due to human error. Therefore, to reduce the number of accidents, OEMs have been supported by the local governments in the development and testing of autonomous vehicles, which eliminate human error and reduce the number of car accidents. Increased traffic congestion and parking area requirements in cities have led to the adoption of autonomous vehicles that are capable of featuring traffic jam assist and park assist. Increasing disposable income and rapid urbanization have led to increased demand for autonomous vehicles, which are still in the premium vehicle segment and are not accessible to less affluent income groups.
Autonomous Vehicles Market Region Analysis
North America is estimated to contribute 37% to the growth of the global market during the forecast period. Developed regions such as North America and Europe are at the forefront of innovation of  self-driving cars market  Technavio's analysts have elaborately explained the regional trends and drivers that shape the market during the forecast period.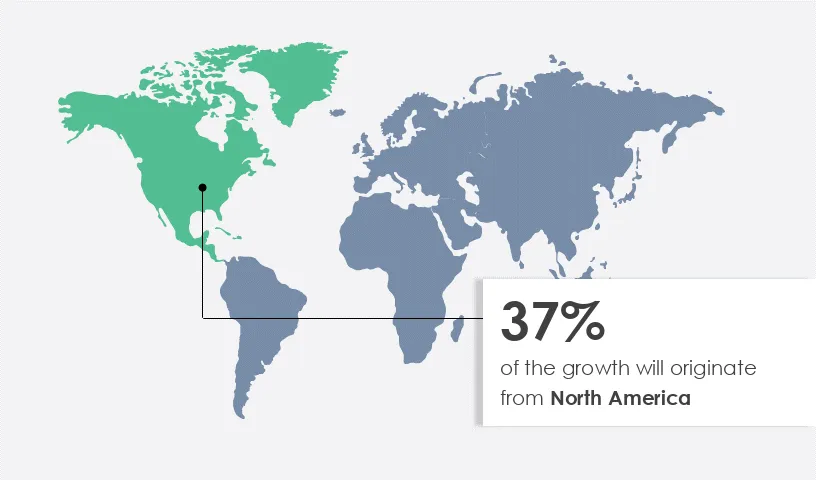 For more insights on the market share of various regions Request Free Sample
Global Adoption and Market Penetration
In 2022, the US led the autonomous vehicles market in North America, with Canada and Mexico also contributing. The demand for safety and convenience drives the transition to autonomous technology in the region. The integration of multiple ADAS systems is enhancing the vehicle's safety level to levels needed to reduce the growing number of fatalities from road accidents. Major car manufacturers invest in research, development, and partnerships, fueling innovation and testing of autonomous vehicles. Tesla, Amazon, and Ford are among the companies developing technology for self-driving cars in market.
The market for AVs is expanding rapidly, with various regions presenting unique opportunities. South Korea, for instance, is focusing on fleet additions equipped with advanced safety features to cater to rising consumer demands. China is investing heavily in AV research and development, with companies like Waymo, Nvidia, and Toyota Motor Corporation competing to capture market share. Spain, Italy, and other European countries are also exploring AV applications, recognizing the potential to reduce human errors and enhance road safety.China autonomous stands at the forefront of AV technology, with substantial investments and initiatives aimed at fostering innovation and widespread adoption.
Considerable investment goes into R&D to advance autonomous vehicle technology.Investments are made in infrastructure development to support autonomous vehicles, including the creation of smart road, traffic management systems, and 5G connectivity.
AVs encompass diverse types, from robo-taxis to high-tech vehicles, utilizing a combination of cutting-edge technologies. This complexity presents challenges in regulatory frameworks and infrastructure development, especially concerning road infrastructure and the path clearance of objects and pedestrians. However, AVs are poised to transform transportation on highways and urban areas, augmenting road infrastructure and minimizing disruption
For instance,Amazon's acquisition of Zoox focuses on connected car technologies, while Tesla's Autopilot system aims to enhance autonomy levels. These advancements are crucial for the market's growth of self-driving cars market in North America during the forecast period.
Future Outlook and Opportunities in the Autonomous Vehicle Market
AV technology aims to enhance road safety by reducing human error, which is a significant cause of accidents.
Ongoing advancements in sensors, AI, connectivity, and computing power will continue to enhance AV capabilities, making them more reliable, responsive, and adaptable to various environments and conditions.
AVs could contribute to environmental sustainability by optimizing routes, reducing emissions through efficient driving patterns, and facilitating the adoption of electric and alternative fuel-powered vehicles.
The adoption of autonomous vehicles could lead to a fuel efficiency improvement of up to 15%, resulting in significant reductions in greenhouse gas emissions.
However, future outlook for the autonomous cars market , self-driving cars market holds considerable promise and opportunities.
Autonomous Vehicles Market Dynamics
Autonomous Vehicles (AVs) have been making significant strides across the globe, reshaping transportation. Governments worldwide, including in Asia-Pacific nations, are navigating regulations to accommodate the emergence of AVs. With advancements in driving systems and computers technologies, AVs are revolutionizing various sectors, from taxis to businesses, offering potential advantages like reduced fuel consumption and enhanced road safety.
Key Autonomous Vehicles Market Drivers
The growth of the market for driverless car market innovations and autonomous driving technology is propelled by the automotive industry's concerted efforts to achieve autonomous cars market. Major automotive manufacturers such as Audi, Ford, Continental, Bosch, and Delphi have initiated projects geared towards the commercialization of autonomous vehicles. Simultaneously, non-automotive giants like Google and Apple are investing in this field, leveraging their expertise in communication technology. This drive has fostered collaborations between automotive OEMs, Tier-1 suppliers, and automotive electronics vendors to bolster their electronics and communication capabilities.
Driverless car market innovations refer to the advancements, technological developments, and breakthroughs in the field of autonomous cars market or self-driving cars. Driverless car innovations often involve integrating vehicle-to-vehicle (V2V) and vehicle-to-infrastructure (V2I) communication systems. Safety is a top priority for the development of autonomous car industry  with various sensors and systems in place to ensure secure operations.
The adoption of autonomous vehicles has the potential to revolutionize transportation by reducing accidents, congestion, and carbon emissions. Driverless car market innovations are continually evolving as technology progresses, with ongoing research, testing, and development aimed at improving the capabilities and reliability of autonomous vehicles industry while addressing safety, regulatory, and ethical considerations.
Industry Trends and Growth
The trend of utilizing autonomous vehicles industry  for cab and parcel delivery services is a significant factor contributing to the growth of the autonomous vehicle market. Cab and parcel delivery service providers largely depend on vehicles as their primary mode of transportation. This allows vehicle makers to generate significant amounts of data regarding various drive patterns, traffic patterns, road conditions, and other parameters. By subjecting autonomous vehicles to various simulations of real-life scenarios, automakers can test their safety and reliability, generating substantial data related to different driving and traffic patterns, road conditions, and other parameters.  Therefore, leading autonomous vehicle manufacturers have been concentrating on developing self-driving cars for cab and delivery services since 2017.
For instance, in July 2021, Ford Motor and Argo AI collaborated with Lyft Inc. to launch a self-driving ride-hailing service for self driving cars in market. The team plans to introduce nearly 100 self-driving hybrid Ford Escape SUVs in Austin and Miami by the end of 2021. Consequently, the increasing adoption of autonomous technology in cab and parcel delivery services is anticipated to be a crucial driving factor for the uptake of autonomous vehicles, thereby propelling the global autonomous cars industry growth during the forecast period.
AVs promise to revolutionize transportation, but their widespread adoption faces challenges. Safety concerns, particularly regarding software reliability and human errors, remain a significant issue. Manufacturers are continuously improving AV systems to minimize risks and enhance road safety. Additionally, the cost factor poses a challenge, although advancements in technology aim to reduce production costs, making AVs more accessible to consumers.
The timeline and availability of self-driving cars in the market are subject to technological advancements, regulatory approvals, and overcoming various safety and ethical considerations.For the most recent updates and progress in the self-driving car market, I recommend checking the latest news and developments from automotive companies and technology firms specializing in autonomous driving technologies.
Technological Advancements in Autonomous Vehicles
Technological advancements in the autonomous vehicle industry encompass several key , Advancements in LiDAR, radar, cameras, and ultrasonic sensors improve vehicle perception, enabling better object detection and navigation.
Machine learning capabilities aids in decision-making, allowing vehicles to interpret complex scenarios and make real-time driving decisions.
Enhanced connectivity through 5G networks facilitates vehicle-to-vehicle (V2V) and vehicle-to-infrastructure (V2I) communication.
Development platforms based on ROS provide a framework for integrating sensors, controlling hardware, and implementing algorithms for autonomous car market is upcoming innovation in autonomous vehicle industry.
As AV technology matures, it's anticipated to gain traction in various sectors, reshaping the automotive industry. Nations like Sweden and businesses within the European Union are investing in AV research and infrastructure development. Despite restraints and complexities, the future of AVs is promising, heralding a new era in transportation marked by increased efficiency and safety standards.
The emergence of AVs is disrupting traditional automotive businesses, paving the way for innovative vehicle platforms and usage models, such as robo-taxis.
Major Autonomous Vehicles Industry Challenges
High driver distraction with an increase in vehicle automation is the major challenge impeding the market growth. An increase in vehicle automation has given rise to the development of semi-autonomous vehicles and the concept of fully autonomous vehicles.The forecast for the AV market indicates robust growth, driven by advancements in semi-autonomous and fully autonomous vehicle development platforms. Approximately 90% of accidents on the road are caused by human error, and autonomous vehicles have the potential to significantly reduce this number. However, the availability of these systems is leading to higher dependence on them, leading to high driver distraction, which, in turn, increases the chances of accidents while switching from autonomous driving to manual mode, thereby restricting the penetration rate of automation in vehicles globally.
Despite uncertainties, the AV market exhibits immense potential for growth. Market players are focusing on enhancing the safety and reliability of autonomous systems while exploring new applications in various industries beyond transportation. As technology evolves and regulatory frameworks mature, AVs are poised to transform the way people commute, offering efficient, safer, and more convenient mobility solutions globally.
AVs encompass diverse types, from robo-taxis to high-tech vehicles, utilizing a combination of cutting-edge technologies. This complexity presents challenges in regulatory frameworks and infrastructure development, especially concerning road infrastructure and the path clearance of objects and pedestrians.
As the level of automation increases in an automobile, users need to be aware that they should not completely depend on the safety technologies available, such as driver-state monitoring systems, advanced emergency braking systems, and collision avoidance systems, among others. Rising automation gives rise to the need for awareness among users about the limitations of these technologies. Thus, increasing vehicle automation is expected to be a major cause of driver distraction, which is expected to impede the growth of the global autonomous cars industry during the forecast period.
Regulatory Environment and Challenge
Regulations in the autonomous car industry refer to governmental rules, standards, and guidelines set to oversee the development, testing, deployment, and operation of autonomous vehicle. Regulations cover various aspects, including vehicle design level, testing protocols, cybersecurity, data privacy, liability, and the interaction between autonomous vehicles and other road users.
Determining liability in road accidents involving autonomous car industry poses complexities, necessitating clarity between manufacturers, developers, and users.
Building public confidence and acceptance of autonomous technology and innovation is vital among people.
Regulations need to evolve at the same pace as technological advancements
Regulatory frameworks and policies are crucial factors influencing the widespread adoption of self-driving cars. Governments worldwide are working on standards, regulations, and safety certifications to ensure the safe deployment of AVs while addressing ethical regulations, legal, and liability concerns associated with autonomous technology
Government regulations, especially in regions like California, the European Union, and the Asia-Pacific, play a pivotal role in shaping the AV landscape. Ownership models for AVs are evolving, considering the shift towards shared mobility and robo-taxis. Daimler AG and other manufacturers, including Mercedes-Benz, are strategically aligning with regulations to capitalize on the evolving AV market.
The autonomous driving technology is still evolving but autonomous driving technology faces several challenges that hinder its widespread adoption and deployment. Some key challenges include:Ensuring the safety and reliability of autonomous vehicles remains a paramount concern.The cost of implementing autonomous driving technology, including advanced sensors, computing systems, and infrastructure upgrades, remains a significant barrier.Continued research, testing, standardization, and technological advancements are crucial to overcome these obstacles and ensure the safe and successful integration of autonomous driving technology into everyday transportation.
Key Players in the Autonomous Vehicle Market
Companies are implementing various strategies by analyzing factors such as strategic alliances, partnerships, mergers and acquisitions, geographical expansion, and product or service launches, and investment to enhance their presence in the market.
What are the key players in the autonomous vehicle market?
Volkswagen AG - The company manufactures passenger cars and light commercial vehicles, commercial vehicles, financial services, and power engineering with a high focus on passenger cars and light commercial vehicles. The company focuses on the development of lightweight vehicles, engines, and other related software.
Next-Gen Self-Driving Cars has garnered significant attention and investment from leading companies in the automotive and technology sectors. Several major players are actively investing resources and innovation into developing the future.
Tesla Inc.: Renowned for its electric vehicles and advancements in autonomous driving technology, Tesla stands at the forefront of next-gen self-driving cars.The company's autopilot feature and full self driving cars in market have been pivotal in pushing the boundaries of autonomous vehicle capabilities.
Uber Technologies: Uber has been actively involved in next-gen self-driving cars, working on autonomous vehicle technologies for its ride-hailing platform.
Ford Motor Company: Ford has committed significant resources to autonomous driving R&D and next-gen self-driving cars.
General Motors Company is a significant player in the AV Vehicle market, contributing to the growth of this transformative industry. The car market size has been witnessing a shift, similar to the evolution seen in smartphones, as AVs become more prevalent. Across various states, initiatives are underway to integrate autonomous vehicles into transportation systems, with a notable emphasis on safety and innovation.
In Arizona, companies like Volvo Car Corporation are exploring alternatives in AV technology, contributing to the expansion of mobility services. The deployment of AV units in cities like Phoenix marks a milestone in the development of autonomous vehicles. General Motors' commitment to AV technology is evident through their initiatives, aiming to revolutionize transportation through advanced systems and business models.
However, next-gen self-driving cars is anticipated to have widespread and transformative effects across industries, reshaping business models, infrastructure, urban planning, and consumer behavior in deepways contributing to the growth of autonomous vehicles market.  Companies have made a heavy investment in the future of self-driving cars.
The autonomous vehicle industry report also includes detailed analyses of the competitive landscape of the market and information about 15 market companies, including: 
AB Volvo, Alphabet Inc., Amazon.com Inc., Baidu Inc., BMW AG, Continental AG, , General Motors Co, Honda Motor Co. Ltd, Hyundai Motor Co, Intel Corp., Mercedes Benz Group AG, Navistar International Corp., Renault SAS, Robert Bosch GmbH, Stellantis NV,  Toyota Motor Corp., and Volkswagen AG
The SoCs used in autonomous vehicles are also being used today to power cars having more level 2 and level 1 autonomy features. Tesla decision to use the NVIDIA Drive PX 2 (an AVDP for autonomy) to power its Model S and Xs, along with its upcoming Model 3, is an interesting development in the field.Companies like Tesla, Waymo, and Uber are major players with huge investment in the autonomous vehicle market.
Artificial Intelligence in Autonomous Vehicles
Artificial Intelligence in autonomous vehicle industry plays a fundamental role in the development and functioning of autonomous vehicles. In the context of autonomous vehicles, AI refers to the use of sophisticated algorithms and machine learning techniques to enable vehicles to perceive their surroundings, make decisions, and navigate the environment without human intervention.Artificial intelligence in autonomous vehicle industry  powered systems uses various sensors such as cameras, LiDAR, radar, and ultrasonic sensors to capture and interpret the vehicle's surroundings.Artificial intelligence in autonomous vehicles continually evolves, benefiting from advancements in deep learning, neural networks, computers vision, and natural language processing. Integrating AI technologies enables autonomous vehicles to operate with higher levels of autonomy, providing improved safety, efficiency, and convenience in transportation. However, refining Artificial intelligence in autonomous vehicle industry algorithms, ensuring robustness against unforeseen scenarios, and addressing ethical and regulatory considerations remain ongoing challenges in the development of autonomous vehicle technology.
Segment Overview
The autonomous vehicle market size forecasts market growth by revenue at global, regional & countries levels and provides an analysis of the latest trends and growth opportunities from 2017 to 2027. 
Application Outlook (USD Billion, 2017 - 2027)

Transportation and logistics
Military and defense

Vehicle Type Outlook (USD Billion, 2017 - 2027)

Autonomous passenger car
Autonomous commercial vehicles 

Region Outlook (USD Billion, 2017 - 2027)

North America
Europe

The U.K.
Germany
France
Rest of Europe

APAC
South America
Middle East & Africa

Saudi Arabia
South Africa
Rest of the Middle East & Africa
Autonomous Vehicles Market Scope

Report Coverage

Details

Page number

174

Base year

2022

Historic period

2017-2021

Forecast period

2023-2027

Growth momentum & CAGR

Accelerate at a CAGR of 38.45%

Market growth 2023-2027

USD 319.41 billion

Market structure

Fragmented

YoY growth 2022-2023(%)

37.22

Regional analysis

North America, Europe, APAC, South America, and Middle East and Africa

Performing market contribution

North America at 37%

Key countries

US, China, Japan, Germany, and France

Competitive landscape

Leading Companies, Market Positioning of Companies, Competitive Strategies, and Industry Risks

Key companies profiled

AB Volvo, Alphabet Inc., Amazon.com Inc., Baidu Inc., BMW AG, Continental AG, Ford Motor Co., General Motors Co, Honda Motor Co. Ltd, Hyundai Motor Co, Intel Corp., Mercedes Benz Group AG, Navistar International Corp., Renault SAS, Robert Bosch GmbH, Stellantis NV, Tesla Inc., Toyota Motor Corp., and Volkswagen AG

Market dynamics

Parent market analysis, Market growth inducers and obstacles, Fast-growing and slow-growing segment analysis, COVID 19 impact and recovery analysis and future consumer dynamics, Market condition analysis for forecast period

Customization purview

If our report has not included the data that you are looking for, you can reach out to our analysts and get segments customized.
What are the Key Data Covered in this Autonomous Vehicles Market Report?
What is the forecasted growth rate of the autonomous vehicle market?
Detailed information on factors that will drive the growth of the market 

 

between 2023 and 2027
What is the current size of the autonomous vehicle market?
Who are the leading companies in the autonomous vehicle industry?
How is the autonomous vehicle market projected to grow in the next few years?
What are the main challenges facing the autonomous vehicle market?
What advancements have been made in autonomous vehicle technology recently?
Are there any regulations or legal issues affecting the autonomous vehicle market?
How does consumer perception and adoption of autonomous vehicles impact the market?
Precise estimation of the size of the market  size and its contribution of the market in focus to the parent market
Accurate predictions about upcoming trends and changes in consumer behavior
Growth of the market industry across North America, Europe, APAC, South America, and Middle East and Africa
Thorough analysis of the market's competitive landscape and detailed information about companies
Comprehensive analysis of factors that will challenge the growth of autonomous vehicles market companies
We can help! Our analysts can customize this report to meet your requirements. Get in touch