Banana Paper Market  Analysis Forecast 2023-2027
The banana paper market size is estimated to grow at a CAGR of 5.05% between 2022 and 2027. The size of the market is forecast to increase by USD 63.78 million. The growth of the market depends on several factors, including the increased application of banana paper, the environmental impact of conventional paper production and reduced production cost.
This market report extensively covers market segmentation by distribution channel (offline and online) and geography (APAC, North America, Europe, Middle East and Africa, and South America). It also includes an in-depth analysis of drivers, trends, and challenges. Furthermore, the report includes historic market data from 2017 to 2021.
 What will the Size of the Banana Paper Market be During the Forecast Period?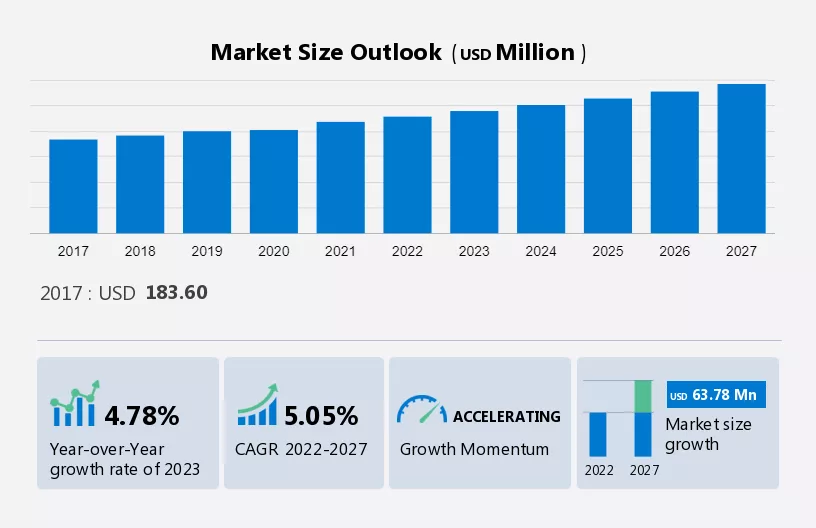 To learn more about this report, Download Report Sample
Banana Paper Market: Key Drivers, Trends, Challenges, and Customer Landscape
The increased use of banana paper is notably driving the banana paper market growth, although factors such as the lack of product awareness and product penetration may impede the market growth. Our researchers analyzed the data with 2022 as the base year, along with the key drivers, trends, and challenges. A holistic analysis of drivers will help companies refine their marketing strategies to gain a competitive advantage.
Key Banana Paper Market Driver 
The increased use of banana paper is notably driving the banana paper market growth. Banana paper is an eco-friendly paper produced either from the fiber inside the pseudo-stem or from the bark of the banana plant. Banana plants produce fruits once a year, thereby leaving abundant waste or byproducts after the harvest. The leftover waste severely impacts the surrounding ecosystem by polluting water bodies and underground water. The leftover stems of banana plants contain more than 90% water, 3% resins, and 2% glucose. The availability of these pseudo-stems without any significant commercial value offers a great opportunity to vendors operating in the global banana paper market to produce eco-friendly paper.
Banana paper is eco-friendly and is used in making business cards, tape, envelopes, wrapping paper, memo cards, paper pens, greeting cards, wine labels, packaging, stickers, wallets, notebooks, and sketchbooks. Banana stems contain more than 4% of the usable fiber to manufacture banana paper, thereby providing a recyclable, eco-friendly, and economical solution for manufacturing paper. In addition, chemicals are not used for processing during the production of paper from banana fiber. Therefore, the production of paper from banana fiber has a minimal impact on the environment. The entire process of banana paper production utilizes less energy and water than that consumed in ordinary paper production.
Key Banana Paper Market Trends
The growth of the banana production industry is the primary trend driving the banana paper market growth. Banana is recognized as one of the major fruit crops produced in more than 120 countries globally, with Asia, South America, and Africa as the major banana producers. The global annual production of bananas increased by 59.48% during 2000-2019. The global production of bananas and tropical fruits is projected to grow at 1.8% annually between 2019 and 2028. The largest suppliers of these fruits are expected to continue to be those in Asia, and the region was projected to account for 55% of the global output of tropical fruit in 2018. Global exports of bananas, excluding plantain, reached a new record high with an estimated 21 million tonnes in 2019, marking an increase of 10.2% over that in 2018.
In Asia, India and China are recognized as the major producers of bananas. In 2019, India exported around 174.1 thousand tonnes of bananas. Central and South America were the major exporters of bananas globally. Annually, the top 15 banana-producing countries process more than 40 million tons of bananas and discrete waste such as damaged bananas and pinzote (banana stems). More than nine million metric tons of pinzote are released into local rivers or dumped in landfills. The continuous rise in and generation of waste banana products can be put to productive use by using it for manufacturing banana paper, thereby driving market growth further.
Key Banana Paper Market Challenge
Lack of product awareness and product penetration is the major challenge impeding the banana paper market growth. Despite the increased demand for banana paper, the overall performance of the market has been modest. The slow growth of the market can be attributed to the low awareness of the product. It has been noted that many buyers are more aware of and interested in purchasing other types of paper, such as mango and sugarcane-based paper. India is recognized as the major producer of banana paper. However, the domestic consumption of banana paper is relatively less than that of other types of handmade paper. Of all the banana paper products produced in India, a large proportion accounts for exports to developed countries and that too in the form of value-added products.
To increase the consumption of banana paper, vendors are heavily investing in marketing and promotional activities. They are focused on consumer engagement, reinforcement of brand relevance, brand awareness, and guiding consumers to stores or shopping websites. They use various methods, such as direct marketing, including e-mail, print advertising, catalogues, and brochures; in-store events; and Internet marketing techniques, to increase their brand equity and promote their products. However, the lack of awareness and product penetration of banana paper, especially in developing countries, is expected to hinder the growth of the market during the forecast period.
Key Banana Paper Market Customer Landscape
The banana paper report includes the adoption lifecycle of the market, covering from the innovator's stage to the laggard's stage. It focuses on adoption rates in different regions based on penetration. Furthermore, the report also includes key purchase criteria and drivers of price sensitivity to help companies evaluate and develop their growth strategies.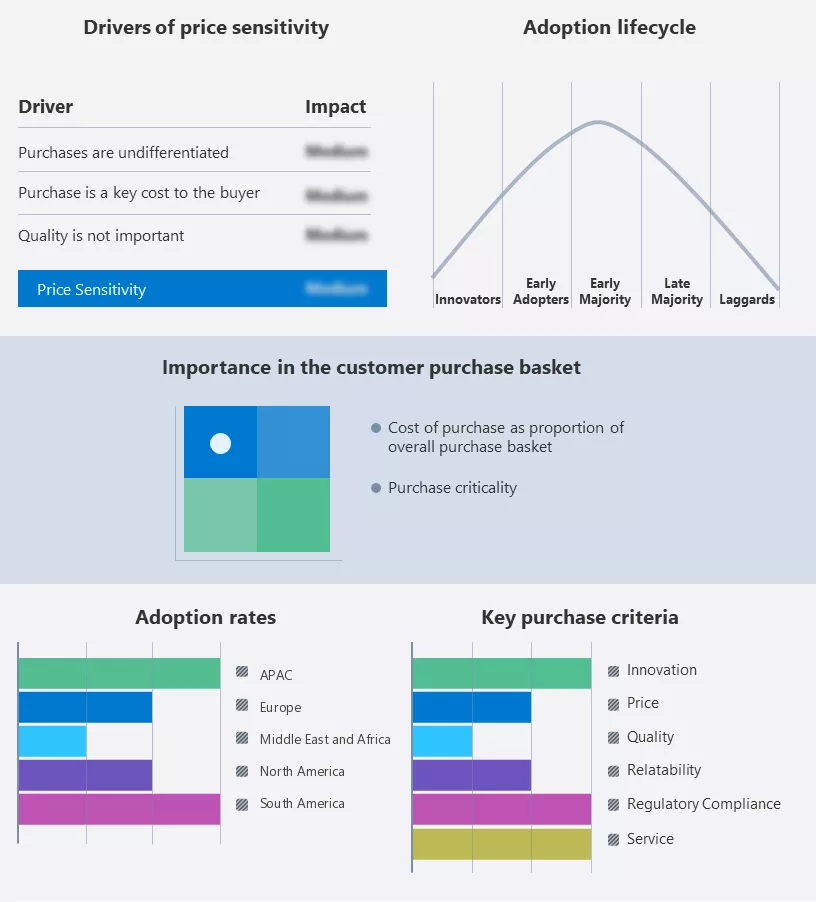 Global Banana Paper Market Customer Landscape
Who are the Major Banana Paper Market Vendors?                                     
Vendors are implementing various strategies, such as strategic alliances, partnerships, mergers and acquisitions, geographical expansion, and product/service launches, to enhance their presence in the market.
Green Banana Paper - The company offers banana paper such as PETA-approved handmade banana fiber paper under its unified segment. The company derives its products from agricultural banana waste. All products feature banana fiber-based paper, which is a naturally strong plant-based material. These products include banana paper wallets, custom business cards, greeting cards, art paper, and more.
The report also includes detailed analyses of the competitive landscape of the market and information about 15 market vendors, including:
Bhawarlal Kalyan Mal Group
Blick Art Materials LLC
Bluecat Paper
Donahue Paper Emporium
Ecoideaz
EcoPaper
Go Green Agri Solutions
Graphic Products Corp.
Green Banana Paper
Hussain Hand Made Paper
Legion Paper
One Planet Cafe Co. Ltd.
Papyrus Australia Ltd.
Two Hands Paperie
Utsav Exim Ltd.
Qualitative and quantitative analysis of vendors has been conducted to help clients understand the wider business environment as well as the strengths and weaknesses of key market players. Data is qualitatively analyzed to categorize vendors as pure play, category-focused, industry-focused, and diversified; it is quantitatively analyzed to categorize vendors as dominant, leading, strong, tentative, and weak.
What is the Fastest-Growing Segment in the Banana Paper Market?
The market share growth by the offline segment will be significant during the forecast period. The offline segment of the global banana paper market held the largest market share in 2022. The revenue from the offline distribution channel has been declining gradually owing to the growing preference for online shopping. To overcome this challenge, major retailers are expanding their stores in local and regional markets. The revenue of the offline distribution channel comes from the sales of products through speciality stores; hypermarkets, supermarkets, convenience stores, clubhouse stores; and department stores. Supermarket and hypermarket chains are focusing on increasing the number of stores. For instance, in September 2019, Kroger Co. opened a new 52,000 sqft urban format store in the US. Such expansions of supermarket and hypermarket chains will enhance the accessibility of customers and increase the sales of banana paper.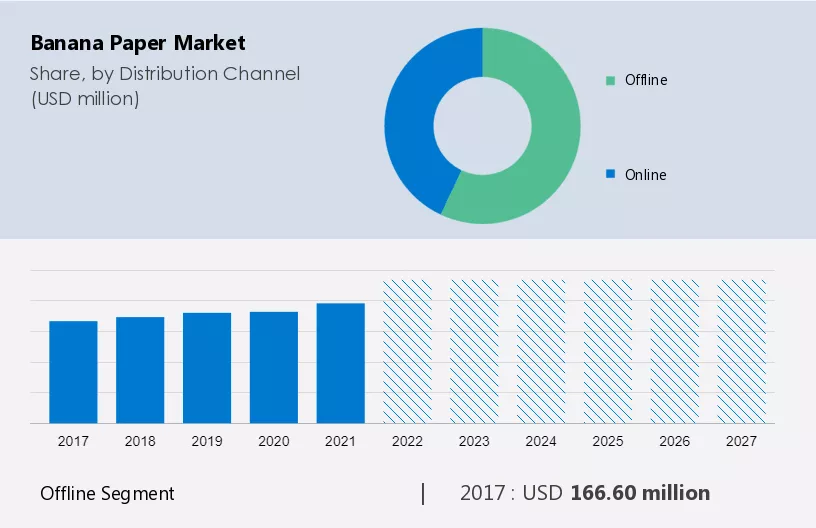 Get a glance at the market contribution of various segments  Request a PDF Sample
The offline segment showed a gradual increase in market share with USD 166.60 million in 2017 and continued to grow by 2021. Vendors should resort to the online-to-offline (O2O) business strategy to enhance sales from the offline distribution channel and promote the digital experience of buyers. They should adopt omnichannel commerce and multi-marketing strategies. The offline channel provides various benefits to buyers, including in-store pickup of goods purchased online, the purchase of goods online while being at the physical store, and the return of products purchased online to preferred stores. Adopting these strategies will help vendors increase their market shares and expand their consumer base during the forecast period.
Which are the Key Regions for the Banana Paper Market?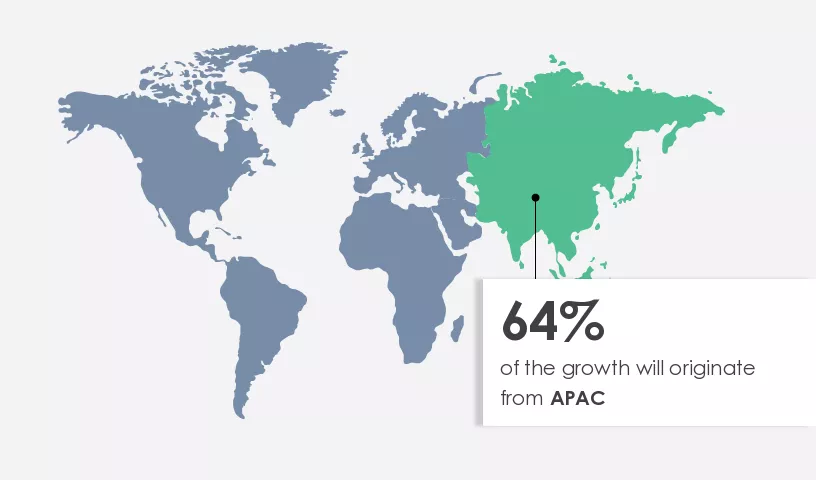 For more insights on the market share of various regions Request PDF Sample now!
 APAC is projected to contribute 64% by 2027. Technavio's analysts have elaborately explained the regional trends and drivers that shape the market during the forecast period.
Globally, India and China are the largest producers of banana crops. Factors such as increased literacy rate, the high rate of deforestation, and rising demand for craft paper have spurred the demand for handmade paper varieties, including banana paper, in APAC. For instance, during 2015-2018, more than 20,000 hectares of forest land in India were diverted for various developmental activities, including papermaking. The increased awareness about the disadvantages of using plastic for packaging has further widened the market's growth prospects. More than 40% of the plastic produced in India is used for packaging. However, increasing awareness among consumers of the harmful effects of plastic consumption has triggered the demand for eco-friendly packaging methods, thereby driving the demand for banana paper.
Segment Overview
The banana paper market report forecasts market growth by revenue at global, regional & country levels and provides an analysis of the latest trends and growth opportunities from 2017 to 2027. The market has been segmented by type, product, distribution channel, and region.
Distribution Channel Outlook ( USD Million, 2017 - 2027)
Product Type Outlook ( USD Million, 2017 - 2027)
Region Outlook ( USD Million, 2017 - 2027)

Europe

The U.K.
Germany
France
Rest of Europe

Middle East & Africa

Saudi Arabia
South Africa
Rest of the Middle East & Africa
Banana Paper Market Scope

Report Coverage

Details

Page number

154

Base year

2022

Historic period

2017-2021

Forecast period

2023-2027

Growth momentum & CAGR

Accelerate at a CAGR of 5.05%

Market growth 2023-2027

USD 63.78 million

Market structure

Fragmented

YoY growth (%)

4.78

Regional analysis

APAC, North America, Europe, Middle East and Africa, and South America

Performing market contribution

APAC at 64%

Key countries

US, China, India, Germany, and UK

Competitive landscape

Leading Vendors, Market Positioning of Vendors, Competitive Strategies, and Industry Risks

Key companies profiled

Bhawarlal Kalyan Mal Group, Blick Art Materials LLC, Bluecat Paper, Donahue Paper Emporium, Ecoideaz, EcoPaper, Go Green Agri Solutions, Graphic Products Corp., Green Banana Paper, Hussain Hand Made Paper, Legion Paper, One Planet Cafe Co. Ltd., Papyrus Australia Ltd., Two Hands Paperie, and Utsav Exim Ltd.

Market dynamics

Parent market analysis, Market growth inducers and obstacles, Fast-growing and slow-growing segment analysis, COVID-19 impact and recovery analysis and future consumer dynamics, Market condition analysis for the forecast period

Customization purview

If our report has not included the data that you are looking for, you can reach out to our analysts and get segments customized.
What are the Key Data Covered in this Banana Paper Market Research Report?
CAGR of the market during the forecast period.
Detailed information on factors that will drive the growth of the market between 2023 and 2027
Precise estimation of the size of the banana paper market size and its contribution of the market in focus to the parent market.
Accurate predictions about upcoming trends and changes in consumer behaviour.
Growth of the market industry across APAC, North America, Europe, Middle East and Africa, and South America.
Thorough analysis of the market's competitive landscape and detailed information about vendors.
Comprehensive analysis of factors that will challenge the growth of banana paper market vendors.
We can help! Our analysts can customize this report to meet your requirements. Get in touch