The beverage can market is estimated to grow at a CAGR of 3.1% between 2022 and 2027. The size of the market is forecast to increase by USD 5,715.4 million. The growth of the market depends on several factors, including the increased need for metal cans, the growing energy and juice drinks market, and growing awareness among consumers regarding sustainability. 
This report extensively covers market segmentation by application (non-alcoholic beverages and alcoholic beverages), material (aluminium and steel), and geography (North America, APAC, Europe, Middle East and Africa, and South America. It also includes an in-depth analysis of drivers, trends, and challenges. Furthermore, the report includes historic market data from 2017 to 2021.
What will be the size of the Beverage Can Market During the Forecast Period?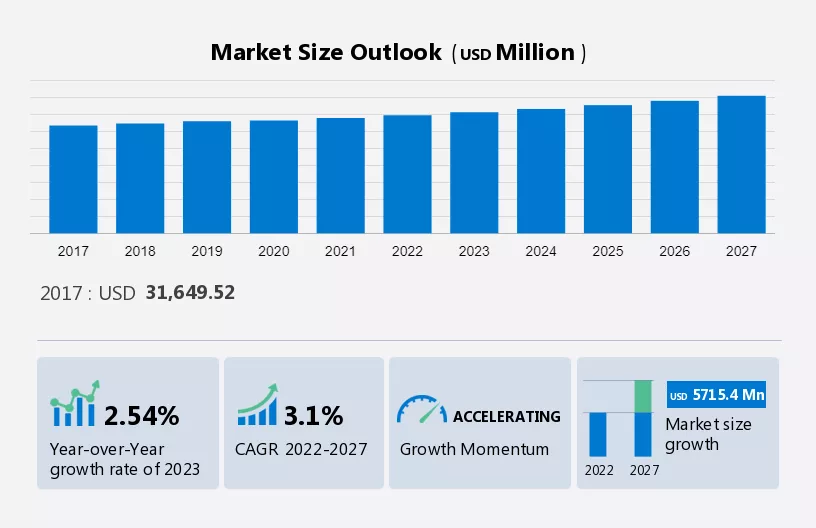 To learn more about this report, Download Report Sample
Beverage Can Market: Key Drivers, Trends, Challenges, and Customer Landscape
The growing awareness among consumers regarding sustainability is notably driving the market growth, although factors such as the rising popularity of alternatives may impede the market growth. Our researchers analyzed the data with 2022 as the base year, along with the key drivers, trends, and challenges. A holistic analysis of drivers will help companies refine their marketing strategies to gain a competitive advantage.
Key Beverage Can Market Driver
The market growth is being notably propelled by the increasing consciousness among consumers regarding sustainability. Aluminum, a valuable metal that can be recycled multiple times without compromising its properties, is a prime example. The recycling of aluminium and steel cans offers both environmental and financial incentives, allowing companies to reduce their carbon footprint and conserve natural resources. Moreover, beverage can recycling requires less energy compared to manufacturing cans from scratch. As consumers become more aware of the environmental impact of companies on natural resources, they tend to choose brands that prioritize sustainability. For instance, many consumers in the US prefer brands that highlight their sustainability initiatives in their packaging or marketing. Therefore, the growing consumer awareness and the advantages of recycling beverage cans are expected to boost the global market growth in the coming years.
Significant Beverage Can Market Trend
The growing market of RTD coffee and tea is an emerging trend in the market. There has been a rise in RTD coffee and tea consumption. These drinks are not only seen as instant energy drinks but also form a part of the lifestyle in most countries, such as Japan and the US. The major factors driving the RTD tea and coffee market are the growing health awareness and rising disposable incomes of the population. 
The demand for RTD coffee and tea is high among the millennials that are on the lookout for instant energy drinks. One of the major packaging types for RTD coffee and tea is metal cans. For example, Starbucks and Stumptown Coffee Roasters provide RTD coffee in metal cans. Hence, the rising demand for RTD coffee and tea is expected to fuel the global market during the forecast period.
Major Beverage Can Market Challenge
The rising popularity of alternatives is a major challenge impeding the market growth. It is observed that PET, a form of plastic, is continuing to gain popularity across almost all markets. It is observed that PET packaging has been successfully implemented in the beer sector. For example, in Romania, more than 40% of breweries use PET bottles to package their beer. This is because the consumers of beer in this country find PET bottles convenient and aesthetically appealing. Furthermore, the use of PET bottles allows a reduction in emissions and resources in the supply chain. 
Similarly, PET bottles are being used for many other applications where metal cans are used. For example, Gatorade, a prominent sports drink provider, offers sports drinks in PET bottles. This is because PET provides advantages, such as less specific gravity, compared with aluminium and steel. Hence, as the popularity of alternatives such as PET rises, the demand for metal cans will decrease, which will hinder the growth of the global market during the forecast period.
Key Beverage Can Market Customer Landscape
The report includes the adoption lifecycle of the market, covering from the innovator's stage to the laggard's stage. It focuses on adoption rates in different regions based on penetration. Furthermore, the report also includes key purchase criteria and drivers of price sensitivity to help companies evaluate and develop their growth strategies.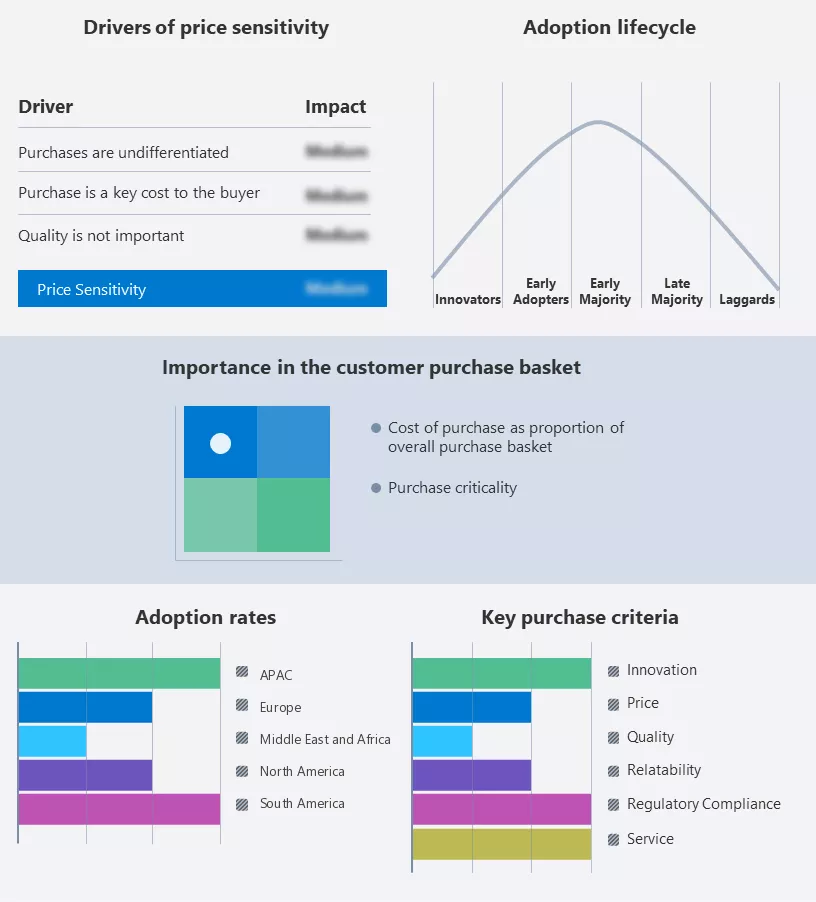 Global Beverage Can Market Customer Landscape
Who are the Major Beverage Can Market Vendors?
Vendors are implementing various strategies, such as strategic alliances, partnerships, mergers and acquisitions, geographical expansion, and product/service launches, to enhance their presence in the market.
CANPACK SA - The company offers different types of beverage cans, metal closures, and others. The key offerings of the company include beverage cans.
The report also includes detailed analyses of the competitive landscape of the market and information about 15 market vendors, including:
Amcor Plc
Ardagh Group SA
Ball Corp.
BangkokCan Manufacturing Co. Ltd.
Can One Berhad
CPMC Holdings Ltd.
Crown Holdings Inc.
Envases Ohringen GmbH
GZ Industries Ltd.
Kian Joo Can Factory Bhd
Mahmood Saeed Co. Ltd.
Mitsubishi Materials Corp.
Nampak Ltd.
ORG Technology Co. Ltd.
Orora Ltd.
Qualitative and quantitative analysis of vendors has been conducted to help clients understand the wider business environment as well as the strengths and weaknesses of key market players. Data is qualitatively analyzed to categorize vendors as pure play, category-focused, industry-focused, and diversified; it is quantitatively analyzed to categorize vendors as dominant, leading, strong, tentative, and weak.
What is the Fastest-Growing Segment in the Beverage Can Market?
The market share growth by the non-alcoholic beverages segment will be significant during the forecast period. Beverage cans are used for packaging different non-alcoholic beverages, such as juices which are continuously gaining popularity. Metal cans are popular in the segment owing to their hermetic seal and barrier against oxygen and sunlight.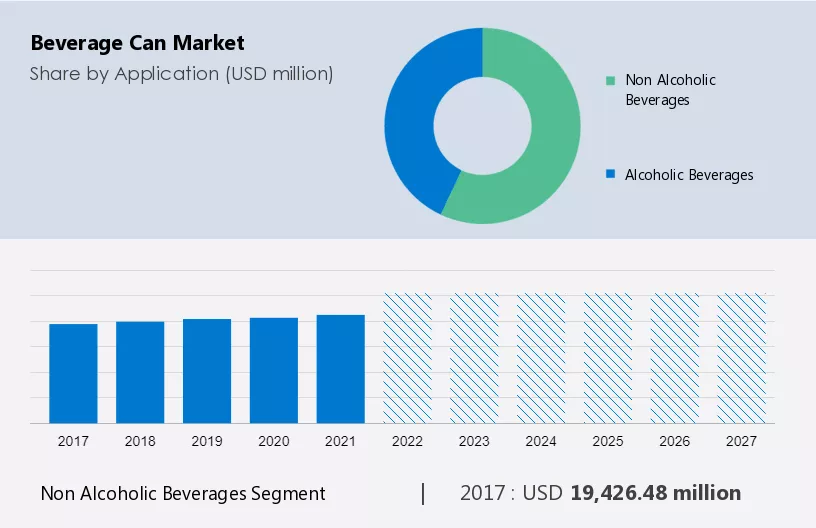 Get a glance at the market contribution of various segments Request a PDF Sample
The non-alcoholic beverages segment was valued at USD 19,426.48 million in 2017 and continued to grow until 2021. The global non-alcoholic beverages market is expected to grow owing to the increasing consumption of performance-enhancement beverages such as energy and sports drinks. Furthermore, the growing demand for rehydration drinks and caffeine-based drinks is also expected to create new opportunities for market development in the projected period. In addition, the global beverage can market witnessed an increased demand for caffeine-based drinks, including coffee, iced tea, and other flavored drink such as sports and energy drinks, owing to increased concerns regarding personal health. Additionally, the growing number of juice manufacturers in the market is expected to have a positive impact on the overall beverage cans industry. Therefore, the abovementioned factors will drive segment growth during the forecast period. 
Which are the Key Regions for the Beverage Can Market?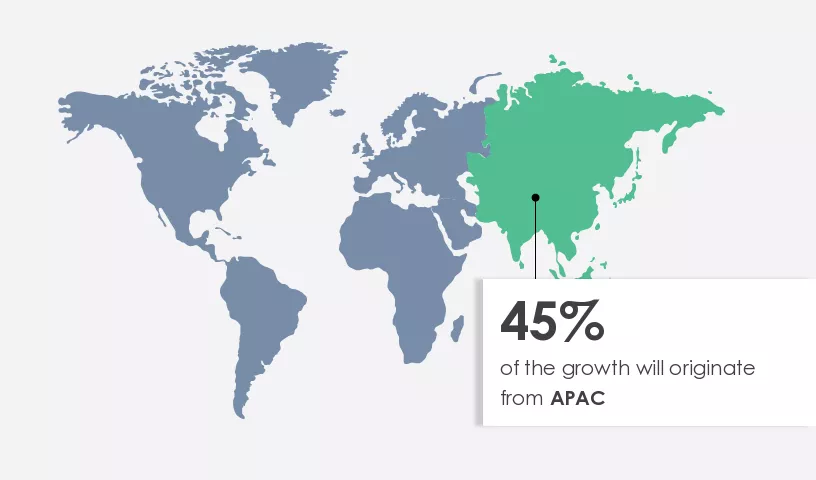 For more insights on the market share of various regions Request PDF Sample now!
APAC is estimated to contribute 45% to the growth of the global market during the forecast period. Another region offering significant growth opportunities to vendors is North America. Technavio's analysts have elaborately explained the regional trends and drivers that shape the market during the forecast period.
The demand for the packaging of processed and ready-to-eat (RTE) food products, fruit juices, aerated drinks, and energy drinks is mounting in North America and is expected to boost the market in upcoming years. Moreover, owing to the budding environmental concerns, consumers are becoming more aware of limiting the usage of plastics, which, in turn, is urging the need for cans in the region. Further, the increased intake of energy and sports drinks in confluence with the mounting efforts by manufacturers to finance advertising campaigns for these drinks are strengthening the growth of the beverage industry, which is thereby expected to boost sales in the region.
Furthermore, the growing environmental concerns associated with the use of plastic containers are major factors influencing the market growth. Many beverages are packaged in plastic containers in the U.S. (Plastic Industry Association, U.S.). However, pressure from environmental lobby groups and Government agencies is being felt by many can manufacturers, who are being bounded to reduce the consumption of plastics. As bans on plastic packaging gain momentum across the U.S., manufacturers, and sellers are turning toward other available options. These factors will boost the regional market growth during the forecast period. 
The outbreak of COVID-19 in 2020 negatively impacted the market in the region. However, in 2021, COVID-19 vaccines were introduced in the region, which led to the lifting of lockdown restrictions and resumed business activities across industries. Furthermore, the adoption of online platforms for the distribution of non-essential items, including non-alcoholic and non-alcoholic beverages, and the reopening of manufacturing units with a reduced workforce supported the recovery of regional market growth in 2021 and 2022.  Hence, such factors are expected to fuel the growth of the regional market during the forecast period.
Segment Overview
The report forecasts market growth by revenue at global, regional & country levels and provides an analysis of the latest trends and growth opportunities from 2017 to 2027. 
Material Outlook (USD Million, 2017 - 2027)
Application Outlook (USD Million, 2017 - 2027)

Non-alcoholic beverages
Alcoholic beverages
Region Outlook (USD Million, 2017 - 2027)

Europe

The U.K.
Germany
France
Rest of Europe

Middle East & Africa

Saudi Arabia
South Africa
Rest of the Middle East & Africa

South America
Beverage Can Market Scope

Report Coverage

Details

Page number

161

Base year

2022

Historic period

2017-2021

Forecast period

2023-2027

Growth momentum & CAGR

Accelerate at a CAGR of 3.1%

Market growth 2023-2027

USD 5,715.4 million

Market structure

Fragmented

YoY growth 2022-2023(%)

2.54

Regional analysis

North America, APAC, Europe, Middle East and Africa, and South America

Performing market contribution

APAC at 45%

Key countries

US, China, India, Germany, and UK

Competitive landscape

Leading Vendors, Market Positioning of Vendors, Competitive Strategies, and Industry Risks

Key companies profiled

Amcor Plc, Ardagh Group SA, Ball Corp., BangkokCan Manufacturing Co. Ltd., Can One Berhad, CANPACK SA, CPMC Holdings Ltd., Crown Holdings Inc., Envases Ohringen GmbH, GZ Industries Ltd., Kian Joo Can Factory Bhd, Mahmood Saeed Co. Ltd., Mitsubishi Materials Corp., Nampak Ltd., ORG Technology Co. Ltd., Orora Ltd., Shengxing Group, Silgan Holdings Inc., Toyo Seikan Group Holdings Ltd., and Trivium Packaging B.V

Market dynamics

Parent market analysis, Market growth inducers and obstacles, Fast-growing and slow-growing segment analysis, COVID-19 impact and recovery analysis and future consumer dynamics, and Market condition analysis for the forecast period.

Customization purview

If our report has not included the data that you are looking for, you can reach out to our analysts and get segments customized.
What are the Key Data Covered in this Beverage Can Market Report?
CAGR of the market during the forecast period
Detailed information on factors that will drive the growth of the beverage can market between 2023 and 2027
Precise estimation of the beverage can market size and its contribution to the parent market
Accurate predictions about upcoming trends and changes in consumer behavior
Growth of the industry across North America, APAC, Europe, Middle East and Africa, and South America
A thorough analysis of the market's competitive landscape and detailed information about vendors
Comprehensive analysis of factors that will challenge the growth of beverage can market vendors
We can help! Our analysts can customize this report to meet your requirements. Get in touch