The cataract surgery devices market is estimated to grow at a CAGR of 5.94% between 2022 and 2027. The size of the market is forecast to increase by USD 2,056.34 million. The growth of the market depends on several factors, including the increasing prevalence of cataracts and the rise in the geriatric population, the increase in technological advances, and the rise in the number of cataract procedures.
This report extensively covers market segmentation by product (intraocular lens, phacoemulsification devices, ophthalmic viscosurgical devices, and femtosecond lasers), end-user (hospitals, clinics, and ophthalmology centers), and geography (North America, Europe, Asia, and Rest of World (ROW)). It also includes an in-depth analysis of drivers, trends, and challenges. Furthermore, the report includes historic market data from 2017 to 2021.
What will be the size of the Cataract Surgery Devices Market During the Forecast Period?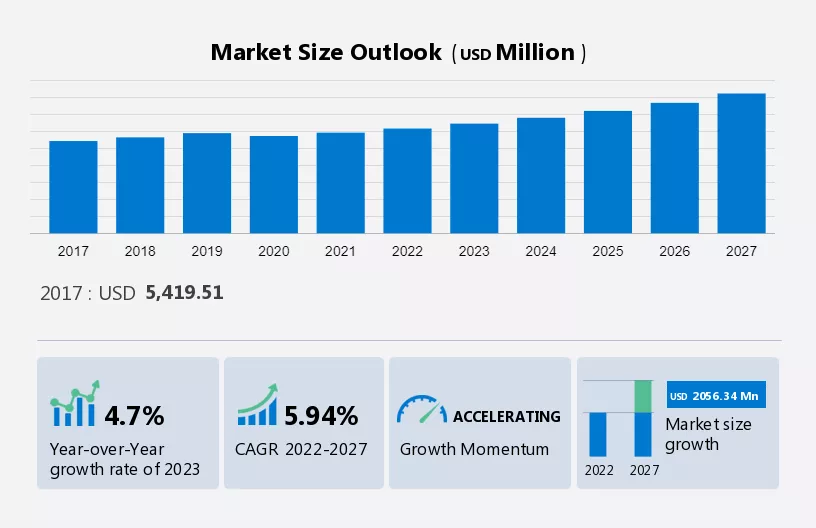 To learn more about this report, Download Report Sample
Parent Market Analysis
Technavio categorizes the global cataract surgery devices market as a part of the global healthcare equipment market. The parent, global healthcare equipment market covers products and companies engaged in research and development (R&D) of a variety of product categories, including capital equipment, instruments, implants, accessories, and consumables that are used for the diagnosis, monitoring, and treatment of various diseases. Our research report has extensively covered external factors influencing the parent market growth during the forecast period.
Cataract Surgery Devices Market: Key Drivers, Trends, Challenges, and Customer Landscape
The rise in the number of cataract procedures is notably driving the market growth, although factors such as device limitations and complications may impede the market growth. Our researchers analyzed the data with 2022 as the base year, along with the key drivers, trends, and challenges. A holistic analysis of drivers will help companies refine their marketing strategies to gain a competitive advantage.
Key Cataract Surgery Devices Market Driver
An increasing number of cataract surgeries is a key factor driving the growth of the global cataract surgery devices market. Cataract surgery is considered one of the most commonly performed surgical procedures in various developed and developing countries. Therefore, the demand for this surgery is expected to increase due to various factors such as increasing incidence of cataract cases, demographic trends, advances in this surgery technology, growing geriatric population, and decreasing cost of surgeons. In 2022, approximately 30 million cataract procedures were performed globally.
Approximately 10 million cataract surgeries are performed each year in the world, with rates varying from 100 to 6000 operations per million population per year. Approximately 50% of ophthalmologists perform cataract surgeries regularly. These individuals need this surgery to regain clear visual sight. As the global aging population is rapidly increasing, the demand for cataract surgeries is expected to increase significantly. Hence, the increasing demand for cataract procedures will drive the growth of the cataract surgical devices market during the forecast period.
Significant Cataract Surgery Devices Market Trend
The availability of advanced and high-quality IOL implants is a major trend in the growth of the global cataract surgery devices market. Implantation of an intraocular lens (IOL) is a globally established procedure in this surgery. An intraocular lens is an artificial lens placed inside the eye to replace the focusing power of the natural lens within the retina, which is usually surgically removed as part of this surgery. Advanced, high-quality IOL implants can reduce reliance on post-operative spectacles or contact lenses and provide clear vision for a lifetime. Younger people tend to use her IOL implants more advanced than older people.
This technology is widely accepted in the US, UK, France, and Germany. Numerous vendors, such as Aurolab, have entered the market and offer various types of IOLs, including monofocal, multifocal, toric, and accommodative IOLs. As they offer an effective and easy solution for cataracts and partial blindness, advanced IOLs are being widely adopted by ophthalmologists globally. These factors are expected to drive the growth of the cataract surgical devices market focus during the forecast period.
Major Cataract Surgery Devices Market Challenge
Device limitations and complications are major challenges to the growth of the global cataract surgery devices market. Cataract surgery devices have several advantages. However, these devices also have certain drawbacks that limit their acceptance. Furthermore, toric IOLs may rotate off-axis, which can lead to partial effects like the correction of AcrySof toric can reduce by 10% for every 3-degree rotation off-axis. Some patients using multifocal IOLs require IOL exchange for different types of multifocal IOLs or monofocal IOLs due to not achieving satisfactory visual results. Multifocal IOLs have high sensitivity to minor ocular aberrations. These IOLs are also associated with corneal scarring, irregular corneal surfaces like Fuchs dystrophy, or retinal dysfunction like epiretinal membrane and macular degeneration, due to which visual expectations may not be met. A few other complications of multifocal IOLs include blurred vision, which is largely due to ametropia, posterior capsule opacification, and photic phenomena due to IOL decentration.
Femtosecond laser technology was approved for clinical applications by the FDA in 2000. It was initially only used in corneal refractive surgery. With the development of hardware and software, these lasers are used for other fields of ophthalmology, such as cataract surgery and corneal transplant. This technology has a few drawbacks or limitations. High start-up costs of femtosecond laser technology equipment pose challenges to healthcare organizations. The use of such equipment requires training, which can be time-consuming and may affect the workflow during the initial usage of the equipment. These limitations and disadvantages of the surgery devices make consumers skeptical about their purchase or use, and therefore they serve as a hurdle for the growth of the market during the forecast period.
Key Cataract Surgery Devices Market Customer Landscape
The report includes the adoption lifecycle of the cataract surgical devices market, covering from the innovator's stage to the laggard's stage. It focuses on adoption rates in different regions based on penetration. Furthermore, the report also includes key purchase criteria and drivers of price sensitivity to help companies evaluate and develop their growth strategies.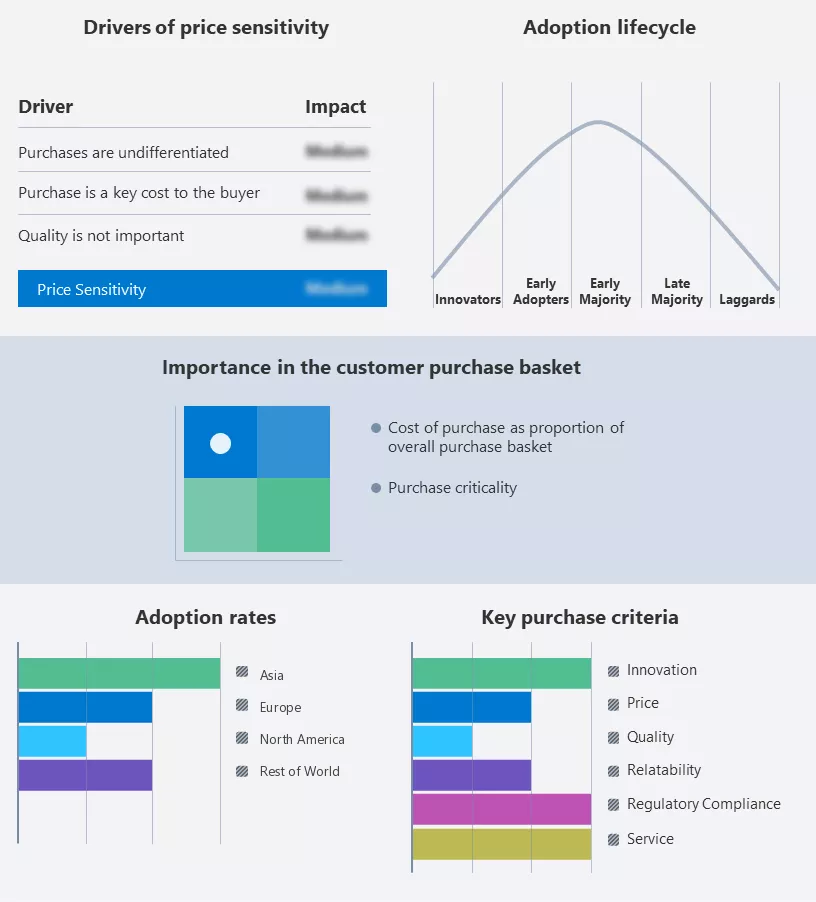 Global Cataract Surgery Devices Market Customer Landscape
Who are the Major Cataract Surgery Devices Market Vendors?
Vendors are implementing various strategies, such as strategic alliances, partnerships, mergers and acquisitions, geographical expansion, and product/service launches, to enhance their presence in the market.
lenstec.com - The company offers cataract surgery devices such as ClearView 3., Also, through this segment, the company offers intraocular lens implants and lens injection systems.
The report also includes detailed analyses of the competitive landscape of the market and information about 15 market vendors, including:
Abbott Laboratories
AbbVie Inc.
Alcon Inc.
Bausch Health Co Inc.
Carl Zeiss AG
CRISTALENS
EssilorLuxottica SA
HOYA Corp.
Johnson and Johnson
Metall Zug AG
Mitsui Chemicals Inc.
NIDEK Co. Ltd.
Oertli Instrumente AG
Rayner Intraocular Lenses Ltd.
ROWIAK GmbH
Qualitative and quantitative analysis of vendors has been conducted to help clients understand the wider business environment as well as the strengths and weaknesses of key market players. Data is qualitatively analyzed to categorize vendors as pure play, category-focused, industry-focused, and diversified; it is quantitatively analyzed to categorize vendors as dominant, leading, strong, tentative, and weak.
What is the Fastest-Growing Segment in the Cataract Surgery Devices Market?
The market share growth by the intraocular lens segment will be significant during the forecast period. IOLs are medical devices implanted in the eye during cataract surgery to replace the natural lens. IOLs are used to treat cataracts or myopia. IOLs used to correct vision are called refractive lens exchange. The global IOLs market is growing steadily due to the increasing focus of vendors to manufacture innovative products with enhanced efficiency and safety. Standard IOLs that use a monofocal approach cannot eliminate the dependency on spectacles. However, premium IOLs correct multiple types of vision loss. Therefore, premium IOLs eliminate the need for glasses.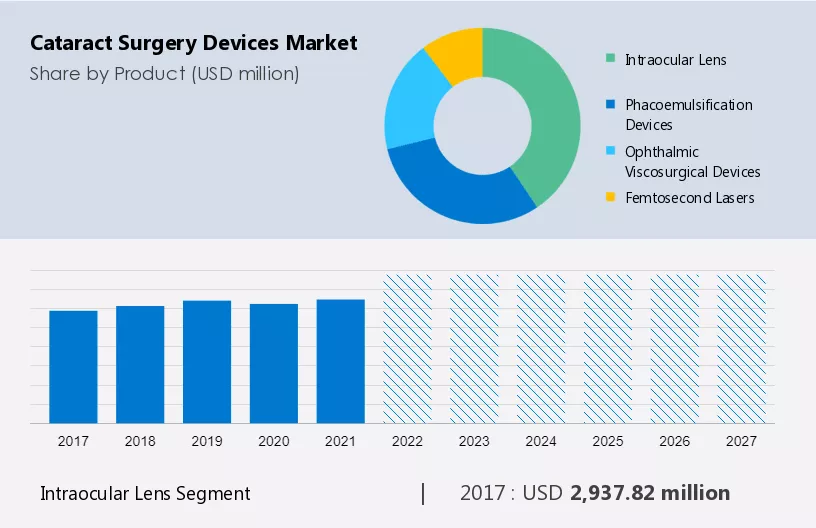 Get a glance at the market contribution of various segments Request a PDF Sample
The intraocular lens segment was valued at USD 2,937.82 million in 2017 and continue to grow by 2021. IOLs enable patients to rapidly obtain clear vision post-cataract surgery due to the availability of high-definition (HD) IOLs that have few side effects. IOL implantations are one of the ophthalmic surgical procedures with the highest success rates. It is estimated that approximately 15 million IOLs are inserted every year globally, and this number is expected to grow significantly due to the increasing aging population and the growing demand for high-quality vision care products. IOLs are available as non-foldable-rigid IOLs, foldable IOLs, and rollable/ultra-thin IOLs that are made of different optical materials. Such factors will drive the growth of the global IOLs market during the forecast period.
Which are the Key Regions for the Cataract Surgery Devices Market?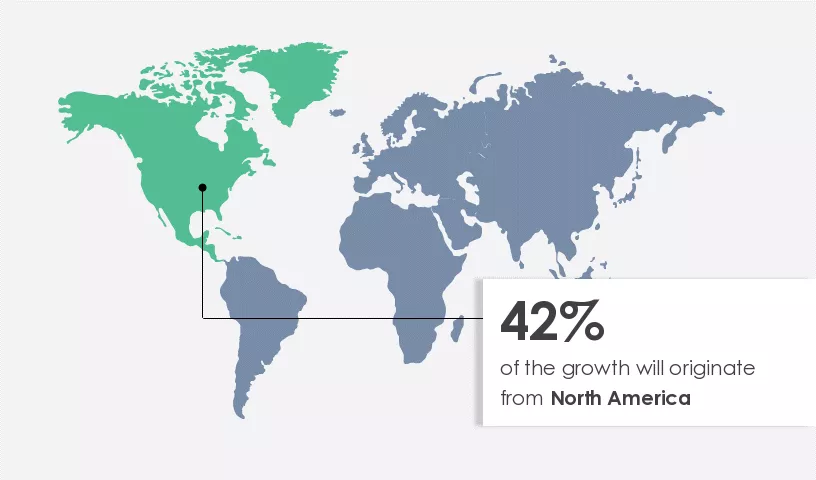 For more insights on the market share of various regions Request PDF Sample now!
North America is estimated to contribute 42% to the growth of the global market during the forecast period. Technavio's analysts have elaborately explained the regional trends and drivers that shape the market during the forecast period. This market includes improved healthcare infrastructure, government programs, funding for eye diseases and vision care, the presence of favorable reimbursement policies in developed countries such as the US and Canada, and the growing presence of global companies manufacturing cataract surgery products. The market is expected to grow steadily during the forecast period due to the increasing adoption of technologically advanced devices and cataract surgery devices with features to improve clinical outcomes. Such factors will increase the market growth during the forecast period.
The outbreak of COVID-19 adversely affected all countries in North America, especially the US. However, by the second half of 2020, most lockdown-related restrictions in various countries were relaxed to some extent, which allowed the movement of people and thus led to an increase in the number of people visiting diagnostic centers, ASCs, and hospitals. The growth of the market was further fueled by the full resumption of healthcare equipment manufacturing operations owing to the large-scale COVID-19 vaccination drives conducted in the region from Q4 of 2020, which continued in 2021 as well. These factors spurred the demand for cataract surgery devices in North America. Due to these things, the regional market is expected to witness an accelerating growth momentum during the forecast period.
Segment Overview
The report forecasts market growth by revenue at global, regional & country levels and provides an analysis of the latest trends and growth opportunities from 2017 to 2027. 
Product Outlook (USD Million, 2017 - 2027)

Intraocular lens
Phacoemulsification devices
Ophthalmic viscosurgical devices
Femtosecond lasers
End-user Outlook (USD Million, 2017 - 2027)

Hospitals
Clinics
Ophthalmology centers
Region Outlook (USD Million, 2017 - 2027)

Europe

The U.K.
Germany
France
Rest of Europe

Asia
ROW

Australia
Argentina
Rest of the World
Cataract Surgery Devices Market Scope

Report Coverage

Details

Page number

170

Base year

2022

Historic period

2017-2021

Forecast period

2023-2027

Growth momentum & CAGR

Accelerate at a CAGR of 5.94%

Market growth 2023-2027

USD 2,056.34 million

Market structure

Fragmented

YoY growth 2022-2023(%)

4.7

Regional analysis

North America, Europe, Asia, and Rest of World (ROW)

Performing market contribution

North America at 42%

Key countries

US, UK, Germany, Japan, and China

Competitive landscape

Leading Vendors, Market Positioning of Vendors, Competitive Strategies, and Industry Risks

Key companies profiled

Abbott Laboratories, AbbVie Inc., Alcon Inc., Bausch Health Co Inc., Carl Zeiss AG, CRISTALENS, EssilorLuxottica SA, HOYA Corp., Johnson and Johnson, Lenstec Inc., Metall Zug AG, Mitsui Chemicals Inc., NIDEK Co. Ltd., Oertli Instrumente AG, Rayner Intraocular Lenses Ltd., ROWIAK GmbH, SIFI SPA, STAAR Surgical Co., Topcon Corp., and Ziemer Ophthalmic Systems AG

Market dynamics

Parent market analysis, Market growth inducers and obstacles, Fast-growing and slow-growing segment analysis, COVID-19 impact and recovery analysis and future consumer dynamics, Market condition analysis for forecast period.

Customization purview

If our report has not included the data that you are looking for, you can reach out to our analysts and get segments customized.
What are the Key Data Covered in this Cataract Surgery Devices Market Report?
CAGR of the market during the forecast period
Detailed information on factors that will drive the growth of the cataract surgery devices market between 2023 and 2027
Precise estimation of the size of the cataract surgery devices market size and its contribution to the parent market
Accurate predictions about upcoming trends and changes in consumer behavior
Growth of the market industry across North America, Europe, Asia, and Rest of World (ROW)
Thorough analysis of the market's competitive landscape and detailed information about vendors
Comprehensive analysis of factors that will challenge the growth of cataract surgery devices market vendors
We can help! Our analysts can customize this report to meet your requirements. Get in touch