Chatbot Market Analysis Report 2023-2027:
The Global Chatbot Market size is estimated to grow at a CAGR of 29.59% between 2022 and 2027. The market size is forecast to increase by USD 3,193.3 million. The growth of the market depends on several factors, including the several benefits associated with using chatbots solutions, the increased demand for web self-service, and the growing focus on improving CRM.
This chatbot market report extensively covers market segmentation by end-user (retail, BFSI, government, travel and hospitality, and others), product (solutions and services), and geography (North America, APAC, Europe, South America, and Middle East and Africa). It also includes an in-depth analysis of drivers, trends, and challenges. 
What will be the Size of the Chatbot Market During the Forecast Period?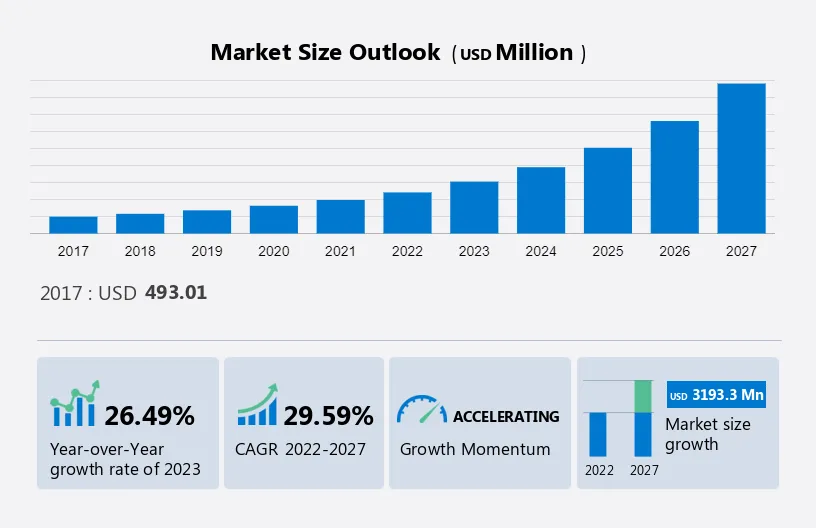 To learn more about this report, Request Free Sample
Chatbot Market: Key Drivers, Trends, Challenges, and Customer Landscape
Our researchers analyzed the data with 2022 as the base year, along with the key drivers, trends, and challenges. A holistic analysis of drivers will help companies refine their marketing strategies to gain a competitive advantage.
Key Chatbot Market Driver
The several benefits associated with using chatbot solutions is notably driving the market growth. A chatbot is a front-end interface, which is used to connect to various types of channels, such as websites, email, SMS, or messaging applications such as Facebook Messenger or Slack, through which users interact with the chatbot. The most popular messaging platforms to build customer support bots are Facebook Messenger, Kik, Skype, Twitter, SMS, Email, and Slack. Chatbots integrated with conversational AI tools collect consumer data from support interactions and databases and are intelligent enough to provide a personalized experience. They can recognize human emotions such as anger, confusion, fear, and joy.
The advantages of chatbots include 24/7 customer support, on-time responses, and a reduction in customer support costs. From providing lifestyle advice to customer support, chatbots are opening innovative ways of business-customer interaction. Chatbots can also be customized to establish a company's brand personality and voice by linking to corporate knowledge bases and communication systems. This provides chatbots with an edge over other customer support options that are available in the market and fuels the growth of the global chatbot market.
Significant Chatbot Market Trends
One of the key market trends driving the chatbot market growth is the increasing adoption of chatbots in smartphones. The m-commerce and e-commerce markets are growing rapidly, with many end-users, such as the BFSI, retail, and travel sectors, inclined toward the adoption of m-commerce. Online activities such as online banking, purchase of goods, and bill payment are growing. Software developers are coming up with innovative applications such as messenger, gaming, and social media apps for use on mobile phones. People use these applications to interact, play, and browse information on mobile phones rather than on PCs.
Therefore, chatbot providers have developed chatbots specifically for smartphones and mobile phones to provide an easy self-service experience for users. Nuance Communications provides Nina mobile chatbot, which eliminates the need for customers to go to the company website, as their queries can be answered and resolved through apps. Therefore, the increasing mobility of chatbots with use In smartphones is a major trend in the global chatbot market.
Major Chatbot Market Challenge
One of the major challenges impeding chatbot market growth is the lack of awareness and standardization. Developing and underdeveloped countries lack proper IT infrastructure and have low company penetration, which leads to limited knowledge about such advanced technologies. Additionally, concerns raised over chatbot security, like privacy and security risks to the personal and sensitive data of customers, pose a threat to the growth of the global chatbot market. Such factors are limiting the revenue inflow into the market.
As there are many sectors and countries that remain untapped in the market, these countries offer vast future opportunities for chatbot services. However, tapping these markets can be challenging for companies owing to the limited resources and poorly developed IT infrastructure, which hinder the implementation of advanced technology, such as chatbots. Thus, the lack of awareness and standardization can be a major challenge to the growth of the global chatbot market during the forecast period.
Key Chatbot Market Customer Landscape
The market report includes the adoption lifecycle of the market, covering from the innovator's stage to the laggard's stage. It focuses on adoption rates in different regions based on penetration. Furthermore, the report also includes key purchase criteria and drivers of price sensitivity to help companies evaluate and develop their growth strategies.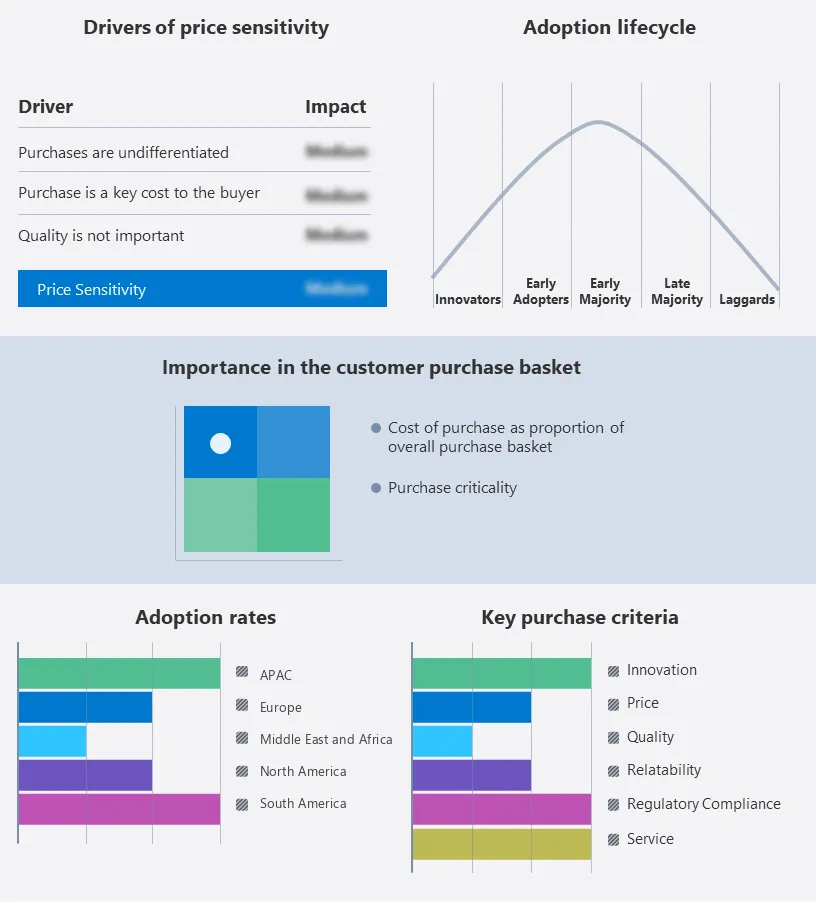 Global Chatbot Market Customer Landscape
Who are the Major Chatbot Market Companies?
Companies are implementing various strategies, such as strategic alliances, partnerships, mergers and acquisitions, geographical expansion, and product/service launches, to enhance their presence in the market.
247.ai Inc.: The company offers chatbot solutions to automate voice and digital interactions for improved customer CX and faster service with 24 7 AI Virtual Agent.
The research report also includes detailed analyses of the competitive landscape of the market and information about 15 market companies, including:
Acuvate
Aivo
Alphabet Inc.
Amazon.com Inc.
Artificial Solutions International AB
Avaamo Inc.
Botsify
Creative Virtual Ltd.
eGain Corp.
Inbenta Holdings Inc.
International Business Machines Corp.
Kore.ai Inc.
Microsoft Corp.
Oracle Corp.
Qualitative and quantitative analysis of companies has been conducted to help clients understand the wider business environment as well as the strengths and weaknesses of key market players. Data is qualitatively analyzed to categorize companies as pure play, category-focused, industry-focused, and diversified; it is quantitatively analyzed to categorize companies as dominant, leading, strong, tentative, and weak.
What is the Fastest-Growing Segments in the Chatbot Market?
The chatbot market share growth by the retail segment will be significant during the forecast period. Retail is the fastest-growing market segment for chatbots due to the growing adoption of e-commerce worldwide. Amazon, Flipkart, Alibaba, and Snapdeal are a few of the major e-commerce platforms.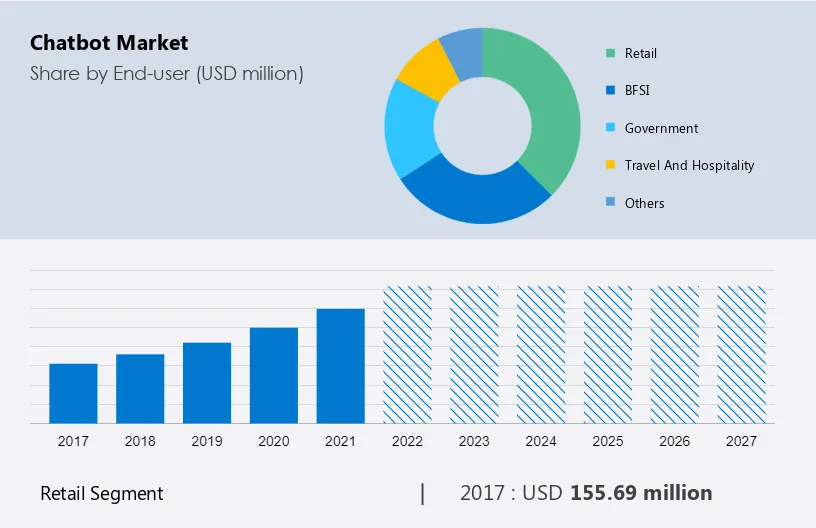 Get a glance at the market contribution of various segments View the PDF Sample
The retail segment was valued at USD 155.69 million in 2017 and continued to grow until 2021. The retailers are implementing chatbots to provide an enhanced experience to their customers while carrying out online product searches. The use of chatbots enables customers to get their queries related to payment methods for a particular product quickly and effectively. In addition, chatbots help retail enterprises establish and maintain service levels for email responses to sales inquiries and online customer transactions. Such factors are expected to drive the growth of the global chatbot market in the retail segment during the forecast period.
Which are the Key Regions for the Chatbot Market?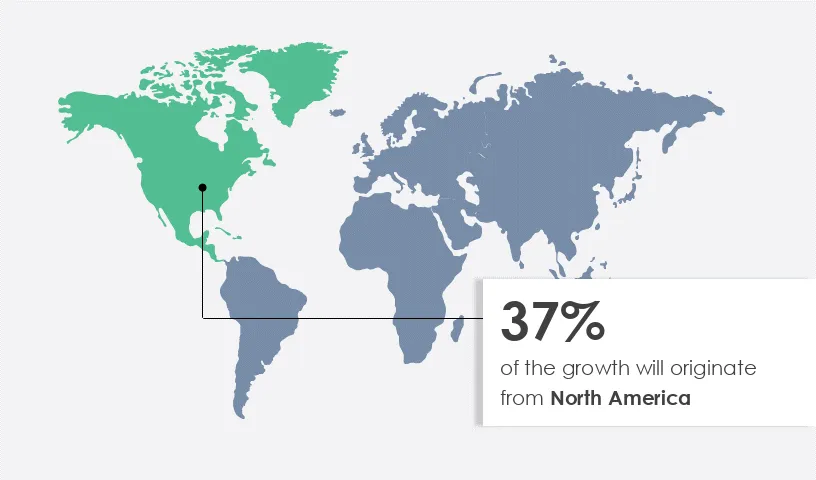 For more insights on the market share of various regions Download PDF Sample now!
North America is estimated to contribute 37% to the growth of the global market during the forecast period. Technavio's analysts have elaborately explained the regional trends and drivers that shape the market during the forecast period. In North America most Internet users use e-commerce sites such as Amazon to purchase goods. As more shoppers in North America are shifting to online shopping, e-commerce companies require solutions to handle customer queries and provide efficient customer services. The adoption of chatbots is growing in the region due to the increase in demand for cost-effective and user-friendly chatbots. 
Another reason for the growth of chatbots in North America is the growing participation of online shoppers in live chats. The growing use of chatbot messengers and live chats allows customers to communicate in real time with customer service representatives through chatbots. Customers are increasingly engaging with chatbots, and more online buyers prefer using live chats to resolve their queries. The growing preference for live chats and virtual assistants (VAs) is attributed to the fact that they offer users swift responses and an efficient communication method. These factors have led to the growth of the chatbot market in North America.
The outbreak of COVID-19 in 2020 significantly impacted North America and resulted in the temporary shutdown of industries, including retail, travel, and hospitality. However, in the first half of 2021, the large-scale COVID-19 vaccination drives that were carried out across North American countries helped stabilize the situation, and all the sectors resumed their normal activities by the end of 2021. Chatbots found widespread adoption across various verticals, like retail and e-commerce, healthcare, BFSI, and telecommunication, to address various customer needs.  Hence, the increasing digitalization of businesses and the rising preference for customer support services will help the chatbot market in North America grow during the forecast period. 
Segment Overview
The chatbot market report forecasts market growth by revenue at global, regional & country levels and provides an analysis of the latest trends and growth opportunities from 2017 to 2027. 
End-User Outlook (USD Million, 2017 - 2027)

Retail
BFSI
Government
Travel and hospitality
Others
Prodct Outlook (USD Million, 2017 - 2027)
Region Outlook (USD Million, 2017 - 2027)

Europe

The U.K.
Germany
France
Rest of Europe

Middle East & Africa

Saudi Arabia
South Africa
Rest of the Middle East & Africa
Chatbot Market Scope

Report Coverage

Details

Page number

171

Base year

2022

Historic period

2017-2021

Forecast period

2023-2027

Growth momentum & CAGR

Accelerate at a CAGR of 29.59%

Market growth 2023-2027

USD 3,193.3 million

Market structure

Fragmented

YoY growth 2022-2023(%)

26.49

Regional analysis

North America, APAC, Europe, South America, and Middle East and Africa

Performing market contribution

North America at 37%

Key countries

US, China, Japan, UK, and Germany

Competitive landscape

Leading Companies, Market Positioning of Companies, Competitive Strategies, and Industry Risks

Key companies profiled

247.ai Inc., Acuvate, Aivo, Alphabet Inc., Amazon.com Inc., Artificial Solutions International AB, Avaamo Inc., Botsify, Creative Virtual Ltd., eGain Corp., Inbenta Holdings Inc., International Business Machines Corp., Kore.ai Inc., Microsoft Corp., Oracle Corp., ServiceNow Inc., Zoom Video Communications Inc., Conversica Inc., Meta Platforms Inc., and OpenAI L.L.C.

Market dynamics

Parent market analysis, Market growth inducers and obstacles, Fast-growing and slow-growing segment analysis, COVID-19 impact and recovery analysis and future consumer dynamics, Market condition analysis for forecast period.

Customization purview

If our report has not included the data that you are looking for, you can reach out to our analysts and get segments customized.
What are the Key Data Covered in this Chatbot Market Research Report?
CAGR of the market during the forecast period
Detailed information on factors that will drive the growth of the

market 

between 2023 and 2027
Precise estimation of the market  size and its contribution of the market in focus to the parent market
Accurate predictions about upcoming trends and changes in consumer behaviour
Growth of the market across North America, APAC, Europe, South America, and Middle East and Africa
Thorough analysis of the market's competitive landscape and detailed information about companies
Comprehensive analysis of factors that will challenge the growth of market companies
We can help! Our analysts can customize this market research report to meet your requirements.