US - Community College Market 2024-2028
The US - Community College Market size is estimated to decline at a CAGR of 2.5% between 2023 and 2028. The market size is forecast to decrease by USD - 7.5 billion The report includes historic market data from 2018-2022. It also extensively covers market segmentation by revenue stream (government funds, tuition and fees, grants and contracts, and others) and courses (associate degree, TVET certification, continuing education, and bachelors degree). This report also includes an in-depth analysis of drivers, trends, and challenges.
Focus on non-traditional learners is notably driving the market growth. Institutions are shifting focus from attracting and recruiting traditional degree program students to other student categories. Other student categories include student and adult learners who enroll in continuing education and certification programs conducted by colleges and universities. As per the National Center of Education Statistics, in the US, in 2021, the undergraduate enrollment of female candidates was approximately 58%. However, the non-traditional category is expected to serve as a customer segment with significant revenue-generating opportunities. Various evening and part-time course programs have been introduced that are highly flexible to suit students. Also, the availability of online courses with hassle-free credit transfer systems has further helped institutions to attract non-traditional learners. This will open a new avenue of revenue generation for community colleges and enable them to cater to educational customers which also results in US - community college market expansion. Such factors will boost the growth of the US community college market during the forecast period.
What will be the size of the US Community College Market During the Forecast Period?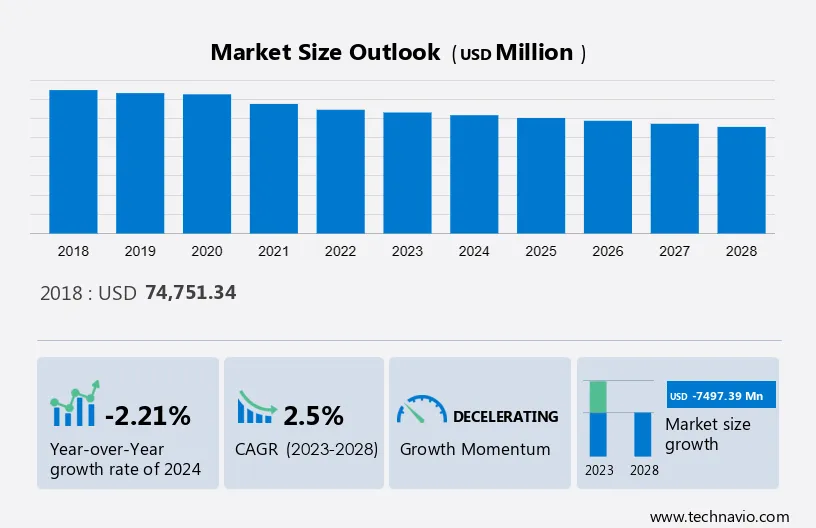 View Sample PDF at your Fingertips
Who are the Major US Community College Market Companies?
Companies are implementing various strategies, such as strategic alliances, partnerships, mergers and acquisitions, geographical expansion, and product/service launches, to enhance their presence in the market.
Alaska Vocational Technical Center - The community college offers a training program for 90 to 180 days where students spend the majority of the day in the labs in a hands-on learning environment, practising the technical skills identified by employers as important for the workplace.
The US Community College Market report also includes detailed analyses of the competitive landscape of the market and information about 20 market companies, including:
Central Louisiana Technical Community College
Clackamas Community College
Cleveland Community College
College of San Mateo
De Anza College
Foothill College
Garden City Community College
Glendale Community College
Lake Area Technical College
Mt. San Antonio College
NCK Tech.
North Florida College
Northeast Community College
Northwest Iowa Community College
Pasadena City College
Saddleback College
Santa Barbara City College
Walla Walla Community College
Las Positas College
Qualitative and quantitative analysis of companies has been conducted to help clients understand the wider business environment as well as the strengths and weaknesses of key market players. Data is qualitatively analyzed to categorize companies as pure play, category-focused, industry-focused, and diversified; it is quantitatively analyzed to categorize companies as dominant, leading, strong, tentative, and weak.
View the Bestselling Market Report Instantly
Market Segmentation by Revenue Stream
The market share growth by the government funds segment will be significant during the forecast period. Government funds are the biggest source of revenue for community colleges in the US. Colleges are largely served by state, local, and central government funds that are used to provide salaries for instructors and other college staff. These funds are meant to improve every aspect of colleges, ranging from learning processes to college infrastructure.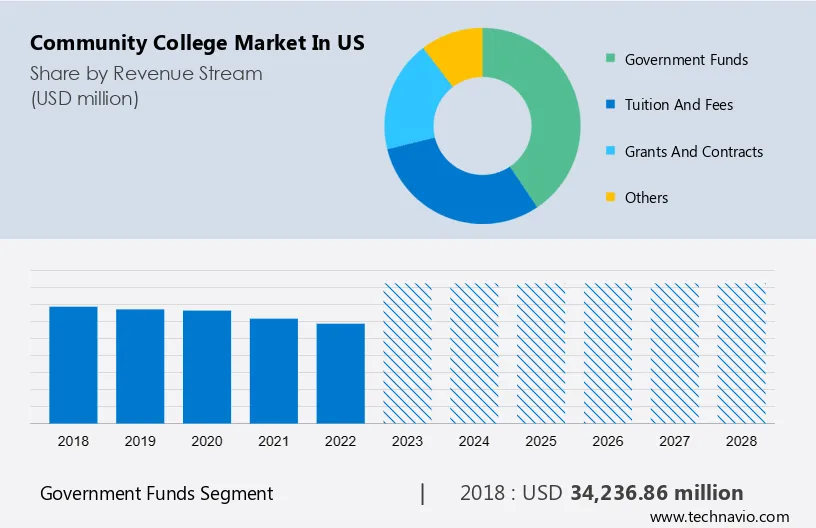 Get a glance at the market contribution of various segments View PDF Sample
The government funds segment was the largest and was valued at USD 34.23 billion in 2018.  Moreover, with government initiatives such as the CARE Act Higher Education Emergency Relief Fund, the US Department of Education provided an additional USD 21.2 billion for higher education institutions to ensure continual learning for students during the COVID-19 pandemic. Thus, the initiatives and funding by the government are providing support to educational institutions and community colleges, which will help the US community college market to grow through the government funds segment during the forecast period.
US Community College Market: Key Trends and Challenges
Our researchers analyzed the data with 2023 as the base year, along with the key drivers, trends, and challenges. A holistic analysis of drivers will help companies refine their marketing strategies to gain a competitive advantage.
Trends
Emphasis on the education marketing process is an emerging trend shaping market growth.   Community colleges are observed to embrace education marketing services. The procurement of education marketing services is a common phenomenon among other higher education institutions and K-12 schools. However, community colleges are gradually following the trend. They face challenges due to the rising competition in terms of attracting and recruiting students from four-year and for-profit institutions along with quality enhancement initiatives. This has resulted in colleges redesigning their communication and recruitment strategies. Students who can enroll at community colleges have the purpose of either joining the job market or transferring to a four-year institution. Hence, colleges must prepare communication messages accordingly to capture students with varied mindsets. Community colleges are taking expert services from education marketing service providers.
For instance, Ivy Tech Community College has utilized social networking platforms as a way of marketing its education campaigns and as a customer service tool. The marketing departments in colleges are looking for innovative ways to reach out to a vast array of students which can have a positive impact on the US - community college market. Hence, they are making efforts to strengthen their marketing initiatives. This trend is expected to gain momentum, which will foster the growth of the US community college market during the forecast period. 
Challenge
Funding cuts to community colleges are a significant challenge hindering market growth. The funding sources available to community colleges are one of the most decisive factors in determining the progress of these colleges. As capital is required in every aspect of the maintenance and growth of community colleges, it is a critical input for them. However, looking at the funding trends, it is observed that state funding has steadily declined during the past couple of years. The state tax revenue that acted as a major source of funding for these colleges has shrunk and resulted in colleges either raising their tuition fees or limiting their student intake. Alongside this, there have been spending cuts that may compromise the quality of education imparted by these colleges.
In addition, states such as Oklahoma, Kentucky, and West Virginia have encountered per-student spending cuts in 2015 and have continued until the present. This has pressured community colleges to provide quality education in the absence of funding. As these colleges put a cap on student enrollment, this acts in favor of the other four-year academic institutions that accommodate the rest of the students which may restrict the US - community college market growth. Thus, this factor challenges the market growth of the US community college market during the forecast period.
Customer Landscape
The report includes the adoption lifecycle of the market, from the innovator's stage to the laggard's stage. It focuses on adoption rates in different regions based on market penetration. Furthermore, the report also includes key purchase criteria and drivers of price sensitivity to help companies evaluate and develop their growth strategies.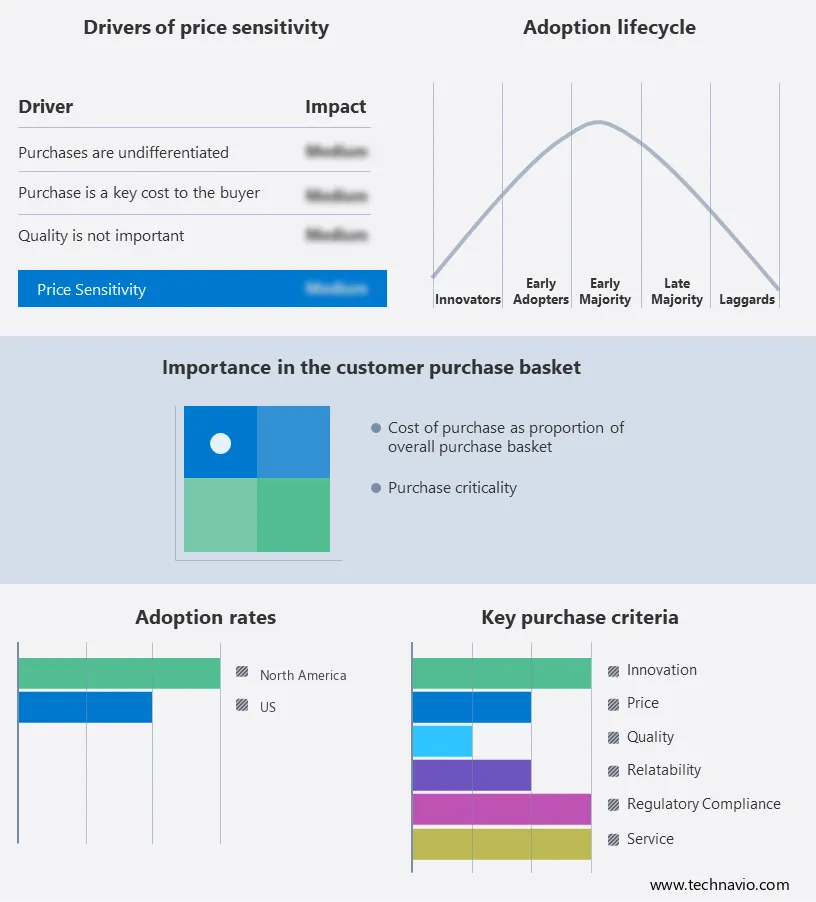 US Community College Market Customer Landscape
Segment Overview
The US Community College Market report forecasts market growth by revenue and provides an analysis of the latest trends and growth opportunities from 2018-2022
Revenue Stream Outlook

Government funds
Tuition and fees
Grants and contracts
Others
Courses Outlook

Associate degree
TVET certification
Continuing education
Bachelors degree
US Community College Market Scope

Report Coverage

Details

Page number

132

Base year

2023

Historic period

2018-2022

Forecast period

2024-2028

Growth momentum & CAGR

Decelerate at a CAGR of 2.5%

Market Growth 2024-2028

USD -7.49 billion

Market structure

Fragmented

YoY growth 2023-2024(%)

-2.21

Competitive landscape

Leading Companies, Market Positioning of Companies, Competitive Strategies, and Industry Risks

Key companies profiled

Alaska Vocational Technical Center, Central Louisiana Technical Community College, Clackamas Community College, Cleveland Community College, College of San Mateo, De Anza College, Foothill College, Garden City Community College, Glendale Community College, Lake Area Technical College, Mt. San Antonio College, NCK Tech., North Florida College, Northeast Community College, Northwest Iowa Community College, Pasadena City College, Saddleback College, Santa Barbara City College, Walla Walla Community College, and Las Positas College

Market dynamics

Parent market analysis, Market growth inducers and obstacles, Fast-growing and slow-growing segment analysis, COVID-19 impact and recovery analysis and future consumer dynamics, and Market condition analysis for the forecast period. 

Customization purview

If our report has not included the data that you are looking for, you can reach out to our analysts and get segments customized.
What are the Key Data Covered in this US Community College Market Research Report?
CAGR of the market during the forecast period
Detailed information on factors that will drive the growth of the market between 2024 and 2028
Precise estimation of the market  size and its contribution of the market in focus to the parent market
Accurate predictions about upcoming trends and changes in consumer behaviour
Growth of the market across the US
A thorough analysis of the market's competitive landscape and detailed information about companies
Comprehensive analysis of factors that will challenge the growth of market companies
We can help! Our analysts can customize this market research report to meet your requirements. Get in touch
1 Executive Summary
1.1 Market overview

Exhibit 01: Executive Summary – Chart on Market Overview
Exhibit 02: Executive Summary – Data Table on Market Overview
Exhibit 03: Executive Summary – Chart on Country Market Characteristics
Exhibit 04: Executive Summary – Chart on Market Segmentation by Revenue Stream
Exhibit 05: Executive Summary – Chart on Market Segmentation by Courses
Exhibit 06: Executive Summary – Chart on Vendor Market Positioning
2 Market Landscape
2.1 Market ecosystem

Exhibit 07: Parent market
Exhibit 08: Market Characteristics
3 Market Sizing
3.1 Market definition

Exhibit 09: Offerings of vendors included in the market definition
3.2 Market segment analysis

Exhibit 10: Market segments
3.4 Market outlook: Forecast for 2023-2028

Exhibit 11: Chart on US - Market size and forecast 2023-2028 ($ million)
Exhibit 12: Data Table on US - Market size and forecast 2023-2028 ($ million)
Exhibit 13: Chart on US: Year-over-year growth 2023-2028 (%)
Exhibit 14: Data Table on US: Year-over-year growth 2023-2028 (%)
4 Historic Market Size
4.1 Community college market in US 2018 - 2022

Exhibit 15: Historic Market Size – Data Table on community college market in US 2018 - 2022 ($ million)
4.2 Revenue stream Segment Analysis 2018 - 2022

Exhibit 16: Historic Market Size – Revenue stream Segment 2018 - 2022 ($ million)
4.3 Courses Segment Analysis 2018 - 2022

Exhibit 17: Historic Market Size – Courses Segment 2018 - 2022 ($ million)
5 Five Forces Analysis
5.1 Five forces summary

Exhibit 18: Five forces analysis - Comparison between 2023 and 2028
5.2 Bargaining power of buyers

Exhibit 19: Chart on Bargaining power of buyers – Impact of key factors 2023 and 2028
5.3 Bargaining power of suppliers

Exhibit 20: Bargaining power of suppliers – Impact of key factors in 2023 and 2028
5.4 Threat of new entrants

Exhibit 21: Threat of new entrants – Impact of key factors in 2023 and 2028
5.5 Threat of substitutes

Exhibit 22: Threat of substitutes – Impact of key factors in 2023 and 2028
5.6 Threat of rivalry

Exhibit 23: Threat of rivalry – Impact of key factors in 2023 and 2028
5.7 Market condition

Exhibit 24: Chart on Market condition - Five forces 2023 and 2028
6 Market Segmentation by Revenue Stream
6.1 Market segments

Exhibit 25: Chart on Revenue Stream - Market share 2023-2028 (%)
Exhibit 26: Data Table on Revenue Stream - Market share 2023-2028 (%)
6.2 Comparison by Revenue Stream

Exhibit 27: Chart on Comparison by Revenue Stream
Exhibit 28: Data Table on Comparison by Revenue Stream
6.3 Government funds - Market size and forecast 2023-2028

Exhibit 29: Chart on Government funds - Market size and forecast 2023-2028 ($ million)
Exhibit 30: Data Table on Government funds - Market size and forecast 2023-2028 ($ million)
Exhibit 31: Chart on Government funds - Year-over-year growth 2023-2028 (%)
Exhibit 32: Data Table on Government funds - Year-over-year growth 2023-2028 (%)
6.4 Tuition and fees - Market size and forecast 2023-2028

Exhibit 33: Chart on Tuition and fees - Market size and forecast 2023-2028 ($ million)
Exhibit 34: Data Table on Tuition and fees - Market size and forecast 2023-2028 ($ million)
Exhibit 35: Chart on Tuition and fees - Year-over-year growth 2023-2028 (%)
Exhibit 36: Data Table on Tuition and fees - Year-over-year growth 2023-2028 (%)
6.5 Grants and contracts - Market size and forecast 2023-2028

Exhibit 37: Chart on Grants and contracts - Market size and forecast 2023-2028 ($ million)
Exhibit 38: Data Table on Grants and contracts - Market size and forecast 2023-2028 ($ million)
Exhibit 39: Chart on Grants and contracts - Year-over-year growth 2023-2028 (%)
Exhibit 40: Data Table on Grants and contracts - Year-over-year growth 2023-2028 (%)
6.6 Others - Market size and forecast 2023-2028

Exhibit 41: Chart on Others - Market size and forecast 2023-2028 ($ million)
Exhibit 42: Data Table on Others - Market size and forecast 2023-2028 ($ million)
Exhibit 43: Chart on Others - Year-over-year growth 2023-2028 (%)
Exhibit 44: Data Table on Others - Year-over-year growth 2023-2028 (%)
6.7 Market opportunity by Revenue Stream

Exhibit 45: Market opportunity by Revenue Stream ($ million)
Exhibit 46: Data Table on Market opportunity by Revenue Stream ($ million)
7 Market Segmentation by Courses
7.1 Market segments

Exhibit 47: Chart on Courses - Market share 2023-2028 (%)
Exhibit 48: Data Table on Courses - Market share 2023-2028 (%)
7.2 Comparison by Courses

Exhibit 49: Chart on Comparison by Courses
Exhibit 50: Data Table on Comparison by Courses
7.3 Associate degree - Market size and forecast 2023-2028

Exhibit 51: Chart on Associate degree - Market size and forecast 2023-2028 ($ million)
Exhibit 52: Data Table on Associate degree - Market size and forecast 2023-2028 ($ million)
Exhibit 53: Chart on Associate degree - Year-over-year growth 2023-2028 (%)
Exhibit 54: Data Table on Associate degree - Year-over-year growth 2023-2028 (%)
7.4 TVET certification - Market size and forecast 2023-2028

Exhibit 55: Chart on TVET certification - Market size and forecast 2023-2028 ($ million)
Exhibit 56: Data Table on TVET certification - Market size and forecast 2023-2028 ($ million)
Exhibit 57: Chart on TVET certification - Year-over-year growth 2023-2028 (%)
Exhibit 58: Data Table on TVET certification - Year-over-year growth 2023-2028 (%)
7.5 Continuing education - Market size and forecast 2023-2028

Exhibit 59: Chart on Continuing education - Market size and forecast 2023-2028 ($ million)
Exhibit 60: Data Table on Continuing education - Market size and forecast 2023-2028 ($ million)
Exhibit 61: Chart on Continuing education - Year-over-year growth 2023-2028 (%)
Exhibit 62: Data Table on Continuing education - Year-over-year growth 2023-2028 (%)
7.6 Bachelors degree - Market size and forecast 2023-2028

Exhibit 63: Chart on Bachelors degree - Market size and forecast 2023-2028 ($ million)
Exhibit 64: Data Table on Bachelors degree - Market size and forecast 2023-2028 ($ million)
Exhibit 65: Chart on Bachelors degree - Year-over-year growth 2023-2028 (%)
Exhibit 66: Data Table on Bachelors degree - Year-over-year growth 2023-2028 (%)
7.7 Market opportunity by Courses

Exhibit 67: Market opportunity by Courses ($ million)
Exhibit 68: Data Table on Market opportunity by Courses ($ million)
8 Customer Landscape
8.1 Customer landscape overview

Exhibit 69: Analysis of price sensitivity, lifecycle, customer purchase basket, adoption rates, and purchase criteria
9 Drivers, Challenges, and Trends
9.3 Impact of drivers and challenges

Exhibit 70: Impact of drivers and challenges in 2023 and 2028
10 Vendor Landscape
10.2 Vendor landscape

Exhibit 71: Overview on Criticality of inputs and Factors of differentiation
10.3 Landscape disruption

Exhibit 72: Overview on factors of disruption
10.4 Industry risks

Exhibit 73: Impact of key risks on business
11 Vendor Analysis
11.1 Vendors covered

Exhibit 74: Vendors covered
11.2 Market positioning of vendors

Exhibit 75: Matrix on vendor position and classification
11.3 Alaska Vocational Technical Center

Exhibit 76: Alaska Vocational Technical Center - Overview
Exhibit 77: Alaska Vocational Technical Center - Product / Service
Exhibit 78: Alaska Vocational Technical Center - Key offerings
11.4 Central Louisiana Technical Community College

Exhibit 79: Central Louisiana Technical Community College - Overview
Exhibit 80: Central Louisiana Technical Community College - Product / Service
Exhibit 81: Central Louisiana Technical Community College - Key offerings
11.5 Cleveland Community College

Exhibit 82: Cleveland Community College - Overview
Exhibit 83: Cleveland Community College - Product / Service
Exhibit 84: Cleveland Community College - Key offerings
11.6 De Anza College

Exhibit 85: De Anza College - Overview
Exhibit 86: De Anza College - Product / Service
Exhibit 87: De Anza College - Key offerings
11.7 Foothill College

Exhibit 88: Foothill College - Overview
Exhibit 89: Foothill College - Product / Service
Exhibit 90: Foothill College - Key offerings
11.8 Garden City Community College

Exhibit 91: Garden City Community College - Overview
Exhibit 92: Garden City Community College - Product / Service
Exhibit 93: Garden City Community College - Key offerings
11.9 Glendale Community College

Exhibit 94: Glendale Community College - Overview
Exhibit 95: Glendale Community College - Product / Service
Exhibit 96: Glendale Community College - Key offerings
11.10 Lake Area Technical College

Exhibit 97: Lake Area Technical College - Overview
Exhibit 98: Lake Area Technical College - Product / Service
Exhibit 99: Lake Area Technical College - Key offerings
11.11 NCK Tech.

Exhibit 100: NCK Tech. - Overview
Exhibit 101: NCK Tech. - Product / Service
Exhibit 102: NCK Tech. - Key offerings
11.12 North Florida College

Exhibit 103: North Florida College - Overview
Exhibit 104: North Florida College - Product / Service
Exhibit 105: North Florida College - Key offerings
11.13 Northeast Community College

Exhibit 106: Northeast Community College - Overview
Exhibit 107: Northeast Community College - Product / Service
Exhibit 108: Northeast Community College - Key offerings
11.14 Northwest Iowa Community College

Exhibit 109: Northwest Iowa Community College - Overview
Exhibit 110: Northwest Iowa Community College - Product / Service
Exhibit 111: Northwest Iowa Community College - Key offerings
11.15 Saddleback College

Exhibit 112: Saddleback College - Overview
Exhibit 113: Saddleback College - Product / Service
Exhibit 114: Saddleback College - Key offerings
11.16 Santa Barbara City College

Exhibit 115: Santa Barbara City College - Overview
Exhibit 116: Santa Barbara City College - Product / Service
Exhibit 117: Santa Barbara City College - Key offerings
11.17 Walla Walla Community College

Exhibit 118: Walla Walla Community College - Overview
Exhibit 119: Walla Walla Community College - Product / Service
Exhibit 120: Walla Walla Community College - Key offerings
12 Appendix
12.2 Inclusions and exclusions checklist

Exhibit 121: Inclusions checklist
Exhibit 122: Exclusions checklist
12.3 Currency conversion rates for US$

Exhibit 123: Currency conversion rates for US$
12.4 Research methodology

Exhibit 124: Research methodology
Exhibit 125: Validation techniques employed for market sizing
Exhibit 126: Information sources
12.5 List of abbreviations

Exhibit 127: List of abbreviations