Germany Construction Market Analysis Report 2023-2027:
The Germany construction market size is estimated to grow at a CAGR of 6.05% between 2022 and 2027. The market size is forecast to increase by USD 130.65 billion. The growth of the market depends on several factors, including the growing demand for housing units, increase in public infrastructure spending by the government and rising regulatory efforts to increase consumer spending on housing.
This construction market report extensively covers market segmentation by Type (buildings construction, heavy and civil engineering construction, land planning and development, and specialty trade contractors), and End-user (residential, commercial, and public). It also includes an in-depth analysis of drivers, trends, and challenges. Furthermore, the report includes historic market data from 2017 to 2021.
What will be the Size of the Construction Market During the Forecast Period?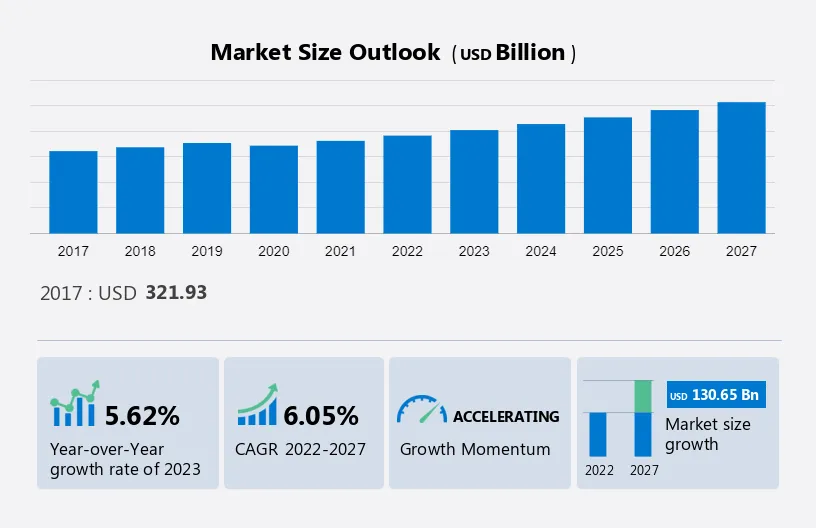 To learn more about this report, View Report Sample
Germany Construction Market: Key Drivers, Trends, Challenges, and Customer Landscape
The growing demand for housing units is notably driving the market growth, although rise in cost of construction may impede the market growth. Our researchers analyzed the data with 2022 as the base year, along with the key drivers, trends, and challenges. A holistic analysis of drivers will help companies refine their marketing strategies to gain a competitive advantage.
Key Germany Construction Market Driver
Growing demand for housing units is a key market driver. Demand for residential units in the German construction market has steadily increased in recent years due to various factors. One of the main drivers of increased demand for housing in Germany is population growth. Despite its relatively low birth rate, Germany has one of the highest concentrations of immigrants in Europe. This increased the population, which, in turn, increased the demand for housing. Another factor driving housing demand in Germany is urbanization. Demand for urban housing is increasing as more people migrate to cities in search of jobs and better opportunities. This has led to an increase in the construction of apartments and skyscrapers in major cities such as Berlin, Munich, and Frankfurt. In addition, historically, low interest rates have made it easier for people to obtain mortgages and buy homes, further increasing demand for housing. In addition, the federal government has implemented policies to encourage homeownership, such as first-time buyer subsidies, which have contributed to an increase in housing demand. Overall, the demand for residential units in the German construction market is likely to continue increasing in the coming years due to population growth, urbanization, low interest rates and government policies.
Key Germany Construction Market Trend
Growing demand for modular houses is a key trend prevailing in the market. Germany was an early adopter of automation and digitization. This country was the first to coin the term Industry 4.0. Germany plans to increase the use of digital technologies in the construction industry as part of the increasing digitization of various industries. One of the fastest growing technologies is Building Information Modeling (BIM). This technology is a 3D modeling tool that provides digital /images of real buildings and their assets.

BIM implementation in construction projects has improved supplier productivity, quality, and speed of work. In April 2013, the Federal Department of Transport and Digital Infrastructure established the Major Project Construction Reform Commission to increase public confidence in specific projects. The Reform Commission was formed to develop solutions to improve cost-effective pricing, increase cost transparency, increase efficiency and facilitate on-time completion of major projects. 
Major Germany Construction Market Challenge
The rise in cost of construction is hindering market growth. The construction industry utilizes various inputs such as raw materials, land, labor and utilities during the construction process. Prices for raw materials such as metal, wood and concrete are rising in Germany. This is having a negative impact on the provider's profit margins.
Rising labor costs have also increased operating costs for the German construction industry. German trade unions and employers agreed in November 2022 to raise wages for more than 3.8 million construction workers by 8.0% from a year earlier. According to the agreement, construction workers in Western Germany are entitled to an increase of 5.5%. The seller can pass on the increased cost to the buyer. However, such high prices are not sustainable in the long term, especially for the housing market. Germany has one of the highest housing costs and rents in Europe. Those costs have increased since her 2009. The mismatch between demand and supply in the residential real estate sector suggests that these prices will continue to rise during the forecast period. Against this backdrop, housing demand will decline as sellers pass on higher utility costs to buyers. It can also adversely affect the profit margins of vendors in the market. 
Construction Market Customer Landscape
The market report includes the adoption lifecycle of the market, covering from the innovator's stage to the laggard's stage. It focuses on adoption rates in different regions based on penetration. Furthermore, the report also includes key purchase criteria and drivers of price sensitivity to help companies evaluate and develop their growth strategies.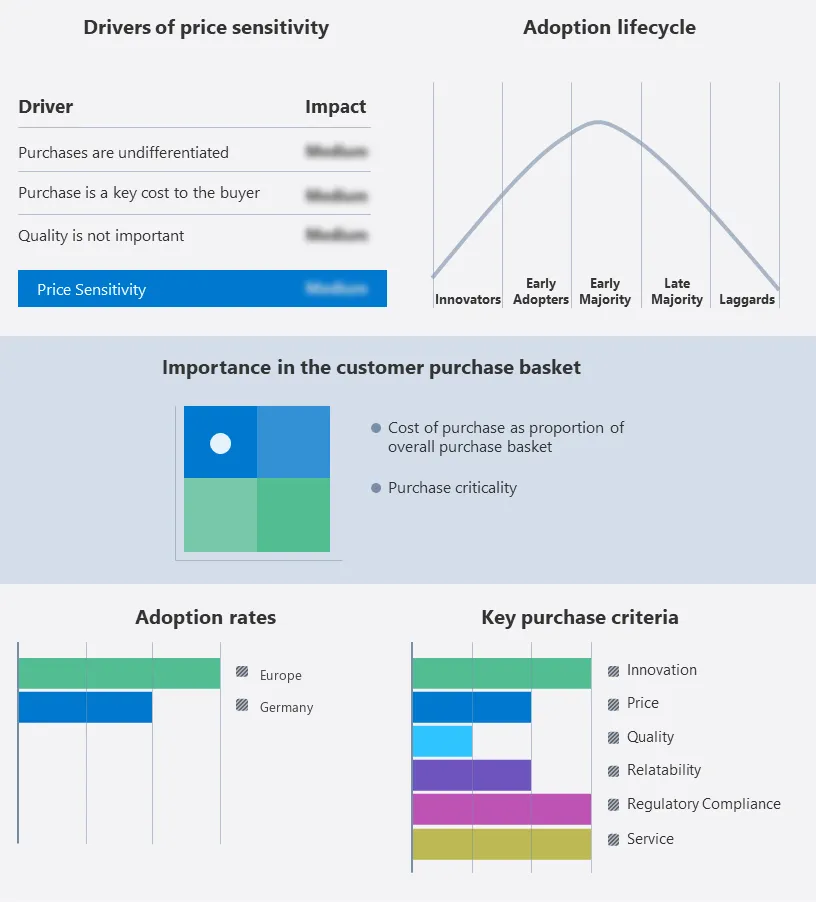 Global Construction Market Customer Landscape
Who are the Major Construction Market Vendors?
Vendors are implementing various strategies, such as strategic alliances, partnerships, mergers and acquisitions, geographical expansion, and product/service launches, to enhance their presence in the market.
Bauer : The company offers construction services such as bored piles and anchors.
The research report also includes detailed analyses of the competitive landscape of the market and information about 15 market vendors, including:
allkaufhaus GmbH
ARGON Hausbau GmbH and Co. KG
BASF SE
Bilfinger SE
Building Radar GmbH
CRH Plc
GOLDBECK GmbH
HOCHTIEF AG
Lechner Massivhaus GmbH
LEONHARD WEISS GmbH and Co. KG
Max Bogl Bauservice GmbH and Co. KG
PERI SE
PORR AG
Ronesans Holding
RRI GmbH Rhein Ruhr International
SchworerHaus KG
STRABAG SE
TRAPP Construction International GmbH
WOLFF and MULLER Holding GmbH and Co. KG
Qualitative and quantitative analysis of vendors has been conducted to help clients understand the wider business environment as well as the strengths and weaknesses of key market players. Data is qualitatively analyzed to categorize vendors as pure play, category-focused, industry-focused, and diversified; it is quantitatively analyzed to categorize vendors as dominant, leading, strong, tentative, and weak.
What is the Fastest-Growing Segments in the Germany Construction Market?
Building construction is an important segment of the German construction market and contributes significantly to the national economy. Building construction projects have increased in recent years due to the growing demand for housing and infrastructure in the country.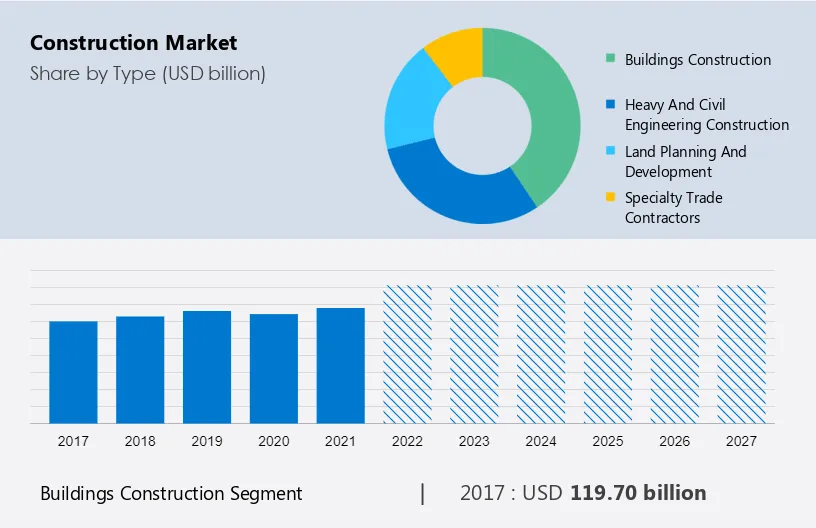 Get a glance at the market contribution of various segments View the PDF Sample
The building and construction segment was valued at USD 119.70 billion in 2017 and continued to grow by 2021. Domestic and foreign construction companies compete for orders in the highly competitive German construction market. Additionally, the market is highly regulated, with strict building codes and regulations to ensure good building standards and safety for all. This will drive the growth of the market we focus on during the forecast period.
Segment Overview
The construction market report forecasts market growth by revenue at global, regional & country levels and provides an analysis of the latest trends and growth opportunities from 2017 to 2027.
Type Outlook (USD Million, 2017 - 2027)

Buildings construction
Heavy and civil engineering construction
Land planning and development
Specialty trade contractors
End-User Outlook (USD Million, 2017 - 2027)

Residential
Commercial
Public
Parent Market Analysis
Technavio categorizes the Germany Construction Market as a part of the Industrial market within the global capital goods market. The parent global application software market covers companies that are engaged in developing and producing application and system software. It also includes companies offering database management software. Our market research report has extensively covered external factors influencing the parent market growth during the forecast period.
Germany Construction Market Scope

Report Coverage

Details

Page number

131

Base year

2022

Historic period

2017-2021

Forecast period

2023-2027

Growth momentum & CAGR

Accelerate at a CAGR of 6.05%

Market growth 2023-2027

USD 130.65 billion

Market structure

Fragmented

YoY growth 2022-2023(%)

5.62

Competitive landscape

Leading Vendors, Market Positioning of Vendors, Competitive Strategies, and Industry Risks

Key companies profiled

allkaufhaus GmbH, ARGON Hausbau GmbH and Co. KG, BASF SE, BAUER AG, Bilfinger SE, Building Radar GmbH, CRH Plc, GOLDBECK GmbH, HOCHTIEF AG, Lechner Massivhaus GmbH, LEONHARD WEISS GmbH and Co. KG, Max Bogl Bauservice GmbH and Co. KG, PERI SE, PORR AG, Ronesans Holding, RRI GmbH Rhein Ruhr International, SchworerHaus KG, STRABAG SE, TRAPP Construction International GmbH, and WOLFF and MULLER Holding GmbH and Co. KG

Market dynamics

Parent market analysis, Market growth inducers and obstacles, Fast-growing and slow-growing segment analysis, COVID 19 impact and recovery analysis and future consumer dynamics, Market condition analysis for forecast period

Customization purview

If our report has not included the data that you are looking for, you can reach out to our analysts and get segments customized.
What are the Key Data Covered in this Construction Market In Country Research Report?
CAGR of the market during the forecast period
Detailed information on factors that will drive the growth of the

market 

between 2023 and 2027
Precise estimation of the size of the market  size and its contribution of the market in focus to the parent market
Accurate predictions about upcoming trends and changes in consumer behaviour
Growth of the market industry across Germany
Thorough analysis of the market's competitive landscape and detailed information about vendors
Comprehensive analysis of factors that will challenge the growth of market vendors
We can help! Our analysts can customize this market research report to meet your requirements. 
1 Executive Summary
1.1 Market overview

Exhibit 01: Executive Summary – Chart on Market Overview
Exhibit 02: Executive Summary – Data Table on Market Overview
Exhibit 03: Executive Summary – Chart on Country Market Characteristics
Exhibit 04: Executive Summary – Chart on Market Segmentation by Type
Exhibit 05: Executive Summary – Chart on Market Segmentation by End-user
Exhibit 06: Executive Summary – Chart on Vendor Market Positioning
2 Market Landscape
2.1 Market ecosystem

Exhibit 07: Parent market
Exhibit 08: Market Characteristics
3 Market Sizing
3.1 Market definition

Exhibit 09: Offerings of vendors included in the market definition
3.2 Market segment analysis

Exhibit 10: Market segments
3.4 Market outlook: Forecast for 2022-2027

Exhibit 11: Chart on Germany - Market size and forecast 2022-2027 ($ billion)
Exhibit 12: Data Table on Germany - Market size and forecast 2022-2027 ($ billion)
Exhibit 13: Chart on Germany: Year-over-year growth 2022-2027 (%)
Exhibit 14: Data Table on Germany: Year-over-year growth 2022-2027 (%)
4 Historic Market Size
4.1 Construction market in Germany 2017 - 2021

Exhibit 15: Historic Market Size – Data Table on construction market in Germany 2017 - 2021 ($ billion)
4.2 Type Segment Analysis 2017 - 2021

Exhibit 16: Historic Market Size – Type Segment 2017 - 2021 ($ billion)
4.3 End-user Segment Analysis 2017 - 2021

Exhibit 17: Historic Market Size – End-user Segment 2017 - 2021 ($ billion)
5 Five Forces Analysis
5.1 Five forces summary

Exhibit 18: Five forces analysis - Comparison between 2022 and 2027
5.2 Bargaining power of buyers

Exhibit 19: Chart on Bargaining power of buyers – Impact of key factors 2022 and 2027
5.3 Bargaining power of suppliers

Exhibit 20: Bargaining power of suppliers – Impact of key factors in 2022 and 2027
5.4 Threat of new entrants

Exhibit 21: Threat of new entrants – Impact of key factors in 2022 and 2027
5.5 Threat of substitutes

Exhibit 22: Threat of substitutes – Impact of key factors in 2022 and 2027
5.6 Threat of rivalry

Exhibit 23: Threat of rivalry – Impact of key factors in 2022 and 2027
5.7 Market condition

Exhibit 24: Chart on Market condition - Five forces 2022 and 2027
6 Market Segmentation by Type
6.1 Market segments

Exhibit 25: Chart on Type - Market share 2022-2027 (%)
Exhibit 26: Data Table on Type - Market share 2022-2027 (%)
6.2 Comparison by Type

Exhibit 27: Chart on Comparison by Type
Exhibit 28: Data Table on Comparison by Type
6.3 Buildings construction - Market size and forecast 2022-2027

Exhibit 29: Chart on Buildings construction - Market size and forecast 2022-2027 ($ billion)
Exhibit 30: Data Table on Buildings construction - Market size and forecast 2022-2027 ($ billion)
Exhibit 31: Chart on Buildings construction - Year-over-year growth 2022-2027 (%)
Exhibit 32: Data Table on Buildings construction - Year-over-year growth 2022-2027 (%)
6.4 Heavy and civil engineering construction - Market size and forecast 2022-2027

Exhibit 33: Chart on Heavy and civil engineering construction - Market size and forecast 2022-2027 ($ billion)
Exhibit 34: Data Table on Heavy and civil engineering construction - Market size and forecast 2022-2027 ($ billion)
Exhibit 35: Chart on Heavy and civil engineering construction - Year-over-year growth 2022-2027 (%)
Exhibit 36: Data Table on Heavy and civil engineering construction - Year-over-year growth 2022-2027 (%)
6.5 Land planning and development - Market size and forecast 2022-2027

Exhibit 37: Chart on Land planning and development - Market size and forecast 2022-2027 ($ billion)
Exhibit 38: Data Table on Land planning and development - Market size and forecast 2022-2027 ($ billion)
Exhibit 39: Chart on Land planning and development - Year-over-year growth 2022-2027 (%)
Exhibit 40: Data Table on Land planning and development - Year-over-year growth 2022-2027 (%)
6.6 Specialty trade contractors - Market size and forecast 2022-2027

Exhibit 41: Chart on Specialty trade contractors - Market size and forecast 2022-2027 ($ billion)
Exhibit 42: Data Table on Specialty trade contractors - Market size and forecast 2022-2027 ($ billion)
Exhibit 43: Chart on Specialty trade contractors - Year-over-year growth 2022-2027 (%)
Exhibit 44: Data Table on Specialty trade contractors - Year-over-year growth 2022-2027 (%)
6.7 Market opportunity by Type

Exhibit 45: Market opportunity by Type ($ billion)
Exhibit 46: Data Table on Market opportunity by Type ($ billion)
7 Market Segmentation by End-user
7.1 Market segments

Exhibit 47: Chart on End-user - Market share 2022-2027 (%)
Exhibit 48: Data Table on End-user - Market share 2022-2027 (%)
7.2 Comparison by End-user

Exhibit 49: Chart on Comparison by End-user
Exhibit 50: Data Table on Comparison by End-user
7.3 Residential - Market size and forecast 2022-2027

Exhibit 51: Chart on Residential - Market size and forecast 2022-2027 ($ billion)
Exhibit 52: Data Table on Residential - Market size and forecast 2022-2027 ($ billion)
Exhibit 53: Chart on Residential - Year-over-year growth 2022-2027 (%)
Exhibit 54: Data Table on Residential - Year-over-year growth 2022-2027 (%)
7.4 Commercial - Market size and forecast 2022-2027

Exhibit 55: Chart on Commercial - Market size and forecast 2022-2027 ($ billion)
Exhibit 56: Data Table on Commercial - Market size and forecast 2022-2027 ($ billion)
Exhibit 57: Chart on Commercial - Year-over-year growth 2022-2027 (%)
Exhibit 58: Data Table on Commercial - Year-over-year growth 2022-2027 (%)
7.5 Public - Market size and forecast 2022-2027

Exhibit 59: Chart on Public - Market size and forecast 2022-2027 ($ billion)
Exhibit 60: Data Table on Public - Market size and forecast 2022-2027 ($ billion)
Exhibit 61: Chart on Public - Year-over-year growth 2022-2027 (%)
Exhibit 62: Data Table on Public - Year-over-year growth 2022-2027 (%)
7.6 Market opportunity by End-user

Exhibit 63: Market opportunity by End-user ($ billion)
Exhibit 64: Data Table on Market opportunity by End-user ($ billion)
8 Customer Landscape
8.1 Customer landscape overview

Exhibit 65: Analysis of price sensitivity, lifecycle, customer purchase basket, adoption rates, and purchase criteria
9 Drivers, Challenges, and Trends
9.3 Impact of drivers and challenges

Exhibit 66: Impact of drivers and challenges in 2022 and 2027
10 Vendor Landscape
10.2 Vendor landscape

Exhibit 67: Overview on Criticality of inputs and Factors of differentiation
10.3 Landscape disruption

Exhibit 68: Overview on factors of disruption
10.4 Industry risks

Exhibit 69: Impact of key risks on business
11 Vendor Analysis
11.1 Vendors covered

Exhibit 70: Vendors covered
11.2 Market positioning of vendors

Exhibit 71: Matrix on vendor position and classification
11.3 ARGON Hausbau GmbH and Co. KG

Exhibit 72: ARGON Hausbau GmbH and Co. KG - Overview
Exhibit 73: ARGON Hausbau GmbH and Co. KG - Product / Service
Exhibit 74: ARGON Hausbau GmbH and Co. KG - Key offerings
11.4 BAUER AG

Exhibit 75: BAUER AG - Overview
Exhibit 76: BAUER AG - Business segments
Exhibit 77: BAUER AG - Key offerings
Exhibit 78: BAUER AG - Segment focus
11.5 Bilfinger SE

Exhibit 79: Bilfinger SE - Overview
Exhibit 80: Bilfinger SE - Business segments
Exhibit 81: Bilfinger SE - Key offerings
Exhibit 82: Bilfinger SE - Segment focus
11.6 CRH Plc

Exhibit 83: CRH Plc - Overview
Exhibit 84: CRH Plc - Business segments
Exhibit 85: CRH Plc - Key news
Exhibit 86: CRH Plc - Key offerings
Exhibit 87: CRH Plc - Segment focus
11.7 GOLDBECK GmbH

Exhibit 88: GOLDBECK GmbH - Overview
Exhibit 89: GOLDBECK GmbH - Product / Service
Exhibit 90: GOLDBECK GmbH - Key offerings
11.8 HOCHTIEF AG

Exhibit 91: HOCHTIEF AG - Overview
Exhibit 92: HOCHTIEF AG - Business segments
Exhibit 93: HOCHTIEF AG - Key offerings
Exhibit 94: HOCHTIEF AG - Segment focus
11.9 Lechner Massivhaus GmbH

Exhibit 95: Lechner Massivhaus GmbH - Overview
Exhibit 96: Lechner Massivhaus GmbH - Product / Service
Exhibit 97: Lechner Massivhaus GmbH - Key offerings
11.10 LEONHARD WEISS GmbH and Co. KG

Exhibit 98: LEONHARD WEISS GmbH and Co. KG - Overview
Exhibit 99: LEONHARD WEISS GmbH and Co. KG - Product / Service
Exhibit 100: LEONHARD WEISS GmbH and Co. KG - Key offerings
11.11 Max Bogl Bauservice GmbH and Co. KG

Exhibit 101: Max Bogl Bauservice GmbH and Co. KG - Overview
Exhibit 102: Max Bogl Bauservice GmbH and Co. KG - Product / Service
Exhibit 103: Max Bogl Bauservice GmbH and Co. KG - Key offerings
11.12 PERI SE

Exhibit 104: PERI SE - Overview
Exhibit 105: PERI SE - Product / Service
Exhibit 106: PERI SE - Key offerings
11.13 Ronesans Holding

Exhibit 107: Ronesans Holding - Overview
Exhibit 108: Ronesans Holding - Product / Service
Exhibit 109: Ronesans Holding - Key offerings
11.14 RRI GmbH Rhein Ruhr International

Exhibit 110: RRI GmbH Rhein Ruhr International - Overview
Exhibit 111: RRI GmbH Rhein Ruhr International - Product / Service
Exhibit 112: RRI GmbH Rhein Ruhr International - Key offerings
11.15 SchworerHaus KG

Exhibit 113: SchworerHaus KG - Overview
Exhibit 114: SchworerHaus KG - Product / Service
Exhibit 115: SchworerHaus KG - Key offerings
11.16 STRABAG SE

Exhibit 116: STRABAG SE - Overview
Exhibit 117: STRABAG SE - Business segments
Exhibit 118: STRABAG SE - Key news
Exhibit 119: STRABAG SE - Key offerings
Exhibit 120: STRABAG SE - Segment focus
11.17 WOLFF and MULLER Holding GmbH and Co. KG

Exhibit 121: WOLFF and MULLER Holding GmbH and Co. KG - Overview
Exhibit 122: WOLFF and MULLER Holding GmbH and Co. KG - Product / Service
Exhibit 123: WOLFF and MULLER Holding GmbH and Co. KG - Key offerings
12 Appendix
12.2 Inclusions and exclusions checklist

Exhibit 124: Inclusions checklist
Exhibit 125: Exclusions checklist
12.3 Currency conversion rates for US$

Exhibit 126: Currency conversion rates for US$
12.4 Research methodology

Exhibit 127: Research methodology
Exhibit 128: Validation techniques employed for market sizing
Exhibit 129: Information sources
12.5 List of abbreviations

Exhibit 130: List of abbreviations