The corporate blended learning market is estimated to grow at a CAGR of 12.68% between 2022 and 2027 and the size of the market is forecast to increase by USD 36,284.86 million. The report includes historic market data from 2017 to 2021. It also extensively covers market segmentation by type including systems, content, courses, and solutions. The end-user segment is based on the automotive industry, BFSI sector, consumer goods industry, energy industry, and others. The geography by North America, Europe, APAC, South America, and Middle East and Africa). The report also includes an in-depth analysis of drivers, trends, and challenges.
The rising demand for microlearning is notably driving the learning market growth. The concept of microlearning is increasingly gaining popularity in the global corporate blended learning market. Microlearning refers to the delivery of standalone learning modules and plays a crucial role in the adoption of competency-based learning (CBE) in the blended learning market. Owing to benefits like ease of delivery and flexible learning, microlearning is also gaining traction in the gamification industry, with many vendors providing microgames as a part of blended learning courses.
Firstly, microgames are highly focused games as they last for not more than 5-10 minutes. This makes it necessary for employers to develop targeted content for specific learning groups. Secondly, with microgames, employers are better placed to understand the engagement levels among learner groups and their preferences in the learning process. This will help organizations in developing more effective roles in deploying appropriate games to keep employees occupied and engaged. Hence, these factors will fuel the growth of the market during the forecast period. 
What will be the Size of the Corporate Blended Learning Market During the Forecast Period?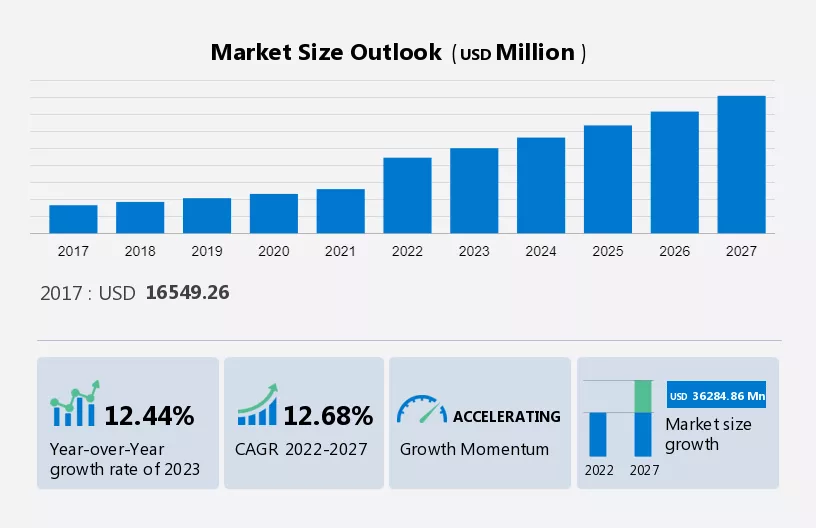 To learn more about this report, Download Report Sample
Who are the Major Corporate Blended Learning Market Vendors?
Vendors are implementing various strategies, such as strategic alliances, partnerships, mergers and acquisitions, geographical expansion, and product/service launches, to enhance their presence in the market.
D2L Corp : K-12, higher education, and corporate learning are some of the business categories that D2L Corp. focuses on. The company's primary training initiatives include leadership development, technical skills for business groups, and customer service training.
The report also includes detailed analyses of the competitive landscape of the market and information about 15 market vendors, including:
Allen Communication Learning Services
Blanchard Training and Development Inc.
BTS Group AB
Cegos Group
City and Guilds Group
Computer Generated Solutions Inc.
D2L Corp.
Development Dimensions International Inc.
Franklin Covey Co.
GBS Corporate Training Ltd.
Global Training Solutions Inc.
GP Strategies Corp.
Interaction Associates Inc.
Korn Ferry
Learning Technologies Group Plc
Mind Gym Plc
Paylocity Holding Corp.
QA group of companies
Raytheon Technologies Corp.
Wilson Learning Worldwide Inc.
Qualitative and quantitative analysis of vendors has been conducted to help clients understand the wider business environment as well as the strengths and weaknesses of key market players. Data is qualitatively analyzed to categorize vendors as pure play, category-focused, industry-focused, and diversified; it is quantitatively analyzed to categorize vendors as dominant, leading, strong, tentative, and weak.
Regional Insight
North America dominated the global market for corporate blended learning with 47%. It is expected to maintain a stable growth rate during the forecast period.  One of the factors driving the growth of the market is the growing number of small- and medium-sized businesses (SMBs) that are creating over a million jobs annually. These businesses often require training in various areas such as product launch, cybersecurity, finance and accounting, and pricing strategies, which can be effectively delivered through blended learning methods. Additionally, the increasing recognition of the benefits of adaptive learning is also contributing to the demand for blended learning courses. Many companies in the US are utilizing adaptive blended learning courses, as employees can improve their skills through the assessments provided in such courses. The shift towards a personalized learning environment is expected to drive the demand for various blended learning courses during the forecast period.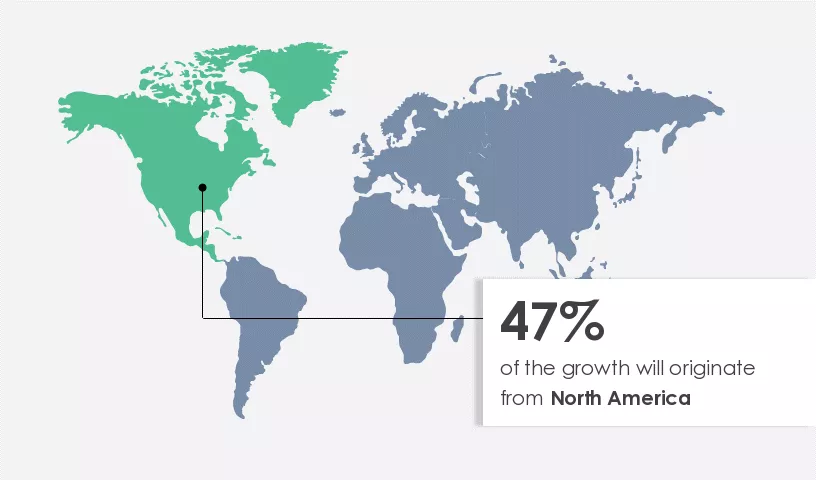 For more insights on the market share of various regions Free PDF Sample now!
In Canada, similar to the US, the ageing workforce population presents challenges that require companies to invest in essential training courses to close skill gaps and develop less experienced employees. Many employees lack significant experience, making it necessary for them to receive both soft skills and technical skills training. In 2019, D2L, a Canadian vendor, introduced Indigo, the latest version of its Brightspace learning platform, which allows employees to have control over their own learning paths in a competitive global economy. This has resulted in a rising demand for blended learning courses during the forecast period.
Market Segmentation by Type
The market share growth by the Systems segment will be significant during the forecast period.LMS, SIS, and enterprise resource planning are a few of the systems incorporated into the blended e-learning process (ERP). In order to manage the content effectively, several mechanisms are essential to this learning approach. This market is anticipated to expand over the course of the projected period because of the rising demand for interactive pedagogy and the digitization of material.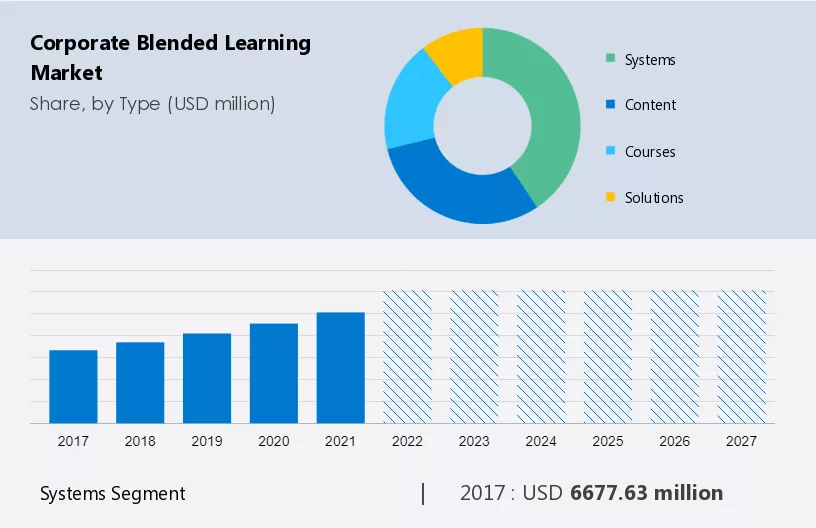 Get a glance at the market contribution of various segments Request a PDF Sample
The systems segment showed a gradual increase in market share with USD 6,677.63 million in 2017 and will continue to grow by 2021.  An effective support system that aids teachers in facilitating learning and assessment processes is necessary for interactive teaching methodology. The integration of systems that facilitate the distribution and production of content is one of the core components of blended e-learning. One of the systems required for the successful operation of the mixed e-learning environment is LMS. Thus, with the rising adoption of LMS and SIS, the global learning market is expected to witness high growth during the forecast period.
Corporate Blended Learning Market: Key Trends and Challenges
Our researchers analyzed the data with 2022 as the base year, along with the key drivers, trends, and challenges. A holistic analysis of drivers will help companies refine their marketing strategies to gain a competitive advantage.
Trend
The application of eye-tracking in corporate training is a key trend influencing market growth. This technology is used in multiple contexts, including academic and commercial research, which enables the improvement of training practices. The eye-tracking solution tracks and records eye movement while an employee is engaged in his task. The recording is then analyzed by experts using software that creates a database of eye-tracking videos. Using eye-tracking technology, new hires can easily understand their jobs as they are shown tasks performed through the eyes of experienced employees. 
Eye-tracking technology is also being incorporated into visual technologies such as VR headsets. This setup enables employers to track and record the attention span along with the area of focus on the screen when employees perform tasks within the virtual environment. Therefore, using these technologies, employers can also obtain the optimal time an employee should be on shifts before taking breaks. With eye-tracking technology gaining traction, the market in focus is also expected to witness high growth during the forecast period.
Challenge
Lack of effective assessment of training and needs may impede the learning market growth. While deploying any learning platform, the needs assessment process plays a crucial role in the success of the learning platform. The learning platform will act as the center for giving information on guidelines and process changes. Furthermore, organizations also evolve in terms of job profiles and employee skills along with the changing external economic environment. Therefore, a systematic evaluation will be required to identify knowledge gaps in an employee's skill level and the type of training required to bridge them.
As a result of an ineffective assessment of training needs, most organizations tend to opt for an inappropriate blend of learning technologies. This, in turn, leads to high costs and low results. In addition, in many organizations, decisions regarding employee training are taken by the human resources department rather than the concerned department. In this case, the opinion of the IT team is not weighed in, thereby creating various implementation challenges at the time of the deployment of blended learning solutions.  Thus due to all such factors, the market in focus may face challenges during the forecast period.
Customer Landscape
The report includes the adoption lifecycle of the market, covering from the innovator's stage to the laggard's stage. It focuses on adoption rates in different regions based on penetration. Furthermore, the report also includes key purchase criteria and drivers of price sensitivity to help companies evaluate and develop their growth strategies.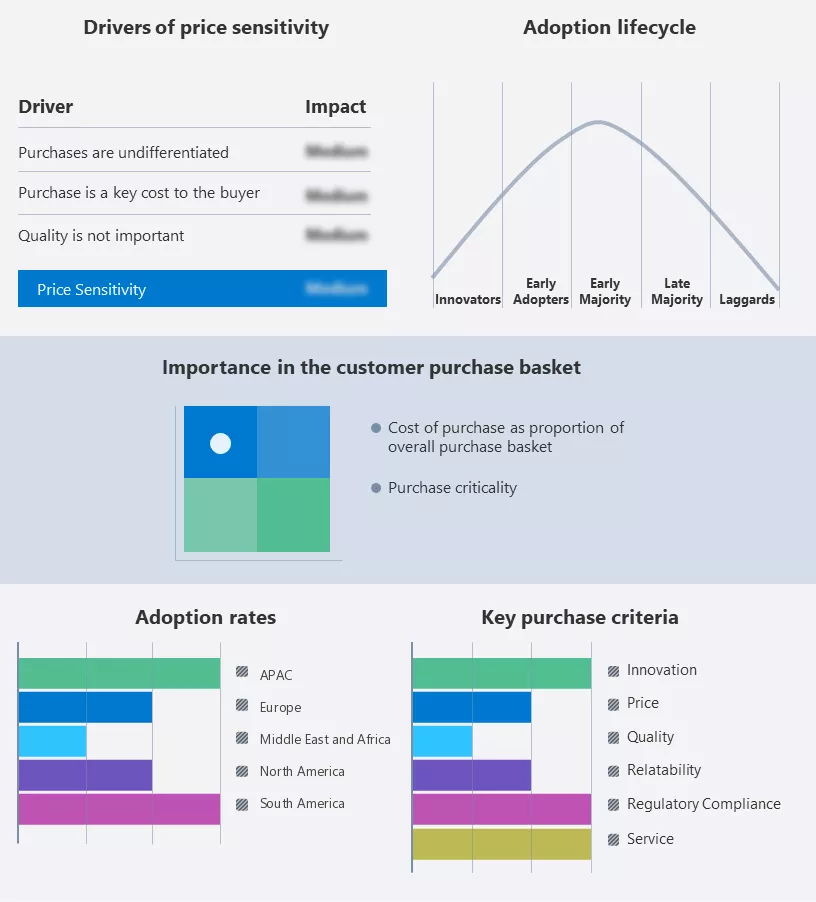 Global Corporate Blended Learning Market Customer Landscape
Covid Recovery 
In 2020 the COVID-19 pandemic was positively impacted and brought blended learning to the forefront. Organizations show an inclination toward customizing training content and delivery methods. They seek solutions to help them create courseware and procure courses that are unique to their employee's needs. These solutions can also fulfil an organization's business goals. Business policies, functionalities, and process requirements significantly differ for each company, due to which generic training is not always effective. Blended learning, which has a number of distinct advantages over traditional employee learning methods, has seen significant growth among companies and other organizations as a way to train and upskill employees. In 2021, about 43% of training was taught using blended learning techniques, compared to 23% last year. Blended learning methods give managers and employees flexibility and convenience and allow employees to learn at their own pace using digital tools. Moreover in late 2020, due to large-scale vaccination drives, the regional corporate blended learning market returned to normalcy owing to reduced lockdown restrictions. Additionally, the pandemic has propelled the demand for online learning which will positively impact the growth of the market focus during the forecast period.
Segment Overview
The report forecasts market growth by revenue at global, regional & country levels and provides an analysis of the latest trends and growth opportunities from 2017 to 2027. 
Type Outlook ( USD Million, 2017 - 2027)

Systems
Content
Courses
Solutions

End-User Outlook ( USD Million, 2017 - 2027)

Automotive industry
BFSI sector
Consumer goods industry
Energy industry
Others

Region Outlook ( USD Million, 2017 - 2027)

Europe

The U.K.
Germany
France
Rest of Europe

Middle East & Africa

Saudi Arabia
South Africa
Rest of the Middle East & Africa

North America
Corporate Blended Learning Market Scope

Report Coverage

Details

Page number

182

Base year

2022

Historic period

2017-2021

Forecast period

2023-2027

Growth momentum & CAGR

Accelerate at a CAGR of 12.68%

Market growth 2023-2027

$ 36284.86 million

Market structure

Fragmented

YoY growth 2022-2023(%)

12.44

Regional analysis

North America, Europe, APAC, South America, and Middle East and Africa

Performing market contribution

North America at 47%

Key countries

US, China, Japan, Germany, and UK

Competitive landscape

Leading Vendors, Market Positioning of Vendors, Competitive Strategies, and Industry Risks

Key companies profiled

Allen Communication Learning Services, Blanchard Training and Development Inc., BTS Group AB, Cegos Group, City and Guilds Group, Computer Generated Solutions Inc., D2L Corp., Development Dimensions International Inc., Franklin Covey Co., GBS Corporate Training Ltd., Global Training Solutions Inc., GP Strategies Corp., Interaction Associates Inc., Korn Ferry, Learning Technologies Group Plc, Mind Gym Plc, Paylocity Holding Corp., QA group of companies, Raytheon Technologies Corp., and Wilson Learning Worldwide Inc.

Market dynamics

Parent market analysis, Market growth inducers and obstacles, Fast-growing and slow-growing segment analysis, COVID 19 impact and recovery analysis and future consumer dynamics, Market condition analysis for forecast period

Customization purview

If our report has not included the data that you are looking for, you can reach out to our analysts and get segments customized.
What are the Key Data Covered in this Corporate Blended Learning Market Report?
CAGR of the market during the forecast period
Detailed information on factors that will drive the growth of the

market 

between 2023 and 2027
Precise estimation of the size of the market  size and its contribution of the market in focus to the parent market
Accurate predictions about upcoming trends and changes in consumer behavior
Growth of the market industry across North America, Europe, APAC, South America, and Middle East and Africa
Thorough analysis of the market's competitive landscape and detailed information about vendors
Comprehensive analysis of factors that will challenge the growth of market vendors
We can help! Our analysts can customize this report to meet your requirements. Get in touch