Data-as-a-Service Market Analysis Report 2023-2027:
The Global data-as-a-service market size is estimated to grow at a CAGR of 36.92% between 2022 and 2027. The market size is forecast to increase by USD 56.85 billion. The growth of the market depends on several factors, including the growing amount of data, the increase in the adoption of big data services in industries, and the increased importance of Data-as-a-Service in social media marketing. Big data services refer to services that include big data business consulting, big data outsourcing, big data project-based services, and support and training services related to big data implementations.
This data-as-a-service market report extensively covers market segmentation by End-user (BFSI, retail, telecom, and others), Deployment (cloud and on-premises), and Geography (North America, Europe, APAC, South America, and Middle East and Africa). It also includes an in-depth analysis of drivers, trends, and challenges.
What will be the Size of the Data-as-a-Service Market During the Forecast Period?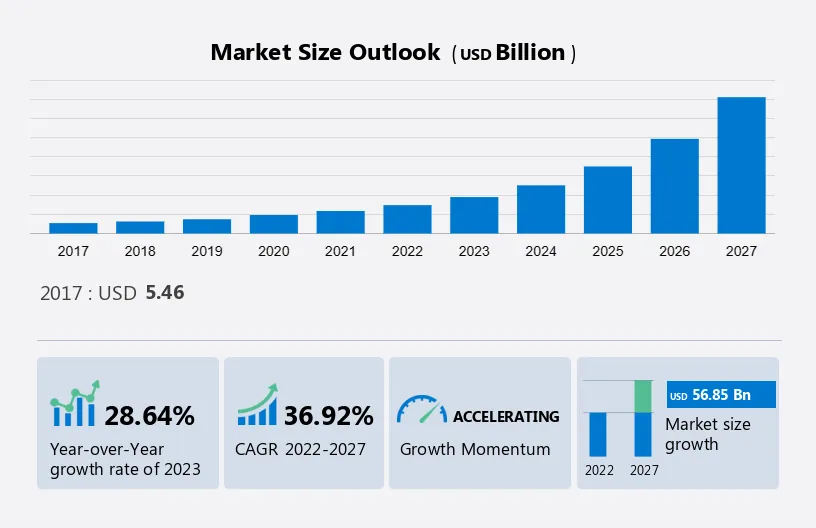 To learn more about this report, View Report Sample
Data-as-a-Service Market Overview
 Data-as-a-Service Market Driver
The growing amount of data is a key driver boosting the growth of the market. The data volumes are exploding, and more data has been generated since 2014 than in the entire previous history. In 2020, people created 1.7 megabytes (MB) of data every second across the world. It is estimated that by 2025, more than 200 zettabytes of data will be in cloud storage around the world. Enterprise applications generate large volumes of data, and the trend will continue throughout the forecast period and beyond. Large volumes of data are being generated from many sources, such as the Internet, mobile devices, and social media. With the growing volume, variety, veracity, and velocity of data, which is referred to as 4Vs, organizations are facing difficulties to analyze and manage large databases efficiently.
The increasing volume of data generated in organizations through various channels and sources has compelled organizations to use DaaS and save a significant amount of cost. Data analysts need to thoroughly analyze large amounts of data and convert insights into real-time action. Irrelevant data provide wrong information and predictions about consumer behavior, consumer buying patterns, and related information used in key decision-making processes. Various technologies associated with DaaS helped organizations transform unstructured and semi-structured data into structured and meaningful data. Since the demand for data is growing, there is a need for DaaS to ensure security, agility, and performance.
 Data-as-a-Service Market Trends
Data-as-a-Service in blockchain technology is a key trend propelling the growth of the market. Blockchain technology is gaining popularity in the financial sector. JPMorgan, Citi, Wells Fargo, US Bancorp, PNC, Fifth Third Bank, and Signature Bank are some of the banks that use blockchain technology. It is replacing the current centralized business model of financial services. Currently, a central ledger, such as the Federal Reserve and its members, acts as the custodian of a financial firm's information. In blockchain technology, the information of each transaction is transparently registered digitally in a shared database of the cloud. This eliminates the middleman or a central acting body. This feature of blockchain technology to decentralize the central authority is the main driver for its adoption.
Data-as-a-Service Market Restrain
Adhering to diverse client requirements is a major challenge hindering market growth. Several industries lack policies or frameworks to store the high volume of data, which leads to difficulties in the effective usage of DaaS solutions. This, in turn, affects the market penetration of DaaS providers as their quality of service deteriorates. DaaS providers need to continuously develop and offer innovative solutions in step with changing customer requirements. This is a complex and cost-consuming process as it involves high degrees of uncertainty. Failure to understand customers' requirements leads to potential loss of time and money. Most of the clients expect business results but are wary about spending. Thus, the lack of a forward-looking policy makes it difficult for vendors to calculate and track ROI. This may hinder the value additions from service providers challenging the development of the DaaS market. Therefore, vendors need to understand the current market needs and accordingly offer tailored solutions to clients for sustainable growth.
Data-as-a-Service Market Segmentation By End-User
The market share growth by the BFSI segment will be significant during the forecast period. The BFSI shows a gradual increase in the market share of USD 1.76 billion in 2017 and continued to grow by 2021. DaaS is widely used in the BFSI sector to improve trading, fund management, and risk control models. As financial transactions and customer data continue to grow, organizations are turning to DaaS technologies such as data virtualization, data analytics, and data cataloging to gain insights and improve operational efficiency. By analyzing customer data, financial firms can offer better customer experiences, improve customer targeting, and enhance risk assessment and decision-making. DaaS also helps in customer monitoring, fraud management, and reducing costs. With the integration of AI, financial institutions can unlock customer loyalty and deliver smarter, more connected experiences. In short, DaaS helps BFSI companies to develop a data-driven business model and improve customer experiences while remaining competitive in an increasingly complex business environment.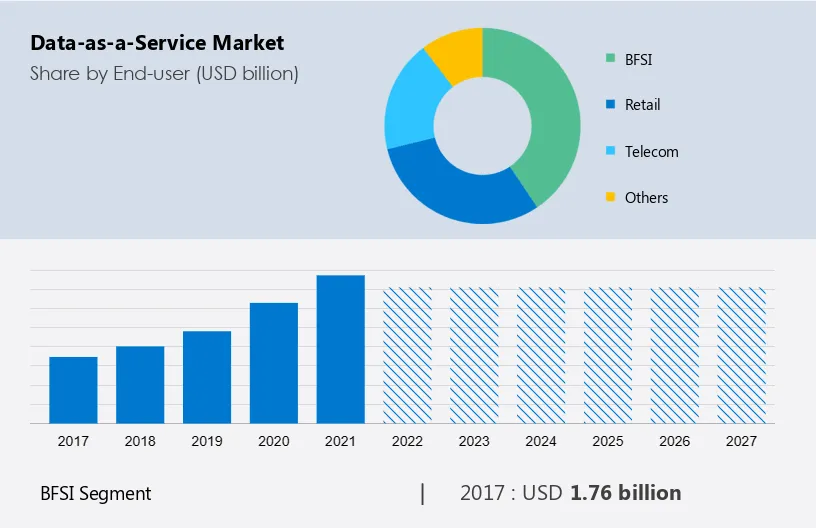 Get a glance at the market contribution of various segments View Free  PDF Sample
Retail organizations are increasingly adopting Data-as-a-Service (DaaS) to gain a comprehensive understanding of their customers, products, operations, and competitors in order to drive innovation, improve operational efficiency, and increase revenue. As the retail industry becomes more complex due to global expansion, rapid product cycles, currency fluctuations, and changing customer preferences, competition among retailers is intensifying. Consequently, the industry is experiencing significant changes in operational processes, marketing and communication strategies, online transactions, and auditing processes. Collecting data from both retailers and their customers has become a critical aspect of competitive benchmarking and measuring customer satisfaction. Retailers are using DaaS to gather data on their customers and leverage customer feedback to retain loyal customers and enhance their online shopping experiences. With the emergence of online retailers, customers share their opinions and experiences through various online platforms, making customer feedback an essential tool for retailers to remain competitive.
Data-as-a-Service Market Segmentation By Deployment
Based on deployment, the cloud segment is estimated to dominate the market during the forecast period. The cloud-based data as a service segment surpassed on-premises data as a service in market size in 2022. This is due to globalization and the presence of global IT, BFSI, and retail companies that require centralized systems for managing and optimizing business processes. Cloud-based software offers better control, efficiency, and adaptability. The adoption of cloud solutions is expected to increase with the rise of SMEs in developing countries. Innovations in data security will also drive cloud adoption among large organizations. Overall, the growth of the market is driven by SMEs, cost-effectiveness, flexibility, and centralized cloud-based data as a service.
Regional Overview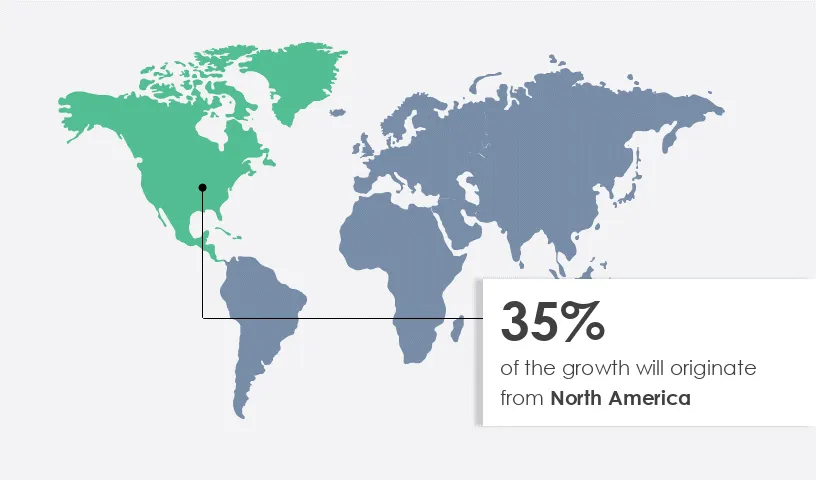 For more insights on the market share of various regions Download PDF Sample now!
North America is estimated to contribute 35% to the growth of the global market during the forecast period. Technavio's analysts have elaborately explained the regional trends and drivers that shape the market during the forecast period.
DaaS adoption is rising across industry verticals in the US, driven by the need for risk management and targeted marketing. The North American market is fueled by increased data generation in sectors like retail, BFSI, healthcare, and public sectors. Digital transformation and investment in technologies like big data analytics, mobility, cloud, and social media contribute to market growth.US banks leverage DaaS for competitive advantage, while financial services invest in real-time marketing and integrated data platforms. Retail giants like eBay, Amazon, Yahoo, and Google drive DaaS adoption. Telecom and oil/gas companies in the US also benefit from DaaS insights.The US remains a leader in DaaS adoption, with Latin America's healthcare sector facing challenges due to a shortage of skilled professionals.
North American countries were economically affected by the COVID-19-induced lockdowns in H1 2020. In the US, the Centers for Disease Control and Prevention (CDC) used data analytics tools to control the spread of the disease and map the number of cases. The tools run in collaboration with the state, local, and territorial health departments, public health, commercial and clinical laboratories, and healthcare providers. The real-time COVID-19 trackers that continuously pulled data from sources around North America helped healthcare workers, scientists, epidemiologists, and policymakers aggregate and synthesize incident data.
In addition, AI was used to fight the pandemic. Multiple AI-powered projects based on big data were used to predict, explain, and manage the different scenarios caused by the pandemic. In 2021, owing to the initiation of large-scale vaccination drives and other government initiatives, the lockdown restrictions were removed, and business operations resumed. In 2022, IT companies adopted the hybrid work model to initiate the return of employees to office premises. Such factors are expected to drive the demand for information services, which, in turn, will fuel the growth of the regional data-as-a-service market during the forecast period.
Data-as-a-Service Market Customer Landscape
The Data-as-a-Service Market  industry report includes the adoption lifecycle of the market, covering from the innovator's stage to the laggard's stage. It focuses on adoption rates in different regions based on penetration. Furthermore, the report also includes key purchase criteria and drivers of price sensitivity to help companies evaluate and develop their growth strategies.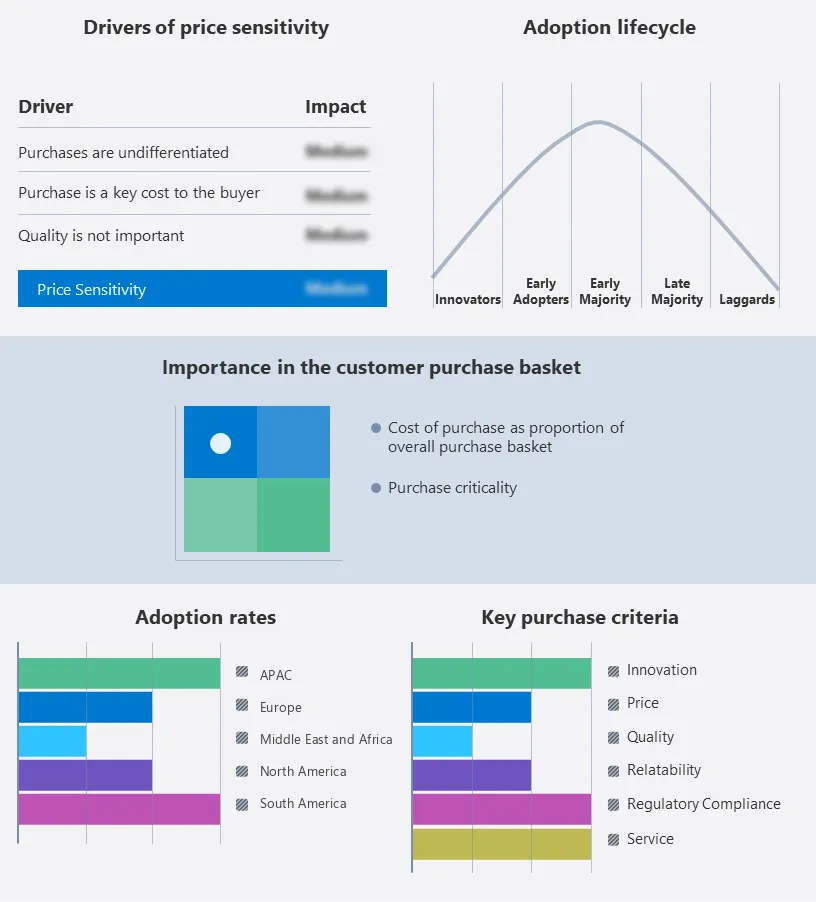 Global Data-as-a-Service Market Customer Landscape
Who are the Major Data-as-a-Service Market Companies?
Companies are implementing various strategies, such as strategic alliances, partnerships, mergers and acquisitions, geographical expansion, and product/service launches, to enhance their presence in the market.
ibm- The company offers data-as-a-service through its AI Ladder.
Foxway- The company offers data-as-a-service through its circular IT services.
Econocom- The company offers data-as-a-service through its data valorisation.

The research report also includes detailed analyses of the competitive landscape of the market and information about 15 market companies, including:
3 Step IT Group Oy
Accenture Plc
Bloomberg L.P
CHG-MERIDIAN AG
Cisco Systems Inc.
CompuCom Systems Inc.
Computacenter plc
CSI Leasing, Inc.
Dell Technologies Inc.
Dow Jones and Co. Inc.
GreenFlex
Hewlett Packard Enterprise Co.
Lenovo Group Ltd.
Microsoft Corp.
Oracle Corp.
Telia Co. AB
Wipro Ltd.
Qualitative and quantitative analysis of companies has been conducted to help clients understand the wider business environment as well as the strengths and weaknesses of key market players. Data is qualitatively analyzed to categorize companies as pure play, category-focused, industry-focused, and diversified; it is quantitatively analyzed to categorize companies as dominant, leading, strong, tentative, and weak.
Segment Overview
The data-as-a-service market report forecasts market growth by revenue at global, regional & country levels and provides an analysis of the latest trends and growth opportunities from 2017 to 2027. 
End-user Outlook (USD Billion, 2017 - 2027)

BFSI
Retail
Telecom
Others

Deployment Outlook (USD Billion, 2017 - 2027)
Region Outlook (USD Billion, 2017 - 2027)

Europe

The U.K.
Germany
France
Rest of Europe

Middle East & Africa

Saudi Arabia
South Africa
Rest of the Middle East & Africa
Data-as-a-Service Market Scope

Report Coverage

Details

Page number

179

Base year

2022

Historic period

2017-2021

Forecast period

2023-2027

Growth momentum & CAGR

Accelerate at a CAGR of 36.92%

Market growth 2023-2027

USD 56.85 billion

Market structure

Fragmented

YoY growth 2022-2023(%)

28.64

Regional analysis

North America, Europe, APAC, South America, and Middle East and Africa

Performing market contribution

North America at 35%

Key countries

US, China, India, Germany, and UK

Competitive landscape

Leading Vendors, Market Positioning of Vendors, Competitive Strategies, and Industry Risks

Key companies profiled

3 Step IT Group Oy, Accenture Plc, Bloomberg L.P, CHG-MERIDIAN AG, Cisco Systems Inc., CompuCom Systems Inc., Computacenter plc, CSI Leasing, Inc., Dell Technologies Inc., Dow Jones and Co. Inc., Econocom Group SE, Foxway, GreenFlex, Hewlett Packard Enterprise Co., International Business Machines Corp., Lenovo Group Ltd., Microsoft Corp., Oracle Corp., Telia Co. AB, and Wipro Ltd.

Market dynamics

Parent market analysis, Market growth inducers and obstacles, Fast-growing and slow-growing segment analysis, COVID 19 impact and recovery analysis and future consumer dynamics, Market condition analysis for forecast period

Customization purview

If our report has not included the data that you are looking for, you can reach out to our analysts and get segments customized.
What are the Key Data Covered in this Data-as-a-Service Market Research Report?
CAGR of the market during the forecast period
Detailed information on factors that will drive the growth of the

market 

between 2023 and 2027
Precise estimation of the size of the market  size and its contribution of the market in focus to the parent market
Accurate predictions about upcoming trends and changes in consumer behaviour
Growth of the market industry across North America, Europe, APAC, South America, and Middle East and Africa
Thorough analysis of the market's competitive landscape and detailed information about companies
Comprehensive analysis of factors that will challenge the growth of market companies
We can help! Our analysts can customize this market research report to meet your requirements.