US E-Learning Market Report 2024-2028
The US - E-Learning Market size is estimated to grow at a CAGR of 16.48% between 2023 and 2028. The market size is forecast to increase by USD 56.44 billion. 
The report includes a comprehensive outlook on the US - E-Learning Market offering forecasts for the industry segmented by Deployment, which comprises on premise and cloud. Additionally, it categorizes End-user into higher education, corporate, and K12. The report provides market size, historical data spanning from 2018 to 2022, and future projections, all presented in terms of value in USD billion for each of the mentioned segments.
The evolved learning and education landscape is notably driving the market growth.  The learning and education landscape in the US has evolved rapidly in the past couple of years. Access to education has improved in the country due to the advent of e-learning courses and distance learning programs, which are inexpensive when compared with university courses. The demand for innovative courses such as AR-based e-learning and blended learning is also increasing in the country. The advent of such courses could eventually render traditional methods of education obsolete. However, the hectic lifestyle of people also increases the preference for E-learning. Dropouts who return to education find the e-learning ecosystem more comfortable than traditional education. Therefore, the evolved learning and education landscape is anticipated to drive the growth of the US E-Learning Market during the forecast period.
What will be the Size of the E-Learning Market In US During the Forecast Period?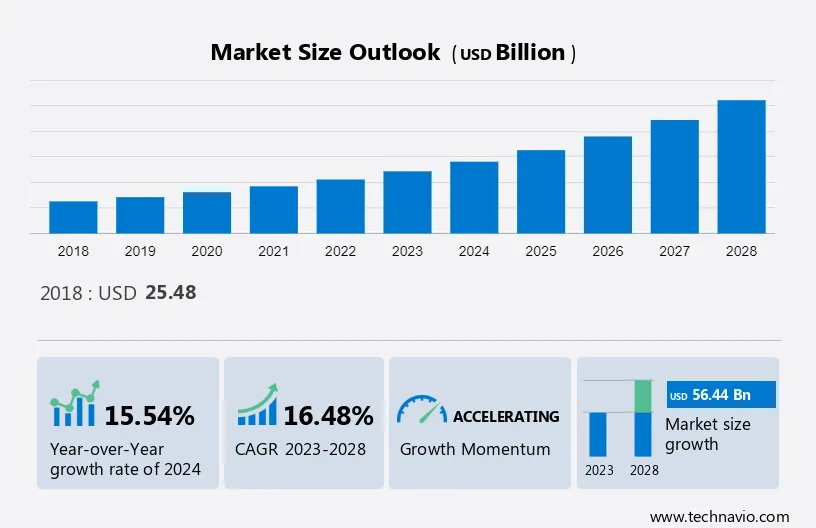 Who are the Major E-Learning Market in US Companies?
Companies are implementing various strategies, such as strategic alliances, partnerships, mergers and acquisitions, geographical expansion, and product/service launches, to enhance their presence in the market.
Adobe Inc. - The company offers E-learning courses such as executive programs, master's programs, bachelor's programs, computer science, python, AI and many more.
The US E-learning market report also includes detailed analyses of the competitive landscape of the market and information about 20 market companies, including:
Cengage Learning Holdings II Inc.
Coursera Inc.
D2L Corp.
Docebo Inc.
Flatworld Solutions Pvt. Ltd.
Houghton Mifflin Harcourt Co.
Infopro Learning Inc.
Udemy Inc.
VitalSource Technologies LLC
2U Inc.
Anthology Inc.
Articulate Global Inc.
eLearning Co. Inc.
iEnergizer
Instructure Holdings Inc.
John Wiley and Sons Inc.
McGraw Hill LLC
Microsoft Corp.
Stylus Solutions Pvt. Ltd.
Qualitative and quantitative analysis of companies has been conducted to help clients understand the wider business environment as well as the strengths and weaknesses of key market players. Data is qualitatively analyzed to categorize companies as pure play, category-focused, industry-focused, and diversified; it is quantitatively analyzed to categorize companies as dominant, leading, strong, tentative, and weak.
View the Bestselling Market Report Instantly
Market Segmentation by Deployment
The market share growth by the on premise segment will be significant during the forecast period. The most prevalent method for delivering E-learning in the US is on-premises, and it significantly affects the overall US - E-learning market. This US - e-learning market is expected to expand steadily due to rising demand for secure and dependable learning solutions.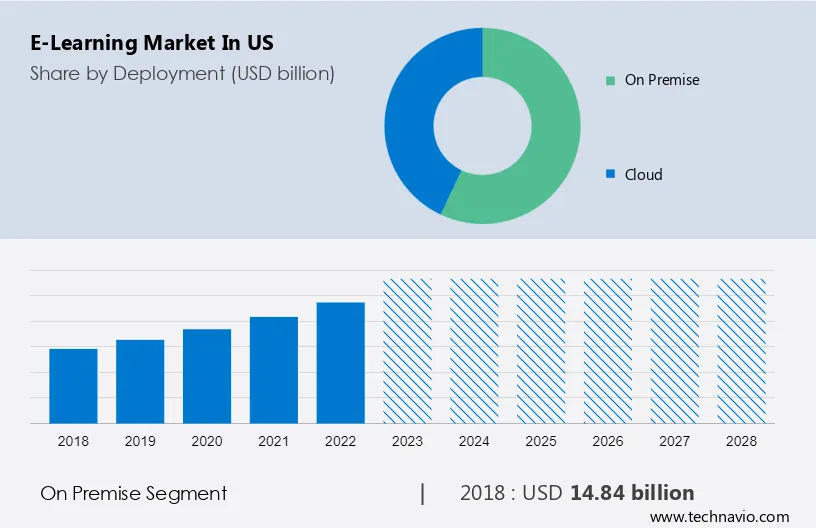 Get a glance at the market contribution of various segments View PDF Sample
The on premise segment was the largest and was valued at USD 14.84 billion in 2018.  Large players dominate the United States E-learning market on-premises deployment type in terms of competition. However, there are also a lot of small and medium-sized businesses in the US that provide specialized E-learning solutions for target consumer groups. The United States E-learning market is dominated by corporations and educational institutions, which have a high demand for safe and dependable learning solutions. Thus, the on-premises deployment type segment is expected to maintain its steady growth during the forecast period, driven by the rising demand for dependable and secure learning solutions, particularly among businesses and educational institutions during the forecast period.
E-Learning Market In US: Key Trends and Challenges
Trends
The advent of advanced technologies is an emerging trend shaping market growth. The US is an early adopter of advanced technologies. Advanced technologies such as virtual assistants, AR, and VR have been incorporated into e-learning products in the country. This implementation of such technological advances in education has caused the evolution of the e-learning landscape in the country. E-learning through smart wearables such as Google Glass and Oculus Rift, and even smartwatches like the Apple Watch, will enable dynamic and efficient learning. AR and VR systems and headsets offer novel ways to engage learners by simulating a virtual environment and placing learners in roleplay situations, which provide a hands-on and customized learning experience.
For instance, the VR application of UNIMERSIV is compatible with all major VR headsets. The technological maturity of the country and the evolution of learner demand have necessitated the need for convenience and innovations in the e-learning value chain. Learners can learn effectively and efficiently using advanced technologies such as AR and VR. Hence, the advent of advanced technologies drives the US - e-learning market during the forecast period.
Challenge
Competition from MOOCs is a significant challenge hindering market growth. Several MOOCs are available in the US. MOOCs provide an open environment and free access. Hence, they are preferred over e-learning. MOOCs are also cost-effective when compared with e-learning. Vendors that offer e-learning in the US are expected to face intense competition from MOOCs. Free access, community support, and a wide variety of content will attract several learners toward MOOCs.
Moreover, the scope of MOOCs is growing due to their semi-synchronicity, the incorporation of analytics, engaging course design, and free access to verified certificates and diplomas from major educational institutions and businesses. In terms of functionality and learner engagement, modern MOOCs are comparable to e-learning which may restrict the United States e-learning market growth. Hence, the increasing demand for MOOCs will affect the growth market during the forecast period.
Customer Landscape
The report includes the adoption lifecycle of the market, from the innovator's stage to the laggard's stage. It focuses on adoption rates in different regions based on market penetration. Furthermore, the report also includes key purchase criteria and drivers of price sensitivity to help companies evaluate and develop their growth strategies.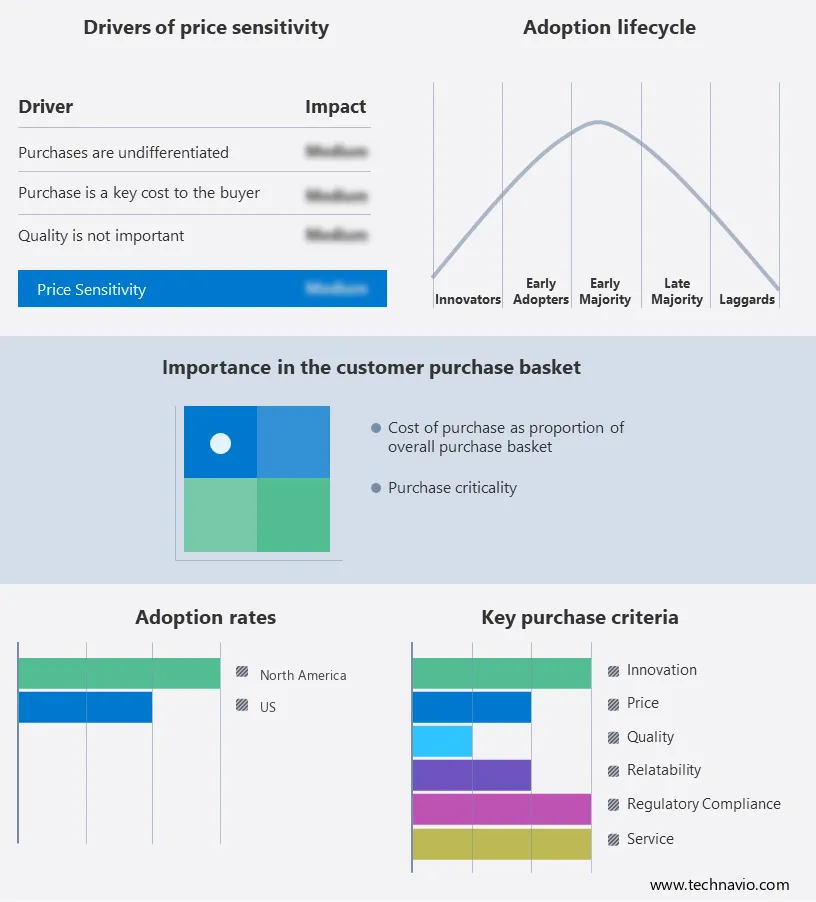 Global E-Learning Market in US Customer Landscape
Segment Overview
The US E-Learning Market report forecasts market growth by revenue and provides an analysis of the latest trends and growth opportunities from 2018-2028
 End-user Outlook

Higher education

Corporate

K12
E-Learning Market In US Scope

Report Coverage

Details

Page number

144

Base year

2023

Historic period

2018 - 2022

Forecast period

2024-2028

Growth momentum & CAGR

Accelerate at a CAGR of 16.48%

Market growth 2024-2028

USD 56.44 billion

Market structure

Fragmented

YoY growth 2023-2024(%)

15.54

Regional analysis

US

Performing market contribution

North America at 100%

Key countries

US and North America

Competitive landscape

Leading Companies, Market Positioning of Companies, Competitive Strategies, and Industry Risks

Key companies profiled

Adobe Inc., Cengage Learning Holdings II Inc., Coursera Inc., D2L Corp., Docebo Inc., Flatworld Solutions Pvt. Ltd., Houghton Mifflin Harcourt Co., Infopro Learning Inc., Udemy Inc., VitalSource Technologies LLC, 2U Inc., Anthology Inc., Articulate Global Inc., eLearning Co. Inc., iEnergizer, Instructure Holdings Inc., John Wiley and Sons Inc., McGraw Hill LLC, Microsoft Corp., and Stylus Solutions Pvt. Ltd.

Market dynamics

Parent market analysis, Market growth inducers and obstacles, Fast-growing and slow-growing segment analysis, COVID 19 impact and recovery analysis and future consumer dynamics, Market condition analysis for forecast period

Customization purview

If our report has not included the data that you are looking for, you can reach out to our analysts and get segments customized.
What are the Key Data Covered in this E-Learning Market In US In Country Research Report?
CAGR of the market during the forecast period
Detailed information on factors that will drive the growth of the

market 

between 2024 and 2028
Precise estimation of the size of the market  size and its contribution of the market in focus to the parent market
Accurate predictions about upcoming trends and changes in consumer behaviour
Growth of the market industry across US
Thorough analysis of the market's competitive landscape and detailed information about companies
Comprehensive analysis of factors that will challenge the growth of market companies
We can help! Our analysts can customize this market research report to meet your requirements. Get in touch
1 Executive Summary
1.1 Market overview

Exhibit 01: Executive Summary – Chart on Market Overview
Exhibit 02: Executive Summary – Data Table on Market Overview
Exhibit 03: Executive Summary – Chart on Country Market Characteristics
Exhibit 04: Executive Summary – Chart on Market Segmentation by Deployment
Exhibit 05: Executive Summary – Chart on Market Segmentation by End-user
Exhibit 06: Executive Summary – Chart on Market Segmentation by Product
Exhibit 07: Executive Summary – Chart on Vendor Market Positioning
2 Market Landscape
2.1 Market ecosystem

Exhibit 08: Parent market
Exhibit 09: Market Characteristics
3 Market Sizing
3.1 Market definition

Exhibit 10: Offerings of vendors included in the market definition
3.2 Market segment analysis

Exhibit 11: Market segments
3.4 Market outlook: Forecast for 2023-2028

Exhibit 12: Chart on US - Market size and forecast 2023-2028 ($ billion)
Exhibit 13: Data Table on US - Market size and forecast 2023-2028 ($ billion)
Exhibit 14: Chart on US: Year-over-year growth 2023-2028 (%)
Exhibit 15: Data Table on US: Year-over-year growth 2023-2028 (%)
4 Historic Market Size
4.1 E-Learning Market in US 2024-2028 2018 - 2022

Exhibit 16: Historic Market Size – Data Table on e-learning market in us 2024-2028 2018 - 2022 ($ billion)
4.2 Deployment Segment Analysis 2018 - 2022

Exhibit 17: Historic Market Size – Deployment Segment 2018 - 2022 ($ billion)
4.3 End-user Segment Analysis 2018 - 2022

Exhibit 18: Historic Market Size – End-user Segment 2018 - 2022 ($ billion)
4.4 Product Segment Analysis 2018 - 2022

Exhibit 19: Historic Market Size – Product Segment 2018 - 2022 ($ billion)
5 Five Forces Analysis
5.1 Five forces summary

Exhibit 20: Five forces analysis - Comparison between 2023 and 2028
5.2 Bargaining power of buyers

Exhibit 21: Chart on Bargaining power of buyers – Impact of key factors 2023 and 2028
5.3 Bargaining power of suppliers

Exhibit 22: Bargaining power of suppliers – Impact of key factors in 2023 and 2028
5.4 Threat of new entrants

Exhibit 23: Threat of new entrants – Impact of key factors in 2023 and 2028
5.5 Threat of substitutes

Exhibit 24: Threat of substitutes – Impact of key factors in 2023 and 2028
5.6 Threat of rivalry

Exhibit 25: Threat of rivalry – Impact of key factors in 2023 and 2028
5.7 Market condition

Exhibit 26: Chart on Market condition - Five forces 2023 and 2028
6 Market Segmentation by Deployment
6.1 Market segments

Exhibit 27: Chart on Deployment - Market share 2023-2028 (%)
Exhibit 28: Data Table on Deployment - Market share 2023-2028 (%)
6.2 Comparison by Deployment

Exhibit 29: Chart on Comparison by Deployment
Exhibit 30: Data Table on Comparison by Deployment
6.3 On premise - Market size and forecast 2023-2028

Exhibit 31: Chart on On premise - Market size and forecast 2023-2028 ($ billion)
Exhibit 32: Data Table on On premise - Market size and forecast 2023-2028 ($ billion)
Exhibit 33: Chart on On premise - Year-over-year growth 2023-2028 (%)
Exhibit 34: Data Table on On premise - Year-over-year growth 2023-2028 (%)
6.4 Cloud - Market size and forecast 2023-2028

Exhibit 35: Chart on Cloud - Market size and forecast 2023-2028 ($ billion)
Exhibit 36: Data Table on Cloud - Market size and forecast 2023-2028 ($ billion)
Exhibit 37: Chart on Cloud - Year-over-year growth 2023-2028 (%)
Exhibit 38: Data Table on Cloud - Year-over-year growth 2023-2028 (%)
6.5 Market opportunity by Deployment

Exhibit 39: Market opportunity by Deployment ($ billion)
Exhibit 40: Data Table on Market opportunity by Deployment ($ billion)
7 Market Segmentation by End-user
7.1 Market segments

Exhibit 41: Chart on End-user - Market share 2023-2028 (%)
Exhibit 42: Data Table on End-user - Market share 2023-2028 (%)
7.2 Comparison by End-user

Exhibit 43: Chart on Comparison by End-user
Exhibit 44: Data Table on Comparison by End-user
7.3 Higher education - Market size and forecast 2023-2028

Exhibit 45: Chart on Higher education - Market size and forecast 2023-2028 ($ billion)
Exhibit 46: Data Table on Higher education - Market size and forecast 2023-2028 ($ billion)
Exhibit 47: Chart on Higher education - Year-over-year growth 2023-2028 (%)
Exhibit 48: Data Table on Higher education - Year-over-year growth 2023-2028 (%)
7.4 Corporate - Market size and forecast 2023-2028

Exhibit 49: Chart on Corporate - Market size and forecast 2023-2028 ($ billion)
Exhibit 50: Data Table on Corporate - Market size and forecast 2023-2028 ($ billion)
Exhibit 51: Chart on Corporate - Year-over-year growth 2023-2028 (%)
Exhibit 52: Data Table on Corporate - Year-over-year growth 2023-2028 (%)
7.5 K12 - Market size and forecast 2023-2028

Exhibit 53: Chart on K12 - Market size and forecast 2023-2028 ($ billion)
Exhibit 54: Data Table on K12 - Market size and forecast 2023-2028 ($ billion)
Exhibit 55: Chart on K12 - Year-over-year growth 2023-2028 (%)
Exhibit 56: Data Table on K12 - Year-over-year growth 2023-2028 (%)
7.6 Market opportunity by End-user

Exhibit 57: Market opportunity by End-user ($ billion)
Exhibit 58: Data Table on Market opportunity by End-user ($ billion)
8 Market Segmentation by Product
8.1 Market segments

Exhibit 59: Chart on Product - Market share 2023-2028 (%)
Exhibit 60: Data Table on Product - Market share 2023-2028 (%)
8.2 Comparison by Product

Exhibit 61: Chart on Comparison by Product
Exhibit 62: Data Table on Comparison by Product
8.3 Content - Market size and forecast 2023-2028

Exhibit 63: Chart on Content - Market size and forecast 2023-2028 ($ billion)
Exhibit 64: Data Table on Content - Market size and forecast 2023-2028 ($ billion)
Exhibit 65: Chart on Content - Year-over-year growth 2023-2028 (%)
Exhibit 66: Data Table on Content - Year-over-year growth 2023-2028 (%)
8.4 Technology - Market size and forecast 2023-2028

Exhibit 67: Chart on Technology - Market size and forecast 2023-2028 ($ billion)
Exhibit 68: Data Table on Technology - Market size and forecast 2023-2028 ($ billion)
Exhibit 69: Chart on Technology - Year-over-year growth 2023-2028 (%)
Exhibit 70: Data Table on Technology - Year-over-year growth 2023-2028 (%)
8.5 Services - Market size and forecast 2023-2028

Exhibit 71: Chart on Services - Market size and forecast 2023-2028 ($ billion)
Exhibit 72: Data Table on Services - Market size and forecast 2023-2028 ($ billion)
Exhibit 73: Chart on Services - Year-over-year growth 2023-2028 (%)
Exhibit 74: Data Table on Services - Year-over-year growth 2023-2028 (%)
8.6 Market opportunity by Product

Exhibit 75: Market opportunity by Product ($ billion)
Exhibit 76: Data Table on Market opportunity by Product ($ billion)
9 Customer Landscape
9.1 Customer landscape overview

Exhibit 77: Analysis of price sensitivity, lifecycle, customer purchase basket, adoption rates, and purchase criteria
10 Drivers, Challenges, and Trends
10.3 Impact of drivers and challenges

Exhibit 78: Impact of drivers and challenges in 2023 and 2028
11 Vendor Landscape
11.2 Vendor landscape

Exhibit 79: Overview on Criticality of inputs and Factors of differentiation
11.3 Landscape disruption

Exhibit 80: Overview on factors of disruption
11.4 Industry risks

Exhibit 81: Impact of key risks on business
12 Vendor Analysis
12.1 Vendors covered

Exhibit 82: Vendors covered
12.2 Market positioning of vendors

Exhibit 83: Matrix on vendor position and classification
12.3 2U Inc.

Exhibit 84: 2U Inc. - Overview
Exhibit 85: 2U Inc. - Business segments
Exhibit 86: 2U Inc. - Key news
Exhibit 87: 2U Inc. - Key offerings
Exhibit 88: 2U Inc. - Segment focus
12.4 Adobe Inc.

Exhibit 89: Adobe Inc. - Overview
Exhibit 90: Adobe Inc. - Business segments
Exhibit 91: Adobe Inc. - Key offerings
Exhibit 92: Adobe Inc. - Segment focus
12.5 Anthology Inc.

Exhibit 93: Anthology Inc. - Overview
Exhibit 94: Anthology Inc. - Product / Service
Exhibit 95: Anthology Inc. - Key offerings
12.6 Articulate Global Inc.

Exhibit 96: Articulate Global Inc. - Overview
Exhibit 97: Articulate Global Inc. - Product / Service
Exhibit 98: Articulate Global Inc. - Key offerings
12.7 Cengage Learning Holdings II Inc.

Exhibit 99: Cengage Learning Holdings II Inc. - Overview
Exhibit 100: Cengage Learning Holdings II Inc. - Business segments
Exhibit 101: Cengage Learning Holdings II Inc. - Key offerings
Exhibit 102: Cengage Learning Holdings II Inc. - Segment focus
12.8 Coursera Inc.

Exhibit 103: Coursera Inc. - Overview
Exhibit 104: Coursera Inc. - Business segments
Exhibit 105: Coursera Inc. - Key offerings
Exhibit 106: Coursera Inc. - Segment focus
12.9 D2L Corp.

Exhibit 107: D2L Corp. - Overview
Exhibit 108: D2L Corp. - Product / Service
Exhibit 109: D2L Corp. - Key news
Exhibit 110: D2L Corp. - Key offerings
12.10 Docebo Inc.

Exhibit 111: Docebo Inc. - Overview
Exhibit 112: Docebo Inc. - Product / Service
Exhibit 113: Docebo Inc. - Key offerings
12.11 Flatworld Solutions Pvt. Ltd.

Exhibit 114: Flatworld Solutions Pvt. Ltd. - Overview
Exhibit 115: Flatworld Solutions Pvt. Ltd. - Product / Service
Exhibit 116: Flatworld Solutions Pvt. Ltd. - Key offerings
12.12 Houghton Mifflin Harcourt Co.

Exhibit 117: Houghton Mifflin Harcourt Co. - Overview
Exhibit 118: Houghton Mifflin Harcourt Co. - Product / Service
Exhibit 119: Houghton Mifflin Harcourt Co. - Key offerings
12.13 iEnergizer

Exhibit 120: iEnergizer - Overview
Exhibit 121: iEnergizer - Business segments
Exhibit 122: iEnergizer - Key offerings
Exhibit 123: iEnergizer - Segment focus
12.14 Infopro Learning Inc.

Exhibit 124: Infopro Learning Inc. - Overview
Exhibit 125: Infopro Learning Inc. - Product / Service
Exhibit 126: Infopro Learning Inc. - Key offerings
12.15 Stylus Solutions Pvt. Ltd.

Exhibit 127: Stylus Solutions Pvt. Ltd. - Overview
Exhibit 128: Stylus Solutions Pvt. Ltd. - Product / Service
Exhibit 129: Stylus Solutions Pvt. Ltd. - Key offerings
12.16 Udemy Inc.

Exhibit 130: Udemy Inc. - Overview
Exhibit 131: Udemy Inc. - Business segments
Exhibit 132: Udemy Inc. - Key offerings
Exhibit 133: Udemy Inc. - Segment focus
12.17 VitalSource Technologies LLC

Exhibit 134: VitalSource Technologies LLC - Overview
Exhibit 135: VitalSource Technologies LLC - Product / Service
Exhibit 136: VitalSource Technologies LLC - Key offerings
13 Appendix
13.2 Inclusions and exclusions checklist

Exhibit 137: Inclusions checklist
Exhibit 138: Exclusions checklist
13.3 Currency conversion rates for US$

Exhibit 139: Currency conversion rates for US$
13.4 Research methodology

Exhibit 140: Research methodology
Exhibit 141: Validation techniques employed for market sizing
Exhibit 142: Information sources
13.5 List of abbreviations

Exhibit 143: List of abbreviations