Facial Recognition Market Report Summary
The Global Facial Recognition Market size is estimated to grow by USD 7,634.09 million between 2022 and 2027 accelerating at a CAGR of 18.11% during the forecast period. The growth of the market depends on several factors, including the increasing instances of identity threats, the rising popularity of facial recognition, and the adoption of 3D facial recognition technology. Facial recognition technology is used for the identification of an individual. The facial recognition system measures the overall facial features of a person, which includes the eyes, mouth, nose, and jaw edges. It is being used in high-security areas for control access. Facial recognition is largely used in the government, financial, transit, and aviation sectors to identify and authenticate individuals. Facial recognition systems are widely accepted as they are non-intrusive and they can work from more than two feet. Most facial recognition systems do not require the consent of individuals. Therefore, this system does not demand an individual to stand against the camera for the scan, but rather it locates the individual face for identification against the template stored in the database. Facial recognition is a biometric software technology that is used for the identification/authentication of individuals. It uses a software application that is specifically designed and developed to identify or authenticate a person automatically.
This report extensively covers market segmentation by application (identification and verification), technology (3D, 2D, and facial analytics), end-user (media and entertainment, BFSI, automobile and transportation, and others), and geography (North America, Europe, APAC, Middle East and Africa, and South America). It also includes an in-depth analysis of drivers, trends, and challenges.
What will be the size of the Facial Recognition Market During the Forecast Period?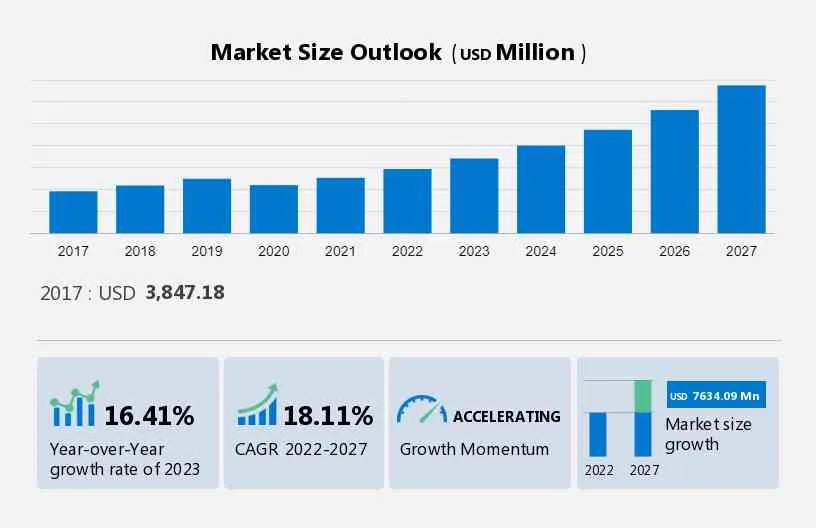 Facial Recognition Market shows accelerated growth during the forecast period
To learn more about this report, Request Free Sample
Facial Recognition Market: Key Drivers, Trends, Challenges, and Customer Landscape
 Our researchers analyzed the data with 2022 as the base year, along with the key drivers, trends, and challenges. A holistic analysis of drivers will help companies refine their marketing strategies to gain a competitive advantage.
Key Facial Recognition Market Driver
Increasing instances of identity threats are the key factor driving the global facial recognition market growth. Identity and data theft incidents are on the rise as end users become more reliant on websites and web applications. The growing popularity of online games and social networking sites has also contributed to an increase in identity theft incidents. Additionally, the increasing sophistication of these attacks is driving end users to implement secure authentication solutions.
Therefore, the acceptance of biometric security solutions is increasing. Biometric solutions are one of the most secure authentication solutions because of their capability to incorporate the physical and behavioral features of the end-users, which are difficult to forge. Hence, it is among the strongest growing authentication solutions currently. Such factors will increase the market growth during the forecast period.
Significant Facial Recognition Market Trends
Facial recognition using photos on social networking sites is the primary trend in the global food enzymes market growth. Facebook is the most popular social network for uploading personal information and photos. The ability for users to tag their photos has opened up new ways to identify people. These photos are stored in a database that is stored under the tagged name. Various algorithms can be used to search the data and facial recognition can identify people.
Uploading photos at different angles makes the identification more accurate. Such photo-based identification techniques have higher accuracy than traditional facial recognition methods. Therefore, photo-based identification will be integrated with advanced 3D facial recognition to enhance the security features of facial recognition biometrics in the future.
Major Facial Recognition Market Challenge
The high cost of deployment is a major challenge to the global facial recognition market growth. One of the biggest challenges limiting the use of facial recognition systems is the high cost of deployment. Large-scale deployment of facial recognition systems in government agencies and airports is a time-consuming process and typically results in long sales cycles. Also, the cost of deployment will depend on the user's needs. Budget constraints limit the testing of facial recognition solutions.
Hence, a failure in the successful implementation can result in a high loss for these departments. Apart from the actual cost of the facial recognition solution, there are other hidden costs, such as maintenance costs, middleware costs, and other associated costs. All these factors contribute to the high cost of deployment of these systems, posing a major challenge to the market.
What is the Fastest-Growing Segment in the Facial Recognition Market?
The market share growth by the identification segment will be significant during the forecast period. Identification mainly deals with the matching of individual biometrics with a database to recover the details. Biometrics is used for identification in cases of solving crimes and identifying victims. Identification is one of the major applications of physical biometrics. The global facial recognition market for identification will grow during the forecast period.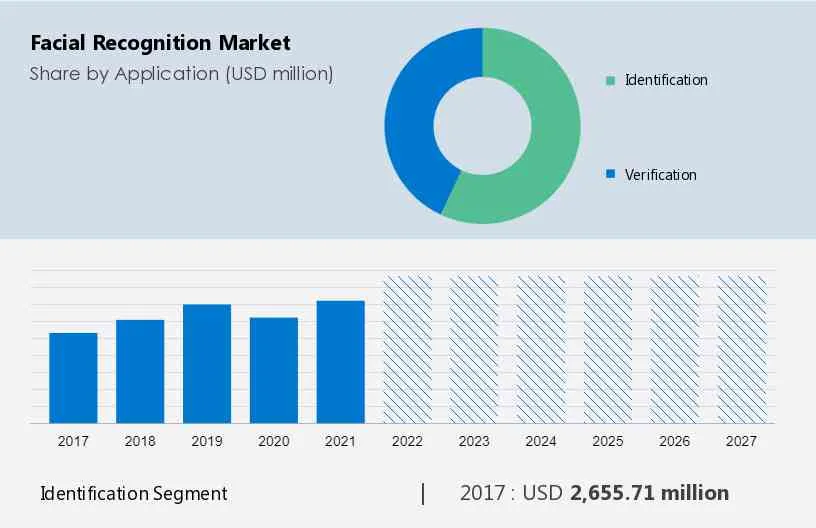 The identification segment was valued at USD 2,655.71 million in 2017 and continue to grow by 2021. 
Get a glance at the market contribution of various segments Request a PDF Sample
 One of the major reasons for this high growth rate is its high adoption in the government and transportation sectors. Identifying individuals for security purposes is a growing need in these sectors. As facial recognition helps to identify individuals without any human interaction, it is widely being adopted in public places and airports. The interaction of facial recognition with video surveillance systems is a major factor supporting the growth of this market.
Which are the Key Regions for the Facial Recognition Market?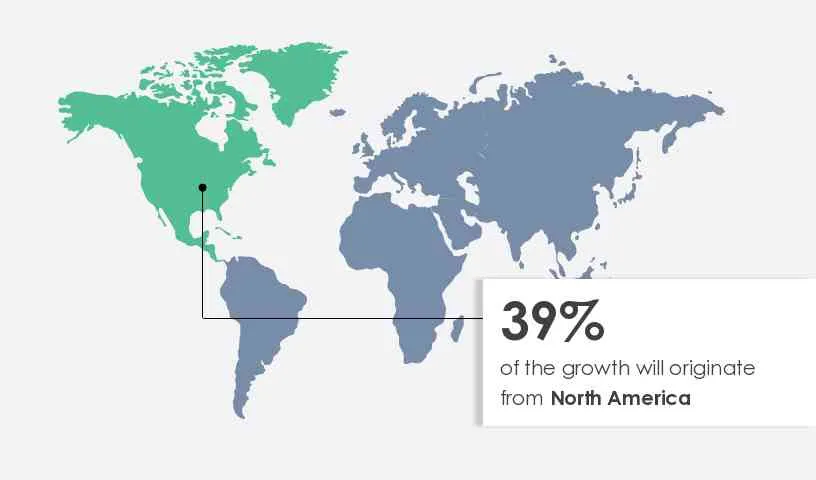 North America is estimated to contribute 39% to the growth of the global market during the forecast period.
For more insights on the market share of various regions Request PDF Sample now!
Technavio's analysts have elaborately explained the regional trends and drivers that shape the market during the forecast period. The facial recognition market in North America will grow during the forecast period. The US has been the major contributor to revenue growth in this region. One of the main reasons for this growth is the high adoption of advanced technologies at the initial stages of homeland security and defense. In addition, the implementation of facial recognition for border security by detecting passport identity fraud is driving the growth of the market.
In 2021, due to the introduction of various COVID-19 vaccines and large-scale vaccination drives, lockdowns were lifted, and global business operations resumed. Facial recognition technology has been adopted by the BFSI sector and other end-users. Increasing smartphone penetration is driving the implication of facial recognition as a security verification. Such factors are anticipated to increase the demand for facial recognition, which will drive the growth of the regional facial recognition market during the forecast period.
Market Customer Landscape
The report includes the adoption lifecycle of the market, covering from the innovator's stage to the laggard's stage. It focuses on adoption rates in different regions based on penetration. Furthermore, the report also includes key purchase criteria and drivers of price sensitivity to help companies evaluate and develop their growth strategies.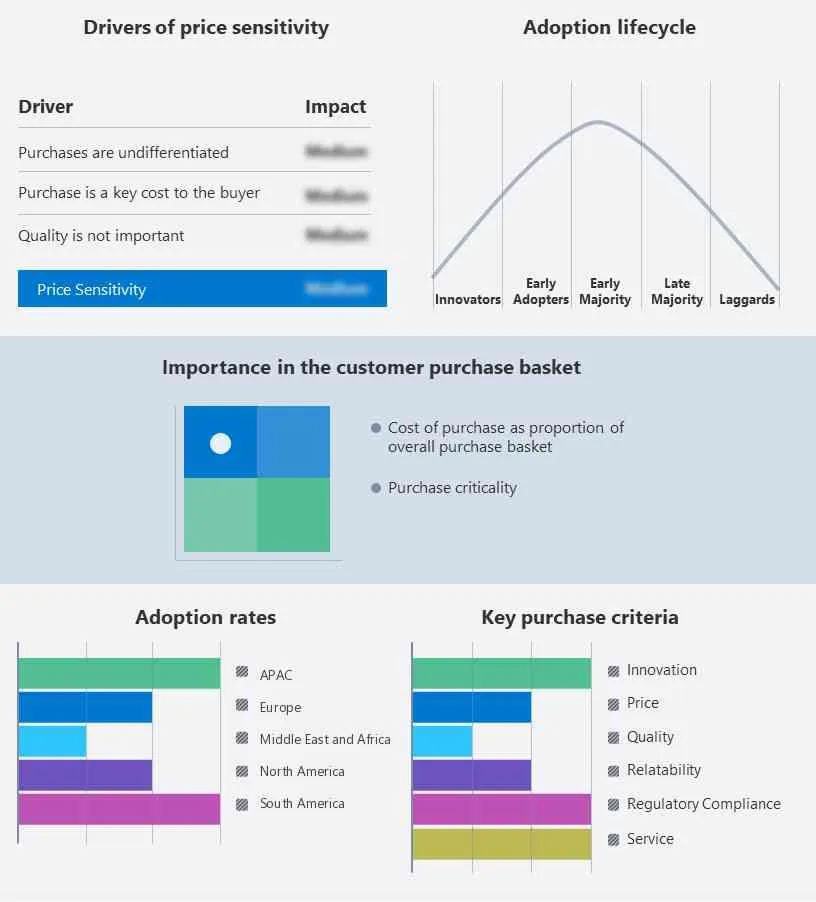 Global Facial Recognition Market Customer Landscape
Who are the Major Facial Recognition Market Companies?
Companies are implementing various strategies, such as strategic alliances, partnerships, mergers and acquisitions, geographical expansion, and product/service launches, to enhance their presence in the market.
Amazon - The company offers facial recognition solutions such as Content moderation, Face compare and search, and Face detection and analysis. 
The report also includes detailed analyses of the competitive landscape of the market and information about 15 market companies, including:
ASSA ABLOY AB
Aware Inc.
Ayonix Corp.
Cognitec Systems GmbH
Daon Inc.
Facebanx
FaceFirst Inc.
Fujitsu Ltd.
IDEMIA
Ipsidy Inc.
Luxand Inc.
Microsoft Corp.
NEC Corp.
Precise Biometrics AB
Safran SA
Qualitative and quantitative analysis of companies has been conducted to help clients understand the wider business environment as well as the strengths and weaknesses of key market players. Data is qualitatively analyzed to categorize companies as pure play, category-focused, industry-focused, and diversified; it is quantitatively analyzed to categorize companies as dominant, leading, strong, tentative, and weak.
Segment Overview
The report forecasts market growth by revenue at global, regional & country levels and provides an analysis of the latest trends and growth opportunities from 2017 to 2027. 
Application Outlook (USD Million, 2017 - 2027)

Identification
Verification
Technology Outlook (USD Million, 2017 - 2027)
End-user Outlook (USD Million, 2017 - 2027)

Media and entertainment
BFSI
Automobile and transportation
Others
Region Outlook (USD Million, 2017 - 2027)

Europe

The U.K.
Germany
France
Rest of Europe

Middle East & Africa

Saudi Arabia
South Africa
Rest of the Middle East & Africa
Facial Recognition Market Scope

Report Coverage

Details

Page number

193

Base year

2022

Historic period

2017-2021

Forecast period

2023-2027

Growth momentum & CAGR

Accelerate at a CAGR of 18.11%

Market growth 2023-2027

USD 7,634.09 million

Market structure

Fragmented

YoY growth 2022-2023(%)

16.41

Regional analysis

North America, Europe, APAC, Middle East and Africa, and South America

Performing market contribution

North America at 39%

Key countries

US, China, Japan, UK, and Germany

Competitive landscape

Leading Companies, Market Positioning of Companies, Competitive Strategies, and Industry Risks

Key companies profiled

Amazon.com Inc., ASSA ABLOY AB, Aware Inc., Ayonix Corp., Cognitec Systems GmbH, Daon Inc., Facebanx, FaceFirst Inc., Fujitsu Ltd., IDEMIA, Ipsidy Inc., Luxand Inc., Microsoft Corp., NEC Corp., Precise Biometrics AB, Safran SA, Suprema Inc., Synaptics Inc., Thales Group, and Veridium IP Ltd.

Market dynamics

Parent market analysis, Market growth inducers and obstacles, Fast-growing and slow-growing segment analysis, COVID-19 impact and recovery analysis and future consumer dynamics, Market condition analysis for forecast period

Customization purview

If our report has not included the data that you are looking for, you can reach out to our analysts and get segments customized.
What are the Key Data Covered in this Facial Recognition Market Research Report?
CAGR of the market during the forecast period
Detailed information on factors that will drive the growth of the facial recognition market between 2023 and 2027
Precise estimation of the size of the facial recognition market size and its contribution to the parent market
Accurate predictions about upcoming trends and changes in consumer behavior
Growth of the market industry across North America, Europe, APAC, Middle East and Africa, and South America
Thorough analysis of the market's competitive landscape and detailed information about companies
Comprehensive analysis of factors that will challenge the growth of facial recognition market companies
We can help! Our analysts can customize this report to meet your requirements. Get in touch
1 Executive Summary
1.1 Market overview

Exhibit 01: Executive Summary – Chart on Market Overview
Exhibit 02: Executive Summary – Data Table on Market Overview
Exhibit 03: Executive Summary – Chart on Global Market Characteristics
Exhibit 04: Executive Summary – Chart on Market by Geography
Exhibit 05: Executive Summary – Chart on Market Segmentation by Application
Exhibit 06: Executive Summary – Chart on Market Segmentation by Technology
Exhibit 07: Executive Summary – Chart on Market Segmentation by End-user
Exhibit 08: Executive Summary – Chart on Incremental Growth
Exhibit 09: Executive Summary – Data Table on Incremental Growth
Exhibit 10: Executive Summary – Chart on Vendor Market Positioning
2 Market Landscape
2.1 Market ecosystem

Exhibit 11: Parent market
Exhibit 12: Market Characteristics
3 Market Sizing
3.1 Market definition

Exhibit 13: Offerings of vendors included in the market definition
3.2 Market segment analysis

Exhibit 14: Market segments
3.4 Market outlook: Forecast for 2022-2027

Exhibit 15: Chart on Global - Market size and forecast 2022-2027 ($ million)
Exhibit 16: Data Table on Global - Market size and forecast 2022-2027 ($ million)
Exhibit 17: Chart on Global Market: Year-over-year growth 2022-2027 (%)
Exhibit 18: Data Table on Global Market: Year-over-year growth 2022-2027 (%)
4 Historic Market Size
4.1 Global facial recognition market 2017 - 2022

Exhibit 19: Historic Market Size – Data Table on Global facial recognition market 2017 - 2022 ($ million)
4.2 Application Segment Analysis 2017 - 2022

Exhibit 20: Historic Market Size – Application Segment 2017 - 2022 ($ million)
4.3 Technology Segment Analysis 2017 - 2022

Exhibit 21: Historic Market Size – Technology Segment 2017 - 2022 ($ million)
4.4 End-user Segment Analysis 2017 - 2022

Exhibit 22: Historic Market Size – End-user Segment 2017 - 2022 ($ million)
4.5 Geography Segment Analysis 2017 - 2022

Exhibit 23: Historic Market Size – Geography Segment 2017 - 2022 ($ million)
4.6 Country Segment Analysis 2017 - 2022

Exhibit 24: Historic Market Size – Country Segment 2017 - 2022 ($ million)
5 Five Forces Analysis
5.1 Five forces summary

Exhibit 25: Five forces analysis - Comparison between 2022 and 2027
5.2 Bargaining power of buyers

Exhibit 26: Chart on Bargaining power of buyers – Impact of key factors 2022 and 2027
5.3 Bargaining power of suppliers

Exhibit 27: Bargaining power of suppliers – Impact of key factors in 2022 and 2027
5.4 Threat of new entrants

Exhibit 28: Threat of new entrants – Impact of key factors in 2022 and 2027
5.5 Threat of substitutes

Exhibit 29: Threat of substitutes – Impact of key factors in 2022 and 2027
5.6 Threat of rivalry

Exhibit 30: Threat of rivalry – Impact of key factors in 2022 and 2027
5.7 Market condition

Exhibit 31: Chart on Market condition - Five forces 2022 and 2027
6 Market Segmentation by Application
6.1 Market segments

Exhibit 32: Chart on Application - Market share 2022-2027 (%)
Exhibit 33: Data Table on Application - Market share 2022-2027 (%)
6.2 Comparison by Application

Exhibit 34: Chart on Comparison by Application
Exhibit 35: Data Table on Comparison by Application
6.3 Identification - Market size and forecast 2022-2027

Exhibit 36: Chart on Identification - Market size and forecast 2022-2027 ($ million)
Exhibit 37: Data Table on Identification - Market size and forecast 2022-2027 ($ million)
Exhibit 38: Chart on Identification - Year-over-year growth 2022-2027 (%)
Exhibit 39: Data Table on Identification - Year-over-year growth 2022-2027 (%)
6.4 Verification - Market size and forecast 2022-2027

Exhibit 40: Chart on Verification - Market size and forecast 2022-2027 ($ million)
Exhibit 41: Data Table on Verification - Market size and forecast 2022-2027 ($ million)
Exhibit 42: Chart on Verification - Year-over-year growth 2022-2027 (%)
Exhibit 43: Data Table on Verification - Year-over-year growth 2022-2027 (%)
6.5 Market opportunity by Application

Exhibit 44: Market opportunity by Application ($ million)
7 Market Segmentation by Technology
7.1 Market segments

Exhibit 45: Chart on Technology - Market share 2022-2027 (%)
Exhibit 46: Data Table on Technology - Market share 2022-2027 (%)
7.2 Comparison by Technology

Exhibit 47: Chart on Comparison by Technology
Exhibit 48: Data Table on Comparison by Technology
7.3 3D - Market size and forecast 2022-2027

Exhibit 49: Chart on 3D - Market size and forecast 2022-2027 ($ million)
Exhibit 50: Data Table on 3D - Market size and forecast 2022-2027 ($ million)
Exhibit 51: Chart on 3D - Year-over-year growth 2022-2027 (%)
Exhibit 52: Data Table on 3D - Year-over-year growth 2022-2027 (%)
7.4 2D - Market size and forecast 2022-2027

Exhibit 53: Chart on 2D - Market size and forecast 2022-2027 ($ million)
Exhibit 54: Data Table on 2D - Market size and forecast 2022-2027 ($ million)
Exhibit 55: Chart on 2D - Year-over-year growth 2022-2027 (%)
Exhibit 56: Data Table on 2D - Year-over-year growth 2022-2027 (%)
7.5 Facial analytics - Market size and forecast 2022-2027

Exhibit 57: Chart on Facial analytics - Market size and forecast 2022-2027 ($ million)
Exhibit 58: Data Table on Facial analytics - Market size and forecast 2022-2027 ($ million)
Exhibit 59: Chart on Facial analytics - Year-over-year growth 2022-2027 (%)
Exhibit 60: Data Table on Facial analytics - Year-over-year growth 2022-2027 (%)
7.6 Market opportunity by Technology

Exhibit 61: Market opportunity by Technology ($ million)
8 Market Segmentation by End-user
8.1 Market segments

Exhibit 62: Chart on End-user - Market share 2022-2027 (%)
Exhibit 63: Data Table on End-user - Market share 2022-2027 (%)
8.2 Comparison by End-user

Exhibit 64: Chart on Comparison by End-user
Exhibit 65: Data Table on Comparison by End-user
8.3 Media and entertainment - Market size and forecast 2022-2027

Exhibit 66: Chart on Media and entertainment - Market size and forecast 2022-2027 ($ million)
Exhibit 67: Data Table on Media and entertainment - Market size and forecast 2022-2027 ($ million)
Exhibit 68: Chart on Media and entertainment - Year-over-year growth 2022-2027 (%)
Exhibit 69: Data Table on Media and entertainment - Year-over-year growth 2022-2027 (%)
8.4 BFSI - Market size and forecast 2022-2027

Exhibit 70: Chart on BFSI - Market size and forecast 2022-2027 ($ million)
Exhibit 71: Data Table on BFSI - Market size and forecast 2022-2027 ($ million)
Exhibit 72: Chart on BFSI - Year-over-year growth 2022-2027 (%)
Exhibit 73: Data Table on BFSI - Year-over-year growth 2022-2027 (%)
8.5 Automobile and transportation - Market size and forecast 2022-2027

Exhibit 74: Chart on Automobile and transportation - Market size and forecast 2022-2027 ($ million)
Exhibit 75: Data Table on Automobile and transportation - Market size and forecast 2022-2027 ($ million)
Exhibit 76: Chart on Automobile and transportation - Year-over-year growth 2022-2027 (%)
Exhibit 77: Data Table on Automobile and transportation - Year-over-year growth 2022-2027 (%)
8.6 Others - Market size and forecast 2022-2027

Exhibit 78: Chart on Others - Market size and forecast 2022-2027 ($ million)
Exhibit 79: Data Table on Others - Market size and forecast 2022-2027 ($ million)
Exhibit 80: Chart on Others - Year-over-year growth 2022-2027 (%)
Exhibit 81: Data Table on Others - Year-over-year growth 2022-2027 (%)
8.7 Market opportunity by End-user

Exhibit 82: Market opportunity by End-user ($ million)
9 Customer Landscape
9.1 Customer landscape overview

Exhibit 83: Analysis of price sensitivity, lifecycle, customer purchase basket, adoption rates, and purchase criteria
10 Geographic Landscape
10.1 Geographic segmentation

Exhibit 84: Chart on Market share by geography 2022-2027 (%)
Exhibit 85: Data Table on Market share by geography 2022-2027 (%)
10.2 Geographic comparison

Exhibit 86: Chart on Geographic comparison
Exhibit 87: Data Table on Geographic comparison
10.3 North America - Market size and forecast 2022-2027

Exhibit 88: Chart on North America - Market size and forecast 2022-2027 ($ million)
Exhibit 89: Data Table on North America - Market size and forecast 2022-2027 ($ million)
Exhibit 90: Chart on North America - Year-over-year growth 2022-2027 (%)
Exhibit 91: Data Table on North America - Year-over-year growth 2022-2027 (%)
10.4 Europe - Market size and forecast 2022-2027

Exhibit 92: Chart on Europe - Market size and forecast 2022-2027 ($ million)
Exhibit 93: Data Table on Europe - Market size and forecast 2022-2027 ($ million)
Exhibit 94: Chart on Europe - Year-over-year growth 2022-2027 (%)
Exhibit 95: Data Table on Europe - Year-over-year growth 2022-2027 (%)
10.5 APAC - Market size and forecast 2022-2027

Exhibit 96: Chart on APAC - Market size and forecast 2022-2027 ($ million)
Exhibit 97: Data Table on APAC - Market size and forecast 2022-2027 ($ million)
Exhibit 98: Chart on APAC - Year-over-year growth 2022-2027 (%)
Exhibit 99: Data Table on APAC - Year-over-year growth 2022-2027 (%)
10.6 Middle East and Africa - Market size and forecast 2022-2027

Exhibit 100: Chart on Middle East and Africa - Market size and forecast 2022-2027 ($ million)
Exhibit 101: Data Table on Middle East and Africa - Market size and forecast 2022-2027 ($ million)
Exhibit 102: Chart on Middle East and Africa - Year-over-year growth 2022-2027 (%)
Exhibit 103: Data Table on Middle East and Africa - Year-over-year growth 2022-2027 (%)
10.7 South America - Market size and forecast 2022-2027

Exhibit 104: Chart on South America - Market size and forecast 2022-2027 ($ million)
Exhibit 105: Data Table on South America - Market size and forecast 2022-2027 ($ million)
Exhibit 106: Chart on South America - Year-over-year growth 2022-2027 (%)
Exhibit 107: Data Table on South America - Year-over-year growth 2022-2027 (%)
10.8 US - Market size and forecast 2022-2027

Exhibit 108: Chart on US - Market size and forecast 2022-2027 ($ million)
Exhibit 109: Data Table on US - Market size and forecast 2022-2027 ($ million)
Exhibit 110: Chart on US - Year-over-year growth 2022-2027 (%)
Exhibit 111: Data Table on US - Year-over-year growth 2022-2027 (%)
10.9 China - Market size and forecast 2022-2027

Exhibit 112: Chart on China - Market size and forecast 2022-2027 ($ million)
Exhibit 113: Data Table on China - Market size and forecast 2022-2027 ($ million)
Exhibit 114: Chart on China - Year-over-year growth 2022-2027 (%)
Exhibit 115: Data Table on China - Year-over-year growth 2022-2027 (%)
10.10 UK - Market size and forecast 2022-2027

Exhibit 116: Chart on UK - Market size and forecast 2022-2027 ($ million)
Exhibit 117: Data Table on UK - Market size and forecast 2022-2027 ($ million)
Exhibit 118: Chart on UK - Year-over-year growth 2022-2027 (%)
Exhibit 119: Data Table on UK - Year-over-year growth 2022-2027 (%)
10.11 Germany - Market size and forecast 2022-2027

Exhibit 120: Chart on Germany - Market size and forecast 2022-2027 ($ million)
Exhibit 121: Data Table on Germany - Market size and forecast 2022-2027 ($ million)
Exhibit 122: Chart on Germany - Year-over-year growth 2022-2027 (%)
Exhibit 123: Data Table on Germany - Year-over-year growth 2022-2027 (%)
10.12 Japan - Market size and forecast 2022-2027

Exhibit 124: Chart on Japan - Market size and forecast 2022-2027 ($ million)
Exhibit 125: Data Table on Japan - Market size and forecast 2022-2027 ($ million)
Exhibit 126: Chart on Japan - Year-over-year growth 2022-2027 (%)
Exhibit 127: Data Table on Japan - Year-over-year growth 2022-2027 (%)
10.13 Market opportunity by geography

Exhibit 128: Market opportunity by geography ($ million)
11 Drivers, Challenges, and Trends
11.3 Impact of drivers and challenges

Exhibit 129: Impact of drivers and challenges in 2022 and 2027
12 Vendor Landscape
12.2 Vendor landscape

Exhibit 130: Overview on Criticality of inputs and Factors of differentiation
12.3 Landscape disruption

Exhibit 131: Overview on factors of disruption
12.4 Industry risks

Exhibit 132: Impact of key risks on business
13 Vendor Analysis
13.1 Vendors covered

Exhibit 133: Vendors covered
13.2 Market positioning of vendors

Exhibit 134: Matrix on vendor position and classification
13.3 Amazon.com Inc.

Exhibit 135: Amazon.com Inc. - Overview
Exhibit 136: Amazon.com Inc. - Business segments
Exhibit 137: Amazon.com Inc. - Key news
Exhibit 138: Amazon.com Inc. - Key offerings
Exhibit 139: Amazon.com Inc. - Segment focus
13.4 ASSA ABLOY AB

Exhibit 140: ASSA ABLOY AB - Overview
Exhibit 141: ASSA ABLOY AB - Business segments
Exhibit 142: ASSA ABLOY AB - Key offerings
Exhibit 143: ASSA ABLOY AB - Segment focus
13.5 Aware Inc.

Exhibit 144: Aware Inc. - Overview
Exhibit 145: Aware Inc. - Product / Service
Exhibit 146: Aware Inc. - Key offerings
13.6 Ayonix Corp.

Exhibit 147: Ayonix Corp. - Overview
Exhibit 148: Ayonix Corp. - Product / Service
Exhibit 149: Ayonix Corp. - Key offerings
13.7 Cognitec Systems GmbH

Exhibit 150: Cognitec Systems GmbH - Overview
Exhibit 151: Cognitec Systems GmbH - Product / Service
Exhibit 152: Cognitec Systems GmbH - Key offerings
13.8 Daon Inc.

Exhibit 153: Daon Inc. - Overview
Exhibit 154: Daon Inc. - Product / Service
Exhibit 155: Daon Inc. - Key offerings
13.9 Facebanx

Exhibit 156: Facebanx - Overview
Exhibit 157: Facebanx - Product / Service
Exhibit 158: Facebanx - Key offerings
13.10 Fujitsu Ltd.

Exhibit 159: Fujitsu Ltd. - Overview
Exhibit 160: Fujitsu Ltd. - Business segments
Exhibit 161: Fujitsu Ltd. - Key news
Exhibit 162: Fujitsu Ltd. - Key offerings
Exhibit 163: Fujitsu Ltd. - Segment focus
13.11 IDEMIA

Exhibit 164: IDEMIA - Overview
Exhibit 165: IDEMIA - Product / Service
Exhibit 166: IDEMIA - Key offerings
13.12 Microsoft Corp.

Exhibit 167: Microsoft Corp. - Overview
Exhibit 168: Microsoft Corp. - Business segments
Exhibit 169: Microsoft Corp. - Key news
Exhibit 170: Microsoft Corp. - Key offerings
Exhibit 171: Microsoft Corp. - Segment focus
13.13 NEC Corp.

Exhibit 172: NEC Corp. - Overview
Exhibit 173: NEC Corp. - Business segments
Exhibit 174: NEC Corp. - Key news
Exhibit 175: NEC Corp. - Key offerings
Exhibit 176: NEC Corp. - Segment focus
13.14 Precise Biometrics AB

Exhibit 177: Precise Biometrics AB - Overview
Exhibit 178: Precise Biometrics AB - Business segments
Exhibit 179: Precise Biometrics AB - Key offerings
Exhibit 180: Precise Biometrics AB - Segment focus
13.15 Safran SA

Exhibit 181: Safran SA - Overview
Exhibit 182: Safran SA - Business segments
Exhibit 183: Safran SA - Key news
Exhibit 184: Safran SA - Key offerings
Exhibit 185: Safran SA - Segment focus
13.16 Synaptics Inc.

Exhibit 186: Synaptics Inc. - Overview
Exhibit 187: Synaptics Inc. - Product / Service
Exhibit 188: Synaptics Inc. - Key news
Exhibit 189: Synaptics Inc. - Key offerings
13.17 Thales Group

Exhibit 190: Thales Group - Overview
Exhibit 191: Thales Group - Business segments
Exhibit 192: Thales Group - Key offerings
Exhibit 193: Thales Group - Segment focus
14 Appendix
14.2 Inclusions and exclusions checklist

Exhibit 194: Inclusions checklist
Exhibit 195: Exclusions checklist
14.3 Currency conversion rates for US$

Exhibit 196: Currency conversion rates for US$
14.4 Research methodology

Exhibit 197: Research methodology
Exhibit 198: Validation techniques employed for market sizing
Exhibit 199: Information sources
14.5 List of abbreviations

Exhibit 200: List of abbreviations