The hair color market size is estimated to grow at a CAGR of 8.54% between 2022 and 2027. The market size is forecast to increase by USD 20,389.76 million. The growth of the market depends on several factors, including innovation in product formulation and formats, growth in the novelty color segment as a premium product, and Influence through social media and blogging.
This hair color market report extensively covers market segmentation by product (permanent, semi-permanent, temporary, and highlights and bleach), end-user (women, unisex, and men), and geography (Europe, North America, APAC, South America, and Middle East and Africa). It also includes an in-depth analysis of drivers, trends, and challenges. Furthermore, the report includes historic market data from 2017 to 2021.
What will be the Size of the Hair Color Market During the Forecast Period?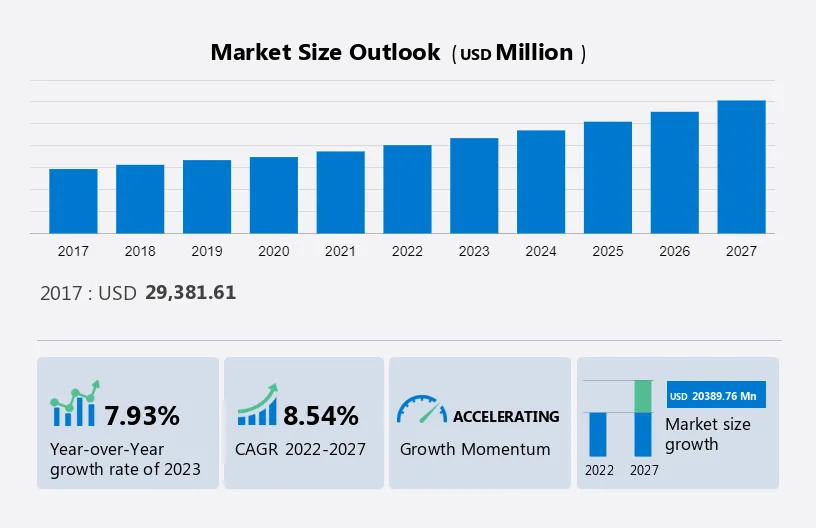 To learn more about this report, View Report Sample
Hair Color Market: Key Drivers, Trends, Challenges, and Customer Landscape
The innovation in product formulation and formats is notably driving the market growth, although the limited consumer pool for novelty and premium hair colors in developing countries may impede the market growth. Our researchers analyzed the data with 2022 as the base year, along with the key drivers, trends, and challenges. A holistic analysis of drivers will help companies refine their marketing strategies to gain a competitive advantage. 
Key Hair Color Market Driver
Innovation in product formulation and formats is notably driving the hair color market growth. The hair color comes in an easy-to-use pre-measured sachet. The market is driven by innovations in product formulation, composition, and distribution format. Hair color is prescribed in two stages. The first step is product base development, and the second step is the desired shade formulation. In the formulation process, particular attention should be paid to factors such as dye stability, color adhesion to hair, light fading, and product rheology. 
Most hair dye manufacturers now produce hair dyes that help lighten hair, contributing to the product's popularity among consumers. Variations in hair color that claim to be long-lasting, easy to use, and plant-based will continue. These innovations have led to increased customer acquisition, product awareness, and adoption rates, which are expected to continue during the forecast period. 
 
Significant Hair Color Market Trends
The rising popularity of vibrant and unconventional hair colors is a key trend influencing the hair color market growth. Consumers want to move away from the standard colors and move towards bold and vibrant shades and experiment with hair color. The rise of social media platforms like Instagram has also influenced the fancy hair color trend. People are exposed to imaginative and colorful hairstyles that make them want to try them out. This has created a trend toward personalized beauty, allowing customers to tailor products and services to their unique needs and preferences. 
To keep up with evolving consumer preferences, manufacturers have responded by offering more hair coloring options, including a variety of colorful and unique colors. Therefore, the growing popularity of vibrant and quirky hair colors is expected to boost the growth of the market during the forecast period. 
Major Hair Color Market Challenge
The limited consumer pool for novelty and premium hair colors in developing countries is challenging the hair color market growth. The market is booming in the developed markets of North America and Europe. This is because the majority of the end customer premium and mass segments are available in this segment. Therefore, these markets have a balanced demand for hair colors at different price points. Demand for premium hair color in developed countries exceeds that of the mass segment.
Unlike countries in North America and Europe, APAC and MEA do not have an even distribution of consumer segments. The percentage of customers in the mass segment is higher than the percentage of end customers in these regions. This results in significant sales of low-priced hair dyes in these local markets. However, sales of premium and novelty hair colors in APAC and MEA are lower due to the low presence of the segment. Poor sales of premium hair colors will lead to lower sales revenue. Therefore, the value of earnings from these regions is small. 
Key Hair Color Market Customer Landscape
The report includes the adoption lifecycle of the market, covering from the innovator's stage to the laggard's stage. It focuses on adoption rates in different regions based on penetration. Furthermore, the report also includes key purchase criteria and drivers of price sensitivity to help companies evaluate and develop their growth strategies.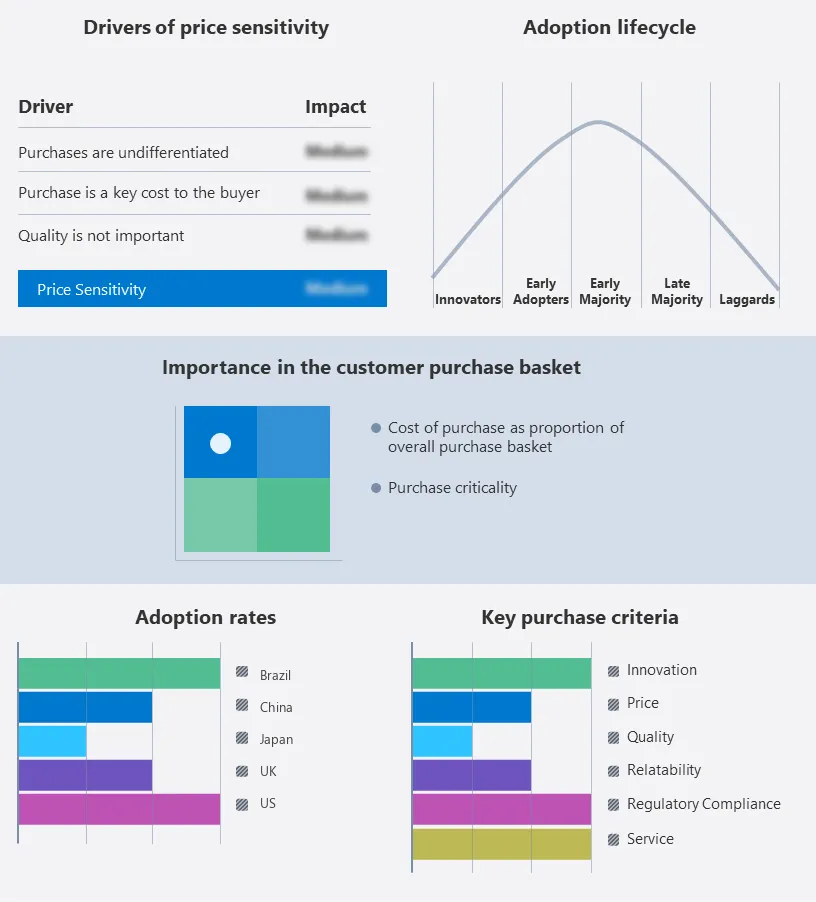 Global Hair Color Market Customer Landscape
Who are the Major Hair Color Market Vendors?
Vendors are implementing various strategies, such as strategic alliances, partnerships, mergers and acquisitions, geographical expansion, and product/service launches, to enhance their presence in the market.
Amway Corp: The company offers different types of personalized solutions for skin care, hair color, and other makeup products.
The report also includes detailed analyses of the competitive landscape of the market and information about 15 market vendors, including:
Cadiveu Professional
Chatters GP Inc.
Coty Inc.
Godrej and Boyce Manufacturing Co. Ltd.
Henkel AG and Co. KGaA
John Paul Mitchell Systems
Kao Corp.
LOreal SA
Madison Reed Inc.
Moroccanoil Inc.
NATULIQUE Ltd.
NATURIGIN
Revlon Inc.
Surya Brasil
The Estee Lauder Companies Inc.
Qualitative and quantitative analysis of vendors has been conducted to help clients understand the wider business environment as well as the strengths and weaknesses of key market players. Data is qualitatively analyzed to categorize vendors as pure play, category-focused, industry-focused, and diversified; it is quantitatively analyzed to categorize vendors as dominant, leading, strong, tentative, and weak.
What is the Fastest-Growing Segments in the Hair Color Market?
The market share growth by the permanent segment will be significant during the forecast period. The process of permanent hair coloring is also known as oxidation because, in this process, an oxidizing agent, such as hydrogen peroxide or ammonia, is mixed with the coloring agent prior to application. It doesn't need to be applied as often as semi-permanent or temporary hair color. The composition and formulation of permanent color products are complex, as the chemical composition of this process is critical. Manufacturers, therefore, go to great lengths to achieve long-lasting color with minimal damage to hair's strength and elasticity. Permanent hair colors are also available in a variety of natural shades.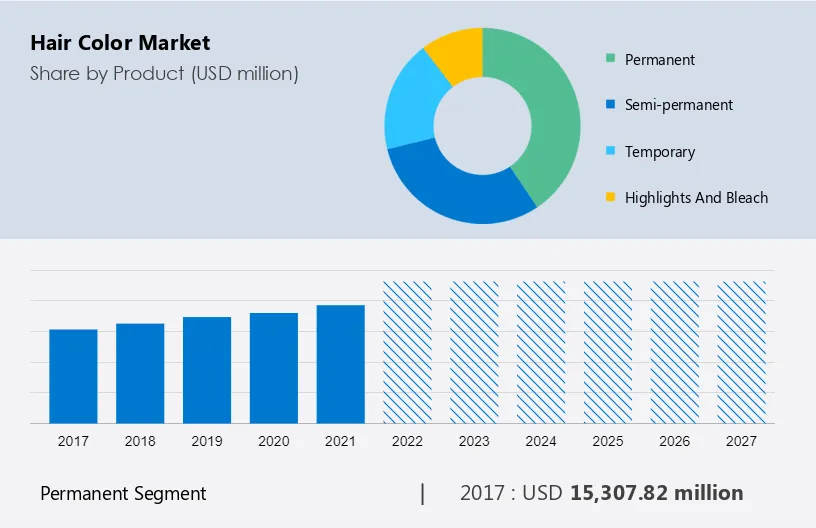 Get a glance at the market contribution of various segments View the PDF Sample
The permanent segment was valued at USD 15,307.82 million in 2017 and continued to grow until 2021. Many permanent hair color consumers have turned heavily to hair colors that prevent excessive warm pigments (brass) in their hair. The well-established brands in the market offer hair dyes that completely protect the hair from the roots. For example, L'Oreal SA offers the Cool Supreme Permanent Gray Coverage Hair Color specifically for brassy hair. This product is equipped with an anti-brass triple protection system that prevents brass from sticking to highlighted hair. Additionally, many millennials who don't want to dye their hair often buy permanent hair dyes that don't fade. Fade-resistant permanent hair color reduces the need to re-dye hair or color toners when hair is frequently exposed to the environment. Many global suppliers offer permanent hair color that is long-lasting and requires minimal color maintenance. Such application-based hair dyes are available in the global market. They are expected to drive the growth of the permanent hair color segment of the market during the forecast period. 
Which are the Key Regions for the Hair Color Market?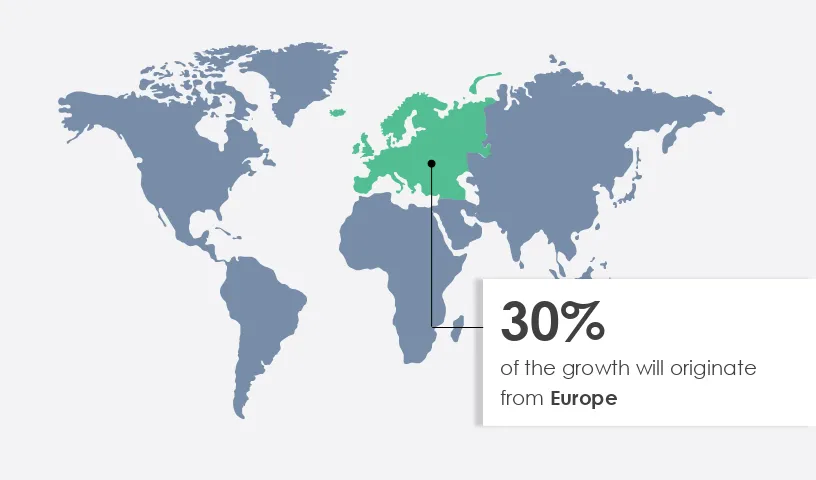 For more insights on the market share of various regions Download PDF Sample now!
Europe is estimated to contribute 30% to the growth of the global hair color market during the forecast period. Technavio's analysts have elaborately explained the regional trends and drivers that shape the market during the forecast period.
UK, France, and Germany are the largest contributors to the market in the European region. LOreal SA, Unilever Group, Henkel AG & Co. KGaA, and New Avon Co. are the major suppliers operating in the hair color market in the region. The market in this region is expected to grow significantly during the forecast period, owing to intense competition among vendors, especially in Western European countries, owing to the expansion of distribution networks and the adoption of multi-channel marketing strategies. The micro factors that lead to high incomes in Europe are high consumer disposable income, high purchasing power parity, and high per capita income. However, these factors act as additional sources of market expansion rather than directly driving the market growth. The UK's leading entertainment and modeling industry has helped the hair coloring market gain prominence. The country is seeing significant consumption of the mass, premium, and ultra-premium segments of hair coloring agents. This is because there is a diverse consumer base. 
The 2020 COVID-19 outbreak had a heavy impact on the business world. This was due to strict lockdowns imposed by governments of various countries from across the world. Supplier manufacturing, transportation, and distribution activities were adversely affected by the closure of factories and warehouses. As a result, local market suppliers faced disruptions in their chain of supply. In addition, the import and export of hair dyes were affected in 2020. With the introduction of lockdowns, brick-and-mortar stores were temporarily closed, negatively impacting the market. However,  the start of a massive COVID-19 vaccination campaign in 2021 lifted lockdowns and trade restrictions globally. This led to the reopening of hair dye manufacturing operations, warehouses, and other facilities owned by local suppliers. This enabled local suppliers to meet the growing demand for hair dyes. Therefore, such factors are expected to increase the demand for hair color products, which will boost the growth of the market during the forecast period. 
Segment Overview
The hair color market report forecasts market growth by revenue at global, regional & country levels and provides an analysis of the latest trends and growth opportunities from 2017 to 2027. 
Product Outlook (USD Million, 2017 - 2027)

Permanent
Semi-permanent
Temporary
Highlights and bleach
End-user Outlook (USD Million, 2017 - 2027)
Region Outlook (USD Million, 2017 - 2027)

Europe

U.K.
Germany
France
Rest of Europe

South America
Middle East & Africa

Saudi Arabia
South Africa
Rest of the Middle East & Africa
Parent Market Analysis
Technavio categorizes the global hair color market as a part of the global personal products market within the global household and personal products market. The parent global personal products market includes products and companies engaged in research and development (R&D) and manufacturing of personal and beauty care products such as cosmetics and perfumes. The scope of the global personal products market also includes personalized gifts, sleep masks, sex toys, hair wigs and extensions, and the polarized sunglasses market. Technavio calculates the global personal products market size based on the combined revenues of the manufacturers of these products. 
Hair Color Market Scope

Report Coverage

Details

Page number

172

Base year

2022

Historic period

2017-2021

Forecast period

2023-2027

Growth momentum & CAGR

Accelerate at a CAGR of 8.54%

Market growth 2023-2027

USD 20,389.76 million

Market structure

Fragmented

YoY growth 2022-2023(%)

7.93

Regional analysis

Europe, North America, APAC, South America, and Middle East and Africa

Performing market contribution

Europe at 30%

Key countries

US, Japan, China, UK, and Brazil

Competitive landscape

Leading vendors, market positioning of vendors, competitive strategies, and industry risks

Key companies profiled

Amway Corp., Cadiveu Professional, Chatters GP Inc., Coty Inc., Godrej and Boyce Manufacturing Co. Ltd., Henkel AG and Co. KGaA, John Paul Mitchell Systems, Kao Corp., LOreal SA, Madison Reed Inc., Moroccanoil Inc., NATULIQUE Ltd., NATURIGIN, Revlon Inc., Surya Brasil, The Estee Lauder Companies Inc., Tints of Nature, Tish and Snooky NYC Inc., Natura and Co Holding SA, and Shiseido Co. Ltd.

Market dynamics

Parent market analysis, Market growth inducers and obstacles, Fast-growing and slow-growing segment analysis, COVID 19 impact and recovery analysis and future consumer dynamics, Market condition analysis for forecast period

Customization purview

If our report has not included the data that you are looking for, you can reach out to our analysts and get segments customized.
What are the Key Data Covered in this Hair Color Market Research Report?
CAGR of the market during the forecast period
Detailed information on factors that will drive the growth of the

hair color market 

between 2023 and 2027
Precise estimation of the size of the hair color market size and its contribution of the market in focus to the parent market
Accurate predictions about upcoming trends and changes in consumer behavior
Growth of the market industry across Europe, North America, APAC, South America, and Middle East and Africa
Thorough analysis of the market's competitive landscape and detailed information about vendors
Comprehensive analysis of factors that will challenge the growth of hair color market vendors
We can help! Our analysts can customize this market research report to meet your requirements. Get in touch