Interactive Kiosk Market Forecast Analysis 
The Interactive Kiosk Market size is estimated to grow at a CAGR of 7.94% between 2022 and 2027. The size of the market is forecast to increase by USD  11.5 billion. The market's growth is influenced by various factors, such as increased demand in the oil and gas industry, expanding applications in the food and beverages sector, and advancements in carbon capturing and storage technologies. However, the market faces significant challenges, including growing demand for tablet kiosks and digital signage, as well as issues related to infrastructure and connectivity. Despite these challenges, several interactive kiosk market trends, such as increased investment in smart cities, a rise in acquisition and strategic partnerships, and the integration of advanced technologies in interactive kiosks, are expected to drive the market's growth.
Companies are implementing various strategies, such as strategic alliances, partnerships, mergers and acquisitions, geographical expansion, and product/service launches, to enhance their presence in the market. Thales Group - The company's key offerings include offers interactive kiosks that help reduce enrollment time by up to 60%, which has a significant impact on overall workforce hours and demand. The company has multiple segments, including aerospace. The segment combines the Avionics and Space global business units of the company.
This interactive kiosk market research report extensively covers market segmentation by end-user (retail, financial services, travel and tourism, healthcare, and others), component (services, hardware, and software), and geography (North America, APAC, Europe, Middle East and Africa, and South America). It also includes an in-depth analysis of drivers, trends, and challenges. 
 What will the Size of the Interactive Kiosk Market be During the Forecast Period?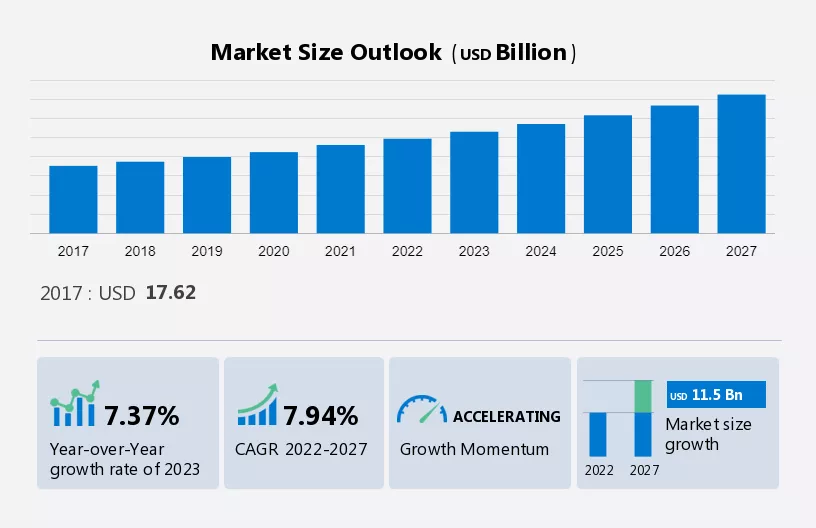 To learn more about this report, Request Free Sample
Interactive Kiosk Market Overview 
Key Interactive Kiosk Market Driver 
Increasing use of cashless payment is a major factor driving the market growth. Governments worldwide focus on reducing pollution and deforestation by promoting digital transactions. Telecom and banking sectors adopt online platforms for transactions. The rising demand for cashless payments drives the adoption of self-service kiosks in hotels, restaurants, and retail stores, enhancing the customer experience with quicker transactions. Digital wallets, contactless payments, and EMV cards gain popularity for secure and efficient payment processing. Visa and Mastercard have made significant strides in promoting contactless payments. The increasing use of cashless payment options is expected to drive the demand for self-service kiosks, boosting the global interactive kiosk market.
Key Interactive Kiosk Market Trends
Growing investment in smart cities is a major interactive kiosk market trend. The purpose of investing in smart cities is to enhance citizens' economies and lifestyles through the implementation of communication technologies and advanced products. Integrating such technologies will improve information sharing and government service quality. Smart city infrastructure development involves deploying various solutions like smart street lights, surveillance cameras, parking solutions, and interactive kiosks.
Interactive kiosks are gaining rapid deployment in smart city projects due to their versatile roles, including hotel check-ins, parking access, ticketing, information sharing, pathfinding, and bill payments. They improve service efficiency, quality, and information sharing. The increasing investment in smart city initiatives will drive the adoption of interactive kiosks. Examples include the smart city projects in Anbar, Iraq, and New Clark City in the Philippines, both contributing to the growth of the global interactive kiosk market.
Key Interactive Kiosk Market Challenge
Growing demand for digital signage is a major challenge hindering the interactive kiosk market growth. Digital signage utilizes LCD, LED, or OLED to display digital content in various settings. It replaces advertisement kiosks in public places, retail stores, and more. The retail sector heavily adopts digital signage for displaying discounts and offers. Interactive digital signage with touchscreen technology is gaining popularity, allowing customers to access information interactively. With larger screens and better visual engagement, digital signage deployment is increasing. This growth may impact the demand for interactive kiosks, affecting the global interactive kiosk market during the forecast period.
Who are the Major Interactive Kiosk Market Companies?                                     
The report also includes detailed analyses of the competitive landscape of the market and information about 15 market comapnies, including:
Acante Solutions Ltd.
Advanced Kiosk
Diebold Nixdorf Inc.
Embross
Frank Mayer and Associates Inc.
IER SAS
KIS Ticket
Meridian Kiosks
Mitsogo Inc.
NCR Corp.
Olea Kiosks Inc.
Posiflex Technology Inc.
Pyramid Computer GmbH
RedyRef
Rosendahl Conceptkiosk AS
SITA
Source Technologies Inc.
Thales
Vecna Technologies Inc.
Qualitative and quantitative analysis of vendors has been conducted to help clients understand the wider business environment as well as the strengths and weaknesses of key market players. Data is qualitatively analyzed to categorize vendors as pure play, category-focused, industry-focused, and diversified; it is quantitatively analyzed to categorize vendors as dominant, leading, strong, tentative, and weak.
Interactive Kiosk Market Segment
The market share growth by the retail segment will be significant during the forecast period. The retail segment has a dominant market share in the global interactive kiosk market. In retail stores, interactive kiosks are used for several purposes, including browsing product information and availability, in-store advertising, and check-out systems. Interactive kiosks offer numerous advantages over traditional printed signage, as they facilitate customer interaction, offer accurate and centralized control capability, and provide superior design capability. Retailers deploy interactive kiosks at strategic points in their stores to attract customers by providing information on discounts and offers on the different products available at the store. Retailers can also use interactive kiosks for disseminating store-related information or specific product information and upselling more products.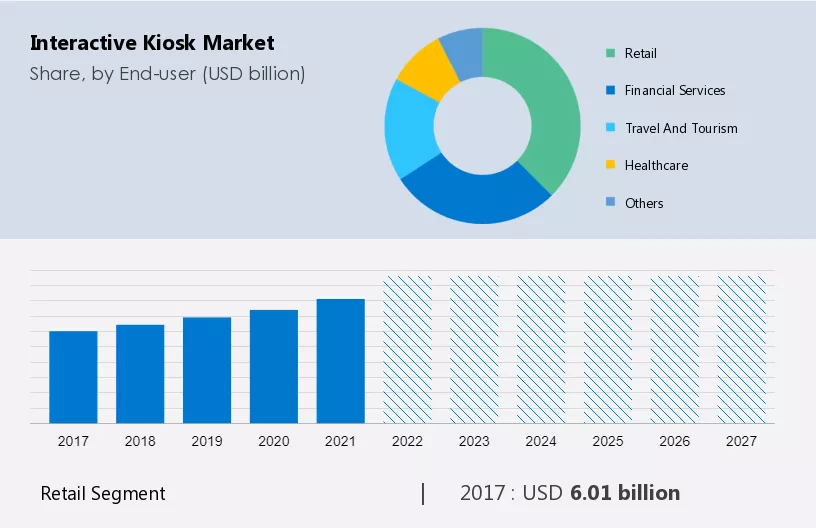 Get a glance at the market contribution of various segments  Request a PDF Sample
The retail segment showed a gradual increase in market share with USD 6.01 billion in 2017 and continued to grow by 2021. Supermarkets are one of the major adopters of interactive kiosks in the retail segment. Supermarkets have a substantial amount of floor space, and the deployment of interactive kiosks helps customers find products and reduce waste of time, thus improving customer experience. Kiosks also help to improve the operational efficiency of the store by reducing the time taken at self-checkout counters. Therefore, the increase in investments in building supermarkets across different countries drives the demand for interactive kiosks. This is expected to drive the growth of the global interactive kiosk market.
Regional Analysis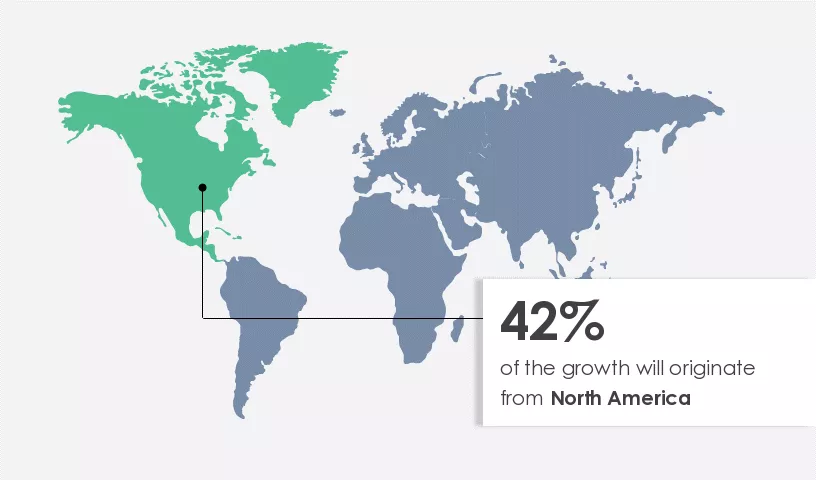 For more insights on the market share of various regions Request PDF Sample now!
North America is projected to contribute 42% by 2027. Technavio's analysts have elaborately explained the regional trends and drivers that shape the market during the forecast period.
North America has the highest share of the global interactive kiosk market, with both the US and Canada generating significant demand. Customers in the region are early adopters of new technologies and have a high preference for personalized services, owing to which the adoption of interactive kiosks in the region is increasing. Enterprises in the region are increasingly using interactive kiosks for their marketing campaigns. Also, interactive kiosks are being increasingly deployed to enhance consumer engagement and branding initiatives. The growth of the interactive kiosk market in the region is also attributed to the rapid growth of QSRs in the region. North America has prominent QSRs, including McDonald's, Starbucks, Subway IP LLC (Subway), Wendy's, Burger King Corp. (Burger King), and Taco Bell. The concept of the QSR is based on the fast services offered. The adoption of interactive kiosks streamlines the operation of QSRs, thus ensuring faster services, thereby increasing the adoption of interactive kiosks by QSRs.
Interactive Kiosk Market Customer Landscape
The report includes the adoption lifecycle of the market, covering from the innovator's stage to the laggard's stage. It focuses on adoption rates in different regions based on penetration. Furthermore, the report also includes key purchase criteria and drivers of price sensitivity to help companies evaluate and develop their growth strategies.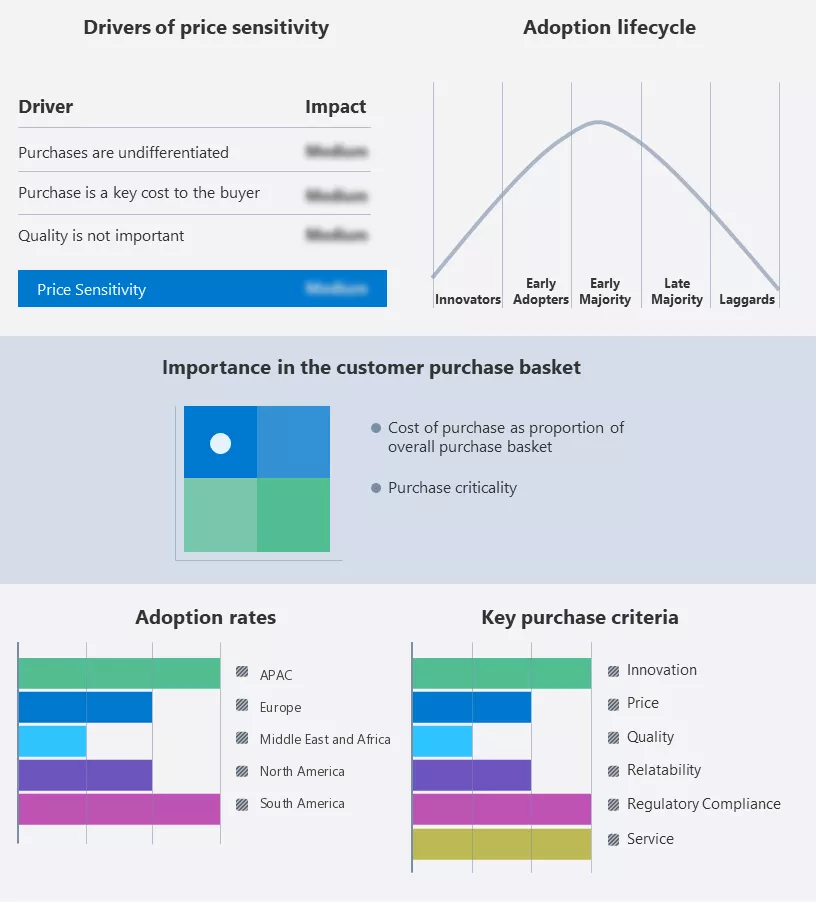 Global Interactive Kiosk Market Customer Landscape
Segment Overview
The interactive kiosk market research report forecasts market growth by revenue at global, regional & country levels and provides an analysis of the latest trends and growth opportunities from 2017 to 2027. The market has been segmented by type, product, distribution channel, and region.
End-user Outlook ( USD Billion, 2017 - 2027)

Retail
Financial services
Travel and tourism
Healthcare
Others

Component Outlook ( USD Billion, 2017 - 2027)

Services
Hardware
Software

Region Outlook ( USD Billion, 2017 - 2027)

Europe

The U.K.
Germany
France
Rest of Europe

Middle East & Africa

Saudi Arabia
South Africa
Rest of the Middle East & Africa

South America
Interactive Kiosk Market Scope

Report Coverage

Details

Page number

170

Base year

2022

Historic period

2017-2021

Forecast period

2023-2027

Growth momentum & CAGR

Accelerate at a CAGR of 7.94%

Market growth 2023-2027

USD 11.5 billion

Market structure

Fragmented

YoY growth (%)

7.37

Regional analysis

North America, APAC, Europe, Middle East and Africa, and South America

Performing market contribution

North America at 42%

Key countries

US, China, Japan, UK, and Germany

Competitive landscape

Leading Vendors, Market Positioning of Vendors, Competitive Strategies, and Industry Risks

Key companies profiled

Acante Solutions Ltd., Advanced Kiosk, Diebold Nixdorf Inc., Embross, Frank Mayer and Associates Inc., IER SAS, KIS Ticket, Meridian Kiosks, Mitsogo Inc., NCR Corp., Olea Kiosks Inc., Posiflex Technology Inc., Pyramid Computer GmbH, RedyRef, Rosendahl Conceptkiosk AS, SITA, Source Technologies Inc., Thales, and Vecna Technologies Inc.

Market dynamics

Parent market analysis, Market growth inducers and obstacles, Fast-growing and slow-growing segment analysis, COVID-19 impact and recovery analysis and future consumer dynamics, Market condition analysis for the forecast period

Customization purview

If our report has not included the data that you are looking for, you can reach out to our analysts and get segments customized.
What are the Key Data Covered in this Interactive Kiosk Market Research Report?
CAGR of the market during the forecast period.
Detailed information on factors that will drive the growth of the market between 2023 and 2027
Precise estimation of the size of the interactive kiosk market size and its contribution to the market in focus on the parent market.
Accurate predictions about upcoming trends and changes in consumer behavior.
Market industry growth across North America, APAC, Europe, the Middle East and Africa, and South America.
A thorough analysis of the market's competitive landscape and detailed information about vendors.
Comprehensive analysis of factors that will challenge the growth of interactive kiosk market vendors.
We can help! Our analysts can customize this report to meet your requirements. Get in touch
1 Executive Summary
1.1 Market overview

Exhibit 01: Executive Summary – Chart on Market Overview
Exhibit 02: Executive Summary – Data Table on Market Overview
Exhibit 03: Executive Summary – Chart on Global Market Characteristics
Exhibit 04: Executive Summary – Chart on Market by Geography
Exhibit 05: Executive Summary – Chart on Market Segmentation by End-user
Exhibit 06: Executive Summary – Chart on Market Segmentation by Component
Exhibit 07: Executive Summary – Chart on Incremental Growth
Exhibit 08: Executive Summary – Data Table on Incremental Growth
Exhibit 09: Executive Summary – Chart on Vendor Market Positioning
2 Market Landscape
2.1 Market ecosystem

Exhibit 10: Parent market
Exhibit 11: Market Characteristics
3 Market Sizing
3.1 Market definition

Exhibit 12: Offerings of vendors included in the market definition
3.2 Market segment analysis

Exhibit 13: Market segments
3.4 Market outlook: Forecast for 2022-2027

Exhibit 14: Chart on Global - Market size and forecast 2022-2027 ($ billion)
Exhibit 15: Data Table on Global - Market size and forecast 2022-2027 ($ billion)
Exhibit 16: Chart on Global Market: Year-over-year growth 2022-2027 (%)
Exhibit 17: Data Table on Global Market: Year-over-year growth 2022-2027 (%)
4 Historic Market Size
4.1 Global interactive kiosk market 2017 - 2021

Exhibit 18: Historic Market Size – Data Table on Global interactive kiosk market 2017 - 2021 ($ billion)
4.2 Geography Segment Analysis 2017 - 2021

Exhibit 19: Historic Market Size – Geography Segment 2017 - 2021 ($ billion)
4.3 End-User Segment Analysis 2017 - 2021

Exhibit 20: Historic Market Size – End-User Segment 2017 - 2021 ($ billion)
4.4 Component Segment Analysis 2017 - 2021

Exhibit 21: Historic Market Size – Component Segment 2017 - 2021 ($ billion)
4.5 Country Segment Analysis 2017 - 2021

Exhibit 22: Historic Market Size – Country Segment 2017 - 2021 ($ billion)
5 Five Forces Analysis
5.1 Five forces summary

Exhibit 23: Five forces analysis - Comparison between 2022 and 2027
5.2 Bargaining power of buyers

Exhibit 24: Chart on Bargaining power of buyers – Impact of key factors 2022 and 2027
5.3 Bargaining power of suppliers

Exhibit 25: Bargaining power of suppliers – Impact of key factors in 2022 and 2027
5.4 Threat of new entrants

Exhibit 26: Threat of new entrants – Impact of key factors in 2022 and 2027
5.5 Threat of substitutes

Exhibit 27: Threat of substitutes – Impact of key factors in 2022 and 2027
5.6 Threat of rivalry

Exhibit 28: Threat of rivalry – Impact of key factors in 2022 and 2027
5.7 Market condition

Exhibit 29: Chart on Market condition - Five forces 2022 and 2027
6 Market Segmentation by End-user
6.1 Market segments

Exhibit 30: Chart on End-user - Market share 2022-2027 (%)
Exhibit 31: Data Table on End-user - Market share 2022-2027 (%)
6.2 Comparison by End-user

Exhibit 32: Chart on Comparison by End-user
Exhibit 33: Data Table on Comparison by End-user
6.3 Retail - Market size and forecast 2022-2027

Exhibit 34: Chart on Retail - Market size and forecast 2022-2027 ($ billion)
Exhibit 35: Data Table on Retail - Market size and forecast 2022-2027 ($ billion)
Exhibit 36: Chart on Retail - Year-over-year growth 2022-2027 (%)
Exhibit 37: Data Table on Retail - Year-over-year growth 2022-2027 (%)
6.4 Financial services - Market size and forecast 2022-2027

Exhibit 38: Chart on Financial services - Market size and forecast 2022-2027 ($ billion)
Exhibit 39: Data Table on Financial services - Market size and forecast 2022-2027 ($ billion)
Exhibit 40: Chart on Financial services - Year-over-year growth 2022-2027 (%)
Exhibit 41: Data Table on Financial services - Year-over-year growth 2022-2027 (%)
6.5 Travel and tourism - Market size and forecast 2022-2027

Exhibit 42: Chart on Travel and tourism - Market size and forecast 2022-2027 ($ billion)
Exhibit 43: Data Table on Travel and tourism - Market size and forecast 2022-2027 ($ billion)
Exhibit 44: Chart on Travel and tourism - Year-over-year growth 2022-2027 (%)
Exhibit 45: Data Table on Travel and tourism - Year-over-year growth 2022-2027 (%)
6.6 Healthcare - Market size and forecast 2022-2027

Exhibit 46: Chart on Healthcare - Market size and forecast 2022-2027 ($ billion)
Exhibit 47: Data Table on Healthcare - Market size and forecast 2022-2027 ($ billion)
Exhibit 48: Chart on Healthcare - Year-over-year growth 2022-2027 (%)
Exhibit 49: Data Table on Healthcare - Year-over-year growth 2022-2027 (%)
6.7 Others - Market size and forecast 2022-2027

Exhibit 50: Chart on Others - Market size and forecast 2022-2027 ($ billion)
Exhibit 51: Data Table on Others - Market size and forecast 2022-2027 ($ billion)
Exhibit 52: Chart on Others - Year-over-year growth 2022-2027 (%)
Exhibit 53: Data Table on Others - Year-over-year growth 2022-2027 (%)
6.8 Market opportunity by End-user

Exhibit 54: Market opportunity by End-user ($ billion)
7 Market Segmentation by Component
7.1 Market segments

Exhibit 55: Chart on Component - Market share 2022-2027 (%)
Exhibit 56: Data Table on Component - Market share 2022-2027 (%)
7.2 Comparison by Component

Exhibit 57: Chart on Comparison by Component
Exhibit 58: Data Table on Comparison by Component
7.3 Services - Market size and forecast 2022-2027

Exhibit 59: Chart on Services - Market size and forecast 2022-2027 ($ billion)
Exhibit 60: Data Table on Services - Market size and forecast 2022-2027 ($ billion)
Exhibit 61: Chart on Services - Year-over-year growth 2022-2027 (%)
Exhibit 62: Data Table on Services - Year-over-year growth 2022-2027 (%)
7.4 Hardware - Market size and forecast 2022-2027

Exhibit 63: Chart on Hardware - Market size and forecast 2022-2027 ($ billion)
Exhibit 64: Data Table on Hardware - Market size and forecast 2022-2027 ($ billion)
Exhibit 65: Chart on Hardware - Year-over-year growth 2022-2027 (%)
Exhibit 66: Data Table on Hardware - Year-over-year growth 2022-2027 (%)
7.5 Software - Market size and forecast 2022-2027

Exhibit 67: Chart on Software - Market size and forecast 2022-2027 ($ billion)
Exhibit 68: Data Table on Software - Market size and forecast 2022-2027 ($ billion)
Exhibit 69: Chart on Software - Year-over-year growth 2022-2027 (%)
Exhibit 70: Data Table on Software - Year-over-year growth 2022-2027 (%)
7.6 Market opportunity by Component

Exhibit 71: Market opportunity by Component ($ billion)
8 Customer Landscape
8.1 Customer landscape overview

Exhibit 72: Analysis of price sensitivity, lifecycle, customer purchase basket, adoption rates, and purchase criteria
9 Geographic Landscape
9.1 Geographic segmentation

Exhibit 73: Chart on Market share by geography 2022-2027 (%)
Exhibit 74: Data Table on Market share by geography 2022-2027 (%)
9.2 Geographic comparison

Exhibit 75: Chart on Geographic comparison
Exhibit 76: Data Table on Geographic comparison
9.3 North America - Market size and forecast 2022-2027

Exhibit 77: Chart on North America - Market size and forecast 2022-2027 ($ billion)
Exhibit 78: Data Table on North America - Market size and forecast 2022-2027 ($ billion)
Exhibit 79: Chart on North America - Year-over-year growth 2022-2027 (%)
Exhibit 80: Data Table on North America - Year-over-year growth 2022-2027 (%)
9.4 APAC - Market size and forecast 2022-2027

Exhibit 81: Chart on APAC - Market size and forecast 2022-2027 ($ billion)
Exhibit 82: Data Table on APAC - Market size and forecast 2022-2027 ($ billion)
Exhibit 83: Chart on APAC - Year-over-year growth 2022-2027 (%)
Exhibit 84: Data Table on APAC - Year-over-year growth 2022-2027 (%)
9.5 Europe - Market size and forecast 2022-2027

Exhibit 85: Chart on Europe - Market size and forecast 2022-2027 ($ billion)
Exhibit 86: Data Table on Europe - Market size and forecast 2022-2027 ($ billion)
Exhibit 87: Chart on Europe - Year-over-year growth 2022-2027 (%)
Exhibit 88: Data Table on Europe - Year-over-year growth 2022-2027 (%)
9.6 Middle East and Africa - Market size and forecast 2022-2027

Exhibit 89: Chart on Middle East and Africa - Market size and forecast 2022-2027 ($ billion)
Exhibit 90: Data Table on Middle East and Africa - Market size and forecast 2022-2027 ($ billion)
Exhibit 91: Chart on Middle East and Africa - Year-over-year growth 2022-2027 (%)
Exhibit 92: Data Table on Middle East and Africa - Year-over-year growth 2022-2027 (%)
9.7 South America - Market size and forecast 2022-2027

Exhibit 93: Chart on South America - Market size and forecast 2022-2027 ($ billion)
Exhibit 94: Data Table on South America - Market size and forecast 2022-2027 ($ billion)
Exhibit 95: Chart on South America - Year-over-year growth 2022-2027 (%)
Exhibit 96: Data Table on South America - Year-over-year growth 2022-2027 (%)
9.8 US - Market size and forecast 2022-2027

Exhibit 97: Chart on US - Market size and forecast 2022-2027 ($ billion)
Exhibit 98: Data Table on US - Market size and forecast 2022-2027 ($ billion)
Exhibit 99: Chart on US - Year-over-year growth 2022-2027 (%)
Exhibit 100: Data Table on US - Year-over-year growth 2022-2027 (%)
9.9 China - Market size and forecast 2022-2027

Exhibit 101: Chart on China - Market size and forecast 2022-2027 ($ billion)
Exhibit 102: Data Table on China - Market size and forecast 2022-2027 ($ billion)
Exhibit 103: Chart on China - Year-over-year growth 2022-2027 (%)
Exhibit 104: Data Table on China - Year-over-year growth 2022-2027 (%)
9.10 Japan - Market size and forecast 2022-2027

Exhibit 105: Chart on Japan - Market size and forecast 2022-2027 ($ billion)
Exhibit 106: Data Table on Japan - Market size and forecast 2022-2027 ($ billion)
Exhibit 107: Chart on Japan - Year-over-year growth 2022-2027 (%)
Exhibit 108: Data Table on Japan - Year-over-year growth 2022-2027 (%)
9.11 UK - Market size and forecast 2022-2027

Exhibit 109: Chart on UK - Market size and forecast 2022-2027 ($ billion)
Exhibit 110: Data Table on UK - Market size and forecast 2022-2027 ($ billion)
Exhibit 111: Chart on UK - Year-over-year growth 2022-2027 (%)
Exhibit 112: Data Table on UK - Year-over-year growth 2022-2027 (%)
9.12 Germany - Market size and forecast 2022-2027

Exhibit 113: Chart on Germany - Market size and forecast 2022-2027 ($ billion)
Exhibit 114: Data Table on Germany - Market size and forecast 2022-2027 ($ billion)
Exhibit 115: Chart on Germany - Year-over-year growth 2022-2027 (%)
Exhibit 116: Data Table on Germany - Year-over-year growth 2022-2027 (%)
9.13 Market opportunity by geography

Exhibit 117: Market opportunity by geography ($ billion)
10 Drivers, Challenges, and Trends
10.3 Impact of drivers and challenges

Exhibit 118: Impact of drivers and challenges in 2022 and 2027
11 Vendor Landscape
11.2 Vendor landscape

Exhibit 119: Overview on Criticality of inputs and Factors of differentiation
11.3 Landscape disruption

Exhibit 120: Overview on factors of disruption
11.4 Industry risks

Exhibit 121: Impact of key risks on business
12 Vendor Analysis
12.1 Vendors covered

Exhibit 122: Vendors covered
12.2 Market positioning of vendors

Exhibit 123: Matrix on vendor position and classification
12.3 Acante Solutions Ltd.

Exhibit 124: Acante Solutions Ltd. - Overview
Exhibit 125: Acante Solutions Ltd. - Product / Service
Exhibit 126: Acante Solutions Ltd. - Key offerings
12.4 Advanced Kiosk

Exhibit 127: Advanced Kiosk - Overview
Exhibit 128: Advanced Kiosk - Product / Service
Exhibit 129: Advanced Kiosk - Key offerings
12.5 Diebold Nixdorf Inc.

Exhibit 130: Diebold Nixdorf Inc. - Overview
Exhibit 131: Diebold Nixdorf Inc. - Business segments
Exhibit 132: Diebold Nixdorf Inc. - Key offerings
Exhibit 133: Diebold Nixdorf Inc. - Segment focus
12.6 Embross

Exhibit 134: Embross - Overview
Exhibit 135: Embross - Product / Service
Exhibit 136: Embross - Key offerings
12.7 Frank Mayer and Associates Inc.

Exhibit 137: Frank Mayer and Associates Inc. - Overview
Exhibit 138: Frank Mayer and Associates Inc. - Product / Service
Exhibit 139: Frank Mayer and Associates Inc. - Key offerings
12.8 IER SAS

Exhibit 140: IER SAS - Overview
Exhibit 141: IER SAS - Product / Service
Exhibit 142: IER SAS - Key offerings
12.9 KIS Ticket

Exhibit 143: KIS Ticket - Overview
Exhibit 144: KIS Ticket - Product / Service
Exhibit 145: KIS Ticket - Key offerings
12.10 Meridian Kiosks

Exhibit 146: Meridian Kiosks - Overview
Exhibit 147: Meridian Kiosks - Product / Service
Exhibit 148: Meridian Kiosks - Key offerings
12.11 Mitsogo Inc.

Exhibit 149: Mitsogo Inc. - Overview
Exhibit 150: Mitsogo Inc. - Product / Service
Exhibit 151: Mitsogo Inc. - Key offerings
12.12 NCR Corp.

Exhibit 152: NCR Corp. - Overview
Exhibit 153: NCR Corp. - Business segments
Exhibit 154: NCR Corp. - Key news
Exhibit 155: NCR Corp. - Key offerings
Exhibit 156: NCR Corp. - Segment focus
12.13 Olea Kiosks Inc.

Exhibit 157: Olea Kiosks Inc. - Overview
Exhibit 158: Olea Kiosks Inc. - Product / Service
Exhibit 159: Olea Kiosks Inc. - Key offerings
12.14 Posiflex Technology Inc.

Exhibit 160: Posiflex Technology Inc. - Overview
Exhibit 161: Posiflex Technology Inc. - Product / Service
Exhibit 162: Posiflex Technology Inc. - Key offerings
12.15 Pyramid Computer GmbH

Exhibit 163: Pyramid Computer GmbH - Overview
Exhibit 164: Pyramid Computer GmbH - Product / Service
Exhibit 165: Pyramid Computer GmbH - Key offerings
12.16 RedyRef

Exhibit 166: RedyRef - Overview
Exhibit 167: RedyRef - Product / Service
Exhibit 168: RedyRef - Key offerings
12.17 Thales

Exhibit 169: Thales - Overview
Exhibit 170: Thales - Business segments
Exhibit 171: Thales - Key offerings
Exhibit 172: Thales - Segment focus
13 Appendix
13.2 Inclusions and exclusions checklist

Exhibit 173: Inclusions checklist
Exhibit 174: Exclusions checklist
13.3 Currency conversion rates for US$

Exhibit 175: Currency conversion rates for US$
13.4 Research methodology

Exhibit 176: Research methodology
Exhibit 177: Validation techniques employed for market sizing
Exhibit 178: Information sources
13.5 List of abbreviations

Exhibit 179: List of abbreviations