The Global Internet of Things (IoT) sensors market size is estimated to grow by USD  27,356.45 million between 2022 and 2027 at a CAGR of 28.81%. The growth of the market depends on several factors, including growing demand for smart factories and IIoT, increasing demand for wireless sensors by process industries, and large-scale benefits of using IoT devices.
This report extensively covers market segmentation by end-user (consumer electronics, automotive, food and beverages, healthcare, and others), type (temperature sensor, pressure sensor, humidity sensor, flow sensor, and others), and geography (North America, Europe, APAC, South America, and Middle East and Africa). It also includes an in-depth analysis of drivers, trends, and challenges. Furthermore, the report includes historic market data from 2017 to 2021.
What will be the Size of the IoT Sensors Market During the Forecast Period?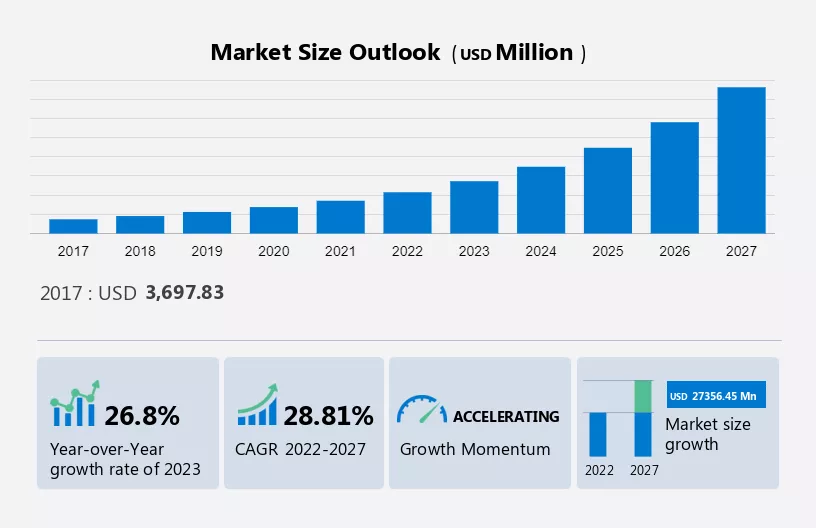 Get Exclusive Sample Copy of this Report
IoT Sensors Market Dynamics: Drivers, Trends, and Challenges
Our researchers analyzed the data with 2022 as the base year and the key drivers, trends, and challenges. A holistic analysis of drivers will help companies refine their marketing strategies to gain a competitive advantage.
Key IoT Sensors Market Driver
The increasing demand for smart factories and IIoT is a key factor driving the growth of the Internet of Things sensors market. The need for smart factories has increased around the world in the past few years. This trend is expected to continue during the forecast period with the emergence of  IIoT, which integrates smart machines, warehouses, industrial robots, and entire manufacturing plants to achieve business objectives and key performance indicators (KPIs).
A variety of IoT sensors placed in factories collect and relay real-time information to enable relevant ground-based decisions and assist operators. Among other things, sensor information can also guide robots and machines in performing production and assembly processes and handling toxic chemicals, ensuring the safety of the human workforce. It also protects the machine from damage. Therefore, when IIoT is integrated into the factory, the factory becomes a connected and synchronized entity. Manufacturing companies in countries such as China and Germany are already adopting IoT sensors to ensure better communication and precise coordination between organizations.
Significant IoT Sensors Market Trends
High demand for real-time data monitoring for predictive analytics is a major trend driving the growth of the Internet of Things sensors market. Industries around the world are using big data to improve process efficiency. In the past, disconnected devices prevented real-time data collection, making it difficult to gather insights from devices. With the help of IoT-connected smart devices, operators can access any data in the factory. Predictive analytics help during maintenance as companies can plan maintenance based on predictive analytics. By collecting real-time data, vendors can understand the condition of plant equipment based on the actual condition. This allows us to predict equipment failure before it occurs and avoid unnecessary downtime.
End users are evolving through technological advancements and the use of machine learning, IoT, and artificial intelligence. By using digitized unstructured and structured data collected through IoT-enabled industrial wearables, end-users can predict future events in functional areas such as operations, marketing, finance, human resources, and manufacturing. Such advantages are driving the adoption of IoT sensors across the manufacturing industry and are expected to drive the growth of the global IoT sensors market during the forecast period.
Major IoT Sensors Market Challenge
Challenges to offering high quality at low cost may hamper the Internet of Things (IoT) sensors market growth.  Engineers and system developers are constantly researching products with improved properties to expand their portfolio. As the industrial automation market gains momentum, it becomes increasingly important for industrial sensor vendors to provide easily customizable and affordable industrial sensors. A major factor that makes industrial sensors expensive is the customization companies require of their end users to enable accurate and reliable delivery. The cost of sensors is decreasing year by year, especially due to the availability of off-the-shelf sensor variants that are widely used in industrial automation systems and equipment.
However, sensors customized for specific industrial process control applications will be more expensive during the forecast period due to their relative technological sophistication. Sensors for automating industrial applications use careful construction, hand wiring, and expensive components. Such factors will hamper the demand for IoT sensors during the forecast period.
IoT Sensors Market Segmentation by End-User, Type, Geography
End-User Analysis
The market share growth by the consumer electronics segment will be significant during the forecast period. IoT sensors are widely used in the consumer electronics industry. The consumer electronics industry is expanding significantly due to increased demand for wearable technology and smart home gadgets.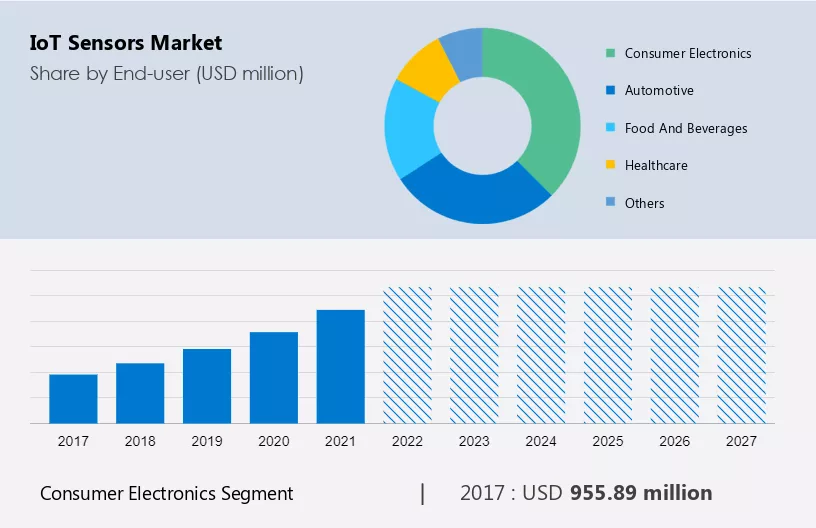 Get a glance at the market contribution of various segments View PDF Sample
The consumer electronics segment was valued at USD 955.89 million in 2017 and continued to grow until 2021. Consumer electronics producers are now including IoT sensors in their products to enhance functionality and boost customer responsiveness as a result of the growth of the IoT. Smartphones, smartwatches, and fitness trackers are a few of the well-known consumer electronics items that use IoT sensors.  The adoption of IoT sensors in consumer electronics paves the way for the creation of smart homes, where appliances are interconnected and can be operated virtually via a mobile application.
Type Analysis
The temperature sensor is a device used to measure the temperature using an electrical signal. It requires a thermocouple or resistance temperature detector(RTD). It is the most common and most popular sensor. Any failure to monitor temperature may have a catastrophic impact on an industrial facility. Temperature sensors are used in monitoring air temperature, liquid temperature, and other process material temperatures. These sensors provide highly accurate and repeatable results while requiring no compensation circuitry and calibration. Also, the recent development of temperature sensors is fueling the growth of this segment. For instance, Swift Sensor launched its secure wireless vaccine storage unit monitoring and alert system for medical facilities and pharmacies to monitor COVID-19 vaccine storage temperatures. Hence, the demand for temperature sensors in the healthcare industry will drive the growth of the market during the forecast period.
Geography Analysis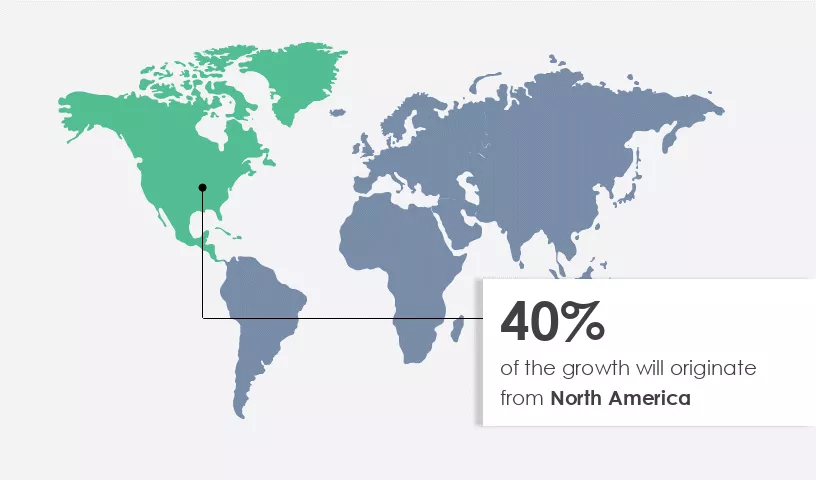 For more insights on the market share of various regions View PDF Sample now!
North America is estimated to contribute 40% to the growth of the global market during the forecast period. Technavio's analysts have elaborately explained the regional trends and drivers that shape the market during the forecast period. The expansion of mobile communication infrastructure and the adoption of cloud computing is driving the North American market. There is a new trend toward IoT investment, integration, and partnerships between organizations to gain a competitive advantage. The energy and utilities sector is expected to be one of the major contributors in North America due to the increase in smart meter installations during the forecast period. The US has become the leading country in the market due to increase partnerships between carriers, device manufacturers, and platform providers.
In 2020, the COVID-19 pandemic severely impacted the North American IoT sensor market. IoT technology has played a key role in helping authorities prevent the spread of COVID-19 and treat those infected. Lockdowns related to COVID-19 have forced many industries to close their manufacturing sectors. There is a huge demand for IoT technology in the healthcare industry. IoT technology has helped track the spread of disease and control it in real time. However, in 2021, the number of COVID-19 cases decreased as a large-scale vaccination campaign was launched in the region. The adoption of IoT sensors will drive the growth of the regional market in the region during the forecast period.
Who are the Major IoT Sensors Market Vendors?
Vendors are implementing various strategies, such as strategic alliances, partnerships, mergers and acquisitions, geographical expansion, and product/service launches, to enhance their presence in the market.
TE Connectivity Ltd. The company offers smart bug small wireless multi-sensor module which provides accurate and remote monitoring via both Bluetooth and wifi to provide autonomous SD card data logging capability for IoT applications with large data volumes.
Robert Bosch GmbH. The company offers BMI 323 inertial measurement unit which can be used in applications related to notebooks and tablets, toys and gadgets, game controllers, and smart remote controls.
The report also includes detailed analyses of the competitive landscape of the market and information about 15 market vendors, including:
AMS OSRAM AG
Analog Devices Inc.
Broadcom Inc.
Emerson Electric Co.
Honeywell International Inc.
Infineon Technologies AG
Innovative Sensor Technology IST AG
International Business Machines Corp.
Knowles Corp.
Libelium Comunicaciones Distribuidas SL
Monnit Corp.
NXP Semiconductors NV
OMRON Corp.
SENSATA TECHNOLOGIES HOLDING PLC
Siemens AG
Qualitative and quantitative analysis of vendors has been conducted to help clients understand the wider business environment as well as the strengths and weaknesses of key market players. Data is qualitatively analyzed to categorize vendors as pure play, category-focused, industry-focused, and diversified; it is quantitatively analyzed to categorize vendors as dominant, leading, strong, tentative, and weak.
Key IoT Sensors Market Customer Landscape
The report includes the adoption lifecycle of the market, covering from the innovator's stage to the laggard's stage. It focuses on adoption rates in different regions based on penetration. Furthermore, the report also includes key purchase criteria and drivers of price sensitivity to help companies evaluate and develop their growth strategies.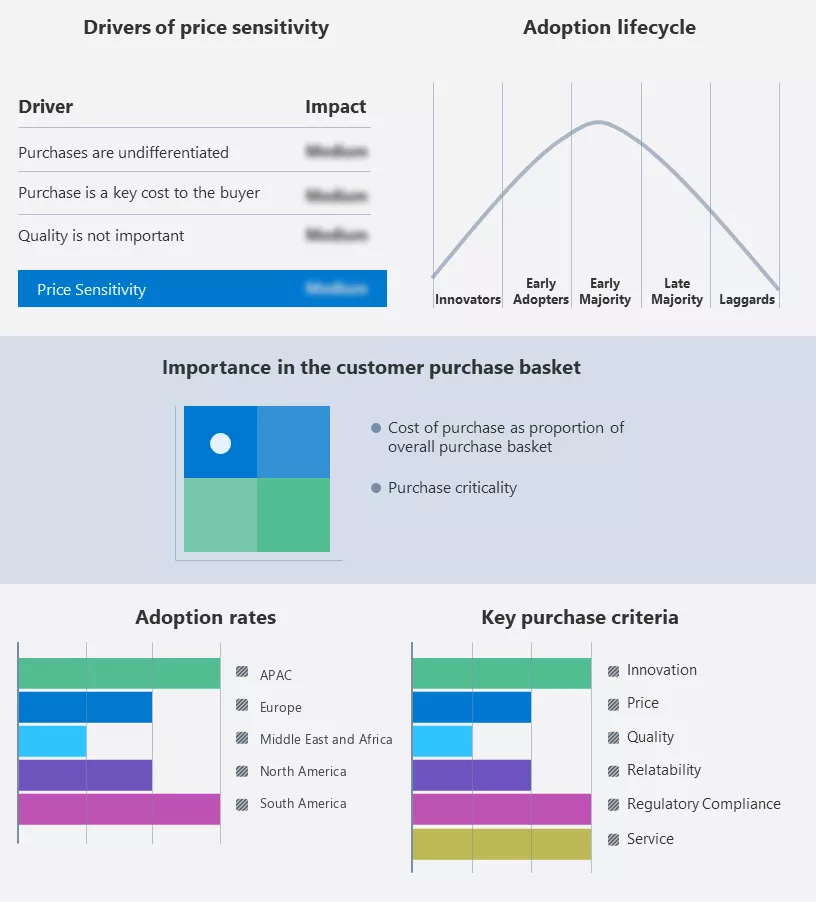 Global IoT Sensors Market Customer Landscape
Segment Overview
The report forecasts market growth by revenue at global, regional & country levels and provides an analysis of the latest trends and growth opportunities from 2017 to 2027. 
End-user Outlook (USD Million, 2017 - 2027)

Consumer Electronics
Automotive
Food and beverages
Healthcare
Others
Type Outlook (USD Million, 2017 - 2027)

Temperature sensor
Pressure sensor
Humidity sensor
Flow sensor
Others

Region Outlook (USD Million, 2017 - 2027)

North America
Europe

The U.K.
Germany
France
Rest of Europe

APAC
Middle East & Africa

Saudi Arabia
South Africa
Rest of the Middle East & Africa

South America
IoT Sensors Market Scope

Report Coverage

Details

Page number

189

Base year

2022

Historic period

2017-2021

Forecast period

2023-2027

Growth momentum & CAGR

Accelerate at a CAGR of 28.81%

Market growth 2023-2027

USD 27,356.45 million

Market structure

Fragmented

YoY growth 2022-2023(%)

26.8

Regional analysis

North America, Europe, APAC, South America, and Middle East and Africa

Performing market contribution

North America at 40%

Key countries

US, Canada, China, Germany, and UK

Competitive landscape

Leading Vendors, Market Positioning of Vendors, Competitive Strategies, and Industry Risks

Key companies profiled

ams OSRAM AG, Analog Devices Inc., Broadcom Inc., Emerson Electric Co., Honeywell International Inc., Infineon Technologies AG, Innovative Sensor Technology IST AG, International Business Machines Corp., Knowles Corp., Libelium Comunicaciones Distribuidas SL, Monnit Corp., NXP Semiconductors NV, OMRON Corp., Robert Bosch GmbH, SENSATA TECHNOLOGIES HOLDING PLC, Siemens AG, STMicroelectronics NV, TE Connectivity Ltd., Texas Instruments Inc., and TDK Corp.

Market dynamics

Parent market analysis, Market growth inducers and obstacles, Fast-growing and slow-growing segment analysis, COVID-19 impact and recovery analysis and future consumer dynamics, Market condition analysis for forecast period

Customization purview

If our report has not included the data that you are looking for, you can reach out to our analysts and get segments customized.
To get detailed analysis Buy Now Full Report PDF 
What are the Key Data Covered in this IoT Sensors Market Report?
CAGR of the market during the forecast period
Detailed information on factors that will drive the growth of the IoT sensors market between 2023 and 2027
Precise estimation of the size of the IoT sensors market and its contribution to the parent market
Accurate predictions about upcoming trends and changes in consumer behavior
Growth of the market industry across North America, Europe, APAC, South America, and Middle East and Africa
A thorough analysis of the market's competitive landscape and detailed information about vendors
Comprehensive analysis of factors that will challenge the growth of IoT sensors market vendors
We can help! Our analysts can customize this report to meet your requirements. Get in touch