The leather goods market is estimated to grow at a CAGR of 6.24% between 2022 and 2027. The size of the market is forecast to increase by USD 90.98 billion. The growth of the market depends on several factors, including innovative marketing strategies, product premiumization owing to the design and material innovation, and the Influence of celebrity endorsements on customers' purchase decisions and growing demand for designer collections.
This report extensively covers market segmentation by product (footwear, LBWP, and others), distribution channel (offline and online), and geography (APAC, North America, Europe, South America, and Middle East and Africa). It also includes an in-depth analysis of drivers, trends, and challenges. Furthermore, the report includes historic market data from 2017 to 2021.
What will be the size of the Leather Goods Market During the Forecast Period?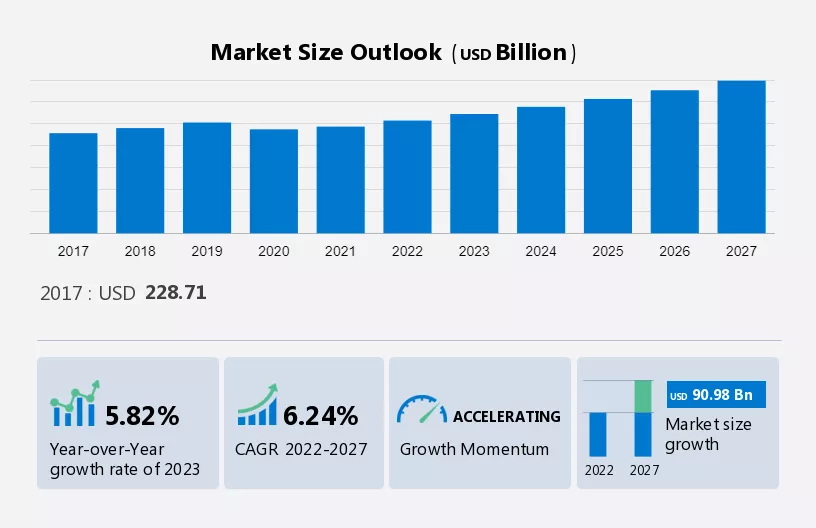 To learn more about this report, Download Report Sample
Leather Goods Market: Key Drivers, Trends and Challenges
The innovative marketing strategies are notably driving the market growth, although factors such as fluctuating operational costs may impede the market growth. Our researchers analyzed the data with 2022 as the base year, along with the key drivers, trends, and challenges. A holistic analysis of drivers will help companies refine their marketing strategies to gain a competitive advantage.
Key Leather Goods Market Driver
Innovative marketing strategies is a major factor driving the global leather goods market share growth. The fashion industry has been experiencing rapid advances over the last two decades, mainly due to the increasing number of fashion-conscious customers, especially in developing regions. Most vendors that offer luxury leather goods, such as LVMH, Hermès, and CHANEL SAS advertise their products through newspapers and fashion magazines, instead of television. Manufacturers of leather goods adopt different marketing campaigns and strategies to expand their customer base. Celebrity endorsement is a popular marketing tool used by vendors to build their brand /image and increase the sales of luxury leather goods.
For instance, the promotional strategies employed by LVMH for its products include endorsements by celebrities such as Jennifer Lopez, Kate Moss, Scarlett Johansson, and Uma Thurman. Louis Vuitton sponsors mega sporting events, such as motorsports and yachting. Similarly, the leather goods offered by CHANEL are endorsed by Keira Knightley, Vanessa Paradis, and Nicole Kidman. Online advertising is also an essential part of marketing strategies. Vendors often sign multiyear endorsement agreements with high-profile celebrities to enhance their brand value. These marketing initiatives increase the demand for leather goods.
Significant Leather Goods Market Trend
The advances in manufacturing technology is another factor supporting the global leather goods market share growth. Several processes of leather tanning involve the use of a huge amount of water, which is a natural resource, leading to its scarcity. Some of the chemical manufacturing companies, such as BASF SE, are helping the players in the leather tanning industry in reducing the use and wastage of water. The leather tanning industry requires additional investments for the treatment of wastes to meet the required standard on the volume of discharge.
To address this issue, BASF developed a beam house innovation, called DryFast, to impart efficiency while being ecologically safe. This new process helps reduce water consumption by nearly 60% and produces clean effluents by minimizing sludge by around 50%. Such advancements in manufacturing technology are expected to lower the manufacturing cost, consecutively making leather goods affordable, eco-friendly, and innovative, thereby aiding in the growth of the market.
Major Leather Goods Market Challenge
The fluctuating operational costs will be a major challenge for global leather goods market share growth during the forecast period. In the last decade, labor costs in developing countries, such as China, Indonesia, Bangladesh, and Vietnam, have grown rapidly, and they are continuously fluctuating. This is increasing the production cost for vendors that have factories in these countries. Changing economic conditions are also adversely affecting the labor cost in other countries where the vendors import their supplies. Fluctuation in raw material costs is another challenge for global manufacturers.
The process of leather manufacturing includes several steps that are highly regulated, which further increases the price of leather as a raw material. The prices of these materials are also dependent on transportation costs. Transportation costs, which include taxes, duties, and fuel prices, are incurred by manufacturers at different steps, such as the supply of raw materials to factories, the supply of intermediary goods to production sites, the transportation of end-products to warehouses, and the delivery of finished goods to end-users. Due to such reasons, the growth of the market will continue to be hindered during the forecast period.
What is the Fastest-Growing Segment in the Leather Goods Market?
The market share growth by the footwear segment will be significant during the forecast period. Leather footwear includes products that have upper surfaces made of leather. Vendors are constantly innovating and introducing new patterns and designs due to market competition and evolving customer demand because of continuous changes in the fashion industry. Innovations in leather footwear are in terms of designs and the type of animal skin used. For instance, Hermes offers Valois ankle boots made of smoked-brown calfskin suede. They are equipped with straps, saddle nails, and saddle-style stitching on the diagonal side.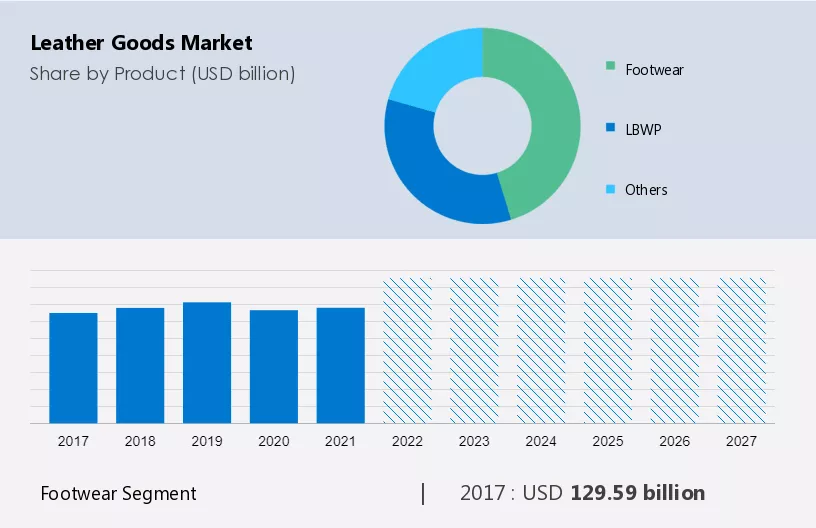 Get a glance at the market contribution of various segments Request a PDF Sample
The footwear segment was valued at USD 129.59 billion in 2017 and continue to grow by 2021. In the premium segment, leading vendors offer customized products which have an aesthetic appeal. For instance, Nike, one of the key vendors, offers customized shoes under its Nike By You segment. This allows customers to customize their shoes in terms of color, design of shoe soles, and the printing of custom text. The concept of monogramming and embroidery is also trending in the leather goods segment, especially among women, due to the availability of personalization services such as the Louis Vuitton monogramming service. Such services allow customers to personalize products that are popular. Hence, the products are unique and expensive. They also help distinguish original products from counterfeits. The customization of footwear complements market growth through new purchases. The customization of leather footwear is expected to increase the revenue generated by footwear manufacturers during the forecast period.
Which are the Key Regions for the Leather Goods Market?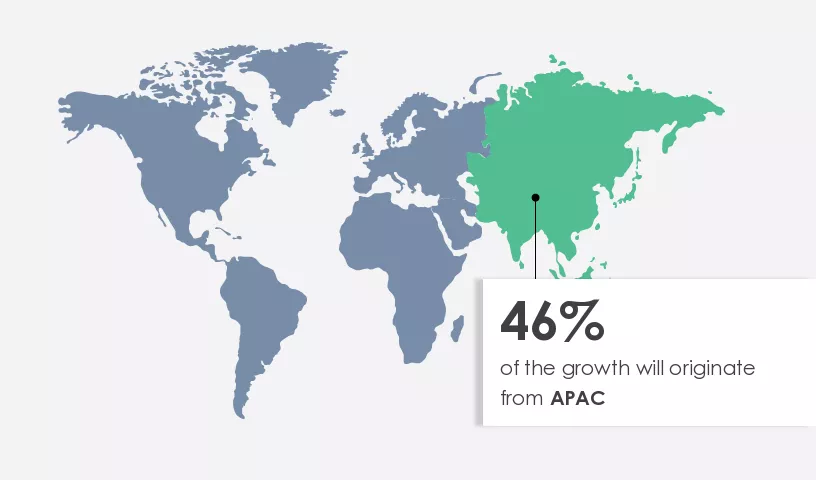 For more insights on the market share of various regions Request PDF Sample now!
APAC is estimated to contribute 46% to the growth of the global market during the forecast period. Technavio's analysts have elaborately explained the regional trends and drivers that shape the market during the forecast period. The growth of the leather goods market in APAC is driven by economic growth, expanding middle-class population, and the high number of vendors that operate in the region. China, Japan, and South Korea are the key countries in the region. Moreover, the customers in APAC are considered price-conscious buyers, and durability is the major factor considered by the population in the region while purchasing leather goods. Furthermore, changing lifestyles and fashion trends have encouraged various regional and global leather boot manufacturers to introduce innovative product lines to match the regional dressing style. This has also provided an opportunity for luxury leather goods brands, such as Hermes International, Kering, and LVMH, to thrive in the region. Vendors in APAC are engaged in launching new products and varied product lines to expand their customer base and market share. Marketing and promotional activities, along with the expansion of distribution channels, are the other factors that are driving the growth of the leather goods market in the region.
The incidence of COVID-19 increased significantly in the region in 2020. However, in 2021, mass vaccination drives and other government initiatives resulted in the lifting of lockdowns and the resumption of business operations in the leather goods market. This further led to the resumption of leather goods manufacturing globally. Such factors are expected to boost the growth of the regional market during the forecast period.
Customer Landscape
The report includes the adoption lifecycle of the market, covering from the innovator's stage to the laggard's stage. It focuses on adoption rates in different regions based on penetration. Furthermore, the report also includes key purchase criteria and drivers of price sensitivity to help companies evaluate and develop their growth strategies.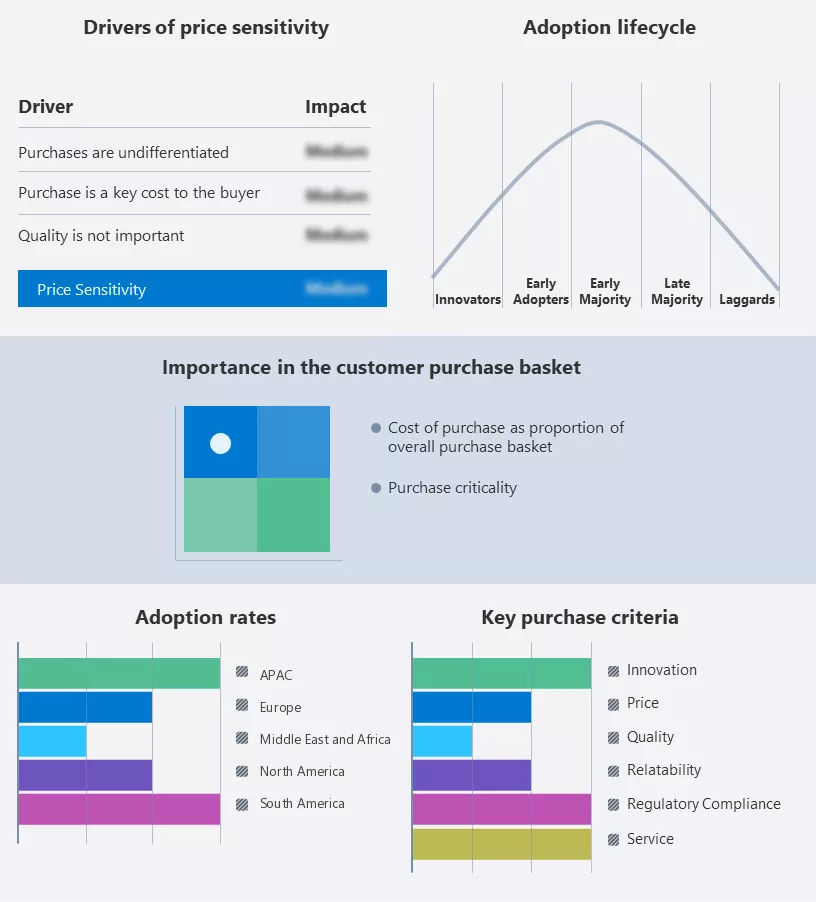 Global Leather Goods Market Customer Landscape
Who are the Major Leather Goods Market Vendors?
Vendors are implementing various strategies, such as strategic alliances, partnerships, mergers and acquisitions, geographical expansion, and product/service launches, to enhance their presence in the market.
adidas.co.in - The company offers leather goods such as Copa Pure.1 Firm Ground Boots. Also, through this segment, the company offers all types of sports wear and luggage bags.
The report also includes detailed analyses of the competitive landscape of the market and information about 15 market vendors, including:
Bata India Ltd.
Burberry Group Plc
Capri Holdings Ltd.
CHANEL Ltd.
Dolce and Gabbana S.r.l.
Giorgio Armani S.p.A.
GLobalLeathers
Hermes International SA
Kering SA
LVMH Moet Hennessy Louis Vuitton SE
Mulberry Group Plc
Nike Inc.
Prada S.p.A
PUMA SE
Ralph Lauren Corp.
Qualitative and quantitative analysis of vendors has been conducted to help clients understand the wider business environment as well as the strengths and weaknesses of key market players. Data is qualitatively analyzed to categorize vendors as pure play, category-focused, industry-focused, and diversified; it is quantitatively analyzed to categorize vendors as dominant, leading, strong, tentative, and weak.
Parent Market Analysis
Technavio categorizes the leather goods market as a part of the global apparel, accessories, and luxury goods market, within the textiles, apparel, and luxury goods market. The parent market, the global apparel, accessories, and luxury goods market, covers products and companies engaged in the manufacturing/marketing of apparel, accessories, and luxury goods. The market also includes companies offering apparel, accessories, and luxury goods rental services. The market excludes manufacturers of shoes. Our research report has extensively covered external factors influencing the parent market growth during the forecast period.
Segment Overview
The report forecasts market growth by revenue at global, regional & country levels and provides an analysis of the latest trends and growth opportunities from 2017 to 2027. 
Product Outlook (USD Billion, 2017 - 2027)
Distribution Channel Outlook (USD Billion, 2017 - 2027)
Region Outlook (USD Billion, 2017 - 2027)

Europe

The U.K.
Germany
France
Rest of Europe

Middle East & Africa

Saudi Arabia
South Africa
Rest of the Middle East & Africa
Leather Goods Market Scope

Report Coverage

Details

Page number

168

Base year

2022

Historic period

2017-2021

Forecast period

2023-2027

Growth momentum & CAGR

Accelerate at a CAGR of 6.24%

Market growth 2023-2027

USD 90.98 billion

Market structure

Fragmented

YoY growth 2022-2023(%)

5.82

Regional analysis

APAC, North America, Europe, South America, and Middle East and Africa

Performing market contribution

APAC at 46%

Key countries

US, China, Japan, France, and UK

Competitive landscape

Leading Vendors, Market Positioning of Vendors, Competitive Strategies, and Industry Risks

Key companies profiled

Adidas AG, Bata India Ltd., Burberry Group Plc, Capri Holdings Ltd., CHANEL Ltd., Dolce and Gabbana S.r.l., Giorgio Armani S.p.A., GLobalLeathers, Hermes International SA, Kering SA, LVMH Moet Hennessy Louis Vuitton SE, Mulberry Group Plc, Nike Inc., Prada S.p.A, PUMA SE, Ralph Lauren Corp., Samsonite International S.A., Tapestry Inc., VF Corp., and Compagnie Financiere Richemont SA

Market dynamics

Parent market analysis, Market growth inducers and obstacles, Fast-growing and slow-growing segment analysis, COVID-19 impact and recovery analysis and future consumer dynamics, Market condition analysis for forecast period.

Customization purview

If our report has not included the data that you are looking for, you can reach out to our analysts and get segments customized.
What are the Key Data Covered in this Leather Goods Market Report?
CAGR of the market during the forecast period
Detailed information on factors that will drive the growth of the leather goods market between 2023 and 2027
Precise estimation of the size of the leather goods market size and its contribution to the parent market
Accurate predictions about upcoming trends and changes in consumer behavior
Growth of the market industry across APAC, North America, Europe, South America, and Middle East and Africa
Thorough analysis of the market's competitive landscape and detailed information about vendors
Comprehensive analysis of factors that will challenge the growth of leather goods market vendors
We can help! Our analysts can customize this report to meet your requirements. Get in touch