LED Market Analysis Report 2023-2027:
The LED market size is estimated to grow at a CAGR of 14.68% and the size of the market is forecast to increase by USD 141.52 million between 2022 and 2027. The market's growth depends on several factors, including the growing adoption of energy-efficient lighting technologies, enforcement of the Minamata Convention on mercury, and growing demand from the automotive sector. 
This report extensively covers market segmentation by product (luminaires and lamps), application (general lighting, automotive lighting, backlight, and others), and geography (APAC, Europe, North America, South America, and the Middle East and Africa). It also includes an in-depth analysis of drivers, trends, and challenges. Furthermore, the report includes historic market data from 2017 to 2021.
What will be the Size of the LED Market During the Forecast Period?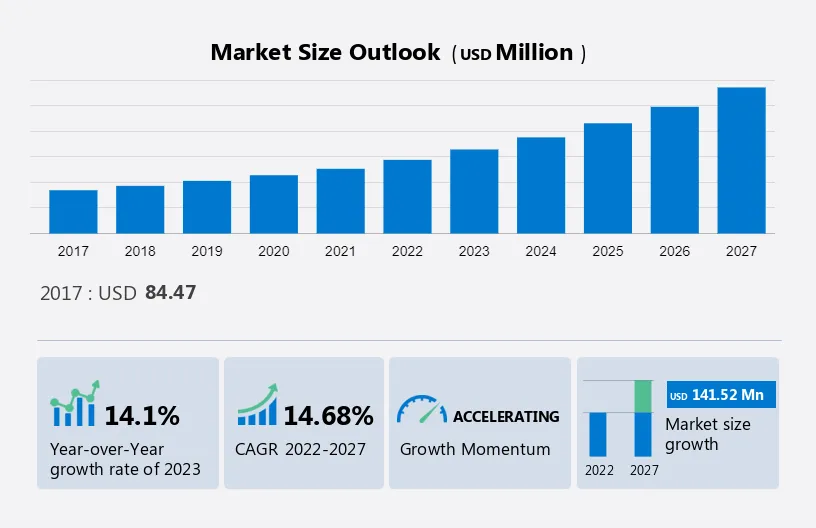 To learn more about this report,  Request Free Sample
Key Drivers, Trends, and Challenges
Our researchers studied the data for years, with 2022 as the base year and 2023 as the estimated year, and presented the key drivers, trends, and challenges for the market. Although there has been a disruption in the growth of the market during the COVID-19 pandemic, a holistic analysis of drivers, trends, and challenges will help companies refine marketing strategies to gain a competitive advantage.    
Key  Driver
The growing adoption of energy-efficient lighting technologies is a major driver boosting the LED market. The demand for electricity has increased due to the growing demand for lighting, with lighting consuming approximately 20% of global electricity production. Governments worldwide are promoting energy-efficient lighting technologies to address this issue. Incandescent bulbs have been banned in some countries, leading to a higher adoption of energy-efficient alternatives such as halogen, CFL, LFL, and LED lighting technologies.LED lighting products are expected to witness higher adoption during 2017-2022 compared to CFLs and LFLs, thanks to their cost-effectiveness and energy-saving features. LEDs consume significantly less energy than traditional incandescent bulbs and have a longer lifespan. Similarly, LEDs consume less energy than CFLs and last longer as well. Manufacturers are focusing on energy-efficient and environmentally friendly lighting solutions, driving the growth of the global LED market.
Intelligent lighting, which offers automated and energy-efficient capabilities, is gaining acceptance. This technology uses sensors to control the intensity and duration of lighting based on factors like human motion and occupancy, providing energy and cost benefits. With the expansion of wireless communication infrastructure, intelligent lighting products find applications in residential, outdoor, and architectural lighting, with LEDs being the preferred choice.Governments globally have introduced energy-efficiency programs to promote the adoption of energy-efficient lighting products and reduce carbon footprints. Certifications like ENERGY STAR, DLC, and Lighting Design Lab ensure compliance with specific guidelines for color quality, lifespan, energy efficiency, and optical output. ENERGY STAR-certified LED products, for example, consume 75% less energy than incandescent bulbs. With such advantages, the use of LEDs is expected to surpass traditional lighting technologies across all sectors during the forecast period.
Significant Trends
The growing traction of intelligent lighting systems is a major factor hindering the growth of the market. The lighting industry is undergoing a digital revolution, driven by the adoption of intelligent lighting systems and controls. The demand for energy-efficient and cost-effective lighting solutions is on the rise. Intelligent lighting systems utilize movement detection, daylight equalization, and control technology to enhance efficiency. These systems feature smart LED fixtures with built-in sensors that detect natural daylight and adjust artificial lighting accordingly. Wireless controls enable easy customization of lighting settings. Embedded intelligence in lighting products enables adaptability to changing space requirements, particularly in office buildings. Controllers offer functionalities like dimming, timers, and color-changing options for multiple lights. Smart LED bulbs enhance room ambiance, offering energy efficiency and color control. These bulbs are controlled via hubs connected to the internet, allowing users to manage lighting through mobile apps.
LED lighting products with integrated sensors and controls are experiencing high demand, especially in outdoor and industrial applications. These segments require durable lighting solutions that can withstand harsh conditions without frequent maintenance. Lighting control systems with LEDs automatically respond to daylight and occupancy, optimizing energy usage. The longevity of light sources is crucial in industries operating 24/7. Intelligent lighting systems not only save energy but also provide valuable data for energy analysis and maintenance purposes.
Major  Challenge
The high average cost per fixture is a major factor hindering market growth. Despite the declining ASPs of LED lighting products worldwide, adoption is a challenge because of the high average cost per fixture. The initial costs incurred by customers for the installation of LED lighting fixtures are comparatively much higher than that of traditional incandescent or halogen bulbs. This initial cost includes the cost of LED fixtures such as wires as well as labor costs. There are a few challenges related to the use of LEDs. For instance, in newly built homes, wiring is not a concern while installing LED bulbs. However, older homes might require renovation of the electrical system for the safe installation of LED bulbs, which increases the installation cost of LED bulbs.
Moreover, if consumers are opting for smart lighting solutions, they incur additional costs on procurement and installation of the required IoT infrastructure. Furthermore, the price of smart lighting products differs among manufacturers, in the range of USD 15- USD 180.
LED Market Segmentation by Product, Application, Geography
Product Analysis
Based on product, the market is segmented into luminaires and lamps. The market share growth by the luminaires segment will be significant during the forecast period. LED luminaires include products such as downlights, troffers, roadway fixtures, outdoor lighting, and others. The widespread adoption of light-emitting diode products across the world is due to their numerous benefits. light-emitting diode luminaires, such as downlights, are widely used in the residential, office, and retail sectors, while troffers are used in the industrial sector.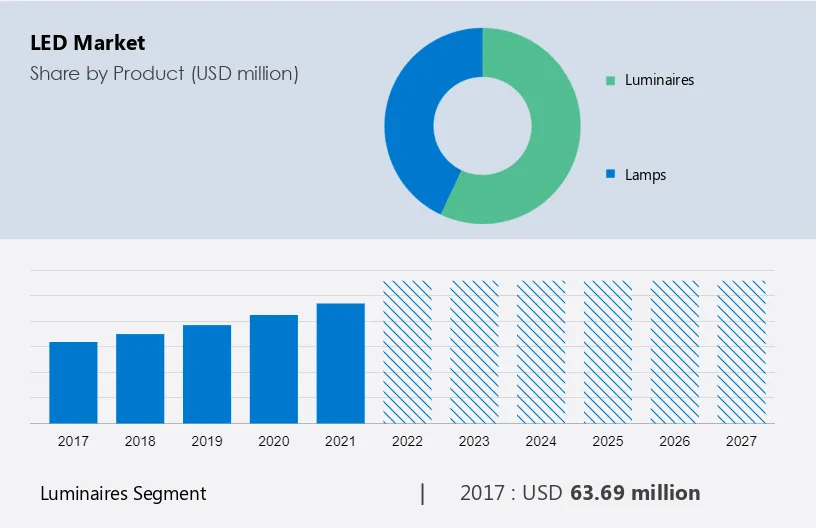 Get a Customised Report as per your requirements for FREE!
LED luminaires are widely used across all sectors due to their energy efficiency and longer lifespan. Light-emitting diode luminaires are increasingly being integrated into exit lights, floodlights, as well as high-bay and low-bay lights, which were traditionally integrated with incandescent, fluorescent, and HID luminaires.
Application Analysis
Based on the application, the LED market is segmented into general lighting, automotive lighting, backlight, and others. The general lighting segment held the largest market share in 2021. The general lighting segment is experiencing a surge in demand for LEDs due to favorable government regulations worldwide. Initiatives like the Domestic Efficient Lighting Program in India have promoted LED usage through subsidies and awareness campaigns. Factors such as declining prices, smart lighting demand, high efficacy, and eco-friendly solutions drive LED growth. The segment includes retail, architectural, office, hospitality, industrial, outdoor, and residential lighting. LED adoption offers energy efficiency, cost savings, and improved lighting experiences. China, India, and Brazil are key markets for LED growth.
Regional Analysis
APAC is estimated to contribute 49% to the growth by 2027. Technavio's analysts have elaborately explained the regional trends, drivers, and challenges that are expected to shape the market during the forecast period.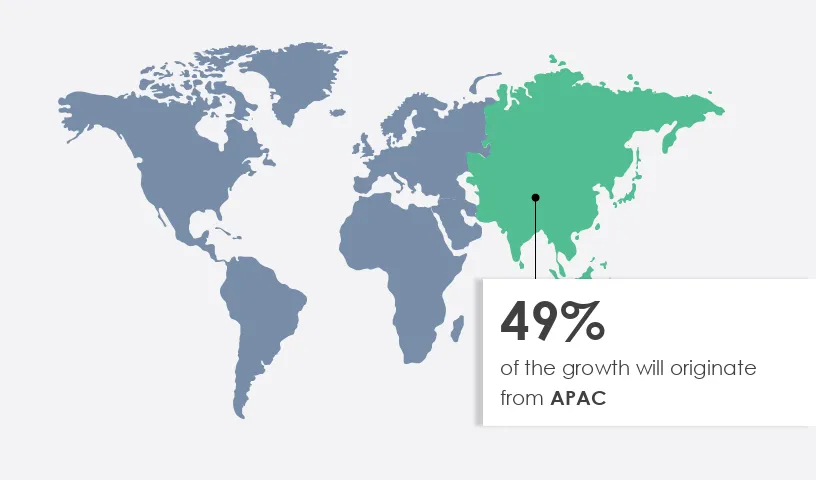 For more insights on the market share of various regions View PDF Sample now!
The primary reason behind the rapid growth of the APAC market is the increase in demand for light-emitting diode solutions from both the residential and commercial segments. The region is becoming a hub for industries such as retail, hospitality, and healthcare. Offices established by various multinational companies are also being set up in this region. Smart infrastructure is being developed through improvements in the IT infrastructure in many countries across the region. Significant growth in the light-emitting diode market is attributed to both the growing construction market along with increasing investments by governments in infrastructure projects in various countries. Many international events will be organized in emerging economies, including China and India during the forecast period, which will help increase the demand for LED lighting products.
COVID Recovery Analysis:
Although the COVID-19 outbreak in the region hindered sales growth due to the temporary closure of LED production units, it is estimated that the market will recover during the forecast period due to the rise in vaccination drives in the region, as observed in 2021. Additionally, expansion strategies and the launch of products integrated with advanced technology by leading LED manufacturing firms will help boost the growth of the LED market in this region.
Who are the Major LED Market Vendors?
Vendors are implementing various strategies, such as strategic alliances, partnerships, mergers and acquisitions, geographical expansion, and product/service launches, to enhance their presence in the market.
SMART Global Holdings Inc.- The company offers LED such as DL DR6BD14AWG, DL DR6BD14KKG, and DL DR6BD14WWE.
We also have detailed analyses of the market's competitive landscape and offer information on 20 market vendors, including:
Acuity Brands Inc.
ams OSRAM AG
Bridgelux Inc.
Dialight Plc
Eaton Corp. Plc
Ennostar Inc.
Everlight Electronics Co. Ltd.
General Electric Co.
Havells India Ltd.
LITE ON Technology Corp.
Lumileds Holding BV
Nichia Corp.
Seoul Semiconductor Co. Ltd.
Sharp Corp.
Toyoda Gosei Co. Ltd.
WOOREE E and L
Zumtobel Group AG
Samsung Electronics Co. Ltd.
Signify NV
Technavio report provides an in-depth analysis of the market and its players through combined qualitative and quantitative data. The analysis classifies vendors into categories based on their business approaches, including pure-play, category-focused, industry-focused, and diversified. Vendors are specially categorized into dominant, leading, strong, tentative, and weak, based on their quantitative data analysis.  
Segment Overview
The LED market report forecasts market growth by revenue at global, regional & country levels and provides an analysis of the latest trends and growth opportunities from 2017 to 2027. 
Product Outlook ( USD Million, 2017 - 2027)
Application Outlook ( USD Million, 2017 - 2027)

General lighting
Automotive lighting
Backlight
Others

Region Outlook ( USD Million, 2017 - 2027)

Europe

The U.K.
Germany
France
Rest of Europe

Middle East & Africa

Saudi Arabia
South Africa
Rest of the Middle East & Africa

South America
LED Market Scope

Report Coverage

Details

Page number

173

Base year

2022

Historic period

2017-2021

Forecast period

2023-2027

Growth momentum & CAGR

Accelerate at a CAGR of 14.68%

Market growth 2023-2027

USD 141.52 million

Market structure

Fragmented

YoY growth 2022-2023(%)

14.1

Regional analysis

APAC, Europe, North America, South America, and Middle East and Africa

Performing market contribution

APAC at 49%

Key countries

US, Taiwan, Japan, UK, and Germany

Competitive landscape

Leading Vendors, Market Positioning of Vendors, Competitive Strategies, and Industry Risks

Key companies profiled

Acuity Brands Inc., ams OSRAM AG, Bridgelux Inc., Dialight Plc, Eaton Corp. Plc, Ennostar Inc., Everlight Electronics Co. Ltd., General Electric Co., Havells India Ltd., LITE ON Technology Corp., Lumileds Holding BV, Nichia Corp., Seoul Semiconductor Co. Ltd., Sharp Corp., SMART Global Holdings Inc., Toyoda Gosei Co. Ltd., WOOREE E and L, Zumtobel Group AG, Samsung Electronics Co. Ltd., and Signify NV

Market dynamics

Parent market analysis, Market growth inducers and obstacles, Fast-growing and slow-growing segment analysis, COVID 19 impact and recovery analysis and future consumer dynamics, Market condition analysis for forecast period

Customization purview

If our report has not included the data that you are looking for, you can reach out to our analysts and get segments customized.
What are the Key Data Covered in this LED Market Research Report?
CAGR of the market during the forecast period
Detailed information on factors that will drive the growth of the

LED Market

between 2023 and 2027
Precise estimation of the size of the led market size and its contribution to the market in focus on the parent market
Accurate predictions about upcoming trends and changes in consumer behavior
Growth of the market industry across APAC, Europe, North America, South America, and Middle East and Africa
A thorough analysis of the market's competitive landscape and detailed information about vendors
Comprehensive analysis of factors that will challenge the growth of led market vendors
We can help! Our analysts can customize this market research report to meet your requirements. Get in touch