Logistics Market Insights
Logistics Market size is estimated to grow by USD 125.65 billion between 2022 and 2027 accelerating at a CAGR of 2.12% during the forecast period. The growth of the logistics industry depends on several factors, such as the growth of the e-commerce industry, the technological advancements in the logistics market, and the rising industrialization in emerging economies.
This logistics market research report extensively covers market segmentation by end-user (consumer goods, automotive, food and beverage, heathcare, and manufacturing and others), mode of transportation (roadways, waterways, railways, and airways), and geography (APAC, North America, Europe, Middle East and Africa, and South America). It also includes an in-depth analysis of drivers, trends, and challenges. 
What will be the Size of the Logistics Market During the Forecast Period?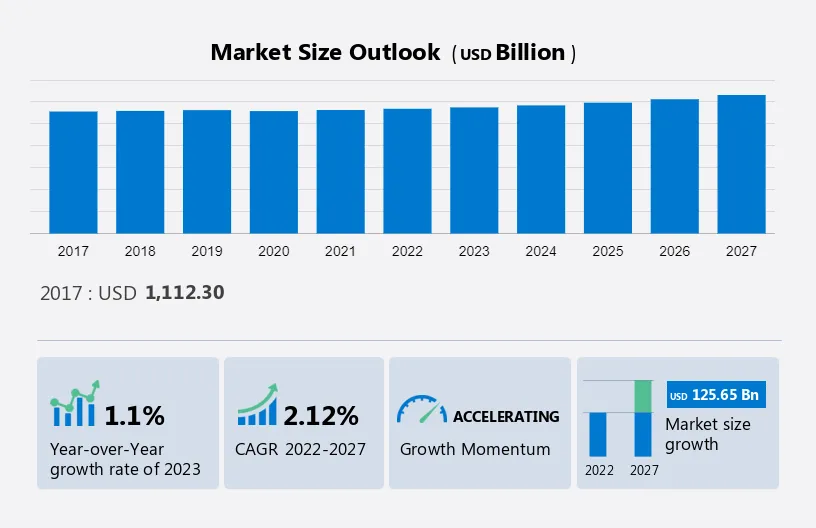 To learn more about this report,  Request Free Sample
Technavio's Exclusive Logistics Market Customer Landscape
Our analysis of the adoption life cycle of the market indicates its movement between the innovator's stage and the laggard's stage. The report illustrates the lifecycle of the market, focusing on the adoption rates of the major countries. Technavio has included key purchase criteria, adoption rates, adoption lifecycles, and drivers of price sensitivity to help companies evaluate and develop growth strategies from 2022 to 2027.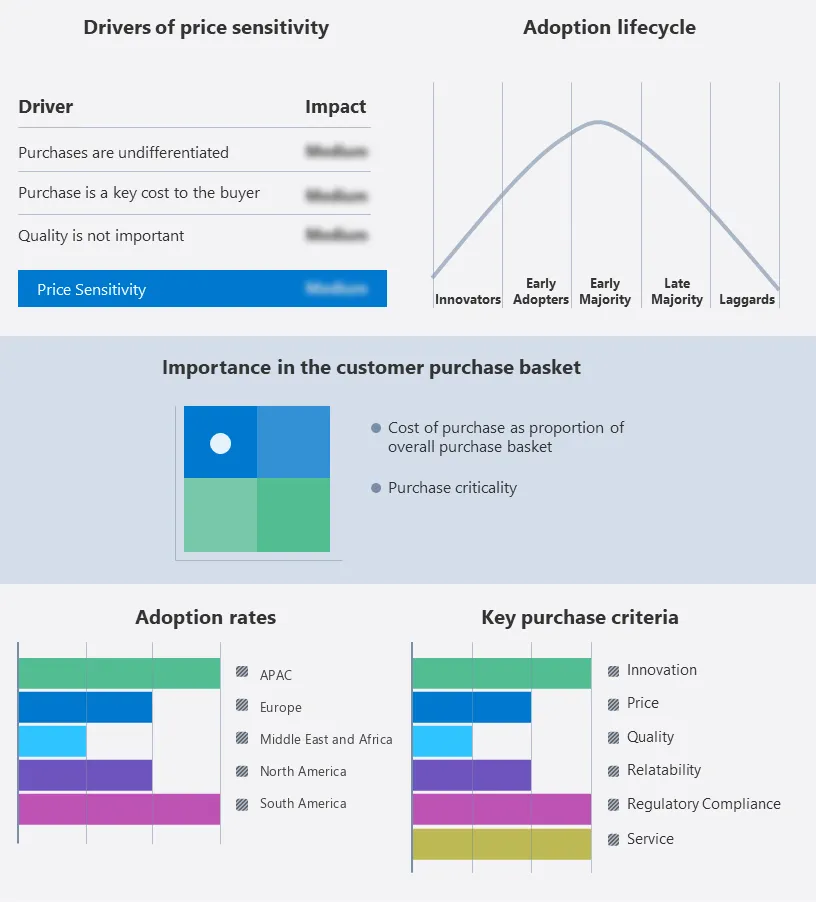 Global Logistics Market Customer Landscape
Key Drivers, Trends, and Challenges
Our researchers studied the data for years, with 2022 as the base year and 2023 as the estimated year, and presented the key drivers, trends, and challenges for the market. Although there has been a disruption in the growth of the market during the COVID-19 pandemic, a holistic analysis of drivers, trends, and challenges will help companies refine marketing strategies to gain a competitive advantage.    
Key  Driver
The growth of e-commerce industry is one of the key drivers supporting the logistics market share. The sharp rise in online sales globally, and the rising adoption of e-commerce have become one of the major market drivers in the global logistics sector. To improve the overall customer experience, technology has been incorporated into logistics operations, such as warehouse automation, route optimization, and real-time tracking of shipments. Logistics companies are extending their services to satisfy evolving customer demands as the e-commerce market expands.
E-commerce enterprises need a variety of logistics services, such as shipping, warehousing, and last-mile delivery, and as a result, specialist logistics firms with an e-commerce-only focus have emerged. The growth of the e-commerce sector has created new markets and opportunities for logistics service providers, as well as made it possible for them to offer cross-border shipping and fulfillment services. Thus, the increase in the e-commerce industry is expected to drive the growth of the global logistics market during the forecast period.
Significant Trends
Sustainability and green logistics are the key logistics market trends fueling market growth. Sustainability is becoming more important to the logistics sector as the focus is on reducing carbon footprint and supporting green practices. To reduce CO2 emissions, logistics companies are investing in green technologies such as electric and hybrid trucks and sustainable supply chain processes. Two key market trends in the global logistics sector are sustainability and green logistics. The term sustainability describes our ability to meet current needs without compromising the ability of future generations to meet their own needs. In the context of the logistics industry, it is important to find approaches that reduce the environmental impact of logistics processes while meeting customer needs. This includes reducing greenhouse gas emissions, using renewable energy sources, and reducing waste generation. 
Since more and more customers are looking for environmentally friendly solutions, businesses that prioritize sustainability in their logistics operations are likely to have a competitive edge. The goal of green logistics, on the other hand, is to minimize the negative effects of logistical activities on the environment. Using alternative fuel vehicles, streamlining transportation routes, and employing more effective packaging materials are a few examples of how to do this. Green supply chain management methods, such as selecting suppliers who value sustainability and collaborating with them to minimize the environmental impact of the entire supply chain, are also included in the concept of green logistics. Thus, sustainability and green logistics are expected to drive the growth of the global logistics market during the forecast period.
Major  Challenge
Increasing competition in the logistics market is one of the factors hindering the logistics market growth. Several successful companies are trying to capture market share in the highly competitive global logistics business. If logistics companies want to remain competitive, they must invest in technology and innovation, improve supply chain effectiveness, and provide value-added services to their customers. This business requires a lot of investment, so smaller players may struggle to compete with larger, established companies. One of the biggest market challenges is fierce competition in the global logistics business. 
Due to the influx of numerous new companies brought about by globalization, the market is now more competitive than ever. These new competitors are placing pressure on established firms to stay competitive by providing a range of services, including shipping, warehousing, and supply chain management, at lower costs and with greater efficiency. Furthermore, a lot of new companies have been able to enter the market because of the quick development of technology, making it even harder for established firms to keep up. Hence, such factors are expected to hamper the growth of the global logistics market during the forecast period.
Who are the Major Logistics Market Vendors?
Vendors are implementing various strategies, such as strategic alliances, partnerships, mergers and acquisitions, geographical expansion, and product/service launches, to enhance their presence in the market.
AP Moller Maersk AS: The company offers logistics such as Maersk omnichannel fulfillment solutions and full truck loads. 
C H Robinson Worldwide Inc.: The company offers logistics such as cross-border shipping and warehousing. 
We also have detailed analyses of the market's competitive landscape and offer information on 20 market vendors, including:
CMA CGM SA
Deutsche Bahn AG
Deutsche Post AG
DSV AS
Emirates Logistics LLC
FedEx Corp.
J B Hunt Transport Services Inc.
Jenae Logistics LLC
Kenco Group Inc.
Kuehne Nagel Management AG
Lineage Logistics Holdings LLC
Mac World Logistic LLC
NFI Industries Inc.
Ryder System Inc.
Schneider and Cie. AG
Technavio report provides an in-depth analysis of the market and its players through combined qualitative and quantitative data. The analysis classifies vendors into categories based on their business approaches, including pure-play, category-focused, industry-focused, and diversified. Vendors are specially categorized into dominant, leading, strong, tentative, and weak, based on their quantitative data analysis.  
Logistics Market Segmentation by End-user, Mode Of Transportation, and Geography 
End-User Segment Analysis
The consumer goods segment will account for a major share of the market's growth during the forecast period. Consumer goods are products intended for everyday use. They are divided into slow-moving consumer goods (SMCG) and fast-moving consumer goods (FMCG). FMCG generally has a shelf life of less than one year and includes household and cleaning products, personal care products, tobacco, clothing and footwear, pet food/care products, etc. Also, these products are relatively often purchased at recurring costs. SMCGs typically have a validity period of one year or more and include home improvement products, furniture,  appliances, etc. Such factors will increase segment growth during the forecast period.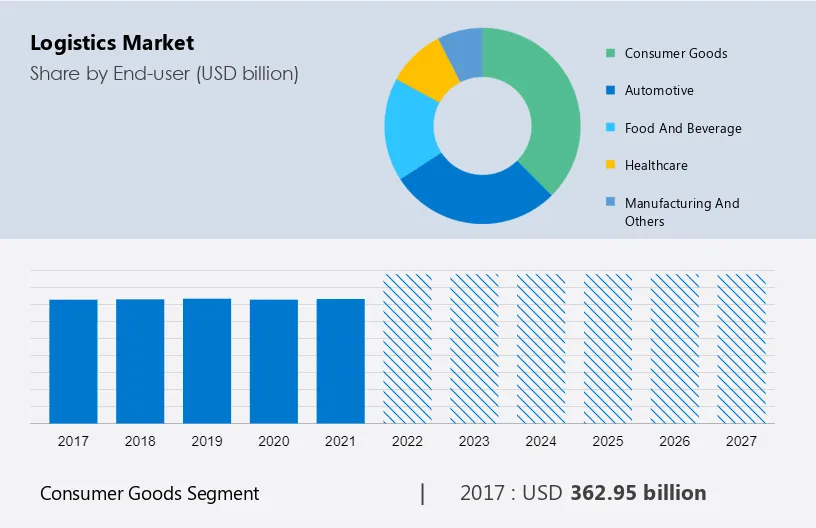 Get a Customised Report as per your requirements for FREE!
The consumer goods segment was valued at USD 362.95 billion in 2017 and continued to grow until 2021. The competition in the consumer goods industry is intensifying with the entry of new players. Therefore, players in this industry are investing large amounts of money in the development of new products to keep pace with the competition. New product developments help them extend their product portfolio and help them gain a competitive edge over their rivals. Such developments will generate the need for logistics services to transport products from manufacturing facilities to stores. Hence, the growth of the personal care segment of the consumer goods industry will concurrently propel the growth of the global logistics market during the forecast period.
Mode Of Transportation Segment Analysis
Based on mode of transportation, the market has been segmented into roadways, waterways, railways, and airways. The roadways segment will account for the largest share of this segment. The roadways segment of the global logistics market includes a range of different services, such as full truckload (FTL) and less than truckload (LTL) services, which refer to the transportation of goods in either a full truckload or a partial truckload. FTL services are typically used for large shipments, while LTL services are used for smaller shipments. The e-commerce segment is one of the key drivers of the road segment in terms of domestic transportation leg and last-mile logistics.
Regional Analysis
APAC is estimated to contribute 45% to the growth by 2027. Technavio's analysts have elaborately explained the regional trends, drivers, and challenges that are expected to shape the market during the forecast period.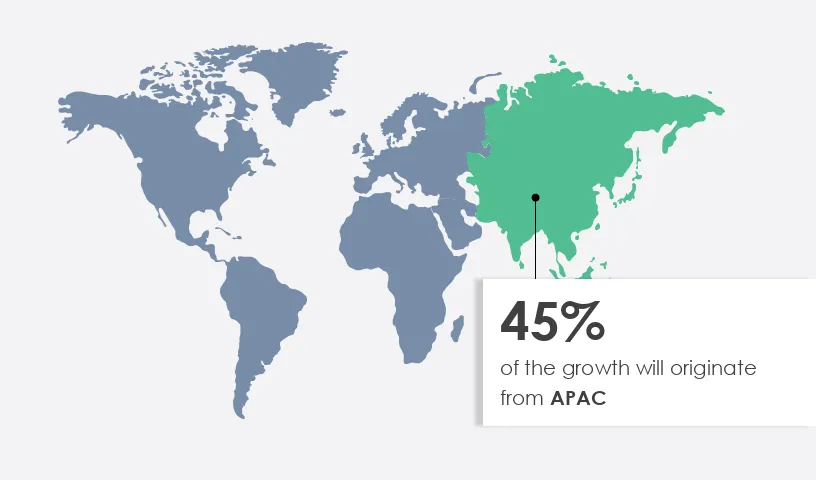 For more insights on the market share of various regions View PDF Sample now!
The logistics market in APAC is expected to grow due to the presence of a large consumer base for both food and beverage and healthcare product suppliers. With the rise in disposable incomes and the growing aging population in countries such as Japan and China, the expenditure on healthcare in this region is witnessing strong growth rates. This is resulting in an increase in demand for temperature-controlled healthcare products such as biopharmaceuticals, vaccines, and clinical trial materials. Moreover, increased demand for organic food products due to the availability of certified organic dairy products and the rising health consciousness among consumers in countries such as China, Australia, and New Zealand are fueling the demand for cold chain logistics from the healthcare and food industries, as it helps maintain the shelf life as well as the quality of these products. Such benefits of cold chain logistics will increase its demand, which, in turn, will lead to the growth of the logistics market in this region during the forecast period.
Covid Recovery Analysis:
The logistics market in the region was negatively impacted by the COVID-19 outbreak in the region in 2020. However, with the gradual recovery of economies from the COVID-19 crisis due to the resumption of activities and the adoption of e-commerce models by various end-user industries, including the automotive industry, the regional logistics market is expected to grow during the forecast period.
Segment Overview
The logistics market report forecasts market growth by revenue at global, regional & country levels and provides an analysis of the latest trends and growth opportunities from 2017 to 2027. 
End-User Outlook (USD Billion, 2017 - 2027)

Consumer goods
Automotive
Food and beverage
Healthcare
Manufacturing
Others
Mode of Transportation Outlook (USD Billion, 2017 - 2027)

Roadways
Waterways
Railways
Airways
Region Outlook (USD Billion, 2017 - 2027)

Europe

U.K.
Germany
France
Rest of Europe

Middle East & Africa

Saudi Arabia
South Africa
Rest of the Middle East & Africa
Logistics Market Scope

Report Coverage

Details

Page number

187

Base year

2022

Historic period

2017-2021

Forecast period

2023-2027

Growth momentum & CAGR

Accelerate at a CAGR of 2.12%

Market growth 2023-2027

USD 125.65 billion

Market structure

Fragmented

YoY growth 2022-2023(%)

1.1

Regional analysis

APAC, North America, Europe, Middle East and Africa, and South America

Performing market contribution

APAC at 45%

Key countries

US, China, Japan, Germany, and France

Competitive landscape

Leading Vendors, Market Positioning of Vendors, Competitive Strategies, and Industry Risks

Key companies profiled

AP Moller Maersk AS, C H Robinson Worldwide Inc., CMA CGM SA, Deutsche Bahn AG, Deutsche Post AG, DSV AS, Emirates Logistics LLC, FedEx Corp., J B Hunt Transport Services Inc., Jenae Logistics LLC, Kenco Group Inc., Kuehne Nagel Management AG, Lineage Logistics Holdings LLC, Mac World Logistic LLC, NFI Industries Inc., Ryder System Inc., Schneider and Cie. AG, United Parcel Service Inc., XPO Inc., and Nippon Express Holdings Inc.

Market dynamics

Parent market analysis, Market growth inducers and obstacles, Fast-growing and slow-growing segment analysis, COVID-19 impact and recovery analysis and future consumer dynamics, and Market condition analysis for the forecast period.

Customization purview

If our report has not included the data that you are looking for, you can reach out to our analysts and get segments customized.
What are the Key Data Covered in this Logistics Market Research Report?
CAGR of the market during the forecast period
Detailed information on factors that will drive the growth of the logistics market between 2023 and 2027
Precise estimation of the logistics market size and its contribution to the market in focus on the parent market
Accurate predictions about upcoming trends and changes in consumer behavior
Growth of the market across APAC, North America, Europe, Middle East and Africa, and South America
A thorough logistics industry analysis of the competitive landscape and detailed information about vendors
Comprehensive analysis of factors that will challenge the growth of logistics market vendors
We can help! Our analysts can customize this market research report to meet your requirements. Get in touch