The Marine Propulsion Engine Market size is estimated to grow at a CAGR of 3.99% between 2022 and 2027 and the size of the market is forecast to increase by USD 1,536.38 million. The growth of the market depends on several factors, such as an increase in maritime trade and fleet size, growth in demand for naval vessels for defense, and growing use of LNG as a marine fuel.
This report extensively covers market segmentation by application (passenger, commercial, and defense), type (diesel and gas), and geography (APAC, Europe, North America, Middle East and Africa, and South America). It also includes an in-depth analysis of drivers, trends, and challenges. Furthermore, the report includes historic market data from 2017 to 2021.
What will be the Size of the Marine Propulsion Engine Market During the Forecast Period?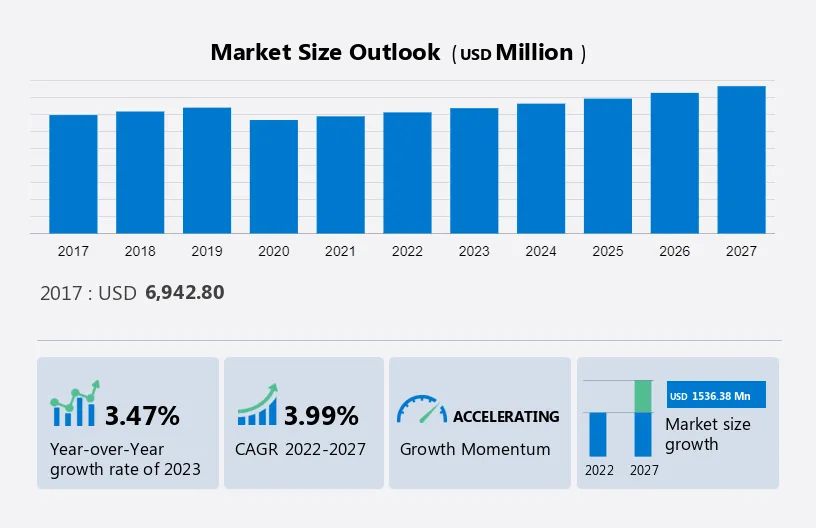 To learn more about this report,  Download Report Sample
Technavio's Exclusive Marine Propulsion Engine Market Customer Landscape
The report includes the adoption lifecycle of the market, covering from the innovator's stage to the laggard's stage. It focuses on adoption rates in different regions based on penetration. Furthermore, the report also includes key purchase criteria and drivers of price sensitivity to help companies evaluate and develop their growth strategies.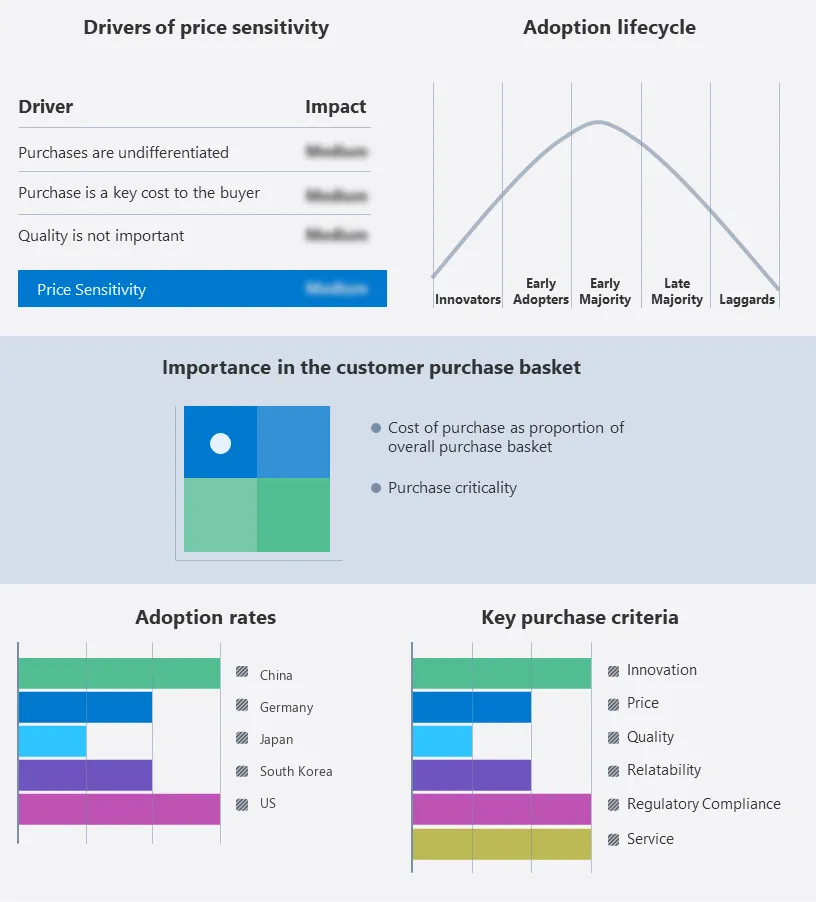 Global Marine Propulsion Engine Market Customer Landscape
Key Drivers, Trends, and Challenges
Our researchers analyzed the data with 2022 as the base year, along with the key drivers, trends, and challenges. A holistic analysis of drivers will help companies refine their marketing strategies to gain a competitive advantage.
Key  Driver
 
An increase in maritime trade and fleet size is the key factor driving the global marine propulsion engine market. International maritime trade shows healthy growth every year. Rapid industrialization and economic liberalization are the two key drivers of maritime trade volume, facilitating trade between nations. The development of multi-fuel engines and increased fuel efficiency have made ships a viable means of transportation. Demand for shipping trade is the largest among developing countries in Asia. Population growth in emerging markets has increased the demand for commodities and raw materials from these regions. For this reason, there is an increasing demand for building bulk cars, containers, or cargo ships.
Large ships are essential for efficient trade. The size of a ship has a direct effect on increasing the number of goods carried on a voyage. The expansion of maritime trade and an increase in the number of ocean-going ships will lead to an increase in CO2 emissions. The growing interest in reducing marine emissions and tightening emissions regulations have led to increased adoption of low-carbon ships. Such factors are anticipated to drive the market during the forecast period. 
Significant Trends
Technology focus shifting toward the development of dual-fuel engines will fuel the global marine propulsion engine market. As the name suggests, a dual-fuel engine is one that uses both diesel and gas as fuel sources to power a vessel's engine. These engines draw natural gas into the compression chamber along with air. Diesel is used to igniting the mixture, and gas serves as the primary fuel source. Diesel is commonly a standby fuel and is used when the gas supply to the engine is restricted. A major advantage of fuel switching to natural gas is the effective reduction of emissions compared to diesel engines and other engine technologies that only reduce specific emissions. For example, Wartsila's low-pressure dual-fuel engine helps reduce NOx emissions by 85%, SOx emissions by 99%, particulate matter by up to 99%, and carbon dioxide emissions by 20% to 30%. These engines also offer the high energy efficiency, long-term reliability, torque, and power characteristics of diesel engines and reduce operating costs by replacing diesel with gas. 
The advantages of dual-fuel engines allow merchant shipping lines to reduce fuel costs while reducing emissions. Such technological and commercial advancements are likely to be adopted across different industries and regions, leading to the growth of the market during the forecast period. 
Major  Challenge
Volatility in crude oil and natural gas prices can majorly impede the growth of the market.  Crude oil involves a complex value chain from production to distribution and supply and demand in the oil and gas industry, making accurate price forecasting extremely difficult. Oil prices have fluctuated many times over the past decade, making them a highly volatile commodity. Past and present oil price volatility has vaguely followed what is now called the 'oil price cycle'. However, it is difficult to predict oil prices. After the global financial crisis of 2009, world oil prices reached historic highs. A few years later, however, prices fell due to the global economic downturn. This volatility directly impacts multiple products such as petroleum, lubricants, and other crude oil-derived products, thus impacting the entire market for such products in a short period of time. 
With the rapid transition to gas turbine technology, the reliance on natural gas is steadily increasing. With natural gas prices so low, the potential for over-reliance on natural gas doesn't seem too great at this point. However, increasing demand for natural gas will expose consumers to higher natural gas prices over time. Fluctuations in the prices of crude oil and natural gas affect the profits of oil and gas companies, creating a domino effect. Therefore, if the selling price falls, production will also fall. Some vessels, such as tankers, rely heavily on transporting crude oil and natural gas to refineries, end-users, and other stakeholders in the value chain, so the decline in production will affect the shipping industry. This will adversely affect the growth of the market during the forecast period. 
Who are the Major Marine Propulsion Engine Market Vendors?
Vendors are implementing various strategies, such as strategic alliances, partnerships, mergers and acquisitions, geographical expansion, and product/service launches, to enhance their presence in the market.
AB Volvo: The company offers different types of marine propulsion engines such as inboard shaft, penta IPS, and automatic stendrive diesel.
ABB Ltd: The company offers different types of diesel and gas marine propulsion engines.
We also have detailed analyses of the market's competitive landscape and offer information on 18 market vendors, including:
BAE Systems Plc
Beta Marine Ltd.
Caterpillar Inc.
Cummins Inc.
Daihatsu Diesel Mfg. Co. Ltd.
General Electric Co.
Hyundai Heavy Industries Co. Ltd.
IHI Corp.
Kawasaki Heavy Industries Ltd.
Kongsberg Gruppen ASA
Leonardo DRS Inc.
Mitsubishi Heavy Industries Ltd.
Porsche Automobil Holding SE
Rolls Royce Holdings Plc
Shandong Heavy Industry Group Co. Ltd.
Steyr Motors Betriebs GmbH
Wartsila Corp.
Yanmar Holdings Co. Ltd.
The report offers, clients a deeper understanding of the market and its players through a combined qualitative and quantitative analysis of the vendors. The analysis classifies vendors into categories based on their business approach, including pure-play, category-focused, industry-focused, and diversified. Vendors are specially categorized into dominant, leading, strong, tentative, and weak to understand the dos and don'ts of business, which can help a client make the best decision.
Marine Propulsion Engine Market Segmentation by Application, Type, and Geography 
Application Analysis
The passenger segment will contribute a major share of the market, as it contributes significantly to the overall demand for marine propulsion engines. The passenger segment showed a gradual increase in the market share with USD 3,595.89 million in 2017 and continued to grow until 2021. The passenger segment is an important segment in the market. This segment includes passenger ships, ferries, cruise ships, and other types of vessels designed to carry people across various waterways.  Engines used in the passenger segment are designed to provide high levels of reliability, efficiency, and passenger comfort while ensuring compliance with stringent environmental regulations.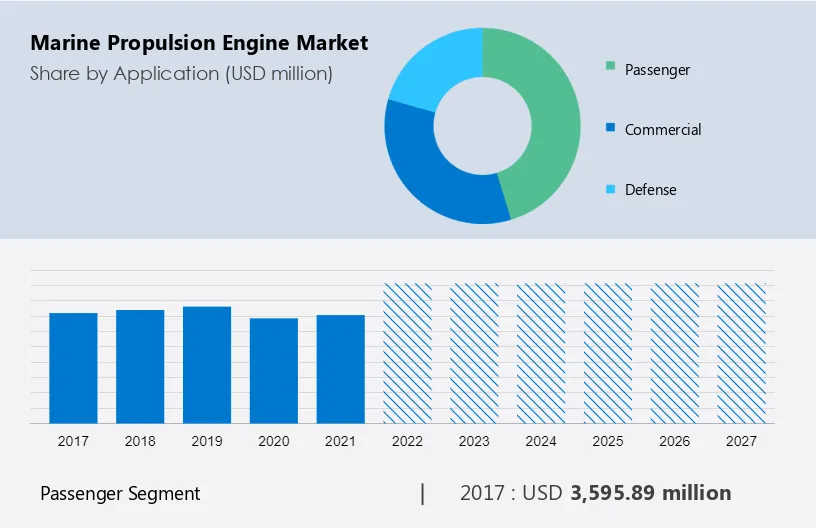 Get a Customised Report as per your requirements for FREE!
Marine propulsion engines are typically classified by horsepower, fuel type, and technology. For example, diesel engines,  known for their fuel efficiency and reliability, are commonly used on passenger ships. Similarly, electric drive systems are gaining importance in the passenger segment due to their low noise and emission levels. The passenger segment also includes different types of vessels with different performance requirements,  from small ferries to large cruise ships. Marine propulsion engines used in the passenger segment are therefore available in a wide power range from hundreds of kilowatts to several megawatts. The demand for marine propulsion engines is expected to continue to grow, driven by the growing demand for environmentally friendly and efficient propulsion solutions. Such factors drive the growth of the passenger segment in the market during the forecast period. 
Type Analysis
The diesel segment held the largest share of the market, with a market share of around 50%. Diesel is the most common type of fuel in the marine sector for onboard propulsion engines. It is widely popular and favored because it costs less than any other form of fuel. However, this segment faces major challenges in the form of environmental regulations and is threatened by the LPG fuel segment, which is seen as a greener alternative. Diesel engines currently dominate the market. However, its share is expected to decrease during the forecast period as more engines will be replaced by those using natural gas as fuel. Shipbuilding industry momentum is likely to come from APAC countries during the forecast period. Shipping companies and ocean freight forwarders are increasingly looking for super-large vessels that offer fuel efficiency and economies of scale. Due to the presence of huge shipyards and deep ports in APAC, shipyards in the region are well-positioned to deliver such vessels. Orders for new ships are sluggish in almost every region of the world, especially in the shipbuilding powerhouses of China, South Korea, and Japan. This poses a challenge as diesel propulsion engine manufacturers face declining demand from the sector. Such factors will hinder the growth of the diesel segment of the market during the forecast period. 
Regional Analysis
APAC is estimated to contribute 69% to the growth by 2027. Technavio's analysts have elaborately explained the regional trends, drivers, and challenges that are expected to shape the market during the forecast period.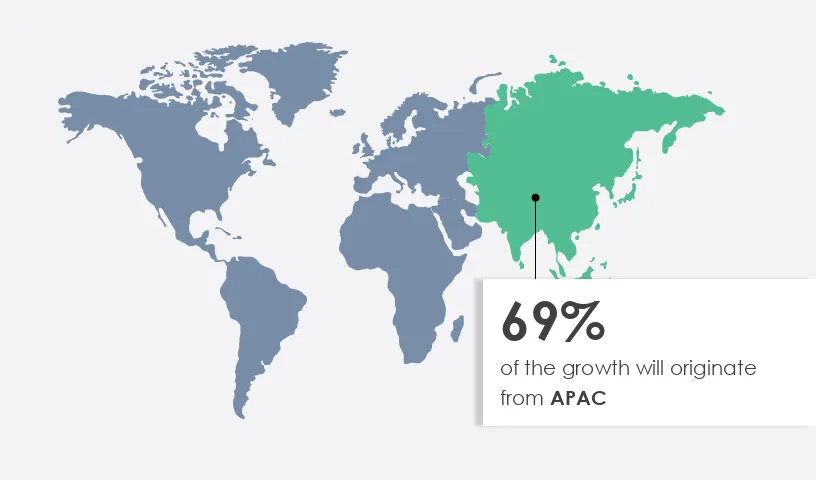 For more insights on the market share of various regions View PDF Sample now!
The shift in mass production of commodities to APAC due to the comparative cost advantages offered by the region was facilitated by the increasing size of container ships. As global trade expands, so does the demand for new vessels, especially containerships and tankers capable of transporting oil, natural gas, and more. The APAC countries such as China, Japan, and South Korea hold the highest share of the market. These countries have focused on strengthening their respective shipbuilding industries for almost a decade after the financial crisis and low books. They have developed strategies to adopt modern shipbuilding models for the future. China has become a major player in the market due to the heavy government investment in the shipbuilding sector and the advantage of low labor costs. However, Japan has implemented strategies and plans to account for about one-third of the global shipbuilding industry in terms of ships completed by the end of the forecast period. These countries will continue to adopt heavy investments and technologies to increase their market share during the forecast period. 
Covid Recovery Analysis:
Markets faced particular challenges due to the 2020 COVID-19 pandemic. The 2020 outbreak reduced orders for ocean-going vessels across the world. For example, ship orders received by different shipyards around the world in the first quarter of 2020 were down 55% from orders in the first quarter of 2019. In addition, the number of maritime exports decreased due to the prevalent trade disputes between certain countries. These factors reduced maritime investments globally,  negatively impacting the market in 2020. However,  maintaining social distancing standards, and massive vaccination campaigns in 2021 resumed operations of shipping industries across the world with limited capacity. Such factors stabilized the market growth during the forecast period. 
Segment Overview
The marine propulsion engine market report forecasts market growth by revenue at global, regional & country levels and provides an analysis of the latest trends and growth opportunities from 2017 to 2027. 
Application Outlook (USD Million, 2017 - 2027)

Passenger
Commercial
Defense
Type Outlook (USD Million, 2017 - 2027)
Region Outlook (USD Million, 2017 - 2027)

Europe

The U.K.
Germany
France
Rest of Europe

South America
Middle East & Africa

Saudi Arabia
South Africa
Rest of the Middle East & Africa
Marine Propulsion Engine Market Scope

Report Coverage

Details

Page number

172

Base year

2022

Historic period

2017-2021

Forecast period

2023-2027

Growth momentum & CAGR

Accelerate at a CAGR of 3.99%

Market growth 2023-2027

USD 1,536.38 million

Market structure

Fragmented

YoY growth 2022-2023(%)

3.47

Regional analysis

APAC, Europe, North America, Middle East and Africa, and South America

Performing market contribution

APAC at 69%

Key countries

US, China, South Korea, Japan, and Germany

Competitive landscape

Leading Vendors, Market Positioning of Vendors, Competitive Strategies, and Industry Risks

Key companies profiled

AB Volvo, ABB Ltd., BAE Systems Plc, Beta Marine Ltd., Caterpillar Inc., Cummins Inc., Daihatsu Diesel Mfg. Co. Ltd., General Electric Co., Hyundai Heavy Industries Co. Ltd., IHI Corp., Kawasaki Heavy Industries Ltd., Kongsberg Gruppen ASA, Leonardo DRS Inc., Mitsubishi Heavy Industries Ltd., Porsche Automobil Holding SE, Rolls Royce Holdings Plc, Shandong Heavy Industry Group Co. Ltd., Steyr Motors Betriebs GmbH, Wartsila Corp., and Yanmar Holdings Co. Ltd.

Market dynamics

Parent market analysis, Market growth inducers and obstacles, Fast-growing and slow-growing segment analysis, COVID 19 impact and recovery analysis and future consumer dynamics, Market condition analysis for forecast period

Customization purview

If our report has not included the data that you are looking for, you can reach out to our analysts and get segments customized.
What are the Key Data Covered in this Marine Propulsion Engine Market Research Report?
CAGR of the market during the forecast period
Detailed information on factors that will drive the growth of the

marine propulsion engine market

between 2023 and 2027
Precise estimation of the size of the marine propulsion engine market size and its contribution to the market in focus on the parent market
Accurate predictions about upcoming trends and changes in consumer behavior
Growth of the market industry across APAC, Europe, North America, Middle East and Africa, and South America
A thorough analysis of the market's competitive landscape and detailed information about vendors
Comprehensive analysis of factors that will challenge the growth of marine propulsion engine market vendors
We can help! Our analysts can customize this market research report to meet your requirements. Get in touch