The pet accessories market is estimated to grow at a CAGR of 6.2% between 2022 and 2027. The size of the market is forecast to increase by USD 13,243.92 million. The growth of the market depends on several factors, including the increase in the number of people owning pets and increased spending on pets, the availability of a wide range of fashionable and multifunctional pet additions, and technology innovation and portfolio extension leading to product premiumization. 
This report extensively covers market segmentation by end-user (dogs, cats, and others), product (pet toys and others), distribution Channel (offline and online), and geography (North America, Europe, APAC, South America, and Middle East and Africa). It also includes an in-depth analysis of drivers, trends, and challenges. Furthermore, the report includes historic market data from 2017 to 2021.
What will be the size of the Pet Accessories Market During the Forecast Period?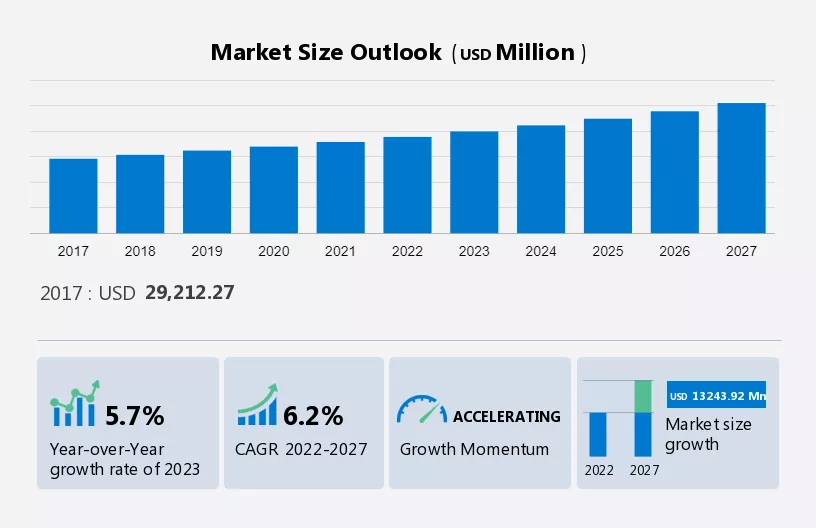 To learn more about this report, Download Report Sample
Pet Accessories Market: Key Drivers, Trends, Challenges, and Customer Landscape
The availability of a wide range of fashionable and multifunctional accessories used by pet animals is notably driving the market growth, although factors such as infrequent purchases and low replacement cycles may impede the market growth. Our researchers analyzed the data with 2022 as the base year, along with the key drivers, trends, and challenges. A holistic analysis of drivers will help companies refine their marketing strategies to gain a competitive advantage.
Key Pet Accessories Market Driver
The availability of a wide range of fashionable and multifunctional accessories for pets is notably driving growth. The demand for improved accessories, including pet toys and pet furniture, has increased. Designs of these accessories have evolved tremendously over the last couple of years. Vendors are exploring innovative ways of combining multiple functions and styles to cater to the demands of pet lovers. They are designing and developing accessories, including furniture that fit seamlessly in homes without compromising on aesthetic value.
Accessories used widely include pet toys, pet furniture, and other products (feeding products like pet collars, pet leashes, and other utility products like apparel, sunglasses, strollers, and agility devices). Pet toys enjoy high preference among pet owners for various reasons, including rising instances of pet obesity. In such cases, pet toys are used to involve pets in pet activities.
Traditional pet furniture only served certain uses. However, advanced furniture, such as beds, sofas, gates, crates, and trees, is designed to blend with other home furniture. It is functional and looks good with other home interiors. Vendors also focus on the development of multifunctional products. For instance, many vendors have introduced crates that can be used as modern tables and pet containment spaces. Pet feeders are handcrafted with durable wood and two large stainless-steel bowls. Their ergonomic design enables pets to maintain ideal postures during meals for better digestion. They also help pet owners use the two-door cover as a convenient storage space for pet food and treats. Foldable pet furniture that can be stored away when not in use is also available for people who live in small spaces. Such factors will drive the focused market growth during the forecast period.
Significant Pet Accessories Market Trend
The advent of smart accessories is a major trend driving the pet care market. Vendors have introduced various smart accessories, such as smart beds, smart pet feeders, and connected pet collars. The players invest in R&D to design smart pet furniture to attract affluent customers. These smart beds track the weight, rest, and activity of the pets and offer thermostatic climate control and keep the pets in optimal comfort and safety. This helps pet owners ensure that their pets achieve the optimal weight ranges and temperature for the breed, age, and other important characteristics. The smart bed includes a built-in scale and incorporates thermostatic heating and cooling features. This helps pet owners adjust the room temperature automatically or manually for their pets based on their breed and environment. They are available in different sizes with durable and comfortable construction, which have a washable and replaceable cover.
Many individuals are interested in monitoring the activities of their pets. Vendors have introduced smart-connected pet collars with inbuilt cameras to track the activities of animals and give users live updates. The product also comes with speakers to give out voice commands. The automatic and smart pet feeders offered by vendors are designed to ensure that pets are adequately fed while the owners are tied up with alternative household chores. During the forecast period, many vendors are expected to launch smart accessories with connected features.
Major Pet Accessories Market Challenge
Infrequent purchases and the low replacement cycle are major challenges impeding the pet care market growth. Pet owners purchase accessories only when they are required. Thus, infrequent purchases and a low replacement cycle of these accessories hinder the growth of the market. Due to their higher average lifespan, accessories for pets are purchased either for new pets or when existing accessories are damaged. These are meant for long-term use and do not require frequent replacement.
Most of these accessories are durable and high-quality. Pet owners only need to incur maintenance costs for these over the years, which are usually minimal. This reduces the need for frequent purchases, which acts as a major growth inhibitor. Another challenge to the overall growth of the market is the recall of products by players due to various issues. Product recalls can result in the loss of a company's reputation, consumer trust, and loyalty and cause a financial burden to the company. These factors are hampering the focused market growth during the forecast period.
Key Pet Accessories Market Customer Landscape
The report includes the adoption lifecycle of the pet care market, covering from the innovator's stage to the laggard's stage. It focuses on adoption rates in different regions based on penetration. Furthermore, the report also includes key purchase criteria and drivers of price sensitivity to help companies evaluate and develop their growth strategies.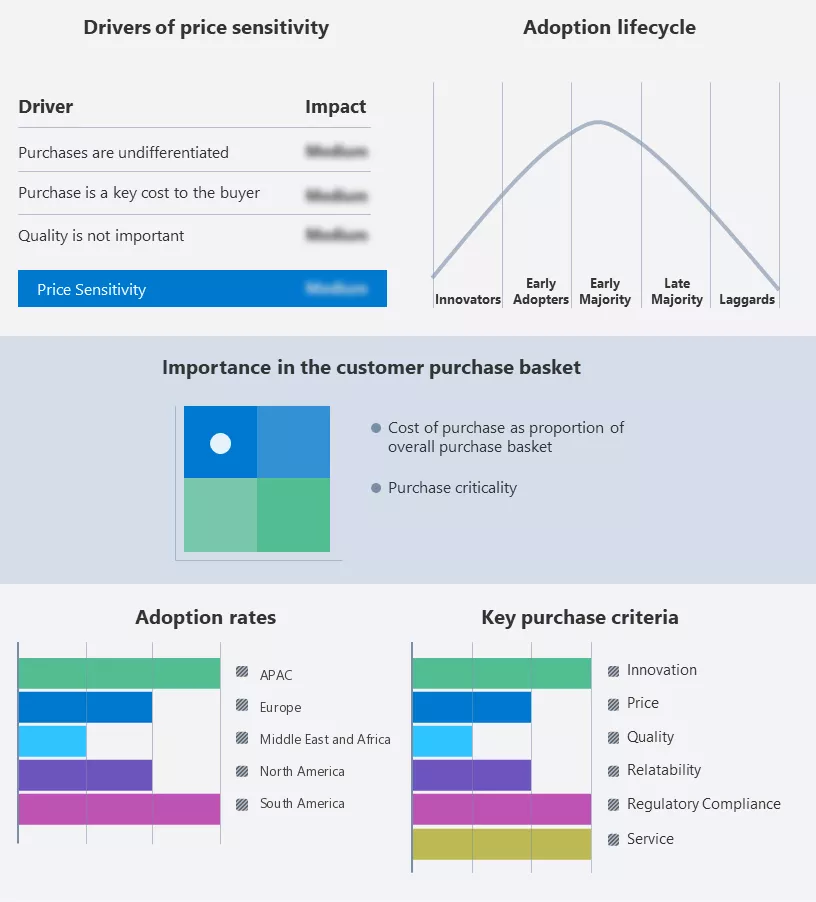 Global Pet Accessories Market Customer Landscape
Who are the Major Pet Accessories Market Vendors?
Vendors are implementing various strategies, such as strategic alliances, partnerships, mergers and acquisitions, geographical expansion, and product/service launches, to enhance their presence in the pet care market.
Spectrum Brands Holdings Inc. - The company operates under multiple segments, including home and personal care, and global pet care among others, with a high focus on home and personal care.? 
The report also includes detailed analyses of the competitive landscape of the market and information about 15 market vendors, including:
Ancol Pet Products Ltd.
Blueberry Pet
Designer Pet Products
Dobbies Garden Centres Ltd.
Ferplast Spa
Hagen Group
Inter IKEA Holding BV
KandH Pet Products
Laroy Group
Petcraft
Pets Choice Ltd.
Platinum Pets
Prevue Pet Products
Rosewood Pet Products Ltd.
Tailpetz
Qualitative and quantitative analysis of vendors has been conducted to help clients understand the wider business environment as well as the strengths and weaknesses of key market players. Data is qualitatively analyzed to categorize vendors as pure play, category-focused, industry-focused, and diversified; it is quantitatively analyzed to categorize vendors as dominant, leading, strong, tentative, and weak.
What is the Fastest-Growing Segment in the Pet Accessories Market?
The market share growth by the dog segment will be significant during the forecast period. Dogs are the most commonly owned pets, followed by cats.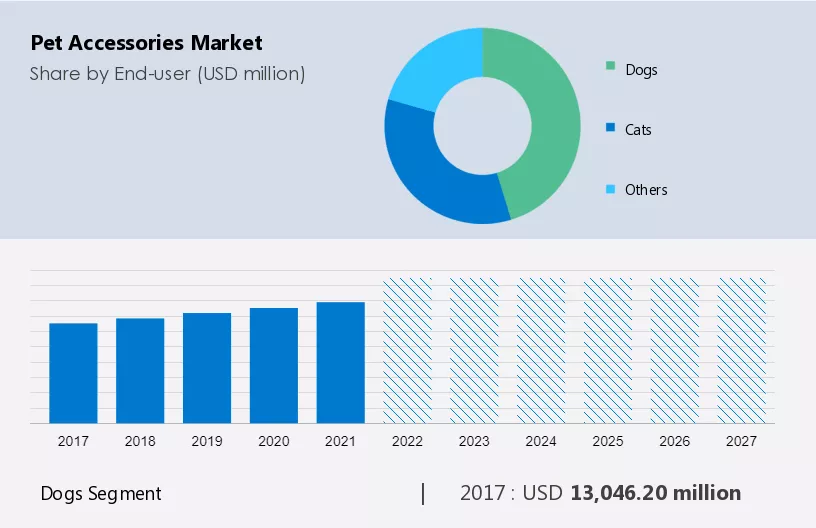 Get a glance at the market contribution of various segments Request a PDF Sample
The dog segment shows a gradual increase in the market share of USD 13,046.20 million in 2017 and continued to grow until 2021. Dogs demand a lot of space and attention. Working couples in nuclear families often buy pet furniture for their dogs. They also enjoy high preference among people who live in apartments and do not have gardens or porches for their pets to live in. Subsequently, these factors are expected to drive the segment. Although the adoption of other types of pets, such as birds and rabbits, is lower than dogs and cats, their adoption is expected to gain traction during the forecast period. Hence, the share of this segment is expected to increase. 
Which are the Key Regions for the Pet Accessories Market?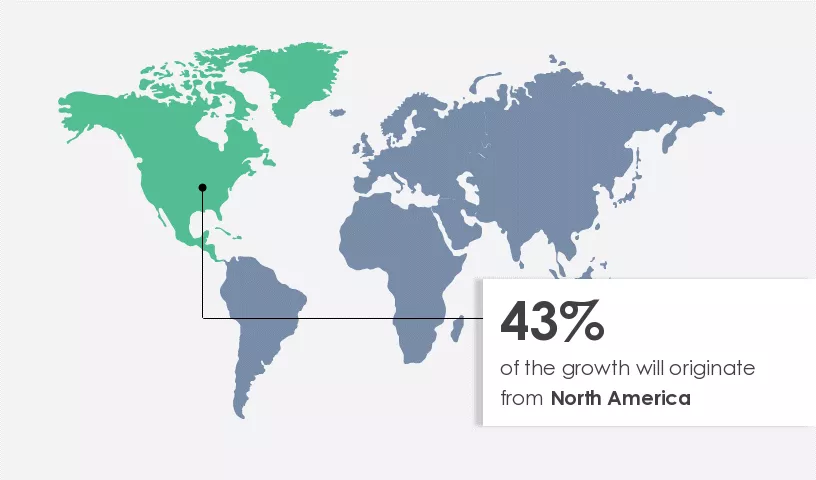 For more insights on the market share of various regions Request PDF Sample now!
North America is estimated to contribute 43% to the growth of the global pet care market during the forecast period. Technavio's analysts have elaborately explained the regional trends and drivers that shape the market during the forecast period.
The growth of the market in this region is influenced by the large interest in pet ownership in countries such as the US, Canada, and Mexico. Owing to the increasing population of elderly people that like companionship, the adoption rate of pets is high. Further, the pet humanization trend is also driving the market in North America. Pet owner treats their pet as their family. Owing to this, North America accounts for the highest spending on premium and luxury accessories for pets other than just pet food. Moreover, as this region has the greatest number of nuclear families and dual-income households, people own pets and spend lavishly on them based on their requirements.
In Canada, the demand for premium pet food and accessories is increasing at a fast rate as pet owners are willing to spend more on their pets and have started to seek high-quality products that can extend their longevity and improve the quality of life of their pets. In Mexico, modern retail channels like supermarkets and hypermarkets are focusing on expanding their selling space dedicated to pet food and accessories offerings.
In the US, the pet humanization trend is driving the growth of the market. In line with this, the owners of pet dogs and cats are increasingly spending on premium products like accessories as per the requirements of the pets. Also, it has been observed that the pet humanization trend is particularly prominent among millennial consumers in the country; this results in the continued growth of premium dog and cat accessories, which is anticipated to drive market growth as millennials in the country constitute one of the largest groups of pet owners.
In the US, the sales of dog and cat products are high, especially through specialty pet stores. However, e-commerce emerged as one of the major competitors to pet specialists as online retailers offer the same specialty brands as pet shops or superstores, with the added convenience of home delivery and recurring order programs. Recently, many mergers and acquisitions (M&A) have happened among online retailers, which will have a destabilizing effect on traditional business models during the forecast period.
The outbreak of COVID-19 hampered the growth of the market in 2020. However,  the large-scale COVID-19 vaccination drives initiated across the region led to the removal of lockdown restrictions and the reopening of pet accessory manufacturing operations. With the lifting of lockdown restrictions, consumers could shop again from offline stores; thus, the demand from the offline distribution segment increased. Additionally, due to the easing of restrictions, supply chains for these accessories also resumed, which propelled higher demand for these products. Thus, the regional market is expected to grow during the forecast period.
Parent Market Analysis
Technavio categorizes the global pet accessories market as a part of the global leisure products market within the global household durables market. The parent market, the global leisure products market, covers a variety of categories, including sports equipment, musical instruments, camping equipment, recreational vehicles, bicycles, toys, and other consumer-oriented games. Our research report has extensively covered external factors influencing the parent market growth during the forecast period.
Segment Overview
The report forecasts market growth by revenue at global, regional & country levels and provides an analysis of the latest trends and growth opportunities from 2017 to 2027. The market has been segmented by End-user (Dogs, Cats, and Others), Product (Pet toys and Others), Distribution Channel (Offline and Online), and Geography (North America, Europe, APAC, South America, and Middle East and Africa).
End-user Outlook (USD Million, 2017 - 2027)
Product Outlook (USD Million, 2017 - 2027)
Distribution Channel Outlook (USD Million, 2017 - 2027)
Region Outlook (USD Million, 2017 - 2027)

Europe

U.K.
Germany
France
Rest of Europe

Middle East & Africa

Saudi Arabia
South Africa
Rest of the Middle East & Africa

South America
Pet Accessories Market Scope

Report Coverage

Details

Page number

173

Base year

2022

Historic period

2017-2021

Forecast period

2023-2027

Growth momentum & CAGR

Accelerate at a CAGR of 6.2%

Market growth 2023-2027

USD 13,243.92 million

Market structure

Fragmented

YoY growth 2022-2023(%)

5.7

Regional analysis

North America, Europe, APAC, South America, and Middle East and Africa

Performing market contribution

North America at 43%

Key countries

US, China, Japan, Germany, and UK

Competitive landscape

Leading Vendors, Market Positioning of Vendors, Competitive Strategies, and Industry Risks

Key companies profiled

Ancol Pet Products Ltd., Blueberry Pet, Designer Pet Products, Dobbies Garden Centres Ltd., Ferplast Spa, Hagen Group, Inter IKEA Holding BV, KandH Pet Products, Laroy Group, Petcraft, Pets Choice Ltd., Platinum Pets, Prevue Pet Products, Rosewood Pet Products Ltd., Spectrum Brands Holdings Inc., Tailpetz, Unicharm Corp., Ware Manufacturing Inc., Go Pet Club, and Honest Pet Products LLC

Market dynamics

Parent market analysis, Market growth inducers and obstacles, Fast-growing and slow-growing segment analysis, COVID-19 impact and recovery analysis and future consumer dynamics, Market condition analysis for the forecast period

Customization purview

If our report has not included the data that you are looking for, you can reach out to our analysts and get segments customized.
What are the Key Data Covered in this Pet Accessories Market Report?
CAGR of the pet care market during the forecast period
Detailed information on factors that will drive the growth of the pet care market

 

between 2023 and 2027
Precise estimation of the market size and its contribution to the market in focus on the parent market
Accurate predictions about upcoming trends and changes in consumer behavior
Growth of the industry across North America, Europe, APAC, South America, and the Middle East and Africa
A thorough analysis of the market's competitive landscape and detailed information about vendors
Comprehensive analysis of factors that will challenge the growth of the market vendors
We can help! Our analysts can customize this report to meet your requirements. Get in touch