Pet Accessories Market Report 2023-2027 
The pet accessories market size is estimated to grow by USD 13,243.92  million at a CAGR of 6.2% between 2023 and 2027. The growth of the market depends on several factors, including the increase in the number of people owning pets and increased spending on pets, the availability of a wide range of fashionable and multifunctional pet additions, and technology innovation and portfolio extension leading to product premiumization.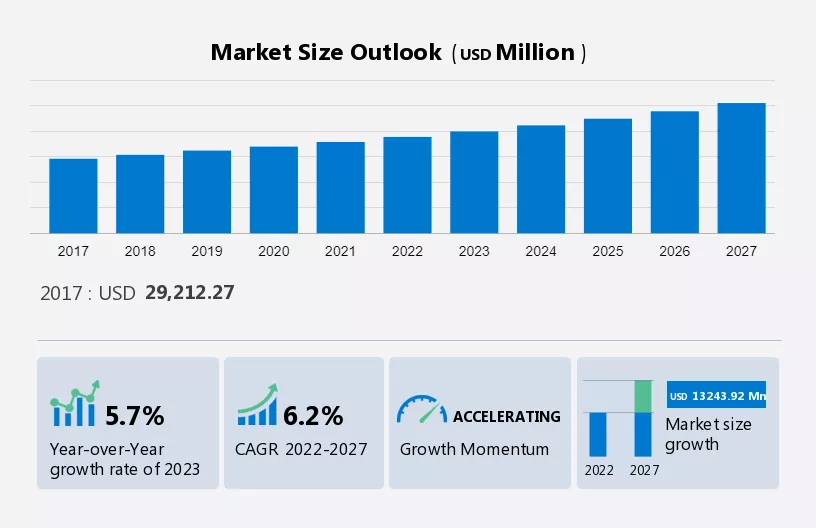 To learn more about this report, Download Sample PDF
This pet accessories market report extensively covers market segmentation by End-user (dogs, cats, and others), Product (pet toys and others), Distribution Channel (offline and online), and Geography (North America, Europe, APAC, South America, and Middle East and Africa). It also includes an in-depth analysis of drivers, trends, and challenges. Furthermore, the report includes historic market data from 2017 - 2021.
The increase in number of people owning pets and increased spending on pets is a key factor driving the market growth. In 2021, pet ownership and spending showed a substantial increase compared to the past decade. The American Pet Products Association reports that about two-thirds of US households own pets, with increased spending on veterinary care, accessories, and food. In 2020, 67% of US households owned pets, with millennials being the largest pet owner segment, particularly for birds, small exotic companions, and saltwater fish, with over 80% owning dogs and about 50% owning cats.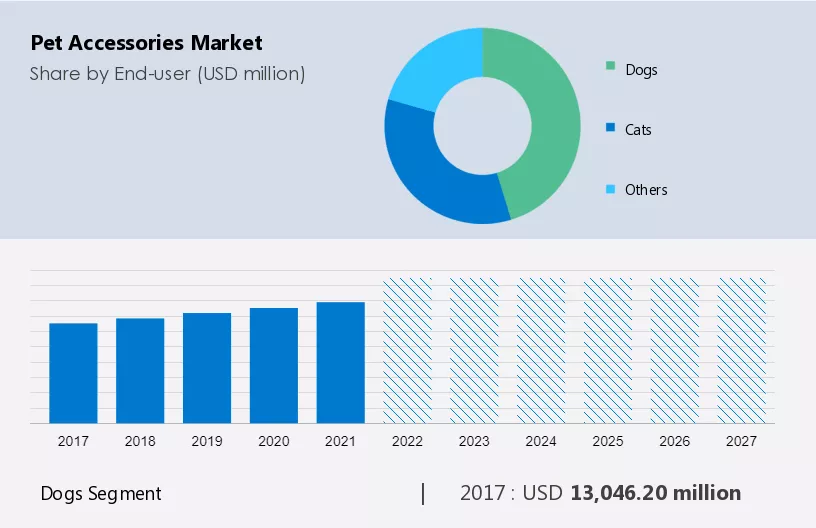 Get a glance at the market contribution of various segments Download Sample PDF
The dog segment shows a gradual increase in the market share of USD 13,046.20 million in 2017 and continued to grow until 2021. Dogs demand a lot of space and attention. Working couples in nuclear families often buy pet furniture for their dogs. They also enjoy high preference among people who live in apartments and do not have gardens or porches for their pets to live in. Subsequently, these factors are expected to drive the segment. Although the adoption of other types of pets, such as birds and rabbits, is lower than dogs and cats, their adoption is expected to gain traction during the forecast period. Hence, the share of this segment is expected to increase.

The advent of smart accessories is one of the major pet care market trends. Vendors invest in R&D for affluent customer appeal, creating smart beds that monitor pets' weight, rest, and activity while providing thermostatic climate control. Smart-connected pet collars with cameras offer live updates and voice commands. Automatic feeders ensure pets are fed when owners are busy. Future trends include the launch of more connected smart accessories.
The pet care market faces challenges with infrequent purchases and a low replacement cycle for accessories. Pet owners buy these items when needed, and due to their durability, replacements are infrequent. These high-quality accessories often have a longer lifespan, requiring replacement only for new pets or due to damage. Maintenance costs are minimal, reducing the frequency of purchases, a significant growth impediment. Additionally, product recalls pose a threat, affecting a company's reputation, trust, and finances, and hindering market growth in the forecast period.
Pet Accessories Market Regions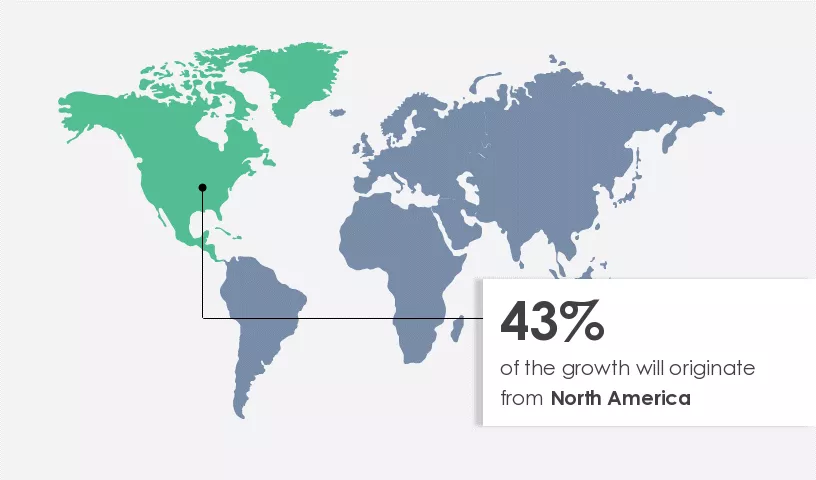 For more insights on the market share of various regions Download PDF Sample now!
North America is estimated to contribute 43% to the growth of the global market during the forecast period. Technavio's analysts have elaborately explained the regional trends and drivers that shape the market during the forecast period.
The North American market experiences growth driven by high interest in pet ownership, particularly in the US, Canada, and Mexico. The increasing elderly population seeking companionship contributes to a high pet adoption rate. The pet humanization trend, treating pets as family, leads to substantial spending on premium accessories, especially in North America with its numerous nuclear and dual-income households. In Canada, demand for premium pet products rises as owners prioritize longevity and improved quality of life. Mexico's modern retail channels expand pet food and accessory offerings.
In the US, the pet humanization trend fuels market growth, with dog and cat owners, particularly millennials, spending on premium accessories. Specialty pet stores dominate sales, but e-commerce poses a significant challenge, offering convenience and recurring order programs. Mergers and acquisitions among online retailers may disrupt traditional business models in the forecast period.
Key Companies and Market Share Pet Accessories Market Analysis
Companies are implementing various strategies, such as strategic alliances, partnerships, mergers and acquisitions, geographical expansion, and product/service launches, to enhance their presence in the market.
Spectrum Brands Holdings Inc. - The company operates under multiple segments, including home and personal care, and global pet care among others, with a high focus on home and personal care.? 
The research report also includes detailed analyses of the competitive landscape of the market and information about 15 market companies, including:
Ancol Pet Products Ltd.
Blueberry Pet
Designer Pet Products
Dobbies Garden Centres Ltd.
Ferplast Spa
Hagen Group
Inter IKEA Holding BV
KandH Pet Products
Laroy Group
Petcraft
Pets Choice Ltd.
Platinum Pets
Prevue Pet Products
Rosewood Pet Products Ltd.
Tailpetz
Unicharm Corp.
Ware Manufacturing Inc.
Go Pet Club
Honest Pet Products LLC
Qualitative and quantitative analysis of companies has been conducted to help clients understand the wider business environment as well as the strengths and weaknesses of key market players. Data is qualitatively analyzed to categorize companies as pure play, category-focused, industry-focused, and diversified; it is quantitatively analyzed to categorize companies as dominant, leading, strong, tentative, and weak.
Pet Accessories Market Scope

Report Coverage

Details

Page number

173

Base year

2022

Historic period

2017 - 2021

Forecast period

2023-2027

Growth momentum & CAGR

Accelerate at a CAGR of 6.2%

Market growth 2023-2027

USD 13243.92 million

Market structure

Fragmented

YoY growth 2022-2023(%)

5.7

Regional analysis

North America, Europe, APAC, South America, and Middle East and Africa

Performing market contribution

North America at 43%

Key countries

US, China, Japan, Germany, and UK

Competitive landscape

Leading Companies, Market Positioning of Companies, Competitive Strategies, and Industry Risks

Key companies profiled

Ancol Pet Products Ltd., Blueberry Pet, Designer Pet Products, Dobbies Garden Centres Ltd., Ferplast Spa, Hagen Group, Inter IKEA Holding BV, KandH Pet Products, Laroy Group, Petcraft, Pets Choice Ltd., Platinum Pets, Prevue Pet Products, Rosewood Pet Products Ltd., Spectrum Brands Holdings Inc., Tailpetz, Unicharm Corp., Ware Manufacturing Inc., Go Pet Club, and Honest Pet Products LLC

Market dynamics

Parent market analysis, Market growth inducers and obstacles, Fast-growing and slow-growing segment analysis, COVID 19 impact and recovery analysis and future consumer dynamics, Market condition analysis for forecast period

Customization purview

If our report has not included the data that you are looking for, you can reach out to our analysts and get segments customized.
What are the Key Data Covered in this Pet Accessories Market Research Report?
CAGR of the market during the forecast period
Detailed information on factors that will drive the growth of the

market 

between 2023 and 2027
Precise estimation of the size of the market  size and its contribution of the market in focus to the parent market
Accurate predictions about upcoming trends and changes in consumer behaviour
Growth of the market industry across North America, Europe, APAC, South America, and Middle East and Africa
Thorough analysis of the market's competitive landscape and detailed information about companies
Comprehensive analysis of factors that will challenge the growth of market companies
We can help! Our analysts can customize this market research report to meet your requirements. 
1 Executive Summary
1.1 Market overview

Exhibit 01: Executive Summary – Chart on Market Overview
Exhibit 02: Executive Summary – Data Table on Market Overview
Exhibit 03: Executive Summary – Chart on Global Market Characteristics
Exhibit 04: Executive Summary – Chart on Market by Geography
Exhibit 05: Executive Summary – Chart on Market Segmentation by End-user
Exhibit 06: Executive Summary – Chart on Market Segmentation by Product
Exhibit 07: Executive Summary – Chart on Market Segmentation by Distribution Channel
Exhibit 08: Executive Summary – Chart on Incremental Growth
Exhibit 09: Executive Summary – Data Table on Incremental Growth
Exhibit 10: Executive Summary – Chart on Vendor Market Positioning
2 Market Landscape
2.1 Market ecosystem

Exhibit 11: Parent market
Exhibit 12: Market Characteristics
3 Market Sizing
3.1 Market definition

Exhibit 13: Offerings of vendors included in the market definition
3.2 Market segment analysis

Exhibit 14: Market segments
3.4 Market outlook: Forecast for 2022-2027

Exhibit 15: Chart on Global - Market size and forecast 2022-2027 ($ million)
Exhibit 16: Data Table on Global - Market size and forecast 2022-2027 ($ million)
Exhibit 17: Chart on Global Market: Year-over-year growth 2022-2027 (%)
Exhibit 18: Data Table on Global Market: Year-over-year growth 2022-2027 (%)
4 Historic Market Size
4.1 Global pet accessories market 2017 - 2021

Exhibit 19: Historic Market Size – Data Table on Global pet accessories market 2017 - 2021 ($ million)
4.2 End-user Segment Analysis 2017 - 2021

Exhibit 20: Historic Market Size – End-user Segment 2017 - 2021 ($ million)
4.3 Product Segment Analysis 2017 - 2021

Exhibit 21: Historic Market Size – Product Segment 2017 - 2021 ($ million)
4.4 Distribution channel Segment Analysis 2017 - 2021

Exhibit 22: Historic Market Size – Distribution channel Segment 2017 - 2021 ($ million)
4.5 Geography Segment Analysis 2017 - 2021

Exhibit 23: Historic Market Size – Geography Segment 2017 - 2021 ($ million)
4.6 Country Segment Analysis 2017 - 2021

Exhibit 24: Historic Market Size – Country Segment 2017 - 2021 ($ million)
5 Five Forces Analysis
5.1 Five forces summary

Exhibit 25: Five forces analysis - Comparison between 2022 and 2027
5.2 Bargaining power of buyers

Exhibit 26: Chart on Bargaining power of buyers – Impact of key factors 2022 and 2027
5.3 Bargaining power of suppliers

Exhibit 27: Bargaining power of suppliers – Impact of key factors in 2022 and 2027
5.4 Threat of new entrants

Exhibit 28: Threat of new entrants – Impact of key factors in 2022 and 2027
5.5 Threat of substitutes

Exhibit 29: Threat of substitutes – Impact of key factors in 2022 and 2027
5.6 Threat of rivalry

Exhibit 30: Threat of rivalry – Impact of key factors in 2022 and 2027
5.7 Market condition

Exhibit 31: Chart on Market condition - Five forces 2022 and 2027
6 Market Segmentation by End-user
6.1 Market segments

Exhibit 32: Chart on End-user - Market share 2022-2027 (%)
Exhibit 33: Data Table on End-user - Market share 2022-2027 (%)
6.2 Comparison by End-user

Exhibit 34: Chart on Comparison by End-user
Exhibit 35: Data Table on Comparison by End-user
6.3 Dogs - Market size and forecast 2022-2027

Exhibit 36: Chart on Dogs - Market size and forecast 2022-2027 ($ million)
Exhibit 37: Data Table on Dogs - Market size and forecast 2022-2027 ($ million)
Exhibit 38: Chart on Dogs - Year-over-year growth 2022-2027 (%)
Exhibit 39: Data Table on Dogs - Year-over-year growth 2022-2027 (%)
6.4 Cats - Market size and forecast 2022-2027

Exhibit 40: Chart on Cats - Market size and forecast 2022-2027 ($ million)
Exhibit 41: Data Table on Cats - Market size and forecast 2022-2027 ($ million)
Exhibit 42: Chart on Cats - Year-over-year growth 2022-2027 (%)
Exhibit 43: Data Table on Cats - Year-over-year growth 2022-2027 (%)
6.5 Others - Market size and forecast 2022-2027

Exhibit 44: Chart on Others - Market size and forecast 2022-2027 ($ million)
Exhibit 45: Data Table on Others - Market size and forecast 2022-2027 ($ million)
Exhibit 46: Chart on Others - Year-over-year growth 2022-2027 (%)
Exhibit 47: Data Table on Others - Year-over-year growth 2022-2027 (%)
6.6 Market opportunity by End-user

Exhibit 48: Market opportunity by End-user ($ million)
7 Market Segmentation by Product
7.1 Market segments

Exhibit 49: Chart on Product - Market share 2022-2027 (%)
Exhibit 50: Data Table on Product - Market share 2022-2027 (%)
7.2 Comparison by Product

Exhibit 51: Chart on Comparison by Product
Exhibit 52: Data Table on Comparison by Product
7.3 Pet toys - Market size and forecast 2022-2027

Exhibit 53: Chart on Pet toys - Market size and forecast 2022-2027 ($ million)
Exhibit 54: Data Table on Pet toys - Market size and forecast 2022-2027 ($ million)
Exhibit 55: Chart on Pet toys - Year-over-year growth 2022-2027 (%)
Exhibit 56: Data Table on Pet toys - Year-over-year growth 2022-2027 (%)
7.4 Others - Market size and forecast 2022-2027

Exhibit 57: Chart on Others - Market size and forecast 2022-2027 ($ million)
Exhibit 58: Data Table on Others - Market size and forecast 2022-2027 ($ million)
Exhibit 59: Chart on Others - Year-over-year growth 2022-2027 (%)
Exhibit 60: Data Table on Others - Year-over-year growth 2022-2027 (%)
7.5 Market opportunity by Product

Exhibit 61: Market opportunity by Product ($ million)
8 Market Segmentation by Distribution Channel
8.1 Market segments

Exhibit 62: Chart on Distribution Channel - Market share 2022-2027 (%)
Exhibit 63: Data Table on Distribution Channel - Market share 2022-2027 (%)
8.2 Comparison by Distribution Channel

Exhibit 64: Chart on Comparison by Distribution Channel
Exhibit 65: Data Table on Comparison by Distribution Channel
8.3 Offline - Market size and forecast 2022-2027

Exhibit 66: Chart on Offline - Market size and forecast 2022-2027 ($ million)
Exhibit 67: Data Table on Offline - Market size and forecast 2022-2027 ($ million)
Exhibit 68: Chart on Offline - Year-over-year growth 2022-2027 (%)
Exhibit 69: Data Table on Offline - Year-over-year growth 2022-2027 (%)
8.4 Online - Market size and forecast 2022-2027

Exhibit 70: Chart on Online - Market size and forecast 2022-2027 ($ million)
Exhibit 71: Data Table on Online - Market size and forecast 2022-2027 ($ million)
Exhibit 72: Chart on Online - Year-over-year growth 2022-2027 (%)
Exhibit 73: Data Table on Online - Year-over-year growth 2022-2027 (%)
8.5 Market opportunity by Distribution Channel

Exhibit 74: Market opportunity by Distribution Channel ($ million)
9 Customer Landscape
9.1 Customer landscape overview

Exhibit 75: Analysis of price sensitivity, lifecycle, customer purchase basket, adoption rates, and purchase criteria
10 Geographic Landscape
10.1 Geographic segmentation

Exhibit 76: Chart on Market share by geography 2022-2027 (%)
Exhibit 77: Data Table on Market share by geography 2022-2027 (%)
10.2 Geographic comparison

Exhibit 78: Chart on Geographic comparison
Exhibit 79: Data Table on Geographic comparison
10.3 North America - Market size and forecast 2022-2027

Exhibit 80: Chart on North America - Market size and forecast 2022-2027 ($ million)
Exhibit 81: Data Table on North America - Market size and forecast 2022-2027 ($ million)
Exhibit 82: Chart on North America - Year-over-year growth 2022-2027 (%)
Exhibit 83: Data Table on North America - Year-over-year growth 2022-2027 (%)
10.4 Europe - Market size and forecast 2022-2027

Exhibit 84: Chart on Europe - Market size and forecast 2022-2027 ($ million)
Exhibit 85: Data Table on Europe - Market size and forecast 2022-2027 ($ million)
Exhibit 86: Chart on Europe - Year-over-year growth 2022-2027 (%)
Exhibit 87: Data Table on Europe - Year-over-year growth 2022-2027 (%)
10.5 APAC - Market size and forecast 2022-2027

Exhibit 88: Chart on APAC - Market size and forecast 2022-2027 ($ million)
Exhibit 89: Data Table on APAC - Market size and forecast 2022-2027 ($ million)
Exhibit 90: Chart on APAC - Year-over-year growth 2022-2027 (%)
Exhibit 91: Data Table on APAC - Year-over-year growth 2022-2027 (%)
10.6 South America - Market size and forecast 2022-2027

Exhibit 92: Chart on South America - Market size and forecast 2022-2027 ($ million)
Exhibit 93: Data Table on South America - Market size and forecast 2022-2027 ($ million)
Exhibit 94: Chart on South America - Year-over-year growth 2022-2027 (%)
Exhibit 95: Data Table on South America - Year-over-year growth 2022-2027 (%)
10.7 Middle East and Africa - Market size and forecast 2022-2027

Exhibit 96: Chart on Middle East and Africa - Market size and forecast 2022-2027 ($ million)
Exhibit 97: Data Table on Middle East and Africa - Market size and forecast 2022-2027 ($ million)
Exhibit 98: Chart on Middle East and Africa - Year-over-year growth 2022-2027 (%)
Exhibit 99: Data Table on Middle East and Africa - Year-over-year growth 2022-2027 (%)
10.8 US - Market size and forecast 2022-2027

Exhibit 100: Chart on US - Market size and forecast 2022-2027 ($ million)
Exhibit 101: Data Table on US - Market size and forecast 2022-2027 ($ million)
Exhibit 102: Chart on US - Year-over-year growth 2022-2027 (%)
Exhibit 103: Data Table on US - Year-over-year growth 2022-2027 (%)
10.9 China - Market size and forecast 2022-2027

Exhibit 104: Chart on China - Market size and forecast 2022-2027 ($ million)
Exhibit 105: Data Table on China - Market size and forecast 2022-2027 ($ million)
Exhibit 106: Chart on China - Year-over-year growth 2022-2027 (%)
Exhibit 107: Data Table on China - Year-over-year growth 2022-2027 (%)
10.10 Germany - Market size and forecast 2022-2027

Exhibit 108: Chart on Germany - Market size and forecast 2022-2027 ($ million)
Exhibit 109: Data Table on Germany - Market size and forecast 2022-2027 ($ million)
Exhibit 110: Chart on Germany - Year-over-year growth 2022-2027 (%)
Exhibit 111: Data Table on Germany - Year-over-year growth 2022-2027 (%)
10.11 UK - Market size and forecast 2022-2027

Exhibit 112: Chart on UK - Market size and forecast 2022-2027 ($ million)
Exhibit 113: Data Table on UK - Market size and forecast 2022-2027 ($ million)
Exhibit 114: Chart on UK - Year-over-year growth 2022-2027 (%)
Exhibit 115: Data Table on UK - Year-over-year growth 2022-2027 (%)
10.12 Japan - Market size and forecast 2022-2027

Exhibit 116: Chart on Japan - Market size and forecast 2022-2027 ($ million)
Exhibit 117: Data Table on Japan - Market size and forecast 2022-2027 ($ million)
Exhibit 118: Chart on Japan - Year-over-year growth 2022-2027 (%)
Exhibit 119: Data Table on Japan - Year-over-year growth 2022-2027 (%)
10.13 Market opportunity by geography

Exhibit 120: Market opportunity by geography ($ million)
11 Drivers, Challenges, and Trends
11.3 Impact of drivers and challenges

Exhibit 121: Impact of drivers and challenges in 2022 and 2027
12 Vendor Landscape
12.2 Vendor landscape

Exhibit 122: Overview on Criticality of inputs and Factors of differentiation
12.3 Landscape disruption

Exhibit 123: Overview on factors of disruption
12.4 Industry risks

Exhibit 124: Impact of key risks on business
13 Vendor Analysis
13.1 Vendors covered

Exhibit 125: Vendors covered
13.2 Market positioning of vendors

Exhibit 126: Matrix on vendor position and classification
13.3 Ancol Pet Products Ltd.

Exhibit 127: Ancol Pet Products Ltd. - Overview
Exhibit 128: Ancol Pet Products Ltd. - Product / Service
Exhibit 129: Ancol Pet Products Ltd. - Key offerings
13.4 Blueberry Pet

Exhibit 130: Blueberry Pet - Overview
Exhibit 131: Blueberry Pet - Product / Service
Exhibit 132: Blueberry Pet - Key offerings
13.5 Designer Pet Products

Exhibit 133: Designer Pet Products - Overview
Exhibit 134: Designer Pet Products - Product / Service
Exhibit 135: Designer Pet Products - Key offerings
13.6 Dobbies Garden Centres Ltd.

Exhibit 136: Dobbies Garden Centres Ltd. - Overview
Exhibit 137: Dobbies Garden Centres Ltd. - Product / Service
Exhibit 138: Dobbies Garden Centres Ltd. - Key offerings
13.7 Ferplast Spa

Exhibit 139: Ferplast Spa - Overview
Exhibit 140: Ferplast Spa - Product / Service
Exhibit 141: Ferplast Spa - Key offerings
13.8 Go Pet Club

Exhibit 142: Go Pet Club - Overview
Exhibit 143: Go Pet Club - Product / Service
Exhibit 144: Go Pet Club - Key offerings
13.9 Hagen Group

Exhibit 145: Hagen Group - Overview
Exhibit 146: Hagen Group - Product / Service
Exhibit 147: Hagen Group - Key offerings
13.10 Inter IKEA Holding BV

Exhibit 148: Inter IKEA Holding BV - Overview
Exhibit 149: Inter IKEA Holding BV - Product / Service
Exhibit 150: Inter IKEA Holding BV - Key news
Exhibit 151: Inter IKEA Holding BV - Key offerings
13.11 Laroy Group

Exhibit 152: Laroy Group - Overview
Exhibit 153: Laroy Group - Product / Service
Exhibit 154: Laroy Group - Key offerings
13.12 Petcraft

Exhibit 155: Petcraft - Overview
Exhibit 156: Petcraft - Product / Service
Exhibit 157: Petcraft - Key offerings
13.13 Pets Choice Ltd.

Exhibit 158: Pets Choice Ltd. - Overview
Exhibit 159: Pets Choice Ltd. - Product / Service
Exhibit 160: Pets Choice Ltd. - Key offerings
13.14 Rosewood Pet Products Ltd.

Exhibit 161: Rosewood Pet Products Ltd. - Overview
Exhibit 162: Rosewood Pet Products Ltd. - Product / Service
Exhibit 163: Rosewood Pet Products Ltd. - Key offerings
13.15 Spectrum Brands Holdings Inc.

Exhibit 164: Spectrum Brands Holdings Inc. - Overview
Exhibit 165: Spectrum Brands Holdings Inc. - Business segments
Exhibit 166: Spectrum Brands Holdings Inc. - Key news
Exhibit 167: Spectrum Brands Holdings Inc. - Key offerings
Exhibit 168: Spectrum Brands Holdings Inc. - Segment focus
13.16 Unicharm Corp.

Exhibit 169: Unicharm Corp. - Overview
Exhibit 170: Unicharm Corp. - Business segments
Exhibit 171: Unicharm Corp. - Key offerings
Exhibit 172: Unicharm Corp. - Segment focus
13.17 Ware Manufacturing Inc.

Exhibit 173: Ware Manufacturing Inc. - Overview
Exhibit 174: Ware Manufacturing Inc. - Product / Service
Exhibit 175: Ware Manufacturing Inc. - Key offerings
14 Appendix
14.2 Inclusions and exclusions checklist

Exhibit 176: Inclusions checklist
Exhibit 177: Exclusions checklist
14.3 Currency conversion rates for US$

Exhibit 178: Currency conversion rates for US$
14.4 Research methodology

Exhibit 179: Research methodology
Exhibit 180: Validation techniques employed for market sizing
Exhibit 181: Information sources
14.5 List of abbreviations

Exhibit 182: List of abbreviations