The protein therapeutics market size is estimated to grow at a CAGR of 9.14% between 2022 and 2027. The market size is forecast to increase by USD 153.56 billion. The growth of the market depends on several factors, including increased demand for mAbs, the development of novel therapies using innovative technologies, and the availability of favorable reimbursement policies. 
This protein therapeutics market report extensively covers market segmentation by product (mABs, human insulin, erythropoietin, clotting factors, and others), application (metabolic disorders, immunologic disorders, hematological disorders, cancer, and genetic disorders), and geography (North America, Europe, Asia, and Rest of World (ROW)). It also includes an in-depth analysis of drivers, trends, and challenges. Furthermore, the report includes historic market data from 2017 to 2021.
What will be the size of the Protein Therapeutics Market During the Forecast Period?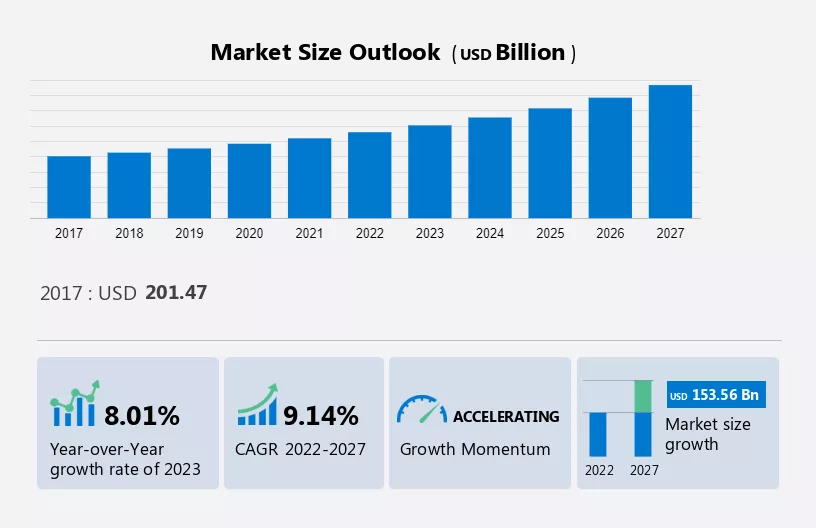 To learn more about this report, View Report Sample
Protein Therapeutics Market: Key Drivers, Trends, Challenges, and Customer Landscape
The availability of favorable reimbursement policies is notably driving the market growth, although factors such as complicated regulatory framework may impede the market growth. Our researchers analyzed the data with 2022 as the base year and the key drivers, trends, and challenges. A holistic analysis of drivers will help companies refine their marketing strategies to gain a competitive advantage.
Key Protein Therapeutics Market Driver
The availability of favorable reimbursement policies is notably driving market growth.  Although reimbursement of diagnostic tools and biological medicines is anticipated to drive the market during the forecast period, protein therapeutics are expensive and cannot be afforded by everyone. Plans like public reimbursement schemes lessen the cost of treatments. The status of drug reimbursement varies from region to region, with cost-effectiveness and other factors preventing coverage. However, the increasing demand for costly drugs is an important reason for these drugs to be included in reimbursement plans.
Medicare and Medicaid reimbursement plans are anticipated to have an impact on how diseases like diabetes, which have high prevalence and incidence rates in the US, are perceived globally. Medicare covers beneficiaries who are 65 years of age or older, have end-stage renal disease, and are younger than 65 but have certain disabilities. People with diabetes or those who are at risk for developing it are helped by the Medicare Part B plan. By providing reimbursement, insurance coverage ensures better disease control and motivates people to choose treatment. Such factors are expected to drive the growth of the global market during the forecast period.
Significant Protein Therapeutics Market Trends
The increase in chronic diseases is an emerging trend in market growth. One of the leading causes of disabilities and fatalities across the world is chronic diseases. Type 2 diabetes, cancer, chronic obstructive pulmonary disease, and CVDs are the four main chronic diseases. These illnesses are caused by unhealthy diets, lack of exercise, tobacco use, high blood pressure, high cholesterol, and obesity.
Exercise, a better diet, as well as early detection and treatment therapy, for which protein therapeutics are necessary, can prevent and manage chronic diseases like heart disease, asthma, cancer, and diabetes, which are typically incurable illnesses or conditions. As a result, the use of cutting-edge therapies like protein therapeutics has increased along with the prevalence of chronic diseases. Hence, such factors are expected to drive the growth of the global market during the forecast period.
Major Protein Therapeutics Market Challenge
The complicated regulatory framework is a major challenge impeding the market growth. Obtaining regulatory approval is frequently challenging, unpredictable, and arbitrary. Before being approved and put on the market, protein therapeutics must pass a variety of strict regulations. Globally speaking, the US is currently lagging behind other regulated markets, particularly the EU, in terms of the competition from biosimilar products. Despite the absence of new competitors, the US market for biosimilars continues to garner interest. The approval and regulatory framework in which biosimilar developers must operate is the first and most important factor that is anticipated to determine the future of the biosimilar market in the US. Many vendors are making investments in it because it appears to be a lucrative market.
On the other hand, strict laws are upheld in Europe to protect people by ensuring their safety and effectiveness. The market has better traction in most European nations, though, where the approval process is a little bit faster than it is in the US. The majority of technical difficulties in every region are caused by the creation of new products that become apparent during the clinical trial stage. Vendors may incur costs, create uncertainty, or affect other trials if they fail to provide clinical data with encouraging results in a particular area. Vendors who are creating new protein therapeutics in the market may experience difficulties as a result. Hence, all these factors will fuel the market growth during the forecast period. 
Key Protein Therapeutics Market Customer Landscape
The report includes the adoption lifecycle of the market, covering from the innovator's stage to the laggard's stage. It focuses on adoption rates in different regions based on penetration. Furthermore, the report also includes key purchase criteria and drivers of price sensitivity to help companies evaluate and develop their growth strategies.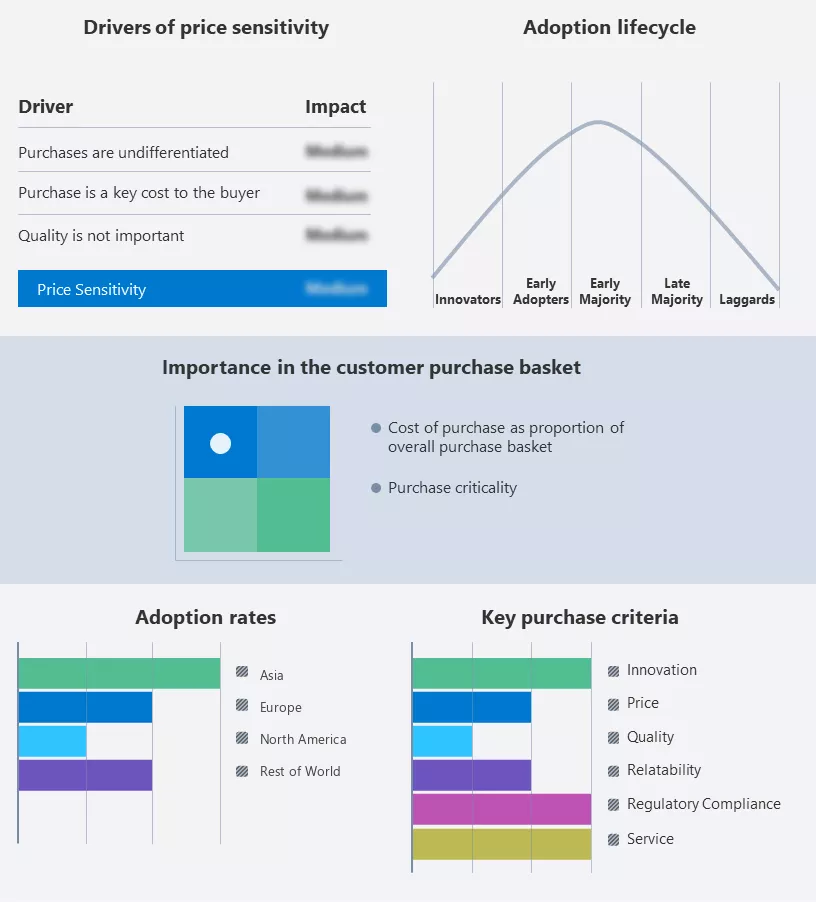 Global Protein Therapeutics Market Customer Landscape
Who are the Major Protein Therapeutics Market Vendors?
Vendors are implementing various strategies, such as strategic alliances, partnerships, mergers and acquisitions, geographical expansion, and product/service launches, to enhance their presence in the market.
Amgen Inc. - The company focuses on discovering, developing, manufacturing, and delivering innovative human therapeutics. The key offerings of the company include protein therapeutics such as Amgen fusion protein.
The report also includes detailed analyses of the competitive landscape of the market and information about 15 market vendors, including:
AbbVie Inc.
AstraZeneca Plc
Biocon Ltd.
Biogen Inc.
Bristol Myers Squibb Co.
Celltrion Healthcare Co. Ltd.
Creative Biolabs
Eli Lilly and Co.
F. Hoffmann La Roche Ltd.
Intas Pharmaceuticals Ltd.
Ipsen Pharma
Johnson and Johnson Services Inc.
LGM Pharma LLC
Midas Pharma GmbH
Novartis AG
Qualitative and quantitative analysis of vendors has been conducted to help clients understand the wider business environment as well as the strengths and weaknesses of key market players. Data is qualitatively analyzed to categorize vendors as pure play, category-focused, industry-focused, and diversified; it is quantitatively analyzed to categorize vendors as dominant, leading, strong, tentative, and weak.
What is the Fastest-Growing Segment in the Protein Therapeutics Market?
The market share growth by the MAbs segment will be significant during the forecast period. The market for protein therapeutics is anticipated to expand as a result of rising cancer rates and the advantages of next-generation antibodies. Because of alterations in lifestyle, such as smoking, drinking, and sedentary employment, the burden of cancer is increasing. Due to this, sales of MAbs such as GAZYVA, BLINCYTO, Removab, and Poteligeo, four major next-generation antibodies used to treat cancer, have increased.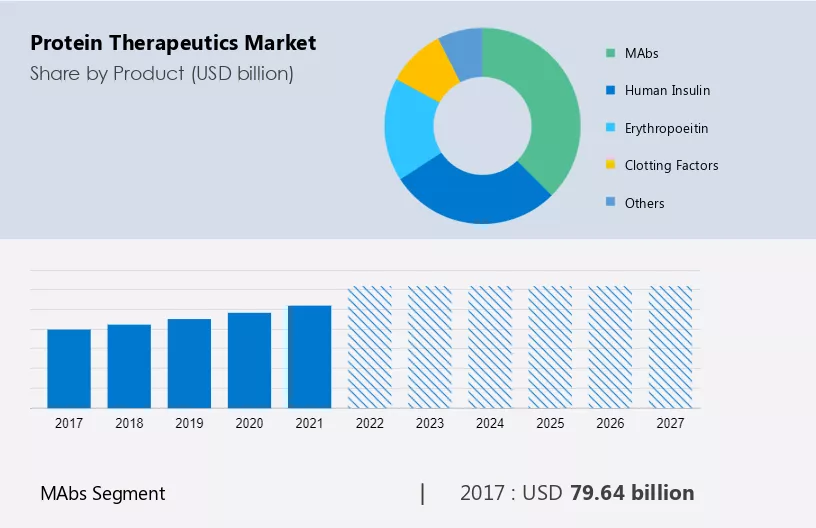 Get a glance at the market contribution of various segments View the PDF Sample
The MAbs segment was valued at USD 79.64 billion in 2017 and continued to grow until 2021. ADCs are powerful cytotoxic drugs connected to mAbs. These medications have been demonstrated to be effective and potent in the treatment of various illnesses, including cancer and hematological malignancies. As a result, vendors are showing interest in cutting-edge technologies like ImmunoGens IMGN, Immunomedics IMMU, and Seattle Genetics SGEN. Additionally, the increased use of ADCs in drug development boosts sales on the international market. The market is also driven by the introduction of immune checkpoint inhibitors. The first immune checkpoint inhibitor to receive regulatory approval for treating cancer was ipilimumab (YERVOY) in 2011. The only two anti-PD-1 therapies approved by the US Food and Drug Administration (FDA) and the European Medicines Agency (EMA) to treat melanoma are pembrolizumab (KEYTRUDA) and nivolumab (OPDIVO). Pembrolizumab, however, demonstrated efficacy in treating bladder cancer, urothelial cancer, head and neck cancer, gastric cancer, NHL, breast cancer, and lung cancer. They are also being studied for the treatment of multiple tumors. Hence, all such factors will fuel the market growth during the forecast period. 
Which are the Key Regions for the Protein Therapeutics Market?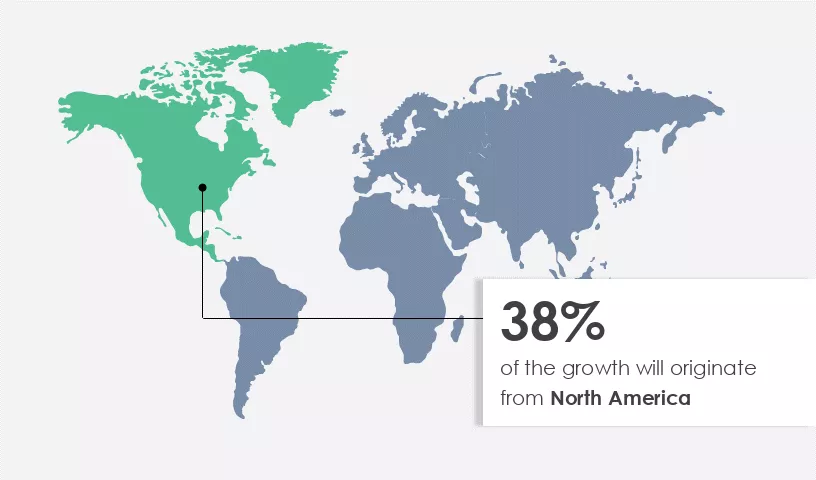 For more insights on the market share of various regions Download PDF Sample now!
North America is estimated to contribute 38% to the growth of the global market during the forecast period. Technavio's analysts have elaborately explained the regional trends and drivers that shape the market during the forecast period.
Due to increased demand for already-available protein therapeutics and the introduction of fresh ones, the market in North America is expanding quickly. For instance, Bristol-Myers Squibb introduced OPDIVO (nivolumab) for the treatment of advanced renal cell carcinoma and received approval from the US FDA for the treatment of HL. Novartis introduced Cosentyx to treat autoimmune and inflammatory diseases. Additionally, the market will grow as certain formulations receive accelerated approvals. This is because these designations will grant quick approvals for the products in the pipeline and market exclusivities for the medications that have already received approval. More vendors will be inspired to engage in R&D activities and enter the market as a result. 
The rising incidence of cancer, autoimmune diseases, metabolic diseases, musculoskeletal disorders, central nervous system disorders, and blood disorders is the main factor driving the market in this area. In the US, an estimated 20,000 people have been diagnosed with hemophilia, and 75–85 percent of those people have hemophilia A. Additionally, according to research, 400 newborns in the US are affected by hemophilia every year. In addition, the anticipated launch of drugs such as brodalumab by AstraZeneca and Valeant Pharmaceuticals to treat autoimmune and inflammatory disorders will help in market growth during the forecast period. Furthermore, patient assistance programs offered by governmental and non-governmental organizations are anticipated to fuel the market growth during the forecast period. 
The outbreak of COVID-19 negatively impacted the growth of the market in 2020. However, the start of vaccination campaigns in 2021 resulted in the restart of business activities, including the protein therapeutics supply chain. Due to the rise in demand for protein therapeutics, the regional market for protein therapeutics experienced growth in 2021, and growth returned to pre-pandemic levels. Due to their high specificity and low immunogenicity, protein therapeutics are increasingly being used to treat conditions like cancer, diabetes, and multiple sclerosis. Hence, such factors are expected to drive the growth of the regional market during the forecast period.
Segment Overview
The protein therapeutics market report forecasts market growth by revenue at global, regional & country levels and provides an analysis of the latest trends and growth opportunities from 2017 to 2027. 
Product Outlook (USD Billion, 2017 - 2027)

MAbs
Human insulin
Erythropoietin
Clotting factors
Others
Application Outlook (USD Billion, 2017 - 2027)

Metabolic disorders
Immunologic disorders
Hematological disorders
Cancer
Genetic disorders
Region Outlook (USD Billion, 2017 - 2027)

Europe

U.K.
Germany
France
Rest of Europe

Rest of World

Saudi Arabia
South Africa
Others
Parent Market Analysis
Technavio categorizes the global protein therapeutics market as a part of the global pharmaceuticals market within the overall healthcare industry. The parent, the global pharmaceuticals, market covers products and companies engaged in R&D or the production of generic drugs, non-generic drugs, and veterinary drugs. Our market research report has extensively covered external factors influencing the parent market growth during the forecast period.
Protein Therapeutics Market Scope

Report Coverage

Details

Page number

180

Base year

2022

Historic period

2017-2021

Forecast period

2023-2027

Growth momentum & CAGR

Accelerate at a CAGR of 9.14%

Market growth 2023-2027

USD 153.56 billion

Market structure

Fragmented

YoY growth 2022-2023(%)

8.01

Regional analysis

North America, Europe, Asia, and Rest of World (ROW)

Performing market contribution

North America at 38%

Key countries

US, Canada, Germany, UK, and China

Competitive landscape

Leading Vendors, Market Positioning of Vendors, Competitive Strategies, and Industry Risks

Key companies profiled

AbbVie Inc., Amgen Inc., AstraZeneca Plc, Biocon Ltd., Biogen Inc., Bristol Myers Squibb Co., Celltrion Healthcare Co. Ltd., Creative Biolabs, Eli Lilly and Co., F. Hoffmann La Roche Ltd., Intas Pharmaceuticals Ltd., Ipsen Pharma, Johnson and Johnson Services Inc., LGM Pharma LLC, Midas Pharma GmbH, Novartis AG, Novo Nordisk AS, Pfizer Inc., PV Pharma Healthcare Pvt. Ltd., and Sanofi SA

Market dynamics

Parent market analysis, Market growth inducers and obstacles, Fast-growing and slow-growing segment analysis, COVID-19 impact and recovery analysis and future consumer dynamics, Market condition analysis for the forecast period. 

Customization purview

If our report has not included the data that you are looking for, you can reach out to our analysts and get segments customized.
What are the Key Data Covered in this Protein Therapeutics Market Research Report?
CAGR of the market during the forecast period
Detailed information on factors that will drive the growth of the protein therapeutics market between 2023 and 2027
Precise estimation of the size of the protein therapeutics market size and its contribution to the market in focus on the parent market
Accurate predictions about upcoming trends and changes in consumer behavior
Growth of the market industry across North America, Europe, Asia, and Rest of World (ROW)
Thorough analysis of the market's competitive landscape and detailed information about vendors
Comprehensive analysis of factors that will challenge the growth of protein therapeutics market vendors
We can help! Our analysts can customize this market research report to meet your requirements. Get in touch