The robotic cells market is estimated to decline at a CAGR of 9.41% between 2022 and 2027. The size of the market is forecast to increase by USD 33,078.65 million. The growth of the market depends on several factors, including the technological advances in the integration of robotic cells, the rising industrial automation, and the increasing penetration of pre-configured robotic cells.
This report extensively covers market segmentation by application (material handling, welding and soldering, assembly, and others), type (turnkey cells and custom cells), and geography (APAC, Europe, North America, South America, and Middle East and Africa). It also includes an in-depth analysis of drivers, trends, and challenges. Furthermore, the report includes historic market data from 2017 to 2021.
What will be the size of the Robotic Cells Market During the Forecast Period?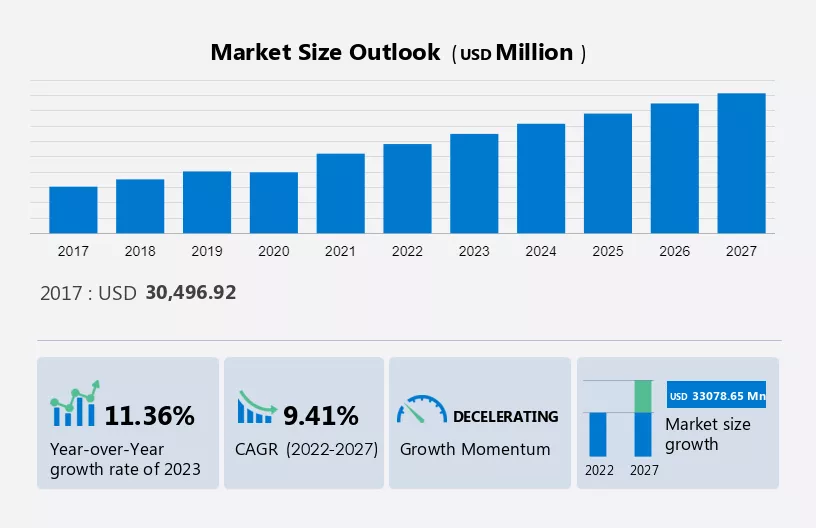 To learn more about this report, Download Report Sample
Robotic Cells Market: Key Drivers, Trends, Challenges, and Customer Landscape
The rising industrial automation is notably driving the market growth, although factors such as high cost of adopting robotic cells may impede the market growth. Our researchers analyzed the data with 2022 as the base year, along with the key drivers, trends, and challenges. A holistic analysis of drivers will help companies refine their marketing strategies to gain a competitive advantage.
Key Robotic Cells Market Driver
Increasing industrial automation is a key factor driving the growth of the global robotic cell market. In a highly competitive manufacturing environment, many companies are focusing on automating their manufacturing equipment. To eliminate manual, repetitive, and clerical tasks and reduce labor costs, companies are replacing human workers with intelligent robots such as collaborative robots and professional robots. They also use robotic cells to perform different tasks together, increasing productivity and saving time. The automotive, consumer electronics, healthcare, and industrial sectors are increasingly using intelligent robots to automate operations in manufacturing plants.
Another factor that is driving the growth of the market in focus is the ability of articulated and selective compliance articulated robot arm (SCARA) robots to perform complex tasks in industrial applications. They are useful for complicated motion paths and applications, such as machine tending, which require high precision in part orientation and arm movement. These robotic arms use torque motors for their operations. These robots are utilized for their adaptability and finesse in conducting operations. The growing preference for articulated and SCARA robots is expected to have a major impact on the growth of the market during the forecast period.
Significant Robotic Cells Market Trend
The increasing adoption of IIoT is the primary trend in the global robotic cells market growth. The development of the IIoT and technological enhancements have fueled the adoption of robotics in industries. The high demand for and use of smart devices, wireless technologies, and cloud technologies will influence the future of robotic cells in terms of the range of utility and mode of operation. With rising competition, vendors are offering attractive options, such as services and control modules, through smart devices and Wi-Fi technology for collaborative robots from remote locations.
These devices are more flexible and convenient in operations and allow a single human operator to guide and control multiple robotic cells simultaneously. The IIoT assimilates smart machines, warehouses, robotic cells, and entire production facilities to achieve corporate goals and key performance indicators (KPIs). The integration of the IIoT in a factory transforms it into a connected and synchronized unit. This will also drive the demand for robotic cells during the forecast period.
Major Robotic Cells Market Challenge
The high cost of adopting robotic cells is a major challenge for the growth of the market. System integrators need to work on devising methods to reduce any loss of time or money, which is incurred by end-users by availing the services offered by them for the deployment of industrial robotic cells. The integration of robotic cells involves procedures such as the signing of contracts and legalities, competitive bidding, and evaluations before the robotic cells are implemented and used. It is essential that the vendors in the market come up with innovations that ensure that the pre-purchase processes are cost-effective and less time-consuming for end-users.
Moreover, to seamlessly integrate these systems into their operations, it is also essential that employees in industries go through relevant training sessions. These on-site training sessions incur costs as trainers need to be hired, and the travel and accommodation expenses of the training faculty also need to be met. This increases the eventual total cost of ownership for the end user. To ensure that high costs are avoided, it is essential that system integrators make the services involved more cost-effective and less troublesome for companies seeking to invest in robotic cells. Thus, the high cost of adopting robotic cells is expected to hamper the growth of the market during the forecast period.
Key Robotic Cells Market Customer Landscape
The report includes the adoption lifecycle of the market, covering from the innovator's stage to the laggard's stage. It focuses on adoption rates in different regions based on penetration. Furthermore, the report also includes key purchase criteria and drivers of price sensitivity to help companies evaluate and develop their growth strategies.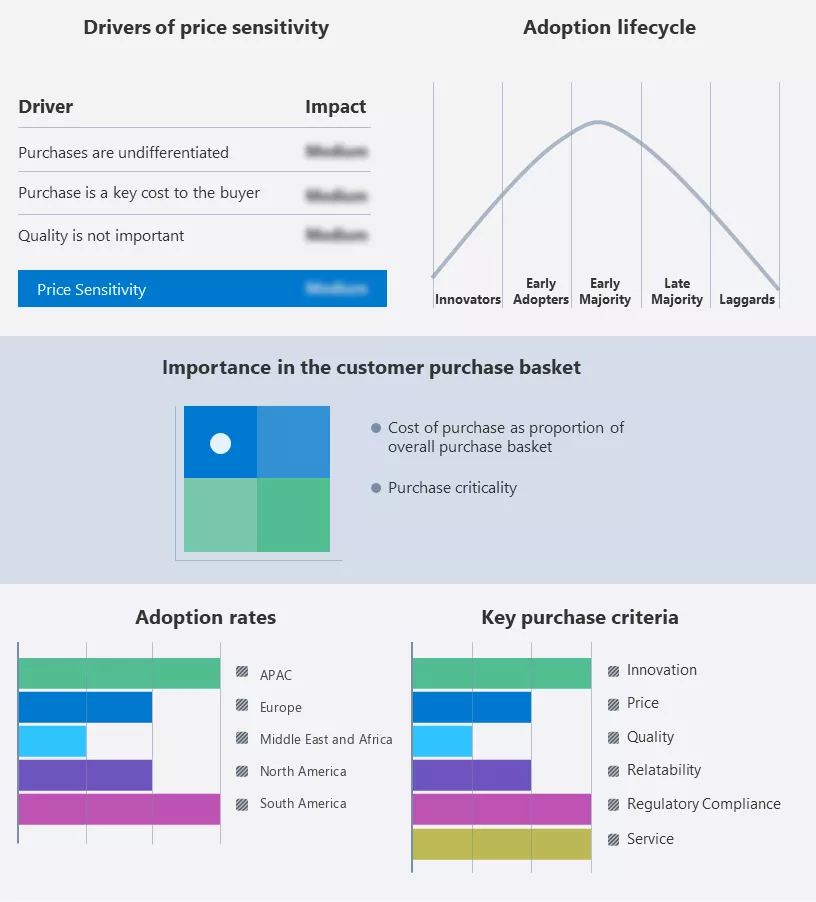 Global Robotic Cells Market Customer Landscape
Who are the Major Robotic Cells Market Vendors?
Vendors are implementing various strategies, such as strategic alliances, partnerships, mergers and acquisitions, geographical expansion, and product/service launches, to enhance their presence in the market.
amtecsolutionsgroup.com - The company offers robotic cells such as production cells. Also, this segment focuses on designing, building, and installing custom automated robotic manufacturing solutions.
The report also includes detailed analyses of the competitive landscape of the market and information about 15 market vendors, including:
ABB Ltd.
ABL Automazione Spa
Arcos Srl
Bystronic Laser AG
Carl Cloos Schweisstechnik GmbH
Desarrollo de Maquinas y Soluciones Automaticas SL
Evomatic AB
Hitachi Ltd.
HUMARD Automation SA
IPG Photonics Corp.
KC Robotics Inc.
Maquinaria Electronica Esmerilado y Pulido SA
Mexx Engineering
Okuma Corp.
Peak Analysis and Automation Ltd.
Qualitative and quantitative analysis of vendors has been conducted to help clients understand the wider business environment as well as the strengths and weaknesses of key market players. Data is qualitatively analyzed to categorize vendors as pure play, category-focused, industry-focused, and diversified; it is quantitatively analyzed to categorize vendors as dominant, leading, strong, tentative, and weak.
What is the Fastest-Growing Segment in the Robotic Cells Market?
The market share growth by the material handling segment will be significant during the forecast period. Material handling robots are used in various industries, such as automotive, electrical and electronics, industrial machinery, and food and beverage, to automate material handling applications. In the automotive industry, material handling robots are used for heavy payload handling applications, the transfer of heavy materials, and the placing of windscreens at sufficient heights, which allows the nearby human operator to inspect them thoroughly before fixation. Such factors will increase segment growth during the forecast period.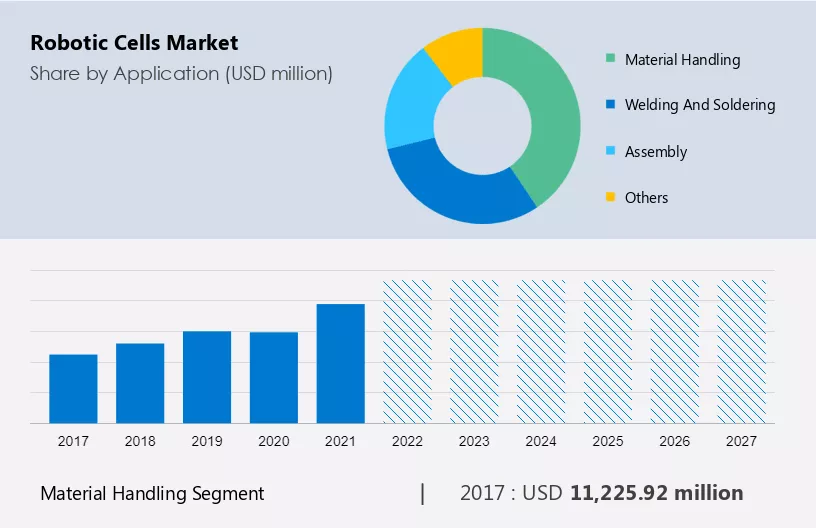 Get a glance at the market contribution of various segments Request a PDF Sample
The material handling segment was valued at USD 11,225.92 million in 2017 and continue to grow by 2021. The rising application of robots for material handling is driving the market. This is due to the ability of robots to work on multiple processes simultaneously and to improve process efficiency. Material handling robots are used for several repetitive tasks, such as pick and place, hard turn, grinding, milling, horning, hobbing, milling, turning, packaging, palletizing and depalletizing, and the handling of products in cleanroom environments. In addition, machine loading and unloading operations require robots to load and unload parts in a production machine, and these robots need to be equipped with a gripper to grasp different parts. These grippers are designed specifically for a particular part geometry.
Which are the Key Regions for the Robotic Cells Market?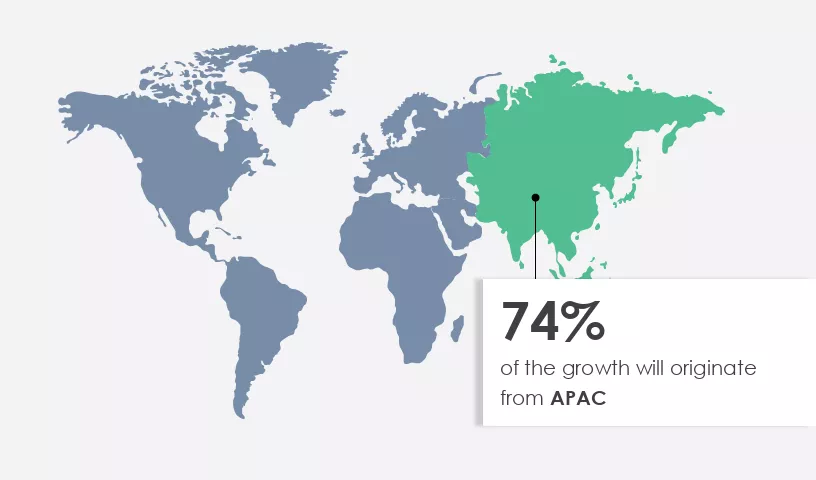 For more insights on the market share of various regions Request PDF Sample now!
APAC is estimated to contribute 74% to the growth of the global market during the forecast period. Technavio's analysts have elaborately explained the regional trends and drivers that shape the market during the forecast period. The increasing investment in communication network infrastructure in APAC is leading to the growth of the connected devices ecosystem. This is facilitating the implementation of autonomous mobile robots (AMRs). During 2019-2024, the telecommunication operators in the region are expected to invest more than $300 billion in building 5G networks. IoT connections in the region are expected to reach 10 million by 2024.  Moreover, the robotic cells market in APAC is witnessing a strong growth rate due to the rise in the focus of end-users, such as the automotive and manufacturing industries, for factory automation. Countries such as China, Australia, Japan, India, Singapore, and South Korea are likely to see a surge in demand for industrial robots during the forecast period.
In 2020, the robotic cells market in APAC witnessed certain challenges due to the outbreak of COVID-19. However, in 2021, as a result of the large-scale COVID-19 vaccination drives carried out in the region, lockdown restrictions were lifted in many nations in APAC. This led to the resumption of many industrial and construction activities across end-user industries, which, in turn, boosted the demand for robotic cells in the region. Such factors are anticipated to fuel the growth of the market in APAC during the forecast period.
Segment Overview
The report forecasts market growth by revenue at global, regional & country levels and provides an analysis of the latest trends and growth opportunities from 2017 to 2027. 
Application Outlook (USD Million, 2017 - 2027)

Material handling
Welding and soldering
Assembly
Others
Type Outlook (USD Million, 2017 - 2027)

Turnkey cells
Custom cells
Region Outlook (USD Million, 2017 - 2027)

Europe

The U.K.
Germany
France
Rest of Europe

Middle East & Africa

Saudi Arabia
South Africa
Rest of the Middle East & Africa
Robotic Cells Market Scope

Report Coverage

Details

Page number

170

Base year

2022

Historic period

2017-2021

Forecast period

2023-2027

Growth momentum & CAGR

Decelerate at a CAGR of 9.41%

Market growth 2023-2027

USD 33,078.65 million

Market structure

Fragmented

YoY growth 2022-2023(%)

11.36

Regional analysis

APAC, Europe, North America, South America, and Middle East and Africa

Performing market contribution

APAC at 74%

Key countries

US, China, Japan, South Korea, and Germany

Competitive landscape

Leading Vendors, Market Positioning of Vendors, Competitive Strategies, and Industry Risks

Key companies profiled

ABB Ltd., ABL Automazione Spa, Amtec Solutions Group Inc., Arcos Srl, Bystronic Laser AG, Carl Cloos Schweisstechnik GmbH, Desarrollo de Maquinas y Soluciones Automaticas SL, Evomatic AB, Hitachi Ltd., HUMARD Automation SA, IPG Photonics Corp., KC Robotics Inc., Maquinaria Electronica Esmerilado y Pulido SA, Mexx Engineering, Okuma Corp., Peak Analysis and Automation Ltd., PROMOT Automation GmbH, Remtech Systems, RITM Industry LLC, and Scott Technology Ltd.

Market dynamics

Parent market analysis, Market growth inducers and obstacles, Fast-growing and slow-growing segment analysis, COVID-19 impact and recovery analysis and future consumer dynamics, Market condition analysis for forecast period.

Customization purview

If our report has not included the data that you are looking for, you can reach out to our analysts and get segments customized.
What are the Key Data Covered in this Robotic Cells Market Report?
CAGR of the market during the forecast period
Detailed information on factors that will drive the growth of the robotic cells market between 2023 and 2027
Precise estimation of the size of the robotic cells market size and its contribution to the parent market
Accurate predictions about upcoming trends and changes in consumer behavior
Growth of the market industry across APAC, Europe, North America, South America, and Middle East and Africa
Thorough analysis of the market's competitive landscape and detailed information about vendors
Comprehensive analysis of factors that will challenge the growth of robotic cells market vendors
We can help! Our analysts can customize this report to meet your requirements. Get in touch