Robotics Market Report 2023-2027:
The Robotics Market size is estimated to grow at a CAGR of 7.71% between 2022 and 2027 and the size of the market is forecast to increase by USD 22,269.7 million. The growth of the market depends on several factors, such as the emergence of medical robotics, stringent health and safety regulations, and technological advances in robot hardware.
This robotics market report extensively covers market segmentation by application (industrial and services), end-user (manufacturing, healthcare, aerospace and defense, media and entertainment, and others), and geography (APAC, Europe, North America, Middle East and Africa, and South America). It also includes an in-depth analysis of drivers, trends, and challenges. 
What will be the Size of the Robotics Market During the Forecast Period?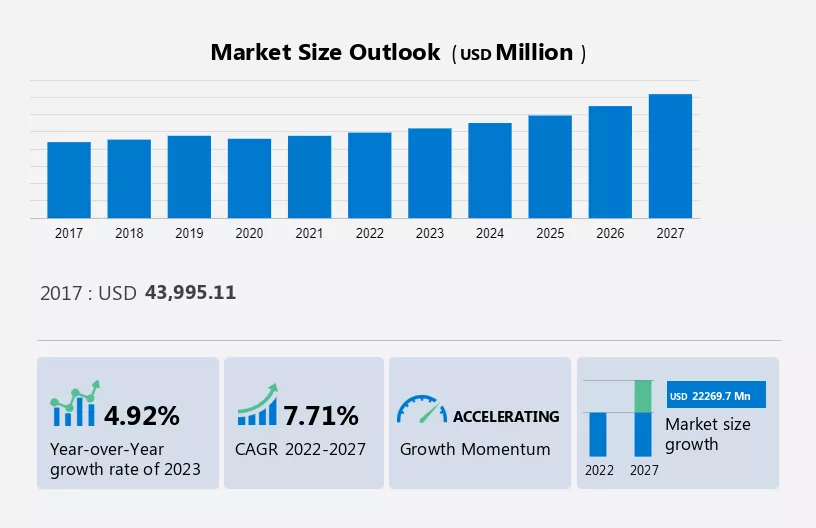 To learn more about this report, Request Free Sample
Robotics Market Definition
A robot is an automated operator control system that is used to speed up industrial processes, applications, and productivity by minimizing the requirement for manual workers. Any robotic system is a combination of hardware that includes the robot and its allied components, a control system, software that is installed in the control panel, and services regarding the installation and after-sales services.
Key Drivers, Trends and Challenges
Our researchers analyzed the data with 2022 as the base year, along with the key drivers, trends, and challenges. A holistic analysis of drivers will help companies refine their marketing strategies to gain a competitive advantage.
Key  Driver
Stringent health and safety regulations are the key factor driving the global robotics market growth. The need for personal safety and the reduction of work-related injuries has led the industry to adopt safe material handling equipment. Some industries, such as automotive and heavy oil chemicals, involve harsh working environments and constant exposure to toxic substances. These processes pose a high risk to human workers and can lead to accidents. Conventional handling of materials during processing can lead to permanent product damage and changes in material properties, and can also cause material contamination. Occupational injuries and physical exhaustion of human workers are common on assembly lines and can waste plenty of resources on industry players. This has led companies to use robotics to improve employee safety.
Robots can perform routine operations in a systematic manner with minimal human intervention, eliminating risks to human life. The use of robots not only reduces the risk of accidents but also ensures product safety, leading to cost savings for companies. Other costs arising from safety-related incidents include lost personnel, equipment damage, legal costs, lost production, investments in corrective actions, and replacement worker costs. As safe working environments become more important, more companies are expected to invest in robotics. Therefore, increasing the adoption of robots in the industry to reduce the number of accidents will boost the growth of the market during the forecast period. 

Significant Trends
The government initiatives in Europe to improve the robotics industry will fuel the global robotics market growth. Launched in December 2013, Horizon 2020 is the EU's largest research and innovation program worth USD 88.68 billion. The investment was made by European leaders and members of the European Parliament. Robotics is recognized as an important resource that can secure an edge in the global market.

European governments will help SMEs integrate industrial robots to improve efficiency and create local job opportunities. European production capacity will receive a positive boost by improving the performance and efficiency of SMEs. This will increase employment and create new jobs as companies can enter new markets that are considered expensive and inaccessible due to labor costs.  Europe can therefore compete with economies that have advantages such as low labor costs and high automation rates. This will encourage small businesses to integrate more robotics into their factories for tasks such as metal casting. Hence, such government initiatives will boost the growth of the market during the forecast period.  
Major  Challenge
A shortage of skilled personnel can majorly impede the growth of the market.  One of the major obstacles that could affect the market is the lack of technical know-how in the workforce. Human personnel requires knowledge of how robots work and regular maintenance to keep them running smoothly. Such lack of technical know-how often discourages end-users from using robots, as they see the downtime required for maintenance work as a significant loss. This is a challenge as end users are reluctant to learn and apply new operational technologies. Companies in the robotics market are trying to solve these problems by offering 24/7 remote support and services through cloud monitoring and other advanced services, but this is not the case for all companies. In order to differentiate themselves in the market, companies have to employ online and offline training and consulting methods to ensure that less tech-savvy end users get the support they need.

Lack of skilled operators and proper training creates a constant reluctance to undertake large-scale robotic automation as it requires significant investment in time, training, and budget for successful implementation. Familiarity with new technology and the reluctance of end-users to switch to new technology also influences the growth of the market. Therefore, the shortage of skilled manpower to operate robots is likely to hamper the growth of the market during the forecast period.  
Who are the Major Robotics Market Companies?
Companies are implementing various strategies, such as strategic alliances, partnerships, mergers and acquisitions, geographical expansion, and product/service launches, to enhance their presence in the market.
ABB Ltd: The company offers different types of robotics products for different industries. It also offers electrification and building management solutions.
Clearpath Robotics Inc: The company manufactures, and researches industrial robot applications and offers educational mobile robots and hardware components.
We also have detailed analyses of the market's competitive landscape and offer information on 18 market companies, including:
Cyberdyne Inc.
DENSO Corp.
FANUC Corp.
GEA Group AG
Honeywell International Inc.
Intuitive Surgical Inc.
Kawasaki Heavy Industries Ltd.
KION GROUP AG
L3Harris Technologies Inc.
Lely International NV
MIDEA Group
OMRON Corp.
Relay Robotics Inc.
SMP Robotics Systems Corp.
Teradyne Inc.
The Boeing Co.
Zebra Technologies Corp.
Irobot Corp.
The report offers, clients a deeper understanding of the market and its players through a combined qualitative and quantitative analysis of the companies. The analysis classifies companies into categories based on their business approach, including pure-play, category-focused, industry-focused, and diversified. Companies are specially categorized into dominant, leading, strong, tentative, and weak to understand the dos and don'ts of business which in turn can help a client make the best decision.
Robotics Market Segmentation by Application, End-user, and Geography 
Application Analysis
The industrial segment will contribute a major share of the market, due to its use in various industrial applications such as material handling, assembly and disassembly, welding and brazing, cutting, deburring, grinding, painting, sealing, bonding, and clean room applications. The industrial segment showed a gradual increase in market share with USD 31,057.52 million in 2017 and continued to grow by 2021. Industrial robots will get a big boost from SMEs in China, Japan, and Western European countries such as India, Taiwan, the United States, and Canada, as well as countries outside Central and Eastern Europe. Manufacturers across all industries are expected to increasingly adopt intelligent manufacturing technologies including robotics, automation, AI, and cloud computing during the forecast period.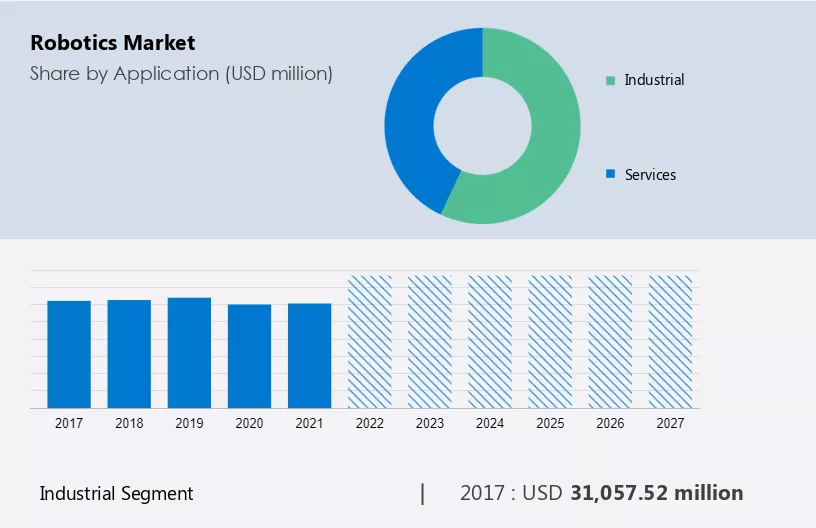 Get a Customised Report as per your requirements for FREE!
Over the years, industry players have placed increasing emphasis on improving production efficiency, operational excellence, and competitive advantage in a highly competitive scenario. Companies are increasingly turning to robotics to reduce costs and lead times, reduce human interaction to improve safety, and increase production throughout. Automotive, Metals & Engineering, and Electrical & Electronics industries will continue to thrive due to heavy investments over the forecast period to improve production capacity and production, and a focus on lightweight materials and energy efficiency achievable through the installation of industrial robots. Therefore, the increasing use of robots in major end-use industries such as automotive, metals and mining, food and beverages, etc. will boost the demand for industrial robots and spur the growth of the market during the forecast period. 
End-user Analysis
Robots play a crucial role in streamlining the manufacturing process by handling repetitive tasks. They are widely utilized in various manufacturing operations, including material handling, machining, assembly, and inspection. These robots efficiently transfer materials, operate tools for machining, and perform tasks like spot welding and spray painting. As labor costs rise, the adoption of robots in assembly and inspection is expected to increase. The market has witnessed significant growth as more companies invest in robotic systems to enhance manufacturing processes and take advantage of Industry 4.0 technologies. The integration of robots into manufacturing processes is expected to positively impact the robotics market during the forecast period.
Regional Analysis
APAC is estimated to contribute 49% to the growth by 2027. Technavio's analysts have elaborately explained the regional trends, drivers, and challenges that are expected to shape the market during the forecast period.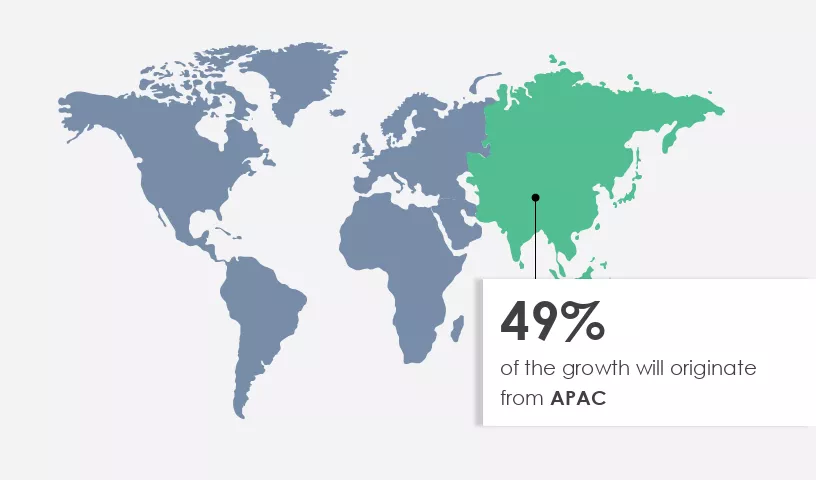 For more insights on the market share of various regions View PDF Sample now!
Government initiatives, increasing demand for locally manufactured vehicles, and APAC's strong manufacturing sector are some of the key factors leading to the growth of the market in this region. Automakers in countries such as China and India are investing more in manufacturing plant automation solutions to improve productivity and reduce cycle times, giving them a competitive advantage over other players. Major growth in the APAC region comes from countries such as China, India, Japan, and South Korea. During the forecast period, the demand for robots will increase as manufacturers adopt robotics and automation to address shortcomings from outdated equipment and technology, unstable production, and reliance on manual labor.
Covid Recovery Analysis:
The market faced certain challenges during COVID-19. The overall economy, supply chains, industrial, commercial, and service sectors were severely impacted. To prevent the spread of the disease many countries imposed nationwide lockdowns, leading to temporary closures of transport, industry, construction, hotels, shopping malls, and other activities. The temporary closure reduced the use of robotics. This hindered the growth of the market in 2020. However, the healthcare industry increased its use of robotics during the COVID-19 pandemic. For example, in early 2020, a hospital in Chennai, India used service robotics to deliver food and medicines to COVID-19 patients. In addition, increasing development in the healthcare industry, increasing installation of robots in end-use industries such as manufacturing and automotive, and increasing adoption of Industry 4.0 propelled the growth of the market during the forecast period. 
Technavio's Exclusive Robotics Market Customer Landscape
The report includes the adoption lifecycle of the market, covering from the innovator's stage to the laggard's stage. It focuses on adoption rates in different regions based on penetration. Furthermore, the report also includes key purchase criteria and drivers of price sensitivity to help companies evaluate and develop their growth strategies.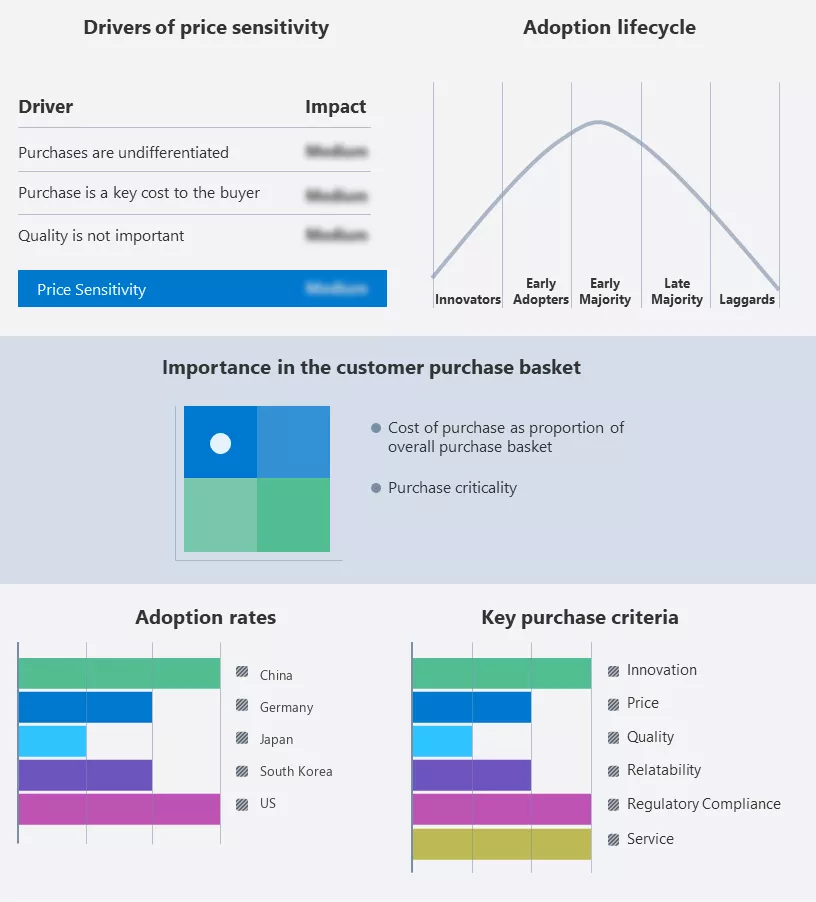 Global Robotics Market Customer Landscape
Segment Overview
The robotics market report forecasts market growth by revenue at global, regional & country levels and provides an analysis of the latest trends and growth opportunities from 2017 to 2027. 
Application Outlook (USD Million, 2017 - 2027)
End-user Outlook (USD Million, 2017 - 2027)

Manufacturing
Healthcare
Aerospace and defense
Media and entertainment
Others
Region Outlook (USD Million, 2017 - 2027)

Europe

The U.K.
Germany
France
Rest of Europe

South America
Middle East & Africa

Saudi Arabia
South Africa
Rest of the Middle East & Africa
Robotics Market Scope

Report Coverage

Details

Page number

189

Base year

2022

Historic period

2017-2021

Forecast period

2023-2027

Growth momentum & CAGR

Accelerate at a CAGR of 7.71%

Market growth 2023-2027

USD 22,269.7 million

Market structure

Fragmented

YoY growth 2022-2023(%)

4.92

Regional analysis

APAC, Europe, North America, Middle East and Africa, and South America

Performing market contribution

APAC at 49%

Key countries

US, China, Japan, South Korea, and Germany

Competitive landscape

Leading Companies, Market Positioning of Companies, Competitive Strategies, and Industry Risks

Key companies profiled

ABB Ltd., Clearpath Robotics Inc., Cyberdyne Inc., DENSO Corp., FANUC Corp., GEA Group AG, Honeywell International Inc., Intuitive Surgical Inc., Kawasaki Heavy Industries Ltd., KION GROUP AG, L3Harris Technologies Inc., Lely International NV, MIDEA Group, OMRON Corp., Relay Robotics Inc., SMP Robotics Systems Corp., Teradyne Inc., The Boeing Co., Zebra Technologies Corp., and Irobot Corp.

Market dynamics

Parent market analysis, Market growth inducers and obstacles, Fast-growing and slow-growing segment analysis, COVID 19 impact and recovery analysis and future consumer dynamics, Market condition analysis for forecast period

Customization purview

If our report has not included the data that you are looking for, you can reach out to our analysts and get segments customized.
What are the Key Data Covered in this Robotics Market Research Report?
CAGR of the market during the forecast period
Detailed information on factors that will drive the growth of the

robotics market

between 2023 and 2027
Precise estimation of the size of the robotics market size and its contribution to the parent market
Accurate predictions about upcoming trends and changes in consumer behavior
Growth of the market industry across APAC, Europe, North America, Middle East and Africa, and South America
A thorough analysis of the market's competitive landscape and detailed information about companies
Comprehensive analysis of factors that will challenge the growth of robotics market companies
We can help! Our analysts can customize this market research report to meet your requirements. Get in touch