Smart Glasses Market – Industry Trends and Forecast 2023
The Global Smart Glass Market size is estimated to grow by USD 65.75 million between 2022 and 2027  exhibiting a CAGR of 13.35%. The growth of the market depends on several factors, including the implementation of automation in the industrial sector, an increase in the number of crowdfunding campaigns, and the growing adoption of AR gaming by individuals.
This report extensively covers market segmentation by Product (developer and commercial), End-user (enterprise and individual), and Geography (North America, Europe, APAC, South America, and Middle East and Africa). It also includes an in-depth analysis of drivers, trends, and challenges. Furthermore, the report includes historic market data from 2017 to 2021.
What will be the  Smart Glass Market Size During the Forecast Period?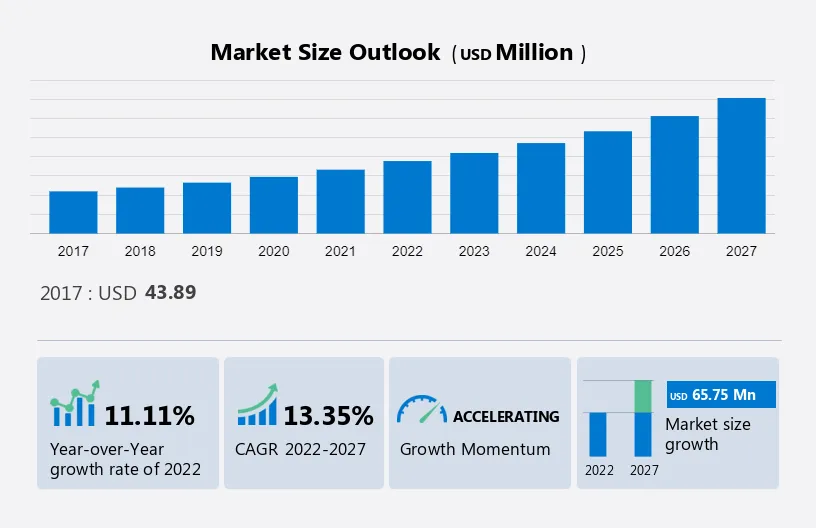 Smart Glass Market Definition
Smart glasses are fitted with a small display and can also be used as conventional glasses. They function like helmet-mounted displays but are sleeker than them. In this report, the devices that have a see-through display and resemble a pair of normal eyeglasses are considered smart glasses. These devices use Augmented Reality (AR) technology that blends digital content with the physical world. Devices such as Microsoft's HoloLens are used to display computer-generated /images in a user's field of vision and to provide relevant information about objects in the real world. It allows the user to scan the real-world environment and provides an enhanced or augmented experience by adding computer-generated information.
Smart Glass Market: Key Drivers, Trends, Challenges
Our researchers analyzed the data with 2022 as the base year, along with the key drivers, trends, and challenges. A holistic analysis of drivers, trends, and challenges will help companies refine their marketing strategies to gain a competitive advantage. 
Key Smart Glass Market Driver
The implementation of automation in the industrial sector is a major factor driving the market growth. Automation plays a prime role in the manufacturing industry as automation solutions carry out complex manufacturing processes. Industrial automation enables high efficiency, the predictive maintenance of machines, and good safety; it also increases profitability. The growing implementation of automation across industries is providing possible opportunities for the use of smart glasses in industrial automation. Some manufacturers are adopting smart glasses to close their skill gaps quickly and bring critical information to the front line of the workforce. Some smart glasses companies that implemented industrial automation include:
In October 2020, AGL Automation Ltd, a provider of process automation solutions, announced a partnership with Epson to introduce augmented reality into its portfolio using Epson's Moverio BT-350 smart glasses.
As the demand for industrial automation in factories rises, the need for smart glasses is expected to increase substantially, which will drive the growth of the global smart glasses market.
Significant Smart Glass Market Trends
The rise in the number of strategic partnerships and acquisitions is a key smart glass market trend.  The number of strategic partnerships and acquisitions is rising in the global smart glasses market. Strategic partnerships and acquisitions enable vendors to improve their services, expand their geographic presence, strengthen their market position, and develop innovative products. Some examples related to strategic partnerships and acquisitions include:
In February 2021, Vuzix Corporation, a leading supplier of Smart Glasses and Augmented Reality (AR) technology and products, announced a strategic partnership with Rods and Cones, a provider of a fully virtual surgical collaboration platform. Through this partnership, Rods and Cones will incorporate Vuzix's M-Series Smart Glasses as an additional video-capturing device to support optimized remote interactions between surgeons and medical experts.
The rise in the number of strategic partnerships and acquisitions will have a positive impact on the market as it will result in the production of efficient smart glasses that will be compatible with advanced technologies and components.
Major Smart Glass Market Challenge
The high initial cost of smart glasses is a major factor hindering the market growth. The smart glasses market is in its early innovation stage, with low sales and customer adoption. Enterprises dominate the market as most vendors focus on enterprise versions. Limited awareness and AR applications contribute to high average selling prices (USD 150 to USD 10,000). Enterprises integrate smart glasses to boost productivity. The high ASP of USD 1,397.39 indicates vendors prioritize enterprises over individuals. Vendors target enterprises due to their higher adoption rates.
Vendors release developer and commercial versions of smart glasses, priced based on use cases. For example, Vuzix offers the M300 Smart Glasses at USD 799.99/unit for enterprises and the M400 Smart Glasses at USD 1,799.99/unit for individuals. ThirdEye Gen provides the X2 Mixed Reality Glasses at USD1,950/unit for enterprise users. These factors may hinder market growth.
Market Segmentation by Product, End-User, Geography
Product Analysis
The market share growth of the developer segment will be significant during the forecast period. The developers of smart glasses are commonly called prosumers, and they could be prospective customers involved in the further design, manufacture, and development of smart glasses. The vendors in the AR smart glasses market offer the developer version of smart glasses. Developers have an important role in creating AR hardware and software. The developer version of smart glasses enables developers to test them and recommend solutions to improve them further. Developer-version products are available in the form of a developer kit, which can be bought only by developers (not for commercial use). Currently, several vendors are generating revenues by selling developer-version products to individual developers. This will facilitate segment growth during the forecast period.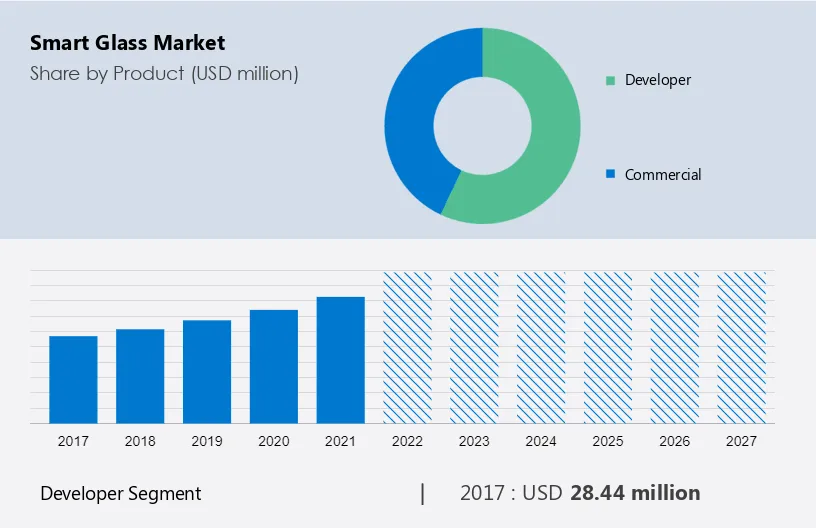 Get a glance at the market contribution of the End User  segment Request Free Sample
The developer segment was valued at USD 28.44 million in 2017 and continued to grow until 2021. The demand for developer kits for AR technology and apps has risen, leading to an increased launch of developer kits for smart glasses. This trend will foster the growth of a smart glasses ecosystem, drive new product development, optimize hardware components, and advance attractive designs for smart glasses. As a result, vendors in the market often prioritize the release of developer versions before focusing on commercialization.
End-User Analysis
Based on end-user, the enterprise segment holds the largest market share. The enterprise smart glasses market is well-developed, while commercial smart glasses lag behind. Vendors prioritize enterprise applications and collaborate with technology providers and OEMs. The market's growth is driven by diverse applications and content developers focusing on enterprise smart glasses. The revenue mainly comes from enterprises, with sectors like healthcare and logistics expected to contribute significantly. In summary, the enterprise smart glasses market is thriving with a strong focus on collaboration and enterprise applications.
Regional Analysis
North America is estimated to contribute 33% to the growth of the global market during the forecast period. Technavio's analysts have elaborately explained the regional trends and drivers that shape the market during the forecast period.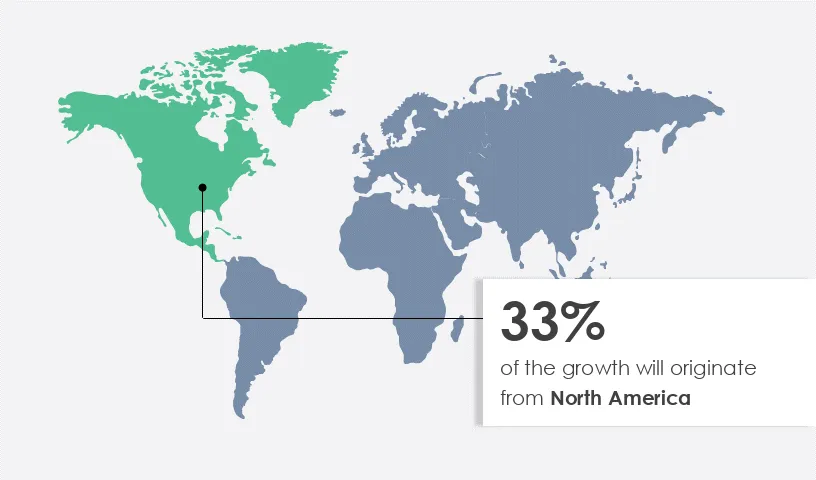 For more insights on the market share of various regions Request Free Sample
North America holds a dominant position in the AR smart glasses market, primarily due to its longstanding reputation for early technology adoption. The region has consistently been at the forefront of embracing new technologies, making it a prime market for innovative products like smart glasses. This can be attributed, in part, to the presence of major crowdfunding platforms such as Kickstarter and Indiegogo, which have played a crucial role in supporting startups in raising funds for the development of cutting-edge products, including smart glasses.
Moreover, North America serves as a hub for prominent smart glasses OEMs (Original Equipment Manufacturers) like Alphabet, Atheer Inc., Optinvent, Vuzix, and Microsoft. These companies are actively involved in the research, development, and manufacturing of smart glasses, contributing to the region's leadership in the market. Additionally, many startups choose to introduce their products first in North America, particularly in the United States, where there is increased awareness of the potential benefits of smart glasses. This early exposure helps build traction and paves the way for successful market penetration.
However, the AR smart glasses market in North America faced challenges in 2020 due to the COVID-19 pandemic. The pandemic led to widespread lockdowns and disruptions in the market. Nevertheless, with the successful implementation of large-scale vaccination programs and the subsequent easing of lockdown restrictions, the market began to recover. The shift in consumer preferences towards online shopping created new opportunities for vendors to expand their product offerings through online sales channels.
As restrictions were gradually lifted and manufacturing units and offline sales channels reopened, the market regained momentum. The demand for smart glasses increased, driven by the growing popularity of smart wearable devices. This positive trend is expected to continue, contributing to the overall growth of the AR smart glasses market in North America during the forecast period.
Who are the Major Smart Glass Market Companies?
Vendors are implementing various strategies by analyzing factors such as strategic alliances, partnerships, mergers and acquisitions, geographical expansion, and product or service launches, to enhance their presence in the market.
Thirdeyegen-  The company offers B2C e commerce services such as Home Decor including Home and Office furniture.
The report also includes detailed analyses of the competitive landscape of the market and information about 15 market vendors, including: 
3M Co.
AGC Inc.
BASF SE
Cardinal Glass Industries Inc.
Carlex Glass America LLC
ChromoGenics AB
Compagnie de Saint Gobain SA
Corning Inc.
e Chromic Technologies Inc.
Eastman Chemical Co.
Gentex Corp.
Heliotrope Technologies
ICE AV Technology
Invisishade LLC
Krea Ltd.
LTI Smart Glass Inc.
Nippon Sheet Glass Co. Ltd.
PPG Industries Inc.
Xinology Co. Ltd.
Innovative Glass Corp.
Qualitative and quantitative analysis of vendors has been conducted to help clients understand the wider business environment as well as the strengths and weaknesses of key market players. Data is qualitatively analyzed to categorize vendors as pure play, category-focused, industry-focused, and diversified; it is quantitatively analyzed to categorize vendors as dominant, leading, strong, tentative, and weak.
Segment Overview
The report forecasts market growth by revenue at global, regional & country levels and provides an analysis of the latest trends and growth opportunities from 2017 to 2027. 
Product Outlook (USD Million, 2017 - 2027)
OS Outlook (USD Million, 2017 - 2027)
End-user Outlook (USD Million, 2017 - 2027)
Region Outlook (USD Million, 2017 - 2027)

Europe

The U.K.
Germany
France
Rest of Europe

Middle East & Africa

Saudi Arabia
South Africa
Rest of the Middle East & Africa

South America
Smart Glass Market Scope

Report Coverage

Details

Page number

181

Base year

2022

Historic period

2017-2021

Forecast period

2023-2027

Growth momentum & CAGR

Accelerate at a CAGR of 13.35%

Market growth 2023-2027

USD 65.75 million

Market structure

Fragmented

YoY growth 2022-2023(%)

11.11

Regional analysis

North America, Europe, APAC, South America, and Middle East and Africa

Performing market contribution

North America at 33%

Key countries

US, China, Japan, Germany, and UK

Competitive landscape

Leading Vendors, Market Positioning of Vendors, Competitive Strategies, and Industry Risks

Key companies profiled

3M Co., AGC Inc., BASF SE, Cardinal Glass Industries Inc., Carlex Glass America LLC, ChromoGenics AB, Compagnie de Saint Gobain SA, Corning Inc., e Chromic Technologies Inc., Eastman Chemical Co., Gentex Corp., Heliotrope Technologies, ICE AV Technology, Invisishade LLC, Krea Ltd., LTI Smart Glass Inc., Nippon Sheet Glass Co. Ltd., PPG Industries Inc., Xinology Co. Ltd., and Innovative Glass Corp.

Market dynamics

Parent market analysis, Market growth inducers and obstacles, Fast-growing and slow-growing segment analysis, COVID 19 impact and recovery analysis and future consumer dynamics, Market condition analysis for forecast period

Customization purview

If our report has not included the data that you are looking for, you can reach out to our analysts and get segments customized.
What are the Key Data Covered in this Smart Glass Market Report?
CAGR of the market during the forecast period
Detailed information on factors that will drive the growth of the market 

 

between 2023 and 2027
Precise estimation of the size of the market  size and its contribution of the market in focus to the parent market
Accurate predictions about upcoming trends and changes in consumer behavior
Growth of the market industry across North America, Europe, APAC, South America, and Middle East and Africa
Thorough analysis of the market's competitive landscape and detailed information about vendors
Comprehensive analysis of factors that will challenge the growth of smart glass market vendors
We can help! Our analysts can customize this report to meet your requirements. Get in touch