The Smart Shoes Market Size is estimated to grow at a CAGR of 21.7% between 2022 and 2027. The market size is forecast to increase by USD 549.45 million. The growth of the market depends on several factors, including increasing product innovation leading to increasing premiumization, growing awareness of healthy lifestyles and smart fitness products, and increased adoption in medical applications. 
This smart shoes market report extensively covers market segmentation by distribution channel (offline and online), end-user (adults, senior citizens, users with disability, and kids), and geography (North America, Europe, APAC, South America, and Middle East and Africa). It also includes an in-depth analysis of drivers, trends, and challenges. Furthermore, the report includes historic market data from 2017 to 2021.
What will be the size of the Smart Shoes Market During the Forecast Period?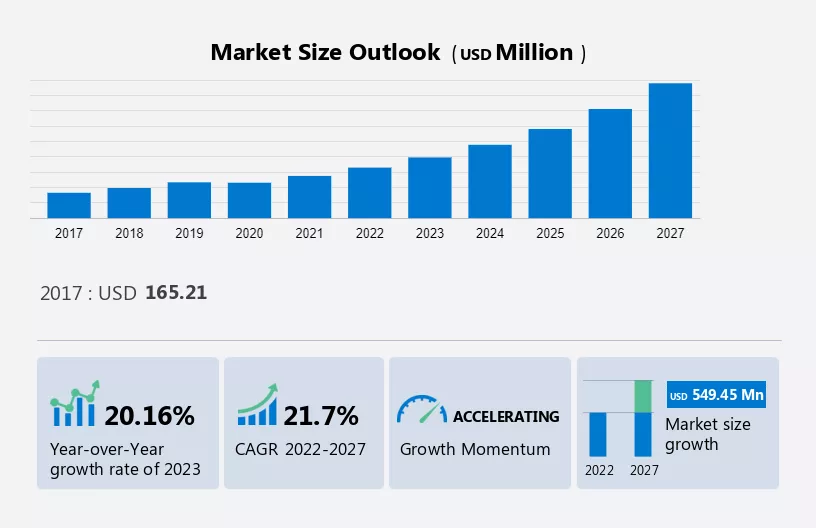 To learn more about this report, View Report Sample
Smart Shoes Market: Key Drivers, Trends, Challenges, and Customer Landscape
The increased adoption of smart shoes in medical applications is notably driving the market growth, although factors such as low penetration in developing countries may impede the market growth. Our researchers analyzed the data with 2022 as the base year and the key drivers, trends, and challenges. A holistic analysis of drivers will help companies refine their marketing strategies to gain a competitive advantage.
Key Smart Shoes Market Driver
The increased adoption of smart shoes in medical applications is notably driving market growth. Smart wearable products have recently experienced a surge in popularity among patients with illnesses. Patients who require external help to perform their day-to-day activities are increasingly using these products. These include patients with weak bone density, such as elderly people who can trip over a small obstruction, and Alzheimer's patients who need ongoing care. However, due to their hectic schedules, it is challenging to monitor the activities of these patients. As a result, people are forced to use technology to help them. Companies that sell smart fitness equipment, like smart shoes, are constantly working to create products that can effectively carry out these functions.
The Boltt smart sports shoe, for instance, informs and cautions athletes about their physical activity and how it may affect their health. This product also effectively warns elderly people of their physical condition and keeps them from collapsing. Numerous researchers have also discovered that they are successful in the treatment of osteoarthritis, where the shoes inform wearers of the motions of their joints. Furthermore, several companies in the global market have introduced navigational shoes to prevent patients with Alzheimer's from getting lost. These shoes inform family members of the location as well. Hence, such factors will fuel the demand and growth of the global market during the forecast period.
Significant Smart Shoes Market Trends
Strategic partnerships are an emerging trend in market growth. In order to create smart shoes with features other than those that are currently popular in the market, vendors in the global market are forming strategic alliances with tech giants. The introduction of such cutting-edge features could further increase the demand for smart shoes around the world. In order to advance innovation and the release of smart shoes with a variety of features, smart shoe vendors and various tech giants entered into a number of strategic partnerships in 2021.
Partnerships between smart shoe manufacturers and companies in other sectors, such as technology and personal care, will boost innovation and lead to the introduction of more standout products. As a result, this will increase the demand for smart shoes globally. Therefore, strategic partnerships will be a key trend for the expansion of the global market for smart shoes during the forecast period. 
Major Smart Shoes Market Challenge
Low penetration in developing countries is a major challenge impeding the market. In developing nations like India, Singapore, China, Indonesia, and the Philippines, smart shoes are not widely used. The main cause of this is that consumers in developing nations are not aware of the advantages that are associated with wearing smart shoes. Additionally, these smart shoes' average selling price, which ranges from USD 100 to USD 500, is extremely high and prevents their widespread use in these nations.
Customers must also pay a high price for data usage on their mobile devices because these devices must remain constantly connected to smartphones for optimal performance. As a result, service users wind up paying extra fees to their telecommunication service providers for constant connectivity with smartphones and the high use of data. Therefore, the associated limitations and expenses that consumers must bear in order to purchase and maintain their smart shoes will limit their volume growth in the global market. Therefore, the low penetration in developing nations may pose a significant obstacle to the expansion of the global market for smart shoes during the forecast period.
Key Smart Shoes Market Customer Landscape
The research report includes the adoption lifecycle of the market, covering from the innovator's stage to the laggard's stage. It focuses on adoption rates in different regions based on penetration. Furthermore, the report also includes key purchase criteria and drivers of price sensitivity to help companies evaluate and develop their growth strategies.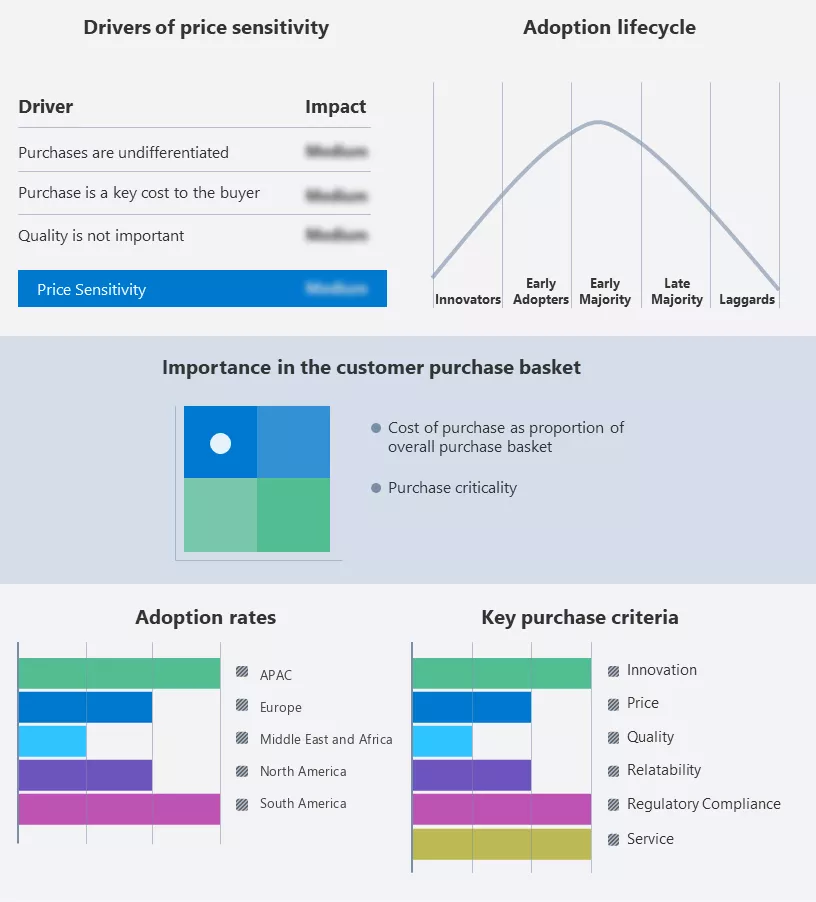 Global Smart Shoes Market Customer Landscape
Who are the Major Smart Shoes Market Vendors?
Vendors are implementing various strategies, such as strategic alliances, partnerships, mergers and acquisitions, geographical expansion, and product/service launches, to enhance their presence in the market.
Powerlace Technology Inc. - The company focuses on researching, developing, and prototyping shoes. The key offerings include smart shoes such as Auto Lacing All Terrain, and Auto Lacing Urban.
The market report also includes detailed analyses of the competitive landscape of the market and information about 15 market vendors, including:
Adidas AG
Alegria Shoes
ASICS Corp.
Digitsole
Ducere Technologies Inc.
ELTEN GmbH
FeetMe
Groupe Artemis
Li Ning Co. Ltd.
Nike Inc.
ReTiSense Inc.
SALTED Co. Ltd.
Sensoria Inc.
Sole PowerTech
Under Armour Inc.
Qualitative and quantitative analysis of vendors has been conducted to help clients understand the wider business environment as well as the strengths and weaknesses of key market players. Data is qualitatively analyzed to categorize vendors as pure play, category-focused, industry-focused, and diversified; it is quantitatively analyzed to categorize vendors as dominant, leading, strong, tentative, and weak.
What is the Fastest-Growing Segment in the Smart Shoes Market?
The market share growth by the offline segment will be significant during the forecast period. Brick-and-mortar stores that sell goods in person are a part of the offline distribution channel. In 2020, this segment dominated the market due to factors like convenience in terms of contacting the vendor and briefing on the functionality of the products, large stock-keeping units (SKUs) that widens product variety, and availability of a wide variety of brands at multi-store retail units and dealers.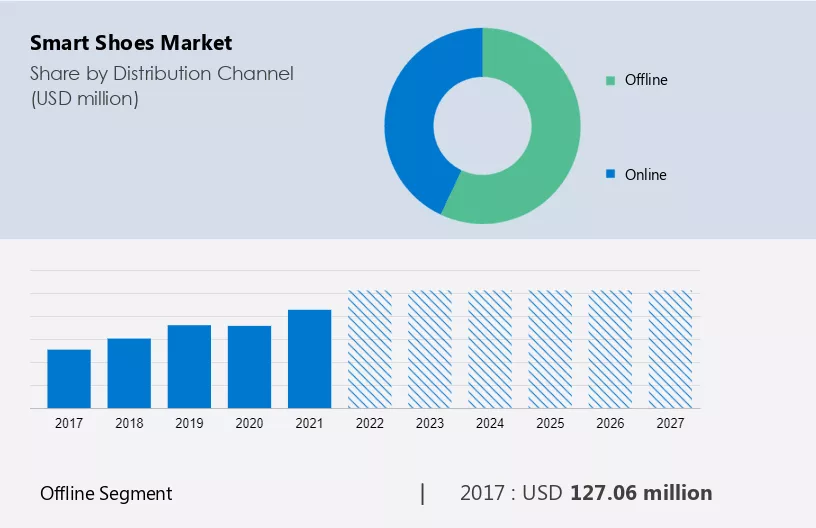 Get a glance at the market contribution of various segments View the PDF Sample
The offline segment was valued at USD 127.06 million in 2017 and continued to grow until 2021. The two major revenue sources for the offline segment include specialty stores and brand stores.  Different brands of smart shoes are offered in specialty stores. Multi-branded stores and brand-specific stores are the two major categories of specialty stores. Due to their wide selection of goods, customers tend to favor such stores. Customers receive one-on-one assistance from the sales team's technical knowledge as they learn about the features and smart technology used in these smart shoes.  Thus, the offline segment is expected to drive the growth of the global market during the forecast period.          
Which are the Key Regions for the Smart Shoes Market?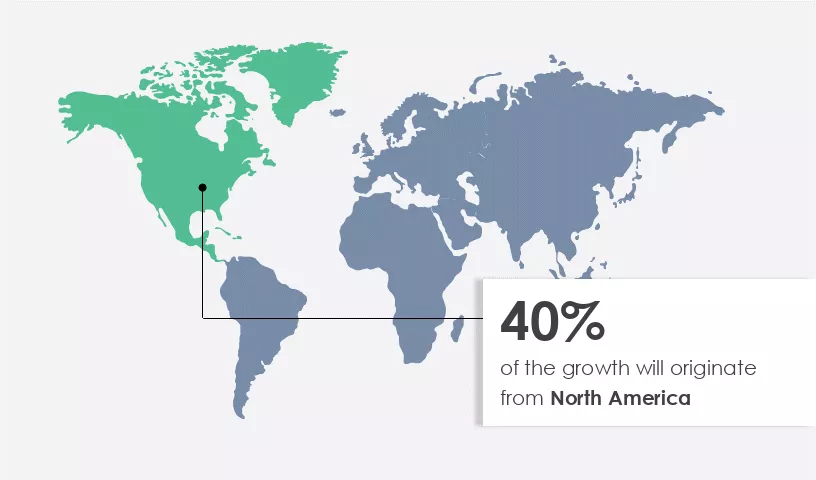 For more insights on the market share of various regions Download PDF Sample now!
North America is estimated to contribute 40% to the growth of the global market during the forecast period. Technavio's analysts have elaborately explained the regional trends and drivers that shape the market during the forecast period.
Factors like the high adoption of modern technologies, enhanced purchasing power, and elevated product awareness boost the growth of the market in North America. The region's high disposable income contributes to the rising purchasing power, which affects consumer choices regarding lifestyle and a variety of other products. Furthermore, the market for smart shoes in North America is supported by health consciousness, which encourages participation in sports and fitness activities and is predicted to grow steadily during the forecast period. 
Running and fitness are two major outdoor activities that make up the bulk of workout schedules. Basketball, rugby, lacrosse, racing, and football are additional popular sports in North America. The Boston Marathon, the Chicago Marathon, and the New York City Marathon are a few of the well-known marathons held in North American nations like the US and Canada. The market in North America is therefore influenced by involvement in marathons and affiliation with sports that are funded by high disposable income.  This is because engagement in these physical activities raises the need for a device or supporting equipment that can monitor, train, coach, and assist in physical activities. The advent of smart shoes fulfills this need to a great extent. This, in turn, will influence the market growth in the region. 
Furthermore, the demand for smart shoes is rising as the millennial population (those between the ages of 18 and 29) grows in the US and Canada. This is due to the fact that this demographic is more active in physical activity and is more aware of their health and fitness. Additionally, when engaging in an exercise regimen, end users want to maintain their health and are willing to spend money on items like smart shoes. Because of their altering lifestyles, people are becoming more concerned about their health as the urban population in the US, Canada, and Mexico increases. Hence, the abovementioned factors will boost regional market growth during the forecast period. 
The outbreak of COVID-19 negatively impacted the growth of the market in North America in 2020. However, the lockdown restrictions were lifted due to the initiation of large-scale COVID-19 vaccination drives across the region in 2021, which led to the resumption of operations and an increase in demand for smart shoes as these measures allowed people to go out more. Furthermore, online retailing has become popular among consumers as it provides benefits such as purchasing convenience, competitive pricing, and a diverse range of products. Thus, due to all these factors, the regional market will witness high growth during the forecast period. 
Segment Overview
The smart shoes market report forecasts market growth by revenue at global, regional & country levels and provides an analysis of the latest trends and growth opportunities from 2017 to 2027. 
Distribution Channel Outlook (USD Million, 2017 - 2027)
End-user Outlook (USD Million, 2017 - 2027)

Adults
Senior citizens
Users with disability
Kids
Region Outlook (USD Million, 2017 - 2027)

Europe

The U.K.
Germany
France
Rest of Europe

Middle East & Africa

Saudi Arabia
South Africa
Rest of the Middle East & Africa

South America
Parent Market Analysis
Technavio categorizes the global smart shoes market as a part of the global footwear market within the global textiles, apparel, and luxury goods industry. The parent global footwear market covers products and companies engaged in the production of athletic and non-athletic footwear for various age groups and gender. Our market research report has extensively covered external factors influencing the parent market growth during the forecast period.
Smart Shoes Market Scope

Report Coverage

Details

Page number

162

Base year

2022

Historic period

2017-2021

Forecast period

2023-2027

Growth momentum & CAGR

Accelerate at a CAGR of 21.7%

Market growth 2023-2027

USD 549.45 million

Market structure

Fragmented

YoY growth 2022-2023(%)

20.16

Regional analysis

North America, Europe, APAC, South America, and Middle East and Africa

Performing market contribution

North America at 40%

Key countries

US, China, UK, France, and Germany

Competitive landscape

Leading Vendors, Market Positioning of Vendors, Competitive Strategies, and Industry Risks

Key companies profiled

Adidas AG, Alegria Shoes, ASICS Corp., Digitsole, Ducere Technologies Inc., ELTEN GmbH, FeetMe, Groupe Artemis, Li Ning Co. Ltd., Nike Inc., Powerlace Technology Inc., ReTiSense Inc., SALTED Co. Ltd., Sensoria Inc., Sole PowerTech, Under Armour Inc., UVEX WINTER HOLDING GmbH and Co. KG, Vivobarefoot Ltd., W. L. Gore and Associates Inc., and Xiaomi Communications Co. Ltd.

Market dynamics

Parent market analysis, Market growth inducers and obstacles, Fast-growing and slow-growing segment analysis, COVID-19 impact and recovery analysis and future consumer dynamics, Market condition analysis for the forecast period. 

Customization purview

If our report has not included the data that you are looking for, you can reach out to our analysts and get segments customized.
What are the Key Data Covered in this Smart Shoes Market Research Report?
CAGR of the market during the forecast period
Detailed information on factors that will drive the growth of the smart shoes market between 2023 and 2027
Precise estimation of the size of the smart shoes market size and its contribution to the parent market
Accurate predictions about upcoming trends and changes in consumer behavior
Growth of the market industry across North America, Europe, APAC, South America, and Middle East and Africa
Thorough analysis of the market's competitive landscape and detailed information about vendors
Comprehensive analysis of factors that will challenge the growth of smart shoes market vendors
We can help! Our analysts can customize this market research report to meet your requirements. Get in touch