Smart TV Market Forecast
The Smart Television (TV) Market size was valued at USD 85.51 billion in 2020 and the market is estimated to show a positive growth during the forecast period. The smart TV market is classified into Distribution Channel, Type, and Geography. The distribution channel segment holds the largest market share. 
How big is the Smart TV Market from 2023 to 2027?
The global smart TV market share is estimated to grow by USD 69.33 billion between 2023 and 2027 accelerating at a CAGR of 10.81%.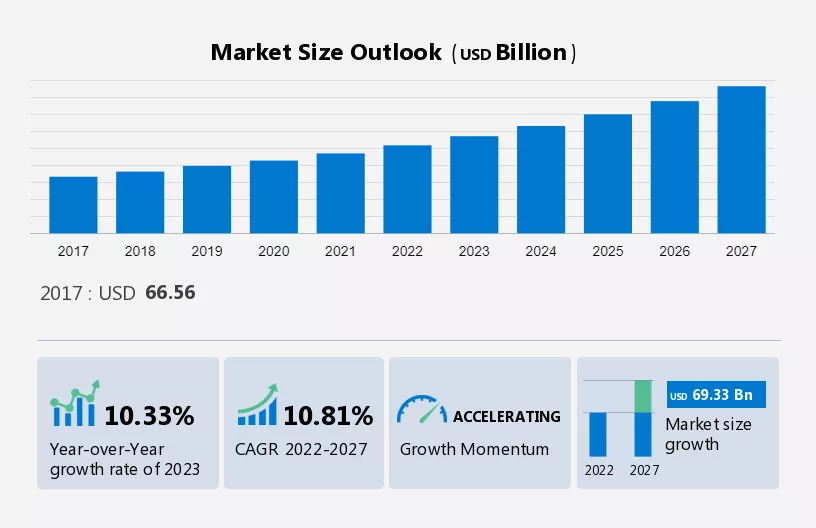 To know more about the smart TV market research report, Download Sample PDF
What are the segments of the Smart TV Market?
The Smart TV Market is divided into distribution channel, type, and geography. The Distribution Channel is classified into offline and online segments. The type is segmented into below 32 inches, 32 to 45 inches, 46 to 55 inches, 56 to 65 inches, and above 65 inches and Geography includes key regions such as APAC, Europe, North America, South America, and Middle East and Africa.
What is the trend in the Smart TV Market?
The growing influence of digital media on smart TV advertising and marketing is one of the major smart TV market trends shaping the market growth. Digital media has surged in importance as a crucial communication and marketing avenue for global smart TV manufacturers. Many are now investing in social media campaigns, particularly in developed markets like the US and the UK, to boost product promotion and expand marketing reach. This approach leverages deep data insights and precise customer targeting.
For instance, LG's Smart TV advertising service in the Middle East and North Africa relies on device-level insights and user data with consent to enhance the consumer viewing experience while incorporating non-intrusive online video and banner ads. Additionally, micro-influencers on platforms like YouTube and Twitter, who focus on niche interests, play a significant role in promoting smart TVs. Brands like Samsung employ AI, sentiment analysis, and predictive alerts to gauge social media sentiments about their products. In sum, the growing impact of digital media on smart TV advertising and marketing is set to fuel market growth in the forecast period.
Which driving factor helps to grow the Smart TV Market?
Technological advances in TV resolution are a key factor boosting the smart TV market size. Advancements in smart TV software and display technology have empowered leading vendors like Samsung, Apple, and Sony to deliver application-rich smart TVs that prioritize visual excellence. The surging popularity of 4K UHDTV has prompted various streaming services and cable providers to offer high-resolution content. 4K UHD TVs boast a 3840 x 2160 display resolution, four times that of traditional sets, complemented by high dynamic range (HDR) technology for lifelike colors and contrast.
Cutting-edge display tech, such as OLED and QLED, ensures remarkable color, clarity, and thin, lightweight TV designs. LG and Samsung, for example, invest significantly in enhancing display technology. Integration of operating systems and media streamers like Android TV, Apple TV, and Roku simplifies user experiences with on-screen menus and centralized control, along with support for 4K and HDR content. These innovations in design and functionality are driving demand for smart TVs in both developed and emerging markets, particularly among tech-savvy consumers in urban areas. The smart TV market is expected to continue its growth during the forecast period due to ongoing advancements in hardware and software technology.
What are the major challenges in the Smart TV Market?
Security and privacy concerns related to smart TV is a key challenge hindering the market growth. Security threats have emerged as a significant challenge in the global smart TV market. While smart TVs are generally secure, their internet connectivity exposes them to specific risks:
Privacy Concerns: Smart TVs with built-in cameras and pre-installed social media apps, like Facebook and Skype, raise privacy and data security issues. A notable case was Vizio, which faced legal action for collecting and selling user data without consent. A recent report also revealed that smart TV manufacturers and streaming services share user information without consent.
Malware: Smart TVs can connect external devices, making them vulnerable to malware attacks that may result in unauthorized access and data manipulation.
These privacy and security concerns are likely to impede smart TV adoption in the future.
Which segment accounted for the largest Smart TV Market share?
The market share growth of the offline segment will be significant during the forecast period. The offline segment includes consumer electronics stores, hypermarkets and supermarkets, and specialty retail stores that sell smart TV. Offline distribution channels remain the primary distribution channels in the market. Rapid internet penetration and growth in the adoption of OTT streaming services in the US, India, and China have boosted the demand for high-end smart TV products. Moreover, advances in technology and product design have made smart TV more affordable to consumers globally over the last few years.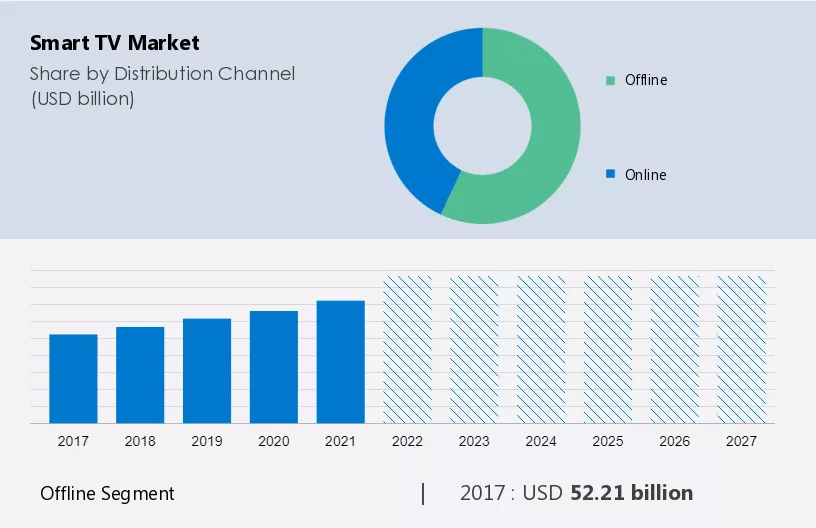 Get a glance at the market contribution of various segments View the PDF Sample
The offline segment was valued at USD 52.21 billion in 2017 and continue to grow by 2021. Vendors in the market also offer their products through several leading offline retail supermarkets, such as SPAR International, Walmart, Target Brands, Inc., and ALDI. In addition, established international vendors, such as LG, Samsung, and Toshiba, have an extensive global presence through a wide distributor network. Offline stores continue to appeal to consumers owing to their affinity toward experience-based purchase offerings. Several consumers continue to rely on in-store performance and store expert demos to make informed purchase decisions. Overall, the offline segment is expected to witness moderate growth during the forecast period, albeit at a slower rate than the online channel.
Which are the Key Regions for the Smart TV Market?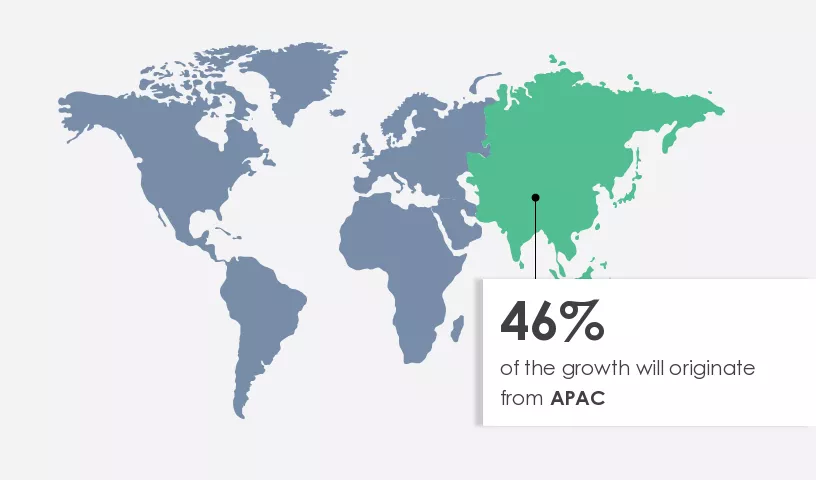 For more insights on the market share of various regions Download PDF Sample now!
APAC is estimated to contribute 46% to the growth of the global market during the forecast period. Technavio's analysts have elaborately explained the regional trends and drivers that shape the market during the forecast period.
In 2022, China and India stood out as significant consumers in the APAC smart TV market. The region's growing demand for high-end smart TVs, particularly in emerging economies like India and other Southeast Asian countries including Thailand, Vietnam, and Hong Kong, has been bolstered by increased consumer willingness to invest in these products. Additionally, a surge in OTT content subscriptions and the availability of technologically advanced smart TVs have contributed to market growth. For instance, India is projected to witness a substantial rise in its OTT content market, and international OTT platforms like Netflix and Amazon Prime have gained traction in APAC. Manufacturers like LG, Samsung, TCL Corp., Panasonic, and Sony are meeting the demand with affordable, high-end smart TVs, aided by advancements in manufacturing technology and substantial investments in production facilities and research and development. These factors are expected to fuel further growth in the APAC smart TV market in the coming years.
In 2020, the COVID-19 pandemic adversely affected the APAC smart TV market as governments enforced lockdowns and social distancing measures, leading to the closure of offline distribution channels. Demand for smart TVs, especially in lower-income countries like India and China, dwindled as consumers were cautious about high-priced electronics. However, by H1 2021, as vaccines became available, COVID-19 restrictions eased, prompting the reopening of retail stores offering smart TVs. Consequently, the demand for smart TVs rebounded in 2021, with key vendors like Xiaomi, Samsung, LG, and Sony experiencing increased sales in Q2 2021. Notably, the Indian smart TV market saw a 74% YoY growth in Q2 2022.
Which are the major companies and key offerings of the Smart TV Market?
Companies are implementing various strategies, such as strategic alliances, partnerships, mergers and acquisitions, geographical expansion, and product/service launches, to enhance their presence in the market.
TCL- The company offers smart TV such as TCL mini LED 4K TV, TCL QLED 4K TV and HDR tv.
Technavio has detailed analyses of the competitive landscape of the market and information about 15 market vendors, including: 
Apple Inc.
BBK Electronics Corp Ltd
Haier Smart Home Co. Ltd.
Hisense International Co. Ltd. 
Koninklijke Philips NV
LG Electronics Inc.
Logitech International SA
MIRC Electronics Ltd.
Panasonic Holdings Corp.
Roku Inc.
Samsung Electronics Co. Ltd.
Sharp Corp.
Skyworth Group Ltd
Sony Group Corp.
TCL Electronics Holdings Ltd
TOSHIBA CORP
Videocon Industries Ltd.
VIZIO Holding Corp
Westinghouse Electric Corp.
Xiaomi Inc.
Qualitative and quantitative analysis of companies has been conducted to help clients understand the wider business environment as well as the strengths and weaknesses of key market players. Data is qualitatively analyzed to categorize companies as pure play, category-focused, industry-focused, and diversified; it is quantitatively analyzed to categorize companies as dominant, leading, strong, tentative, and weak.
Segment Overview
The smart TV market analysis report forecasts market growth by revenue at global, regional & country levels and provides an analysis of the latest trends and growth opportunities from 2017 to 2027. 
Distribution Channel Outlook (USD Billion, 2017 - 2027)
Type Outlook (USD Billion, 2017 - 2027)

Below 32 Inches
32 to 45 Inches
46 to 55 Inches
56 to 65 Inches
Above 65 Inches

Region Outlook (USD Billion, 2017 - 2027)

APAC
Europe

The U.K.
Germany
France
Rest of Europe

North America
South America
Middle East & Africa

Saudi Arabia
South Africa
Rest of the Middle East & Africa
Smart TV Market Scope

Report Coverage

Details

Page number

177

Base year

2022

Historic period

2017-2021

Forecast period

2023-2027

Growth momentum & CAGR

Accelerate at a CAGR of 10.81%

Market growth 2023-2027

USD 69.33 billion

Market structure

Fragmented

YoY growth 2022-2023(%)

10.33

Regional analysis

APAC, Europe, North America, South America, and Middle East and Africa

Performing market contribution

APAC at 46%

Key countries

US, China, India, Germany, and UK

Competitive landscape

Leading Companies, Market Positioning of Companies, Competitive Strategies, and Industry Risks

Key companies profiled

Apple Inc., BBK Electronics Corp Ltd, Haier Smart Home Co. Ltd., Hisense International Co. Ltd. , Koninklijke Philips NV, LG Electronics Inc., Logitech International SA, MIRC Electronics Ltd., Panasonic Holdings Corp., Roku Inc., Samsung Electronics Co. Ltd., Sharp Corp., Skyworth Group Ltd, Sony Group Corp., TCL Electronics Holdings Ltd, TOSHIBA CORP, Videocon Industries Ltd., VIZIO Holding Corp, Westinghouse Electric Corp., and Xiaomi Inc.

Market dynamics

Parent market analysis, Market growth inducers and obstacles, Fast-growing and slow-growing segment analysis, COVID 19 impact and recovery analysis and future consumer dynamics, Market condition analysis for forecast period

Customization purview

If our report has not included the data that you are looking for, you can reach out to our analysts and get segments customized.
What are the Key Data Covered in this Smart TV Market Research Report?
CAGR of the  smart TV market growth analysis
Detailed information on factors that will drive the growth of the

market 

between 2023 and 2027
Precise estimation of the size of the market  size and its contribution of the market in focus to the parent market
Accurate predictions about upcoming trends and changes in consumer behaviour
Growth of the market industry across APAC, Europe, North America, South America, and Middle East and Africa
Thorough analysis of the market's competitive landscape and detailed information about companies
Comprehensive analysis of factors that will challenge the growth of market companies
We can help! Our analysts can customize this market research report to meet your requirements.