The SMB software market is estimated to grow at a CAGR of 7.41% between 2022 and 2027. The size of the market is forecast to increase by USD 57.76 billion. The growth of the market depends on several factors, including increasing demand for cloud-based applications, the growing need to enhance business efficiency, and the increasing encouragement given for remote working.
This report extensively covers market segmentation by deployment (on-premise and cloud), application (media, telecommunication, consultants, and law firms), and geography(North America, Europe, APAC, South America, and Middle East and Africa). It also includes an in-depth analysis of drivers, trends, and challenges. Furthermore, the report includes historic market data from 2017 to 2021.
What will be the Size of the SMB Software Market During the Forecast Period?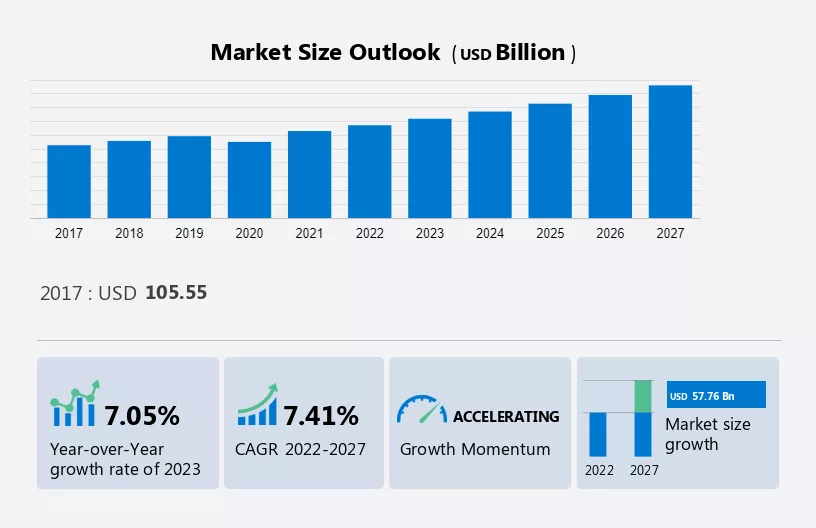 To learn more about this report, Download Report Sample
SMB Software Market: Key Drivers, Trends, Challenges, and Customer Landscape
The growing demand for cloud-based applications is notably driving the SMB software market, although the lack of awareness about SMB software may impede the market growth. Our researchers analyzed the data with 2022 as the base year, along with the key drivers, trends, and challenges. A holistic analysis of drivers will help companies refine their marketing strategies to gain a competitive advantage.
Key SMB Software Market Driver
The rapid adoption of cloud-based applications by different businesses notably drives the SMB software market growth. The growing demand for cloud-based SMB software like ERP is primarily due to lower initial costs and faster implementation times. A cloud-based ERP can also offer a variety of other business benefits, such as process integrity and business consistency across the organization and access to applications by users, employees, and partners. Cloud-based SMB software solutions also eliminate the need for a dedicated IT support team to maintain and update software, eliminating the need for servers, storage, and computing resources for global organizations. Cloud-based SMB software solutions enable companies to effectively execute their business strategies and focus on their core business, not on rising IT costs. 
The proliferation of connected devices in small businesses is generating massive amounts of data. Businesses have realized that data can be used to optimize costs, deliver superior service, and increase revenue. As a result, small and midsize business models are changing globally from experience and perception driven to data-driven models. Companies are integrating automation and flexible production techniques into their manufacturing processes to increase business productivity. In addition to these benefits, predictive maintenance of assets can help businesses save money on planned repairs, reduce maintenance costs, and eliminate downtime. 
Significant SMB Software Market Trend
Increasing mergers and acquisitions between SMB software vendors and global multinational companies is a key trend influencing the SMB software market. Vendors in the market are adopting various strategies such as mergers and acquisitions, partnerships and collaborations to gain a competitive advantage over incumbent players. Here are some recent examples: In August 2020, Cisco Systems Inc. acquired ThousandEyes to strengthen its internet and cloud intelligence platform. Therefore, increasing acquisitions by SMB software vendors to strengthen their presence in the global SMB software market will have a positive impact on market growth during the forecast period. 
Increasing adoption of AI-enabled SMB software solutions is another key trend in the SMB software market. AI is designed and programmed to think and act like humans. AI is becoming increasingly popular because it can improve productivity and deliver accurate results in less time. By integrating ERP with AI and machine learning, you can analyze and extract useful data insights from numerous data sets that support decision-making. For example, an intelligent ERP platform can recommend which financial products to launch in which markets based on an analysis of a financial institution's business data. Additionally, by combining CRM and AI, businesses can derive meaningful insights from customer data that can be used to automate and personalize customer service. AI-optimized CRM solutions enable businesses to enhance internal processes through rapid automation, efficiently respond to customer service operations and increase personalization and responsiveness across operational processes.
Major SMB software market Challenge
Lack of awareness of SMB software in various developing countries is challenging the SMB software market. Most SMBs suffer from inefficient management of collection software. Recognizing the availability of SMB software can help you understand the cash recovery and loss threats your business faces. It also helps organizations implement cost-effective security measures. Collection software for SMBs emphasizes responsibilities related to collection policies and procedures. Currently, organizations in developing regions are new to SMB software and are concerned about the security of sensitive data. Therefore, the vendor should promote their upcoming SMB software solutions through trade shows, seminars, webinars, and other promotional events. Therefore, the lack of awareness is having a negative impact on the widespread adoption of SMB software solutions, impeding market growth during the forecast period. 
Along with this, the adoption of open-source MB software also poses a threat to the market. One of the major obstacles in the global SMB software market is the large number of open-source SMB software vendors. Free software for applications such as CRM, ERP, SCM, and other applications are readily available in the market. Additionally, the global SMB software market consists of various open-source vendors that provide various SMB software tools and applications. Combining multiple products from various open-source providers, organizations can cover almost anything that any on-premises or cloud-based enterprise application software provider has to offer.  Small businesses are the primary consumers of open-source enterprise application software due to their limited purchasing power. A limited IT budget motivates him to choose open-source SMB software. As a result, open-source SMB software is gaining popularity. Such factors are likely to adversely affect the market share of SMB software providers during the forecast period. 
Key SMB Software Market Customer Landscape
The report includes the adoption lifecycle of the market, covering from the innovator's stage to the laggard's stage. It focuses on adoption rates in different regions based on penetration. Furthermore, the report also includes key purchase criteria and drivers of price sensitivity to help companies evaluate and develop their growth strategies.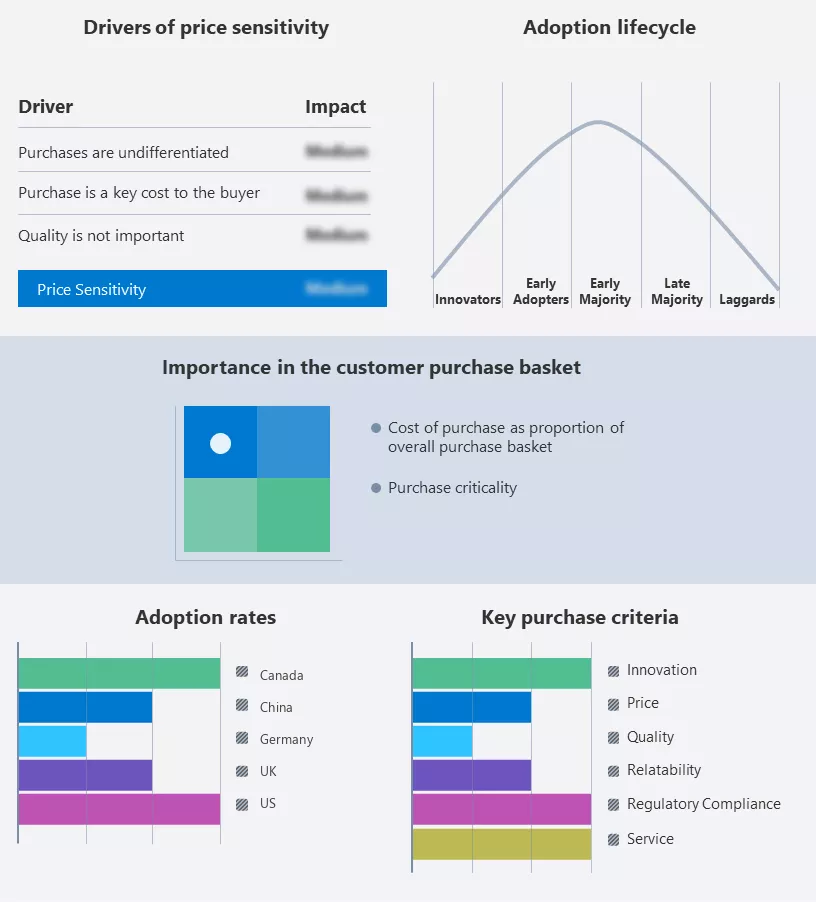 Global SMB Software Market Customer Landscape
Who are the Major SMB Software Market Vendors?
Vendors are implementing various strategies, such as strategic alliances, partnerships, mergers and acquisitions, geographical expansion, and product/service launches, to enhance their presence in the market.
Acumatica Inc: The company offers cloud ERP solutions to different industries. It also offers different SMB software solutions such as Acumatica Cloud ERP.
The report also includes detailed analyses of the competitive landscape of the market and information about 15 market vendors, including:
Accenture Plc
Alfresco Software Ltd.
Cisco Systems Inc.
Epicor Software Corp.
IFS World Operations AB
Infor Inc.
International Business Machines Corp.
Microsoft Corp.
Newgen Software Technologies Ltd.
Open Text Corp.
Roper Technologies Inc.
Sage Group Plc
SAP SE
SYSPRO Pty. Ltd.
TOTVS SA
Qualitative and quantitative analysis of vendors has been conducted to help clients understand the wider business environment as well as the strengths and weaknesses of key market players. Data is qualitatively analyzed to categorize vendors as pure play, category-focused, industry-focused, and diversified; it is quantitatively analyzed to categorize vendors as dominant, leading, strong, tentative, and weak.
What is the Fastest-Growing Segment in the SMB Software Market?
The market share growth by the on-premise segment will be significant during the forecast period. On-premise SMB software such as business management software, ERP software, customer relationship management software, logistics service software, debt collection software, and cloud solutions are preferred for good system security. Using such software solutions requires a robust IT infrastructure. Perpetual license fees for on-premises software include recurring fees for support, training, and software updates.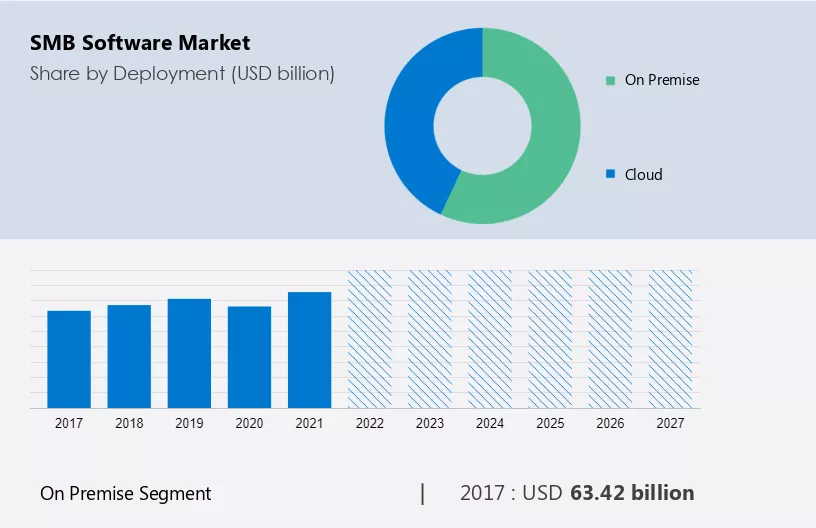 Get a glance at the market contribution of various segments Request a PDF Sample
The on-premise segment was valued at USD 63.42 billion in 2017 and continued to grow until 2021. The on-premises model manages hardware and software on-premises for small businesses, giving users control over their systems and data. Additionally, certain highly regulated industries prefer not to store sensitive data in public cloud environments. Several vendors, such as SAP SE and Oracle Corp, offer on-premise SMB software, such as logistics services software for warehousing and transportation management. It is more expensive than cloud-based SMB software as it requires a large investment in on-premises hardware and software licenses. However, on-premises debt collection software is safe as there is no third-party interference. The adaptability and high level of data security offered by the on-premises delivery model are the main drivers of revenue growth in this segment. 
Which are the Key Regions for the SMB Software Market?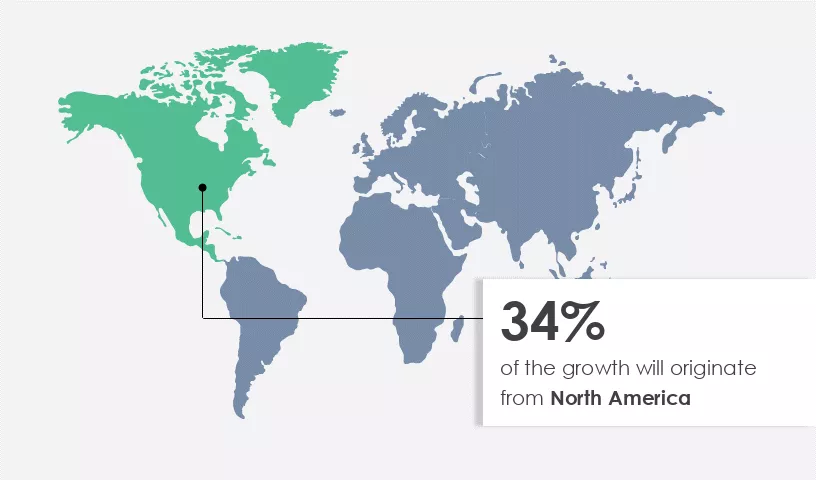 For more insights on the market share of various regions Request PDF Sample now!
North America is estimated to contribute 34% to the growth of the global market during the forecast period. Technavio's analysts have elaborately explained the regional trends and drivers that shape the market during the forecast period.
North America's dominance in the market is primarily due to the availability of adequate IT infrastructure that has supported the growth of the regional market for several years. Cross-industry organizations in North America are improving business processes to increase customer satisfaction and gain a competitive advantage in global markets. This is expected to increase the demand for SMB software during the forecast period. Additionally, due to the growing need for supply chain planning and execution software for organizations operating in the region to manage their supply chains more efficiently and effectively, SMB software is expected to grow in demand. 
In 2020, the North American SMB software market experienced a slowdown in growth due to the COVID-19 outbreak. The outbreak has led to an economic downturn that hinders trade in North America. The temporary closure of IT companies, industries, institutions, and multiple sectors has halted recruitment, SCM, and operational processes and reduced the use of SMB software. Restricted adoption of SMB software in the region subsequently hampered the potential growth of the market in the region in 2020. However, the adoption of remote-based work by different IT companies led to the requirement of cloud-based SMB software for their operational procedures. Such measures are expected to drive the growth of the market in the region during the forecast period.
Segment Overview
The report forecasts market growth by revenue at global, regional & country levels and provides an analysis of the latest trends and growth opportunities from 2017 to 2027. 
Deployment Outlook (USD Billion, 2017 - 2027)
Application Outlook (USD Billion, 2017 - 2027)

Media
Telecommunication
Consultants
Law firms
Region Outlook (USD Billion, 2017 - 2027)

Europe

U.K.
Germany
France
Rest of Europe

South America
Middle East & Africa

Saudi Arabia
South Africa
Rest of the Middle East & Africa
Parent Market Analysis
Technavio classifies the global SMB software market as part of the global application software market within the global IT software market. The overall global application software market includes companies involved in the development and manufacture of application and system software. This includes companies that provide database management software. The global application software market includes companies involved in developing and manufacturing software designed for specialized applications for the business or consumer markets. This includes business and technical software as well as cloud-based software. 
SMB Software Market Scope

Report Coverage

Details

Page number

168

Base year

2022

Historic period

2017-2021

Forecast period

2023-2027

Growth momentum & CAGR

Accelerate at a CAGR of 7.41%

Market growth 2023-2027

USD 57.76 billion

Market structure

Fragmented

YoY growth 2022-2023(%)

7.05

Regional analysis

North America, Europe, APAC, South America, and Middle East and Africa

Performing market contribution

North America at 34%

Key countries

US, Canada, China, UK, and Germany

Competitive landscape

Leading Vendors, Market Positioning of Vendors, Competitive Strategies, and Industry Risks

Key companies profiled

Accenture Plc, Acumatica Inc., Alfresco Software Ltd., Cisco Systems Inc., Epicor Software Corp., IFS World Operations AB, Infor Inc., International Business Machines Corp., Microsoft Corp., Newgen Software Technologies Ltd., Open Text Corp., Roper Technologies Inc., Sage Group Plc, SAP SE, SYSPRO Pty. Ltd., TOTVS SA, Unit4 Group Holding B.V., Workday Inc., Xero Ltd., and Oracle Corp.

Market dynamics

Parent market analysis, Market growth inducers and obstacles, Fast-growing and slow-growing segment analysis, COVID 19 impact and recovery analysis and future consumer dynamics, Market condition analysis for forecast period

Customization purview

If our report has not included the data that you are looking for, you can reach out to our analysts and get segments customized.
What are the Key Data Covered in this SMB Software Market Report?
CAGR of the market during the forecast period
Detailed information on factors that will drive the growth of the SMB software market between 2023 and 2027
Precise estimation of the size of the SMB software market size and its contribution of the market in focus to the parent market
Accurate predictions about upcoming trends and changes in consumer behavior
Growth of the market industry across North America, Europe, APAC, South America, and Middle East and Africa
Thorough analysis of the market's competitive landscape and detailed information about vendors
Comprehensive analysis of factors that will challenge the growth of SMB software market vendors
We can help! Our analysts can customize this report to meet your requirements. Get in touch