The train battery market is estimated to grow at a CAGR of 5.45% between 2022 and 2027. The size of the market is forecast to increase by USD 179.11 million. The growth of the market depends on several factors, including increasing adoption of high-speed and autonomous railways, increasing budget allocation for railway development, and growing sustainable alternatives due to pollution.
This report extensively covers market segmentation by application (auxiliary battery and starter battery), battery type (lead-acid, lithium-ion, and nickel-cadmium), and geography (Europe, APAC, North America, South America, and Middle East and Africa). It also includes an in-depth analysis of drivers, trends, and challenges. Furthermore, the report includes historic market data from 2017 to 2021.
What will be the size of the Train Battery Market During the Forecast Period?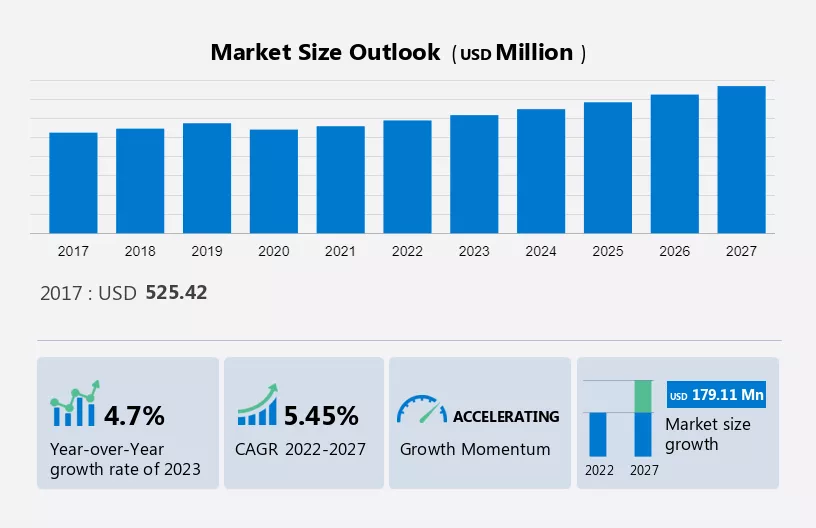 To learn more about this report, Download Report Sample
Train Battery Market: Key Drivers, Trends, Challenges, and Customer Landscape
The increasing adoption of high-speed and autonomous railways is notably driving the market growth, although factors such as high Investments in initial infrastructure may impede the market growth. Our researchers analyzed the data with 2022 as the base year, along with the key drivers, trends, and challenges. A holistic analysis of drivers will help companies refine their marketing strategies to gain a competitive advantage.
Key Train Battery Market Driver
The increasing popularity of high-speed and autonomous railways is notably driving market growth. High-speed and autonomous trains operate using power lines, and these railway systems consume large amounts of power. This forces governments and companies to deploy energy-saving and storage systems and increase performance. For instance, many railway operators convert braking energy into electricity and store them onboard using regenerative braking techniques.
Delhi metro system in India successfully implemented this technology, and they could control the emission of around 90,04 tonnes of carbon dioxide. In addition, governments of developing countries are also investing heavily in the deployment of technology capable of optimizing the operations of autonomous trains. Such factors will increase the demand for train batteries, which, in turn, will drive the growth of the market during the forecast period.
Significant Train Battery Market Trend
Implementation of technologies such as IoT and big data to drive efficiency is the primary trend shaping the market. Railway systems across the globe generate vast volumes of big data from interconnected stakeholders. This data is crucial when it comes to improving passenger safety and the efficiency of station and freight operations. To create smart railways, operators need to leverage a big data structure that consists of different components. This includes cyber-physical systems, IoT, cloud computing, and various other technology stacks. When railway networks become smart, the system generates sufficient data from various sources.  For instance, the data can be used to reduce sudden downtime and improve business planning based on actual and real-time data. This data can also generate energy and cost savings by controlling energy consumption and reducing maintenance costs by avoiding the sudden failure of machines. 
The use of IoT, AI, and deep learning in railways is anticipated to be accelerated by the rollout of numerous rail network intelligent infrastructure programs. Thus, with the development of the railway industry, the market is also likely to grow during the forecast period.
Major Train Battery Market Challenge
High investments in initial infrastructure are the major challenge impeding market growth. Railroads and railway systems are primarily operated and managed by government-owned companies and funded through public budgets. This means that these companies need to evaluate the development projects carefully as it involves taxpayers' money. The payback period of such infrastructure development projects is comparatively longer and is characterized by substantial cash inflow. Therefore, governments associate with private entities to undertake such infrastructure projects. These projects can also be a huge burden for governments with budgetary constraints.  
In addition, railway networks must undergo quality trials, which means lower operational time and a decline in revenue. This can also lead to traffic congestion issues in railway routes that change. Therefore, it is estimated that the high initial cost of deployment will hinder the growth of the market during the forecast period.
Key Train Battery Market Customer Landscape
The report includes the adoption lifecycle of the market, covering from the innovator's stage to the laggard's stage. It focuses on adoption rates in different regions based on penetration. Furthermore, the report also includes key purchase criteria and drivers of price sensitivity to help companies evaluate and develop their growth strategies.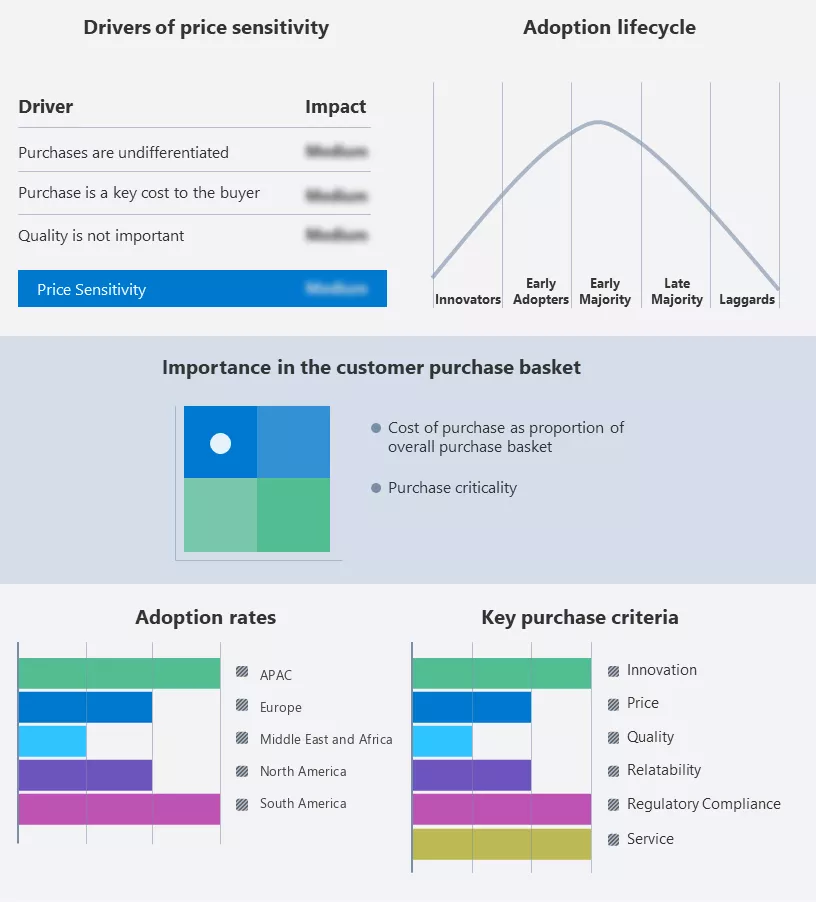 Global Train Battery Market Customer Landscape
Who are the Major Train Battery Market Vendors?
Vendors are implementing various strategies, such as strategic alliances, partnerships, mergers and acquisitions, geographical expansion, and product/service launches, to enhance their presence in the market.
AEG Power Solutions BV - The company offers train batteries that start from 120Ah to 1100Ah capacity - both Low Maintenance (LMLA) and Maintenance-Free (VRLA) types. Under this segment, the company manufactures power systems and produces UPS, rectifiers, chargers, and DC systems.
The report also includes detailed analyses of the competitive landscape of the market and information about 15 market vendors, including:
Exide Industries Ltd.
First National Battery
Furukawa Electric Co. Ltd.
HBL Power Systems Ltd.
Hitachi Ltd.
JFM Engineering Inc.
Leclanche SA
Microtex Energy Pvt. Ltd.
Saft Groupe SAS
Schaltbau Holding AG
Star Battery Ltd.
Stryten Energy
Toshiba Corp.
Wisdom Industrial Power Co. Ltd.
GS Yuasa Corp.
Qualitative and quantitative analysis of vendors has been conducted to help clients understand the wider business environment as well as the strengths and weaknesses of key market players. Data is qualitatively analyzed to categorize vendors as pure play, category-focused, industry-focused, and diversified; it is quantitatively analyzed to categorize vendors as dominant, leading, strong, tentative, and weak.
What is the Fastest-Growing Segment in the Train Battery Market?
The market share growth of the auxiliary segment will be significant during the forecast period. Auxiliary batteries provide backup to all important train systems, such as ventilation systems and emergency lighting. These batteries also offer safety to the train in the absence of output failure and train separation incidents. Furthermore, the rise in the demand for high-speed trains is leading to the high demand for advanced features such as emergency braking and tilting systems. It also provides traction for hybrid trains such as tram systems, electric multiple units (EMU), or diesel multiple units (DMU).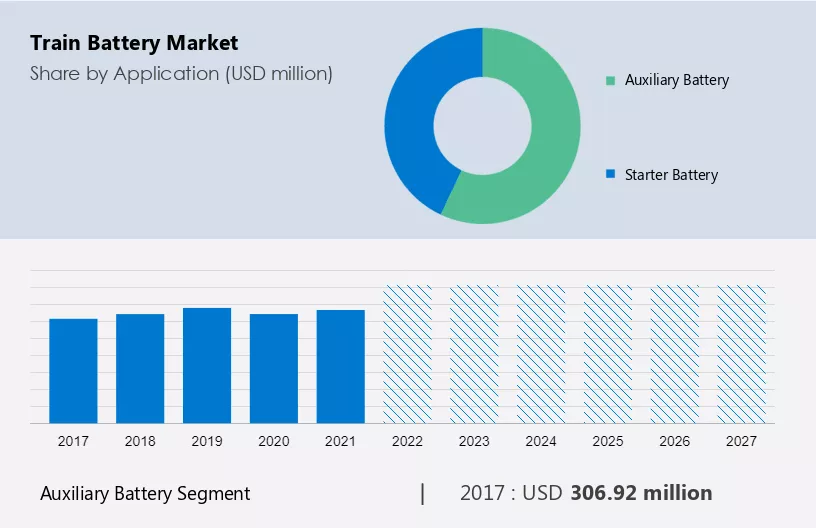 Get a glance at the market contribution of various segments Request a PDF Sample
The auxiliary battery segment was valued at USD 306.92 million in 2017 and continued to grow until 2021. In the case of fully battery-operated trains, lithium-ion batteries are expected to drive the growth of the market owing to their lightweight, compact design and superior performance. Thus, Europe and Asia Pacific are expected to propel the growth of the auxiliary battery segment in the global train battery market during the forecast period due to the high-speed rail network in these regions.
Which are the Key Regions for the Train Battery Market?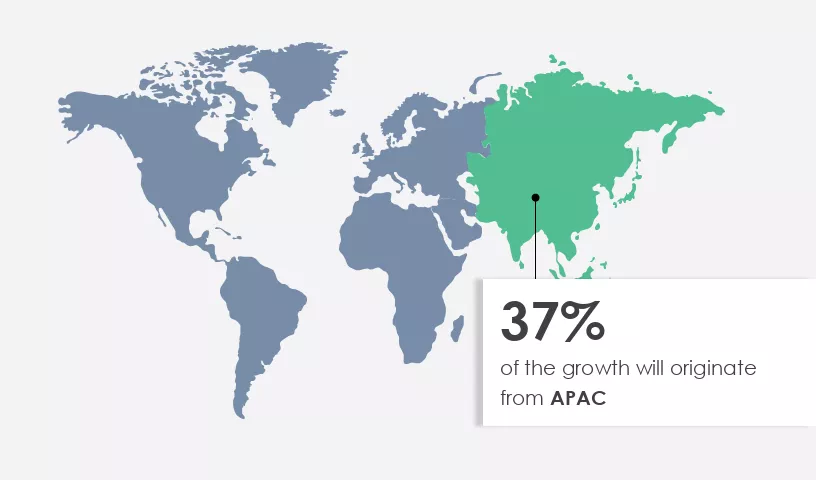 For more insights on the market share of various regions Request PDF Sample now!
APAC is estimated to contribute 37% to the growth of the global market during the forecast period. Another region offering significant growth opportunities to vendors is Europe. Technavio's analysts have elaborately explained the regional trends and drivers that shape the market during the forecast period.
EU accounts for a major share of the automotive industry across the world. Thus, a major part of the growth of the regional train battery market is dependent on the progression of the automotive industry in various EU countries. The automotive industry in Europe is characterized by stringent government regulations related to vehicle emissions, safety features, and fuel efficiency. The majority of technological advances in the automotive industry of Europe are driven by the rising stringency of emission regulations and safety and fuel efficiency standards of Europe. Vehicle makers are determined to launch newer models of vehicles in every category while adhering to the latest regulations and standards to maintain their market share in Europe.
In 2020-2021, the outbreak of COVID-19 declined the growth of the market in Europe. However, the European governments are taking numerous initiatives to phase out petrol and diesel cars completely. This will result in the high deployment of train batteries. Such increasing initiatives by governments, along with rising investments in the automotive and industrial sectors, are expected to drive the demand for train batteries in Europe during the forecast period.
Segment Overview
The report forecasts market growth by revenue at global, regional & country levels and provides an analysis of the latest trends and growth opportunities from 2017 to 2027. 
Application Outlook (USD Million, 2017 - 2027)

Auxiliary battery
Starter battery
Battery Type Outlook (USD Million, 2017 - 2027)

Lead-acid
Lithium-ion
Nickel cadmium
Region Outlook (USD Million, 2017 - 2027)

Europe

The U.K.
Germany
France
Rest of Europe

North America
South America
Middle East & Africa

Saudi Arabia
South Africa
Rest of the Middle East & Africa
Train Battery Market Scope

Report Coverage

Details

Page number

157

Base year

2022

Historic period

2017-2021

Forecast period

2023-2027

Growth momentum & CAGR

Accelerate at a CAGR of 5.45%

Market growth 2023-2027

USD 179.11 million

Market structure

Fragmented

YoY growth 2022-2023(%)

4.7

Regional analysis

Europe, APAC, North America, South America, and Middle East and Africa

Performing market contribution

APAC at 37%

Key countries

US, China, Japan, Germany, and UK

Competitive landscape

Leading Vendors, Market Positioning of Vendors, Competitive Strategies, and Industry Risks

Key companies profiled

Accumulatorenwerke HOPPECKE Carl Zoellner and Sohn GmbH, AEG Power Solutions BV, Amara Raja Group, East Penn Manufacturing Co. Inc., EnerSys, Exide Industries Ltd., First National Battery, Furukawa Electric Co. Ltd., HBL Power Systems Ltd., Hitachi Ltd., JFM Engineering Inc., Leclanche SA, Microtex Energy Pvt. Ltd., Saft Groupe SAS, Schaltbau Holding AG, Star Battery Ltd., Stryten Energy, Toshiba Corp., Wisdom Industrial Power Co. Ltd., and GS Yuasa Corp.

Market dynamics

Parent market analysis, Market growth inducers and obstacles, Fast-growing and slow-growing segment analysis, COVID-19 impact and recovery analysis and future consumer dynamics, and Market condition analysis for the forecast period.

Customization purview

If our report has not included the data that you are looking for, you can reach out to our analysts and get segments customized.
What are the Key Data Covered in this Train Battery Market Report?
CAGR of the market during the forecast period
Detailed information on factors that will drive the growth of the train battery market between 2023 and 2027
Precise estimation of the train battery market size and its contribution to the parent market
Accurate predictions about upcoming trends and changes in consumer behavior
Growth of the industry across Europe, APAC, North America, South America, and Middle East and Africa
Thorough analysis of the market's competitive landscape and detailed information about vendors
Comprehensive analysis of factors that will challenge the growth of train battery market vendors
We can help! Our analysts can customize this report to meet your requirements. Get in touch