Truffles Market 2024-2028
The Truffles Market size is projected to increase by USD 371.4 million and the market size is estimated to grow at a CAGR of 11.75% between 2023 and 2028.
The report includes a comprehensive outlook on the truffles market offering forecasts for the industry segmented by Product, which comprises black truffles, white truffles, and others. Additionally, it categorizes End-user into food and beverages, personal care products, and pharmaceutical, and covers Geography regions, including North America, APAC, Europe, Middle East and Africa, and South America. The report provides market size, historical data spanning from 2018 to 2022, and future projections, all presented in terms of value in USD million for each of the mentioned segments.
The launch of truffle-based products is notably driving the market growth. Truffle-based product launches by regional and international vendors in the food and beverage industry contribute to the growth of the global truffles market. Food and beverage vendors are introducing new truffle-based products, such as sauces and oil, which lead to indirect consumption of truffles in the global market. New product launches help companies establish long-term relationships with end-user consumers for the supply of truffles. Also, through such value-added products, consumers are experiencing the essence of truffle taste and aroma in their meal consumption, which will positively influence the demand for truffle-based products, as well as truffles, which, in turn, will drive the growth of the global truffles market during the forecast period.

Truffles Market: Overview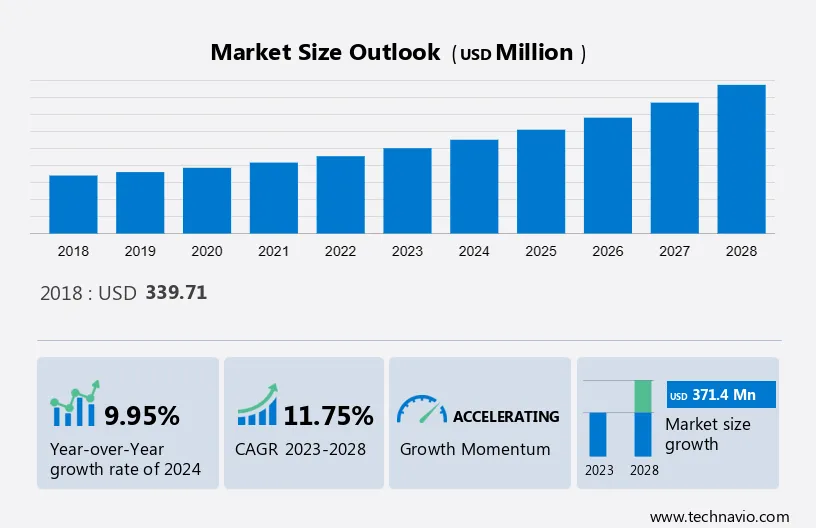 The Truffles Market shows an Accelerated CAGR during the forecast period.
To get additional information about the market, Request a Free Sample
Trends
Growing truffle tourism is an emerging trend shaping the market growth. Another trend emerging in the market is the promotion of tourism based on truffle hunting by market players. Visiting truffle farms is among the main tourist attractions in major truffle-producing countries such as Italy, France, and Spain. There are several truffle hunting tours organized each year in these countries, and the number of tourists visiting truffle farms is increasing every year. Furthermore, the major commercial producers of truffles, such as Greece, Israel, and the UK, focus on truffle tourism. Various vendors are offering truffle tourism to their showrooms, where visitors will be offered access to the vendor kitchen to experience varied types of truffles, their cooking styles, and even tasting truffle dishes.
For instance, Sabatino Tartufi Srl offers truffle showroom visits for people, where they are offered private dinners, private classes on truffles, and private cooking demos and tastings. Such tourism experiences are expected to knowledge visitors about the type of truffles and provide opportunities to experience types of truffle dishes.  Thus, the growth in tourism based on truffle hunting can positively impact the truffle market during the forecast period.
Challenge 
Constraints in truffle production are a significant challenge hindering market growth.  Truffles are expensive because they are difficult to grow commercially. Currently, truffle production is limited by geographic and climatic conditions (sub-Mediterranean conditions are suitable for truffle cultivation). Truffles are also highly vulnerable to changing weather conditions, diseases, and pests. Truffle hunting and cultivation are expensive and time-consuming processes without guaranteed results. The cost of specially trained dogs to locate truffles underground is over USD 1,000. However, trained dogs may take several weeks or months to find a small number of truffles. Truffle is cultivated by grafting the truffle fungus on the roots of certain trees. 
Moreover, truffles can get easily spoiled as they are delicate. The cost of cultivating these trees is also high. Truffle production would require thousands of trees, and there is no guarantee the fungi will grow on every tree. Hence, truffle production is a difficult and time-consuming procedure. Thus, the constraints in truffle production will impede the growth of the truffle market during the forecast period.
Truffles Market Segmentation by End-user 
The demand for truffles is majorly driven by the consumer preference for healthy convenience food owing to the busy lifestyle and consumers are transitioning to nutritious and healthy convenience food and beverage. The growing food processing industry, led by the increased use of functional food ingredients in nutrition bars, confectionaries, savoury snacks, and other processed food, directly impacts the growth of the market in focus. Consumers across the globe are becoming more health-conscious owing to the rising rates of obesity and other health conditions. This creates the demand for various types of nutraceutical ingredients, such as vitamins, minerals, proteins, and dietary supplement ingredients, which help to prevent multiple health issues. Rising income levels coupled with a growing urban population are driving the growth of the truffle market during the forecast period.
Truffles Market Segmentation by Product 
The market share growth by the black truffles segment will be significant during the forecast period. The black truffles segment is expected to witness a steady growth rate during the forecast period, led by the rising demand for black truffles from restaurant chains across France, the UK, the US, China, Hong Kong, Singapore, and others. Black truffle is usually found under oak trees from September to December.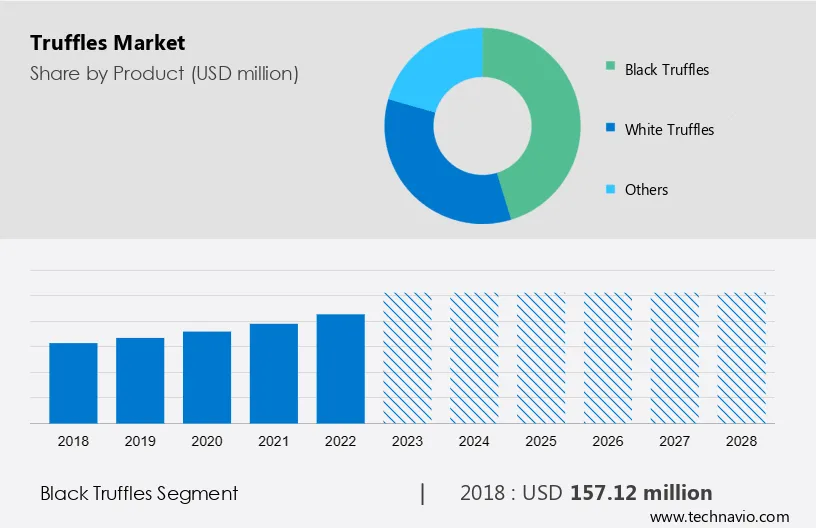 The black truffle segment was the largest and was valued at USD 157.12 million in 2018
For a detailed summary of the market segments Request for Sample Report
Further, black truffles are in high demand among end-users, such as Michelin-star restaurants and manufacturers of premium packaged food products that use truffles as an essential ingredient. Therefore, vendors that harvest black truffles with rich nutrients and aroma are expected to witness greater demand from such end-users. Hence, vendors are expected to adopt advanced techniques to cultivate black truffles during the forecast period to keep the nutrients, taste, and aroma intact in black truffles, which, in turn, will drive the growth of the truffles market during the forecast period.
Key Regions for the Truffles Market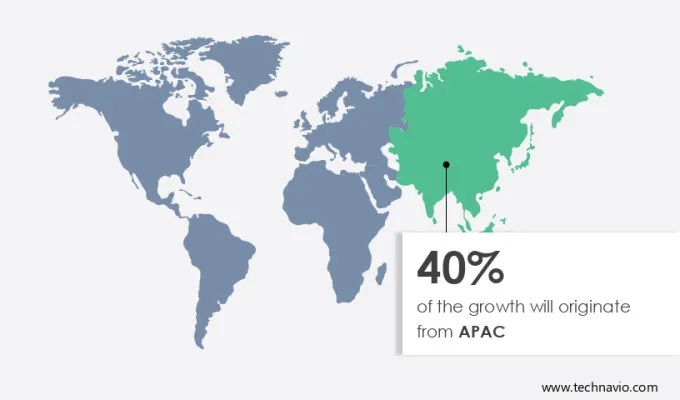 APAC is estimated to contribute 40% to the growth of the global market during the forecast period
Get a glance at the market share of various regions View PDF Sample
Technavio's analysts have elaborately explained the regional trends and drivers that shape the market during the forecast period. The growing popularity of truffles is mainly attributable to a rise in fine dining restaurants across China, Singapore, Hong Kong, and Macau, among other countries. The growth of fine dining restaurants in the region is growing with the rise of the millennial population. It is estimated that one-third of the millennial population in APAC eat at fine dining restaurants at least once a month, and in China, the average visits of Millennials to fine dining establishments are around two to three times a month. This can drive the demand for truffles in the region as truffles are widely used in these fine-dining restaurants.
However, the truffle market in APAC faces challenges from lower-cost substitutes like truffle oils. China produces less expensive and low-quality truffles, which are widely available in the region. Moreover, chefs in the region use truffle oil instead of expensive truffles to obtain the desired flavour and aroma profile, which could negatively impact the truffle market in APAC during the forecast period.
Company Overview
Companies are implementing various strategies, such as strategic alliances, partnerships, mergers and acquisitions, geographical expansion, and product/service launches, to enhance their presence in the market.
Key Offering- Angellozzi Tartuficoltura: The company offers truffles such as white truffles, winter premium black truffles and summer black truffles. 
Key Offering- Arotz S.A.: The company offers truffles such as Summer truffles
Key Offering- Conservas Ferrer S.A.: The company offers truffles such as Whole truffles. 
The truffles market report also includes detailed analyses of the competitive landscape of the market and information about 20 market companies, including:
DI SANTO s.r.l.
Gazzarrini Tartufi
Gourmet Attitude
Katankura
LES FRERES JAUMARD
MONINI S.p.A.
Passione Toscana International SRL
PLANTIN SAS
Sabatino Italia Srl
SAVITAR TARTUFI SRL
Tartufi Morra
The Truffle Ltd.
The Welsh Truffle Co.
Truffle Hill
TruffleHunter Ltd
Truffliest
Urbani Truffles
Qualitative and quantitative analysis of companies has been conducted to help clients understand the wider business environment as well as the strengths and weaknesses of key market players. Data is qualitatively analyzed to categorize companies as pure play, category-focused, industry-focused, and diversified; it is quantitatively analyzed to categorize companies as dominant, leading, strong, tentative, and weak.
Segment Overview
The truffles market report forecasts market growth by revenue at global, regional & country levels and provides an analysis of the latest trends and growth opportunities from 2018 to 2028. 
Product Outlook

Black truffles
White truffles
Others
End-user Outlook

Food and beverages
Personal care products
Pharmaceutical
Region Outlook

North America
South America

Europe

U.K.
Germany
France
Rest of Europe

Middle East & Africa

Saudi Arabia
South Africa
Rest of the Middle East & Africa
Truffles Market Scope

Report Coverage

Details

Page number

159

Base year

2023

Historic period

2018-2022

Forecast period

2024-2028

Growth momentum & CAGR

Accelerate at a CAGR of 11.75%

Market Growth 2024-2028

USD 371.4 million

Market structure

USD Fragmented

YoY growth 2023-2024(%)

9.95

Regional analysis

APAC, North America, Europe, South America, and Middle East and Africa

Performing market contribution

APAC at 40%

Key countries

US, Canada, China, Japan, and Germany

Competitive landscape

Leading Companies, Market Positioning of Companies, Competitive Strategies, and Industry Risks

Key companies profiled

Angellozzi Tartuficoltura, Arotz S.A., Conservas Ferrer S.A., DI SANTO s.r.l., Gazzarrini Tartufi, Gourmet Attitude, Katankura, LES FRERES JAUMARD, MONINI S.p.A., Passione Toscana International SRL, PLANTIN SAS, Sabatino Italia Srl, SAVITAR TARTUFI SRL, Tartufi Morra, The Truffle Ltd., The Welsh Truffle Co., Truffle Hill, TruffleHunter Ltd, Truffliest, and Urbani Truffles

Market dynamics

Parent market analysis, Market growth inducers and obstacles, Fast-growing and slow-growing segment analysis, COVID-19 impact and recovery analysis and future consumer dynamics, Market condition analysis for the forecast period

Customization purview

If our report has not included the data that you are looking for, you can reach out to our analysts and get segments customized.
BUY NOW Full Report and Discover more
What are the Key Data Covered in this Truffles Market Research Report?
CAGR of the market during the forecast period
Detailed information on factors that will drive the growth of the market between 2024 and 2028
Precise estimation of the truffles market size and its contribution of the market in focus to the parent market
Accurate predictions about upcoming trends and changes in consumer behavior
Growth of the market across APAC, North America, Europe, South America, and Middle East and Africa
A thorough analysis of the market's competitive landscape and detailed information about companies
Comprehensive analysis of factors that will challenge the growth of truffles market companies
We can help! Our analysts can customize this market research report to meet your requirements. Get in touch