The wellness tourism market is estimated to grow at a CAGR of 8.93% between 2022 and 2027. The size of the market is forecast to increase by USD 427.46 billion. The growth of the market depends on several factors, including an increase in mental illness, growth in personal wellness awareness, and increasing interest in wellness in the hospitality industry.
This report extensively covers market segmentation by type (domestic and international), application (physical, psychological, and spiritual), and geography (North America, Europe, APAC, South America, and Middle East and Africa). It also includes an in-depth analysis of drivers, trends, and challenges. Furthermore, the report includes historic market data from 2017 to 2021.
What will be the Size of the Wellness Tourism Market During the Forecast Period?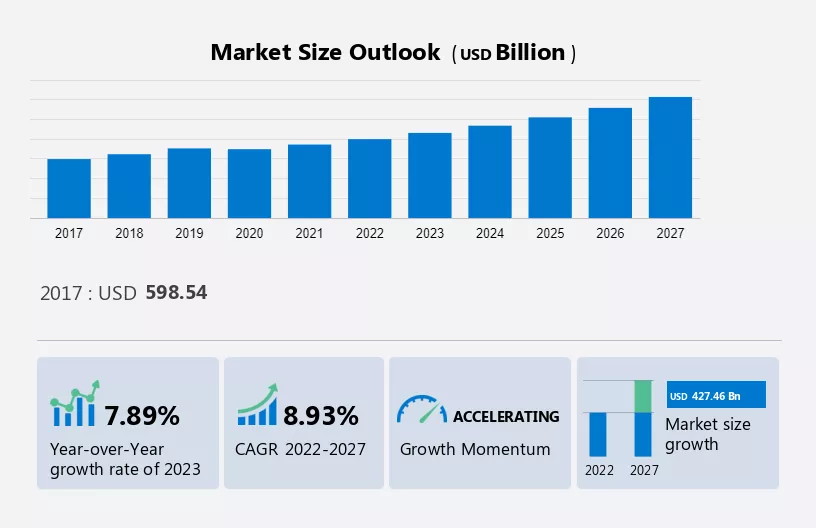 To learn more about this report, Download Report Sample
Wellness Tourism Market: Key Drivers, Trends, Challenges, and Customer Landscape
The increased cases of mental illnesses are notably driving the market growth, although the wrong perception of wellness tourism among consumers may impede the market growth. Our researchers analyzed the data with 2022 as the base year, along with the key drivers, trends, and challenges. A holistic analysis of drivers will help companies refine their marketing strategies to gain a competitive advantage.
Key Wellness Tourism Market Driver
The increased cases of mental illness are notably driving the market growth. Some common forms of mental illness are stress, anxiety, anxiety, depression, and insomnia. If not addressed in the early stages, it can negatively impact physical health and lead to chronic diseases such as obesity, diabetes, heart disease, and cancer. Stress can have a negative impact on a person's lifestyle and health. For example, 20% of US adults experience stress and different mood disorders such as depression and bipolar disorder every year. However, awareness of preventing these diseases and maintaining a healthy lifestyle is growing among younger generations. People indulge in relaxing activities.
Workplace stress is a leading cause of overall stress and depression among adults who struggle to make a living. According to the CDC, employee absenteeism costs employers USD 225.8 billion in lost productivity each year. Large companies focus on vacation programs to reduce employee stress. They organize national wellness tours that engage employees in a variety of recreational activities and help them rejuvenate. 
Significant Wellness Tourism Market Trend
The emergence of online wellness aggregators is a key trend influencing the wellness tourism market growth. The pervasiveness and wide access of the Internet has benefited this market as small online businesses have emerged that focus on gathering information about wellness travel and accommodation. Using the Internet to create online stores and track user preferences is an upcoming trend in this market. This will further drive the growth of hotels and other wellness centers that meet customer expectations. Customers around the world can access information online and decide which services they need based on reviews of specific services and wellness centers. Therefore, the growth of SMEs focused on gathering information across service providers is expected to boost the global wellness tourism market in the future.

To support further market growth, customized and easy-to-use digital marketing systems have emerged to improve customer reach. Online wellness aggregators are a positive indicator of the growth of the global wellness tourism market as they offer customer-friendly digital marketing systems to attract new customers.  
Major Wellness Tourism Market Challenge
The wrong perception of wellness tourism among consumers is challenging the wellness tourism Market. Wellness and leisure activities such as mineral baths, sports, and spiritual practices for personal rejuvenation are considered an elite market. People perceive that spa facilities are charged on top of regular rates and are only offered by luxury hotels. Regional surcharges apply for domestic travelers, but international travelers expect treatments to be proportional to the cost of their spa package.
Wellness tourism is a demanding market where health and wellness packages are combined with the best environments, cultural destinations, and gastronomic experiences, and these services are expensive to acquire. Therefore, travelers who choose these wellness packages expect luxury travel. This recognition is also present with the entry into the luxury hotel industry and increased advertising. Government initiatives to promote wellness tourism in emerging countries, such as South Asian countries with a rich heritage, are another reason for the popularity of this type of tourism. Economic expansion and burgeoning middle-class growth, especially in Asian countries, can motivate people in the region to undertake wellness travel and improve their health and well-being. 
Key Wellness Tourism Market Customer Landscape
The report includes the adoption lifecycle of the market, covering from the innovator's stage to the laggard's stage. It focuses on adoption rates in different regions based on penetration. Furthermore, the report also includes key purchase criteria and drivers of price sensitivity to help companies evaluate and develop their growth strategies.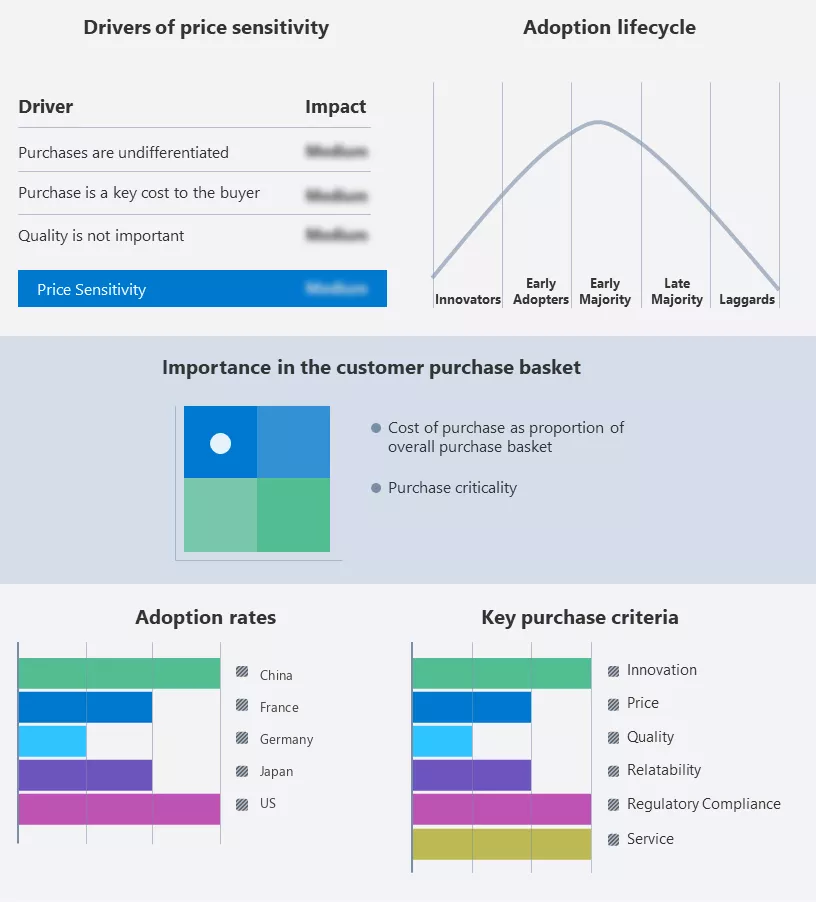 Global Wellness Tourism Market Customer Landscape
Who are the Major Wellness Tourism Market Vendors?
Vendors are implementing various strategies, such as strategic alliances, partnerships, mergers and acquisitions, geographical expansion, and product/service launches, to enhance their presence in the market.
Accor S.A: The company offers different wellness tourism services such as steam baths, destination relaxation, and other brisker treatments. 
The report also includes detailed analyses of the competitive landscape of the market and information about 15 market vendors, including:
Cal A Vie Health Spa
Canyon Ranch
Clinique La Prairie
Four Seasons Hotels Ltd.
Gaia Retreat and Spa
Hand and Stone Franchise Corp.
HOT SPRINGS RESORT and SPA
Hyatt Hotels Corp.
Intrepid Group Pty Ltd.
Jade Mountain
Kempinski Hotels SA
Lanserhof Management GmbH
Marriott International Inc.
Mekosha
Osthoff Resort
Qualitative and quantitative analysis of vendors has been conducted to help clients understand the wider business environment as well as the strengths and weaknesses of key market players. Data is qualitatively analyzed to categorize vendors as pure play, category-focused, industry-focused, and diversified; it is quantitatively analyzed to categorize vendors as dominant, leading, strong, tentative, and weak.
What is the Fastest-Growing Segments in the Wellness Tourism Market?
The market share growth by the domestic segment will be significant during the forecast period. Domestic wellness tourism involves traveling within the country to achieve better mental and physical health. The segment dominates the global wellness tourism market. The majority of the market segment is dominated by primary wellness travelers whose sole goal is to achieve wellness through various activities. Most of these travelers are looking for spa and beauty treatments.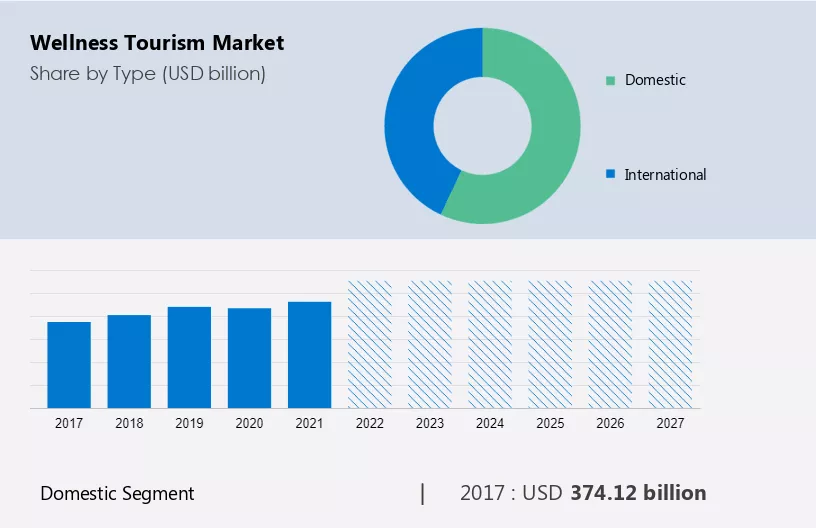 Get a glance at the market contribution of various segments Request a PDF Sample
The domestic segment was valued at USD 374.12 billion in 2017 and continued to grow until 2021. Spas, beauty, and anti-aging therapies contribute nearly USD 1 trillion to the global wellness industry. The availability of these treatments in the domestic region has increased the number of domestic spa travelers, contributing to the growth of the global spa tourism market. 
Which are the Key Regions for the Wellness Tourism Market?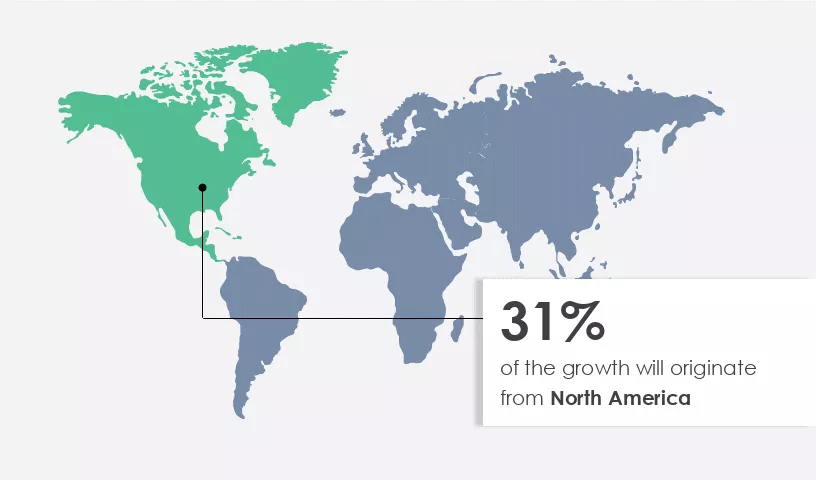 For more insights on the market share of various regions Request PDF Sample now!
North America is estimated to contribute 31% to the growth of the global market during the forecast period. Technavio's analysts have elaborately explained the regional trends and drivers that shape the market during the forecast period.
The United States and Canada are the countries with the highest spending on health and wellness, generating a huge amount of income from wellness tourism. The availability of spa treatments, anti-aging treatments, and a burgeoning large fitness-conscious population are the main factors contributing to health and wellness spending in the region. Increasing awareness of the prevalence of diseases contributes to the growth of the wellness tourism market in the region. A healthy consumer profile and changing demographics in the United States make up 23% of the total U.S. population actively participate in health and wellness programs. All this is driving the growth of the market. 
The region's 2020 wellness tourism market has been impacted by the COVID-19 pandemic. Curfews and travel restrictions have reduced demand for wellness tourism in the region. During the COVID-19 lockdown, various spas, yoga centers, and resorts were closed. In addition, many people lost their jobs, affecting purchasing power and wellness tourism. However, the North American wellness tourism market is expected to recover faster than other parts of the world as most of the US population is fully vaccinated. In 2021, international flights will reach pre-COVID-19 utilization rates. Providers operating in the region have also added significantly to their business development. 
Segment Overview
The report forecasts market growth by revenue at global, regional & country levels and provides an analysis of the latest trends and growth opportunities from 2017 to 2027. 
Type Outlook (USD Billion, 2017 - 2027)
Application Outlook (USD Billion, 2017 - 2027)

Physical
Psychological
Spiritual
Region Outlook (USD Million, 2017 - 2027)

Europe

The U.K.
Germany
France
Rest of Europe

South America
Middle East & Africa

Saudi Arabia
South Africa
Rest of the Middle East & Africa
Parent Market Analysis
Technavio categorizes the global wellness tourism market as part of the global leisure facilities market within the overall hotel, restaurant and leisure market. The global leisure facilities parent market includes companies that operate sports and leisure facilities such as fitness centers, stadiums, golf courses and amusement parks. Technavio calculates the global market size of the hotel, restaurant and leisure industry based on the combined revenue of the casino and gaming businesses. Hotels, resorts,  cruise ships.
Wellness Tourism Market Scope

Report Coverage

Details

Page number

161

Base year

2022

Historic period

2017-2021

Forecast period

2023-2027

Growth momentum & CAGR

Accelerate at a CAGR of 8.93%

Market growth 2023-2027

USD 427.46 billion

Market structure

Fragmented

YoY growth 2022-2023(%)

7.89

Regional analysis

North America, Europe, APAC, South America, and Middle East and Africa

Performing market contribution

North America at 31%

Key countries

US, China, Japan, Germany, and France

Competitive landscape

Leading Vendors, Market Positioning of Vendors, Competitive Strategies, and Industry Risks

Key companies profiled

Accor S.A., Cal A Vie Health Spa, Canyon Ranch, Clinique La Prairie, Four Seasons Hotels Ltd., Gaia Retreat and Spa, Hand and Stone Franchise Corp., HOT SPRINGS RESORT and SPA, Hyatt Hotels Corp., Intrepid Group Pty Ltd., Jade Mountain, Kempinski Hotels SA, Lanserhof Management GmbH, Marriott International Inc., Mekosha, Osthoff Resort, Rancho La Puerta Inc., Red Carnation Hotels UK Ltd., Six Senses Hotels Resorts Spas, and Wyndham Hotels and Resorts Inc.

Market dynamics

Parent market analysis, Market growth inducers and obstacles, Fast-growing and slow-growing segment analysis, COVID 19 impact and recovery analysis and future consumer dynamics, Market condition analysis for forecast period

Customization purview

If our report has not included the data that you are looking for, you can reach out to our analysts and get segments customized.
What are the Key Data Covered in this Wellness Tourism Market Report?
CAGR of the market during the forecast period
Detailed information on factors that will drive the growth of the wellness tourism market between 2023 and 2027
Precise estimation of the size of the wellness tourism market size and its contribution to the parent market
Accurate predictions about upcoming trends and changes in consumer behavior
Growth of the market industry across North America, Europe, APAC, South America, and Middle East and Africa
Thorough analysis of the market's competitive landscape and detailed information about vendors
Comprehensive analysis of factors that will challenge the growth of wellness tourism market vendors
We can help! Our analysts can customize this report to meet your requirements. Get in touch
1 Executive Summary
1.1 Market overview

Exhibit 01: Executive Summary – Chart on Market Overview
Exhibit 02: Executive Summary – Data Table on Market Overview
Exhibit 03: Executive Summary – Chart on Global Market Characteristics
Exhibit 04: Executive Summary – Chart on Market by Geography
Exhibit 05: Executive Summary – Chart on Market Segmentation by Type
Exhibit 06: Executive Summary – Chart on Market Segmentation by Application
Exhibit 07: Executive Summary – Chart on Incremental Growth
Exhibit 08: Executive Summary – Data Table on Incremental Growth
Exhibit 09: Executive Summary – Chart on Vendor Market Positioning
2 Market Landscape
2.1 Market ecosystem

Exhibit 10: Parent market
Exhibit 11: Market Characteristics
3 Market Sizing
3.1 Market definition

Exhibit 12: Offerings of vendors included in the market definition
3.2 Market segment analysis

Exhibit 13: Market segments
3.4 Market outlook: Forecast for 2022-2027

Exhibit 14: Chart on Global - Market size and forecast 2022-2027 ($ billion)
Exhibit 15: Data Table on Global - Market size and forecast 2022-2027 ($ billion)
Exhibit 16: Chart on Global Market: Year-over-year growth 2022-2027 (%)
Exhibit 17: Data Table on Global Market: Year-over-year growth 2022-2027 (%)
4 Historic Market Size
4.1 Global wellness tourism market 2017 - 2021

Exhibit 18: Historic Market Size – Data Table on Global wellness tourism market 2017 - 2021 ($ billion)
4.2 Type Segment Analysis 2017 - 2021

Exhibit 19: Historic Market Size – Type Segment 2017 - 2021 ($ billion)
4.3 Application Segment Analysis 2017 - 2021

Exhibit 20: Historic Market Size – Application Segment 2017 - 2021 ($ billion)
4.4 Geography Segment Analysis 2017 - 2021

Exhibit 21: Historic Market Size – Geography Segment 2017 - 2021 ($ billion)
4.5 Country Segment Analysis 2017 - 2021

Exhibit 22: Historic Market Size – Country Segment 2017 - 2021 ($ billion)
5 Five Forces Analysis
5.1 Five forces summary

Exhibit 23: Five forces analysis - Comparison between 2022 and 2027
5.2 Bargaining power of buyers

Exhibit 24: Chart on Bargaining power of buyers – Impact of key factors 2022 and 2027
5.3 Bargaining power of suppliers

Exhibit 25: Bargaining power of suppliers – Impact of key factors in 2022 and 2027
5.4 Threat of new entrants

Exhibit 26: Threat of new entrants – Impact of key factors in 2022 and 2027
5.5 Threat of substitutes

Exhibit 27: Threat of substitutes – Impact of key factors in 2022 and 2027
5.6 Threat of rivalry

Exhibit 28: Threat of rivalry – Impact of key factors in 2022 and 2027
5.7 Market condition

Exhibit 29: Chart on Market condition - Five forces 2022 and 2027
6 Market Segmentation by Type
6.1 Market segments

Exhibit 30: Chart on Type - Market share 2022-2027 (%)
Exhibit 31: Data Table on Type - Market share 2022-2027 (%)
6.2 Comparison by Type

Exhibit 32: Chart on Comparison by Type
Exhibit 33: Data Table on Comparison by Type
6.3 Domestic - Market size and forecast 2022-2027

Exhibit 34: Chart on Domestic - Market size and forecast 2022-2027 ($ billion)
Exhibit 35: Data Table on Domestic - Market size and forecast 2022-2027 ($ billion)
Exhibit 36: Chart on Domestic - Year-over-year growth 2022-2027 (%)
Exhibit 37: Data Table on Domestic - Year-over-year growth 2022-2027 (%)
6.4 International - Market size and forecast 2022-2027

Exhibit 38: Chart on International - Market size and forecast 2022-2027 ($ billion)
Exhibit 39: Data Table on International - Market size and forecast 2022-2027 ($ billion)
Exhibit 40: Chart on International - Year-over-year growth 2022-2027 (%)
Exhibit 41: Data Table on International - Year-over-year growth 2022-2027 (%)
6.5 Market opportunity by Type

Exhibit 42: Market opportunity by Type ($ billion)
Exhibit 43: Data Table on Market opportunity by Type ($ billion)
7 Market Segmentation by Application
7.1 Market segments

Exhibit 44: Chart on Application - Market share 2022-2027 (%)
Exhibit 45: Data Table on Application - Market share 2022-2027 (%)
7.2 Comparison by Application

Exhibit 46: Chart on Comparison by Application
Exhibit 47: Data Table on Comparison by Application
7.3 Physical - Market size and forecast 2022-2027

Exhibit 48: Chart on Physical - Market size and forecast 2022-2027 ($ billion)
Exhibit 49: Data Table on Physical - Market size and forecast 2022-2027 ($ billion)
Exhibit 50: Chart on Physical - Year-over-year growth 2022-2027 (%)
Exhibit 51: Data Table on Physical - Year-over-year growth 2022-2027 (%)
7.4 Psychological - Market size and forecast 2022-2027

Exhibit 52: Chart on Psychological - Market size and forecast 2022-2027 ($ billion)
Exhibit 53: Data Table on Psychological - Market size and forecast 2022-2027 ($ billion)
Exhibit 54: Chart on Psychological - Year-over-year growth 2022-2027 (%)
Exhibit 55: Data Table on Psychological - Year-over-year growth 2022-2027 (%)
7.5 Spiritual - Market size and forecast 2022-2027

Exhibit 56: Chart on Spiritual - Market size and forecast 2022-2027 ($ billion)
Exhibit 57: Data Table on Spiritual - Market size and forecast 2022-2027 ($ billion)
Exhibit 58: Chart on Spiritual - Year-over-year growth 2022-2027 (%)
Exhibit 59: Data Table on Spiritual - Year-over-year growth 2022-2027 (%)
7.6 Market opportunity by Application

Exhibit 60: Market opportunity by Application ($ billion)
Exhibit 61: Data Table on Market opportunity by Application ($ billion)
8 Customer Landscape
8.1 Customer landscape overview

Exhibit 62: Analysis of price sensitivity, lifecycle, customer purchase basket, adoption rates, and purchase criteria
9 Geographic Landscape
9.1 Geographic segmentation

Exhibit 63: Chart on Market share by geography 2022-2027 (%)
Exhibit 64: Data Table on Market share by geography 2022-2027 (%)
9.2 Geographic comparison

Exhibit 65: Chart on Geographic comparison
Exhibit 66: Data Table on Geographic comparison
9.3 North America - Market size and forecast 2022-2027

Exhibit 67: Chart on North America - Market size and forecast 2022-2027 ($ billion)
Exhibit 68: Data Table on North America - Market size and forecast 2022-2027 ($ billion)
Exhibit 69: Chart on North America - Year-over-year growth 2022-2027 (%)
Exhibit 70: Data Table on North America - Year-over-year growth 2022-2027 (%)
9.4 Europe - Market size and forecast 2022-2027

Exhibit 71: Chart on Europe - Market size and forecast 2022-2027 ($ billion)
Exhibit 72: Data Table on Europe - Market size and forecast 2022-2027 ($ billion)
Exhibit 73: Chart on Europe - Year-over-year growth 2022-2027 (%)
Exhibit 74: Data Table on Europe - Year-over-year growth 2022-2027 (%)
9.5 APAC - Market size and forecast 2022-2027

Exhibit 75: Chart on APAC - Market size and forecast 2022-2027 ($ billion)
Exhibit 76: Data Table on APAC - Market size and forecast 2022-2027 ($ billion)
Exhibit 77: Chart on APAC - Year-over-year growth 2022-2027 (%)
Exhibit 78: Data Table on APAC - Year-over-year growth 2022-2027 (%)
9.6 South America - Market size and forecast 2022-2027

Exhibit 79: Chart on South America - Market size and forecast 2022-2027 ($ billion)
Exhibit 80: Data Table on South America - Market size and forecast 2022-2027 ($ billion)
Exhibit 81: Chart on South America - Year-over-year growth 2022-2027 (%)
Exhibit 82: Data Table on South America - Year-over-year growth 2022-2027 (%)
9.7 Middle East and Africa - Market size and forecast 2022-2027

Exhibit 83: Chart on Middle East and Africa - Market size and forecast 2022-2027 ($ billion)
Exhibit 84: Data Table on Middle East and Africa - Market size and forecast 2022-2027 ($ billion)
Exhibit 85: Chart on Middle East and Africa - Year-over-year growth 2022-2027 (%)
Exhibit 86: Data Table on Middle East and Africa - Year-over-year growth 2022-2027 (%)
9.8 US - Market size and forecast 2022-2027

Exhibit 87: Chart on US - Market size and forecast 2022-2027 ($ billion)
Exhibit 88: Data Table on US - Market size and forecast 2022-2027 ($ billion)
Exhibit 89: Chart on US - Year-over-year growth 2022-2027 (%)
Exhibit 90: Data Table on US - Year-over-year growth 2022-2027 (%)
9.9 Germany - Market size and forecast 2022-2027

Exhibit 91: Chart on Germany - Market size and forecast 2022-2027 ($ billion)
Exhibit 92: Data Table on Germany - Market size and forecast 2022-2027 ($ billion)
Exhibit 93: Chart on Germany - Year-over-year growth 2022-2027 (%)
Exhibit 94: Data Table on Germany - Year-over-year growth 2022-2027 (%)
9.10 China - Market size and forecast 2022-2027

Exhibit 95: Chart on China - Market size and forecast 2022-2027 ($ billion)
Exhibit 96: Data Table on China - Market size and forecast 2022-2027 ($ billion)
Exhibit 97: Chart on China - Year-over-year growth 2022-2027 (%)
Exhibit 98: Data Table on China - Year-over-year growth 2022-2027 (%)
9.11 France - Market size and forecast 2022-2027

Exhibit 99: Chart on France - Market size and forecast 2022-2027 ($ billion)
Exhibit 100: Data Table on France - Market size and forecast 2022-2027 ($ billion)
Exhibit 101: Chart on France - Year-over-year growth 2022-2027 (%)
Exhibit 102: Data Table on France - Year-over-year growth 2022-2027 (%)
9.12 Japan - Market size and forecast 2022-2027

Exhibit 103: Chart on Japan - Market size and forecast 2022-2027 ($ billion)
Exhibit 104: Data Table on Japan - Market size and forecast 2022-2027 ($ billion)
Exhibit 105: Chart on Japan - Year-over-year growth 2022-2027 (%)
Exhibit 106: Data Table on Japan - Year-over-year growth 2022-2027 (%)
9.13 Market opportunity by geography

Exhibit 107: Market opportunity by geography ($ billion)
Exhibit 108: Data Tables on Market opportunity by geography ($ billion)
10 Drivers, Challenges, and Trends
10.3 Impact of drivers and challenges

Exhibit 109: Impact of drivers and challenges in 2022 and 2027
11 Vendor Landscape
11.2 Vendor landscape

Exhibit 110: Overview on Criticality of inputs and Factors of differentiation
11.3 Landscape disruption

Exhibit 111: Overview on factors of disruption
11.4 Industry risks

Exhibit 112: Impact of key risks on business
12 Vendor Analysis
12.1 Vendors covered

Exhibit 113: Vendors covered
12.2 Market positioning of vendors

Exhibit 114: Matrix on vendor position and classification
12.3 Accor S.A.

Exhibit 115: Accor S.A. - Overview
Exhibit 116: Accor S.A. - Business segments
Exhibit 117: Accor S.A. - Key offerings
Exhibit 118: Accor S.A. - Segment focus
12.4 Cal A Vie Health Spa

Exhibit 119: Cal A Vie Health Spa - Overview
Exhibit 120: Cal A Vie Health Spa - Product / Service
Exhibit 121: Cal A Vie Health Spa - Key offerings
12.5 Canyon Ranch

Exhibit 122: Canyon Ranch - Overview
Exhibit 123: Canyon Ranch - Product / Service
Exhibit 124: Canyon Ranch - Key offerings
12.6 Clinique La Prairie

Exhibit 125: Clinique La Prairie - Overview
Exhibit 126: Clinique La Prairie - Product / Service
Exhibit 127: Clinique La Prairie - Key offerings
12.7 Four Seasons Hotels Ltd.

Exhibit 128: Four Seasons Hotels Ltd. - Overview
Exhibit 129: Four Seasons Hotels Ltd. - Product / Service
Exhibit 130: Four Seasons Hotels Ltd. - Key offerings
12.8 Gaia Retreat and Spa

Exhibit 131: Gaia Retreat and Spa - Overview
Exhibit 132: Gaia Retreat and Spa - Product / Service
Exhibit 133: Gaia Retreat and Spa - Key offerings
12.9 Hand and Stone Franchise Corp.

Exhibit 134: Hand and Stone Franchise Corp. - Overview
Exhibit 135: Hand and Stone Franchise Corp. - Product / Service
Exhibit 136: Hand and Stone Franchise Corp. - Key offerings
12.10 Hyatt Hotels Corp.

Exhibit 137: Hyatt Hotels Corp. - Overview
Exhibit 138: Hyatt Hotels Corp. - Business segments
Exhibit 139: Hyatt Hotels Corp. - Key offerings
Exhibit 140: Hyatt Hotels Corp. - Segment focus
12.11 Jade Mountain

Exhibit 141: Jade Mountain - Overview
Exhibit 142: Jade Mountain - Product / Service
Exhibit 143: Jade Mountain - Key offerings
12.12 Kempinski Hotels SA

Exhibit 144: Kempinski Hotels SA - Overview
Exhibit 145: Kempinski Hotels SA - Product / Service
Exhibit 146: Kempinski Hotels SA - Key offerings
12.13 Lanserhof Management GmbH

Exhibit 147: Lanserhof Management GmbH - Overview
Exhibit 148: Lanserhof Management GmbH - Product / Service
Exhibit 149: Lanserhof Management GmbH - Key offerings
12.14 Marriott International Inc.

Exhibit 150: Marriott International Inc. - Overview
Exhibit 151: Marriott International Inc. - Business segments
Exhibit 152: Marriott International Inc. - Key offerings
Exhibit 153: Marriott International Inc. - Segment focus
12.15 Osthoff Resort

Exhibit 154: Osthoff Resort - Overview
Exhibit 155: Osthoff Resort - Product / Service
Exhibit 156: Osthoff Resort - Key offerings
12.16 Rancho La Puerta Inc.

Exhibit 157: Rancho La Puerta Inc. - Overview
Exhibit 158: Rancho La Puerta Inc. - Product / Service
Exhibit 159: Rancho La Puerta Inc. - Key offerings
12.17 Red Carnation Hotels UK Ltd.

Exhibit 160: Red Carnation Hotels UK Ltd. - Overview
Exhibit 161: Red Carnation Hotels UK Ltd. - Product / Service
Exhibit 162: Red Carnation Hotels UK Ltd. - Key offerings
13 Appendix
13.2 Inclusions and exclusions checklist

Exhibit 163: Inclusions checklist
Exhibit 164: Exclusions checklist
13.3 Currency conversion rates for US$

Exhibit 165: Currency conversion rates for US$
13.4 Research methodology

Exhibit 166: Research methodology
Exhibit 167: Validation techniques employed for market sizing
Exhibit 168: Information sources
13.5 List of abbreviations

Exhibit 169: List of abbreviations