The bread market is estimated to grow at a CAGR of 7.27% between 2022 and 2027. The size of the market is forecast to increase by USD 118.37 billion. The growth of the market depends on several factors, including rising urbanization and changing consumer lifestyles, expansion in the retail landscape, and the rising prominence of in-store bakeries in supermarkets.
This report extensively covers market segmentation by product (artisan bread, packaged bread, and others), distribution channel (offline and online), and geography (Europe, North America, APAC, South America, and Middle East and Africa). It also includes an in-depth analysis of drivers, trends, and challenges. Furthermore, the report includes historic market data from 2017 to 2021.
What will be the size of the Bread Market During the Forecast Period?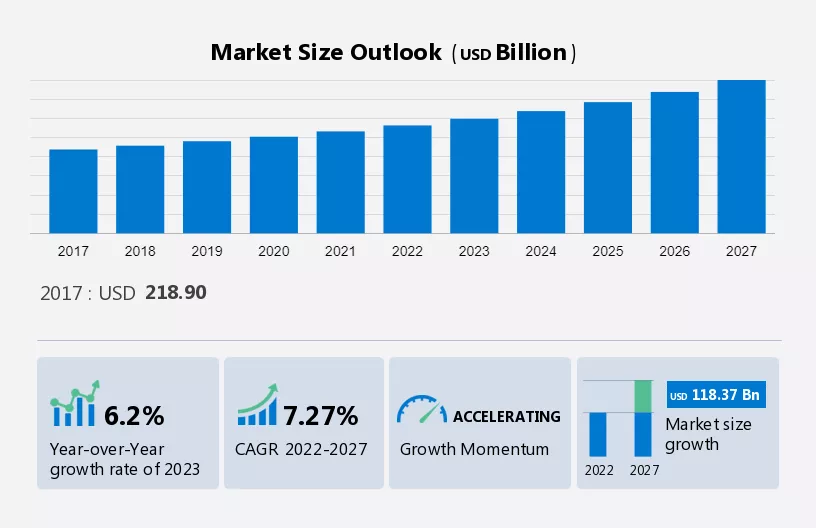 To learn more about this report, Download Report Sample
Bread Market: Key Drivers, Trends, Challenges, and Customer Landscape
 Our researchers analyzed the data with 2022 as the base year, along with the key drivers, trends, and challenges. A holistic analysis of drivers will help companies refine their marketing strategies to gain a competitive advantage.
Key Bread Market Driver
The rising prominence of in-store bakeries in supermarkets is notably driving the market growth. In-store bakeries are found in several large supermarkets and hypermarkets. Although relatively smaller in size, these bakeries offer a wide range of baked products like bread, cakes, pastries, and others. In-store bakeries are known for speciality bread and rolls. The prominence of these bakeries is growing, mostly because they offer lower prices and the convenience of one-stop shopping. Most consumers are value-conscious and thus opt for private labels of supermarkets.
In recent years, the popularity of parbaked, pre-baked, and bake-off product ranges is growing across the globe. Parbaking is a procedure where the batter is baked partially for 15-20 minutes, cooled, and refrigerated until the final baking. Many supermarkets and quick service restaurants employ this procedure for many of their baked products. Freezing increases the shelf life of the products and helps in retaining the texture of crumbs. These products are an easy way to offer consumers the option to bake foods with little time and effort. All these factors will drive the market growth during the forecast period.
Key Bread Market Trends
Increased snacking and indulgence consumption is a key trends in the market. Consumption patterns and food preferences have undergone a notable change as most consumers are trading their routine meals for snacks. The number of consumers that prefer healthy snacks is rising, especially in developed regions such as North America and Europe.
Fast-paced lifestyles often compel consumers to skip their meals and consume on-the-go food. Similarly, the consumption of bakery products such as bread, rolls, pies, and other similar products for breakfast has surged primarily due to hectic lifestyles. Bread is a versatile product that can be modified easily and consumed as a healthy snack. Apart from sandwiches, bread can be used as a basic ingredient for various snacks, such as French toast, bruschetta, puddings, garlic bread, bread salad, and breakfast toast.
The nutritional level of these foods can be strengthened by using different kinds of bread, such as multigrain, whole wheat, and brown bread. Although consumers have become very health-conscious and prefer healthy snacks, the market for indulgent and premium food varieties, such as premium sandwich bread and burger buns, is growing, resulting in an increase in the demand for artisan bread.
Key Bread Market Challenge
Fluctuating raw material prices is the major challenge impeding the market growth. The major raw materials for bread and rolls include flour, sugar, salt, and milk. The prices of all these food materials are increasing due to the increasing production cost. As a result of this, bread manufacturers incur more costs for raw materials.
Further, the supply of raw materials may be affected due to adverse weather conditions, strikes, governmental controls, national emergencies, natural disasters, supply shortages, or any other unexpected events. This increasing cost causes the product price to increase. As an effect of this, it becomes a challenge for marketers to introduce new product varieties in the market with specific ingredients that help in enriching taste and thus attract more consumers. The rising product price would affect the consumer's buying decisions, which, in turn, affects the industry's performance.
Key Bread Market Customer Landscape
The report includes the adoption lifecycle of the market, covering from the innovator's stage to the laggard's stage. It focuses on adoption rates in different regions based on penetration. Furthermore, the report also includes key purchase criteria and drivers of price sensitivity to help companies evaluate and develop their growth strategies.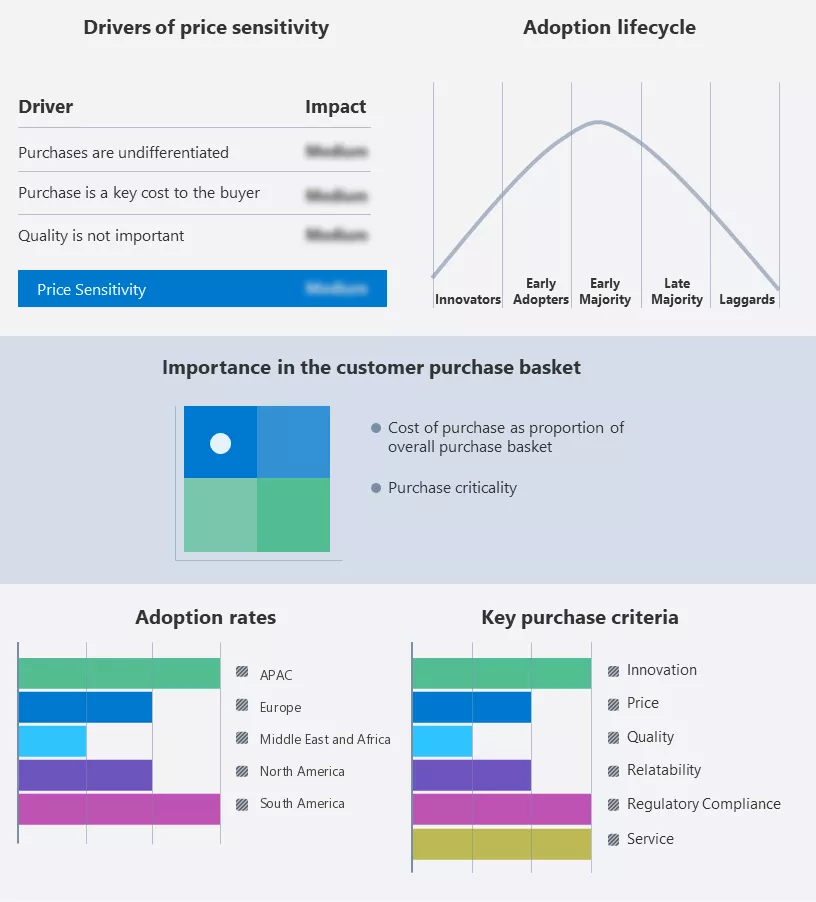 Global Bread Market Customer Landscape
Who are the Major Bread Market Vendors?
Vendors are implementing various strategies, such as strategic alliances, partnerships, mergers and acquisitions, geographical expansion, and product/service launches, to enhance their presence in the market.
Hostess Brands - The company offers bread under the brand name Hostess, Voortman, Dolly, and Cloverman. The brand offers sweet baked goods, cookies, bread, and buns that are sold under the Hostess, Voortman, Dolly Madison, Cloverhill, and Big Texas brands.
The report also includes detailed analyses of the competitive landscape of the market and information about 15 market vendors, including:
AB Mauri Ltd.
AGROFERT AS
Angel Bakeries
Aryzta AG
Bakers Delight
Bakkerij Borgesius
Barilla G and R Fratelli Spa
Braces Bakery Ltd.
Britannia Industries Ltd.
Campbell Soup Co.
Finsbury Food Group Plc
Flowers Foods Inc.
Fuji Baking Group
Corporativo Bimbo SA de CV
Modern Food Enterprises Pvt. Ltd.
Qualitative and quantitative analysis of vendors has been conducted to help clients understand the wider business environment as well as the strengths and weaknesses of key market players. Data is qualitatively analyzed to categorize vendors as pure play, category-focused, industry-focused, and diversified; it is quantitatively analyzed to categorize vendors as dominant, leading, strong, tentative, and weak.
What is the Fastest-Growing Segment in the Bread Market?
The market share growth of the artisan segment will be significant during the forecast period. The global artisan bread market will grow at a steady pace during the forecast period. Consumer demand for artisan bread will remain steady in the market as different varieties of artisan bread are available at competitive prices. Most artisan bread is ethnic varieties. Artisan bread is often sold within two days of manufacturing. Owing to the demand and popularity of artisan bread, it is also available in supermarkets and hypermarkets. The growth of the artisan segment will be aided by an increase in multiple purchasing and varieties. Furthermore, healthy ingredients like soy are often used to enhance the bread's natural and healthy properties.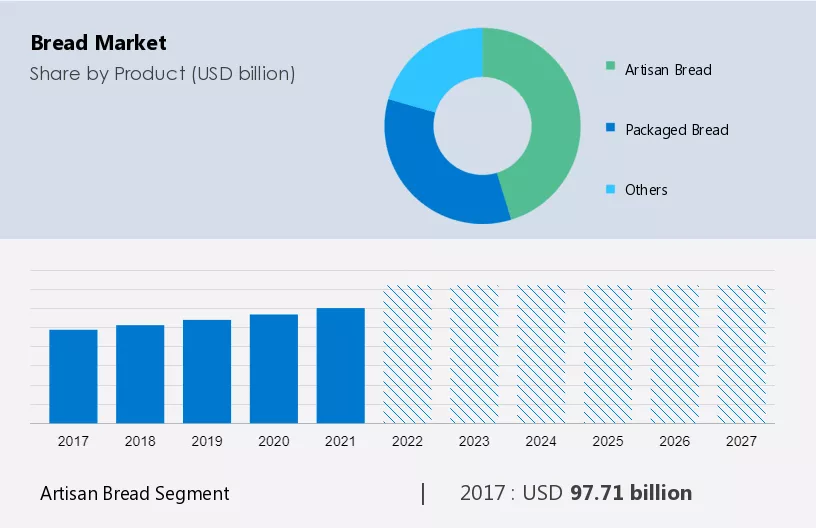 Get a glance at the market contribution of various segments Request a PDF Sample
The artisan segment was valued at USD 97.71 billion in 2017 and continue to grow until 2021. The average age of consumers that prefer artisan bread ranges from 30 to 35 years. The penetration of this age group for hypermarkets and supermarkets is high, which, in turn, is expected to spur the global artisan bread market in the next five years. Various vendors in the market are offering artisan bread that is made with multi-seeds and is gluten-free, halal-certified, and kosher-certified. Artisan bread is highly preferred by consumers that are diet conscious and require high nutritional content in everyday meals. Therefore, the factors mentioned above are likely to propel the growth of the market focus during the forecast period.
Which are the Key Regions for the Bread Market?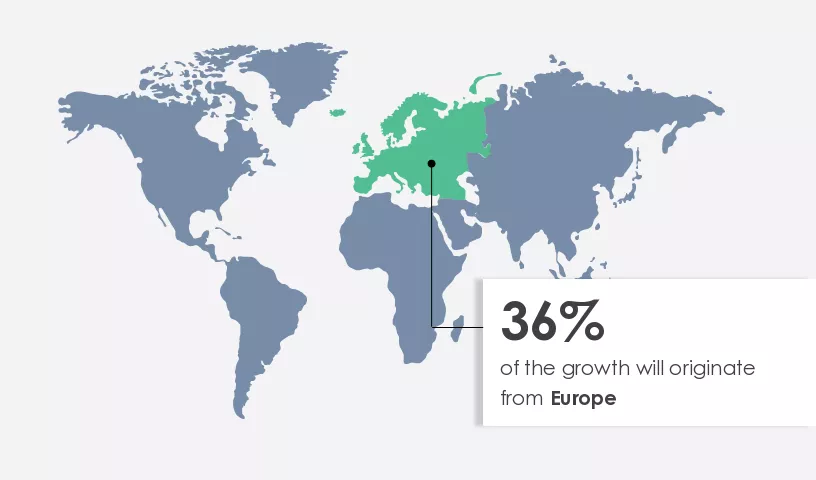 For more insights on the market share of various regions Request PDF Sample now!
Europe is estimated to contribute 36% to the growth of the global market during the forecast period. Technavio's analysts have elaborately explained the regional trends and drivers that shape the market during the forecast period.
The key factors driving the market are an increase in the number of private labels in this region, especially in Western Europe, and discounts offered by grocery retailers, which have fueled the sales of both existing and new private label products. Preservatives and additives-free and gluten-free bread are popular products among consumers in Europe. In addition, consumers in Europe prefer bread that is natural, comes in unique shapes, have clean label information, and can act as an effective meal replacement and on-the-go breakfast option.  Furthermore, the consumer demand for bread has evolved from convenience-based foods to wholesome and health-based snacks. This change in consumer preference has fueled the demand of the market.
The manufacturing units in Europe witnessed production losses due to the outbreak of COVID-19, which led manufacturers to halt production. However, the previously stocked inventories by offline distributors helped to sustain the growth of the market in Europe amid the pandemic. In addition, the lifting of lockdown measures drove the growth of the market. Owing to the removal of lockdown restrictions, the demand for bread increased from hotels, restaurants, and QSRs, which positively impacted the market growth in 2021. Also, offline stores and bakeries were reopened, which boosted the demand for bread in Europe. Thus, owing to such factors, the regional market is expected to witness high growth during the forecast period.
Segment Overview
The report forecasts market growth by revenue at global, regional & country levels and provides an analysis of the latest trends and growth opportunities from 2017 to 2027. 
Product Outlook (USD Billion, 2017 - 2027)

Artisan bread
Packaged bread
Others
Application Outlook (USD Billion, 2017 - 2027)
Region Outlook (USD Billion, 2017 - 2027)

Europe

The U.K.
Germany
France
Rest of Europe

North America

South America
Middle East & Africa

Saudi Arabia
South Africa
Rest of the Middle East & Africa
Bread Market Scope

Report Coverage

Details

Page number

163

Base year

2022

Historic period

2017-2021

Forecast period

2023-2027

Growth momentum & CAGR

Accelerate at a CAGR of 7.27%

Market growth 2023-2027

USD 118.37 billion

Market structure

Fragmented

YoY growth 2022-2023(%)

6.2

Regional analysis

Europe, North America, APAC, South America, and Middle East and Africa

Performing market contribution

Europe at 36%

Key countries

US, China, UK, Germany, and France

Competitive landscape

Leading Vendors, Market Positioning of Vendors, Competitive Strategies, and Industry Risks

Key companies profiled

AB Mauri Ltd., AGROFERT AS, Angel Bakeries, Aryzta AG, Bakers Delight, Bakkerij Borgesius, Barilla G and R Fratelli Spa, Braces Bakery Ltd., Britannia Industries Ltd., Campbell Soup Co., Finsbury Food Group Plc, Flowers Foods Inc., Fuji Baking Group, Corporativo Bimbo SA de CV, Hostess Brands Inc., Modern Food Enterprises Pvt. Ltd., Monginis Foods Pvt. Ltd., Pasco Shikishima Corp., Yamazaki Baking Co. Ltd., and Warburtons Ltd.

Market dynamics

Parent market analysis, Market growth inducers and obstacles, Fast-growing and slow-growing segment analysis, COVID-19 impact and recovery analysis and future consumer dynamics, and market condition analysis for the forecast period.

Customization purview

If our report has not included the data that you are looking for, you can reach out to our analysts and get segments customized.
What are the Key Data Covered in this Bread Market Report?
CAGR of the market during the forecast period
Detailed information on factors that will drive the growth of the bread market between 2023 and 2027
Precise estimation of the bread market size and its contribution to the parent market
Accurate predictions about upcoming trends and changes in consumer behavior
Growth of the industry across Europe, North America, APAC, South America, and Middle East, and Africa
A thorough analysis of the market's competitive landscape and detailed information about vendors
Comprehensive analysis of factors that will challenge the growth of bread market vendors
We can help! Our analysts can customize this report to meet your requirements. Get in touch