Golf Equipment Market Report 2023-2027 
The golf equipment market size is estimated to grow by USD 1,418.41 million at a CAGR of 2.77% between 2023 and 2027. The growth of the market depends on several factors, including the increasing focus on healthy lifestyles, innovation and portfolio expansion leading to product premiumization, and association initiatives and sponsor deals.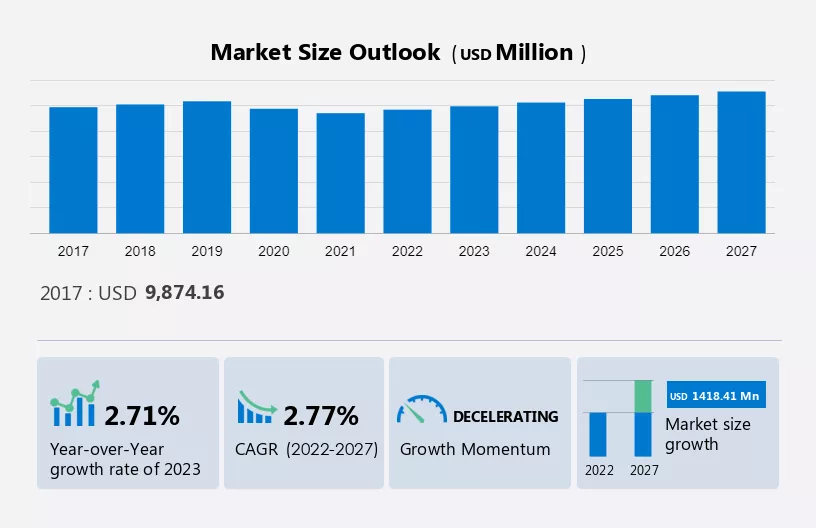 To learn more about this report, Download Sample PDF
This golf equipment market report extensively covers market segmentation by Product (golf clubs, golf balls, golf shoes, and golf bags), Distribution Channel (offline and online), and Geography (North America, APAC, Europe, Middle East and Africa, and South America). It also includes an in-depth analysis of drivers, trends, and challenges. Furthermore, the report includes historic market data from 2017 - 2021.
The golf clubs segment is expected to witness significant growth in the golf equipment market share. A golf club is an essential component of golf equipment, consisting of a slender shaft with a grip and a club head made of wood or metal. Golfers use various types of clubs, including woods for long-distance shots, irons for a variety of shots, putters to roll the ball into the hole, and wedges, which are a category of irons used for short-distance, highly accurate, and high-altitude utility shots. These clubs primarily differ in their loft, which is the angle between the vertical plane of the club and the club face. Typically, a set of golf clubs includes different types of clubs to allow players to choose the appropriate club for the required shot. These factors are expected to drive the market growth of the golf clubs segment during the forecast period.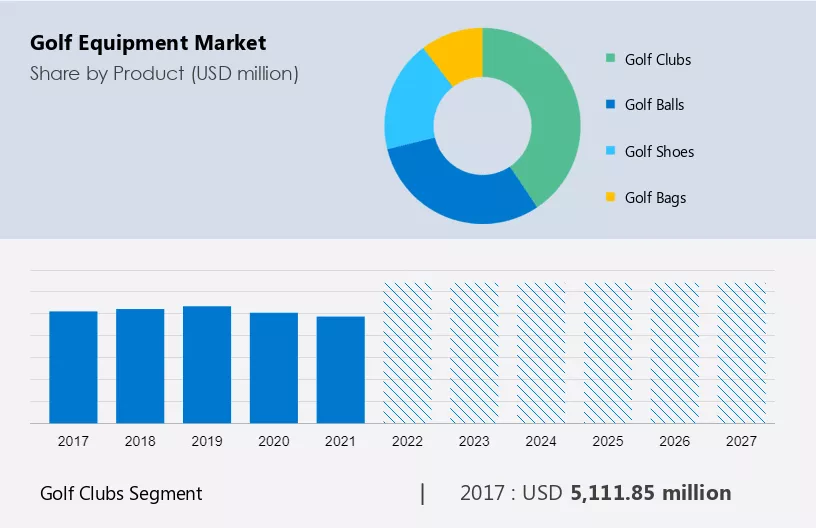 Get a glance at the market contribution of various segments Download Sample PDF
The golf clubs segment was valued at USD 5,111.85 million in 2017 and continue to grow by 2021. Golf clubs made of steel, titanium alloys, and carbon fibres are considered standard and long-lasting, but their production costs are high, and this expense is usually passed on to consumers. Larger vendors can manage the cost due to their effective production programs, whereas smaller vendors are forced to increase prices, which may reduce their market presence compared to established players. Vendors in the United States sell golf clubs through speciality stores, sporting goods retailers, and mass merchants. They also conduct international sales through wholly-owned subsidiaries and distributors. Replacement demand for golf clubs will remain high in the US and parts of Western Europe, where golf is a popular sport. On the other hand, new golf clubs will experience greater demand from China, India, and some parts of the Middle East and Central Europe. Interest and awareness in golf in these areas are growing, especially among young players.
The primary trend in the market is the surging popularity of FootGolf, a new hybrid sport gaining traction in the US and various Western European nations. Unlike traditional golf, FootGolf utilizes a football instead of golf balls and heavy clubs. The Federation for International FootGolf (FIFG), which governs the sport, boasts 25 member countries, including the UK. The game is gaining the most momentum in the US, with over 70 FootGolf courses accredited by the American FootGolf Federation (AFGL) in 35 states, including more than 25 in California alone, such as the Monarch Bay Golf Club in San Leandro, Vista Valencia Golf Course in Valencia, and Lake Forest Golf and Practice Center in Orange County.
As per the US National Golf Foundation, more than five million people have given up playing golf in the last decade, with players under 35 years old slowly losing interest in the game due to its orthodox nature and time-consuming gameplay. These factors contribute to the increasing popularity of FootGolf. Moreover, the game appeals to players of all genders and ages, including those with an interest in football but without the proficiency to play the sport professionally or even recreationally for a full 90 minutes. FootGolf could become even more popular if retired footballers adopt the game. Consequently, the growing popularity of FootGolf is anticipated to benefit the market significantly during the forecast period.
The growth of the global golf equipment market faces a significant challenge in the form of operational inefficiency. In most parts of the US, golf is typically played only between April and October due to unfavorable weather conditions during other months. Similarly, in other regions worldwide, the sport is restricted to a particular period of the year. For instance, golfing in the UK starts in April and ends in September. The sport heavily relies on clear skies and is, therefore, susceptible to changes in weather and season, as rainfall or fog can decrease the visibility and precision of golfers.
Additionally, golf turf management is challenging due to seasonal fluctuations. The demand for water to irrigate the turf rises during summer, which can pose a problem in regions with limited water resources. These factors significantly impact the production and distribution of golf equipment. Furthermore, changing weather conditions force vendors to adjust their inventory and delay product launches, ultimately hindering market growth during the forecast period.
Golf Equipment Market Regions
For more insights on the market share of various regions Download PDF Sample now!
North America is estimated to contribute 40% to the growth of the global market during the forecast period. Technavio's analysts have elaborately explained the regional trends and drivers that shape the market during the forecast period.
The US and Canada have been traditional markets for golf equipment, owing to the popularity of the sport in both countries. In 2022, the US accounted for the largest share of the golf equipment market in North America. The launch of innovative products; the wide use of online platforms to purchase golf equipment, such as golf clubs, golf balls, and golf bags; and rising awareness about the availability of such products drive the growth of the golf equipment market in the US. The rising demand for customized golf equipment drives the growth of the golf equipment market in North America.
The sales of celebrity-endorsed and designer golf equipment are increasing in North America. Such equipment costs more than normal equipment. Hence, the growth in the sales of such equipment is expected to increase the revenue generated by the market in the region during the forecast period.
Key Companies and Market Share Golf Equipment Market Analysis
Companies are implementing various strategies, such as strategic alliances, partnerships, mergers and acquisitions, geographical expansion, and product/service launches, to enhance their presence in the market.
Acushnet Holdings Corp. - The company offers a wide range of golf equipment such as golf gear, golf bags, headwear, travel gear, accessories, and golf gloves. 
The research report also includes detailed analyses of the competitive landscape of the market and information about 15 market companies, including:
ANTA Sports Products Ltd.
Bridgestone Golf, Inc.
Callaway Golf Co.
Dynamic Brands
ECCO Sko AS
Honma Golf Co. Ltd.
Jones Sports Co.
Mizuno Corp.
Nike Inc.
Parsons Xtreme Golf LLC
PING Inc.
PUMA SE
Ralph Lauren Corp.
Snell Golf
Sumitomo Rubber Industries Ltd.
Taylor Made Golf Co. Inc.
Tour Edge Golf
Under Armour Inc.
Worldwide Golf Brands Ltd.
Qualitative and quantitative analysis of companies has been conducted to help clients understand the wider business environment as well as the strengths and weaknesses of key market players. Data is qualitatively analyzed to categorize companies as pure play, category-focused, industry-focused, and diversified; it is quantitatively analyzed to categorize companies as dominant, leading, strong, tentative, and weak.
Golf Equipment Market Scope

Report Coverage

Details

Page number

171

Base year

2022

Historic period

2017 - 2021

Forecast period

2023-2027

Growth momentum & CAGR

Decelerate at a CAGR of 2.77%

Market growth 2023-2027

USD 1,418.41 million

Market structure

Fragmented

YoY growth 2022-2023(%)

2.71

Regional analysis

North America, APAC, Europe, Middle East and Africa, and South America

Performing market contribution

North America at 40%

Key countries

US, Japan, South Korea, China, and UK

Competitive landscape

Leading Companies, Market Positioning of Companies, Competitive Strategies, and Industry Risks

Key companies profiled

Acushnet Holdings Corp., ANTA Sports Products Ltd., Bridgestone Golf, Inc., Callaway Golf Co., Dynamic Brands, ECCO Sko AS, Honma Golf Co. Ltd., Jones Sports Co., Mizuno Corp., Nike Inc., Parsons Xtreme Golf LLC, PING Inc., PUMA SE, Ralph Lauren Corp., Snell Golf, Sumitomo Rubber Industries Ltd., Taylor Made Golf Co. Inc., Tour Edge Golf, Under Armour Inc., and Worldwide Golf Brands Ltd.

Market dynamics

Parent market analysis, Market growth inducers and obstacles, Fast-growing and slow-growing segment analysis, COVID 19 impact and recovery analysis and future consumer dynamics, Market condition analysis for forecast period

Customization purview

If our report has not included the data that you are looking for, you can reach out to our analysts and get segments customized.
What are the Key Data Covered in this Golf Equipment Market Research Report?
CAGR of the market during the forecast period
Detailed information on factors that will drive the growth of the

market 

between 2023 and 2027
Precise estimation of the size of the market  size and its contribution of the market in focus to the parent market
Accurate predictions about upcoming trends and changes in consumer behaviour
Growth of the market industry across North America, APAC, Europe, Middle East and Africa, and South America
Thorough analysis of the market's competitive landscape and detailed information about companies
Comprehensive analysis of factors that will challenge the growth of market companies
We can help! Our analysts can customize this market research report to meet your requirements. 
1 Executive Summary
1.1 Market overview

Exhibit 01: Executive Summary – Chart on Market Overview
Exhibit 02: Executive Summary – Data Table on Market Overview
Exhibit 03: Executive Summary – Chart on Global Market Characteristics
Exhibit 04: Executive Summary – Chart on Market by Geography
Exhibit 05: Executive Summary – Chart on Market Segmentation by Product
Exhibit 06: Executive Summary – Chart on Market Segmentation by Distribution Channel
Exhibit 07: Executive Summary – Chart on Incremental Growth
Exhibit 08: Executive Summary – Data Table on Incremental Growth
Exhibit 09: Executive Summary – Chart on Vendor Market Positioning
2 Market Landscape
2.1 Market ecosystem

Exhibit 10: Parent market
Exhibit 11: Market Characteristics
3 Market Sizing
3.1 Market definition

Exhibit 12: Offerings of vendors included in the market definition
3.2 Market segment analysis

Exhibit 13: Market segments
3.4 Market outlook: Forecast for 2022-2027

Exhibit 14: Chart on Global - Market size and forecast 2022-2027 ($ million)
Exhibit 15: Data Table on Global - Market size and forecast 2022-2027 ($ million)
Exhibit 16: Chart on Global Market: Year-over-year growth 2022-2027 (%)
Exhibit 17: Data Table on Global Market: Year-over-year growth 2022-2027 (%)
4 Historic Market Size
4.1 Global golf equipment market 2017 - 2021

Exhibit 18: Historic Market Size – Data Table on Global golf equipment market 2017 - 2021 ($ million)
4.2 Product Segment Analysis 2017 - 2021

Exhibit 19: Historic Market Size – Product Segment 2017 - 2021 ($ million)
4.3 Distribution channel Segment Analysis 2017 - 2021

Exhibit 20: Historic Market Size – Distribution channel Segment 2017 - 2021 ($ million)
4.4 Geography Segment Analysis 2017 - 2021

Exhibit 21: Historic Market Size – Geography Segment 2017 - 2021 ($ million)
4.5 Country Segment Analysis 2017 - 2021

Exhibit 22: Historic Market Size – Country Segment 2017 - 2021 ($ million)
5 Five Forces Analysis
5.1 Five forces summary

Exhibit 23: Five forces analysis - Comparison between 2022 and 2027
5.2 Bargaining power of buyers

Exhibit 24: Chart on Bargaining power of buyers – Impact of key factors 2022 and 2027
5.3 Bargaining power of suppliers

Exhibit 25: Bargaining power of suppliers – Impact of key factors in 2022 and 2027
5.4 Threat of new entrants

Exhibit 26: Threat of new entrants – Impact of key factors in 2022 and 2027
5.5 Threat of substitutes

Exhibit 27: Threat of substitutes – Impact of key factors in 2022 and 2027
5.6 Threat of rivalry

Exhibit 28: Threat of rivalry – Impact of key factors in 2022 and 2027
5.7 Market condition

Exhibit 29: Chart on Market condition - Five forces 2022 and 2027
6 Market Segmentation by Product
6.1 Market segments

Exhibit 30: Chart on Product - Market share 2022-2027 (%)
Exhibit 31: Data Table on Product - Market share 2022-2027 (%)
6.2 Comparison by Product

Exhibit 32: Chart on Comparison by Product
Exhibit 33: Data Table on Comparison by Product
6.3 Golf clubs - Market size and forecast 2022-2027

Exhibit 34: Chart on Golf clubs - Market size and forecast 2022-2027 ($ million)
Exhibit 35: Data Table on Golf clubs - Market size and forecast 2022-2027 ($ million)
Exhibit 36: Chart on Golf clubs - Year-over-year growth 2022-2027 (%)
Exhibit 37: Data Table on Golf clubs - Year-over-year growth 2022-2027 (%)
6.4 Golf balls - Market size and forecast 2022-2027

Exhibit 38: Chart on Golf balls - Market size and forecast 2022-2027 ($ million)
Exhibit 39: Data Table on Golf balls - Market size and forecast 2022-2027 ($ million)
Exhibit 40: Chart on Golf balls - Year-over-year growth 2022-2027 (%)
Exhibit 41: Data Table on Golf balls - Year-over-year growth 2022-2027 (%)
6.5 Golf shoes - Market size and forecast 2022-2027

Exhibit 42: Chart on Golf shoes - Market size and forecast 2022-2027 ($ million)
Exhibit 43: Data Table on Golf shoes - Market size and forecast 2022-2027 ($ million)
Exhibit 44: Chart on Golf shoes - Year-over-year growth 2022-2027 (%)
Exhibit 45: Data Table on Golf shoes - Year-over-year growth 2022-2027 (%)
6.6 Golf bags - Market size and forecast 2022-2027

Exhibit 46: Chart on Golf bags - Market size and forecast 2022-2027 ($ million)
Exhibit 47: Data Table on Golf bags - Market size and forecast 2022-2027 ($ million)
Exhibit 48: Chart on Golf bags - Year-over-year growth 2022-2027 (%)
Exhibit 49: Data Table on Golf bags - Year-over-year growth 2022-2027 (%)
6.7 Market opportunity by Product

Exhibit 50: Market opportunity by Product ($ million)
7 Market Segmentation by Distribution Channel
7.1 Market segments

Exhibit 51: Chart on Distribution Channel - Market share 2022-2027 (%)
Exhibit 52: Data Table on Distribution Channel - Market share 2022-2027 (%)
7.2 Comparison by Distribution Channel

Exhibit 53: Chart on Comparison by Distribution Channel
Exhibit 54: Data Table on Comparison by Distribution Channel
7.3 Offline - Market size and forecast 2022-2027

Exhibit 55: Chart on Offline - Market size and forecast 2022-2027 ($ million)
Exhibit 56: Data Table on Offline - Market size and forecast 2022-2027 ($ million)
Exhibit 57: Chart on Offline - Year-over-year growth 2022-2027 (%)
Exhibit 58: Data Table on Offline - Year-over-year growth 2022-2027 (%)
7.4 Online - Market size and forecast 2022-2027

Exhibit 59: Chart on Online - Market size and forecast 2022-2027 ($ million)
Exhibit 60: Data Table on Online - Market size and forecast 2022-2027 ($ million)
Exhibit 61: Chart on Online - Year-over-year growth 2022-2027 (%)
Exhibit 62: Data Table on Online - Year-over-year growth 2022-2027 (%)
7.5 Market opportunity by Distribution Channel

Exhibit 63: Market opportunity by Distribution Channel ($ million)
8 Customer Landscape
8.1 Customer landscape overview

Exhibit 64: Analysis of price sensitivity, lifecycle, customer purchase basket, adoption rates, and purchase criteria
9 Geographic Landscape
9.1 Geographic segmentation

Exhibit 65: Chart on Market share by geography 2022-2027 (%)
Exhibit 66: Data Table on Market share by geography 2022-2027 (%)
9.2 Geographic comparison

Exhibit 67: Chart on Geographic comparison
Exhibit 68: Data Table on Geographic comparison
9.3 North America - Market size and forecast 2022-2027

Exhibit 69: Chart on North America - Market size and forecast 2022-2027 ($ million)
Exhibit 70: Data Table on North America - Market size and forecast 2022-2027 ($ million)
Exhibit 71: Chart on North America - Year-over-year growth 2022-2027 (%)
Exhibit 72: Data Table on North America - Year-over-year growth 2022-2027 (%)
9.4 APAC - Market size and forecast 2022-2027

Exhibit 73: Chart on APAC - Market size and forecast 2022-2027 ($ million)
Exhibit 74: Data Table on APAC - Market size and forecast 2022-2027 ($ million)
Exhibit 75: Chart on APAC - Year-over-year growth 2022-2027 (%)
Exhibit 76: Data Table on APAC - Year-over-year growth 2022-2027 (%)
9.5 Europe - Market size and forecast 2022-2027

Exhibit 77: Chart on Europe - Market size and forecast 2022-2027 ($ million)
Exhibit 78: Data Table on Europe - Market size and forecast 2022-2027 ($ million)
Exhibit 79: Chart on Europe - Year-over-year growth 2022-2027 (%)
Exhibit 80: Data Table on Europe - Year-over-year growth 2022-2027 (%)
9.6 Middle East and Africa - Market size and forecast 2022-2027

Exhibit 81: Chart on Middle East and Africa - Market size and forecast 2022-2027 ($ million)
Exhibit 82: Data Table on Middle East and Africa - Market size and forecast 2022-2027 ($ million)
Exhibit 83: Chart on Middle East and Africa - Year-over-year growth 2022-2027 (%)
Exhibit 84: Data Table on Middle East and Africa - Year-over-year growth 2022-2027 (%)
9.7 South America - Market size and forecast 2022-2027

Exhibit 85: Chart on South America - Market size and forecast 2022-2027 ($ million)
Exhibit 86: Data Table on South America - Market size and forecast 2022-2027 ($ million)
Exhibit 87: Chart on South America - Year-over-year growth 2022-2027 (%)
Exhibit 88: Data Table on South America - Year-over-year growth 2022-2027 (%)
9.8 US - Market size and forecast 2022-2027

Exhibit 89: Chart on US - Market size and forecast 2022-2027 ($ million)
Exhibit 90: Data Table on US - Market size and forecast 2022-2027 ($ million)
Exhibit 91: Chart on US - Year-over-year growth 2022-2027 (%)
Exhibit 92: Data Table on US - Year-over-year growth 2022-2027 (%)
9.9 Japan - Market size and forecast 2022-2027

Exhibit 93: Chart on Japan - Market size and forecast 2022-2027 ($ million)
Exhibit 94: Data Table on Japan - Market size and forecast 2022-2027 ($ million)
Exhibit 95: Chart on Japan - Year-over-year growth 2022-2027 (%)
Exhibit 96: Data Table on Japan - Year-over-year growth 2022-2027 (%)
9.10 South Korea - Market size and forecast 2022-2027

Exhibit 97: Chart on South Korea - Market size and forecast 2022-2027 ($ million)
Exhibit 98: Data Table on South Korea - Market size and forecast 2022-2027 ($ million)
Exhibit 99: Chart on South Korea - Year-over-year growth 2022-2027 (%)
Exhibit 100: Data Table on South Korea - Year-over-year growth 2022-2027 (%)
9.11 UK - Market size and forecast 2022-2027

Exhibit 101: Chart on UK - Market size and forecast 2022-2027 ($ million)
Exhibit 102: Data Table on UK - Market size and forecast 2022-2027 ($ million)
Exhibit 103: Chart on UK - Year-over-year growth 2022-2027 (%)
Exhibit 104: Data Table on UK - Year-over-year growth 2022-2027 (%)
9.12 China - Market size and forecast 2022-2027

Exhibit 105: Chart on China - Market size and forecast 2022-2027 ($ million)
Exhibit 106: Data Table on China - Market size and forecast 2022-2027 ($ million)
Exhibit 107: Chart on China - Year-over-year growth 2022-2027 (%)
Exhibit 108: Data Table on China - Year-over-year growth 2022-2027 (%)
9.13 Market opportunity by geography

Exhibit 109: Market opportunity by geography ($ million)
10 Drivers, Challenges, and Trends
10.3 Impact of drivers and challenges

Exhibit 110: Impact of drivers and challenges in 2022 and 2027
11 Vendor Landscape
11.2 Vendor landscape

Exhibit 111: Overview on Criticality of inputs and Factors of differentiation
11.3 Landscape disruption

Exhibit 112: Overview on factors of disruption
11.4 Industry risks

Exhibit 113: Impact of key risks on business
12 Vendor Analysis
12.1 Vendors covered

Exhibit 114: Vendors covered
12.2 Market positioning of vendors

Exhibit 115: Matrix on vendor position and classification
12.3 Acushnet Holdings Corp.

Exhibit 116: Acushnet Holdings Corp. - Overview
Exhibit 117: Acushnet Holdings Corp. - Business segments
Exhibit 118: Acushnet Holdings Corp. - Key offerings
Exhibit 119: Acushnet Holdings Corp. - Segment focus
12.4 ANTA Sports Products Ltd.

Exhibit 120: ANTA Sports Products Ltd. - Overview
Exhibit 121: ANTA Sports Products Ltd. - Business segments
Exhibit 122: ANTA Sports Products Ltd. - Key news
Exhibit 123: ANTA Sports Products Ltd. - Key offerings
Exhibit 124: ANTA Sports Products Ltd. - Segment focus
12.5 Bridgestone Golf, Inc.

Exhibit 125: Bridgestone Golf, Inc. - Overview
Exhibit 126: Bridgestone Golf, Inc. - Product / Service
Exhibit 127: Bridgestone Golf, Inc. - Key offerings
12.6 Callaway Golf Co.

Exhibit 128: Callaway Golf Co. - Overview
Exhibit 129: Callaway Golf Co. - Business segments
Exhibit 130: Callaway Golf Co. - Key offerings
Exhibit 131: Callaway Golf Co. - Segment focus
12.7 Dynamic Brands

Exhibit 132: Dynamic Brands - Overview
Exhibit 133: Dynamic Brands - Product / Service
Exhibit 134: Dynamic Brands - Key offerings
12.8 ECCO Sko AS

Exhibit 135: ECCO Sko AS - Overview
Exhibit 136: ECCO Sko AS - Business segments
Exhibit 137: ECCO Sko AS - Key offerings
Exhibit 138: ECCO Sko AS - Segment focus
12.9 Honma Golf Co. Ltd.

Exhibit 139: Honma Golf Co. Ltd. - Overview
Exhibit 140: Honma Golf Co. Ltd. - Product / Service
Exhibit 141: Honma Golf Co. Ltd. - Key offerings
12.10 Jones Sports Co.

Exhibit 142: Jones Sports Co. - Overview
Exhibit 143: Jones Sports Co. - Product / Service
Exhibit 144: Jones Sports Co. - Key offerings
12.11 Mizuno Corp.

Exhibit 145: Mizuno Corp. - Overview
Exhibit 146: Mizuno Corp. - Business segments
Exhibit 147: Mizuno Corp. - Key offerings
Exhibit 148: Mizuno Corp. - Segment focus
12.12 Nike Inc.

Exhibit 149: Nike Inc. - Overview
Exhibit 150: Nike Inc. - Business segments
Exhibit 151: Nike Inc. - Key news
Exhibit 152: Nike Inc. - Key offerings
Exhibit 153: Nike Inc. - Segment focus
12.13 PING Inc.

Exhibit 154: PING Inc. - Overview
Exhibit 155: PING Inc. - Product / Service
Exhibit 156: PING Inc. - Key offerings
12.14 PUMA SE

Exhibit 157: PUMA SE - Overview
Exhibit 158: PUMA SE - Business segments
Exhibit 159: PUMA SE - Key news
Exhibit 160: PUMA SE - Key offerings
Exhibit 161: PUMA SE - Segment focus
12.15 Ralph Lauren Corp.

Exhibit 162: Ralph Lauren Corp. - Overview
Exhibit 163: Ralph Lauren Corp. - Business segments
Exhibit 164: Ralph Lauren Corp. - Key offerings
Exhibit 165: Ralph Lauren Corp. - Segment focus
12.16 Sumitomo Rubber Industries Ltd.

Exhibit 166: Sumitomo Rubber Industries Ltd. - Overview
Exhibit 167: Sumitomo Rubber Industries Ltd. - Business segments
Exhibit 168: Sumitomo Rubber Industries Ltd. - Key offerings
Exhibit 169: Sumitomo Rubber Industries Ltd. - Segment focus
12.17 Under Armour Inc.

Exhibit 170: Under Armour Inc. - Overview
Exhibit 171: Under Armour Inc. - Business segments
Exhibit 172: Under Armour Inc. - Key offerings
Exhibit 173: Under Armour Inc. - Segment focus
13 Appendix
13.2 Inclusions and exclusions checklist

Exhibit 174: Inclusions checklist
Exhibit 175: Exclusions checklist
13.3 Currency conversion rates for US$

Exhibit 176: Currency conversion rates for US$
13.4 Research methodology

Exhibit 177: Research methodology
Exhibit 178: Validation techniques employed for market sizing
Exhibit 179: Information sources
13.5 List of abbreviations

Exhibit 180: List of abbreviations