Drayage Services Market Analysis Report 2023-2027:
The drayage services market size is estimated to grow at a CAGR of 2.24% between 2022 and 2027 and the size of the market is forecast to increase by USD 2,960.11 million. The growth of the market depends on several factors, including the growing manufacturing industry, rising seaborne trade, and increasing cross-border trade. 
This drayage services market report extensively covers market segmentation by end-user (electronics and electrical, food and beverage, consumer goods and retail, and others), type (ship, rail, and truck), and geography (APAC, North America, Europe, Middle East and Africa, and South America). It also includes an in-depth analysis of drivers, trends, and challenges. Furthermore, the report includes historic market data from 2017 to 2021.
What will be the Size of the Drayage Services Market During the Forecast Period?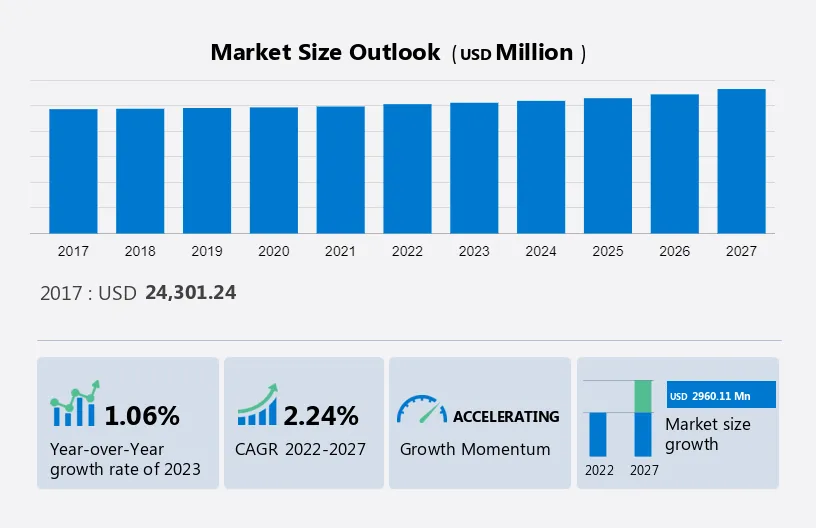 To learn more about this report, View Report Sample
Drayage Services Market: Dynamic
Our researchers analyzed the data with 2022 as the base year, along with the key drivers, trends, and challenges. A holistic analysis of drivers will help companies refine their marketing strategies to gain a competitive advantage.
Key  Driver
Rising seaborne trade is notably driving market growth. Since 2009, the volume of seaborne trade has been steadily increasing. Due to the expanding global GDP and rising demand for goods and materials made in various regions, it is anticipated to keep growing during the forecast period. Additionally, as the world's population keeps rising, there is a growing need for both the transportation of goods produced or manufactured in various regions and the demand for a variety of goods. Furthermore, compared to other modes, seaborne transportation is more economical.
During the forecast period, it is anticipated that there will be a rise in demand for drayage services due to the volume of seaborne trade. Drayage basically entails the removal of containers from a rail yard or seaport over short distances, usually for the purpose of loading or unloading them and then bringing the container back to the port or rail yard. The shipment and transportation of goods using various modes of transportation is considered to be incomplete without drayage services. Hence, such factors are expected to boost the drayage services market growth during the forecast period. 

Significant Trends
The growing penetration e-commerce market is an emerging trend in market growth. E-commerce is a rapidly expanding industry with a significant impact on both distribution and retail channels. Because of the many advantages that online shopping provides, including the convenience of purchase, easy access to alternatives, and home delivery services, the trend towards it among consumers appears to be permanent. The global e-commerce market is expanding as a result of more people using the internet and mobile devices. This, in turn, has resulted in an increased demand for drayage services.
Drayage services will be in greater demand as e-commerce sales increase. Any goods that are shipped to a port in a container must then be transported by trucks, ships, or rail to the e-commerce company's warehouse. The IANA's most recent data shows that there are more than 60 million drayage movements in North America each year. Hence, owing to such factors the drayage services market is expected to expand during the forecast period.

Major  Challenge
High operational costs are major challenges impeding market growth. One of the main obstacles preventing the expansion of the global market for drayage services is the increase in operational costs. The cost of shipping finished vehicles is rising as a result of factors like a lack of skilled labour and rising fuel prices. Additionally, one of the main factors driving transportation costs and lowering the profitability of logistics service providers is the volatility in crude oil prices.
India and other developing nations pay more for logistics than many developed nations in Europe, the US, and Japan. Because of the increase in the price of crude oil, the cost of fuels like diesel and gasoline is also rising. For instance, in 2018, a gallon of diesel was around USD 3.10 in the US. An average trailer truck uses 20,000 gallons of diesel annually, hence the amount summed up to USD 60,000 for a truck in the US. This made the drayage service providers raise their prices to customers in order to maintain a profit. Therefore, these factors will pose a challenge to the drayage services market during the forecast period.
Drayage Services Market Customer Landscape
The market research report includes the adoption lifecycle of the market, covering from the innovator's stage to the laggard's stage. It focuses on adoption rates in different regions based on penetration. Furthermore, the report also includes key purchase criteria and drivers of price sensitivity to help companies evaluate and develop their growth strategies.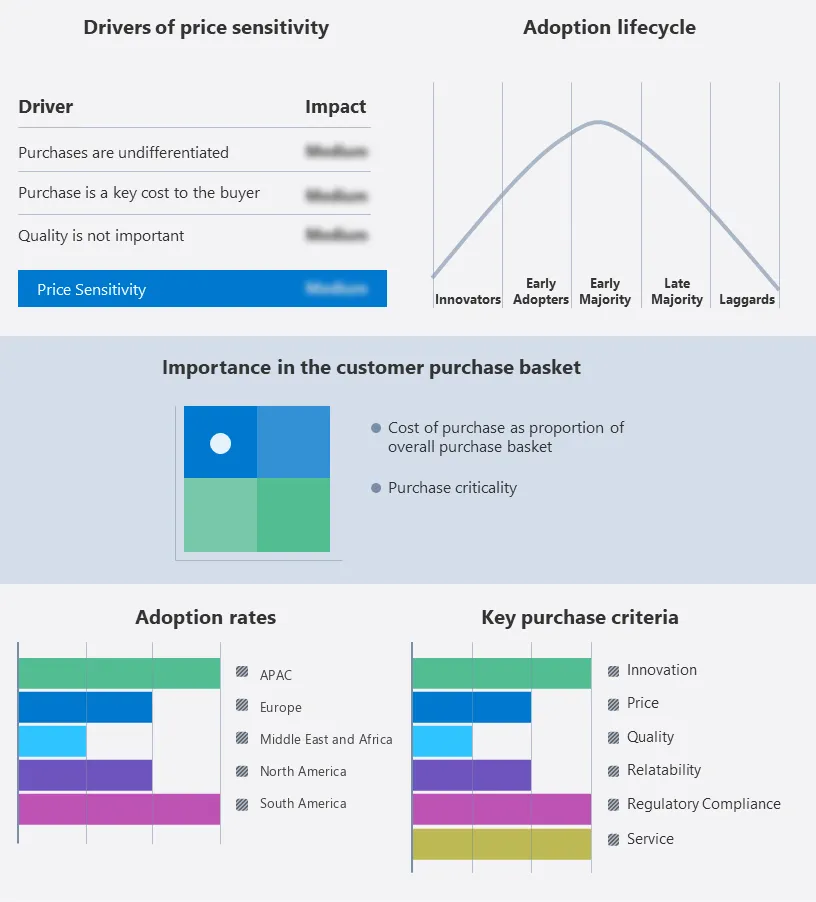 Global Drayage Services Market Customer Landscape
Who are the Major Drayage Services Market Companies?
Companies are implementing various strategies, such as strategic alliances, partnerships, mergers and acquisitions, geographical expansion, and product/service launches, to enhance their presence in the market.
ContainerPort Group Inc. - The company is primarily engaged in furnishing shipping information and acting as agents in arranging transportation for freight and cargo. The key offerings of the company include drayage services which include specialized chassis on hand to deliver both standard and overweight containers.
Evans Delivery Co. Inc. - The company provides transportation services in the port drayage/intermodal, flatbed, van truckload, and freight brokerage markets. The key offerings of the company include drayage services by leveraging flexible drivers and a deep chassis pool with cutting-edge visibility to smooth the journey from the global entry point to the door.
The research report also includes detailed analyses of the competitive landscape of the market and information about 15 market companies, including:
Asiana USA
Boa Logistics LLC
ContainerPort Group Inc.
Continental Logistics
Evans Delivery Co. Inc.
G and D Integrated
Hub Group Inc.
IMC Companies
Interlog USA
ITS ConGlobal
J B Hunt Transport Services Inc.
Knight Swift Transportation Holdings Inc.
NFI Industries Inc.
PLS Logistics
PORT CITY LOGISTICS
RoadOne IntermodaLogistics Inc.
Schneider National Inc.
Taylor Distributing Co.
Trinity Logistics Inc.
XPO Inc.
Qualitative and quantitative analysis of companies has been conducted to help clients understand the wider business environment as well as the strengths and weaknesses of key market players. Data is qualitatively analyzed to categorize companies as pure play, category-focused, industry-focused, and diversified; it is quantitatively analyzed to categorize companies as dominant, leading, strong, tentative, and weak.
What is the Largest-Growing Segments in the Drayage Services Market?
End-user Segment Analysis: 
The electronics and electrical segment will contribute a major share of the market, as global electronics sale saw an increase and is expected to increase significantly during the forecast period. The segment showed a gradual increase in market share with USD 10,434.95 million in 2017 and continued to grow until 2021.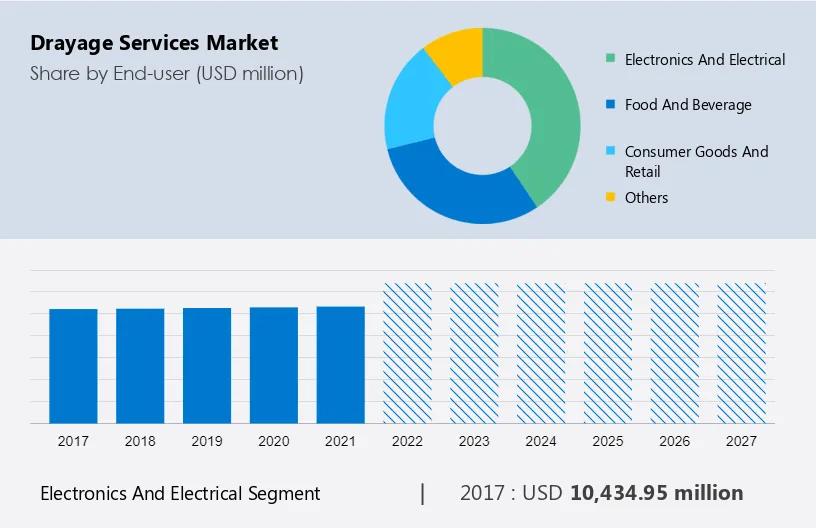 Get a glance at the market contribution of various segments Request Free PDF Sample
Since the 1990s, there has been a shift in the dynamics of the industry. Production has shifted from high-cost to low-cost countries, such as China, which has become an important hub for the high-volume production of electronic equipment. The top three electronic producers in 2022 were the US, Hong Kong, and China. In an effort to reduce the production of harmful greenhouse gases, China has recently adopted more eco-friendly manufacturing techniques. In addition, the top 10 electronics manufacturers worldwide made a combined USD 75.0 trillion in 2022. Therefore, as the electronics sector continues to expand, there will be an increase in international trade, which will fuel demand for drayage services during the forecast period. 
Type Segment Analysis: 
The global drayage services market's ship type segment took the lead in 2022 and is anticipated to hold the largest market share during the forecast period. Shipping is unquestionably the preferred mode of transportation due to its safety, affordability, and ease of drayage. The majority of the furniture, medical supplies, pharmaceuticals, precious metals, gems, and jewelry, as well as equipment, electronics, vehicles, and other items, are imported via ships. Whereas, a few of the exports include foods and beverages, animal feed, petrochemicals, auto parts, and civil aircraft. These factors are going to drive the growth of the segment of the global market during the forecast period.
Which are the Key Regions for the Drayage Services Market?
APAC is estimated to contribute 38% to the growth of the global market during the forecast period.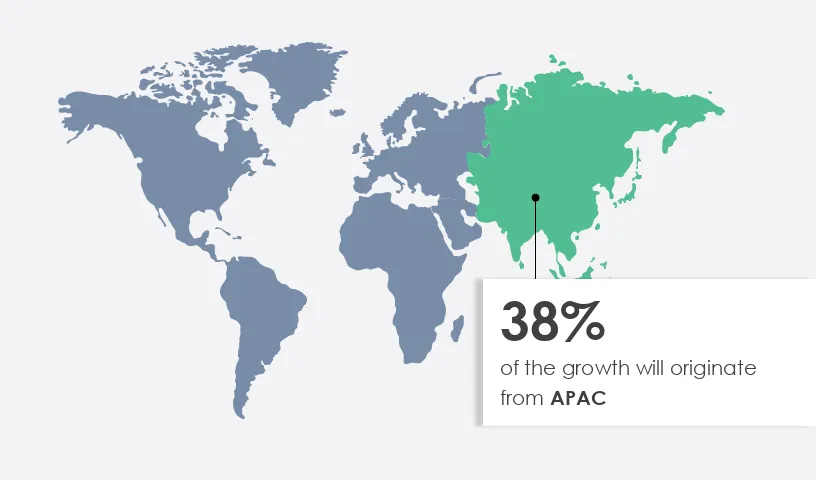 For more insights on the market share of various regions Request Free PDF Sample now!
The per capita income of the population has increased significantly over the past few years due to the rapid economic growth in APAC. This has increased consumer purchasing power, which has increased e-commerce sales. Furthermore, the cross-border e-commerce logistics market in APAC is also being strengthened by government initiatives that emphasize trade and foreign direct investment (FDI). For example, the One Belt One Road (OBOR) initiative for the development of infrastructure was launched by the Chinese government in 2017. The main goals of this initiative were to improve trade, increase connectivity, and upgrade the infrastructure networks for logistics, transportation, and communication between China and its neighbors. Such factors will boost the regional market growth during the forecast period. 
In terms of container traffic, APAC makes up a significant portion of the top ports in the world. Additionally, geopolitics is further influencing port activities in APAC as a result of increased facility investments made by regional manufacturing powerhouses in an effort to strengthen their position and gain better access to resources and potential markets in the Middle East and Central Asia. In nations like China, Japan, India, Singapore, Australia, and the Philippines, this will stimulate infrastructure development activities and investments in the modernization of ports and terminals. Thus, all the above developments are expected to play a major role in driving the demand for drayage services in APAC.
Covid Recovery Analysis:
The market was negatively impacted by the COVID-19 outbreak in 2020. However, in 2021, the initiation of large-scale vaccination drives?lifted the lockdown and travel restrictions, which led to the resumption of supply chain activities. With the reopening and recovery of economies from the COVID-19 crisis, the market is thus expected to show significant growth during the forecasted period.
Segment Overview
The drayage services market report forecasts market growth by revenue at global, regional & country levels and provides an analysis of the latest trends and growth opportunities from 2017 to 2027. 
End-user Outlook (USD Million, 2017 - 2027)

Electronics and Electrical
Food and beverage
Consumer goods and retail
Others

Type Outlook (USD Million, 2017 - 2027)
Region Outlook (USD Million, 2017 - 2027)

Europe

U.K.
Germany
France
Rest of Europe

Middle East & Africa

Saudi Arabia
South Africa
Rest of the Middle East & Africa

South America
Drayage Services Market Scope

Report Coverage

Details

Page number

174

Base year

2022

Historic period

2017-2021

Forecast period

2023-2027

Growth momentum & CAGR

Accelerate at a CAGR of 2.24%

Market growth 2023-2027

$ 2960.11 million

Market structure

Fragmented

YoY growth 2022-2023(%)

1.06

Regional analysis

APAC, North America, Europe, Middle East and Africa, and South America

Performing market contribution

APAC at 38%

Key countries

US, China, Japan, Germany, and UK

Competitive landscape

Leading Vendors, Market Positioning of Vendors, Competitive Strategies, and Industry Risks

Key companies profiled

Asiana USA, Boa Logistics LLC, ContainerPort Group Inc., Continental Logistics, Evans Delivery Co. Inc., G and D Integrated, Hub Group Inc., IMC Companies, Interlog USA, ITS ConGlobal, J B Hunt Transport Services Inc., Knight Swift Transportation Holdings Inc., NFI Industries Inc., PLS Logistics, PORT CITY LOGISTICS, RoadOne IntermodaLogistics Inc., Schneider National Inc., Taylor Distributing Co., Trinity Logistics Inc., and XPO Inc.

Market dynamics

Parent market analysis, Market growth inducers and obstacles, Fast-growing and slow-growing segment analysis, COVID 19 impact and recovery analysis and future consumer dynamics, Market condition analysis for forecast period

Customization purview

If our report has not included the data that you are looking for, you can reach out to our analysts and get segments customized.
What are the Key Data Covered in this Drayage Services Market Research Report?
CAGR of the market during the forecast period
Detailed information on factors that will drive the growth of the

market 

between 2023 and 2027
Precise estimation of the size of the market  size and its contribution of the market in focus to the parent market
Accurate predictions about upcoming trends and changes in consumer behaviour
Growth of the market industry across APAC, North America, Europe, Middle East and Africa, and South America
Thorough analysis of the market's competitive landscape and detailed information about companies
Comprehensive analysis of factors that will challenge the growth of market companies
We can help! Our analysts can customize this market research report to meet your requirements.