Fleet Management Market Insights
Fleet Management Market size is estimated to grow by USD 57,278.74 million between 2022 and 2027 accelerating at a CAGR of 18.77% during the forecast period. The fleet management market grows due to high cloud computing and analytics adoption, decreasing hardware and IoT connectivity costs, and increasing operational efficiency needs. Rising fleet safety concerns, the demand for competent fleet management, the rapid fleet expansion, and government regulations on vehicle maintenance and fleet gps tracking drive fleet management market growth.
This fleet management market research report extensively covers market segmentation by service (subscription, hardware, and others), vehicle type (commercial fleets and passenger cars), and geography (North America, Europe, APAC, South America, and Middle East and Africa). It also includes an in-depth analysis of drivers, trends, and challenges. 
What will be the Size of the Fleet Management Market During the Forecast Period?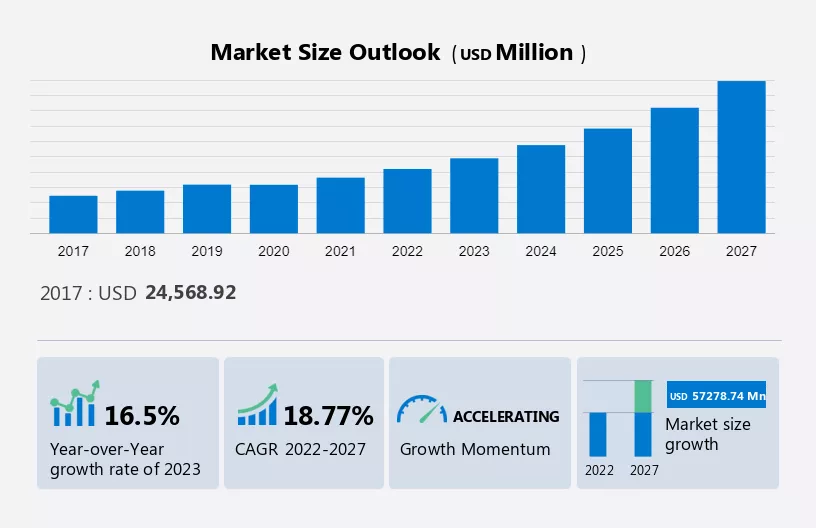 To learn more about this report,  Request Free Sample
Key Drivers, Trends, and Challenges
Our researchers studied the data for years, with 2022 as the base year and 2023 as the estimated year, and presented the key drivers, trends, and challenges for the fleet management software market. Although there has been a disruption in the growth of the market during the COVID-19 pandemic, a holistic analysis of drivers, trends, and challenges will help companies refine marketing strategies to gain a competitive advantage.    
Key Fleet Management Market Drivers
The growing popularity of cold chain transportation is a major fleet management software market driver. The growing adoption of connected devices and automation of cold storage across the world is expected to boost industry growth during the forecast period. Fleet management software serves various purposes and offers several functionalities aimed at streamlining and optimizing the management of vehicle fleets. The growing number of organized retail stores in developing economies is increasing the demand for cold chain solutions.
Use of fleet management software :
Fleet management software encompasses a range of functionalities, including efficiently manages inventory pertaining to vehicle parts, accessories, and supplies. Fleet management software has capability streamlines stock management and procurement processes, ensuring optimal availability of necessary items.Monitors and fleet gps tracking  driver behavior, such as speeding, harsh braking, and excessive idling, fostering safer driving practices. Monitors and tracks driver behavior, such as speeding, harsh braking, and excessive idling, fostering safer driving practices. 
Additionally, trade liberalization, government efforts to reduce food waste, and expansion of retail chains by MNCs are expected to boost industry growth during the forecast period. In particular, the use of monitoring components in the cold chain is increasing. This growth is driven by technological advances and the growing need to ensure cargo integrity, efficiency, and safety. Similar advances are being made in the back-end IT infrastructure and front-end devices used to collect and report real-time shipping information. Thus increasing adoption of connected devices and automation will boost the growth of the global fleet management market during the forecast period.
Trends Shaping the Future of Commercial Fleet Management
Mobility-as-a-service (MaaS) to provide new revenue streams is a significant fleet management market trend. The global surge in passenger and freight traffic has created a demand for more transportation infrastructure and services, particularly internet-based platforms for road, rail, and other forms of transportation. The rapid growth of smart cities and increasing urbanization further drive this market expansion. Urban areas with high population density are under pressure to reduce pollution and ease traffic, leading to the development of Mobility as a Service (MaaS) platforms for shared mobility. Service providers in the global fleet management market are focusing on innovation and quality to meet diverse customer needs. The rising popularity of MaaS will positively impact the growth of the fleet management software market.
Major Fleet Management Market Challenges
The high cost of on-premise fleet management software is a market challenge. The rising cost of deploying on-premise fleet management solutions poses a significant challenge to market growth. This cost increase can be attributed to expenses related to software licensing, installation, maintenance, hardware, customization, and training. While on-premise solutions offer enhanced security and customization compared to cloud-based options, they require skilled IT staff for management and dedicated personnel for operation.
Additionally, regular upgrades are necessary to stay aligned with market trends and integrate advanced technologies like big data, AI, and blockchain. These factors increase implementation and maintenance costs for on-premise fleet management solutions. Furthermore, the availability of open-source alternatives further complicates the growth prospects of the fleet management software market in the forecast period.
Fleet Management Market Segmentation by Service, Vehicle Type, Geography
Service Analysis
The fleet management market share growth by the subscription segment will be significant during the forecast period. The subscription segment was valued at USD 22,633.99 million in 2017 and continued to grow until 2021. Technological advancements have greatly improved the capabilities, reliability, and affordability of data collection and dissemination in the field of vehicle management.Automobile gps tracking device(GPS)  and advanced onboard systems now generate real-time, objective information that forms the foundation for driver and vehicle management solutions. Automobile gps tracking device(GPS) assist businesses in managing and optimizing their vehicle fleets, monitoring driver behavior, and improving operational efficiency.
An automobile GPS tracking device is a technology that utilizes the (GPS) automobile gps tracking device to track and monitor the location, movement, and sometimes other vehicle-related data in real-time. Additionally, the progress in fixed and wireless networks, computing power, and data storage capabilities have facilitated the growth of cloud computing, enabling the delivery of software as a service (SaaS). These advancements, coupled with market shifts, have driven the demand for subscription-based fleet management solutions.
Get a Customised Report as per your requirements for FREE!
Subscription-based fleet management offers a range of features such as vehicle fleet gps tracking, location management, security, reporting, regulatory compliance, driver and vehicle management, messaging, mobile access, application integration, and real-time monitoring. By leveraging these solutions, customers can efficiently manage, optimize, and safeguard their investments in commercial fleets and personal vehicles. Vendors have a strong foothold in the subscription-based market, with notable examples like Mix Telematics Ltd., which served over 744,000 vehicles under subscription as of March 31, 2021. The segment is expected to experience further growth during the forecast period.
Vehicle Type Analysis
Based on vehicle type analysis, the commercial fleet sub segment holds the highest market share. A commercial fleet refers to a collection of vehicles utilized by a company to achieve its business objectives. This fleet comprises vehicles either owned by the company or leased from a third party. Fleet management offers advantages such as maintenance planning, enhanced vehicle efficiency, improved driver safety, and optimized routing, leading to cost-effective operations for fleet owners, streamlined procurement processes, fleet safety, and increased customer satisfaction. With the growing need for logistics and transportation services, the commercial fleet sector has witnessed numerous opportunities, resulting in a higher demand for fleet management. Consequently, these factors will have a positive impact on the growth of the global fleet management software market throughout the forecast period.
Regional Analysis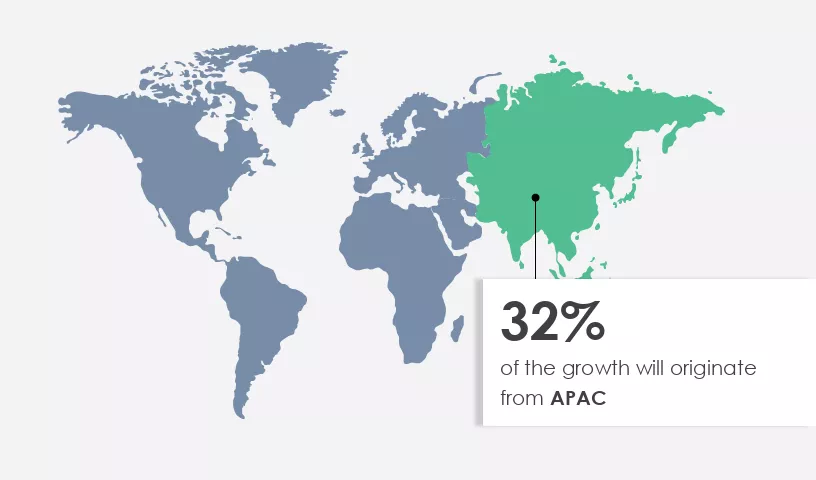 For more insights on the market share of various regions View PDF Sample now!
APAC is estimated to contribute 32% to the growth by 2027. Fleet GPS tracking systems enable fleet managers to efficiently manage their vehicles, enhance operational efficiency, optimize routes, ensure compliance with schedules, and improve overall fleet safety and productivity. Technavio's analysts have elaborately explained the regional trends, drivers, and challenges that are expected to shape the fleet management solutions market during the forecast period.  
The North American fleet management market is experiencing growth due to the presence of automotive OEMs like Daimler that offer fleet management services. The market is further driven by the increasing demand for commercial vehicles and electric/hybrid vehicles, leading to the establishment of new manufacturing plants in the region. Stringent regulations mandating the integration of automobile gps tracking device trackers in vehicles also contribute to market growth, driven by the emphasis on vehicle safety and advanced systems adoption.
The expansion of car-sharing, car rental, and car leasing markets also fuels the growth of the fleet management market in North America. Leasing companies require bulk procurement of vehicles from OEMs, which are equipped with telematics systems for monitoring driving behavior and insurance calculations. This necessitates operational fleet management services for effective monitoring. Government subsidies aimed at promoting efficient fleet management attract new companies to enter the market. Stringent safety regulations and the need for vehicle tracking and cost reduction drive the demand for fleet management, enabling fleet operators to comply with emissions and other regulations. Fuel management and driver behavior monitoring solutions ensure legal compliance, while establishing key performance indicators (KPIs) provides the basis for informed decision-making.
Hidden gps car tracking device :
Hidden GPS car tracking devices in the fleet management market refer to covertly installed tracking devices designed to monitor and track vehicles discreetly. These devices are compact and concealable, allowing them to be discretely installed within a vehicle without drawing attention.Hidden GPS car tracking devices play a crucial role in fleet management by providing enhanced security, improving operational efficiency, and enabling better control and monitoring of vehicles. The Hidden GPS car tracking devices integrating with fleet management software or platforms to streamline monitoring, reporting, and analysis of vehicle data. Their covert nature makes them valuable tools for businesses seeking discreet tracking solutions within their fleet management strategies
Technavio's Exclusive Fleet Management Market Customer Landscape
Our analysis of the adoption life cycle of the market indicates its movement between the innovator's stage and the laggard's stage. The report illustrates the lifecycle of the market, focusing on the adoption rates of the major countries. Technavio has included key purchase criteria, adoption rates, adoption lifecycles, and drivers of price sensitivity to help companies evaluate and develop growth strategies from 2022 to 2027.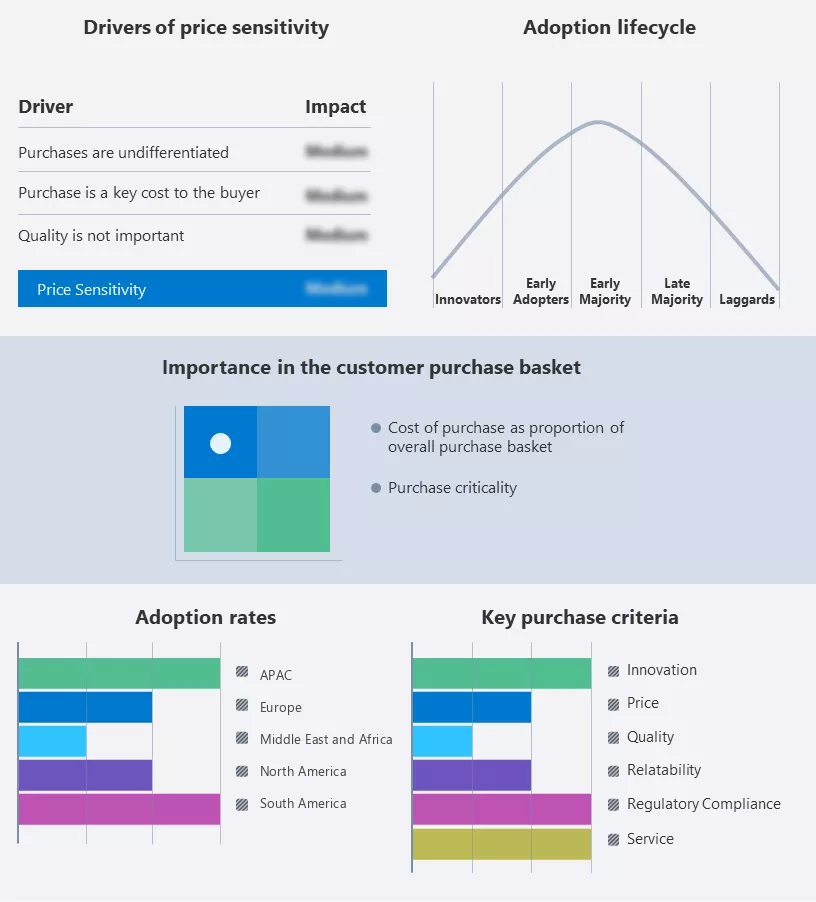 Global Fleet Management Market Customer Landscape
Benefits of Telematics in Fleet Management
Enables real-time monitoring of vehicle location, allowing for improved route planning, reduced idle time, and enhanced operational efficiency.
Monitors driver behavior, promoting safer driving practices, and reducing the risk of accidents through alerts for speeding or harsh driving.
Optimizes fuel usage by analyzing vehicle performance data, reducing fuel costs, and minimizing unnecessary mileage.
Offers accurate arrival times, improving customer satisfaction through efficient service delivery.
Who are the Major Fleet Management Companies?
Vendors are implementing various strategies, such as strategic alliances, partnerships, mergers and acquisitions, geographical expansion, and product/service launches, to enhance their presence in the fleet management software market.
Elements Fleet Management
The elements of fleet management encompass various facets involved in overseeing and optimizing a fleet of vehicles for operational efficiency, safety, and cost-effectiveness.Risk management is one of the major elements of fleet management
Elements Fleet Management company offers  is a fleet management companies providing fleet services and solutions while reducing total cost of ownership for cars.
Azuga Inc.- The company offers fleet management solutions which helps to identify what the fleet needs most, and learn what to look for when evaluating a vehicle automobile gps tracking device software solution.
We also have detailed analyses of the market's competitive landscape and offer information on 20 market fleet management companies, including:
AT and T Inc.
Avrios International AG
Chevin Fleet Solutions
ClearPathGPS Inc.
Donlen Corp.
Element Fleet Management Corp.
Fleetio
Fleetonomy
GURTAM
Holman Inc.
MiX Telematics Ltd.
Motive Technologies Inc.
Omnitracs LLC
OTS Group Ltd.
Samsara Inc.
Teletrac Navman US Ltd.
TomTom International BV
Trimble Inc.
Verizon Communications Inc.
Enterprise Fleet Management
Enterprise fleet management refers to the comprehensive management of a company's fleet of vehicles. It involves overseeing and optimizing various aspects of a fleet, including cars, trucks, vans, and specialized vehicles used for business purposes. The primary goal of enterprise fleet management is to improve operational efficiency, reduce costs, enhance safety, and ensure regulatory compliance.Enterprise fleet management solutions often incorporate software and technologies that centralize data, automate processes, and provide insights to help organizations make informed decisions regarding their vehicle fleets  
Segment Overview
The fleet management market report forecasts market growth by revenue at global, regional & country levels and provides an analysis of the latest trends and growth opportunities from 2017 to 2027. 
Service Outlook (USD Million, 2017 - 2027)

Subscription
Hardware
Others

Vehicle Type Outlook (USD Million, 2017 - 2027)

Commercial fleets
Passenger cars

Region Outlook (USD Million, 2017 - 2027)

Europe

The U.K.
Germany
France
Rest of Europe

Middle East & Africa

Saudi Arabia
South Africa
Rest of the Middle East & Africa

South America
Fleet Management Market Scope

Report Coverage

Details

Page number

156

Base year

2022

Historic period

2017-2021

Forecast period

2023-2027

Growth momentum & CAGR

Accelerate at a CAGR of 18.77%

Market growth 2023-2027

USD 57,278.74 million

Market structure

Fragmented

YoY growth 2022-2023(%)

16.5

Regional analysis

North America, Europe, APAC, South America, and Middle East and Africa

Performing market contribution

APAC at 32%

Key countries

US, China, Japan, Germany, and UK

Competitive landscape

Leading Vendors, Market Positioning of Vendors, Competitive Strategies, and Industry Risks

Key companies profiled

AT and T Inc., Avrios International AG, Azuga Inc., Chevin Fleet Solutions, ClearPathGPS Inc., Donlen Corp., Element Fleet Management Corp., Fleetio, Fleetonomy, GURTAM, Holman Inc., MiX Telematics Ltd., Motive Technologies Inc., Omnitracs LLC, OTS Group Ltd., Samsara Inc., Teletrac Navman US Ltd., TomTom International BV, Trimble Inc., and Verizon Communications Inc.

Market dynamics

Parent market analysis, Market growth inducers and obstacles, Fast-growing and slow-growing segment analysis, COVID 19 impact and recovery analysis and future consumer dynamics, Market condition analysis for forecast period

Customization purview

If our report has not included the data that you are looking for, you can reach out to our analysts and get segments customized.
What are the Key Data Covered in this Fleet Management Market Research Report?
CAGR of the fleet management solutions market during the forecast period
Detailed information on factors that will drive the growth of the

fleet management software market

between 2023 and 2027
Precise estimation of the size of the fleet management market size and its contribution to the market in focus on the parent market
Accurate predictions about upcoming trends and changes in consumer behavior
Growth of the market industry across North America, Europe, APAC, South America, and Middle East and Africa
A thorough analysis of the market's competitive landscape and detailed information about vendors
Comprehensive analysis of factors that will challenge the growth of fleet management market vendors
We can help! Our analysts can customize this market research report to meet your requirements. Get in touch