E-Book Market Analysis 2023-2027:
The global e-book market size is estimated to grow by USD 8,316.2 million between 2022 and 2027 accelerating at a CAGR of 7.7%.  
The growth of the market depends on several factors, including benefits and reader engagement of e-books, rising adoption of online local language translation modules in e-books, and the proliferation of smart devices and applications. 
This report extensively covers market segmentation by platform (smartphones, tablets, and laptops), product (consumer ebook, professional ebook, and educational ebook), and geography (North America, Europe, APAC, South America, and Middle East and Africa). It also includes an in-depth analysis of drivers, trends, and challenges. Furthermore, the report includes historic market data from 2017 to 2021.
What will be the size of the E-Book Market During the Forecast Period?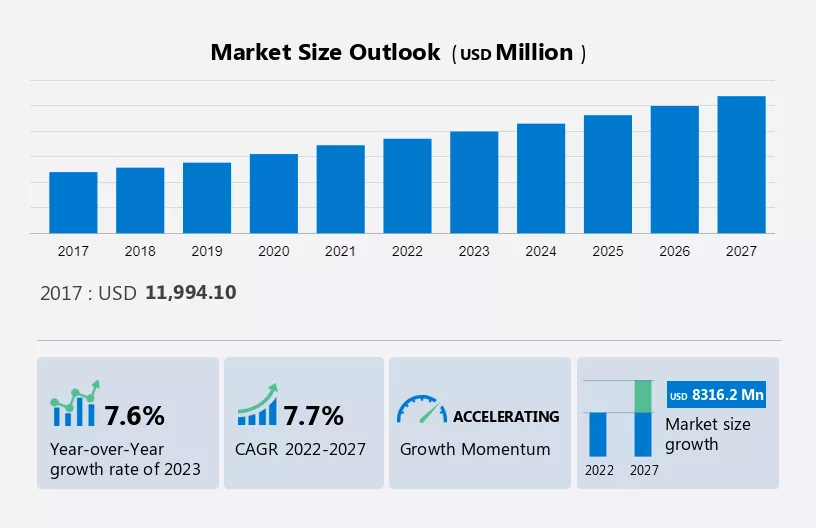 View the Bestselling Sample Report
E-Book Market: Key Drivers, Trends, Challenges, and Customer Landscape
 Our researchers analyzed the data with 2022 as the base year and the key drivers, trends, and challenges. A holistic analysis of drivers will help companies refine their marketing strategies to gain a competitive advantage.
Key E-Book Market Driver
The proliferation of smart devices and applications is notably driving market growth. The adoption of mobile devices, such as smartphones and tablets, is increasing across the globe, owing to the extensive use of technology and digitization of processes. The high adoption of mobile devices enables learners to access e-books at their own convenience. Learners can access e-books from any location using mobile devices. The content offered can be customized according to the needs of the learners to improve engagement and the learning experience. Various consumers also read e-books on multipurpose laptops, personal computers, and tablets. That's why the electronic book market will bloom.
Additionally, there has been a high demand for mobile devices and translation apps, owing to the use of many different local languages in different countries. The increasing number of localized versions of online e-books is expected to augment the reach of e-books, leading to the growth of the market. In addition, the internet penetration rate is on the rise across the world, and professionals and educators are extensively shifting toward e-book modules. Several vendors in the global education services market are offering e-books content that is compatible with smartphone devices. Owing to the lower content procurement costs and the ease of accessing content on the go, higher education learners and institutions are increasingly opting for e-books over traditional textbooks. Thus, these factors will drive the growth of the digital book market during the forecast period.
Significant E-Book Market Trend
The growing popularity of online education and digital literacy is an emerging trend in the market. Rapid digitization and the increasing availability of mobile devices, including tablets, smartphones, and iPad, among students have proliferated the growth of online education. The education sector is leveraging the benefits offered by these devices to provide quality education to students.  Educators now rely on blended learning models in modern classrooms, offering the curriculum in an amalgamation of face-to-face and online instruction. As a result, various universities and colleges have started offering e-learning programs that include e-books, which are eventually receiving recognition and respect from accrediting bodies and employers. 
 Another key factor contributing to the proliferation of online education is the rising cost of education, prompting a spike in the number of parents willing to homeschool their children. Homeschooling is increasingly becoming popular in different parts of the world, owing to its flexibility, affordability, and adaptability, as well as greater inclusiveness. Students can access their daily lectures and directly submit assignments online. Students can also participate in live web classes, join interactive discussions, read e-books, and connect with their teachers. Additionally, it also allows them to take part in online clubs and virtual field trips as well.  Hence, these factors will fuel the global digital book market during the forecast period.
Major  E-Book Market Challenge
Inefficient management of e-book content is a major challenge impeding market growth. Digitization involves the customization of products and services that necessitates the implementation of data and content analytics. However, most publishers have obsolete data and content management systems. E-book publishers need to manage a more diverse product portfolio, including e-books, online platforms, mobile applications, learning objects, digital content, and other features. They also need to ensure that products are delivered through e-books, mobile, online, and other prevalent formats. The management of the portfolio becomes more complex as consumers expect e-books to be frequently updated and instantly available. 
Furthermore, e-book publishers also require efficient media management techniques, robust infrastructure, and automation capabilities to ensure that all the various multimedia features are added and updated easily. They also need customer relationship management (CRM) systems to market complex digital content. This is aimed at developing lasting direct-to-consumer relationships and gathering unique customer insights. Thus, the inefficient management of e-book content can hinder the growth of the digital book market during the forecast period.
Key E-Book Market Customer Landscape
The report includes the adoption lifecycle of the market, covering from the innovator's stage to the laggard's stage. It focuses on adoption rates in different regions based on penetration. Furthermore, the report also includes key purchase criteria and drivers of price sensitivity to help companies evaluate and develop their growth strategies.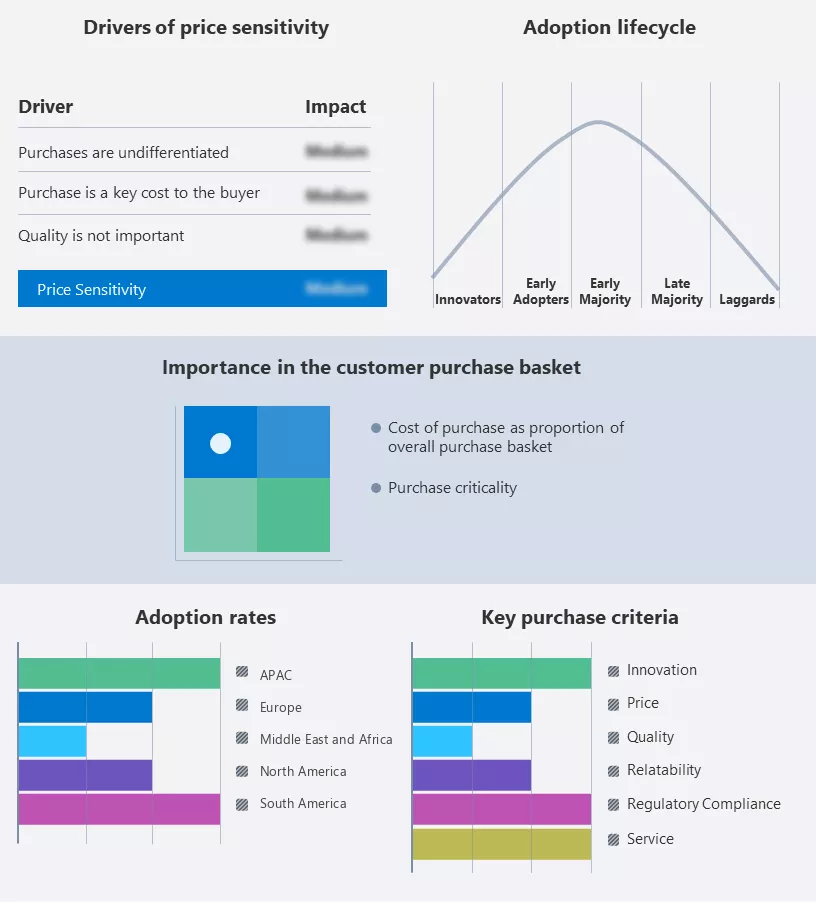 Global E-Book Market Customer Landscape
Who are the Major E-Book Market Vendors?
Vendors are implementing various strategies, such as strategic alliances, partnerships, mergers and acquisitions, geographical expansion, and product/service launches, to enhance their presence in the market.
Barnes and Noble Inc. - The company operates under one segment. The company under this segment offers new and used textbooks, general reading books, notebooks, school merchandise, athletic gear, and alumni products. The key offerings of the company include e-books. 
The report also includes detailed analyses of the competitive landscape of the market and information about 15 market vendors, including:
Amazon.com Inc.
Apple Inc.
Beacon Press
Bertelsmann SE and Co. KGaA
Blurb Inc.
Cengage Learning Holdings II Inc.
Hachette Book Group Inc.
Harper Collins Publishers
John Wiley and Sons Inc.
Kensington Publishing Corp.
Lulu Press Inc.
Macmillan
Manning Publications Co.
McGraw Hill Education Inc.
Pearson Plc
Qualitative and quantitative analysis of vendors has been conducted to help clients understand the wider business environment as well as the strengths and weaknesses of key market players. Data is qualitatively analyzed to categorize vendors as pure play, category-focused, industry-focused, and diversified; it is quantitatively analyzed to categorize vendors as dominant, leading, strong, tentative, and weak.
What is the Fastest-Growing Segment in the E-Book Market?
The market share growth by the smartphone segment will be significant during the forecast period. The global eBook market is expected to record a steady growth rate during the forecast period, owing to the increasing adoption of eBooks in smartphones for reading and learning purposes.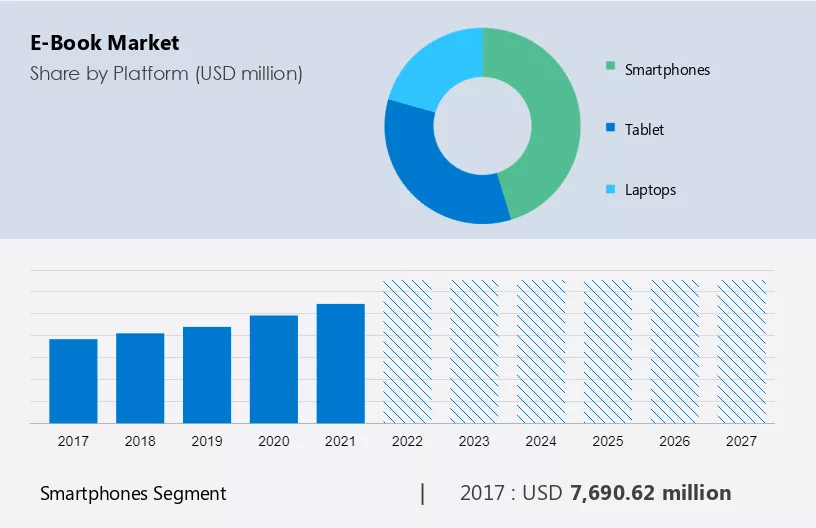 Get a glance at the market contribution of various segments View PDF Sample
The smartphones segment was valued at USD 7,690.62 million in 2017 and continued to grow until 2021. The proliferation of digital literacy in various economies due to the rising adoption of mobile devices and eBooks is expected to boost the growth of the market in focus. The growing number of academic publishers getting involved in digital publication has proved as a boon not only for students but also for educators. The proliferation of smartphones and the increasing penetration of the internet have raised the demand for eBooks. The popularity of eBook vendors has encouraged other vendors, such as content creators and platform providers, to optimize their products for mobile accessibility. Moreover, eBooks on mobile devices are less expensive to be designed and maintained compared with full-scale learning for children. Hence, the popularity of smartphone-based learning is expected to drive the growth of the global digital book market during the forecast period.
Which are the Key Regions for the E-Book Market?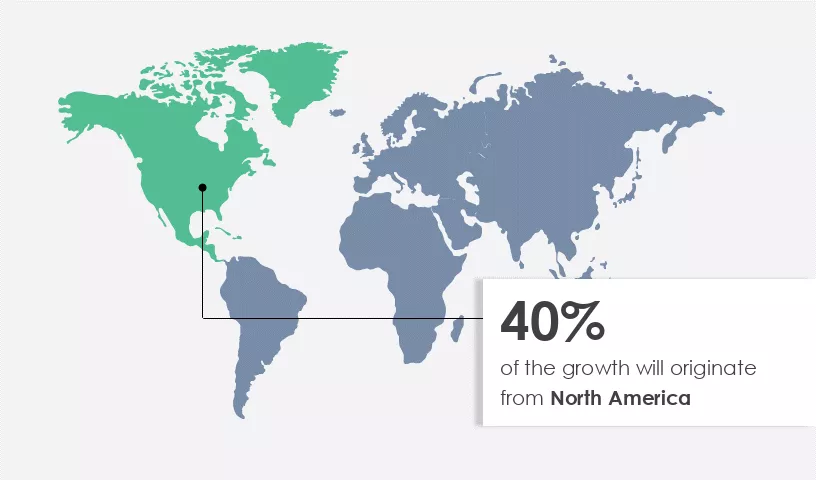 For more insights on the market share of various regions View PDF Sample now!
North America is estimated to contribute 40% to the growth of the global market during the forecast period. Technavio's analysts have elaborately explained the regional trends and drivers that shape the market during the forecast period.
The market in the US focuses significantly on making content interactive and compatible with the exam-oriented approach prevalent in classrooms. Several institutions are adopting the bring-your-own-device (BYOD) policy in the US, which enables students to embrace digital literacy while reducing the financial disbursement of institutions. Several vendors based in the region, such as Cengage and McGraw-Hill Education, are also exploring options to magnify the accessibility and delivery of course content. The benefits include better accessibility, lower costs, and better student engagement through interactive content which is increasing the adoption of e-books. 
Additionally, government initiatives are encouraging the adoption of advanced technologies in schools and libraries to enrich the learning experience of students. For instance, the Federal Communications Commission (FCC), US, enables schools and libraries in the country to avail of digital telecommunications and information services at affordable costs through the E-Rate program. Hence, these factors will drive the demand for eBooks in the region during the forecast period. 
The outbreak of COVID-19 in 2020 positively impacted the growth of the market in North America. Owing to the imposition of strict lockdowns in various countries offline bookstores and distribution channels were closed, which increased the adoption of e-books. Moreover, most educational institutions were closed and conducted their lectures online, which increased the demand for e-books in North America in 2020. However, the removal of lockdowns in the second half of 2020 due to the initiation of vaccines led to the reopening of educational institutions and bookstores, but the demand for e-books is increasing significantly due to technical development and sophistication of reading devices that provide a similar experience to reading an actual book. Therefore, all these factors are expected to lead to the growth of the digital book market in North America during the forecast period.
Segment Overview
The report forecasts market growth by revenue at global, regional & country levels and provides an analysis of the latest trends and growth opportunities from 2017 to 2027. 
Platform Outlook (USD Million, 2017 - 2027)

Smartphones
Tablet
Laptops
Product Outlook (USD Million, 2017 - 2027)

Consumer ebook
Professional ebook
Educational ebook
Region Outlook (USD Million, 2017 - 2027)

Europe

The U.K.
Germany
France
Rest of Europe

Middle East & Africa

Saudi Arabia
South Africa
Rest of the Middle East & Africa

South America
E-Book Market Scope

Report Coverage

Details

Page number

163

Base year

2022

Historic period

2017-2021

Forecast period

2023-2027

Growth momentum & CAGR

Accelerate at a CAGR of 7.7%

Market growth 2023-2027

USD 8,316.2 million

Market structure

Fragmented

YoY growth 2022-2023(%)

7.6

Regional analysis

North America, Europe, APAC, South America, and Middle East and Africa

Performing market contribution

North America at 40%

Key countries

US, Canada, China, Germany, and UK

Competitive landscape

Leading Vendors, Market Positioning of Vendors, Competitive Strategies, and Industry Risks

Key companies profiled

Amazon.com Inc., Apple Inc., Barnes and Noble Inc., Beacon Press, Bertelsmann SE and Co. KGaA, Blurb Inc., Cengage Learning Holdings II Inc., Hachette Book Group Inc., Harper Collins Publishers, John Wiley and Sons Inc., Kensington publishing Corp., Lulu Press Inc., Macmillan, Manning Publications Co., McGraw Hill Education Inc., Pearson Plc, Rakuten Kobo Inc., Simon and Schuster Inc., Smashwords Inc., and Springer Verlag GmbH

Market dynamics

Parent market analysis, Market growth inducers and obstacles, Fast-growing and slow-growing segment analysis, COVID-19 impact and recovery analysis and future consumer dynamics, and Market condition analysis for the forecast period. 

Customization purview

If our report has not included the data that you are looking for, you can reach out to our analysts and get segments customized.
What are the Key Data Covered in this E-Book Market Report?
CAGR of the market during the forecast period
Detailed information on factors that will drive the growth of the e-book market between 2023 and 2027
Precise estimation of the size of the e-book market size and its contribution to the parent market
Accurate predictions about upcoming trends and changes in consumer behavior
Growth of the industry across North America, Europe, APAC, South America, and Middle East and Africa
A thorough analysis of the market's competitive landscape and detailed information about vendors
Comprehensive analysis of factors that will challenge the growth of e-book market vendors
We can help! Our analysts can customize this report to meet your requirements. Get in touch