Gifts Retailing Analysis Forecast 2023-2027
The gifts retailing market size is estimated to grow at a CAGR of 3.01% between 2022 and 2027. The size of the market is forecast to increase by USD 13,491.69 million. In 2017 the size of the market was valued at USD 76,251 million
This gifts retailing market report extensively covers market segmentation by Distribution Channel (offline and online), Product (souvenirs and novelty items, seasonal decorations, greeting cards, giftware, and other gift items), and Geography (europe, north america, apac, south america, and middle east and africa). It also includes an in-depth analysis of drivers, trends, and challenges. 
The global gifts retailing market is poised for growth due to the rising demand for seasonal decorations and the growing gifting culture. Seasonal decorations contribute significantly to the market's revenue, while personalized decorative gifts are popular choices for important occasions. The US, the UK, and France stand out with high demand for seasonal gifts.Developing markets across Europe, APAC, Central America, and South America have witnessed an increase in the sale of gifts, particularly during festive occasions and holidays such as New Year, Christmas, Halloween, Easter, and Hanukkah. This surge in demand for seasonal gifts fuels the sales of personalized gifts, driving market growth throughout the forecast period.

Gifts Retailing Market Market: Overview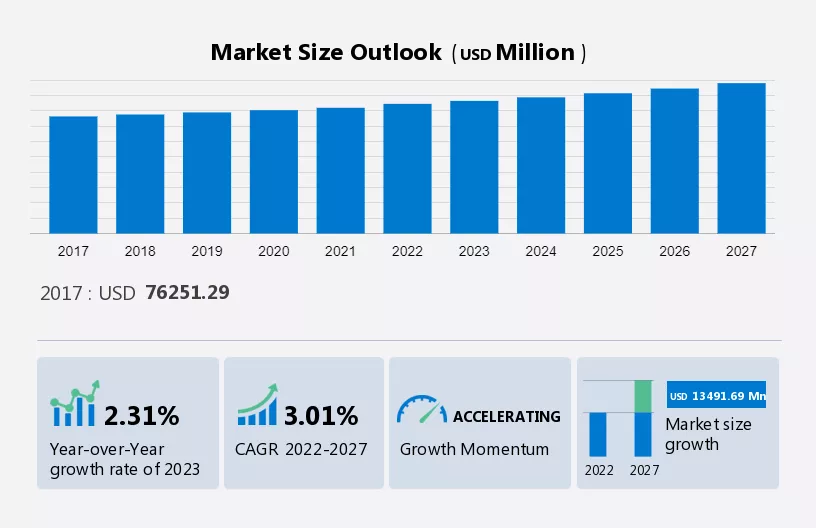 To get additional information about the market, Buy Report
Key Trend and Challenge
Our researchers analyzed the data with 2022 as the base year, along with the key trends, and challenges. A holistic analysis of drivers, trends, and challenges will help stakeholders in the value chain refine their marketing strategies to gain a competitive advantage.
Trends 
The rise in demand for specialized merchandise for gifting will fuel the global gifts retailing market growth. The market exhibits a clear distinction between specialty merchandisers and mass merchandisers. Lately, the market has been witnessing a high demand for gift, novelty, and souvenir retailers. Specialty gift stores majorly offer gifts that are crafted by local artisans. This leads to a high degree of product differentiation among specialty gift retailers. This boosts the demand for specialized merchandise among the premium customer segment.
Souvenir and gift retailers can also act as distributors of specialty merchandise. For example, Disney licenses its trade names, characters, and visual and literary properties to various retailers, promoters, and publishers. The company also engages in the retail and wholesale distribution of products through the Disney Store. Therefore, with the rise in the demand for specialized merchandise for gifting, the market is expected to grow during the forecast period.
Challenge 
The pricing pressures due to the intense market competition are a major challenge to the global gifts retailing industry growth. Alternatives for specialty gift retailers include department stores, mass merchandisers, e-retailers, novelty, and souvenirs. Mass merchandisers and department stores offer a one-stop solution to customers. Macy's, JCPenney, Sears Holding, and House of Fraser (Stores) offer a variety of gift products through their gift retailing stores. The presence of numerous players in the market increases the market competition, which in turn, leads to increased pricing pressure.
To withstand the increased pricing pressure, the existing market vendors are adopting low-pricing strategies. Such strategies negatively impact the profit margins of major market players. E-retailers pose tough competition to specialty gift and souvenir retailers. The growth of e-retailing is prevalent in regions that are characterized by widespread Internet and smart gadget penetration. Therefore, such (online) retailers can afford to offer their products at substantially reduced prices. The revenue and price offerings of these retailers impact the pricing strategies and pricing levels of other vendors in the market. Thus, increased pricing pressures will restrain the growth of the market to a certain extent during the forecast period.
Customer Landscape
The gift market research report includes the adoption lifecycle of the market, covering from the innovator's stage to the laggard's stage. It focuses on adoption rates in different regions based on penetration. Furthermore, the report also includes key purchase criteria and drivers of price sensitivity to help companies evaluate and develop their growth strategies.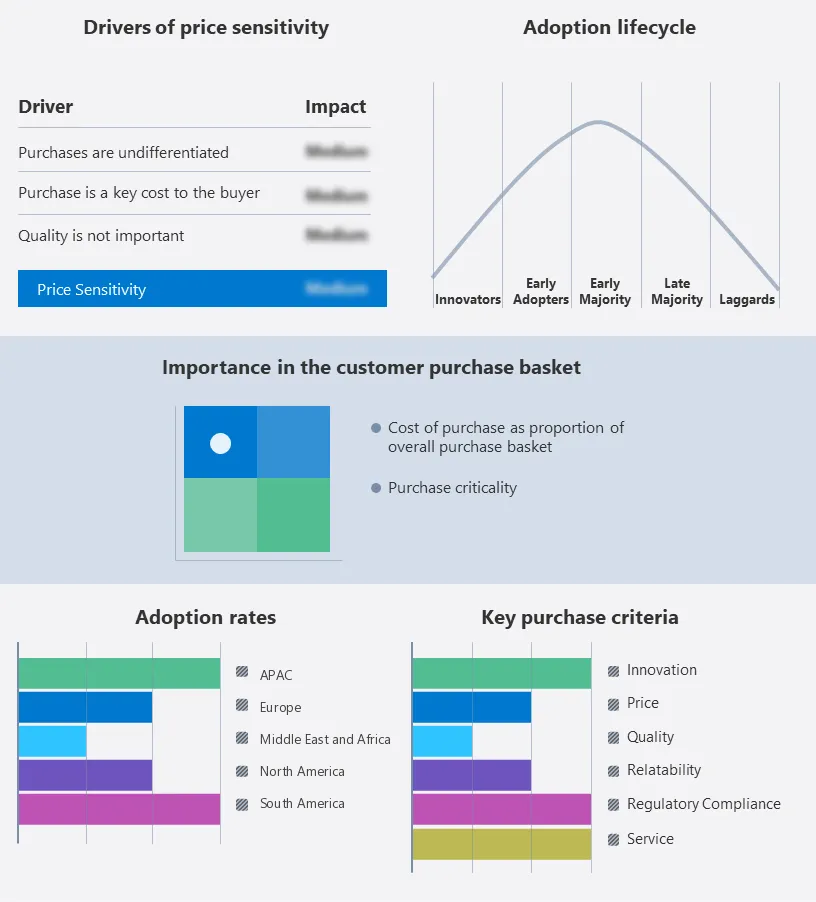 Global Gifts Retailing Market Customer Landscape
Vendor Overview
Vendors are implementing various strategies, such as strategic alliances, partnerships, mergers and acquisitions, geographical expansion, and product/service launches, to enhance their presence in the market.
Key Offering- Aldi. Co company offers solutions for gift retailing that include action toys, branded toys, dolls and doll houses and other electric toys.
Key Offering- Alibaba company offers solutions for gift retailing that include consumer electronics, apparel, sports and entertainment stuff and beauty and personal care items.
Key Offering- Amazon company offers solutions for gift retailing that include books, toys, makeup items, electronic commodities and other stuff toys.
The gifts retailing market report also includes detailed analyses of the competitive landscape of the market and information about 15 market vendors, including:
Aldi Stores Ltd.
Alibaba Group Holding Ltd.
Amazon.com Inc.
American Greetings Corp.
Bed Bath and Beyond Inc.
Card Factory Plc
Costco Wholesale Corp.
Enesco LLC
Ferns N Petals Pvt. Ltd.
Hallmark Card Inc.
House of Fraser Ltd.
Loop Commerce Inc.
Macys Inc.
My Pet Gift Box Ltd
Penney OpCo LLC
Shutterfly Inc.
Spencer Gifts LLC
The Walt Disney Co.
Walmart Inc.
Williams Sonoma Inc.
Qualitative and quantitative analysis of vendors has been conducted to help clients understand the wider business environment as well as the strengths and weaknesses of key market players. Data is qualitatively analyzed to categorize vendors as pure play, category-focused, industry-focused, and diversified; it is quantitatively analyzed to categorize vendors as dominant, leading, strong, tentative, and weak.
Gifts Retailing Market Segmentation by Product
Souvenirs and novelty items encompass both mass-produced and non-mass-produced products, ranging from clothing and collectibles to artisan handicrafts that reflect cultural traditions. Developed countries like the US, Japan, France, the UK, Germany, and Canada have a mature market for these items due to high demand as gifts. Retailers focus on offering a wide range of products in this category, including customizable options from vendors like Hallmark Licensing and Disney. Personalized sports equipment and clothing are popular sub-categories. The convenience of online shopping and the availability of detailed catalogs on third-party websites drive the segment's growth. Vendors are also introducing personalized gift products for adults, such as Bed Bath and Beyond Inc.'s Wild Sage brand line. These factors contribute to the positive market growth of souvenirs and novelty items during the forecast period.
The seasonal decoration gifts segment includes products like decor items, figurines, ornaments, and household items that are popular during holidays such as Christmas, Halloween, Easter, and Thanksgiving. Emerging markets like China, Russia, South Africa, India, Malaysia, and Brazil have witnessed increased consumption of seasonal decorations. Wall art decorations, outdoor and garden gifts, and personalized decor are prominent categories within this segment. Notable vendors in this space include Enesco LLC and Bed Bath and Beyond Inc., who often offer seasonal discounts for online purchases.
Gifts Retailing Market Segmentation by Distribution Channel
The market share growth by the offline segment will be significant during the forecast period. The offline distribution channel segment refers to the sales of products through specialty retail stores, hypermarkets, supermarkets, convenience stores, department stores, and other retail formats. Sales through offline distribution channels are declining gradually because of the shift in consumer preference for online shopping.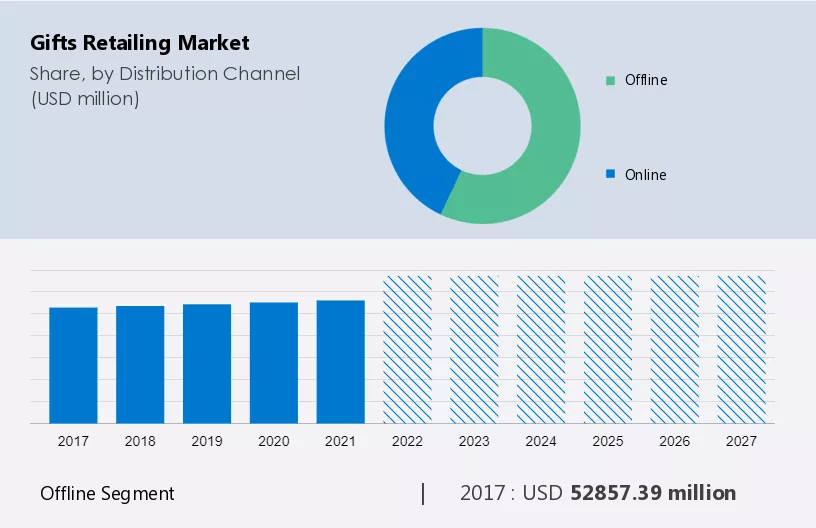 For a detailed summary of the market segments Request for Sample Report
The offline segment showed a gradual increase in market share from USD 52,857.39 million in 2017 and continued to grow by 2021. Vendors of gift products push their merchandise through offline stores by widening their store operations at different geographic locations. The huge growth in retail channels in different cities and regions will drive customer familiarization with different types of gift retailing options and increase the value sales of the market. Although the offline distribution channel is losing its market share and popularity to the online channel, extensive and innovative marketing in offline channels will propel the growth of the offline distribution channel segment during the forecast period.
The global gifts retailing industry analysis is experiencing rapid growth through online channels driven by changing shopping preferences. Consumers rely on online research and are shifting from offline to online stores, led by global e gift like Amazon.com and JD.com. Increased internet penetration and smartphone usage further fuel the preference for online distribution. Manufacturers are expanding their reach by partnering with third-party e-retailers, resulting in increased sales and geographical presence. Tier-I and tier-II cities are target markets due to logistics access and numerous e-retailers, offering convenience and secure transactions. The demand for personalized gift products drives online sales growth, with companies like Card Factory reporting significant sales increases. Overall, the online gift market benefits from the expanding online landscape facilitated by prominent e-retailers.
Key Regions for the Gifts Retailing Market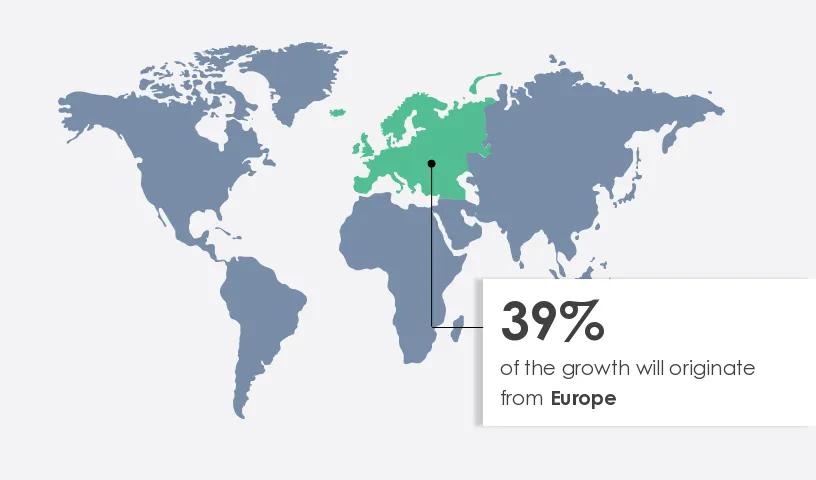 Get a glance at the market share of various regions View PDF Sample
Europe is projected to contribute 39% by 2027. Technavio's analysts have elaborately explained the regional trends and drivers that shape the market during the forecast period. The gifting culture is prevalent in countries such as the UK, Germany, France, and Spain, in the region. Also, people in Europe are conscious about the quality of household and personal products that they buy, including gifts. Some of the common types of gifts preferred by customers in the region are photo frames and souvenirs, and novelty items. People in Europe are also highly aware of and concerned about the environmental impact of customer products. Therefore, they prefer to buy personalized gifts made of recycled materials. This inclination among customers increases the demand for eco-friendly gifts in the region.
Segment Overview
The gifts retailing market report forecasts market growth by revenue at global, regional & country levels and provides an analysis of the latest trends and growth opportunities from 2017 to 2027. 
Distribution Channel Outlook ( USD Million, 2017 - 2027)
Product Outlook ( USD Million, 2017 - 2027)

Souvenirs and novelty items
Seasonal decorations
Greeting cards
Giftware
Other gift items

Region Outlook ( USD Million, 2017 - 2027)

Europe

The U.K.
Germany
France
Rest of Europe

Middle East & Africa

Saudi Arabia
South Africa
Rest of the Middle East & Africa
Gifts Retailing Market Scope

Report Coverage

Details

Page number

170

Base year

2022

Historic period

2017-2021

Forecast period

2023-2027

Growth momentum & CAGR

Accelerate at a CAGR of 3.01%

Market growth 2023-2027

USD  13,491.69 million

Market structure

USD Fragmented

YoY growth 2022-2023(%)

2.31

Regional analysis

Europe, North America, APAC, South America, and Middle East and Africa

Performing market contribution

Europe at 39%

Key countries

US, China, France, Germany, and UK

Competitive landscape

Leading Vendors, Market Positioning of Vendors, Competitive Strategies, and Industry Risks

Key companies profiled

Aldi Stores Ltd., Alibaba Group Holding Ltd., Amazon.com Inc., American Greetings Corp., Bed Bath and Beyond Inc., Card Factory Plc, Costco Wholesale Corp., Enesco LLC, Ferns N Petals Pvt. Ltd., Hallmark Card Inc., House of Fraser Ltd., Loop Commerce Inc., Macys Inc., My Pet Gift Box Ltd, Penney OpCo LLC, Shutterfly Inc., Spencer Gifts LLC, The Walt Disney Co., Walmart Inc., and Williams Sonoma Inc.

Market dynamics

Parent market analysis, Market growth inducers and obstacles, Fast-growing and slow-growing segment analysis, COVID 19 impact and recovery analysis and future consumer dynamics, Market condition analysis for forecast period

Customization purview

If our report has not included the data that you are looking for, you can reach out to our analysts and get segments customized.
BUY NOW Full Report and Discover more
What are the Key Data Covered in this Gifts Retailing Market Research Report?
CAGR of the market during the forecast period
Detailed information on factors that will drive the growth of the

market

between 2023 and 2027
Precise estimation of the size of the gifts retailing market size and its contribution of the market in focus to the parent market
Accurate predictions about upcoming trends and changes in consumer behavior
Growth of the market industry across Europe, North America, APAC, South America, and Middle East and Africa
Thorough analysis of the market's competitive landscape and detailed information about vendors
Comprehensive analysis of factors that will challenge the growth of gifts retailing market vendors
We can help! Our analysts can customize this market research report to meet your requirements. Get in touch