Wood Fuels Market Report 2024-2028
The wood fuels market size is forecast to increase by USD 8.48 billion estimated to grow at a CAGR of 8.88% between 2024 and 2028.  The Wood Pellets was the largest segment, valued at USD 7 billion and continues to grow. The reduced utilization of coal in the power sector, with the expanding global trade in wood-based fuels and escalating industrial uses is an upcoming trend in the Wood Fuel Industry.
Wood Fuels Market Overview :
The market segmentation by categorized as  Type (wood pellets and wood chips), Application (power generation, combined heat and power, and heating).
The Regional Analysis consists of Europe, North America, APAC, Middle East and Africa, and South America
Europe is is most dominating region during the forecast period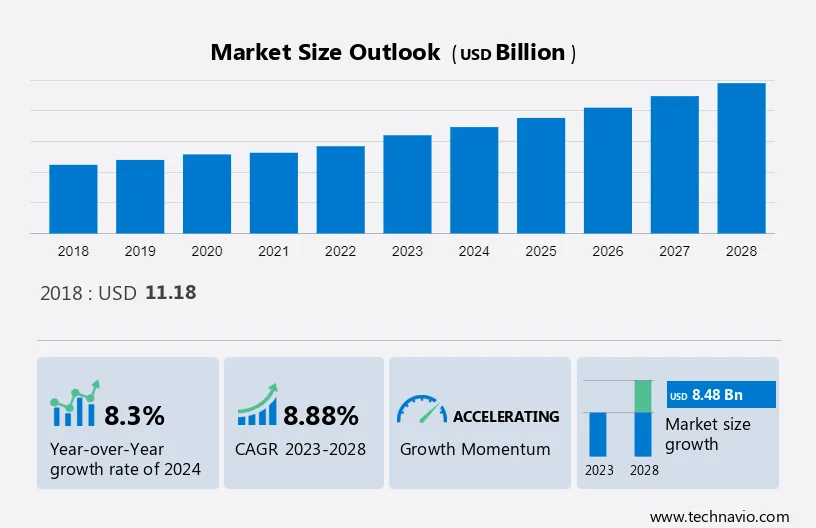 For More Highlights About this Report, Download Free Sample in a Minute 
Wood Fuels Market Trends 
The declining use of coal in the power industry is an emerging trend shaping the market growth. Coal accounts for a significant portion of the power generated globally. However, coal power is gradually being replaced with relatively clean fuels and sources globally. Renewable resources are a competition to coal power, and since they are low or free from emissions, their popularity impacts the upcoming fossil fuel power projects. In September 2021, at the United Nations General Assembly, through a video link, Chinese President Xi Jinping announced that China would step up support for Green and low-carbon energies in developing countries without building any new coal or power plants overseas. Since the need for power will not reduce, the decline in coal power will lead to the use of alternate sources of energy, such as wood fuels, which will substitute coal to generate power and heat.
For instance, as of February 2023, India's established renewable power capacity (together with hydro) stood at 168.96 gigawatts (GW), representing 40.9% of the generally established energy capacity. Solar power contributed 64.38 GW, 42.02 GW from wind energy, 10.77 GW from biopower, and 51.79 GW from hydropower. Therefore, the decline in coal usage in the power industry to produce electricity is expected to positively affect the wood fuels market during the forecast period.
Wood Fuels Market  Largest-Growing Segments 
By Type Analysis
The wood pellets segment is estimated to witness significant growth during the forecast period. Wood pellets are a form of wood fuel used to generate electricity and heat. They are made from sawdust or other woody biomass with/without additives. They are generally available in a cylindrical form and of various lengths.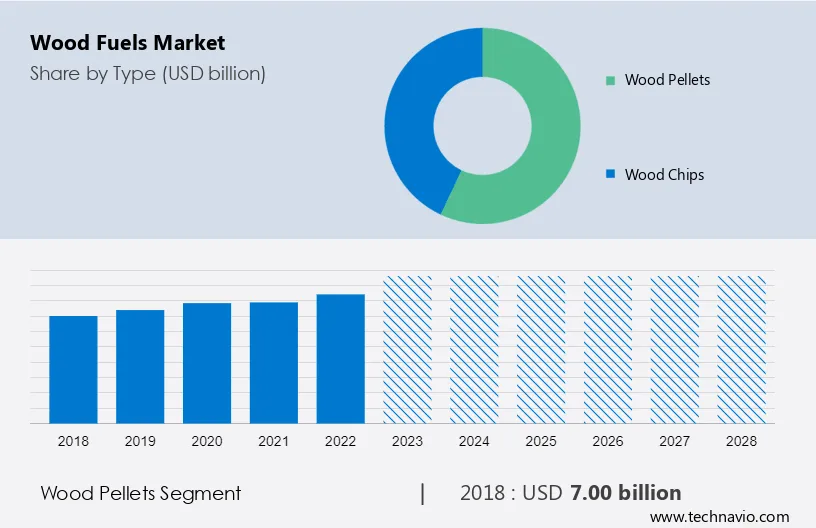 Get a glance at the market contribution of various segments Download PDF Sample
Wood pellets are also used as fuel in thermal and gasification power production. The wood pellets segment is expected to grow significantly during the forecast period, driven by government ventures to promote renewable energy and the increasing adoption of wood pellets as a fuel source in various industries such as power. They are considered a clean and sustainable energy source, as they emit lower levels of greenhouse gases than fossil fuels. This has led to the adoption of wood pellets as a preferred fuel source. Thus, the demand for wood pellets is expected to rise during the forecast period, owing to growing awareness of renewable energy resources used in generating power and the high combustion of wood pellets, thereby driving the global wood fuels market during the forecast period.
Wood Fuels Market Regional Analysis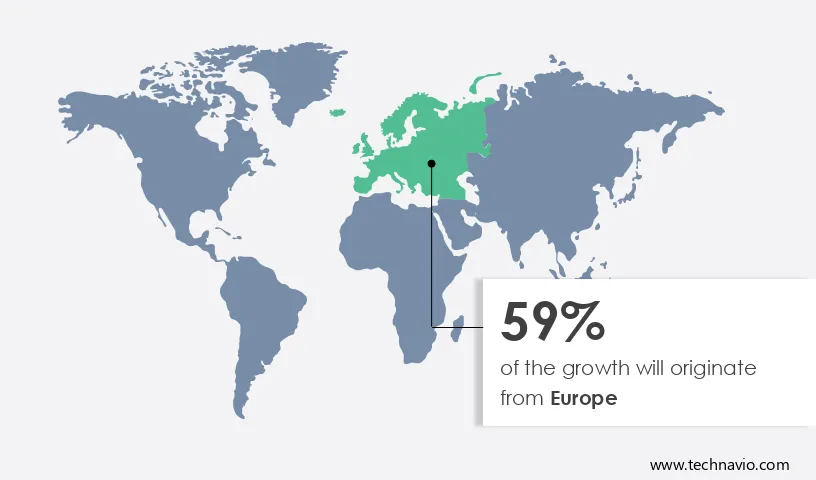 For more insights on the market share of various regions Download PDF Sample now!
Europe is estimated to contribute 59% to the growth of the global market during the forecast period. Technavio's analysts have elaborately explained the regional trends and drivers that shape the market during the forecast period. The leading countries for the consumption of wood pellets were the UK, Italy, Germany, Denmark, Sweden, France, and Belgium. The consumption of wood fuels is primarily due to strict policies implemented to increase the share of renewables in the final energy consumption and to mitigate the consequences of climate change. In Europe, most buildings have installed individual boilers and use fossil fuels and electricity to meet their heating needs, which is necessary for cold climates, thereby increasing greenhouse gas (GHG) emissions. However, the constant increase in electricity and oil prices led to customers seeking alternative sources of energy to meet their heating needs. Wood fuels such as wood pellets are among the fastest-growing biomass carriers. They are used by residential, commercial, and industrial end-users.
In addition, wood fuels are comparatively priced lower than the prices of heating oils, which makes them economical. As wood fuels are carbon neutral, they are environmentally friendly. Biomass is also made from local resources such as wood waste, thereby making them sustainable. It also reduces issues related to energy security, which in turn fuels the growth of the global wood fuels market during the forecast period.
Wood Fuels Market Dynamic
Key Driver of Wood Fuels Market
Stringent regulations on carbon dioxide emissions are notably driving the market growth. Emissions from burning coal account for the largest share of CO2 emissions from human activity. Globally, government bodies are focusing on reducing GHG emissions. Amid international agreements such as the Kyoto Protocol, the foothold of coal-powered electricity generation in the global energy mix is uncertain. Agencies such as the Environmental Protection Agency (EPA), the Intergovernmental Panel on Climate Change, and the Climate Change Act of 2008 have targets to reduce GHG emissions.
However, these regulations encourage the use of alternatives such as bioenergy. Biomass is a carbon-neutral energy source, which makes it beneficial to create a low-pollution environment and contributes to the targets set by the governments. Such factors will drive the growth of the wood fuels market during the forecast period.
 

Significance Challenges of Wood Fuels Market
Installation requirement for biomass boiler and feedstock storage is a significant challenge hindering the market growth.  Biomass boilers using wood are typically larger than regular boilers. As these boilers are placed on site, they require storage containers to store the fuel, such as wood chips, pellets, or logs. Storage of fuel is a challenge for industries that are close to urban areas due to constraints on space. The installation of boilers is subject to design, construction, operation, maintenance standards, and regulations set by governments, which vary across regions. Biomass boilers are relatively new in terms of usage when compared with conventional boilers. Therefore, installing biomass boilers will pose technological challenges in terms of design, emission control, and size of the boiler.  
Moreover, power boilers pose several operational challenges related to rapid start-up capabilities and high operating efficiencies. Preventing tube failures is a priority, but complex failure paths, influenced by thermal transients, are difficult to understand and mitigate. Hence, these boilers will also require maintenance to address design issues to prevent risks. Thus, installation requirement for biomass boilers and feedstock storage is likely to halt the growth of the global wood fuels market during the forecast period.
Wood Fuels Market Customer Landscape
The market research report includes the adoption lifecycle of the market, covering from the innovator's stage to the laggard's stage. It focuses on adoption rates in different regions based on penetration. Furthermore, the report also includes key purchase criteria and drivers of price sensitivity to help companies evaluate and develop their growth strategies.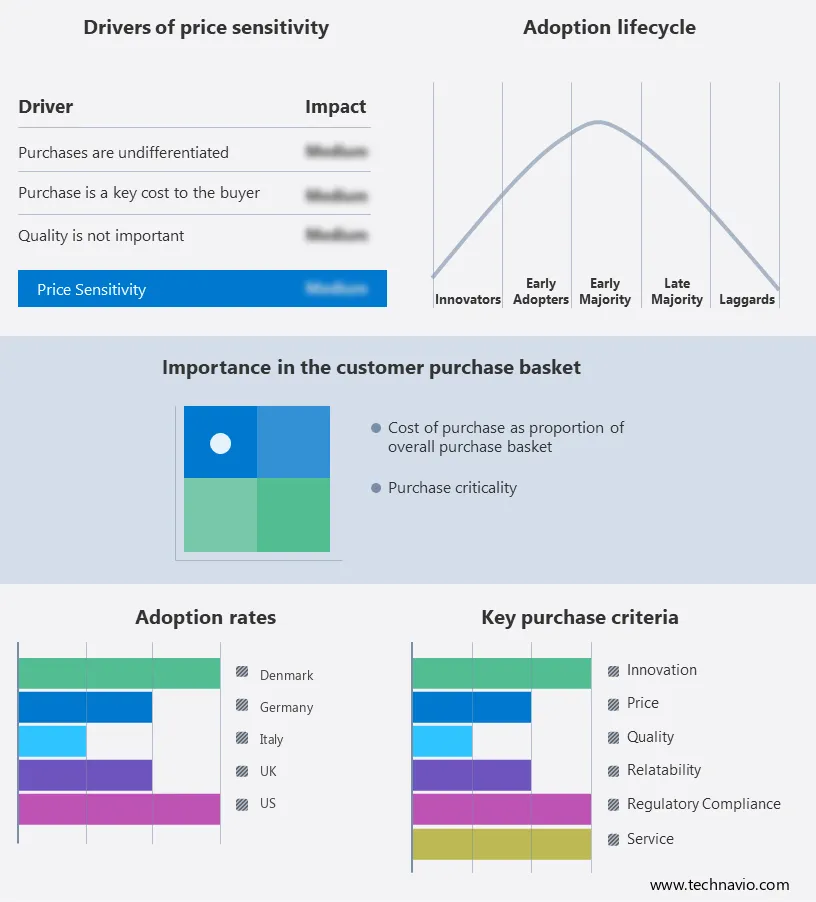 Global Wood Fuels Market Customer Landscape
Major Wood Fuels Market Companies
Companies are implementing various strategies, such as strategic alliances, partnerships, mergers and acquisitions, geographical expansion, and product/service launches, to enhance their presence in the market.
Andritz AG - The company offers wood fuels such as Wood pellets which is recognized as a sustainable alternative to fossil fuels and will play an important role in helping utilities decarbonize the power grid.
The research report also includes detailed analyses of the competitive landscape of the market and information about 15 market companies, including:
Andritz AG
AS Graanul Invest
BALT WOOD ENTERPRISE SIA
Biogra
BIOMAC sro
BMK Woods
Drax Group Plc
Energy Queensland Ltd
Enviva Inc.
Fram Renewable Fuels
Granules LG
Norfolk Oak
Nugreen Energy Pvt. Ltd.
Pfeifer Holding GmbH
Premium Pellet Ltd.
VIRIDIS ENERGY INC.
Well Seasoned Wood
Wismar Pellets GmbH
Qualitative and quantitative analysis of companies has been conducted to help clients understand the wider business environment as well as the strengths and weaknesses of key market players. Data is qualitatively analyzed to categorize companies as pure play, category-focused, industry-focused, and diversified; it is quantitatively analyzed to categorize companies as dominant, leading, strong, tentative, and weak.
Segment Overview
The wood fuels market report forecasts market growth by revenue at global, regional & country levels and provides an analysis of the latest trends and growth opportunities from 2018 to 2028. 
Type Outlook 
Application Outlook 

Power generation
Combined heat and power
Heating

Region Outlook 

North America
South America
Europe

U.K.
Germany
France
Rest of Europe

APAC
Middle East & Africa

Saudi Arabia
South Africa
Rest of the Middle East & Africa
Wood Fuels Market Scope

Report Coverage

Details

Page number

150

Base year

2023

Historic period

2018 - 2022

Forecast period

2024-2028

Growth momentum & CAGR

Accelerate at a CAGR of 8.88%

Market growth 2024-2028

USD 8480.85 million

Market structure

Fragmented

YoY growth 2023-2024(%)

8.3

Regional analysis

Europe, North America, APAC, Middle East and Africa, and South America

Performing market contribution

Europe at 59%

Key countries

US, UK, Italy, Denmark, and Germany

Competitive landscape

Leading Companies, Market Positioning of Companies, Competitive Strategies, and Industry Risks

Key companies profiled

Andritz AG, AS Graanul Invest, BALT WOOD ENTERPRISE SIA, Biogra, BIOMAC sro, BMK Woods, Drax Group Plc, Energy Queensland Ltd, Enviva Inc., Fram Renewable Fuels, Granules LG, Norfolk Oak, Nugreen Energy Pvt. Ltd., Pfeifer Holding GmbH, Premium Pellet Ltd., VIRIDIS ENERGY INC., Well Seasoned Wood, and Wismar Pellets GmbH

Market dynamics

Parent market analysis, Market growth inducers and obstacles, Fast-growing and slow-growing segment analysis, COVID 19 impact and recovery analysis and future consumer dynamics, Market condition analysis for forecast period

Customization purview

If our report has not included the data that you are looking for, you can reach out to our analysts and get segments customized.
What are the Key Data Covered in this Wood Fuels Market Research Report?
CAGR of the market during the forecast period
Detailed information on factors that will drive the growth of the

market 

between 2024 and 2028
Precise estimation of the size of the market  size and its contribution of the market in focus to the parent market
Accurate predictions about upcoming trends and changes in consumer behaviour
Growth of the market industry across Europe, North America, APAC, Middle East and Africa, and South America
Thorough analysis of the market's competitive landscape and detailed information about companies
Comprehensive analysis of factors that will challenge the growth of market companies
We can help! Our analysts can customize this market research report to meet your requirements. 
1 Executive Summary
1.1 Market overview

Exhibit 01: Executive Summary – Chart on Market Overview
Exhibit 02: Executive Summary – Data Table on Market Overview
Exhibit 03: Executive Summary – Chart on Global Market Characteristics
Exhibit 04: Executive Summary – Chart on Market by Geography
Exhibit 05: Executive Summary – Chart on Market Segmentation by Type
Exhibit 06: Executive Summary – Chart on Market Segmentation by Application
Exhibit 07: Executive Summary – Chart on Incremental Growth
Exhibit 08: Executive Summary – Data Table on Incremental Growth
Exhibit 09: Executive Summary – Chart on Vendor Market Positioning
2 Market Landscape
2.1 Market ecosystem

Exhibit 10: Parent market
Exhibit 11: Market Characteristics
3 Market Sizing
3.1 Market definition

Exhibit 12: Offerings of vendors included in the market definition
3.2 Market segment analysis

Exhibit 13: Market segments
3.4 Market outlook: Forecast for 2023-2028

Exhibit 14: Chart on Global - Market size and forecast 2023-2028 ($ billion)
Exhibit 15: Data Table on Global - Market size and forecast 2023-2028 ($ billion)
Exhibit 16: Chart on Global Market: Year-over-year growth 2023-2028 (%)
Exhibit 17: Data Table on Global Market: Year-over-year growth 2023-2028 (%)
4 Historic Market Size
4.1 Global wood fuels market 2018 - 2022

Exhibit 18: Historic Market Size – Data Table on global wood fuels market 2018 - 2022 ($ billion)
4.2 Type Segment Analysis 2018 - 2022

Exhibit 19: Historic Market Size – Type Segment 2018 - 2022 ($ billion)
4.3 Application Segment Analysis 2018 - 2022

Exhibit 20: Historic Market Size – Application Segment 2018 - 2022 ($ billion)
4.4 Geography Segment Analysis 2018 - 2022

Exhibit 21: Historic Market Size – Geography Segment 2018 - 2022 ($ billion)
4.5 Country Segment Analysis 2018 - 2022

Exhibit 22: Historic Market Size – Country Segment 2018 - 2022 ($ billion)
5 Five Forces Analysis
5.1 Five forces summary

Exhibit 23: Five forces analysis - Comparison between 2023 and 2028
5.2 Bargaining power of buyers

Exhibit 24: Chart on Bargaining power of buyers – Impact of key factors 2023 and 2028
5.3 Bargaining power of suppliers

Exhibit 25: Bargaining power of suppliers – Impact of key factors in 2023 and 2028
5.4 Threat of new entrants

Exhibit 26: Threat of new entrants – Impact of key factors in 2023 and 2028
5.5 Threat of substitutes

Exhibit 27: Threat of substitutes – Impact of key factors in 2023 and 2028
5.6 Threat of rivalry

Exhibit 28: Threat of rivalry – Impact of key factors in 2023 and 2028
5.7 Market condition

Exhibit 29: Chart on Market condition - Five forces 2023 and 2028
6 Market Segmentation by Type
6.1 Market segments

Exhibit 30: Chart on Type - Market share 2023-2028 (%)
Exhibit 31: Data Table on Type - Market share 2023-2028 (%)
6.2 Comparison by Type

Exhibit 32: Chart on Comparison by Type
Exhibit 33: Data Table on Comparison by Type
6.3 Wood pellets - Market size and forecast 2023-2028

Exhibit 34: Chart on Wood pellets - Market size and forecast 2023-2028 ($ billion)
Exhibit 35: Data Table on Wood pellets - Market size and forecast 2023-2028 ($ billion)
Exhibit 36: Chart on Wood pellets - Year-over-year growth 2023-2028 (%)
Exhibit 37: Data Table on Wood pellets - Year-over-year growth 2023-2028 (%)
6.4 Wood chips - Market size and forecast 2023-2028

Exhibit 38: Chart on Wood chips - Market size and forecast 2023-2028 ($ billion)
Exhibit 39: Data Table on Wood chips - Market size and forecast 2023-2028 ($ billion)
Exhibit 40: Chart on Wood chips - Year-over-year growth 2023-2028 (%)
Exhibit 41: Data Table on Wood chips - Year-over-year growth 2023-2028 (%)
6.5 Market opportunity by Type

Exhibit 42: Market opportunity by Type ($ billion)
Exhibit 43: Data Table on Market opportunity by Type ($ billion)
7 Market Segmentation by Application
7.1 Market segments

Exhibit 44: Chart on Application - Market share 2023-2028 (%)
Exhibit 45: Data Table on Application - Market share 2023-2028 (%)
7.2 Comparison by Application

Exhibit 46: Chart on Comparison by Application
Exhibit 47: Data Table on Comparison by Application
7.3 Power generation - Market size and forecast 2023-2028

Exhibit 48: Chart on Power generation - Market size and forecast 2023-2028 ($ billion)
Exhibit 49: Data Table on Power generation - Market size and forecast 2023-2028 ($ billion)
Exhibit 50: Chart on Power generation - Year-over-year growth 2023-2028 (%)
Exhibit 51: Data Table on Power generation - Year-over-year growth 2023-2028 (%)
7.4 Combined heat and power - Market size and forecast 2023-2028

Exhibit 52: Chart on Combined heat and power - Market size and forecast 2023-2028 ($ billion)
Exhibit 53: Data Table on Combined heat and power - Market size and forecast 2023-2028 ($ billion)
Exhibit 54: Chart on Combined heat and power - Year-over-year growth 2023-2028 (%)
Exhibit 55: Data Table on Combined heat and power - Year-over-year growth 2023-2028 (%)
7.5 Heating - Market size and forecast 2023-2028

Exhibit 56: Chart on Heating - Market size and forecast 2023-2028 ($ billion)
Exhibit 57: Data Table on Heating - Market size and forecast 2023-2028 ($ billion)
Exhibit 58: Chart on Heating - Year-over-year growth 2023-2028 (%)
Exhibit 59: Data Table on Heating - Year-over-year growth 2023-2028 (%)
7.6 Market opportunity by Application

Exhibit 60: Market opportunity by Application ($ billion)
Exhibit 61: Data Table on Market opportunity by Application ($ billion)
8 Customer Landscape
8.1 Customer landscape overview

Exhibit 62: Analysis of price sensitivity, lifecycle, customer purchase basket, adoption rates, and purchase criteria
9 Geographic Landscape
9.1 Geographic segmentation

Exhibit 63: Chart on Market share by geography 2023-2028 (%)
Exhibit 64: Data Table on Market share by geography 2023-2028 (%)
9.2 Geographic comparison

Exhibit 65: Chart on Geographic comparison
Exhibit 66: Data Table on Geographic comparison
9.3 Europe - Market size and forecast 2023-2028

Exhibit 67: Chart on Europe - Market size and forecast 2023-2028 ($ billion)
Exhibit 68: Data Table on Europe - Market size and forecast 2023-2028 ($ billion)
Exhibit 69: Chart on Europe - Year-over-year growth 2023-2028 (%)
Exhibit 70: Data Table on Europe - Year-over-year growth 2023-2028 (%)
9.4 North America - Market size and forecast 2023-2028

Exhibit 71: Chart on North America - Market size and forecast 2023-2028 ($ billion)
Exhibit 72: Data Table on North America - Market size and forecast 2023-2028 ($ billion)
Exhibit 73: Chart on North America - Year-over-year growth 2023-2028 (%)
Exhibit 74: Data Table on North America - Year-over-year growth 2023-2028 (%)
9.5 APAC - Market size and forecast 2023-2028

Exhibit 75: Chart on APAC - Market size and forecast 2023-2028 ($ billion)
Exhibit 76: Data Table on APAC - Market size and forecast 2023-2028 ($ billion)
Exhibit 77: Chart on APAC - Year-over-year growth 2023-2028 (%)
Exhibit 78: Data Table on APAC - Year-over-year growth 2023-2028 (%)
9.6 Middle East and Africa - Market size and forecast 2023-2028

Exhibit 79: Chart on Middle East and Africa - Market size and forecast 2023-2028 ($ billion)
Exhibit 80: Data Table on Middle East and Africa - Market size and forecast 2023-2028 ($ billion)
Exhibit 81: Chart on Middle East and Africa - Year-over-year growth 2023-2028 (%)
Exhibit 82: Data Table on Middle East and Africa - Year-over-year growth 2023-2028 (%)
9.7 South America - Market size and forecast 2023-2028

Exhibit 83: Chart on South America - Market size and forecast 2023-2028 ($ billion)
Exhibit 84: Data Table on South America - Market size and forecast 2023-2028 ($ billion)
Exhibit 85: Chart on South America - Year-over-year growth 2023-2028 (%)
Exhibit 86: Data Table on South America - Year-over-year growth 2023-2028 (%)
9.8 UK - Market size and forecast 2023-2028

Exhibit 87: Chart on UK - Market size and forecast 2023-2028 ($ billion)
Exhibit 88: Data Table on UK - Market size and forecast 2023-2028 ($ billion)
Exhibit 89: Chart on UK - Year-over-year growth 2023-2028 (%)
Exhibit 90: Data Table on UK - Year-over-year growth 2023-2028 (%)
9.9 Italy - Market size and forecast 2023-2028

Exhibit 91: Chart on Italy - Market size and forecast 2023-2028 ($ billion)
Exhibit 92: Data Table on Italy - Market size and forecast 2023-2028 ($ billion)
Exhibit 93: Chart on Italy - Year-over-year growth 2023-2028 (%)
Exhibit 94: Data Table on Italy - Year-over-year growth 2023-2028 (%)
9.10 US - Market size and forecast 2023-2028

Exhibit 95: Chart on US - Market size and forecast 2023-2028 ($ billion)
Exhibit 96: Data Table on US - Market size and forecast 2023-2028 ($ billion)
Exhibit 97: Chart on US - Year-over-year growth 2023-2028 (%)
Exhibit 98: Data Table on US - Year-over-year growth 2023-2028 (%)
9.11 Denmark - Market size and forecast 2023-2028

Exhibit 99: Chart on Denmark - Market size and forecast 2023-2028 ($ billion)
Exhibit 100: Data Table on Denmark - Market size and forecast 2023-2028 ($ billion)
Exhibit 101: Chart on Denmark - Year-over-year growth 2023-2028 (%)
Exhibit 102: Data Table on Denmark - Year-over-year growth 2023-2028 (%)
9.12 Germany - Market size and forecast 2023-2028

Exhibit 103: Chart on Germany - Market size and forecast 2023-2028 ($ billion)
Exhibit 104: Data Table on Germany - Market size and forecast 2023-2028 ($ billion)
Exhibit 105: Chart on Germany - Year-over-year growth 2023-2028 (%)
Exhibit 106: Data Table on Germany - Year-over-year growth 2023-2028 (%)
9.13 Market opportunity by geography

Exhibit 107: Market opportunity by geography ($ billion)
Exhibit 108: Data Tables on Market opportunity by geography ($ billion)
10 Drivers, Challenges, and Trends
10.3 Impact of drivers and challenges

Exhibit 109: Impact of drivers and challenges in 2023 and 2028
11 Vendor Landscape
11.2 Vendor landscape

Exhibit 110: Overview on Criticality of inputs and Factors of differentiation
11.3 Landscape disruption

Exhibit 111: Overview on factors of disruption
11.4 Industry risks

Exhibit 112: Impact of key risks on business
12 Vendor Analysis
12.1 Vendors covered

Exhibit 113: Vendors covered
12.2 Market positioning of vendors

Exhibit 114: Matrix on vendor position and classification
12.3 Andritz AG

Exhibit 115: Andritz AG - Overview
Exhibit 116: Andritz AG - Business segments
Exhibit 117: Andritz AG - Key news
Exhibit 118: Andritz AG - Key offerings
Exhibit 119: Andritz AG - Segment focus
12.4 AS Graanul Invest

Exhibit 120: AS Graanul Invest - Overview
Exhibit 121: AS Graanul Invest - Product / Service
Exhibit 122: AS Graanul Invest - Key offerings
12.5 Biogra

Exhibit 123: Biogra - Overview
Exhibit 124: Biogra - Product / Service
Exhibit 125: Biogra - Key offerings
12.6 BIOMAC sro

Exhibit 126: BIOMAC sro - Overview
Exhibit 127: BIOMAC sro - Product / Service
Exhibit 128: BIOMAC sro - Key offerings
12.7 BMK Woods

Exhibit 129: BMK Woods - Overview
Exhibit 130: BMK Woods - Product / Service
Exhibit 131: BMK Woods - Key offerings
12.8 Drax Group Plc

Exhibit 132: Drax Group Plc - Overview
Exhibit 133: Drax Group Plc - Business segments
Exhibit 134: Drax Group Plc - Key news
Exhibit 135: Drax Group Plc - Key offerings
Exhibit 136: Drax Group Plc - Segment focus
12.9 Energy Queensland Ltd

Exhibit 137: Energy Queensland Ltd - Overview
Exhibit 138: Energy Queensland Ltd - Product / Service
Exhibit 139: Energy Queensland Ltd - Key offerings
12.10 Enviva Inc.

Exhibit 140: Enviva Inc. - Overview
Exhibit 141: Enviva Inc. - Product / Service
Exhibit 142: Enviva Inc. - Key offerings
12.11 Fram Renewable Fuels

Exhibit 143: Fram Renewable Fuels - Overview
Exhibit 144: Fram Renewable Fuels - Product / Service
Exhibit 145: Fram Renewable Fuels - Key offerings
12.12 Granules LG

Exhibit 146: Granules LG - Overview
Exhibit 147: Granules LG - Product / Service
Exhibit 148: Granules LG - Key offerings
12.13 Norfolk Oak

Exhibit 149: Norfolk Oak - Overview
Exhibit 150: Norfolk Oak - Product / Service
Exhibit 151: Norfolk Oak - Key offerings
12.14 Nugreen Energy Pvt. Ltd.

Exhibit 152: Nugreen Energy Pvt. Ltd. - Overview
Exhibit 153: Nugreen Energy Pvt. Ltd. - Product / Service
Exhibit 154: Nugreen Energy Pvt. Ltd. - Key offerings
12.15 Pfeifer Holding GmbH

Exhibit 155: Pfeifer Holding GmbH - Overview
Exhibit 156: Pfeifer Holding GmbH - Product / Service
Exhibit 157: Pfeifer Holding GmbH - Key offerings
12.16 Premium Pellet Ltd.

Exhibit 158: Premium Pellet Ltd. - Overview
Exhibit 159: Premium Pellet Ltd. - Product / Service
Exhibit 160: Premium Pellet Ltd. - Key offerings
12.17 VIRIDIS ENERGY INC.

Exhibit 161: VIRIDIS ENERGY INC. - Overview
Exhibit 162: VIRIDIS ENERGY INC. - Product / Service
Exhibit 163: VIRIDIS ENERGY INC. - Key offerings
13 Appendix
13.2 Inclusions and exclusions checklist

Exhibit 164: Inclusions checklist
Exhibit 165: Exclusions checklist
13.3 Currency conversion rates for US$

Exhibit 166: Currency conversion rates for US$
13.4 Research methodology

Exhibit 167: Research methodology
Exhibit 168: Validation techniques employed for market sizing
Exhibit 169: Information sources
13.5 List of abbreviations

Exhibit 170: List of abbreviations