The projector screen market is estimated to grow at a CAGR of 9.87% and the size of the market is forecast to increase by USD 3,942.28 million between 2022 and 2027. The growth of the market depends on several factors, including product innovation and advances leading to portfolio extension and product premiumization, the rise in discretionary income of consumers, and the growing adoption of ambient light rejecting (ALR) screens.
This report extensively covers market segmentation by application (professional and personal), type (wall and ceiling, ceiling recessed, floor rising, portable, and others), and geography (APAC, Europe, North America, South America, and Middle East and Africa). It also includes an in-depth analysis of drivers, trends, and challenges. Furthermore, the report includes historic market data from 2017 to 2021.
What will be the size of the Projector Screen Market During the Forecast Period?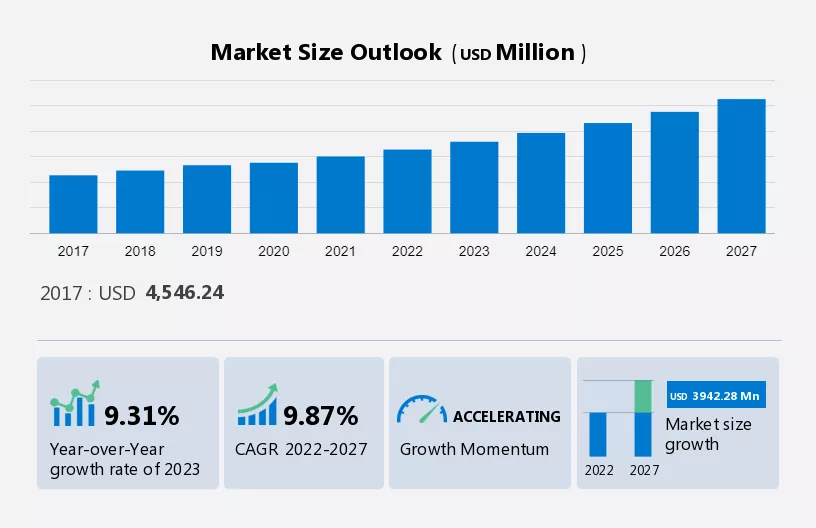 To learn more about this report, Download Report Sample
In 2017, in terms of market size, APAC dominated the market with a share of USD 1,793.49 million. Additionally, China was the largest contributor of market share USD 934.25 million. The market segment profession recorded the largest contribution in market share of USD 4,283.92 million and continues to grow.
Parent Market Analysis
Technavio categorizes the global projector screen market as a part of the global electronic equipment and instruments market within the overall electronics market. The parent global electronics market includes manufacturers of communications equipment, technology hardware storage and peripherals, electronic equipment and instruments, electronic components, consumer electronics, and industrial electronics products, as well as electronic manufacturing services. Our research report has extensively covered external factors influencing the parent market growth during the forecast period.
Projector Screen Market: Key Drivers, Trends, Challenges, and Customer Landscape
The growing adoption of ambient light-rejecting (ALR) screens is notably driving the market growth, although factors such as the long product lifecycle may impede the market growth. Our researchers analyzed the data with 2022 as the base year, along with the key drivers, trends, and challenges. A holistic analysis of drivers will help companies refine their marketing strategies to gain a competitive advantage.
Key Projector Screen Market Driver
The growing adoption of ambient light-rejecting (ALR) screens is notably driving the market growth. One of the major disadvantages of these screens is that they lose effectiveness when disturbed by any source of light. ALR screens work by rejecting the lights coming from unwanted sources, such as windows, doors, and the reflection from floors. Light-rejecting screens help balance and retain the appropriate ratio of brightness and contrast even in average-lighted rooms. The growing awareness of ALR technology encourages vendors to expand their product portfolio based on this technology.
For instance, Elite Screens offers Elite ProAV Aeon ALR Series. The screens in this series have CineGrey 5D, an angular reflective front projection material that is designed to reject ambient light while maintaining the picture quality. These screens can be used for both professional and personal applications, such as family rooms, lecture halls, boardrooms, sports bars, training facilities, and other business environments. However, with the growing awareness, several vendors are expected to explore the technology, leading to a reduction in prices during the forecast period.
Significant Projector Screen Market Trend
The growing popularity of projector screen paints is a major trend in the market. These screen paints are used to convert any surface into projection screens. This type of paint is easy to apply, and the surface can be used immediately after painting. The sharpness and clarity of the projected content depend on how smoothly the surface has been painted. One of the advantages of projector paints is their low cost.  
Another factor is that projector paints are ultimately invisible. These paints easily blend into white-painted walls and resemble standard wall paint. The screen paints are used in auditoriums, outdoor venues, business venues, game rooms, and classrooms. In addition, these paints are available at flexible prices and are affordable for many customers. Goo Systems is one of the major providers of such screen paints for concerts, museums, home theaters, sports and educational institutions, and houses of worship. Therefore, these screen paints are expected to gain traction in the coming years, which, in turn, will limit the growth of the global market during the forecast period.
Major Projector Screen Market Challenge
Long product lifecycle is a major challenge impeding the market. Projector screens are branded and have reliable quality. Mostly, these are made of either woven cloth or PVC, both of which have a long replacement cycle. Vendors engage in in-depth R&D and develop innovative and durable materials to extend the operational life of their products. The average lifespan of a screen is two years.
The long lifespan of such products reduces the frequency of product replacements, thus adversely affecting the year-over-year growth of the market. The key manufacturers of these screens offer product warranties and guarantees, which further increase the lifespan of products. Such factors reduce the repeat purchases of these screens. Moreover, the low maintenance cost of these screens reduces the repeat purchases of these screens. Such factors will adversely affect the growth of the global market during the forecast period.
Key Projector Screen Market Customer Landscape
The report includes the adoption lifecycle of the market, covering from the innovator's stage to the laggard's stage. It focuses on adoption rates in different regions based on penetration. Furthermore, the report also includes key purchase criteria and drivers of price sensitivity to help companies evaluate and develop their growth strategies.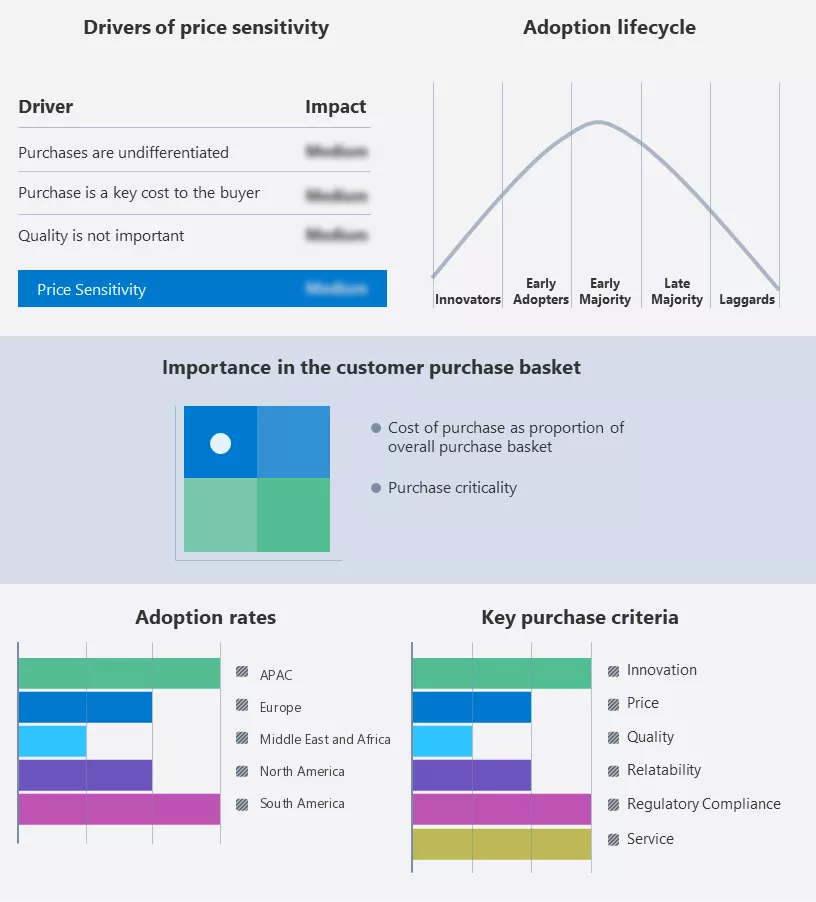 Global Projector Screen Market Customer Landscape
Who are the Major Projector Screen Market Vendors?
Vendors are implementing various strategies, such as strategic alliances, partnerships, mergers and acquisitions, geographical expansion, and product/service launches, to enhance their presence in the market.
Barco NV - The company operates under multiple segments including entertainment, and healthcare among others with a high focus on entertainment.? The company under this segment?offers advanced projectors, Micro LED displays, and /image-processing solutions, used in cinemas, concert halls, or museums, at theme parks, music festivals, or corporate events. The company's key offerings include a rear 4K projector screen. 
The report also includes detailed analyses of the competitive landscape of the market and information about 15 market vendors, including:
ACCO Brands Corp.
dnp denmark as
Draper Inc
Elite Screens Inc
Glimm Screens BV
Grandview Crystal Screen Co. Ltd.
Groupe Adeo
Harkness Screens International Ltd
Legrand SA
Pioneer Audio Visual Equipment
Pyle USA Sound Around Inc
Remaco Technologies Pte Ltd.
Screen Innovations
Seiko Epson Corp.
Severtson Screens
Qualitative and quantitative analysis of vendors has been conducted to help clients understand the wider business environment as well as the strengths and weaknesses of key market players. Data is qualitatively analyzed to categorize vendors as pure play, category-focused, industry-focused, and diversified; it is quantitatively analyzed to categorize vendors as dominant, leading, strong, tentative, and weak.
What is the Fastest-Growing Segment in the Projector Screen Market?
The market share growth by the professional segment will be significant during the forecast period. One of the key trends in the global market is the introduction of interactive projectors, especially in the education sector. Interactive projectors increase student interaction, engagement, and focus, especially during the discussion of complex topics.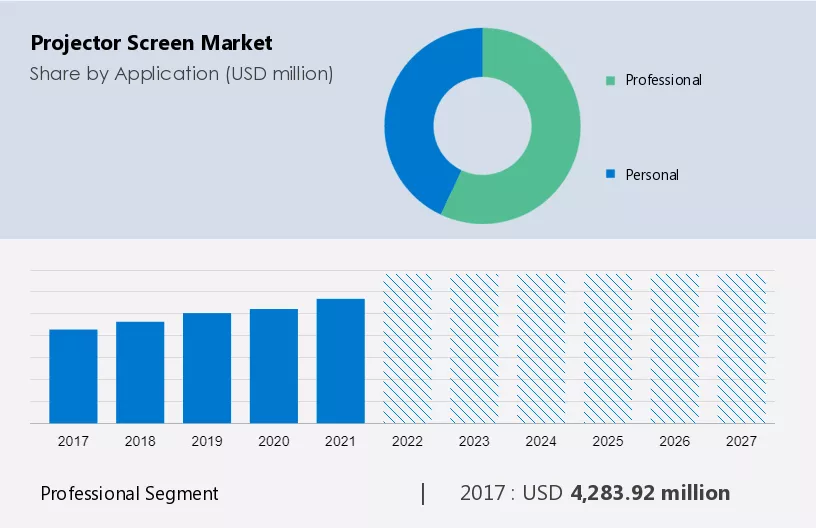 Get a glance at the market contribution of various segments Request a PDF Sample
Interactive projectors from vendors such as Epson can support up to 5-8 points of touch, which improves collaboration among students, as many students can interact with the content at once. Such interactive projectors are appropriate for making learning sessions and group presentations more interactive. In addition, these projectors are less distracting to the eyes and can improve student focus and concentration as they eliminate shadow effects, which are normally experienced while using conventional projectors. India is the most rapidly growing market in APAC due to the increasing number of startups in sectors such as information technology/information technology-enabled service, banking and financial services, and e-commerce. The introduction of projectors screen is making classroom teaching much easier, and these projectors may see greater adoption in the education sector in the future. However, the major challenge is the high cost of these screens. When more vendors start offering interactive projectors with 3D capabilities, this trend will gain momentum during the forecast period. This new technology is set to revolutionize the professional segment, which, in turn, will positively impact the landscape of the global market during the forecast period.
Which are the Key Regions for the Projector Screen Market?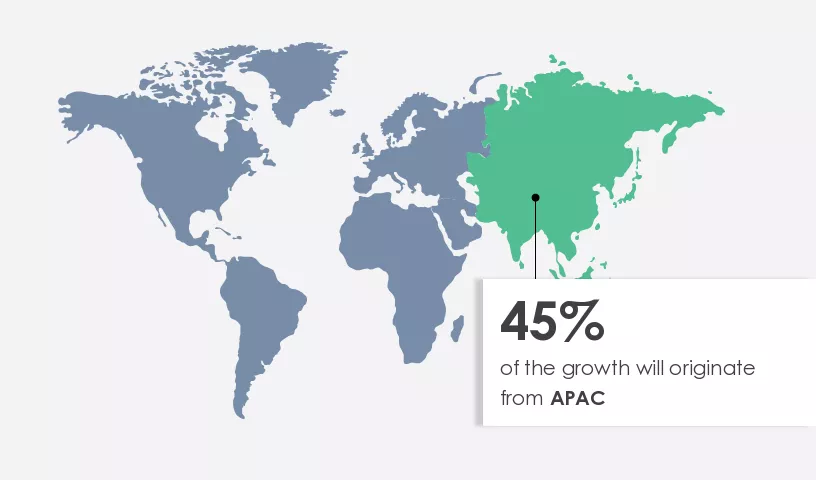 For more insights on the market share of various regions Request PDF Sample now!
APAC is estimated to contribute 45% to the growth of the global market during the forecast period. Technavio's analysts have elaborately explained the regional trends and drivers that shape the market during the forecast period.
The leading countries in the market in APAC are China, Japan, and India. The expansion of the service sector and growing literacy rates indirectly contribute to the rising sales of these screens in APAC. An increase in the number of office spaces, startups, and multinational companies has contributed to a corresponding increase in the sales of these screens in the region. With a matured rate of technology adoption across business processes, countries such as Japan, Australia, and South Korea have a mature end-user base across verticals for projector screens. Emerging economies such as Vietnam, Indonesia, China, and India are also estimated to drive the growth of the market in APAC during the forecast period, especially driven by the increasing need for operational streamlining across business activities.
In 2020, a significant increase in the number of COVID-19 cases in countries such as China, India, South Korea, and Malaysia negatively impacted the growth of the market in the region. However, in 2021, the initiation of COVID-19 vaccination drives carried out by several governments, led to the lifting of stringent lockdowns. This has resulted in the resumption of operations in end-user industries, which has increased the demand for this product in the region. Thus, the regional market is expected to grow during the forecast period.
Segment Overview
The report forecasts market growth by revenue at global, regional & country levels and analyzes the latest trends and growth opportunities from 2017 to 2027. The market has been segmented by Application (Professional and Personal), Type (Wall and ceiling, Ceiling recessed, Floor rising, Portable, and Others), and Geography (APAC, Europe, North America, South America, and Middle East and Africa).
Application Outlook (USD Million, 2017 - 2027)
Type Outlook (USD Million, 2017 - 2027)

Wall and ceiling
Ceiling recessed
Floor rising
Portable
Others
Region Outlook (USD Million, 2017 - 2027)

Europe

U.K.
Germany
France
Rest of Europe

Middle East & Africa

Saudi Arabia
South Africa
Rest of the Middle East & Africa

South America
Projector Screen Market Scope

Report Coverage

Details

Page number

162

Base year

2022

Historic period

2017-2021

Forecast period

2023-2027

Growth momentum & CAGR

Accelerate at a CAGR of 9.87%

Market growth 2023-2027

USD 3,942.28 million

Market structure

Fragmented

YoY growth 2022-2023(%)

9.31

Regional analysis

APAC, Europe, North America, South America, and Middle East and Africa

Performing market contribution

APAC at 45%

Key countries

US, China, Japan, Germany, and UK

Competitive landscape

Leading Vendors, Market Positioning of Vendors, Competitive Strategies, and Industry Risks

Key companies profiled

ACCO Brands Corp., Barco NV, dnp denmark as, Draper Inc, Elite Screens Inc, Glimm Screens BV, Grandview Crystal Screen Co. Ltd., Groupe Adeo, Harkness Screens International Ltd, Legrand SA, Pioneer Audio Visual Equipment, Pyle USA Sound Around Inc, Remaco Technologies Pte Ltd., Screen Innovations, Seiko Epson Corp., Severtson Screens, Silver Ticket Products, Stewart Filmscreen, Swastik Telon, and Vutec Corp

Market dynamics

Parent market analysis, Market growth inducers and obstacles, Fast-growing and slow-growing segment analysis, COVID-19 impact and recovery analysis and future consumer dynamics, Market condition analysis for the forecast period

Customization purview

If our report has not included the data that you are looking for, you can reach out to our analysts and get segments customized.
What are the Key Data Covered in this Projector Screen Market Report?
CAGR of the market during the forecast period
Detailed information on factors that will drive the growth of the projector screen market size

 

between 2023 and 2027
Precise estimation of the projector screen market size and its contribution to the market in focus on the parent market
Accurate predictions about upcoming trends and changes in consumer behaviour
Growth of the industry across APAC, Europe, North America, South America, and Middle East and Africa
A thorough analysis of the market's competitive landscape and detailed information about vendors
Comprehensive analysis of factors that will challenge the growth of projector screen market vendors
We can help! Our analysts can customize this report to meet your requirements. Get in touch