The Global Recliner Sofas Market size is estimated to grow by USD 8,345.25 million between 2022 and 2027 accelerating at a CAGR of 7.32%.
The recliner sofas market has seen an increase in new product launches that prioritize ergonomics of style, utility, and features, driven by evolving customer preferences for luxury and comfort. Vendors are offering modern, traditional, and contemporary styles of furniture to cater to the demand for recliner sofas, particularly among the millennial population with higher disposable incomes and a need for multi-purpose furniture. Additionally, the rising demand for innovative upholstery materials, such as the stain-repellent iClean fabric by La-Z-Boy, has contributed to the premiumization of products, leading to higher prices. To differentiate their products and enhance profit margins, vendors are focusing on additional features and designs. These factors will continue to drive the global recliner chair market.
This reclining sofas market report extensively covers market segmentation by Distribution Channel (offline and online), End-user (residential and commercial), and (North America, Europe, APAC, South America, and Middle East and Africa). It also includes an in-depth analysis of drivers, trends, and challenges.
What will be the Size of the Recliner Sofas Market During the Forecast Period?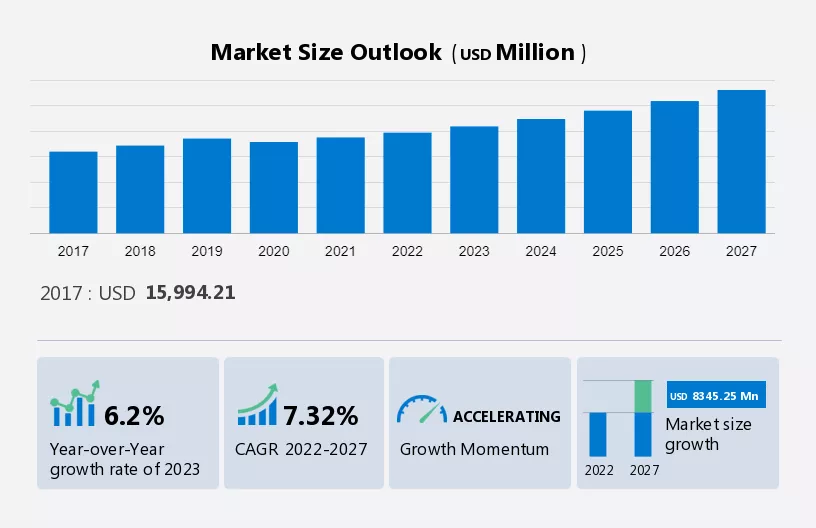 To learn more about this report, View Sample PDF
Recliner Sofas Market: Key Drivers, Trends, Challenges
 Our researchers analyzed the data with 2022 as the base year and the key drivers, trends, and challenges. A holistic analysis of drivers will help companies refine their marketing strategies to gain a competitive advantage.
Key Recliner Sofas Market Driver
The rising demand for technologically advanced and multifunctional home furniture has increased the popularity of power recliner sofas among consumers. These sofas are electric-operated and motorized, providing greater comfort, convenience, and reliability, and can be easily controlled with a single button. The La-Z-Boy Duo recliner series is a good example of this, as it includes motorized controls and USB ports for mobile device charging. As a result of these innovations, various companies have started offering power recliner sofas to remain competitive in the market. Xiaomi Corp., for instance, has introduced the 8H electric leather leisure sofa in China, which supports a key switch angle and can adapt to various user postures while providing a USB charging interface. With more vendors offering power recliner sofas, the recliner chair market is expected to grow during the forecast period.
Significant Recliner Sofas Market Trends
Technological advancements in the global furniture market have fostered a strong demand for visual technologies in the selling process of recliner sofas. AR or Augmented Reality is a technology that is expected to gain prominence in the global recliner sofas market. A market vendor such as IKEA is rallying behind Android-run AR apps intended to help customers visualize furniture items such as recliner chairs and sofa sets in their homes. IKEA also offers an AR app that enables customers to visualize the furniture right from home before purchase. The IKEA Place app is available on both Android and iOS platforms. Taking the cue from this trend, various other companies have started offering VR apps to help customers visualize furniture before making purchasing decisions.
The growing adoption of visual technologies, including VR and AR apps, is expected to support the recliner chair market growth over the forecast period strongly.
Major Recliner Sofas Market Challenge
The global recliner chair market may face competition from the growing trend of furniture rentals due to rising urbanization and high prices of new recliner sofas. Many customers prefer renting recliner sofas as they are cost-effective and easy to maintain. Major retailers such as RentoMojo and Furlenco offer recliner sofa rental services, and the furniture rental market has seen a significant increase in start-ups. Investments in furniture rental start-ups will further drive the growth of the rental market, leading to lower prices for recliner sofas and other furniture items, which could limit the growth of the global reclining sofas market.
Get detailed analysis of drivers, trends, and challenges  View the Sample PDF now!
Recliner Sofas Market Segmentation by Distribution Channel, End-User, Geography
Distribution Channel Analysis
During the forecast period, the offline segment is expected to experience significant growth in the reclining sofas market share of reclining sofas. This segment includes specialty retail stores such as home furnishing and furniture stores, department stores, hypermarkets, and clubhouse stores. Although sales through offline channels have declined due to the shift in consumer preference for online shopping, the offline segment is expected to grow in the coming years.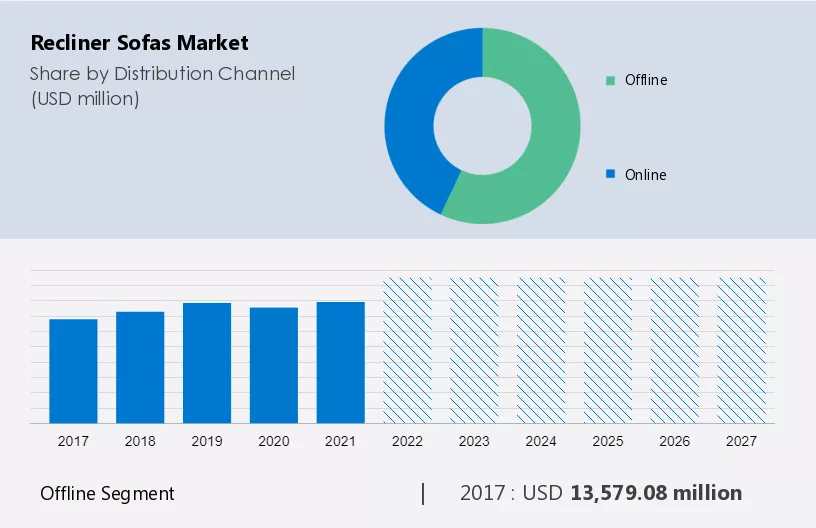 Get a glance at the market contribution of various segments View Sample PDF 
The offline segment was valued at USD 13,579.08 million in 2017 and continued to grow until 2021. Vendors are improving their offline sales by opening retail outlets and implementing various marketing strategies. Although online shopping is preferred over the offline channel, innovative marketing will boost sales through offline stores. Our report includes an analysis of historical and forecast market shares and their segments from 2017 to 2027, driven by increasing demand for reclining sofas.
End-User  Analysis
Commercial recliner sofas has huge demand in various settings like offices, hotels, restaurants, spas, clinics, and more. The growth of this segment can be attributed to rising investments in new commercial property across developed countries and increasing demand for new retail, commercial, and office space in developing countries. The adoption of recliner sofas in workplaces aids in improving employee efficiency, thus having a significant impact on productivity. Cruise liners and airlines are expanding their fleets, augmenting demand for recliner sofas as passengers seek comfort during travel. Luxurious and technologically advanced recliner sofas offered by leading vendors are also driving demand in commercial spaces. Physical therapy clinics and regular clinics are expected to register exponential growth, thanks to recommended types of recliner sofas from doctors and medical professionals.
Geographical Analysis
North America is estimated to contribute 32% to the growth of the global recliner chair market during the forecast period. Technavio's analysts have elaborately explained the regional trends and drivers that shape the market during the forecast period.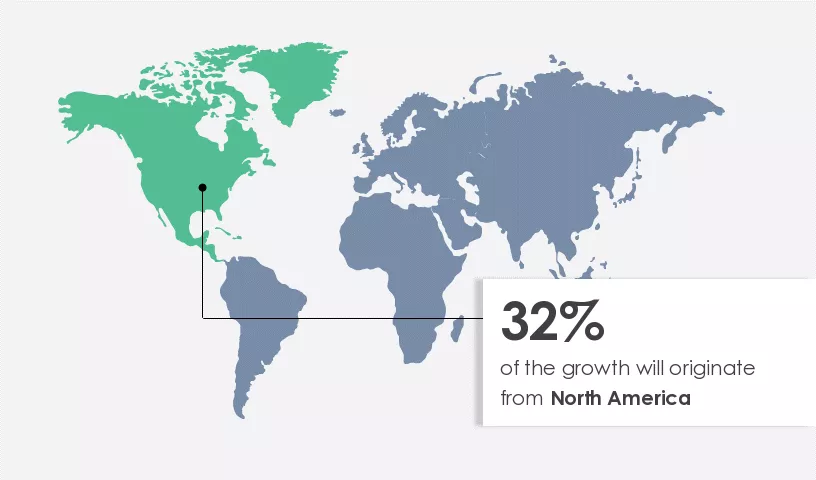 For more insights on the market share of various regions View the Sample PDF now!
The market in North America is expected to record steady growth during the forecast period. The highly developed retail sector in the US is a major platform expected to support the growth of the market in the region. The significant increase in online retailing is also expected to drive the growth of the home furniture market in the US and, consequently, the Reclining Sofas market growth in the US is further augmented by the rise of the organized retail sector, which includes furniture and furnishing stores, supermarkets, and clubhouses. The use of new technology such as AR and VR by companies such as IKEA, which allows consumers to test furniture products in real-time through Apple iOS 11's ARKit technology, is also expected to help market growth. The strong emphasis on the online-to-offline (O2O) delivery model is another factor that supports the reclining sofas market growth.
Take a quick look at various segments. View the Sample PDF now!
Covid Recovery Analysis
Despite a decline in demand for recliner sofas in North America due to COVID-19, the market is predicted to grow through e-commerce sales during the forecast period. Large-scale vaccination drives have helped control the spread of the disease, leading to the resumption of routine operations by vendors and end-users while following safety protocols such as wearing masks and practicing social distancing.
Who are the Major Recliner Sofas Market players?
Vendors are implementing various strategies, such as strategic alliances, partnerships, mergers and acquisitions, geographical expansion, and product/service launches, to enhance their presence in the Recliner Sofas Market. One of the major vendor in the recliner chair market include:
American Leather Operations -  American Leather Operations provides a range of products, including recliner sofas like Dexter, Gordon, Fallon, and Eva, along with other furniture items such as sofas, accent chairs, bed frames, and more.
The reclining sofas market research report also includes detailed analyses of the competitive landscape of the market and information about 15 market vendors, including:
Ashcomm LLC
CHATEAU DAX SPA
COA Inc.
Dorel Industries Inc.
Ekornes Ltd.
Franklin Corp.
Haverty Furniture Co. Inc.
Inter IKEA Holding BV
Jackson Furniture Industries
Klaussner Home Furnishings
Lane Home Furnishings
LaZBoy Inc.
Little Nap Designs Pvt. Ltd.
Natuzzi SpA
Pepperfry Pvt. Ltd.
PREMIEREHTS LLC
Raymour and Flanigan
Recliners India Pvt. Ltd.
Southern Motion Inc.
Qualitative and quantitative analysis of vendors has been conducted to help clients understand the wider business environment as well as the strengths and weaknesses of key market players. Data is qualitatively analyzed to categorize vendors as pure play, category-focused, industry-focused, and diversified. Furthermore, it is also quantitatively analyzed to categorize vendors as dominant, leading, strong, tentative, and weak.
Segment Overview
The report forecasts market growth by revenue at global, regional & country levels and provides an analysis of the latest trends and growth opportunities from 2017 to 2027. 
Distribution Channel Outlook ( USD Million, 2017 - 2027)
End-User Outlook ( USD Million, 2017 - 2027)
Region Outlook ( USD Million, 2017 - 2027)

Europe

The U.K.
Germany
France
Rest of Europe

Middle East & Africa

Saudi Arabia
South Africa
Rest of the Middle East & Africa
Recliner Sofas Market Scope

Report Coverage

Details

Page number

157

Base year

2022

Historic period

2017-2021

Forecast period

2023-2027

Growth momentum & CAGR

Accelerate at a CAGR of 7.32%

Market growth 2023-2027

USD 8,345.25 million

Market structure

Fragmented

YoY growth 2022-2023(%)

6.2

Regional analysis

North America, Europe, APAC, South America, and Middle East and Africa

Performing market contribution

North America at 32%

Key countries

US, Canada, China, UK, and Germany

Competitive landscape

Leading Vendors, Market Positioning of Vendors, Competitive Strategies, and Industry Risks

Key companies profiled

American Leather Operations, Ashcomm LLC, CHATEAU DAX SPA, COA Inc., Dorel Industries Inc., Ekornes Ltd., Franklin Corp., Haverty Furniture Co. Inc., Inter IKEA Holding BV, Jackson Furniture Industries, Klaussner Home Furnishings, Lane Home Furnishings, LaZBoy Inc., Little Nap Designs Pvt. Ltd., Natuzzi SpA, Pepperfry Pvt. Ltd., PREMIEREHTS LLC, Raymour and Flanigan, Recliners India Pvt. Ltd., and Southern Motion Inc.

Market dynamics

Parent market analysis, Market growth inducers and obstacles, Fast-growing and slow-growing segment analysis, COVID 19 impact and recovery analysis and future consumer dynamics, Market condition analysis for forecast period

Customization purview

If our report has not included the data that you are looking for, you can reach out to our analysts and get segments customized.
What are the Key Data Covered in this Recliner Sofas Market Research Report?
CAGR of the reclining sofas market during the forecast period
Detailed information on factors that will drive the growth of the

reclining sofas market

between 2023 and 2027
Precise estimation of the size of the recliner sofas market size and its contribution of the market in focus to the parent market
Accurate predictions about upcoming trends and changes in consumer behavior
Growth of the market industry across North America, Europe, APAC, South America, and Middle East and Africa
Thorough analysis of the market's competitive landscape and detailed information about vendors
Detailed analysis of customer landscape covering Diver of price sensitivity, Adoption of the lifecycle, and key purchase criteria
Vendor landscape comparing criticality of inputs and factors of differentiation
Exclusive Matrix on vendor position and classification
Comprehensive analysis of factors that will challenge the growth of recliner sofas market vendors
We can help! Our analysts can customize this report to meet your requirements. Get in touch