Venture Capital Investment Market Report 2023-2027:
The venture capital investment market size is estimated to decline at a CAGR of 20.88% between 2022 and 2027. The market size is forecast to increase by USD 737.56 billion. The growth of the market hinges on multiple factors, including the increasing VC investment in biotech and remote working software companies, the growing demand for high potential returns, and growing globalization and cross-border investments. 
This venture capital investment market report extensively covers market segmentation by sector (software, pharmaceutical and biotechnology, media and entertainment, medical devices and equipment, and IT services and others), type (first-time venture funding and follow-on venture funding), and geography (North America, APAC, Europe, South America, and Middle East and Africa).
Vendors are implementing various strategies, such as strategic alliances, partnerships, mergers and acquisitions, geographical expansion, and product/service launches, to enhance their presence in the market. The Accel company invests in the software development industries and invests in internet technology and software development industries. It also includes an in-depth analysis of drivers, trends, and challenges. Furthermore, the report includes historic market data from 2017 to 2021.
What will be the size of the Venture Capital Investment Market During the Forecast Period?
To learn more about this report, View Report Sample
Venture Capital Investment Market Overview
Market Definition
Venture capital (VC) is a type of finance source for new businesses or startups with limited funds. Venture capital investment is a pooled investment fund that manages the capital of investors who are looking for private equity investments in startups and small and medium-sized entrepreneurs (SMEs) with high growth prospects. These investments are often described as high-growth/high-risk investments.
Key Venture Capital Investment Market Driver
The increasing VC investment in biotech and remote working software companies is driving market growth. The COVID-19 outbreak resulted in the declining growth of numerous industries which resulted in reduced demand for venture capital investment services. However, the emphasis on the medical industry, especially the biotechnology sector to develop effective drugs for vaccination resulted in increasing investment in these industries. 
For instance, around 448 venture financing rounds were registered for biopharma companies in 2020. Moreover, another characteristic noticed was that venture capitalists recognized the shift towards remote work, especially in IT companies, and invested in such facilities and services.  Hence the trend of capitalists investing in growing industries like biotech and remote working software is expected to further boost the growth of the market during the forecast period.
Key Venture Capital Investment Market Trends
The rising number of high-net-worth individuals (HNWIs) globally is a key trend in the market. HNWIs, having a net worth equal to or greater than USD 1 million, offer special services including investment in reputable private equity and hedge funds. They also offer opportunities to be a part of pre-IPO placements and pre-ICO sales of any venture. Due to possessing large investment and wealth portfolios, these individuals require the experienced services of wealth managers or wealth advisors for efficient finance allocation. These wealth managers help them to manage their portfolios, and also carry out functions like asset protection, and tax management.
Moreover, wealth management companies offer other financial services such as financial planning, and investment monitoring to HNWIs. These companies help create efficient financial plans for HNWI clients by working closely with them and understanding their financial goals. They also offer comprehensive portfolio advisory investment services to HNWI clients. Hence such factors will drive market growth during the forecast period. 
Key Venture Capital Investment Market Challenge
Foreign exchange volatility is challenging market growth. Corporations engaging in transactions across countries face transaction risks due to conducting transactions in a foreign currency. For example, a corporation established in Canada that does business in China is subject to foreign exchange risks because it accepts financial transactions in the Chinese Yuan and presents its financial statements in Canadian Dollars.
Moreover, this risk occurs due to the potential for the currency rate to fluctuate prior to the completion of the transaction. Essentially the source of such transaction risks is the duration between a transaction and a settlement. Moreover, if the currency or underlying index has gone down relative to the dollar, it will lead to a loss. Such transaction risks may hinder the growth of the market in focus during the forecast period. 
Venture Capital Investment Market Segmentation 
By Sector 
The software segment is estimated to witness significant growth during the forecast period. This industry comprises the development, distribution, and maintenance of software products and services. It can be divided into the following types - application software; system infrastructure software; software as a service (SaaS); operating systems; database software; and analytics software. Moreover, venture capital firms have particularly increased investment in software that is transforming industries including Artificial Intelligence (AI), Machine Learning (ML), Internet of Things (IoT), CloudTech, and DevOps. In fact, total investments by venture capitalists in this software exceeded several billion dollars, with few of them being valued at more than a billion dollars and being classified as Unicorns.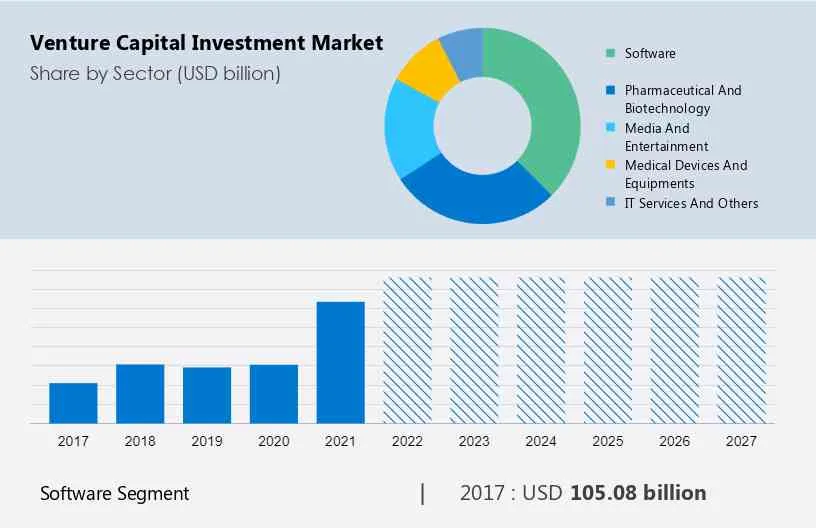 Get a glance at the market contribution of various segments View the PDF Sample
The software segment was the largest segment and was valued at USD 105.08 billion in 2017.  Moreover, there was a greater number of software startups in 2020 with estimates of about 75,000 startup firms in the US. India also witnessed the emergence of 1,300 startup firms that will contribute towards the growth of this segment of the global venture capital investment market during the forecast period.
Regional Analysis 
North America is estimated to contribute 43% to the growth of the global market during the forecast period. Technavio's analysts have elaborately explained the regional trends and drivers that shape the market during the forecast period. The North American venture capital investment market is predicted to grow further due to the increasing number of SMEs. For example, an estimate of about 33.2 million SMEs were present in the US until 2022. SMEs especially choose to finance with reduced credibility for the growth of their business. Hence this trend will result in further growth of the venture capital investment market in the region during the forecast period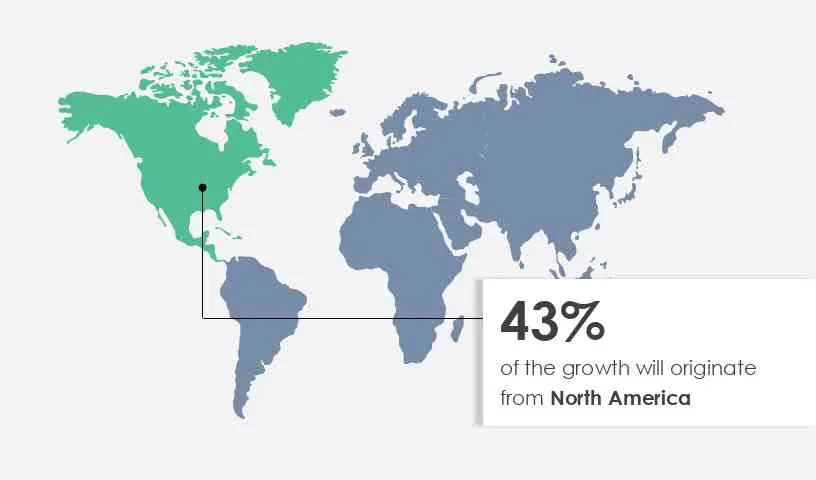 For more insights on the market share of various regions Download PDF Sample now!
In COVID-19 outbreak negatively impacted the regional venture capital investment market due to numerous SMEs and large enterprises shutting down their operations. Numerous capital venture firms and individual venture capitalists hesitated to further invest in industries, which hampered the growth of the regional market. However, the growth potential of pharmaceutical and biopharma companies that were investing in developing COVID-19 vaccines resulted in increased venture capital investment in this sector. Moreover, after development, large vaccination drives were conducted which helped limit the spread of the disease and resulted in the easing of restrictions. This resulted in numerous businesses and industries resuming operations which also caused further venture capital investment. Hence such factors will boost the growth of the market during the forecast period.
Venture Capital Investment Market Customer Landscape
The market research report includes the adoption lifecycle of the market, covering from the innovator's stage to the laggard's stage. It focuses on adoption rates in different regions based on penetration. Furthermore, the report also includes key purchase criteria and drivers of price sensitivity to help companies evaluate and develop their growth strategies.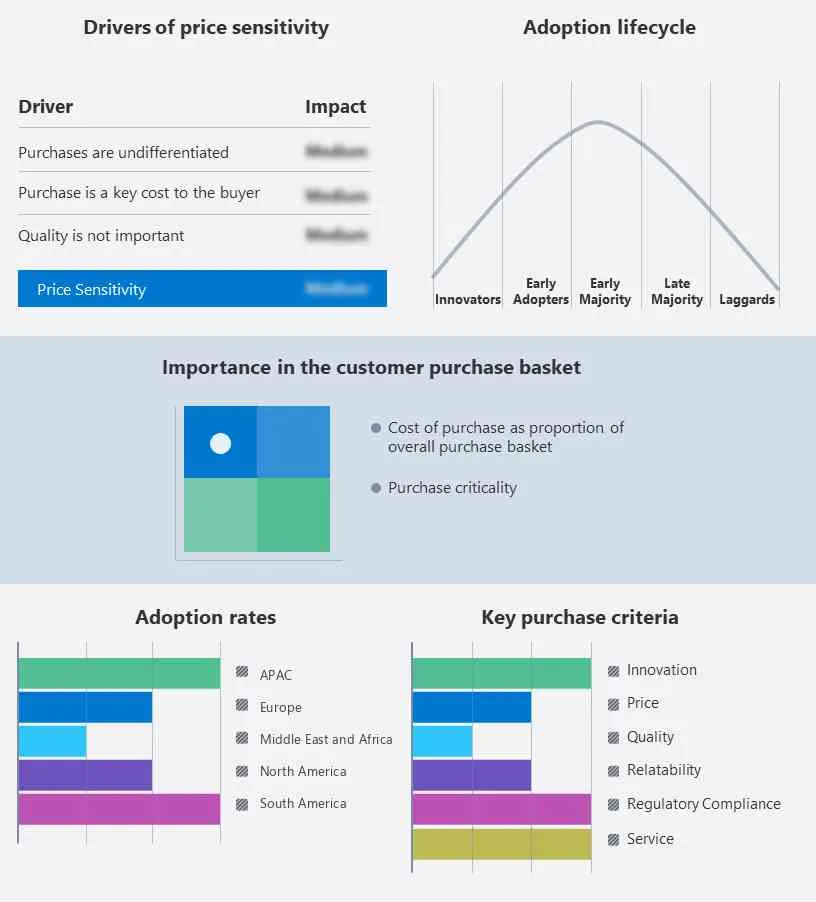 Global Venture Capital Investment Market Customer Landscape
Who are the Major Venture Capital Investment Market Companies?
The research report also includes detailed analyses of the competitive landscape of the market and information about 20 market vendors, including:
Agoranov
AH Capital Management LLC
Balderton Capital UK LLP
Battery Ventures
Caixa Capital Risc SGEIC S.A.
Cherry Ventures Management GmbH
Eurazeo
First Round Capital
GGV Capital
Greylock Partners
Hoxton Ventures LLP
Index Ventures UK LLP
Lakestar Advisors GmbH
Seedcamp Investment Management LLP
Sequoia Capital Operations LLC
Target Global
Union Square Ventures
Bessemer Venture Partners
Founders Fund
Qualitative and quantitative analysis of vendors has been conducted to help clients understand the wider business environment as well as the strengths and weaknesses of key market players. Data is qualitatively analyzed to categorize vendors as pure play, category-focused, industry-focused, and diversified; it is quantitatively analyzed to categorize vendors as dominant, leading, strong, tentative, and weak. 
Segment Overview
The venture capital investment market report forecasts market growth by revenue at global, regional & country levels and provides an analysis of the latest trends and growth opportunities from 2017 to 2027. 
Sector Outlook (USD Billion, 2017 - 2027)

Software
Pharmaceutical and biotechnology
Media and entertainment
Medical devices and equipment
IT services and others
Type Outlook (USD Billion, 2017 - 2027)

First-time venture funding
Follow-on venture funding
Region Outlook (USD Billion, 2017 - 2027)

Europe

The U.K.
Germany
France
Rest of Europe

Middle East & Africa

Saudi Arabia
South Africa
Rest of the Middle East & Africa

South America
Venture Capital Investment Market Scope

Report Coverage

Details

Page number

149

Base year

2022

Historic period

2017-2021

Forecast period

2023-2027

Growth momentum & CAGR

Decelerate at a CAGR of 20.88%

Market growth 2023-2027

USD 737.56 billion

Market structure

Fragmented

YoY growth 2022-2023(%)

24.15

Regional analysis

North America, APAC, Europe, South America, and Middle East and Africa

Performing market contribution

North America at 43%

Key countries

US, China, India, UK, and Germany

Competitive landscape

Leading Vendors, Market Positioning of Vendors, Competitive Strategies, and Industry Risks

Key companies profiled

Accel, Agoranov, AH Capital Management LLC, Balderton Capital UK LLP, Battery Ventures, Caixa Capital Risc SGEIC S.A., Cherry Ventures Management GmbH, Eurazeo, First Round Capital, GGV Capital, Greylock Partners, Hoxton Ventures LLP, Index Ventures UK LLP, Lakestar Advisors GmbH, Seedcamp Investment Management LLP, Sequoia Capital Operations LLC, Target Global, Union Square Ventures, Bessemer Venture Partners, and Founders Fund

Market dynamics

Parent market analysis, Market growth inducers and obstacles, Fast-growing and slow-growing segment analysis, COVID-19 impact and recovery analysis and future consumer dynamics, and Market condition analysis for the forecast period.

Customization purview

If our report has not included the data that you are looking for, you can reach out to our analysts and get segments customized.
What are the Key Data Covered in this Venture Capital Investment Market Research Report?
CAGR of the market during the forecast period
Detailed information on factors that will drive the growth of the

market 

between 2023 and 2027
Precise estimation of the size of the market and its contribution to the market in focus on the parent market
Accurate predictions about upcoming trends and changes in consumer behavior
Growth of the market across North America, APAC, Europe, South America, and the Middle East and Africa
A thorough analysis of the market's competitive landscape and detailed information about vendors
Comprehensive analysis of factors that will challenge the growth of market vendors
We can help! Our analysts can customize this market research report to meet your requirements. 
1 Executive Summary
1.1 Market overview

Exhibit 01: Executive Summary – Chart on Market Overview
Exhibit 02: Executive Summary – Data Table on Market Overview
Exhibit 03: Executive Summary – Chart on Global Market Characteristics
Exhibit 04: Executive Summary – Chart on Market by Geography
Exhibit 05: Executive Summary – Chart on Market Segmentation by Sector
Exhibit 06: Executive Summary – Chart on Market Segmentation by Type
Exhibit 07: Executive Summary – Chart on Incremental Growth
Exhibit 08: Executive Summary – Data Table on Incremental Growth
Exhibit 09: Executive Summary – Chart on Vendor Market Positioning
2 Market Landscape
2.1 Market ecosystem

Exhibit 10: Parent market
Exhibit 11: Market Characteristics
3 Market Sizing
3.1 Market definition

Exhibit 12: Offerings of vendors included in the market definition
3.2 Market segment analysis

Exhibit 13: Market segments
3.4 Market outlook: Forecast for 2022-2027

Exhibit 14: Chart on Global - Market size and forecast 2022-2027 ($ billion)
Exhibit 15: Data Table on Global - Market size and forecast 2022-2027 ($ billion)
Exhibit 16: Chart on Global Market: Year-over-year growth 2022-2027 (%)
Exhibit 17: Data Table on Global Market: Year-over-year growth 2022-2027 (%)
4 Historic Market Size
4.1 Global venture capital investment market 2017 - 2021

Exhibit 18: Historic Market Size – Data Table on global venture capital investment market 2017 - 2021 ($ billion)
4.2 Sector Segment Analysis 2017 - 2021

Exhibit 19: Historic Market Size – Sector Segment 2017 - 2021 ($ billion)
4.3 Type Segment Analysis 2017 - 2021

Exhibit 20: Historic Market Size – Type Segment 2017 - 2021 ($ billion)
4.4 Geography Segment Analysis 2017 - 2021

Exhibit 21: Historic Market Size – Geography Segment 2017 - 2021 ($ billion)
4.5 Country Segment Analysis 2017 - 2021

Exhibit 22: Historic Market Size – Country Segment 2017 - 2021 ($ billion)
5 Five Forces Analysis
5.1 Five forces summary

Exhibit 23: Five forces analysis - Comparison between 2022 and 2027
5.2 Bargaining power of buyers

Exhibit 24: Chart on Bargaining power of buyers – Impact of key factors 2022 and 2027
5.3 Bargaining power of suppliers

Exhibit 25: Bargaining power of suppliers – Impact of key factors in 2022 and 2027
5.4 Threat of new entrants

Exhibit 26: Threat of new entrants – Impact of key factors in 2022 and 2027
5.5 Threat of substitutes

Exhibit 27: Threat of substitutes – Impact of key factors in 2022 and 2027
5.6 Threat of rivalry

Exhibit 28: Threat of rivalry – Impact of key factors in 2022 and 2027
5.7 Market condition

Exhibit 29: Chart on Market condition - Five forces 2022 and 2027
6 Market Segmentation by Sector
6.1 Market segments

Exhibit 30: Chart on Sector - Market share 2022-2027 (%)
Exhibit 31: Data Table on Sector - Market share 2022-2027 (%)
6.2 Comparison by Sector

Exhibit 32: Chart on Comparison by Sector
Exhibit 33: Data Table on Comparison by Sector
6.3 Software - Market size and forecast 2022-2027

Exhibit 34: Chart on Software - Market size and forecast 2022-2027 ($ billion)
Exhibit 35: Data Table on Software - Market size and forecast 2022-2027 ($ billion)
Exhibit 36: Chart on Software - Year-over-year growth 2022-2027 (%)
Exhibit 37: Data Table on Software - Year-over-year growth 2022-2027 (%)
6.4 Pharmaceutical and biotechnology - Market size and forecast 2022-2027

Exhibit 38: Chart on Pharmaceutical and biotechnology - Market size and forecast 2022-2027 ($ billion)
Exhibit 39: Data Table on Pharmaceutical and biotechnology - Market size and forecast 2022-2027 ($ billion)
Exhibit 40: Chart on Pharmaceutical and biotechnology - Year-over-year growth 2022-2027 (%)
Exhibit 41: Data Table on Pharmaceutical and biotechnology - Year-over-year growth 2022-2027 (%)
6.5 Media and entertainment - Market size and forecast 2022-2027

Exhibit 42: Chart on Media and entertainment - Market size and forecast 2022-2027 ($ billion)
Exhibit 43: Data Table on Media and entertainment - Market size and forecast 2022-2027 ($ billion)
Exhibit 44: Chart on Media and entertainment - Year-over-year growth 2022-2027 (%)
Exhibit 45: Data Table on Media and entertainment - Year-over-year growth 2022-2027 (%)
6.6 Medical devices and equipments - Market size and forecast 2022-2027

Exhibit 46: Chart on Medical devices and equipments - Market size and forecast 2022-2027 ($ billion)
Exhibit 47: Data Table on Medical devices and equipments - Market size and forecast 2022-2027 ($ billion)
Exhibit 48: Chart on Medical devices and equipments - Year-over-year growth 2022-2027 (%)
Exhibit 49: Data Table on Medical devices and equipments - Year-over-year growth 2022-2027 (%)
6.7 IT services and others - Market size and forecast 2022-2027

Exhibit 50: Chart on IT services and others - Market size and forecast 2022-2027 ($ billion)
Exhibit 51: Data Table on IT services and others - Market size and forecast 2022-2027 ($ billion)
Exhibit 52: Chart on IT services and others - Year-over-year growth 2022-2027 (%)
Exhibit 53: Data Table on IT services and others - Year-over-year growth 2022-2027 (%)
6.8 Market opportunity by Sector

Exhibit 54: Market opportunity by Sector ($ billion)
Exhibit 55: Data Table on Market opportunity by Sector ($ billion)
7 Market Segmentation by Type
7.1 Market segments

Exhibit 56: Chart on Type - Market share 2022-2027 (%)
Exhibit 57: Data Table on Type - Market share 2022-2027 (%)
7.2 Comparison by Type

Exhibit 58: Chart on Comparison by Type
Exhibit 59: Data Table on Comparison by Type
7.3 First-time venture funding - Market size and forecast 2022-2027

Exhibit 60: Chart on First-time venture funding - Market size and forecast 2022-2027 ($ billion)
Exhibit 61: Data Table on First-time venture funding - Market size and forecast 2022-2027 ($ billion)
Exhibit 62: Chart on First-time venture funding - Year-over-year growth 2022-2027 (%)
Exhibit 63: Data Table on First-time venture funding - Year-over-year growth 2022-2027 (%)
7.4 Follow-on venture funding - Market size and forecast 2022-2027

Exhibit 64: Chart on Follow-on venture funding - Market size and forecast 2022-2027 ($ billion)
Exhibit 65: Data Table on Follow-on venture funding - Market size and forecast 2022-2027 ($ billion)
Exhibit 66: Chart on Follow-on venture funding - Year-over-year growth 2022-2027 (%)
Exhibit 67: Data Table on Follow-on venture funding - Year-over-year growth 2022-2027 (%)
7.5 Market opportunity by Type

Exhibit 68: Market opportunity by Type ($ billion)
Exhibit 69: Data Table on Market opportunity by Type ($ billion)
8 Customer Landscape
8.1 Customer landscape overview

Exhibit 70: Analysis of price sensitivity, lifecycle, customer purchase basket, adoption rates, and purchase criteria
9 Geographic Landscape
9.1 Geographic segmentation

Exhibit 71: Chart on Market share by geography 2022-2027 (%)
Exhibit 72: Data Table on Market share by geography 2022-2027 (%)
9.2 Geographic comparison

Exhibit 73: Chart on Geographic comparison
Exhibit 74: Data Table on Geographic comparison
9.3 North America - Market size and forecast 2022-2027

Exhibit 75: Chart on North America - Market size and forecast 2022-2027 ($ billion)
Exhibit 76: Data Table on North America - Market size and forecast 2022-2027 ($ billion)
Exhibit 77: Chart on North America - Year-over-year growth 2022-2027 (%)
Exhibit 78: Data Table on North America - Year-over-year growth 2022-2027 (%)
9.4 APAC - Market size and forecast 2022-2027

Exhibit 79: Chart on APAC - Market size and forecast 2022-2027 ($ billion)
Exhibit 80: Data Table on APAC - Market size and forecast 2022-2027 ($ billion)
Exhibit 81: Chart on APAC - Year-over-year growth 2022-2027 (%)
Exhibit 82: Data Table on APAC - Year-over-year growth 2022-2027 (%)
9.5 Europe - Market size and forecast 2022-2027

Exhibit 83: Chart on Europe - Market size and forecast 2022-2027 ($ billion)
Exhibit 84: Data Table on Europe - Market size and forecast 2022-2027 ($ billion)
Exhibit 85: Chart on Europe - Year-over-year growth 2022-2027 (%)
Exhibit 86: Data Table on Europe - Year-over-year growth 2022-2027 (%)
9.6 South America - Market size and forecast 2022-2027

Exhibit 87: Chart on South America - Market size and forecast 2022-2027 ($ billion)
Exhibit 88: Data Table on South America - Market size and forecast 2022-2027 ($ billion)
Exhibit 89: Chart on South America - Year-over-year growth 2022-2027 (%)
Exhibit 90: Data Table on South America - Year-over-year growth 2022-2027 (%)
9.7 Middle East and Africa - Market size and forecast 2022-2027

Exhibit 91: Chart on Middle East and Africa - Market size and forecast 2022-2027 ($ billion)
Exhibit 92: Data Table on Middle East and Africa - Market size and forecast 2022-2027 ($ billion)
Exhibit 93: Chart on Middle East and Africa - Year-over-year growth 2022-2027 (%)
Exhibit 94: Data Table on Middle East and Africa - Year-over-year growth 2022-2027 (%)
9.8 US - Market size and forecast 2022-2027

Exhibit 95: Chart on US - Market size and forecast 2022-2027 ($ billion)
Exhibit 96: Data Table on US - Market size and forecast 2022-2027 ($ billion)
Exhibit 97: Chart on US - Year-over-year growth 2022-2027 (%)
Exhibit 98: Data Table on US - Year-over-year growth 2022-2027 (%)
9.9 China - Market size and forecast 2022-2027

Exhibit 99: Chart on China - Market size and forecast 2022-2027 ($ billion)
Exhibit 100: Data Table on China - Market size and forecast 2022-2027 ($ billion)
Exhibit 101: Chart on China - Year-over-year growth 2022-2027 (%)
Exhibit 102: Data Table on China - Year-over-year growth 2022-2027 (%)
9.10 India - Market size and forecast 2022-2027

Exhibit 103: Chart on India - Market size and forecast 2022-2027 ($ billion)
Exhibit 104: Data Table on India - Market size and forecast 2022-2027 ($ billion)
Exhibit 105: Chart on India - Year-over-year growth 2022-2027 (%)
Exhibit 106: Data Table on India - Year-over-year growth 2022-2027 (%)
9.11 UK - Market size and forecast 2022-2027

Exhibit 107: Chart on UK - Market size and forecast 2022-2027 ($ billion)
Exhibit 108: Data Table on UK - Market size and forecast 2022-2027 ($ billion)
Exhibit 109: Chart on UK - Year-over-year growth 2022-2027 (%)
Exhibit 110: Data Table on UK - Year-over-year growth 2022-2027 (%)
9.12 Germany - Market size and forecast 2022-2027

Exhibit 111: Chart on Germany - Market size and forecast 2022-2027 ($ billion)
Exhibit 112: Data Table on Germany - Market size and forecast 2022-2027 ($ billion)
Exhibit 113: Chart on Germany - Year-over-year growth 2022-2027 (%)
Exhibit 114: Data Table on Germany - Year-over-year growth 2022-2027 (%)
9.13 Market opportunity by geography

Exhibit 115: Market opportunity by geography ($ billion)
Exhibit 116: Data Tables on Market opportunity by geography ($ billion)
10 Drivers, Challenges, and Trends
10.3 Impact of drivers and challenges

Exhibit 117: Impact of drivers and challenges in 2022 and 2027
11 Vendor Landscape
11.2 Vendor landscape

Exhibit 118: Overview on Criticality of inputs and Factors of differentiation
11.3 Landscape disruption

Exhibit 119: Overview on factors of disruption
11.4 Industry risks

Exhibit 120: Impact of key risks on business
12 Vendor Analysis
12.1 Vendors covered

Exhibit 121: Vendors covered
12.2 Market positioning of vendors

Exhibit 122: Matrix on vendor position and classification
12.3 Accel

Exhibit 123: Accel - Overview
Exhibit 124: Accel - Product / Service
Exhibit 125: Accel - Key offerings
12.4 Agoranov

Exhibit 126: Agoranov - Overview
Exhibit 127: Agoranov - Product / Service
Exhibit 128: Agoranov - Key offerings
12.5 AH Capital Management LLC

Exhibit 129: AH Capital Management LLC - Overview
Exhibit 130: AH Capital Management LLC - Product / Service
Exhibit 131: AH Capital Management LLC - Key offerings
12.6 Balderton Capital UK LLP

Exhibit 132: Balderton Capital UK LLP - Overview
Exhibit 133: Balderton Capital UK LLP - Product / Service
Exhibit 134: Balderton Capital UK LLP - Key offerings
12.7 Battery Ventures

Exhibit 135: Battery Ventures - Overview
Exhibit 136: Battery Ventures - Product / Service
Exhibit 137: Battery Ventures - Key offerings
12.8 Bessemer Venture Partners

Exhibit 138: Bessemer Venture Partners - Overview
Exhibit 139: Bessemer Venture Partners - Product / Service
Exhibit 140: Bessemer Venture Partners - Key offerings
12.9 Caixa Capital Risc SGEIC S.A.

Exhibit 141: Caixa Capital Risc SGEIC S.A. - Overview
Exhibit 142: Caixa Capital Risc SGEIC S.A. - Product / Service
Exhibit 143: Caixa Capital Risc SGEIC S.A. - Key offerings
12.10 Cherry Ventures Management GmbH

Exhibit 144: Cherry Ventures Management GmbH - Overview
Exhibit 145: Cherry Ventures Management GmbH - Product / Service
Exhibit 146: Cherry Ventures Management GmbH - Key offerings
12.11 First Round Capital

Exhibit 147: First Round Capital - Overview
Exhibit 148: First Round Capital - Product / Service
Exhibit 149: First Round Capital - Key offerings
12.12 Founders Fund

Exhibit 150: Founders Fund - Overview
Exhibit 151: Founders Fund - Product / Service
Exhibit 152: Founders Fund - Key offerings
12.13 GGV Capital

Exhibit 153: GGV Capital - Overview
Exhibit 154: GGV Capital - Product / Service
Exhibit 155: GGV Capital - Key offerings
12.14 Index Ventures UK LLP

Exhibit 156: Index Ventures UK LLP - Overview
Exhibit 157: Index Ventures UK LLP - Product / Service
Exhibit 158: Index Ventures UK LLP - Key offerings
12.15 Sequoia Capital Operations LLC

Exhibit 159: Sequoia Capital Operations LLC - Overview
Exhibit 160: Sequoia Capital Operations LLC - Product / Service
Exhibit 161: Sequoia Capital Operations LLC - Key offerings
12.16 Target Global

Exhibit 162: Target Global - Overview
Exhibit 163: Target Global - Product / Service
Exhibit 164: Target Global - Key offerings
12.17 Union Square Ventures

Exhibit 165: Union Square Ventures - Overview
Exhibit 166: Union Square Ventures - Product / Service
Exhibit 167: Union Square Ventures - Key offerings
13 Appendix
13.2 Inclusions and exclusions checklist

Exhibit 168: Inclusions checklist
Exhibit 169: Exclusions checklist
13.3 Currency conversion rates for US$

Exhibit 170: Currency conversion rates for US$
13.4 Research methodology

Exhibit 171: Research methodology
Exhibit 172: Validation techniques employed for market sizing
Exhibit 173: Information sources
13.5 List of abbreviations

Exhibit 174: List of abbreviations