Wearable Patch Market Analysis Report 2023-2027:
The wearable patch market size is estimated to grow at a CAGR of 12.02% between 2022 and 2027. The market size is forecast to increase by USD 5,653.7 million The growth of the market depends on several factors, including the growing prevalence of chronic diseases, the benefits of wearable patches for providers and patients, and growing awareness among consumers
This wearable patch market report extensively covers market segmentation by application (clinical and non-clinical), technology (regular and connected), and geography (North America, Europe, Asia, and the Rest of the World (ROW)). It also includes an in-depth analysis of drivers, trends, and challenges. Furthermore, the report includes historic market data from 2017 to 2021.
What will be the size of the Wearable Patch Market During the Forecast Period?
To learn more about this report, View Report Sample
Wearable Patch Market: Key Drivers, Trends, and Challenges
Our researchers analyzed the data with 2022 as the base year, along with the key drivers, trends, and challenges. A holistic analysis of drivers will help companies refine their marketing strategies to gain a competitive advantage.
Key Wearable Patch Market Driver
The growing prevalence of chronic diseases is driving the market. An emerging trend in the global pharmaceutical filtration market is the rising presence of US FDA-approved manufacturing facilities in emerging markets, particularly in the APAC region. China and India are the leading countries in this market, with India being highly favored for pharmaceutical manufacturing outsourcing, boasting approximately 400 US FDA-approved facilities. India holds the highest number of API and FDA facilities globally and has around 147 facilities for formulations. The market is also witnessing the approval of manufacturing facilities in other emerging countries such as China, India, Mexico, and Brazil.
Moreover, foreign pharmaceutical companies are now outsourcing their drug manufacturing to CMOs in the country, leading to higher adoption of CMOs. This development is expected to encourage pharmaceutical and biotechnology companies to outsource their drug research and development activities, either comprehensively or partially, to Chinese companies. Therefore, the growing number of US FDA-approved manufacturing facilities will propel the expansion of the global pharmaceutical filtration market in the forecast period.
Key Wearable Patch Market Trends
Increasing demand for cloud-based solutions is a trend in the market. Technological advancements in the field of IT have resulted in increased efficiency and speed in various processes. As a result, the healthcare industry is embracing these technologies. The rising emphasis on patient data privacy and safety has created a demand for cost-effective solutions such as cloud computing. Cloud computing offers several advantages, including flexibility, compatibility with existing systems, disaster recovery capabilities, scalability, and automatic software updates without additional costs.
Moreover, with the implementation of cloud computing, healthcare organizations can access data remotely through wearable patches. Storing wearable patch data on the cloud eliminates the need for backups and mitigates the impact of system failures. As healthcare organizations transition to cloud-based systems, the importance and usability of wearable patches are expected to increase. Consequently, this trend is anticipated to propel the growth of the targeted market in the forecast period.
Major Wearable Patch Market Challenge 
Concerns regarding data privacy and security are challenging the market growth. The healthcare industry has witnessed a surge in cyberattacks, leading to heightened concerns about privacy and data protection. Hospitals, clinics, and insurance companies are among the entities in the healthcare sector that have been affected. The integration of data-generating devices and the centralization of healthcare and patient data have made organizational data vulnerable to cyber threats.
The healthcare industry has undergone a significant transformation with the digitization of workflows and the adoption of electronic patient records. While medical data plays a crucial role in enhancing healthcare quality, reducing costs, and gaining insights, security, and privacy issues hinder the full realization of the potential benefits offered by advanced technologies. The volume, complexity, diversity, and timeliness of electronically available data, commonly referred to as big data, have increased significantly. Concerns regarding the security and privacy of sensitive information have escalated due to factors such as clinical mobility, wireless networking, cloud computing, and information exchange. The use of wearable patches raises similar concerns as data is acquired from third-party devices, and assessing the security measures of wearable patches and connected devices becomes challenging for care providers, thereby amplifying the importance of addressing these security concerns.
Wearable Patch Market Customer Landscape
The market research report includes the adoption lifecycle of the market, covering from the innovator's stage to the laggard's stage. It focuses on adoption rates in different regions based on penetration. Furthermore, the report also includes key purchase criteria and drivers of price sensitivity to help companies evaluate and develop their growth strategies.
Global Wearable Patch Market Customer Landscape
Who are the Major Wearable Patch Market Companies?
Vendors are implementing various strategies, such as strategic alliances, partnerships, mergers and acquisitions, geographical expansion, and product/service launches, to enhance their presence in the market.
2M Engineering Ltd: The company offers wearable health patch which measures and record physiological signals like ECG, bioimpedance, accelerometer, and others for research applications.
The research report also includes detailed analyses of the competitive landscape of the market and information about 15 market vendors, including:
Abbott Laboratories
Apple Inc.
Beneli AB
Dassault Systemes SE
DuPont de Nemours Inc.
Eoflow Co. Ltd.
GENTAG Inc.
Kenzen Inc.
LifeSignals Group Inc.
Nemaura Medical Inc.
PKvitality S.A.S.
Prevent Biometrics
Samsung Electronics Co. Ltd.
VitalConnect Inc.
Qualitative and quantitative analysis of vendors has been conducted to help clients understand the wider business environment as well as the strengths and weaknesses of key market players. Data is qualitatively analyzed to categorize vendors as pure play, category-focused, industry-focused, and diversified; it is quantitatively analyzed to categorize vendors as dominant, leading, strong, tentative, and weak.
What is the Largest-Growing Segments in the Wearable Patch Market?
The clinical segment is estimated to witness significant growth during the forecast period. Wearable patches play a crucial role in monitoring patients' health conditions by collecting data at regular intervals and transmitting it to connected devices like smartphones and laptops. These patches provide remote health monitoring, reducing the need for physical consultations with doctors. As the prevalence of lifestyle diseases increases, manufacturers are focusing on developing devices that help doctors better understand patients' health issues.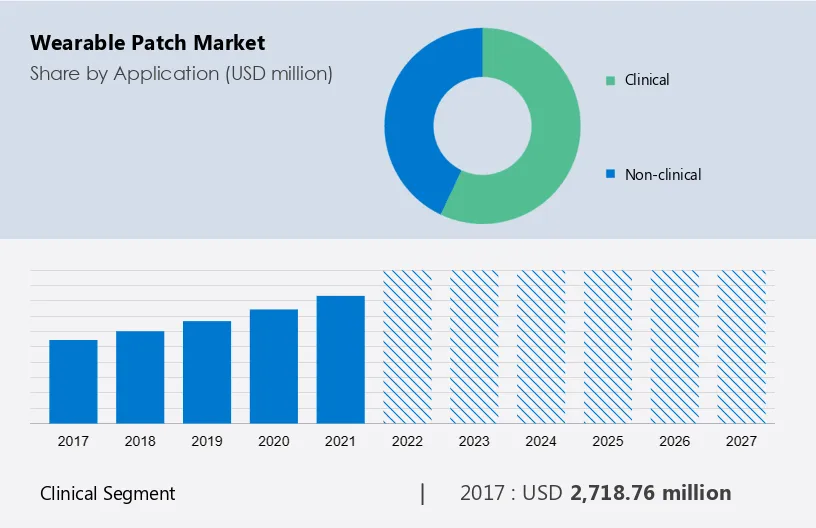 Get a glance at the market contribution of various segments View the PDF Sample
The clinical segment was the largest segment and was valued at  USD 2,718.76 in 2017. Technological advancements have enabled wearable devices to assist patients with high risks of heart disease. AI-powered wearable patches can detect early signs of heart disease. Element Science is conducting tests on the Jewel Patch Wearable Cardioverter Defibrillator, which utilizes machine learning algorithms to detect and track heart rhythms that could lead to sudden cardiac arrest. Wearable devices are also aiding individuals with diabetes by monitoring and managing glucose levels in the body and delivering insulin doses when needed. The development of smart insulin patches, such as the one by researchers at the UNC School of Medicine and MIT, allows for continuous monitoring of blood sugar levels and timely delivery of insulin doses. Biobeat has received FDA clearance for its patch that measures blood pressure, oxygenation, and heart rate, supporting cloud-based healthcare with connectivity solutions. Although the market is still in its early growth stage, recent technological advancements and the benefits offered to patients are expected to drive market growth in the forecast period.
Which are the Key Regions for the Wearable Patch Market?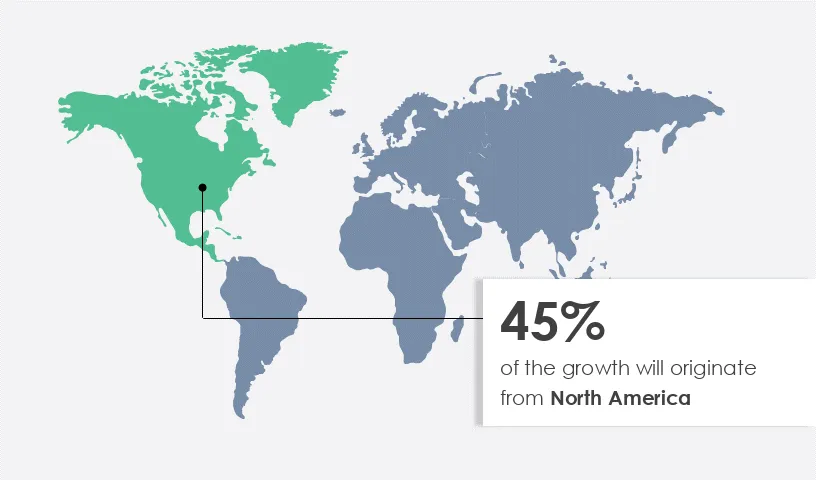 For more insights on the market share of various regions Download PDF Sample now!
North America is estimated to contribute 45% to the growth of the global market during the forecast period. Technavio's analysts have elaborately explained the regional trends and drivers that shape the market during the forecast period. In 2020, North America dominated the global wearable patch market and is projected to maintain its leading position until the end of the forecast period. This can be attributed to the increasing number of health-conscious individuals in the region, with Canada and the US playing a significant role in driving the regional market. The region is witnessing a rise in obesity and lifestyle diseases due to hectic work schedules and reduced physical activity. As people become more health-conscious, there is a growing demand for devices that enable daily health monitoring. Changing lifestyles and the prevalence of chronic diseases are key factors propelling market growth in North America.
In 2020, the North American market was among the most affected regions by the outbreak of COVID-19. However, in 2021, the initiation of large-scale vaccination drives led to the lifting of lockdowns, and business activities slowly resumed. Many consumer electronics companies started manufacturing wearable patches at an increasing rate due to their huge demand as people became more health-conscious. This led to an increase in demand for healthcare and wearable devices, including wearable patches. In addition, the increasing incidence of heart and lifestyle-related disorders, rising acceptance of wearable medical devices, and high per capita medical spending are expected to drive the growth of the regional wearable patch market during the forecast period.
Segment Overview
The wearable patch market report forecasts market growth by revenue at global, regional & country levels and provides an analysis of the latest trends and growth opportunities from 2017 to 2027. 
Application Outlook (USD Million, 2017 - 2027)
Technology Outlook (USD Million, 2017 - 2027)
Region Outlook (USD Million, 2017 - 2027)

Europe

U.K.
Germany
France
Rest of Europe

Asia
ROW

Australia
Argentina
Brazi 
Wearable Patch Market Scope

Report Coverage

Details

Page number

154

Base year

2022

Historic period

2017-2021

Forecast period

2023-2027

Growth momentum & CAGR

Accelerate at a CAGR of 12.02%

Market growth 2023-2027

USD 5,653.7 million

Market structure

Fragmented

YoY growth 2022-2023(%)

11.28

Regional analysis

North America, Europe, Asia, and Rest of World (ROW)

Performing market contribution

North America at 45%

Key countries

US, Germany, UK, China, and Japan

Competitive landscape

Leading Vendors, Market Positioning of Vendors, Competitive Strategies, and Industry Risks

Key companies profiled

2M Engineering Ltd., Abbott Laboratories, Apple Inc., Beneli AB, Biofourmis Inc., DarioHealth Corp., Dassault Systemes SE, DuPont de Nemours Inc., Eoflow Co. Ltd., GENTAG Inc., greenTEG AG, Kenzen Inc., LifeSignals Group Inc., Nemaura Medical Inc., PKvitality S.A.S., Prevent Biometrics, Qualcomm Inc., Samsung Electronics Co. Ltd., The Surgical Co., and VitalConnect Inc.

Market dynamics

Parent market analysis, Market growth inducers and obstacles, Fast-growing and slow-growing segment analysis, COVID-19 impact and recovery analysis and future consumer dynamics, Market condition analysis for forecast period.

Customization purview

If our report has not included the data that you are looking for, you can reach out to our analysts and get segments customized.
What are the Key Data Covered in this Wearable Patch Market Research Report?
CAGR of the market during the forecast period
Detailed information on factors that will drive the growth of the

market 

between 2023 and 2027
Precise estimation of the market  size and its contribution to the market focus to the parent market
Accurate predictions about upcoming trends and changes in consumer behavior
Growth of the market across North America, Europe, Asia, and the Rest of the World (ROW)
Thorough analysis of the market's competitive landscape and detailed information about vendors
Comprehensive analysis of factors that will challenge the growth of market vendors
We can help! Our analysts can customize this market research report to meet your requirements.