Adult Vitamin Gummies Market 2024-2028
The global adult vitamin gummies market size is estimated to grow by USD 2.75 billion at a CAGR of 8.45% between 2023 and 2028. 
Key Findings:
The adult vitamin gummies market remained historically at high levels from 2018 to 2023.
The market is segmented into Application, Distribution Channel, and Geography.
The vitamin deficiency sub-segment under the Application segment generated the largest revenue in 2018.
Key regions boosting the market growth include North America, Europe, Asia, and Rest of World (ROW).
Adult vitamin gummies market Share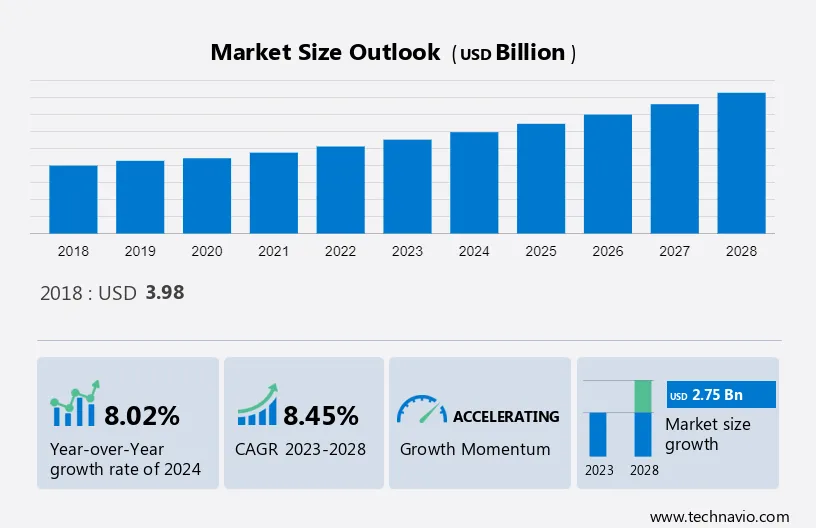 For More Highlights About this Report, Download Free Sample in a Minute 
Adult Vitamin Gummies Market: Key Drivers, Trends and Challenges
Our researchers analyzed the data with 2023 as the base year, along with the key drivers, trends, and challenges. A holistic analysis of drivers will help companies refine their marketing strategies to gain a competitive advantage.
Key Adult Vitamin Gummies Market Driver
High demand for on-the-go dietary supplements is a key driver boosting the market growth.The growing focus on health has led consumers to seek nutritionally beneficial foods and products containing essential nutrients for disease prevention and well-being. Increased awareness globally, particularly among the aging population, has fueled a preference for vitamin-infused products in the dietary supplements industry. This trend has prompted manufacturers to introduce various vitamin-enriched products.
Furthermore, the demand for convenient vitamin-based products has risen, driven by busy schedules for Millennials and challenges with pill consumption among the elderly. Chewable vitamin gummies, resembling candies, provide an on-the-go solution with an appealing taste. This appeals to those avoiding traditional supplements with strong tastes, and the higher quantity of multivitamins in gummy formulations promotes consumer adoption for their convenience.
Key Adult Vitamin Gummies Market Trends
The growing popularity of e-commerce channels is the primary trend shaping market growth. E-commerce enables consumers to access regional and global brands of adult vitamin gummies. The noteworthy upgrade in the number of e-commerce players across the globe is fueled by the raised penetration of smartphones across the world. Online retailers such as Amazon.com and vitacost.com provide specialized portals that help customers shop for health-related products and supplements such as adult vitamin gummies. 
Furthermore, the online sales of adult vitamin gummies have noticed high growth over the past decade due to actions by retailers and manufacturers to educate customers, simplify the online retail process, provide better aftersales services, and undertake targeted marketing campaigns. Hence, such factors are expected to drive the growth of the global adult vitamin gummies market during the forecast period.
Major Adult Vitamin Gummies Market Challenge
The high cost of production of adult vitamin gummies is a challenge that affects market growth. The fact that raw materials for naturally derived vitamins are not readily available, which results in higher production costs compared with synthetic vitamins, has also contributed to the increasing popularity of synthetic vitamins among gummy vitamin producers. Most synthetic vitamins are produced from petroleum extracts or coal tar derivatives, which serve as low-cost raw materials. Even though naturally- sourced vitamins are witnessing an increase in preference among consumers, their manufacturing is associated with high production costs and investments. 
Moreover, the formulation of a vitamin gummy supplement infused with additional nutrients, flavors, and colors is relatively complicated and costly when compared to manufacturing the same in tablet or capsule form. This, in turn, leads to additional costs of production, which further leads to premium pricing for adult vitamin gummies. Hence, fluctuations in the availability of raw materials are projected to impact the pricing of gummy vitamins for adults, which will impede the growth of the market during the forecast period.
Adult Vitamin Gummies Market Segmentations
The application segment includes vitamin deficiency, food supplements, and others. The distribution channel segment includes offline and online. The geography segment includes key regions such as North America, Europe, Asia, and Rest of World (ROW).
Application Segment
The market share growth by the vitamin deficiency segment will be significant during the forecast period. The vitamin deficiency segment refers to the demand for vitamin gummies that precisely target adults diagnosed with a lack of vitamins. These deficiencies can happen due to various factors, such as poor dietary choices, certain medical or health conditions, limited exposure to sunlight, or lifestyle choices that restrict nutrient intake. Due to the significance of vitamins in maintaining health, the demand for adult vitamin gummies is increasing.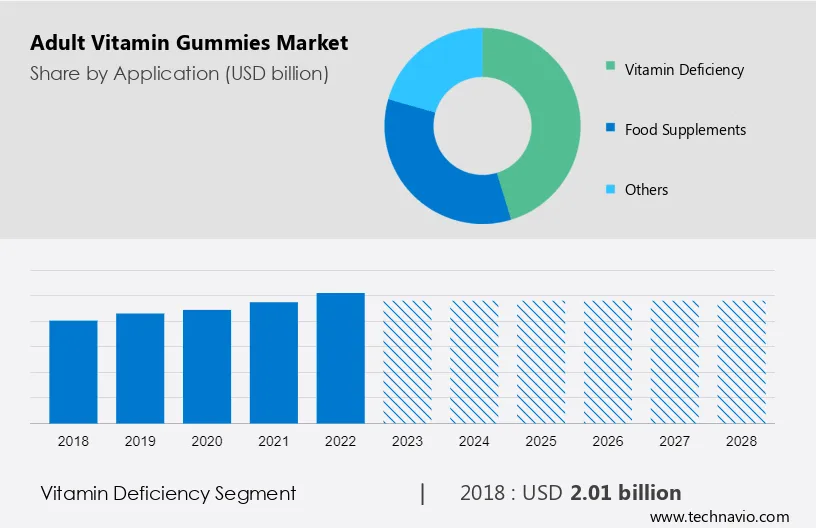 Get a glance at the market contribution of various segments Download the PDF Sample
The vitamin deficiency segment was valued at USD 2.01 billion in 2018. Furthermore, several adult vitamin gummies market players provide multivitamin tablets, which contain all kinds of vitamins and minerals, especially for adults. Thus, the availability of multivitamin supplements in the form of adult gummies, which can be consumed daily, is anticipated to drive the growth of this segment during the forecast period.
Regional Analysis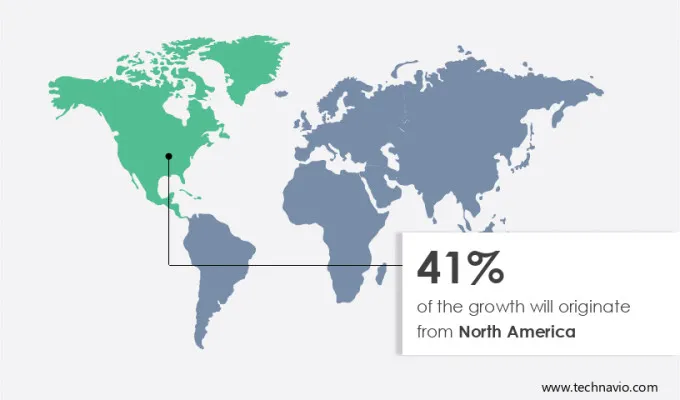 For more insights on the market share of various regions Download PDF Sample now!
North America is estimated to contribute 41% to the growth of the global market during the forecast period. Technavio's analysts have elaborately explained the regional trends and drivers that shape the market during the forecast period.
The North American adult vitamin gummies market is primarily driven by robust demand in the US, followed by Canada and Mexico. Developed countries, especially the US and Canada, witness a heightened interest in maintaining a healthy diet, driven by nutritional awareness and extensive promotional efforts. The US, in particular, shows high penetration of adult vitamin gummies, with popular choices including multivitamins, calcium and vitamin D supplements, and omega-3 fatty acids, favored by the aging Baby Boomer population focused on healthy aging.
Anticipated growth in the consumption of adult vitamin gummies is fueled by increasing awareness among Millennials about nutrition and wellness, with a trend towards seeking convenient and enjoyable ways to incorporate essential vitamins and minerals into daily diets. Consumers in the region prefer online channels for procuring adult vitamin gummies due to high internet and smartphone penetration, allowing for easy product comparison. Moreover, the rise of self-directed customers relying on online sources for nutritional information is notable. This shift towards preventive measures, including the consumption of essential vitamins and supplements, is evident. The adoption of physical training, restricted diets, and additional nutrition products is on the rise. The emerging concept of personalized dietary supplements tailored to individual requirements and lifestyles is a significant driver for the US adult vitamin gummies market, contributing to the regional market's growth during the forecast period.
Key Companies in Adult Vitamin Gummies Market
Companies are implementing various strategies, such as strategic alliances, partnerships, mergers and acquisitions, geographical expansion, and product/service launches, to enhance their presence in the market.
Aesthetic Nutrition: The company offers adult vitamin gummies such as The beach body gummies, Beard gummies, and Jaw dropping skin gummies.
The research report also includes detailed analyses of the competitive landscape of the market and information about 15 market companies, including:
Amway Corp.
Bayer AG
Catalent Inc.
Church and Dwight Co. Inc.
DCC Plc
GlaxoSmithKline Plc
Herbaland Gummies
Hero Nutritionals LLC
Makers Nutrition LLC
Mondelez International Inc.
Mr. Gummy Vitamins LLC.
Natures Bounty
Nestle SA
Nutra Solutions USA
Otsuka Holdings Co. Ltd.
SCN Bestco
The Honest Co. Inc.
Unilever PLC
Rainbow Light
Qualitative and quantitative analysis of companies has been conducted to help clients understand the wider business environment as well as the strengths and weaknesses of key market players. Data is qualitatively analyzed to categorize companies as pure play, category-focused, industry-focused, and diversified; it is quantitatively analyzed to categorize companies as dominant, leading, strong, tentative, and weak.
Adult Vitamin Gummies Market Scope

Report Coverage

Details

Page number

153

Base year

2023

Historic period

2018 - 2022

Forecast period

2024-2028

Growth momentum & CAGR

Accelerate at a CAGR of 8.45%

Market growth 2024-2028

USD 2.75 billion

Market structure

Fragmented

YoY growth 2023-2024(%)

8.02

Regional analysis

North America, Europe, Asia, and Rest of World (ROW)

Performing market contribution

North America at 41%

Key countries

US, South Korea, Germany, Italy, and China

Competitive landscape

Leading Companies, Market Positioning of Companies, Competitive Strategies, and Industry Risks

Key companies profiled

Aesthetic Nutrition, Amway Corp., Bayer AG, Catalent Inc., Church and Dwight Co. Inc., DCC Plc, GlaxoSmithKline Plc, Herbaland Gummies, Hero Nutritionals LLC, Makers Nutrition LLC, Mondelez International Inc., Mr. Gummy Vitamins LLC., Natures Bounty, Nestle SA, Nutra Solutions USA, Otsuka Holdings Co. Ltd., SCN Bestco, The Honest Co. Inc., Unilever PLC, and Rainbow Light

Market dynamics

Parent market analysis, Market growth inducers and obstacles, Fast-growing and slow-growing segment analysis, COVID 19 impact and recovery analysis and future consumer dynamics, Market condition analysis for forecast period

Customization purview

If our report has not included the data that you are looking for, you can reach out to our analysts and get segments customized.
What are the Key Data Covered in this Adult Vitamin Gummies Market Research Report?
CAGR of the market during the forecast period
Detailed information on factors that will drive the growth of the

market 

between 2024 and 2028
Precise estimation of the size of the market  size and its contribution of the market in focus to the parent market
Accurate predictions about upcoming trends and changes in consumer behaviour
Growth of the market industry across North America, Europe, Asia, and Rest of World (ROW)
Thorough analysis of the market's competitive landscape and detailed information about companies
Comprehensive analysis of factors that will challenge the growth of market companies
We can help! Our analysts can customize this market research report to meet your requirements. 
1 Executive Summary
1.1 Market overview

Exhibit 01: Executive Summary – Chart on Market Overview
Exhibit 02: Executive Summary – Data Table on Market Overview
Exhibit 03: Executive Summary – Chart on Global Market Characteristics
Exhibit 04: Executive Summary – Chart on Market by Geography
Exhibit 05: Executive Summary – Chart on Market Segmentation by Application
Exhibit 06: Executive Summary – Chart on Market Segmentation by Distribution Channel
Exhibit 07: Executive Summary – Chart on Incremental Growth
Exhibit 08: Executive Summary – Data Table on Incremental Growth
Exhibit 09: Executive Summary – Chart on Vendor Market Positioning
2 Market Landscape
2.1 Market ecosystem

Exhibit 10: Parent market
Exhibit 11: Market Characteristics
3 Market Sizing
3.1 Market definition

Exhibit 12: Offerings of vendors included in the market definition
3.2 Market segment analysis

Exhibit 13: Market segments
3.4 Market outlook: Forecast for 2023-2028

Exhibit 14: Chart on Global - Market size and forecast 2023-2028 ($ billion)
Exhibit 15: Data Table on Global - Market size and forecast 2023-2028 ($ billion)
Exhibit 16: Chart on Global Market: Year-over-year growth 2023-2028 (%)
Exhibit 17: Data Table on Global Market: Year-over-year growth 2023-2028 (%)
4 Historic Market Size
4.1 Global adult vitamin gummies market 2018 - 2022

Exhibit 18: Historic Market Size – Data Table on global adult vitamin gummies market 2018 - 2022 ($ billion)
4.2 Application Segment Analysis 2018 - 2022

Exhibit 19: Historic Market Size – Application Segment 2018 - 2022 ($ billion)
4.3 Distribution Channel Segment Analysis 2018 - 2022

Exhibit 20: Historic Market Size – Distribution Channel Segment 2018 - 2022 ($ billion)
4.4 Geography Segment Analysis 2018 - 2022

Exhibit 21: Historic Market Size – Geography Segment 2018 - 2022 ($ billion)
4.5 Country Segment Analysis 2018 - 2022

Exhibit 22: Historic Market Size – Country Segment 2018 - 2022 ($ billion)
5 Five Forces Analysis
5.1 Five forces summary

Exhibit 23: Five forces analysis - Comparison between 2023 and 2028
5.2 Bargaining power of buyers

Exhibit 24: Chart on Bargaining power of buyers – Impact of key factors 2023 and 2028
5.3 Bargaining power of suppliers

Exhibit 25: Bargaining power of suppliers – Impact of key factors in 2023 and 2028
5.4 Threat of new entrants

Exhibit 26: Threat of new entrants – Impact of key factors in 2023 and 2028
5.5 Threat of substitutes

Exhibit 27: Threat of substitutes – Impact of key factors in 2023 and 2028
5.6 Threat of rivalry

Exhibit 28: Threat of rivalry – Impact of key factors in 2023 and 2028
5.7 Market condition

Exhibit 29: Chart on Market condition - Five forces 2023 and 2028
6 Market Segmentation by Application
6.1 Market segments

Exhibit 30: Chart on Application - Market share 2023-2028 (%)
Exhibit 31: Data Table on Application - Market share 2023-2028 (%)
6.2 Comparison by Application

Exhibit 32: Chart on Comparison by Application
Exhibit 33: Data Table on Comparison by Application
6.3 Vitamin deficiency - Market size and forecast 2023-2028

Exhibit 34: Chart on Vitamin deficiency - Market size and forecast 2023-2028 ($ billion)
Exhibit 35: Data Table on Vitamin deficiency - Market size and forecast 2023-2028 ($ billion)
Exhibit 36: Chart on Vitamin deficiency - Year-over-year growth 2023-2028 (%)
Exhibit 37: Data Table on Vitamin deficiency - Year-over-year growth 2023-2028 (%)
6.4 Food supplements - Market size and forecast 2023-2028

Exhibit 38: Chart on Food supplements - Market size and forecast 2023-2028 ($ billion)
Exhibit 39: Data Table on Food supplements - Market size and forecast 2023-2028 ($ billion)
Exhibit 40: Chart on Food supplements - Year-over-year growth 2023-2028 (%)
Exhibit 41: Data Table on Food supplements - Year-over-year growth 2023-2028 (%)
6.5 Others - Market size and forecast 2023-2028

Exhibit 42: Chart on Others - Market size and forecast 2023-2028 ($ billion)
Exhibit 43: Data Table on Others - Market size and forecast 2023-2028 ($ billion)
Exhibit 44: Chart on Others - Year-over-year growth 2023-2028 (%)
Exhibit 45: Data Table on Others - Year-over-year growth 2023-2028 (%)
6.6 Market opportunity by Application

Exhibit 46: Market opportunity by Application ($ billion)
Exhibit 47: Data Table on Market opportunity by Application ($ billion)
7 Market Segmentation by Distribution Channel
7.1 Market segments

Exhibit 48: Chart on Distribution Channel - Market share 2023-2028 (%)
Exhibit 49: Data Table on Distribution Channel - Market share 2023-2028 (%)
7.2 Comparison by Distribution Channel

Exhibit 50: Chart on Comparison by Distribution Channel
Exhibit 51: Data Table on Comparison by Distribution Channel
7.3 Offline - Market size and forecast 2023-2028

Exhibit 52: Chart on Offline - Market size and forecast 2023-2028 ($ billion)
Exhibit 53: Data Table on Offline - Market size and forecast 2023-2028 ($ billion)
Exhibit 54: Chart on Offline - Year-over-year growth 2023-2028 (%)
Exhibit 55: Data Table on Offline - Year-over-year growth 2023-2028 (%)
7.4 Online - Market size and forecast 2023-2028

Exhibit 56: Chart on Online - Market size and forecast 2023-2028 ($ billion)
Exhibit 57: Data Table on Online - Market size and forecast 2023-2028 ($ billion)
Exhibit 58: Chart on Online - Year-over-year growth 2023-2028 (%)
Exhibit 59: Data Table on Online - Year-over-year growth 2023-2028 (%)
7.5 Market opportunity by Distribution Channel

Exhibit 60: Market opportunity by Distribution Channel ($ billion)
Exhibit 61: Data Table on Market opportunity by Distribution Channel ($ billion)
8 Customer Landscape
8.1 Customer landscape overview

Exhibit 62: Analysis of price sensitivity, lifecycle, customer purchase basket, adoption rates, and purchase criteria
9 Geographic Landscape
9.1 Geographic segmentation

Exhibit 63: Chart on Market share by geography 2023-2028 (%)
Exhibit 64: Data Table on Market share by geography 2023-2028 (%)
9.2 Geographic comparison

Exhibit 65: Chart on Geographic comparison
Exhibit 66: Data Table on Geographic comparison
9.3 North America - Market size and forecast 2023-2028

Exhibit 67: Chart on North America - Market size and forecast 2023-2028 ($ billion)
Exhibit 68: Data Table on North America - Market size and forecast 2023-2028 ($ billion)
Exhibit 69: Chart on North America - Year-over-year growth 2023-2028 (%)
Exhibit 70: Data Table on North America - Year-over-year growth 2023-2028 (%)
9.4 Europe - Market size and forecast 2023-2028

Exhibit 71: Chart on Europe - Market size and forecast 2023-2028 ($ billion)
Exhibit 72: Data Table on Europe - Market size and forecast 2023-2028 ($ billion)
Exhibit 73: Chart on Europe - Year-over-year growth 2023-2028 (%)
Exhibit 74: Data Table on Europe - Year-over-year growth 2023-2028 (%)
9.5 Asia - Market size and forecast 2023-2028

Exhibit 75: Chart on Asia - Market size and forecast 2023-2028 ($ billion)
Exhibit 76: Data Table on Asia - Market size and forecast 2023-2028 ($ billion)
Exhibit 77: Chart on Asia - Year-over-year growth 2023-2028 (%)
Exhibit 78: Data Table on Asia - Year-over-year growth 2023-2028 (%)
9.6 Rest of World (ROW) - Market size and forecast 2023-2028

Exhibit 79: Chart on Rest of World (ROW) - Market size and forecast 2023-2028 ($ billion)
Exhibit 80: Data Table on Rest of World (ROW) - Market size and forecast 2023-2028 ($ billion)
Exhibit 81: Chart on Rest of World (ROW) - Year-over-year growth 2023-2028 (%)
Exhibit 82: Data Table on Rest of World (ROW) - Year-over-year growth 2023-2028 (%)
9.7 US - Market size and forecast 2023-2028

Exhibit 83: Chart on US - Market size and forecast 2023-2028 ($ billion)
Exhibit 84: Data Table on US - Market size and forecast 2023-2028 ($ billion)
Exhibit 85: Chart on US - Year-over-year growth 2023-2028 (%)
Exhibit 86: Data Table on US - Year-over-year growth 2023-2028 (%)
9.8 China - Market size and forecast 2023-2028

Exhibit 87: Chart on China - Market size and forecast 2023-2028 ($ billion)
Exhibit 88: Data Table on China - Market size and forecast 2023-2028 ($ billion)
Exhibit 89: Chart on China - Year-over-year growth 2023-2028 (%)
Exhibit 90: Data Table on China - Year-over-year growth 2023-2028 (%)
9.9 Germany - Market size and forecast 2023-2028

Exhibit 91: Chart on Germany - Market size and forecast 2023-2028 ($ billion)
Exhibit 92: Data Table on Germany - Market size and forecast 2023-2028 ($ billion)
Exhibit 93: Chart on Germany - Year-over-year growth 2023-2028 (%)
Exhibit 94: Data Table on Germany - Year-over-year growth 2023-2028 (%)
9.10 Italy - Market size and forecast 2023-2028

Exhibit 95: Chart on Italy - Market size and forecast 2023-2028 ($ billion)
Exhibit 96: Data Table on Italy - Market size and forecast 2023-2028 ($ billion)
Exhibit 97: Chart on Italy - Year-over-year growth 2023-2028 (%)
Exhibit 98: Data Table on Italy - Year-over-year growth 2023-2028 (%)
9.11 South Korea - Market size and forecast 2023-2028

Exhibit 99: Chart on South Korea - Market size and forecast 2023-2028 ($ billion)
Exhibit 100: Data Table on South Korea - Market size and forecast 2023-2028 ($ billion)
Exhibit 101: Chart on South Korea - Year-over-year growth 2023-2028 (%)
Exhibit 102: Data Table on South Korea - Year-over-year growth 2023-2028 (%)
9.12 Market opportunity by geography

Exhibit 103: Market opportunity by geography ($ billion)
Exhibit 104: Data Tables on Market opportunity by geography ($ billion)
10 Drivers, Challenges, and Trends
10.3 Impact of drivers and challenges

Exhibit 105: Impact of drivers and challenges in 2023 and 2028
11 Vendor Landscape
11.2 Vendor landscape

Exhibit 106: Overview on Criticality of inputs and Factors of differentiation
11.3 Landscape disruption

Exhibit 107: Overview on factors of disruption
11.4 Industry risks

Exhibit 108: Impact of key risks on business
12 Vendor Analysis
12.1 Vendors covered

Exhibit 109: Vendors covered
12.2 Market positioning of vendors

Exhibit 110: Matrix on vendor position and classification
12.3 Aesthetic Nutrition

Exhibit 111: Aesthetic Nutrition - Overview
Exhibit 112: Aesthetic Nutrition - Product / Service
Exhibit 113: Aesthetic Nutrition - Key offerings
12.4 Amway Corp.

Exhibit 114: Amway Corp. - Overview
Exhibit 115: Amway Corp. - Product / Service
Exhibit 116: Amway Corp. - Key offerings
12.5 Bayer AG

Exhibit 117: Bayer AG - Overview
Exhibit 118: Bayer AG - Business segments
Exhibit 119: Bayer AG - Key news
Exhibit 120: Bayer AG - Key offerings
Exhibit 121: Bayer AG - Segment focus
12.6 Catalent Inc.

Exhibit 122: Catalent Inc. - Overview
Exhibit 123: Catalent Inc. - Business segments
Exhibit 124: Catalent Inc. - Key news
Exhibit 125: Catalent Inc. - Key offerings
Exhibit 126: Catalent Inc. - Segment focus
12.7 Church and Dwight Co. Inc.

Exhibit 127: Church and Dwight Co. Inc. - Overview
Exhibit 128: Church and Dwight Co. Inc. - Business segments
Exhibit 129: Church and Dwight Co. Inc. - Key offerings
Exhibit 130: Church and Dwight Co. Inc. - Segment focus
12.8 GlaxoSmithKline Plc

Exhibit 131: GlaxoSmithKline Plc - Overview
Exhibit 132: GlaxoSmithKline Plc - Business segments
Exhibit 133: GlaxoSmithKline Plc - Key news
Exhibit 134: GlaxoSmithKline Plc - Key offerings
Exhibit 135: GlaxoSmithKline Plc - Segment focus
12.9 Herbaland Gummies

Exhibit 136: Herbaland Gummies - Overview
Exhibit 137: Herbaland Gummies - Product / Service
Exhibit 138: Herbaland Gummies - Key offerings
12.10 Hero Nutritionals LLC

Exhibit 139: Hero Nutritionals LLC - Overview
Exhibit 140: Hero Nutritionals LLC - Product / Service
Exhibit 141: Hero Nutritionals LLC - Key offerings
12.11 Mr. Gummy Vitamins LLC.

Exhibit 142: Mr. Gummy Vitamins LLC. - Overview
Exhibit 143: Mr. Gummy Vitamins LLC. - Product / Service
Exhibit 144: Mr. Gummy Vitamins LLC. - Key offerings
12.12 Natures Bounty

Exhibit 145: Natures Bounty - Overview
Exhibit 146: Natures Bounty - Product / Service
Exhibit 147: Natures Bounty - Key offerings
12.13 Nestle SA

Exhibit 148: Nestle SA - Overview
Exhibit 149: Nestle SA - Business segments
Exhibit 150: Nestle SA - Key news
Exhibit 151: Nestle SA - Key offerings
Exhibit 152: Nestle SA - Segment focus
12.14 Otsuka Holdings Co. Ltd.

Exhibit 153: Otsuka Holdings Co. Ltd. - Overview
Exhibit 154: Otsuka Holdings Co. Ltd. - Business segments
Exhibit 155: Otsuka Holdings Co. Ltd. - Key offerings
Exhibit 156: Otsuka Holdings Co. Ltd. - Segment focus
12.15 SCN Bestco

Exhibit 157: SCN Bestco - Overview
Exhibit 158: SCN Bestco - Product / Service
Exhibit 159: SCN Bestco - Key offerings
12.16 The Honest Co. Inc.

Exhibit 160: The Honest Co. Inc. - Overview
Exhibit 161: The Honest Co. Inc. - Product / Service
Exhibit 162: The Honest Co. Inc. - Key offerings
12.17 Unilever PLC

Exhibit 163: Unilever PLC - Overview
Exhibit 164: Unilever PLC - Business segments
Exhibit 165: Unilever PLC - Key news
Exhibit 166: Unilever PLC - Key offerings
Exhibit 167: Unilever PLC - Segment focus
13 Appendix
13.2 Inclusions and exclusions checklist

Exhibit 168: Inclusions checklist
Exhibit 169: Exclusions checklist
13.3 Currency conversion rates for US$

Exhibit 170: Currency conversion rates for US$
13.4 Research methodology

Exhibit 171: Research methodology
Exhibit 172: Validation techniques employed for market sizing
Exhibit 173: Information sources
13.5 List of abbreviations

Exhibit 174: List of abbreviations