The cartilage repair market is estimated to grow at a CAGR of 14.01% between 2022 and 2027. The size of the market is forecast to increase by USD 720.15 million. The growth of the market depends on several factors, including the increasing incidence of osteoarthritis (OA), the rising number of sports injuries, and the growing obese population. 
This report extensively covers market segmentation by product (cell-based and non-cell-based), end-user (hospitals and clinics, ASCs, and physicians office), and geography (North America, Europe, Asia, and Rest of World (ROW). It also includes an in-depth analysis of drivers, trends, and challenges. Furthermore, the report includes historic market data from 2017 to 2021.
What will be the size of the Cartilage Repair Market During the Forecast Period?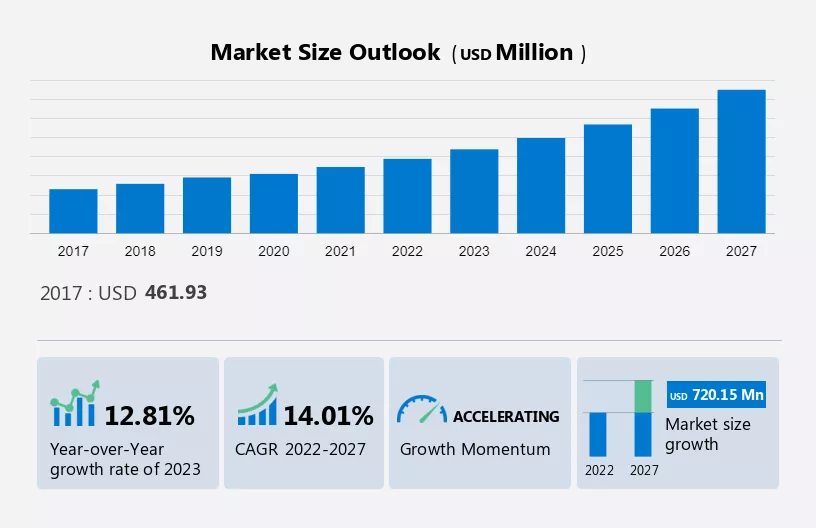 To learn more about this report, Download Report Sample
Cartilage Repair Market: Key Drivers, Trends, Challenges, and Customer Landscape
The growing obese population is notably driving the market growth, although factors such as the lack of skilled surgeons may impede the market growth. Our researchers analyzed the data with 2022 as the base year, along with the key drivers, trends, and challenges. A holistic analysis of drivers will help companies refine their marketing strategies to gain a competitive advantage.
Key Cartilage Repair Market Driver
The growing obese population is notably driving the market growth.  A considerable change has been observed in the lifestyle and diet habits of individuals over the past two decades. Consumerism and urbanization are the major reasons for this shift, which is leading to a high intake of artificial and synthetic food products. Thus, the sedentary lifestyle and the lack of a balanced diet resulted in an increased incidence of obesity. Being overweight increases, the load exerted on joints, such as the knee, which causes tension and may speed up the breakdown of cartilage.
According to experts, a person's knees endure an additional 4 pounds of pressure for every pound of extra weight. This pressure builds up, creating friction and causing cartilage injury in weight-bearing joints such as the hips, lower back, knees, and ankles. The inflammation of adipose tissue and dyslipidemia associated with obesity also contribute to obesity-induced osteoarthritis. Thus, the growing obese population will lead to an increased incidence of cartilage damage, which in turn will spur the growth of the market in focus during the forecast period.
Significant Cartilage Repair Market Trends
Lucrative opportunities in emerging economies are emerging trends in the market. The healthcare system in emerging economies is changing rapidly. Emerging economies demonstrate a huge growth potential for medical device manufacturers, owing to the increase in demand for medical devices to serve the growing population, including the geriatric population. These emerging economies have an expanding middle-class population, which demands cost-effective healthcare products and services. Moreover, with rising healthcare expenditures, emerging economies provide significant growth opportunities for medical equipment manufacturers to set up their businesses in these countries.
The improving healthcare infrastructure in emerging markets has attracted the attention of global institutional investors. Moreover, with the low cost of labor and increased spending on healthcare infrastructure, China and India provide huge growth opportunities to medical equipment manufacturers. Although regional companies are making efforts to create innovative products at affordable prices using low-cost local materials, there is still a huge potential for capital investments by global investors in these developing markets. Hence, these factors will have a positive impact on the growth of the global market during the forecast period.
Major Cartilage Repair Market Challenge
The lack of skilled surgeons is a major challenge impeding market growth. There is a significant shortage of surgeons specialized in cartilage repair surgery and trained in performing cartilage repair procedures. The learning curve of performing a cartilage repair procedure is steep, and experienced orthopedists are necessary for a successful outcome. As the majority of OA is of a posttraumatic or deformity origin, performing a successful cartilage repair procedure requires the knowledge of a broad armamentarium of techniques to address complex pathologies. Thus, the clinical success of a cartilage repair procedure greatly depends on the surgeon's experience and the implantation technique used.
However, currently, the number of qualified orthopedic surgeons with the necessary training and experience to perform cartilage repair surgery is significantly lesser than the number of orthopedic surgeons performing hip and knee replacement surgeries. Moreover, the overall number of specialized centers for cartilage repair surgery is limited, especially in certain regions such as Africa. Even in certain developed countries such as France, the number of skilled orthopedists trained in performing cartilage repair surgery is not adequate. Thus, the lack of skilled surgeons is likely to negatively impact the growth of the global market during the forecast period.
Key Cartilage Repair Market Customer Landscape
The report includes the adoption lifecycle of the market, covering from the innovator's stage to the laggard's stage. It focuses on adoption rates in different regions based on penetration. Furthermore, the report also includes key purchase criteria and drivers of price sensitivity to help companies evaluate and develop their growth strategies.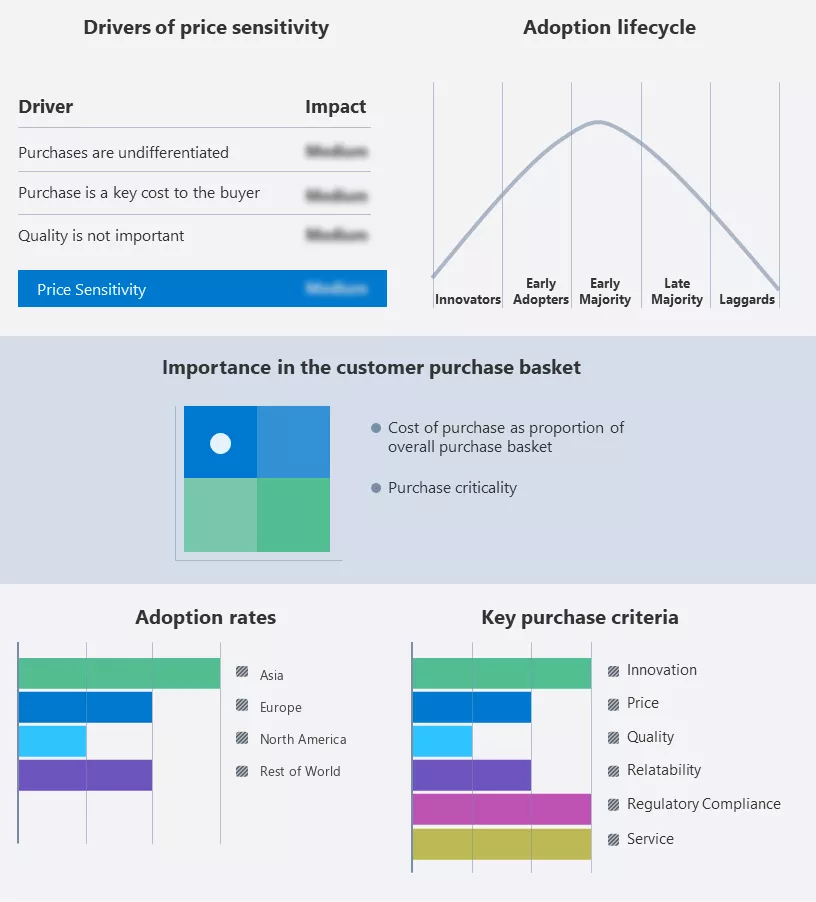 Global Cartilage Repair Market Customer Landscape
Who are the Major Cartilage Repair Market Vendors?
Vendors are implementing various strategies, such as strategic alliances, partnerships, mergers and acquisitions, geographical expansion, and product/service launches, to enhance their presence in the market.
AlloSource - The company offers live mesenchymal stem cell transplants and stem cell tissue for surgeries, progressive bone, and tissue-based medical products, and skin allografts for victims suffering from traumatic burn injuries. The company offers a cartilage repair solution namely ProChondrix Cartilage Restoration Matrix.
The report also includes detailed analyses of the competitive landscape of the market and information about 15 market vendors, including:
3M Co.
Arthrex Inc.
B. Braun SE
Bioventus LLC
Geistlich Pharma AG
Johnson and Johnson
Medtronic Plc
Orteq Sports Medicine Ltd.
Orthox Ltd.
Regentis Biomaterials Ltd.
Rosens Diversified Inc.
RTI Surgical Inc.
Sartorius AG
Smith and Nephew plc
Stryker Corp.
Qualitative and quantitative analysis of vendors has been conducted to help clients understand the wider business environment as well as the strengths and weaknesses of key market players. Data is qualitatively analyzed to categorize vendors as pure play, category-focused, industry-focused, and diversified; it is quantitatively analyzed to categorize vendors as dominant, leading, strong, tentative, and weak.
What is the Fastest-Growing Segment in the Cartilage Repair Market?
The market share growth by the cell-based segment will be significant during the forecast period. Cell-based therapy is a viable treatment option for cartilage defects. Cartilage cell therapy is a treatment that involves the usage of the patient's own cells (autologous) as a therapeutic tool to treat cartilage injury and osteochondral abnormalities. Bone cartilage cell therapy is a long-term treatment for cartilage damage and knee pain that regenerates and restores mobility.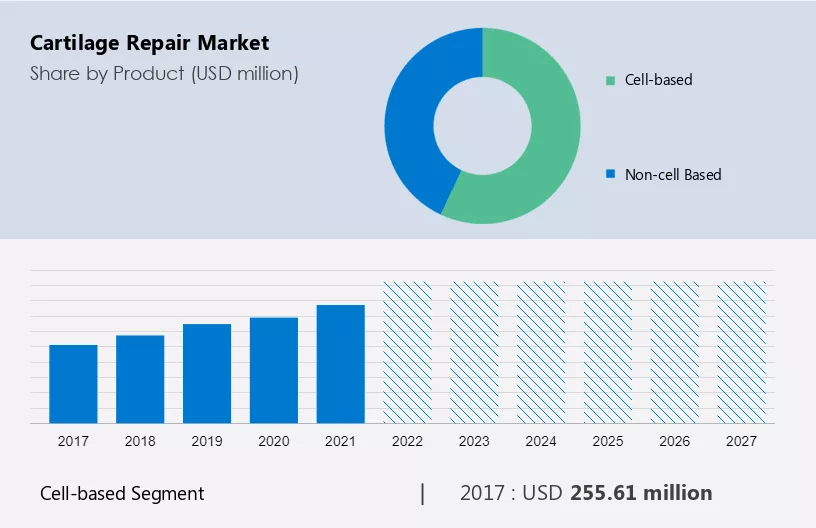 Get a glance at the market contribution of various segments Request a PDF Sample
The cell-based segment was valued at USD 255.61 million in 2017 and continued to grow until 2021. Cell-based therapy and innovative techniques utilizing mesenchymal stromal cells (MSCs) or exosomes released by MSCs are provided as alternative cell-based sources to chondrocytes, which have the potential to regenerate cartilage. MSCs and secreted exosomes (Exos) have therapeutic potential for cartilage regeneration, including balancing cartilage metabolic activity and chondrogenic differentiation. Chondroplasty is one such example of cell-based therapy. The goal of this operation is to relieve discomfort caused by mechanical impediments to motion caused by cartilage defects. The loose cartilage fragments that are causing joint pain will be removed by the surgeon and frequently sent to the lab for cell-based therapy later. Matrix-induced autologous chondrocyte implantation (MACI) is another popular cell-based therapy developed by Vericel. MACI is composed of the patient's own (autologous) cells that are enlarged and placed on a film that is implanted into the area of cartilage injury before being absorbed back into their own tissue. MACI is a procedure used to treat symptomatic cartilage degeneration in the adult knee. One of the biggest potential benefits of employing MSCs (or chondrocytes) for cartilage repair is that these cells may be cultured on a vast scale without changing their morphologies. For the treatment of focal, traumatic chondral lesions of the knee, cell-based regenerative therapies for cartilage repair have become standard practice. Thus, the growing popularity of cell-based therapy owing to its long-term results and effectiveness will boost the growth of the cell-based segment of the global market during the forecast period.
Which are the Key Regions for the Cartilage Repair Market?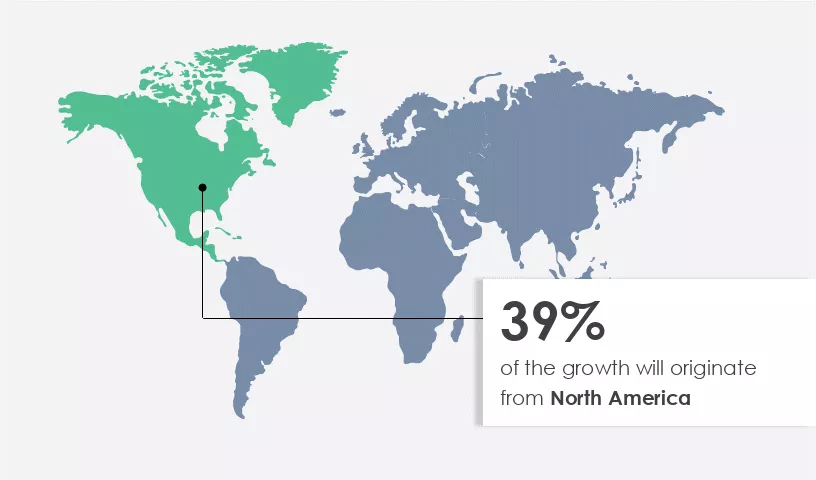 For more insights on the market share of various regions Request PDF Sample now!
North America is estimated to contribute 39% to the growth of the global market during the forecast period. Technavio's analysts have elaborately explained the regional trends and drivers that shape the market during the forecast period.
The US and Canada are the major revenue contributors in the market in North America. The market in the region is driven by improved healthcare infrastructure, an increasing number of orthopedic surgeries, and the growing prevalence of obesity and its related risk factors. Factors such as the rising prevalence of OA, favorable reimbursement for cartilage repair surgery, and initiatives by governments and non-profit organizations to create awareness about cartilage damage and its consequences are driving market growth in the region.
In addition, the increasing number of cartilage repair surgeries aided by the growing number of hospitals and ASCs are contributing to the growth of the market in North America. Also, the growing number of ASCs has led to a rise in the number of cartilage repair surgeries performed in the developed countries of the region, such as the US. Thus, the growing number of hospitals in these developed countries, such as the US and Canada, adds to the number of surgical procedures performed, which, in turn, will boost the demand for cartilage repair in the region during the forecast period.
The expansion of the North American market for cartilage repair was hindered by the outbreak of COVID-19 in 2020. However, owing to large-scale vaccination drives carried out by the governments, the regional market gained momentum by the end of 2020. Owing to the ease of lockdown restrictions, more individuals in North America visited treatment facilities, hospitals, and clinics in 2021 for their treatments related to knee surgeries and other surgeries related to joints. Moreover, the announcement of financial packages by the governments across the region to improve major industries, including healthcare equipment, helped the regional market recover in 2021 and 2022. Also, major vendors in the market are focusing on the R&D of nanomedicine for cartilage repair and adopting strategies such as M&A to expand their geographical presence. Thus, such factors are anticipated to boost the growth of the regional market during the forecast period.
Segment Overview
The report forecasts market growth by revenue at global, regional & country levels and provides an analysis of the latest trends and growth opportunities from 2017 to 2027. 
Product Outlook (USD Million, 2017 - 2027)

Cell-based
Non-cell based
End-user Outlook (USD Million, 2017 - 2027)

Hospitals and clinics
ASCs
Physicians office
Region Outlook (USD Million, 2017 - 2027)

Europe

The U.K.
Germany
France
Rest of Europe

Asia

China
India
Vietnam
Others

Rest of World

Saudi Arabia
South Africa
Brazil
Others
Parent Market Analysis
Technavio categorizes the global cartilage repair market as a part of the global healthcare equipment market. The parent global healthcare equipment market covers products and companies engaged in research and development (R&D) of a variety of product categories, including capital equipment, instruments, implants, accessories, and consumables that are used for the diagnosis, monitoring, and treatment of various diseases.  Our research report has extensively covered external factors influencing the parent market growth during the forecast period.
Cartilage Repair Market Scope

Report Coverage

Details

Page number

163

Base year

2022

Historic period

2017-2021

Forecast period

2023-2027

Growth momentum & CAGR

Accelerate at a CAGR of 14.01%

Market growth 2023-2027

USD 720.15 million

Market structure

Fragmented

YoY growth 2022-2023(%)

12.81

Regional analysis

North America, Europe, Asia, and Rest of World (ROW)

Performing market contribution

North America at 39%

Key countries

US, Canada, Germany, UK, and China

Competitive landscape

Leading Vendors, Market Positioning of Vendors, Competitive Strategies, and Industry Risks

Key companies profiled

3M Co., AlloSource, Arthrex Inc., B. Braun SE, Bioventus LLC, Geistlich Pharma AG, Johnson and Johnson, Medtronic Plc, Orteq Sports Medicine Ltd., Orthox Ltd., Regentis Biomaterials Ltd., Rosens Diversified Inc., RTI Surgical Inc., Sartorius AG, Smith and Nephew plc, Stryker Corp., TissueTech Inc., Vericel Corp., Xintela AB, Xtant Medical Inc., and Zimmer Biomet Holdings Inc.

Market dynamics

Parent market analysis, Market growth inducers and obstacles, Fast-growing and slow-growing segment analysis, COVID-19 impact and recovery analysis and future consumer dynamics, and Market condition analysis for the forecast period.

Customization purview

If our report has not included the data that you are looking for, you can reach out to our analysts and get segments customized.
What are the Key Data Covered in this Cartilage Repair Market Report?
CAGR of the market during the forecast period
Detailed information on factors that will drive the growth of the cartilage repair market between 2023 and 2027
Precise estimation of the size of the cartilage repair market size and its contribution to the parent market
Accurate predictions about upcoming trends and changes in consumer behavior
Growth of the industry across North America, Europe, Asia, and Rest of World (ROW)
A thorough analysis of the market's competitive landscape and detailed information about vendors
Comprehensive analysis of factors that will challenge the growth of cartilage repair market vendors
We can help! Our analysts can customize this report to meet your requirements. Get in touch