The hospice market is estimated to grow at a CAGR of 4.11% between 2022 and 2027 and the size of the market is forecast to increase by USD 89.07 billion. In 2017 the market size was valued at USD 346.7 billion.
The market growth is being driven by the rising number of elderly individuals. The prevalence of diseases among the aging population worldwide is a significant factor contributing to this growth. The largest number of older people, around 260 million, is in Eastern and South-Eastern Asia, followed by Europe and North America with over 200 million people in the age group of 65 years and above. According to the Organization for Economic Co-operation and Development (OECD), older adults are more likely to suffer from multi-morbidity, with 58% of those aged 65 years and above reporting two or more chronic diseases, and in some countries, such as Portugal, Hungary, Poland, and Germany, this figure exceeds 70%. On the other hand, only 24% of those under 65 years old have two or more chronic diseases. The leading causes of death among the elderly include heart disease, cancer, and chronic respiratory disease. Therefore, the increasing number of older people globally is driving the market and is expected to continue to fuel growth in the future.
This report extensively covers market segmentation by Service including nursing services, medical supply services, physician services, and other services. The end-user segmentation is by home settings, hospitals, specialty nursing homes, and hospice care centers. The geography (North America, Europe, Asia, and the Rest of the World).
Hospice Market Market: Overview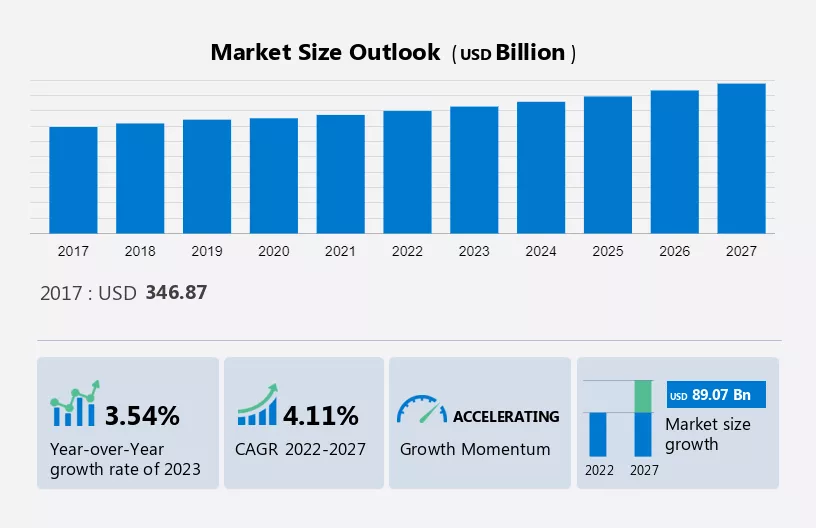 To get additional information about the market, Buy Report
Key Trend and Challenge
Our researchers analyzed the data with 2022 as the base year, along with the key drivers, trends, and challenges. A holistic analysis of drivers, trends, and challenges will help stakeholders in the value chain refine their marketing strategies to gain a competitive advantage.
Increased incidence of life-threatening diseases is a major trend in the market. The CDC defines lifestyle diseases as diseases caused by unhealthy habits such as smoking, consumption of alcohol, and lack of exercise. Major lifestyle diseases include stroke, heart attack, obesity, diabetes, hypertension, and liver cirrhosis. Chronic diseases such as stroke, heart disease, diabetes, and chronic respiratory diseases were the leading causes of death in 2020.
Furthermore, the incidence of chronic non-communicable diseases has increased in the last 50 years, thereby posing a threat to the younger population as well. With appropriate treatment and medical care, these chronic diseases can be cured, or their severity can be reduced. Moreover, the increase in the prevalence of lifestyle diseases drives the admission rates in healthcare facilities. To meet the high demand for healthcare facilities, manufacturers and suppliers are introducing advanced products and increasing market penetration through efficient distribution networks. Therefore, all the factors will drive the growth of the market during the forecast period.
Major Hospice Market Challenge
The lack of skilled nursing staff is a major challenge impeding the market. The industry is facing a shortage of primary care physicians and caretakers, especially in the field of geriatrics. There is a lack of trained nurses available at hospice care centers, and a significant number of nurses tend to take on management-level roles for better career opportunities. Moreover, the culture of working in isolation is quite common in the industry, keeping nurses task-oriented rather than patient-oriented. This depletes the quality of services provided to residents in hospice facilities.
Furthermore, prospective employees like medical students prefer to opt for non-primary care medical specialties owing to better monetary benefits, and it is difficult to entice them to choose careers in primary care. Physician extenders, such as nurse practitioners and physician assistants, help to fill the gap and play a significant role in caring for residents in hospice care centers, by collaborating with and under the supervision of a physician. Hence, the lack of skilled staff can hinder the /image of hospices and turn away prospective new residents, thereby reducing the industry's revenue. Therefore, such factors will negatively impact the market growth during the forecast period. 
Customer Landscape
The report includes the adoption lifecycle of the market, covering from the innovator's stage to the laggard's stage. It focuses on adoption rates in different regions based on penetration. Furthermore, the report also includes key purchase criteria and drivers of price sensitivity to help companies evaluate and develop their growth strategies.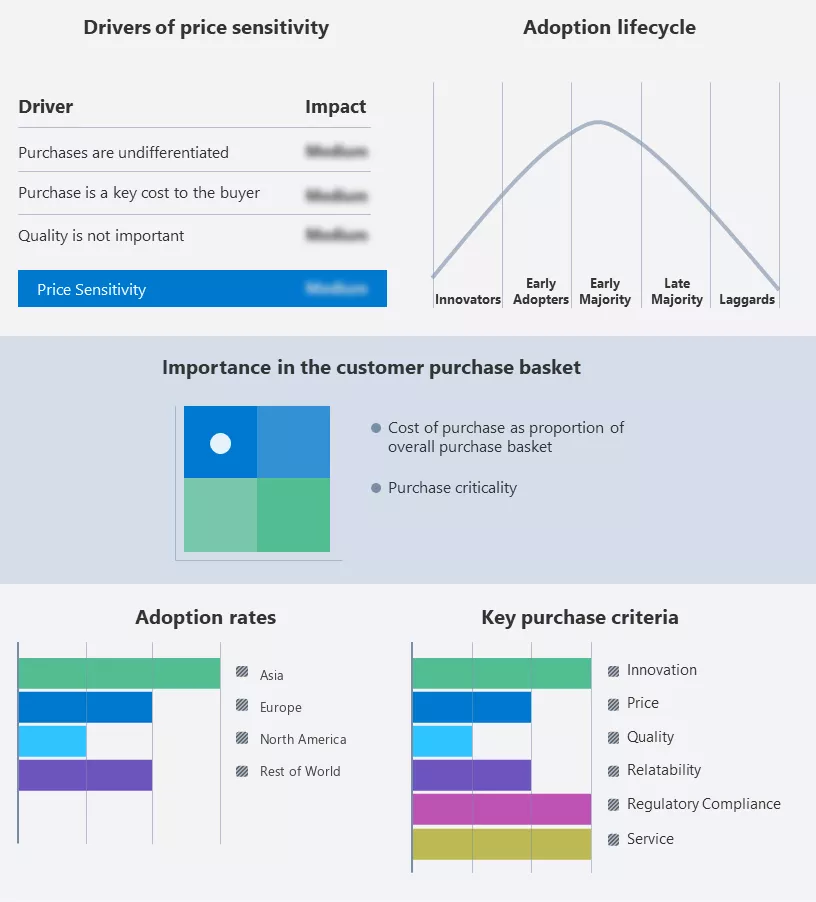 Global Hospice Market Customer Landscape
Vendor Overview
Vendors are implementing various strategies, such as strategic alliances, partnerships, mergers and acquisitions, geographical expansion, and product/service launches, to enhance their presence in the market.
Key Offering- Accent Care company operates under one segment. The company under this segment focuses on providing personal care services, home health, hospice and palliative care, and care management. The key offerings of the company include hospice services. 
Key Offering- Amedisys Inc company offers hospice services that provide quality of life and dignity at home when there is a life-limiting illness. The segment focuses on providing compassionate healthcare to help our patients recover from surgery or illness, live with chronic diseases, and prevent avoidable hospital readmissions.
Key Offering- Bookdale Senior Inc company offers hospice services that can be provided in any place a patient calls home, including nursing homes and assisted living facilities. The segment is primarily designed for middle to upper-income seniors who desire a change in lifestyle within a residential environment to live life to the fullest.
The report also includes detailed analyses of the competitive landscape of the market and information about 15 market vendors, including:
Caritas Internationalis
Chemed Corp.
COVENANT HEALTH AND COMMUNITY SERVICES INC.
Crossroads Hospice and Palliative Care
Dierksen Hospice
FC Compassus LLC
Golden Living Centers
Intrepid USA Healthcare Services
LHC GROUP Inc.
LifePoint Health Inc.
National Association for Home Care and Hospice
Oklahoma Palliative and Hospice Care
PeaceHealth
ProMedica Health Systems Inc.
PruittHealth Corp.
Samaritan Health Services
The Ensign Group Inc.
Qualitative and quantitative analysis of vendors has been conducted to help clients understand the wider business environment as well as the strengths and weaknesses of key market players. Data is qualitatively analyzed to categorize vendors as pure play, category-focused, industry-focused, and diversified; it is quantitatively analyzed to categorize vendors as dominant, leading, strong, tentative, and weak.
Hospice Market Segmentation by End User
Home settings are provided for patients who are recovering from acute hospitalization and also for those with chronic hospice needs. These provide a variety of social and medical services based on the patient's needs. Such services are provided by registered or licensed nurses; speech, physical, and occupational therapists; dieticians, case managers, nutritionists, and audiologists; and personal care, meals, and home-based personal support caregivers. These services also include home settings and daily chores with the help of various products, devices, or solutions. 
A significant number of home care services, such as transportation, meals, and other assistance, are provided via community, state, and religious organizations that are not federally certified. Developed nations have helped in the growth of the market by providing the necessary infrastructure and government assistance, 
Hospice Market Segmentation by Service
The market share growth by the nursing services segment will be significant during the forecast period. Nursing services can be availed at nursing homes, hospice care centers, and home hospice care. The nursing services can be provided by a Certified Hospice and Palliative Licensed Nurse (CHPLN). These services focus on providing medical, psychological, and spiritual care to terminally ill patients. These patients have less time to live and include those who are expected to survive six months or less than that. 
For a detailed summary of the market segments BUY REPORT
The nursing services segment was valued at USD 170.28 billion in 2017 and continued to grow until 2021. Patients with cancer, AIDS, heart disease, kidney failure, liver diseases, and others can avail of nursing hospice services. Nursing services include supervising patients needing hospice care, managing complex pain and other symptoms, comforting the patient by providing psychological counseling, spiritual care, physical, occupational, dietary, and speech therapies, and ongoing grief counseling for the patient, as well as his/her family and friends. In the US, terminally ill patients who are eligible for hospice services can avail of Medicare hospice benefits. Medicare is health insurance for US citizens who are 65 years or older, and it is covered by the United States Department of Health and Human Services. The Medicare hospice benefit includes two 90-day benefit periods followed by an unlimited number of 60-day benefit periods. Hospice patients receive care as long as the doctor and the hospice medical director certify that the patient is terminally ill. These benefits cover resources and support for the family of the patient, medical and nursing services, counseling, and bereavement services. Therefore, such factors will contribute to the growth of the market during the forecast period.
Key Regions for the Chocolate Confectionery Market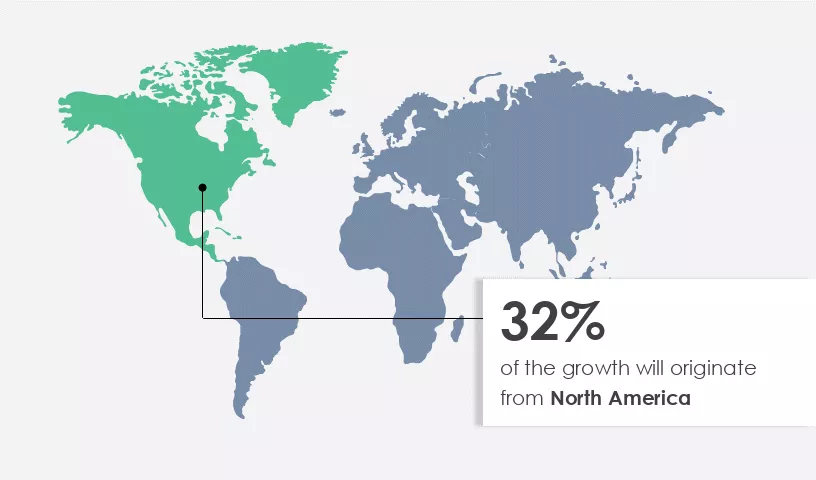 For further insights about regional markets,Request PDF Sample now!
North America is estimated to contribute 32% to the growth of the global market during the forecast period. Technavio's analysts have elaborately explained the regional trends and drivers that shape the market during the forecast period.
North America has the largest share of the global market because countries like the US and Canada receive extensive support from their governments to set up the required healthcare infrastructure within the region. There has also been an increase in the number of private and government-aided organizations in these countries that provide hospice care services. Additionally, a surging volume of patients with cancer, end-stage renal diseases, respiratory failure, chronic kidney disease, and others in the US and Canada will propel the growth of the market in the region during the forecast period.
Hospice care expenses in the US are mostly paid by the Medicare and Medicaid Services and Veteran Affairs (VA) benefits, which are provided by the US Department of Veterans Affairs. Additionally, most private insurance plans, health maintenance organizations (HMOs), and other managed care organizations also provide the expenses for hospice care in their plans and policies. Furthermore, the market in the US is dominated by the presence of prominent key vendors such as AccentCare Inc., Amedisys Inc., Covenant Health and Community Services Inc., Crossroads Hospice, and Palliative Care. Therefore, all of the abovementioned factors will drive the market growth during the forecast period. 
Covid Recovery
Although temporary lockdowns imposed in the region hindered the use of hospice services to prevent the spread of COVID-19, long-term national healthcare available in the region helped mitigate the challenges. This has increased the funding for the development of hospice services in the region. For instance, in Austria, more than USD 14.5 million was allocated to support long-term care services, including hospice services, in 2020, which led to the expansion of community-based services in the country. These factors have led to the improvement of hospice services in the region. Such factors are expected to contribute to the growth of the market in the region during the forecast period.
Segment Overview
The report forecasts market growth by revenue at global, regional & country levels and provides an analysis of the latest trends and growth opportunities from 2017 to 2027. 
Service Outlook (USD Billion, 2017 - 2027)

Nursing services
Medical supply services
Physician services
Other services

End-user Outlook (USD Billion, 2017 - 2027)

Home settings
Hospitals
Specialty nursing homes
Hospice care centers

Region Outlook (USD Billion, 2017 - 2027)

Europe

The U.K.
Germany
France
Rest of Europe

Asia

China
India
Vietnam
Others

Rest of World

Saudi Arabia
South Africa
Chile
Others
Hospice Market Scope

Report Coverage

Details

Page number

166

Base year

2022

Historic period

2017-2021

Forecast period

2023-2027

Growth momentum & CAGR

Accelerate at a CAGR of 4.11%

Market growth 2023-2027

USD 89.07 billion

Market structure

Fragmented

YoY growth 2022-2023(%)

3.54

Regional analysis

North America, Europe, Asia, and Rest of World (ROW)

Performing market contribution

North America at 32%

Key countries

US, Canada, UK, Germany, and China

Competitive landscape

Leading Vendors, Market Positioning of Vendors, Competitive Strategies, and Industry Risks

Key companies profiled

AccentCare Inc., Amedisys Inc., Brookdale Senior Living Inc., Caritas Internationalis, Chemed Corp., COVENANT HEALTH AND COMMUNITY SERVICES INC., Crossroads Hospice and Palliative Care, Dierksen Hospice, FC Compassus LLC, Golden Living Centers, Intrepid USA Healthcare Services, LHC GROUP Inc., LifePoint Health Inc., National Association for Home Care and Hospice, Oklahoma Palliative and Hospice Care, PeaceHealth, ProMedica Health Systems Inc., PruittHealth Corp., Samaritan Health Services, and The Ensign Group Inc.

Market dynamics

Parent market analysis, Market growth inducers and obstacles, Fast-growing and slow-growing segment analysis, COVID 19 impact and recovery analysis and future consumer dynamics, Market condition analysis for forecast period

Customization purview

If our report has not included the data that you are looking for, you can reach out to our analysts and get segments customized.
What are the Key Data Covered in this Hospice Market Report?
CAGR of the market during the forecast period
Detailed information on factors that will drive the growth of the

market

between 2023 and 2027
Precise estimation of the size of the hospice market size and its contribution of the market in focus to the parent market
Accurate predictions about upcoming trends and changes in consumer behavior
Growth of the market industry across North America, Europe, Asia, and Rest of World (ROW)
Thorough analysis of the market's competitive landscape and detailed information about vendors
Comprehensive analysis of factors that will challenge the growth of hospice market vendors
We can help! Our analysts can customize this report to meet your requirements. Get in touch