Nanocomposites Market Analysis Report 2023-2027
The nanocomposites market size is estimated to grow at a CAGR of 16.18% between 2022 and 2027. The market size is forecast to increase by USD 6,995.79 million. The growth of the market depends on several factors such as nanocomposite coatings gaining traction, increased research and development activities by vendors and robust demand from the aerospace and defense industry.
This nanocomposites market report extensively covers market segmentation by material (carbon nanotubes, metal oxides, nanoclay, nanofibre, and graphene), application (packaging, electronics and semiconductors, automotive, coatings, and aerospace and defense), and geography (APAC, North America, Europe, Middle East and Africa, and South America). It also includes an in-depth analysis of drivers, trends, and challenges. Furthermore, the report includes historic market data from 2017 to 2021.
What will be the Size of the Nanocomposites Market During the Forecast Period?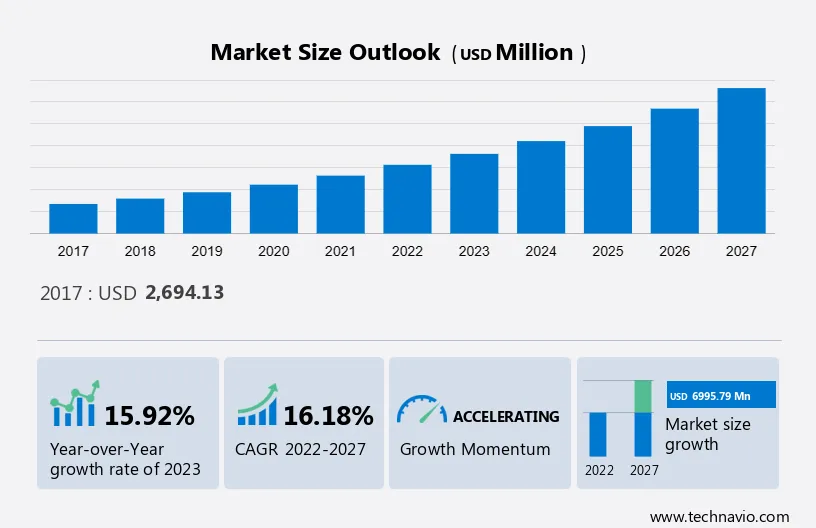 To learn more about this report, View Report Sample
Nanocomposites Market: Key Drivers, Trends and Challenges
Our researchers analyzed the data with 2022 as the base year, along with the key drivers, trends, and challenges. A holistic analysis of drivers will help companies refine their marketing strategies to gain a competitive advantage.
Key Nanocomposites Market Driver
Nanocomposite coatings gaining traction is notably driving the market growth. Due to their unique properties and versatile applications, nanocomposite coatings are gaining traction across various end-user industries. Such coatings comprise nanoscale particles that are dispersed within a matrix material, which offers enhanced performance, durability, and functionality. In addition, nanocomposite coatings can deliver low friction and wear characteristics, making them advantageous in applications that involve sliding or rotating components, such as bearings, gears, and cutting tools. Also, nanocomposite coatings are used in medical devices and implants to enhance their biocompatibility, lower friction, and control bacterial growth on the surfaces of the implants.
However, the wide range of advantages offered by nanocomposite coatings, coupled with advances in nanotechnology and manufacturing techniques, is propelling their increasing adoption across many industries, ranging from aerospace and automotive to electronics and healthcare, which, in turn, is anticipated to drive the growth of the global nanocomposites market during the forecast period.
Key Nanocomposites Market Trends
The high demand for lightweight materials is an emerging trend shaping the market growth. Nanocomposites deliver high strength-to-weight ratios, making them beneficial in gaining weight reduction in automobiles without compromising on strength. Industries such as automotive, aerospace, and transportation are increasingly focused on reducing the weight of components to enhance fuel efficiency and the overall performance of vehicles. Also, the aerospace industry benefits from the use of lightweight materials as they allow aircraft to carry more passengers or cargo while consuming less fuel.
Moreover, lightweight materials are essential for developing portable electronic devices that are comfortable to carry and use. Such materials help to manage heat dissipation in electronic devices, leading to better performance and a longer lifespan. Therefore, such benefits of nanocomposites in different applications will drive the growth of the nanocomposites market during the forecast period.
Major Nanocomposites Market Challenge
High demand for lightweight materials is a significant challenge hindering the market growth. The production of nanocomposites typically requires specialized equipment, precise manufacturing techniques, and high-quality nanoparticles. As a result, the production costs are generally higher compared to traditional materials. Additionally, comprehensive testing and characterization are necessary to ensure that nanocomposites meet the quality standards required by different end-user industries.
However, these tests require the use of specialized equipment and skilled personnel, which can add significant costs. Consequently, the high costs associated with production and testing may hinder the adoption of nanocomposites and impede the growth of the global nanocomposites market during the forecast period
Nanocomposites Market Customer Landscape
The market research report includes the adoption lifecycle of the market, covering from the innovator's stage to the laggard's stage. It focuses on adoption rates in different regions based on penetration. Furthermore, the report includes key purchase criteria and drivers of price sensitivity to help companies evaluate and develop their growth strategies.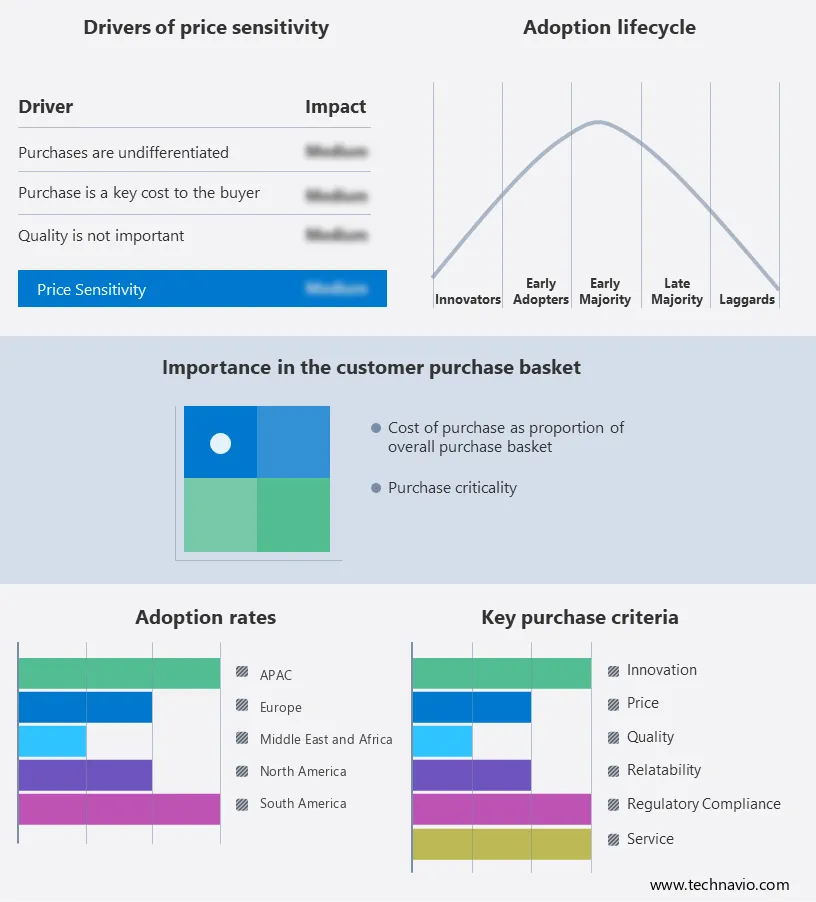 Global Nanocomposites Market Customer Landscape
Who are the Major Nanocomposites Market Companies?
Companies are implementing various strategies, such as strategic alliances, partnerships, mergers and acquisitions, geographical expansion, and product/service launches, to enhance their presence in the market.
3M Co. - The company offers nanocomposites such as 3M Filtek P60 posterior restorative, Filtek One bulk fill restorative, and 3M Filtek bulk-fill flowable restorative.
The research report also includes detailed analyses of the competitive landscape of the market and information about 20 market companies, including:
Arkema Group
BASF SE
Briggs Automotive Co.
Cabot Corp.
Celanese Corp.
eSpin Technologies Inc.
Evonik Industries AG
Inframat Corp.
Integran Technologies Inc
Makevale Group
Miller Waste Mills Inc.
Minerals Technologies Inc.
Nanocyl SA
NanoSonic Inc.
Pixelligent
PlasmaChem GmbH
Ultramet
Unitika Ltd.
Zyvex Corp.
Qualitative and quantitative analysis of companies has been conducted to help clients understand the wider business environment as well as the strengths and weaknesses of key market players. Data is qualitatively analyzed to categorize companies as pure play, category-focused, industry-focused, and diversified; it is quantitatively analyzed to categorize companies as dominant, leading, strong, tentative, and weak.
What are the Largest-Growing Segments in the Nanocomposites Market?
The carbon nanotubes segment is estimated to witness significant growth during the forecast period. End-user industries such as aerospace, automotive, and construction are integrating CNTs to design lightweight yet strong components. Carbon nanotubes (CNTs) are used to reinforce materials and composites, thereby improving their strength, stiffness, and thermal conductivity.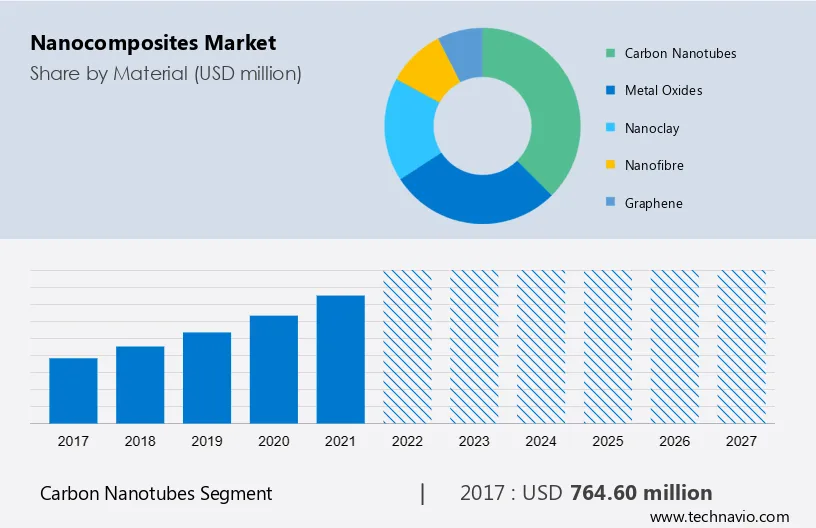 Get a glance at the market contribution of various segments View the PDF Sample
The carbon nanotubes were the largest segment and were valued at  USD 764.60 million in 2017. CNTs have contributed to the development of high-performance nanocomposites with a wide range of applications with their exceptional mechanical, electrical, and thermal properties. Carbon nanotubes can improve energy efficiency and reduce the environmental impact of chemicals. The rising demand for carbon nanotubes is driven by their unique properties and the rising recognition of their potential in various end-user industries. The range of applications for carbon nanotubes is likely to expand as research and technological advancements continue. Therefore, the carbon nanotubes segment of the global nanocomposites market is anticipated to experience growth during the forecast period.
Which are the Key Regions for the Nanocomposites Market?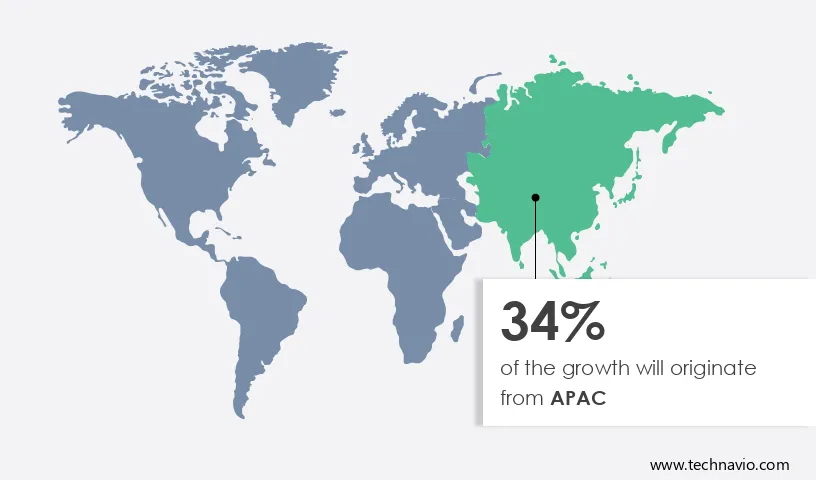 For more insights on the market share of various regions Download PDF Sample now!
APAC is estimated to contribute 34% to the growth of the global market during the forecast period. Technavio's analysts have elaborately explained the regional trends and drivers that shape the market during the forecast period. APAC region is home to some of the world's fastest-growing economies, such as China, India, Japan, South Korea, and others. These economies are rapidly industrializing and urbanizing, leading to a high demand for advanced materials like nanocomposites. The region is a global hub for manufacturing in general and electronics production in particular. 
Additionally, the rapid urbanization and infrastructure development in the region require innovative materials for construction activities, and nanocomposites are being used to enhance the strength, durability, and energy efficiency of buildings and other structures. The combined effects of rapid economic growth, technological advancements, and industry diversification in APAC have led to a significant demand for nanocomposites across a wide range of applications.  Such factors are expected to drive the market in the region during the forecast period. 
In 2020, the region was the epicenter of the COVID-19 pandemic, which had a negative impact on the regional nanocomposites market.  However, in 2021, the initiation of large-scale vaccination drives led to the lifting of lockdown restrictions which led to a significant decline in the number of COVID-19 cases in the region and allowed governments to relax most COVID-19-related restrictions, such as lockdowns. This led to a gradual resumption of regional economic activities, which further increased the demand for nanocomposites from various end-user industries, such as automotive, coatings, electronics and semiconductors. Also, the high growth potential of the regional market is anticipated to attract several international vendors, due to which the nanocomposites market in the region is likely to observe a high CAGR during the forecast period.
Segment Overview
The nanocomposites market report forecasts market growth by revenue at global, regional & country levels and provides an analysis of the latest trends and growth opportunities from 2017 to 2027. 
Material Outlook (USD Million, 2017 - 2027)

Carbon nanotubes
Metal oxides
Nanoclay
Nanofibre
Graphene
Application Outlook (USD Million, 2017 - 2027)

Packaging
Electronics and semiconductors
Automotive
Coatings
Aerospace and defense
Region Outlook (USD Million, 2017 - 2027)

North America
South America

Europe

U.K.
Germany
France
Rest of Europe

Middle East & Africa

Saudi Arabia
South Africa
Rest of the Middle East & Africa
Nanocomposites Market Scope

Report Coverage

Details

Page number

168

Base year

2022

Historic period

2017-2021

Forecast period

2023-2027

Growth momentum & CAGR

Accelerate at a CAGR of 16.18%

Market growth 2023-2027

USD 6,995.79 million

Market structure

Fragmented

YoY growth 2022-2023(%)

15.92

Regional analysis

APAC, North America, Europe, Middle East and Africa, and South America

Performing market contribution

APAC at 34%

Key countries

US, China, Japan, Germany, and France

Competitive landscape

Leading Companies, Market Positioning of Companies, Competitive Strategies, and Industry Risks

Key companies profiled

3M Co., Arkema Group, BASF SE, Briggs Automotive Co., Cabot Corp., Celanese Corp., eSpin Technologies Inc., Evonik Industries AG, Inframat Corp., Integran Technologies Inc, Makevale Group, Miller Waste Mills Inc., Minerals Technologies Inc., Nanocyl SA, NanoSonic Inc., Pixelligent, PlasmaChem GmbH, Ultramet, Unitika Ltd., and Zyvex Corp.

Market dynamics

Parent market analysis, Market growth inducers and obstacles, Fast-growing and slow-growing segment analysis, COVID-19 impact and recovery analysis and future consumer dynamics, and Market condition analysis for the forecast period.

Customization purview

If our report has not included the data that you are looking for, you can reach out to our analysts and get segments customized.
What are the Key Data Covered in this Nanocomposites Market Research Report?
CAGR of the market during the forecast period
Detailed information on factors that will drive the growth of the

market 

between 2023 and 2027
Precise estimation of the market  size and its contribution to the market in focus on the parent market
Accurate predictions about upcoming trends and changes in consumer behaviour
Growth of the market across APAC, North America, Europe, Middle East and Africa, and South America
A thorough analysis of the market's competitive landscape and detailed information about companies
Comprehensive analysis of factors that will challenge the growth of market companies
We can help! Our analysts can customize this market research report to meet your requirements.