Food Packaging Market Size & Growth
The Food Packaging Market size is estimated to grow by USD 79.41 billion between 2022 and 2027 accelerating at a CAGR of 4.32%. The growth of the market depends on several factors, including the prevention of food counterfeiting, the need to avoid food wastage, and the growing demand for convenient packaging and processed food. 
This food packaging market report extensively covers market segmentation by product (flexible plastic, rigid plastic, glass, metal, and others), application (bakery and confectionery, dairy products, poultry meat and seafood, fruits and vegetables, and others), and geography (APAC, Europe, North America, South America, and Middle East and Africa). It also includes an in-depth analysis of drivers, trends, and challenges. 
What will be the  Food Packaging Market Size During the Forecast Period?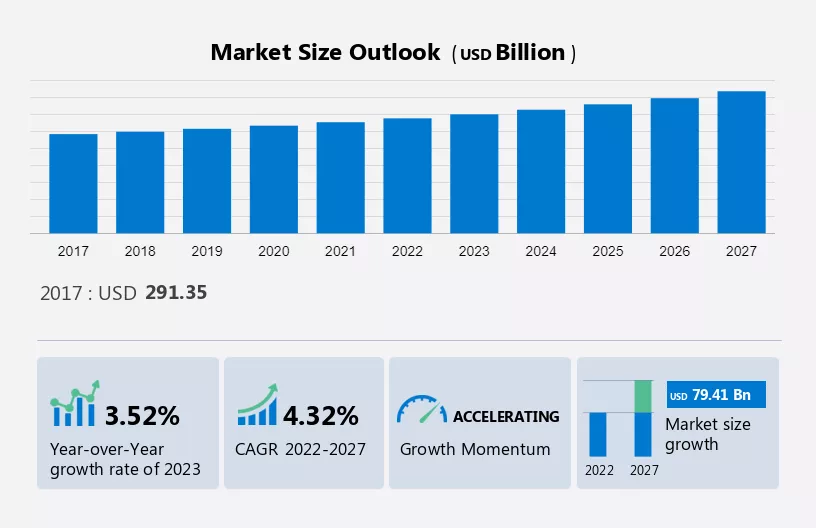 Food Packaging Market Definition:
Food packaging is a process of packing, storing, and protecting various food products against contamination and tampering, thus ensuring a long shelf life.
Food Packaging Market: Key Drivers, Trends, Challenges
Our researchers analyzed the data with 2022 as the base year, along with the key drivers, trends, and challenges. A holistic analysis of drivers, trends, and challenges will help companies refine their marketing strategies to gain a competitive advantage. 
Key Food Packaging Market Drivers
Prevention of food counterfeiting is a major food packaging market driver. Food counterfeiting poses a significant challenge for both food manufacturers and consumers, resulting in substantial financial losses for the global food industry. Manufacturers can adopt various measures to mitigate the risk of food fraud. For instance, in the US, close collaboration between food manufacturers and customs officials helps identify counterfeit products, although these options have limitations and depend on government support.
Packaging plays a crucial role in combating food counterfeiting. Food traceability is a key solution that enables tracking of products throughout the supply chain. Technologies like barcodes and RFID tags are utilized to track food items. Therefore, effective packaging is essential for implementing these technologies. The use of barcode labels on packaged products enhances product integrity and significantly reduces the risk of counterfeiting during the forecast period.
Significant Food Packaging Market Trends
Growing sales of food products on e-commerce platforms is an ongoing food packaging market trend. Food products have expanded their presence into the realm of e-commerce, necessitating durable primary packaging to maintain product quality and freshness during shipping. Efficient secondary packaging is also crucial for safe product delivery, as improper packaging can damage products, impacting brand reputation and leading to financial losses. The demand for secondary packaging has consequently increased.
Furthermore, the demand for healthy food options, including nutritious snack bars, is on the rise. Online grocery sales in the US account for a significant share of the overall e-commerce market, with various channels available such as delivered baskets, click-and-collect, fresh delivery, and meal kits. Major companies like Amazon offer convenient online grocery delivery services, such as next-day delivery through Amazon Fresh, subscribe and save options, and the Amazon Dash button. These factors contribute to the growth of the market during the forecast period.
Major Food Packaging Market Challenges
Volatility in raw material prices is a major food packaging market challenge. The different types of packaging materials used for the packaging of food include plastic, glass, metals, and paper. For example, cartons used in food packaging are produced either from recycled fiber mills or virgin fibers. The prices of both recycled fiber mills and virgin fibers constantly fluctuate, which is a major concern for end-users like carton producers. The instability in the price of raw materials will result in the reduction of profit margins of vendors due to the increasing production cost. Hence, vendors are forced to increase their product pricing due to fluctuating raw material prices. The price of virgin fiber seems to be more stable when compared with recycled fiber.
The prices of packaging raw materials such as paper and paper products that are used to manufacture corrugated packaging solutions are expected to fluctuate during the forecast period. Hence, companies are expected to increase the prices of corrugated packaging in response to the increase in raw material prices. In addition, aluminum, a key raw material used for food can manufacturing, is exhibiting price fluctuations that hamper the growth of the market during the forecast period.
Market Segmentation by Product, Application, Geography
Product Analysis
The market share growth by the flexible plastic segment will be significant during the forecast period. Flexible plastic comes in a variety of forms, including bags, pouches, liners, wraps, and sachets. Due to its many advantages over other types of packaging materials, the flexible plastic packaging market is predicted to expand. Flexible plastic packaging offers a variety of creative possibilities in terms of shapes and sizes, enabling packaging customization. It is reusable, and a wide variety of printing options are supported. Additionally, it is simple to ship because the material is light in comparison to other packaging options.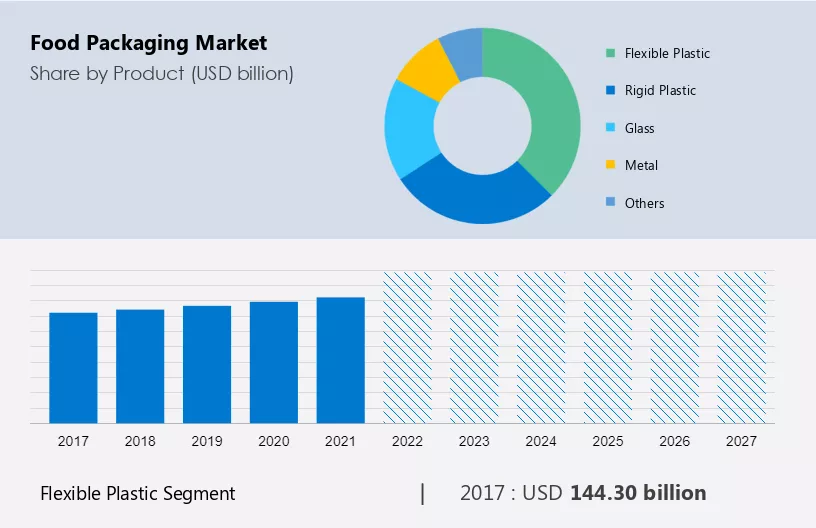 Get a glance at the market contribution of the End User  segment Request Free Sample
The flexible plastic segment was valued at USD 144.30 billion in 2017 and continued to grow until 2021. Due to its advantages in terms of weight, cost, and ease of shipping, flexible plastic packaging is increasingly being used in the consumer goods sector. As a result, it has become a widely used packaging type across industries. A recent development in product marketing is the use of packaging techniques that improve the visual appeal and aesthetics of the product. As a result, vendors have consistently developed innovative solutions for customers, which helps the flexible plastics market. Hence, all the above-mentioned factors are anticipated to drive the growth of the market during the forecast period.
Application Analysis
Based on application, the bakery industry is the largest sector among processed food industries in India, with bread and biscuits accounting for about 82% of total bakery products. With a market size of 49.5 billion tons, the bakery market in India is the third largest in APAC, following Japan and Australia. Packaging materials used include cellophane, known for its gas barrier properties and heat sealability, as well as Biaxially Oriented Polypropylene film (OPP). OPP monofilm is used for less demanding applications, while duplex OPP or OPP combinations like OPP/PE and OPP/PET are used for higher quality products. The growing demand for bakery products will drive the growth of the bakery and confectionery segment in the forecast period. These factors contribute to the overall market growth.
Regional Analysis
APAC is estimated to contribute 56% to the growth of the global market during the forecast period. Technavio's analysts have elaborately explained the regional trends and drivers that shape the market during the forecast period.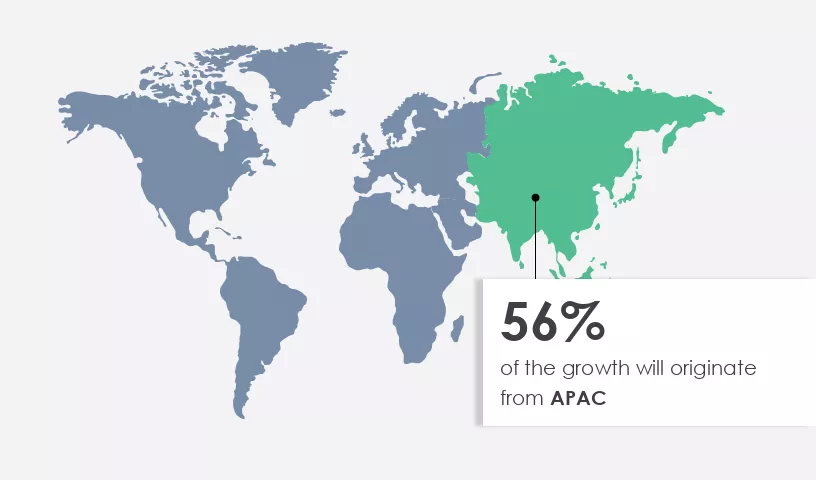 For more insights on the market share of various regions Request Free Sample
The APAC market is expected to experience positive growth during the forecast period due to improved economic conditions in countries like China, India, Indonesia, and Australia. This has led to increased investments across various sectors. The demand for food packaging in the region is driven by urbanization and changing lifestyles, resulting in higher demand for fast food and ready-to-eat meals.
The growth of e-commerce is also a significant factor contributing to the expansion of the APAC market. Consumer preferences are shifting towards packaged foods due to rising incomes, busy lifestyles, time constraints, and the availability of packaged food options. Online platforms offer convenience, prompt delivery, and attractive discounts, further boosting the demand for packaged food products. This has led to innovations in the food packaging sector, driving industry growth in the forecast period. Therefore, these factors will drive the growth of the regional market.
The COVID-19 pandemic had a negative impact on the regional market in 2020. However, as lockdown restrictions are being lifted and vaccination efforts are underway in APAC countries, businesses, including food processing, are gradually resuming operations. This trend is expected to continue, resulting in the expansion of the regional market during the forecast period.
Who are the Major Food Packaging Market Companies?
Companies are implementing various strategies by analyzing factors such as strategic alliances, partnerships, mergers and acquisitions, geographical expansion, and product or service launches, to enhance their presence in the market.
Tatasteel- The company offering food packaging solutions under its brand CRYOVAC.
The report also includes detailed analyses of the competitive landscape of the market and information about 15 market companies, including: 
Amcor Plc
Ardagh Group SA
Ball Corp.
Berry Global Inc.
BWAY Corp.
CANPACK SA
COFCO Corp.
DS Smith Plc
International Paper Co.
Kian Joo Can Factory Bhd
Metal Packaging Europe
O I Glass Inc.
Orora Ltd.
Sealed Air Corp.
Silgan Holdings Inc.
Tetra Laval S.A.
Toyo Seikan Group Holdings Ltd.
Crown Holdings Inc.
Huhtamaki Oyj
Qualitative and quantitative analysis of companies has been conducted to help clients understand the wider business environment as well as the strengths and weaknesses of key market players. Data is qualitatively analyzed to categorize companies as pure play, category-focused, industry-focused, and diversified; it is quantitatively analyzed to categorize companies as dominant, leading, strong, tentative, and weak.
Segment Overview
The food packaging market research report forecasts market growth by revenue at global, regional & country levels and provides an analysis of the latest trends and growth opportunities from 2017 to 2027. 
Product Outlook (USD Billion, 2017 - 2027)

Flexible plastic
Rigid plastic
Glass
Metal
Others

Application Outlook (USD Billion, 2017 - 2027)

Bakery and confectionery
Dairy products
Poultry meat and seafood
Fruits and vegetables
Others

Region Outlook (USD Billion, 2017 - 2027)

Europe

U.K.
Germany
France
Rest of Europe

Middle East & Africa

Saudi Arabia
South Africa
Rest of the Middle East & Africa

South America
Food Packaging Market Scope

Report Coverage

Details

Page number

187

Base year

2022

Historic period

2017-2021

Forecast period

2023-2027

Growth momentum & CAGR

Accelerate at a CAGR of 4.32%

Market growth 2023-2027

USD 79.41 billion

Market structure

Fragmented

YoY growth 2022-2023(%)

3.52

Regional analysis

APAC, Europe, North America, South America, and Middle East and Africa

Performing market contribution

APAC at 56%

Key countries

US, China, India, Germany, and UK

Competitive landscape

Leading Companies, Market Positioning of Companies, Competitive Strategies, and Industry Risks

Key companies profiled

Amcor Plc, Ardagh Group SA, Ball Corp., Berry Global Inc., BWAY Corp., CANPACK SA, COFCO Corp., DS Smith Plc, International Paper Co., Kian Joo Can Factory Bhd, Metal Packaging Europe, O I Glass Inc., Orora Ltd., Sealed Air Corp., Silgan Holdings Inc., Tata Steel Ltd., Tetra Laval S.A., Toyo Seikan Group Holdings Ltd., Crown Holdings Inc., and Huhtamaki Oyj

Market dynamics

Parent market analysis, Market growth inducers and obstacles, Fast-growing and slow-growing segment analysis, COVID 19 impact and recovery analysis and future consumer dynamics, Market condition analysis for forecast period

Customization purview

If our report has not included the data that you are looking for, you can reach out to our analysts and get segments customized.
What are the Key Data Covered in this Food Packaging Market Research Report?
CAGR of the market during the forecast period
Detailed information on factors that will drive the growth of the market 

 

between 2023 and 2027
Precise estimation of the size of the market  size and its contribution of the market in focus to the parent market
Accurate predictions about upcoming trends and changes in consumer behavior
Growth of the market industry across APAC, Europe, North America, South America, and Middle East and Africa
Thorough analysis of the market's competitive landscape and detailed information about companies
Comprehensive analysis of factors that will challenge the growth of food packaging market companies
We can help! Our analysts can customize this report to meet your requirements. Get in touch