Blockchain Technology Market Report 2023-2027:
The Global Blockchain Technology Market size is estimated to grow by USD 11,047.61 million accelerating at a CAGR of 32.72% between 2022 and 2027. The growth of the market depends on several factors, including increasing venture capital funding and investments in blockchain technology, easier access to technology, and disintermediation of banking services.
This blockchain technology market report extensively covers market segmentation by end-user (BFSI, government, healthcare, and others), type (private, public, and hybrid), and geography (North America, Europe, APAC, South America, and Middle East and Africa). It also includes an in-depth analysis of drivers, trends, and challenges. 
What will be the Size of the Blockchain Technology Market During the Forecast Period?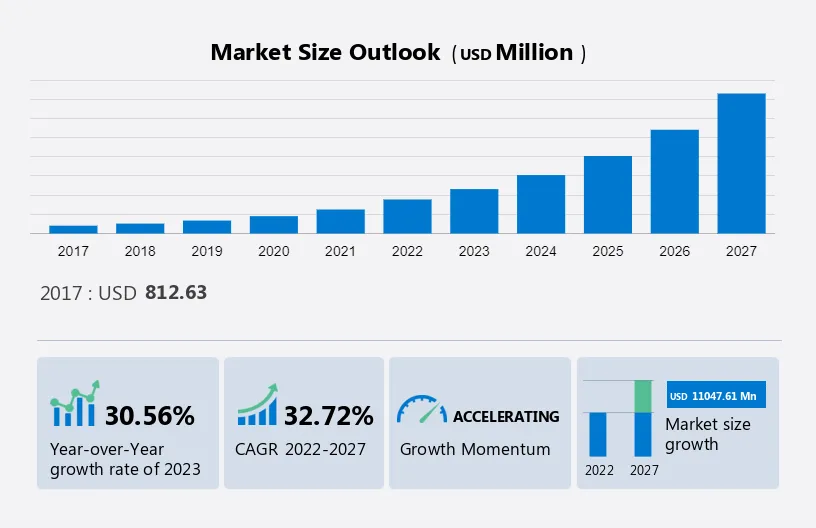 To learn more about this report, Request Free Sample
Blockchain Technology Market Definition
The distributed ledger system known as the blockchain, which is cryptographically controlled, is mostly used to control online transactions. The development of distributed ledger technologies followed the introduction of cryptocurrencies like Bitcoin. BT was first used in the financial services industry. Right now, suppliers have created BT that may be used in a variety of business sectors, including healthcare.
Blockchain Technology Market: Key Drivers, Trends, Challenges, and Customer Landscape
Our researchers analyzed the data with 2022 as the base year, along with the key drivers, trends, and challenges. A holistic analysis of drivers will help companies refine their marketing strategies to gain a competitive advantage.
Key Blockchain Technology Market Driver
Easier access to technology is a primary blockchain technology market driver. Blockchain technology is increasingly popular for its decentralized structure, transparency, and immutability. However, its technical complexity can hinder accessibility for newcomers. To address this, intuitive user interfaces can be designed, simplifying blockchain interaction for consumers without in-depth technical knowledge. Educational materials like webinars and tutorials can aid understanding of blockchain's applications in real-world problem-solving. Collaborating with other entities allows stakeholders to develop user-friendly solutions, making blockchain widely available. These efforts are expected to drive growth in the global blockchain technology market during the forecast period.
Significant Blockchain Technology Market Trends
The advent of artificial intelligence is a major trend propelling the growth of the market. The gradual integration of AI into blockchain technology has the potential to revolutionize its usage and interactions. Here are some instances of how AI is utilized in the blockchain:
Smart Contracts: AI-powered smart contracts can automatically execute when specific criteria are met, enabling efficient management of complex business operations and decision-making.

Predictive Analytics: AI can analyze vast amounts of data generated by blockchain networks, uncovering trends and patterns to forecast future behavior. This aids decision-making in areas like risk assessment, supply chain management, and fraud detection.

Privacy: AI enables selective information disclosure while preserving user anonymity during transactions, enhancing blockchain network privacy.

Security: AI algorithms can detect and address potential security risks by examining network traffic and user behavior, bolstering overall network security.
With customers gaining easy access to comparison data and investors making more informed decisions, the widespread adoption of AI technology is expected to drive the growth of the global blockchain technology market during the forecast period.
Major Blockchain Technology Market Challenge
Security, privacy, and blockchain transaction concerns may impede market growth. Blockchain technology provides a secure and transparent platform for different types of transactions. However, there are concerns about security, privacy, and transaction validation. A network of nodes verifies and validates transactions on a blockchain, which makes it challenging for one group to control the system. Moreover, blockchain networks have faced attacks where a single party can modify transactions by controlling more than half of a network's computing power. In addition, there have been cases of digital assets being stolen.
Though blockchain technology offers a decentralized and transparent platform, there are several privacy issues. On a public blockchain, every user on the network can view transactions. Therefore, there is a need to strike a balance between transparency and privacy. Adequate regulations are required to guarantee the legitimacy of transactions. Therefore, it is important to ensure that transactions are accurately logged and timestamped. These factors are expected to challenge the growth of the global blockchain technology market during the forecast period.
Key Blockchain Technology Market Customer Landscape
The report includes the adoption lifecycle of the market, covering from the innovator's stage to the laggard's stage. It focuses on adoption rates in different regions based on penetration. Furthermore, the report also includes key purchase criteria and drivers of price sensitivity to help companies evaluate and develop their growth strategies.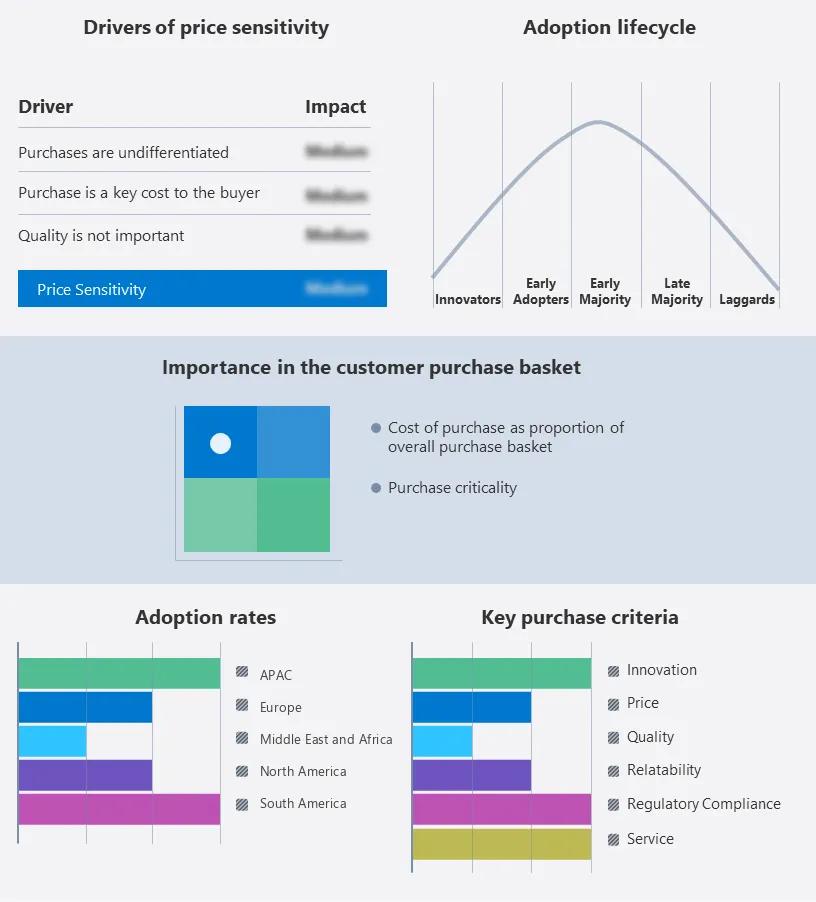 Global Blockchain Technology Market Customer Landscape
What are the Fastest-Growing Segments in the Blockchain Technology Market?
The market share growth by the BFSI segment will be significant during the forecast period. In the BFSI sector, blockchain is used to reduce fraud, execute smart contracts, process payments, and perform know-your-customer (KYC) due diligence. Many enterprises are implementing blockchain in post-trade settlement, payments, reference data, and trade finance. Factors such as a rise in efficiency from operational and labor cost savings can have a significant impact on the BFSI industry in the coming years.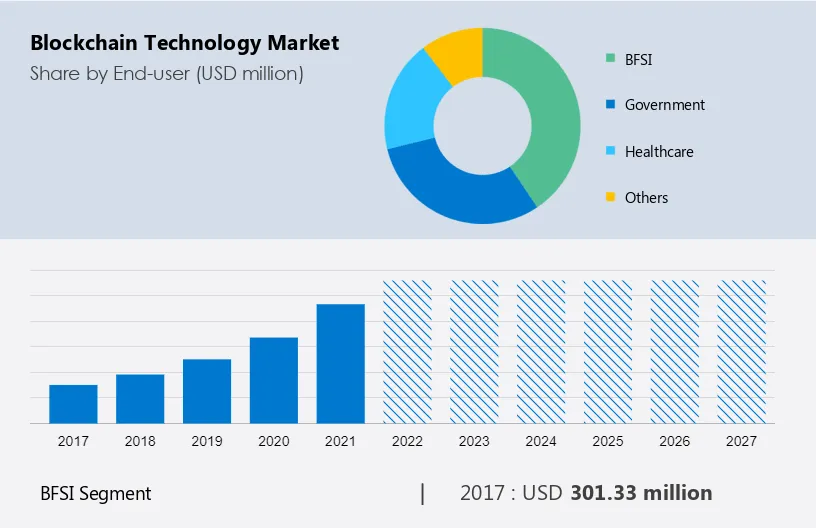 Get a glance at the market contribution of various segments View the PDF Sample
The BFSI segment was valued at USD 301.33 million in 2017 and continued to grow until 2021. Many financial institutions face fraud and theft issues annually. As most of these institutions function around a centralized database, hackers can easily retrieve data. As a result, banks lose billions of dollars every year due to fraudulent activities. Blockchain technology offers a distributed ledger where every connected block holds batches of individual transactions and contains a timestamp linked to the previous block. This service helps eliminate fraud. These factors will drive the growth of the BFSI segment during the forecast period.  
Which are the Key Regions for the Blockchain Technology Market?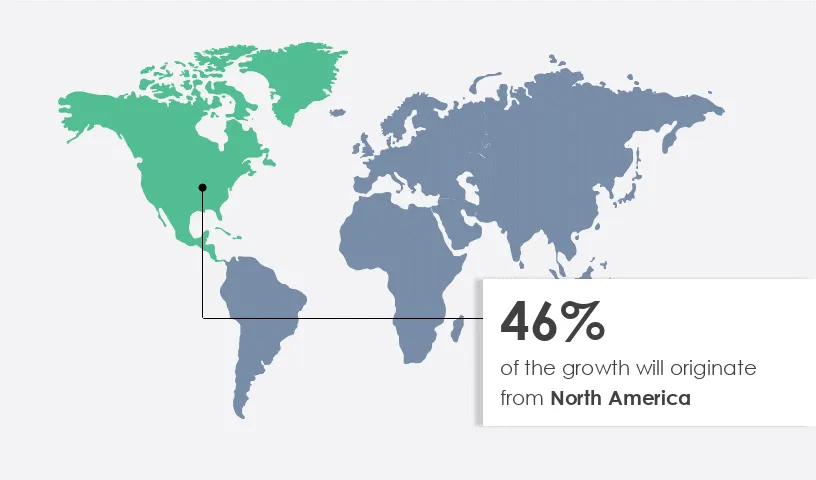 For more insights on the market share of various regions Download PDF Sample now!
North America is estimated to contribute 46% to the growth of the global market during the forecast period. Technavio's analysts have elaborately explained the regional trends and drivers that shape the market during the forecast period.
North America has been at the forefront of technological innovations and has a strong regulatory environment supporting blockchain development. The region has emerged as a key player in the global market, with the increasing adoption of blockchain technology across industries. The financial sector has been one of the early adopters of blockchain technology in North America. The region has a robust and mature financial market, with a significant demand for blockchain technology. Other industries, such as healthcare, supply chain, and logistics, have also adopted blockchain technology. Some of the leading blockchain companies, such as IBM, Deloitte, and Microsoft, are located in North America. They are investing significantly in blockchain technology and are developing innovative solutions for various industries. These factors will drive the growth of the blockchain technology market in North America during the forecast period. 
This report forecasts the contribution of all the segments to the growth of the market. In addition, we have included the COVID-19 impact and the recovery strategies for each segment. The COVID-19 pandemic severely impacted the market in North America in 2020. However, the pandemic led to significant opportunities for blockchain technology. For instance, IBM invested more than USD 2 million in the research and development of blockchain technology. The demand for pharmaceutical supply in the region is also expected to fuel the demand for blockchain technology during the forecast period. 
Who are the Major Blockchain Technology Market Companies?
Companies are implementing various strategies, such as strategic alliances, partnerships, mergers and acquisitions, geographical expansion, and product/service launches, to enhance their presence in the market.
Amazon.com Inc. - The company offers blockchain technology such as Amazon quantum ledger database.
The report also includes detailed analyses of the competitive landscape of the market and information about 15 market companies, including:
Accenture Plc
Amcon Soft
Ara Soft Group LLC
Capgemini Service SAS
Cargoledger
ConsenSys Software Inc.
Deloitte Touche Tohmatsu Ltd.
HCL Technologies Ltd.
Hewlett Packard Enterprise Co.
Huawei Technologies Co. Ltd.
Infosys Ltd.
Intel Corp.
International Business Machines Corp.
OpenLedger
Oracle Corp.
Qualitative and quantitative analysis of companies has been conducted to help clients understand the wider business environment as well as the strengths and weaknesses of key market players. Data is qualitatively analyzed to categorize companies as pure play, category-focused, industry-focused, and diversified; it is quantitatively analyzed to categorize companies as dominant, leading, strong, tentative, and weak.
Segment Overview
The blockchain technology research market report forecasts market growth by revenue at global, regional, and country levels and provides an analysis of the latest trends and growth opportunities from 2017 to 2027. 
End-user Outlook (USD Million, 2017 - 2027)

BFSI 
Government 
Healthcare 
Others 
Type Outlook (USD Million, 2017 - 2027)
Region Outlook (USD Million, 2017 - 2027)

Europe

U.K.
Germany
France
Rest of Europe

Middle East & Africa

Saudi Arabia
South Africa
Rest of the Middle East & Africa

South America
Blockchain Technology Market Scope

Report Coverage

Details

Page number

181

Base year

2022

Historic period

2017-2021

Forecast period

2023-2027

Growth momentum & CAGR

Accelerate at a CAGR of 32.72%

Market growth 2023-2027

USD 11,047.61 million

Market structure

Fragmented

YoY growth 2022-2023(%)

30.56

Regional analysis

North America, Europe, APAC, South America, and Middle East and Africa

Performing market contribution

North America at 46%

Key countries

US, Canada, China, UK, and Germany

Competitive landscape

Leading companies, Market Positioning of companies, Competitive Strategies, and Industry Risks

Key companies profiled

Accenture Plc, Amazon.com Inc., Amcon Soft, Ara Soft Group LLC, Capgemini Service SAS, Cargoledger, ConsenSys Software Inc., Deloitte Touche Tohmatsu Ltd., HCL Technologies Ltd., Hewlett Packard Enterprise Co., Huawei Technologies Co. Ltd., Infosys Ltd., Intel Corp., International Business Machines Corp., OpenLedger, Oracle Corp., PixelPlex Ltd, SAP SE, Tata Sons Pvt. Ltd., and Wipro Ltd.

Market dynamics

Parent market analysis, Market growth inducers and obstacles, Fast-growing and slow-growing segment analysis, COVID-19 impact and recovery analysis and future consumer dynamics, Market condition analysis for the forecast period

Customization purview

If our report has not included the data that you are looking for, you can reach out to our analysts and get segments customized.
What are the Key Data Covered in this Blockchain Technology Market Research Report?
CAGR of the market during the forecast period
Detailed information on factors that will drive the growth of the

market 

between 2023 and 2027
Precise estimation of the size of the market  size and its contribution to the parent market
Accurate predictions about upcoming trends and changes in consumer behavior
Growth of the market across North America, Europe, APAC, South America, and Middle East and Africa
Thorough analysis of the market's competitive landscape and detailed information about companies
Comprehensive analysis of factors that will challenge the growth of market companies
We can help! Our analysts can customize this market research report to meet your requirements.