Bowling Centers Market Report 2023-2027 
The Global Bowling Centers Market size is estimated to grow by USD 2.88 billion, accelerating at a CAGR of 4.18% between 2023 and 2027. 
Our report offers in-depth analysis of market drivers, trends, opportunities, challenges, and restraints, with segmentation by Material (synthetic lane, wooden lane, and guardian lane), Service (bowling, amusement, food, and beverages), and Geography (North America, Europe, APAC, South America, and Middle East and Africa). Additionally, Technavio provides valuable insights through value chain analysis, parent market analysis, Porter's Five analysis, vendor analysis, and COVID-19 impact data. The report also includes a thorough analysis of historical market data from 2017 to 2021.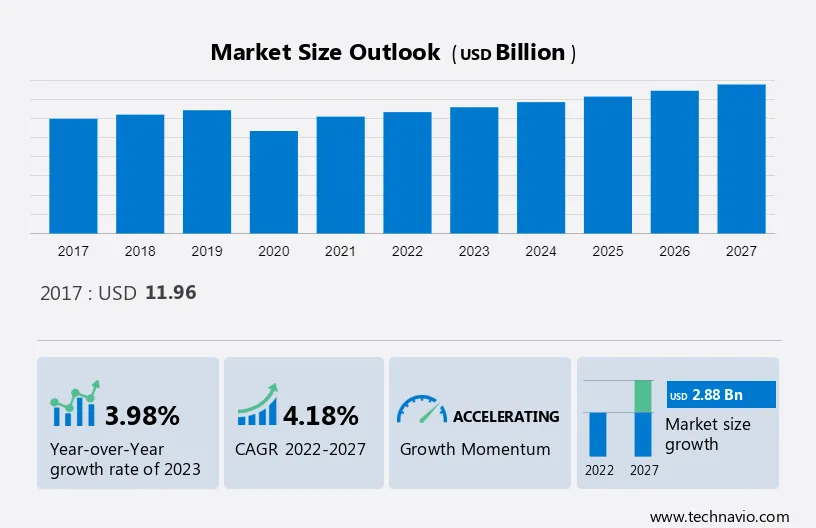 Get Additional Information on this Report, Request Free Sample in PDF
Bowling Centers Market Analysis and Insights
Expansion by established players is the key factor driving the growth of the market. Established players are greatly expanding their reach in terms of the number of bowling alleys and geographical existence. Bowling centers around the world have started to attract more consumers due to the success of the home entertainment center idea. This has encouraged established bowling center providers to invest in launching new home entertainment centers to expand their geographical presence. Bowlero, Hollywood Bowl Group, and ROUND ONE are some of them that are engaged in expanding their geographical existence.
Moreover, the Hollywood Bowl Group continues its rapid growth with more than 110 centers across the UK and Canada as of October 2022. Some other expanding providers are ROUND ONE, Bowl America, and Ten Entertainment Group. Hence, the continued expansion of key suppliers into such new geographies will be the high-volume driver for the growth of the market during the forecast period.
Bowling centers gaining popularity in emerging countries is the primary trend in the market. Bowling is considered a costly sport in emerging countries like India and South Africa. The average cost per game in these countries is also relatively higher than in developed countries. Indeed, bowling is not a popular sport in India and other emerging countries. As a result, adoption has so far remained very low in APAC and Africa.
However, the situation is changing as the sport is gaining popularity in these countries. Emerging countries often experience rapid urbanization and a growing middle class with disposable income. Urban areas provide favorable environments for recreational and leisure sports such as bowling. As the economy improves and disposable income increases in emerging countries, more people can afford to pay for recreational sports such as bowling, which will drive the growth of the market during the forecast period.
A fragmented market structure is a challenge that affects the growth of the market. The global bowling center market is fragmented, with the presence of several established players and many regional players. Moreover, in the world, there are no strict regulations on the establishment of bowling centers. Starting a bowling center is also a one-time investment. This is driving more and more players to enter the market.
Moreover, the presence of specialized bowling centers in the hotel helps consumers experience bowling right on their premises. So hotel guests don't need to go to exclusive bowling centers. Furthermore, hotels offer bowling packages to attract more consumers. The fragmented nature of the market may hinder the global bowling center market during the forecast period.
Bowling Centers Market Segmentation
The synthetic lane segment is estimated to witness significant growth during the forecast period. Synthetic bowling alleys are known for their durability and stable playing surface. Unlike wood, which can wear and change due to heat and humidity, synthetic lanes provide a more stable and predictable experience for bowlers. Synthetic lanes can be designed with different lane styles and conditions in mind, making them versatile for different skill levels and bowling events.
Bowling Centers Market
By Material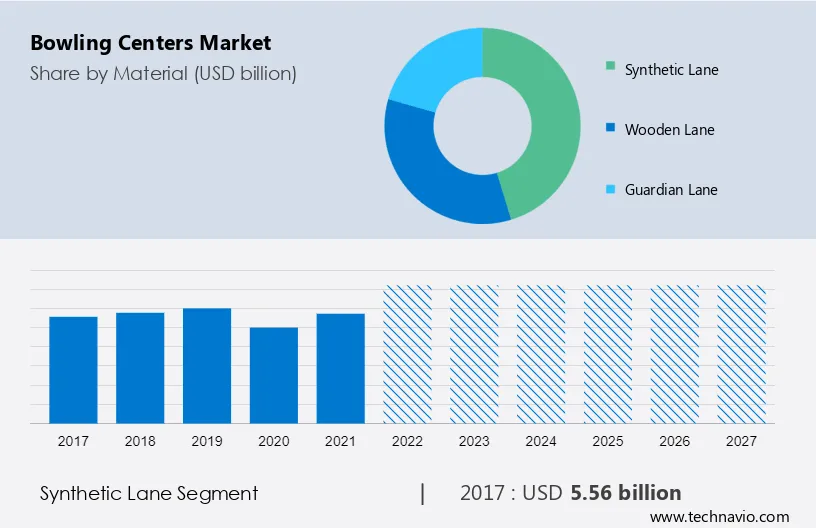 Get a glance at the market contribution of various segments Request Free Sample
The synthetic lane segment was the largest segment and was valued at USD 5.56 billion in 2017. Synthetic lanes provide a valuable level of consistency in professional and tournament bowling. This is crucial to ensure fair and accurate comparisons between bowlers. The synthetic lanes are equipped with an advanced scoring system that improves the overall bowling experience for players and spectators. The rising popularity of bowling will increase the demand for synthetic lanes which in turn will drive the growth of the market during the forecast period.
North America is estimated to contribute 39% to the growth of the global market during the forecast period. Technavio's analysts have elaborately explained the regional trends and drivers that shape the market during the forecast period.
Bowling Centers Market
By North America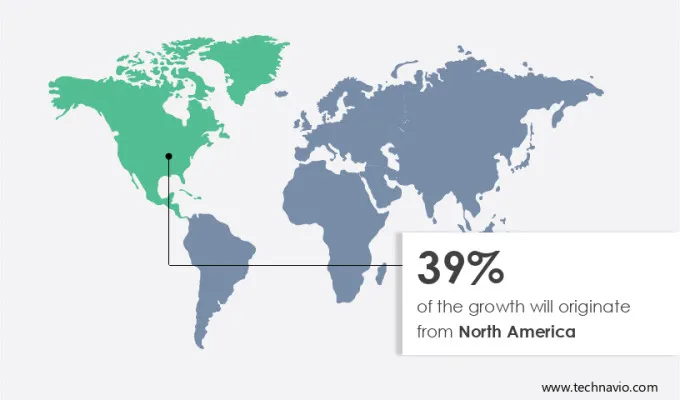 For more insights on the market share of various regions Request Free Samples
The US is the largest market for bowling centers in North America. Bowlero, Bowl America,  Strikes, and Spares are some of the top market players in the US. Bowling is one of the most popular recreational sports of the American people. The main reason for this redesign was to attract more families and recreational pitchers to join the sport. In addition, recreational bowlers are an important source of revenue for bowling centers. So, providers like Bowlero and Bowl America want to turn their bowling centers into family entertainment centers where families can spend long, quality time. Hence, such factors are expected to drive market growth in this region during the forecast period.  
Due to the outbreak of the COVID-19 pandemic, the bowling market in North America was negatively affected in March 2020. However, in 2021, the initiation of large-scale vaccination drives?lifted the lockdown and travel restrictions, which led to the resumption of business activities. North America's bowling centers play a crucial part in the resumption of normal day-to-day activities. Thus, such factors are anticipated to propel the growth of the regional market during the forecast period.
Bowling Centers Market Customer Landscape
The market research report includes the adoption lifecycle of the market, covering from the innovator's stage to the laggard's stage. It focuses on adoption rates in different regions based on penetration. Furthermore, the report also includes key purchase criteria and drivers of price sensitivity to help companies evaluate and develop their growth strategies.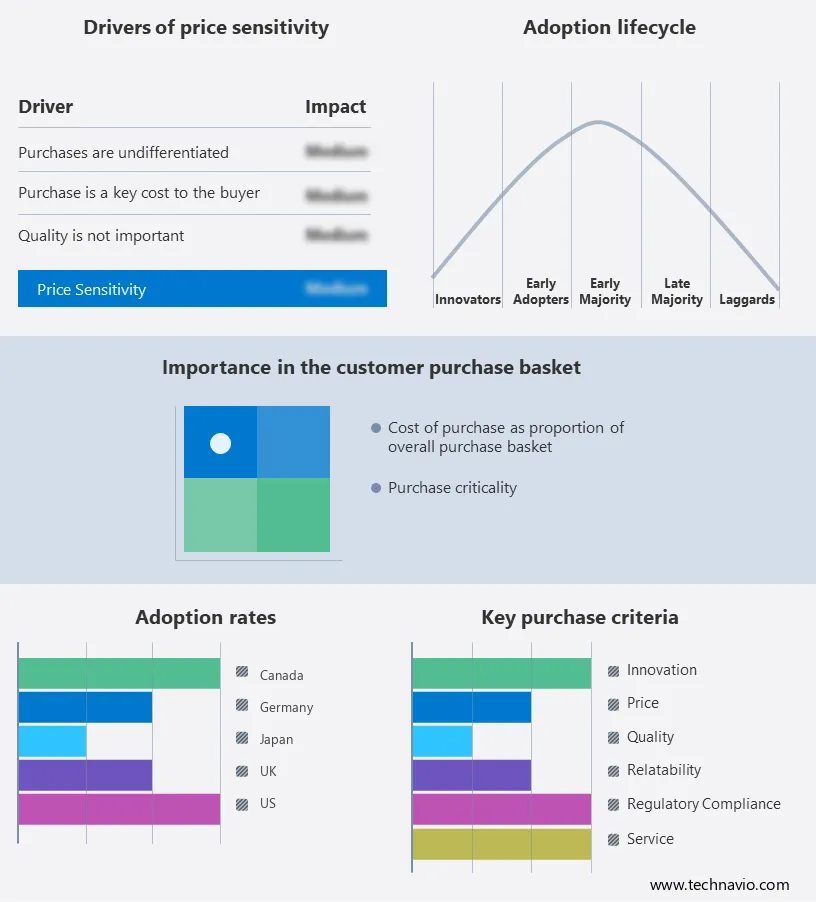 Segment Overview
The bowling centers market report forecasts market growth by revenue at global, regional & country levels and provides an analysis of the latest trends and growth opportunities from 2017 to 2027. 
Material Outlook (USD Million, 2017 - 2027)

Synthetic lane
Wooden lane
Guardian lane
Service Outlook (USD Million, 2017 - 2027)

Bowling
Amusement
Food
Beverages
Region Outlook (USD Million, 2017 - 2027)

Europe

The U.K.
Germany
France
Rest of Europe

APAC
South America
Middle East & Africa

Saudi Arabia
South Africa
Rest of the Middle East & Africa
Bowling Centers Market Scope

Report Coverage

Details

Page number

159

Base year

2022

Historic period

2018 - 2022

Forecast period

2023-2027

Growth momentum & CAGR

Accelerate at a CAGR of 4.18%

Market growth 2023-2027

USD 2,875.25 million

Market structure

Fragmented

YoY growth 2022-2023(%)

3.98

Regional analysis

North America, Europe, APAC, South America, and Middle East and Africa

Performing market contribution

North America at 39%

Key countries

US, Canada, Japan, UK, and Germany

Competitive landscape

Leading Companies, Market Positioning of Companies, Competitive Strategies, and Industry Risks

Key companies profiled

Brunswick Bowling Products LLC, Dave and Busters Entertainment Inc., Hollywood Bowl Group plc , Pinstripes, QubicaAMF Europe S.p.A, REVS Bowling and Entertainment, Round1 Entertainment Inc., Smaaash Entertainment Pvt. Ltd., South Point Hotel and Casino, Strikes and Spares Entertaiment, Switch Bowling Dubai, Thunderbowl lanes, Twelve Strike, Whitestone Lanes, Bowlero Corp., TEEG Australia Pty Ltd., Ten Entertainment Group plc, and Tsogo Sun

Market dynamics

Parent market analysis, Market growth inducers and obstacles, Fast-growing and slow-growing segment analysis, COVID 19 impact and recovery analysis and future consumer dynamics, Market condition analysis for forecast period

Customization purview

If our report has not included the data that you are looking for, you can reach out to our analysts and get segments customized.
What are the Key Data Covered in this Bowling Centers Market Research Report?
CAGR of the market during the forecast period
Detailed information on factors that will drive the growth of the

market 

between 2023 and 2027
Precise estimation of the size of the market  size and its contribution of the market in focus to the parent market
Accurate predictions about upcoming trends and changes in consumer behaviour
Growth of the market industry across North America, Europe, APAC, South America, and Middle East and Africa
Thorough analysis of the market's competitive landscape and detailed information about companies
Comprehensive analysis of factors that will challenge the growth of market companies
We can help! Our analysts can customize this market research report to meet your requirements. 
1 Executive Summary
1.1 Market overview

Exhibit 01: Executive Summary – Chart on Market Overview
Exhibit 02: Executive Summary – Data Table on Market Overview
Exhibit 03: Executive Summary – Chart on Global Market Characteristics
Exhibit 04: Executive Summary – Chart on Market by Geography
Exhibit 05: Executive Summary – Chart on Market Segmentation by Material
Exhibit 06: Executive Summary – Chart on Market Segmentation by Service
Exhibit 07: Executive Summary – Chart on Incremental Growth
Exhibit 08: Executive Summary – Data Table on Incremental Growth
Exhibit 09: Executive Summary – Chart on Vendor Market Positioning
2 Market Landscape
2.1 Market ecosystem

Exhibit 10: Parent market
Exhibit 11: Market Characteristics
3 Market Sizing
3.1 Market definition

Exhibit 12: Offerings of vendors included in the market definition
3.2 Market segment analysis

Exhibit 13: Market segments
3.4 Market outlook: Forecast for 2022-2027

Exhibit 14: Chart on Global - Market size and forecast 2022-2027 ($ billion)
Exhibit 15: Data Table on Global - Market size and forecast 2022-2027 ($ billion)
Exhibit 16: Chart on Global Market: Year-over-year growth 2022-2027 (%)
Exhibit 17: Data Table on Global Market: Year-over-year growth 2022-2027 (%)
4 Historic Market Size
4.1 Global bowling centers market 2017 - 2021

Exhibit 18: Historic Market Size – Data Table on global bowling centers market 2017 - 2021 ($ billion)
4.2 Material Segment Analysis 2017 - 2021

Exhibit 19: Historic Market Size – Material Segment 2017 - 2021 ($ billion)
4.3 Service Segment Analysis 2017 - 2021

Exhibit 20: Historic Market Size – Service Segment 2017 - 2021 ($ billion)
4.4 Geography Segment Analysis 2017 - 2021

Exhibit 21: Historic Market Size – Geography Segment 2017 - 2021 ($ billion)
4.5 Country Segment Analysis 2017 - 2021

Exhibit 22: Historic Market Size – Country Segment 2017 - 2021 ($ billion)
5 Five Forces Analysis
5.1 Five forces summary

Exhibit 23: Five forces analysis - Comparison between 2022 and 2027
5.2 Bargaining power of buyers

Exhibit 24: Chart on Bargaining power of buyers – Impact of key factors 2022 and 2027
5.3 Bargaining power of suppliers

Exhibit 25: Bargaining power of suppliers – Impact of key factors in 2022 and 2027
5.4 Threat of new entrants

Exhibit 26: Threat of new entrants – Impact of key factors in 2022 and 2027
5.5 Threat of substitutes

Exhibit 27: Threat of substitutes – Impact of key factors in 2022 and 2027
5.6 Threat of rivalry

Exhibit 28: Threat of rivalry – Impact of key factors in 2022 and 2027
5.7 Market condition

Exhibit 29: Chart on Market condition - Five forces 2022 and 2027
6 Market Segmentation by Material
6.1 Market segments

Exhibit 30: Chart on Material - Market share 2022-2027 (%)
Exhibit 31: Data Table on Material - Market share 2022-2027 (%)
6.2 Comparison by Material

Exhibit 32: Chart on Comparison by Material
Exhibit 33: Data Table on Comparison by Material
6.3 Synthetic lane - Market size and forecast 2022-2027

Exhibit 34: Chart on Synthetic lane - Market size and forecast 2022-2027 ($ billion)
Exhibit 35: Data Table on Synthetic lane - Market size and forecast 2022-2027 ($ billion)
Exhibit 36: Chart on Synthetic lane - Year-over-year growth 2022-2027 (%)
Exhibit 37: Data Table on Synthetic lane - Year-over-year growth 2022-2027 (%)
6.4 Wooden lane - Market size and forecast 2022-2027

Exhibit 38: Chart on Wooden lane - Market size and forecast 2022-2027 ($ billion)
Exhibit 39: Data Table on Wooden lane - Market size and forecast 2022-2027 ($ billion)
Exhibit 40: Chart on Wooden lane - Year-over-year growth 2022-2027 (%)
Exhibit 41: Data Table on Wooden lane - Year-over-year growth 2022-2027 (%)
6.5 Guardian lane - Market size and forecast 2022-2027

Exhibit 42: Chart on Guardian lane - Market size and forecast 2022-2027 ($ billion)
Exhibit 43: Data Table on Guardian lane - Market size and forecast 2022-2027 ($ billion)
Exhibit 44: Chart on Guardian lane - Year-over-year growth 2022-2027 (%)
Exhibit 45: Data Table on Guardian lane - Year-over-year growth 2022-2027 (%)
6.6 Market opportunity by Material

Exhibit 46: Market opportunity by Material ($ billion)
Exhibit 47: Data Table on Market opportunity by Material ($ billion)
7 Market Segmentation by Service
7.1 Market segments

Exhibit 48: Chart on Service - Market share 2022-2027 (%)
Exhibit 49: Data Table on Service - Market share 2022-2027 (%)
7.2 Comparison by Service

Exhibit 50: Chart on Comparison by Service
Exhibit 51: Data Table on Comparison by Service
7.3 Bowling and amusement - Market size and forecast 2022-2027

Exhibit 52: Chart on Bowling and amusement - Market size and forecast 2022-2027 ($ billion)
Exhibit 53: Data Table on Bowling and amusement - Market size and forecast 2022-2027 ($ billion)
Exhibit 54: Chart on Bowling and amusement - Year-over-year growth 2022-2027 (%)
Exhibit 55: Data Table on Bowling and amusement - Year-over-year growth 2022-2027 (%)
7.4 Food and beverages - Market size and forecast 2022-2027

Exhibit 56: Chart on Food and beverages - Market size and forecast 2022-2027 ($ billion)
Exhibit 57: Data Table on Food and beverages - Market size and forecast 2022-2027 ($ billion)
Exhibit 58: Chart on Food and beverages - Year-over-year growth 2022-2027 (%)
Exhibit 59: Data Table on Food and beverages - Year-over-year growth 2022-2027 (%)
7.5 Market opportunity by Service

Exhibit 60: Market opportunity by Service ($ billion)
Exhibit 61: Data Table on Market opportunity by Service ($ billion)
8 Customer Landscape
8.1 Customer landscape overview

Exhibit 62: Analysis of price sensitivity, lifecycle, customer purchase basket, adoption rates, and purchase criteria
9 Geographic Landscape
9.1 Geographic segmentation

Exhibit 63: Chart on Market share by geography 2022-2027 (%)
Exhibit 64: Data Table on Market share by geography 2022-2027 (%)
9.2 Geographic comparison

Exhibit 65: Chart on Geographic comparison
Exhibit 66: Data Table on Geographic comparison
9.3 North America - Market size and forecast 2022-2027

Exhibit 67: Chart on North America - Market size and forecast 2022-2027 ($ billion)
Exhibit 68: Data Table on North America - Market size and forecast 2022-2027 ($ billion)
Exhibit 69: Chart on North America - Year-over-year growth 2022-2027 (%)
Exhibit 70: Data Table on North America - Year-over-year growth 2022-2027 (%)
9.4 Europe - Market size and forecast 2022-2027

Exhibit 71: Chart on Europe - Market size and forecast 2022-2027 ($ billion)
Exhibit 72: Data Table on Europe - Market size and forecast 2022-2027 ($ billion)
Exhibit 73: Chart on Europe - Year-over-year growth 2022-2027 (%)
Exhibit 74: Data Table on Europe - Year-over-year growth 2022-2027 (%)
9.5 APAC - Market size and forecast 2022-2027

Exhibit 75: Chart on APAC - Market size and forecast 2022-2027 ($ billion)
Exhibit 76: Data Table on APAC - Market size and forecast 2022-2027 ($ billion)
Exhibit 77: Chart on APAC - Year-over-year growth 2022-2027 (%)
Exhibit 78: Data Table on APAC - Year-over-year growth 2022-2027 (%)
9.6 South America - Market size and forecast 2022-2027

Exhibit 79: Chart on South America - Market size and forecast 2022-2027 ($ billion)
Exhibit 80: Data Table on South America - Market size and forecast 2022-2027 ($ billion)
Exhibit 81: Chart on South America - Year-over-year growth 2022-2027 (%)
Exhibit 82: Data Table on South America - Year-over-year growth 2022-2027 (%)
9.7 Middle East and Africa - Market size and forecast 2022-2027

Exhibit 83: Chart on Middle East and Africa - Market size and forecast 2022-2027 ($ billion)
Exhibit 84: Data Table on Middle East and Africa - Market size and forecast 2022-2027 ($ billion)
Exhibit 85: Chart on Middle East and Africa - Year-over-year growth 2022-2027 (%)
Exhibit 86: Data Table on Middle East and Africa - Year-over-year growth 2022-2027 (%)
9.8 US - Market size and forecast 2022-2027

Exhibit 87: Chart on US - Market size and forecast 2022-2027 ($ billion)
Exhibit 88: Data Table on US - Market size and forecast 2022-2027 ($ billion)
Exhibit 89: Chart on US - Year-over-year growth 2022-2027 (%)
Exhibit 90: Data Table on US - Year-over-year growth 2022-2027 (%)
9.9 UK - Market size and forecast 2022-2027

Exhibit 91: Chart on UK - Market size and forecast 2022-2027 ($ billion)
Exhibit 92: Data Table on UK - Market size and forecast 2022-2027 ($ billion)
Exhibit 93: Chart on UK - Year-over-year growth 2022-2027 (%)
Exhibit 94: Data Table on UK - Year-over-year growth 2022-2027 (%)
9.10 Japan - Market size and forecast 2022-2027

Exhibit 95: Chart on Japan - Market size and forecast 2022-2027 ($ billion)
Exhibit 96: Data Table on Japan - Market size and forecast 2022-2027 ($ billion)
Exhibit 97: Chart on Japan - Year-over-year growth 2022-2027 (%)
Exhibit 98: Data Table on Japan - Year-over-year growth 2022-2027 (%)
9.11 Canada - Market size and forecast 2022-2027

Exhibit 99: Chart on Canada - Market size and forecast 2022-2027 ($ billion)
Exhibit 100: Data Table on Canada - Market size and forecast 2022-2027 ($ billion)
Exhibit 101: Chart on Canada - Year-over-year growth 2022-2027 (%)
Exhibit 102: Data Table on Canada - Year-over-year growth 2022-2027 (%)
9.12 Germany - Market size and forecast 2022-2027

Exhibit 103: Chart on Germany - Market size and forecast 2022-2027 ($ billion)
Exhibit 104: Data Table on Germany - Market size and forecast 2022-2027 ($ billion)
Exhibit 105: Chart on Germany - Year-over-year growth 2022-2027 (%)
Exhibit 106: Data Table on Germany - Year-over-year growth 2022-2027 (%)
9.13 Market opportunity by geography

Exhibit 107: Market opportunity by geography ($ billion)
Exhibit 108: Data Tables on Market opportunity by geography ($ billion)
10 Drivers, Challenges, and Trends
10.3 Impact of drivers and challenges

Exhibit 109: Impact of drivers and challenges in 2022 and 2027
11 Vendor Landscape
11.2 Vendor landscape

Exhibit 110: Overview on Criticality of inputs and Factors of differentiation
11.3 Landscape disruption

Exhibit 111: Overview on factors of disruption
11.4 Industry risks

Exhibit 112: Impact of key risks on business
12 Vendor Analysis
12.1 Vendors covered

Exhibit 113: Vendors covered
12.2 Market positioning of vendors

Exhibit 114: Matrix on vendor position and classification
12.3 Bowlero Corp.

Exhibit 115: Bowlero Corp. - Overview
Exhibit 116: Bowlero Corp. - Product / Service
Exhibit 117: Bowlero Corp. - Key news
Exhibit 118: Bowlero Corp. - Key offerings
12.4 Brunswick Bowling Products LLC

Exhibit 119: Brunswick Bowling Products LLC - Overview
Exhibit 120: Brunswick Bowling Products LLC - Product / Service
Exhibit 121: Brunswick Bowling Products LLC - Key offerings
12.5 Dave and Busters Entertainment Inc.

Exhibit 122: Dave and Busters Entertainment Inc. - Overview
Exhibit 123: Dave and Busters Entertainment Inc. - Product / Service
Exhibit 124: Dave and Busters Entertainment Inc. - Key offerings
12.6 Hollywood Bowl Group plc

Exhibit 125: Hollywood Bowl Group plc  - Overview
Exhibit 126: Hollywood Bowl Group plc  - Business segments
Exhibit 127: Hollywood Bowl Group plc  - Key offerings
Exhibit 128: Hollywood Bowl Group plc  - Segment focus
12.7 REVS Bowling and Entertainment

Exhibit 129: REVS Bowling and Entertainment - Overview
Exhibit 130: REVS Bowling and Entertainment - Product / Service
Exhibit 131: REVS Bowling and Entertainment - Key offerings
12.8 Round1 Entertainment Inc.

Exhibit 132: Round1 Entertainment Inc. - Overview
Exhibit 133: Round1 Entertainment Inc. - Product / Service
Exhibit 134: Round1 Entertainment Inc. - Key offerings
12.9 Smaaash Entertainment Pvt. Ltd.

Exhibit 135: Smaaash Entertainment Pvt. Ltd. - Overview
Exhibit 136: Smaaash Entertainment Pvt. Ltd. - Product / Service
Exhibit 137: Smaaash Entertainment Pvt. Ltd. - Key offerings
12.10 South Point Hotel and Casino

Exhibit 138: South Point Hotel and Casino - Overview
Exhibit 139: South Point Hotel and Casino - Product / Service
Exhibit 140: South Point Hotel and Casino - Key offerings
12.11 Strikes and Spares Entertaiment

Exhibit 141: Strikes and Spares Entertaiment - Overview
Exhibit 142: Strikes and Spares Entertaiment - Product / Service
Exhibit 143: Strikes and Spares Entertaiment - Key offerings
12.12 Switch Bowling Dubai

Exhibit 144: Switch Bowling Dubai - Overview
Exhibit 145: Switch Bowling Dubai - Product / Service
Exhibit 146: Switch Bowling Dubai - Key offerings
12.13 TEEG Australia Pty Ltd.

Exhibit 147: TEEG Australia Pty Ltd. - Overview
Exhibit 148: TEEG Australia Pty Ltd. - Product / Service
Exhibit 149: TEEG Australia Pty Ltd. - Key offerings
12.14 Ten Entertainment Group plc

Exhibit 150: Ten Entertainment Group plc - Overview
Exhibit 151: Ten Entertainment Group plc - Business segments
Exhibit 152: Ten Entertainment Group plc - Key offerings
Exhibit 153: Ten Entertainment Group plc - Segment focus
12.15 Tsogo Sun

Exhibit 154: Tsogo Sun - Overview
Exhibit 155: Tsogo Sun - Product / Service
Exhibit 156: Tsogo Sun - Key offerings
12.16 Twelve Strike

Exhibit 157: Twelve Strike - Overview
Exhibit 158: Twelve Strike - Product / Service
Exhibit 159: Twelve Strike - Key offerings
12.17 Whitestone Lanes

Exhibit 160: Whitestone Lanes - Overview
Exhibit 161: Whitestone Lanes - Product / Service
Exhibit 162: Whitestone Lanes - Key offerings
13 Appendix
13.2 Inclusions and exclusions checklist

Exhibit 163: Inclusions checklist
Exhibit 164: Exclusions checklist
13.3 Currency conversion rates for US$

Exhibit 165: Currency conversion rates for US$
13.4 Research methodology

Exhibit 166: Research methodology
Exhibit 167: Validation techniques employed for market sizing
Exhibit 168: Information sources
13.5 List of abbreviations

Exhibit 169: List of abbreviations