The global construction chemicals market size is estimated to grow by USD 18,807.31 million between 2022 and 2027  and the size of the market is forecast to increase at a CAGR of 6.86%.
The growth of the market depends on several factors, including a rise in residential and commercial construction activities, increasing demand for concrete admixtures, and the rising awareness of anti-viral protective paints and coatings. 
This report extensively covers market segmentation by End-user (non-residential and residential), Type (concrete admixtures, adhesives and sealants, protective coatings, asphalt additives, and others), and Geography (APAC, North America, Europe, Middle East and Africa, and South America). It also includes an in-depth analysis of drivers, trends, and challenges. Furthermore, the report includes historic market data from 2017 to 2021.
What will be the  Construction Chemicals Market Market Size During the Forecast Period?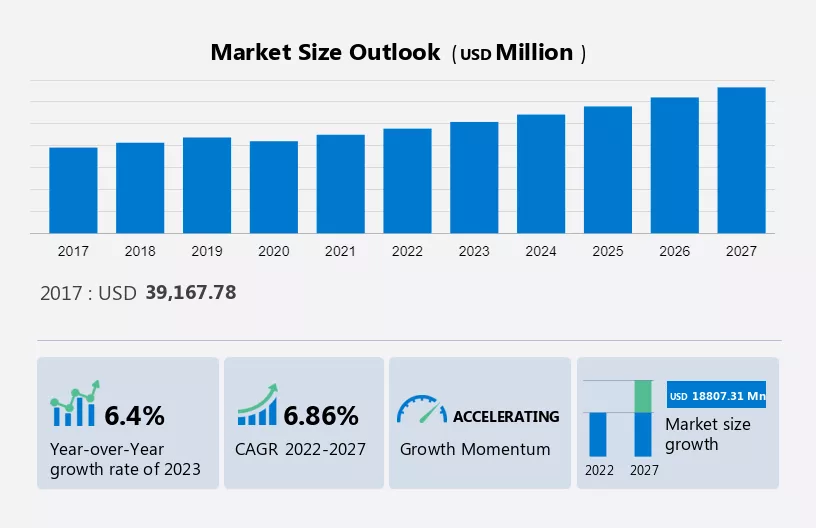 View the Bestselling Market Report sample Instantly
Construction Chemicals Market: Key Drivers, Trends, Challenges
Our researchers analyzed the data with 2022 as the base year, along with the key drivers, trends, and challenges. A holistic analysis of drivers, trends, and challenges will help companies refine their marketing strategies to gain a competitive advantage. 
Key Construction Chemicals Market Driver
The rise in residential and commercial construction activities is driving market growth. The construction chemical market is being propelled by urbanization and infrastructure investments, which enhance productivity, performance, and environmental protection, as well as durability and concrete protection from leakage. Infrastructure development, including residential and non-residential projects, is on the rise, with increased demand for industrial coatings. Governments focused on improving healthcare infrastructure during the COVID-19 pandemic, resulting in fewer construction project suspensions and more business opportunities for the industry. Increased urbanization and consumer confidence in chemical use, coupled with rising per capita income in developing nations, are driving construction projects, especially for housing. Ongoing investments in infrastructure development worldwide are expected to drive the demand for construction chemicals and fuel growth in the global construction chemicals market.
Major Construction Chemicals Market Challenge
The implications of strict regulations on building materials manufacturing are hindering the growth of the market. Solvent-based coatings dominate the protective coatings market due to their long-standing use. However, their VOC content can be harmful to the environment. Regulatory bodies in North America and Western Europe have imposed limitations to mitigate the adverse impact of such products. The Restriction of Hazardous Substances Directive in the EU prohibits hazardous substances in chemical products, while DIN EN 16516 regulates the emission measurement of construction materials and products. Some European countries have their respective regulations for construction products like coatings and paints. The German Federal Environment Agency recently updated the AgBB scheme, which revises the DIBt standard for testing and evaluating VOC emissions from construction materials and products.
Significant Construction Chemicals Market Trends
Rising support for eco-friendly and energy-efficient products is a major trend in the market. Water-based reactive formulations are being preferred over solvent-based formulations to comply with VOC emissions regulations. Manufacturers are reformulating their products and making other efforts to produce eco-friendly solvent-based products. Adhesives and sealants based on polyurethane and silicone are expected to benefit due to their superior performance. Additionally, hotmelt products are in demand for their quick curing rates and absence of VOC emissions.
The waterborne coatings market has witnessed a steady stream of innovations with a focus on developing eco-friendly products and coatings with functional benefits. Due to their low VOC content, waterborne protective coatings are replacing solvent-borne protective coatings in the global paints and coatings market. Manufacturers of construction products are also launching eco-friendly products to expand their product portfolio. For example, JSW Cement recently entered the construction chemical industry and launched its green product range that includes Duraflor floor hardener, Enduro Plast readymix plaster, and Krysta Leakproof waterproofing compound.
Market Segmentation by End-User, Type, Geography
End-User Analysis
Global population growth is expected to accelerate during the forecast period. According to the WBG, the global population grew by 3.06% in 2021 compared with 2018. Growing urbanization is driving the demand for new residential units, especially in urban areas of APAC and the Americas. Construction chemicals are widely used in various residential segments. About 38 million new housing units will be developed in APAC during the forecast period, which will be more than 60% of the global new housing units. The average household size is expected to witness a 1%-2% growth annually during 2022-2026. This will generate interest in new residential projects. Thus, the increasing interest in residential projects in urban areas will boost the growth of the residential segment.
Type Analysis 
The market share growth by the non-residential segment will be significant during the forecast period. The non-residential segment consists of commercial buildings, such as shops, hotels, restaurants, office spaces, industrial buildings, schools, and hospitals. This segment is expected to grow as both developed and developing economies are likely to invest heavily in this segment during the forecast period.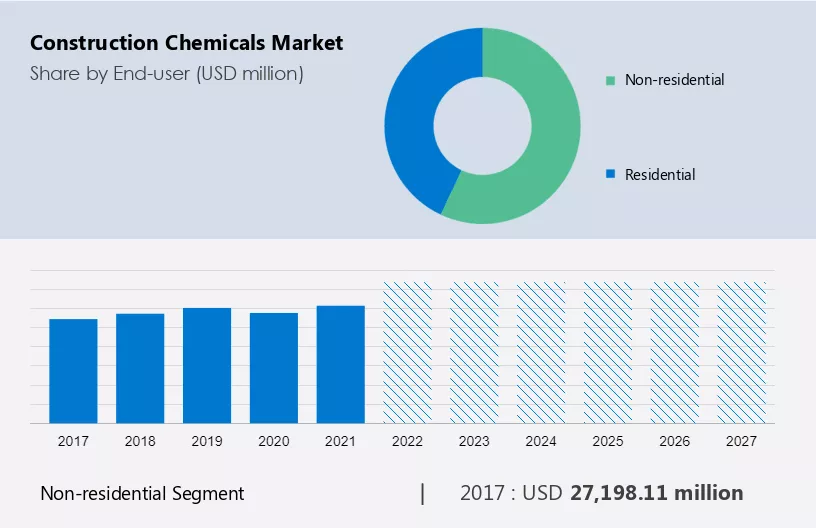 Get a glance at the market contribution of the End User  segment  View  Sample PDF 
The non-residential segment was valued at USD 27,198.11 million in 2017 and continued to grow until 2021.  Developing economies, such as China, India, Indonesia, and Brazil, are expected to invest heavily in the non-residential construction segment to meet the high demand for entertainment, education, and healthcare. Additionally, the emergence of multinational companies has led to a rise in the number of employees and office spaces globally.
Regional Analysis
APAC is estimated to contribute 52% to the growth of the global market during the forecast period. Technavio's analysts have elaborately explained the regional trends and drivers that shape the market during the forecast period.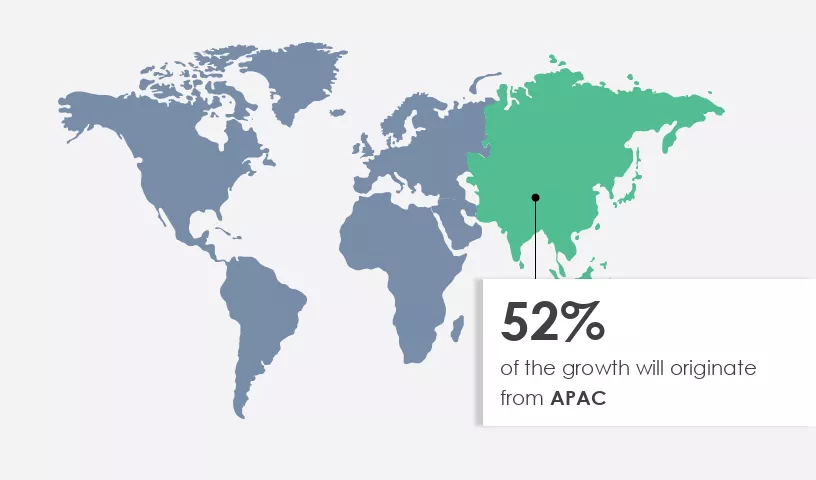 For more insights on the market share of various regions View Sample PDF now!
The market in APAC is the largest and the fastest-growing market globally, with China being the dominant player. The regional market is driven by rapid urbanization that fuels the growth of the construction market. Many global companies, especially those operating in the manufacturing sector, are focusing on establishing production facilities and R&D centers in APAC. This is due to the favorable government policies, availability of low-cost resources and a skilled workforce, and low operating and labor costs in the region. Thus, the construction industry will potentially generate huge demand for construction chemicals.
The outbreak of COVID-19 had a negative impact on the growth of the regional market in 2020-2021.  However, with the initiation of COVID-19 vaccination drives, the operations at construction chemical-manufacturing sites rebounded in 2021. Additionally, increased focus on developing the infrastructure in emerging nations such as India is attracting both domestic and international players. The private sector is emerging as a key player in various infrastructure segments, ranging from roads and communications to power and airports. In the Union Budget 2021, the Government of India announced the allocation of around USD 8.3 billion (60,250 crores rupees) for road works and around USD 7.9 billion (57,400 crores rupees) for the construction of national highways. Therefore, investments in both the infrastructure and non-residential sectors are expected to drive the growth of the market in the region during the forecast period. 
Who are the Major Construction Chemicals Market Vendors?
Vendors are implementing various strategies by analyzing factors such as strategic alliances, partnerships, mergers and acquisitions, geographical expansion, and product or service launches, to enhance their presence in the market.
Fosroc International Ltd. - The company focuses on various types of products such as cemax AE500 chloride-free additive, antislip grains nonslip flooring aggregates, and aura cast 100 advanced low viscosity superplasticizer, among others. The key offerings of the company include construction chemicals. 
The report also includes detailed analyses of the competitive landscape of the market and information about 15 market vendors, including: 
3M Co.
Akzo Nobel NV
Ardex Endura Ltd.
Ashland Inc.
Covestro AG
Dow Inc.
GCP Applied Technologies Inc.
Guangzhou Jointas Chemical Co. Ltd.
H.B. Fuller Co.
Henkel AG and Co. KGaA
Huntsman Corp.
Lanxess AG
Mapei SpA
Momentive Performance Materials Inc.
Pidilite Industries Ltd.
Qualitative and quantitative analysis of vendors has been conducted to help clients understand the wider business environment as well as the strengths and weaknesses of key market players. Data is qualitatively analyzed to categorize vendors as pure play, category-focused, industry-focused, and diversified; it is quantitatively analyzed to categorize vendors as dominant, leading, strong, tentative, and weak.
Key Construction Chemicals Market Customer Landscape
The report includes the adoption lifecycle of the market, from the innovator's stage to the laggard's stage. It focuses on adoption rates in different regions based on market penetration. Furthermore, the report also includes key purchase criteria and drivers of price sensitivity to help companies evaluate and develop their growth strategies.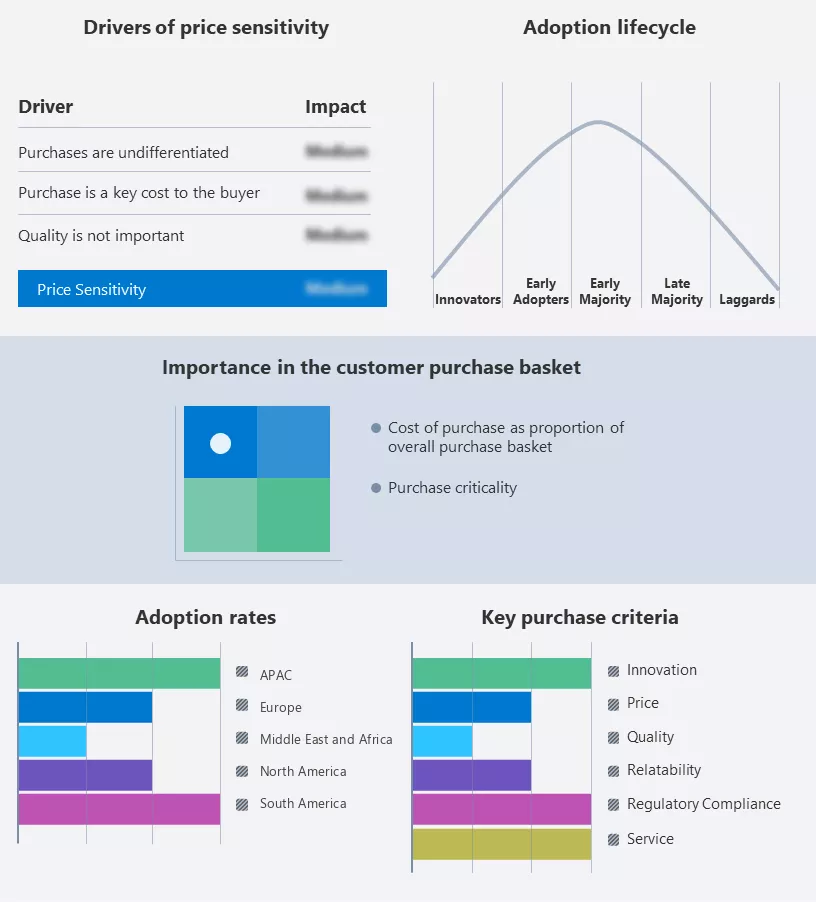 Global Construction Chemicals Market Customer Landscape
Segment Overview
The report forecasts market growth by revenue at global, regional & country levels and provides an analysis of the latest trends and growth opportunities from 2017 to 2027. 
End-user Outlook (USD Million, 2017 - 2027)

Non-residential
Residential

Type Outlook (USD Million, 2017 - 2027)

Concrete admixtures
Adhesives and sealants
Protective coatings
Asphalt additives
Others

Region Outlook (USD Million, 2017 - 2027)

Europe

The U.K.
Germany
France
Rest of Europe

Middle East & Africa

Saudi Arabia
South Africa
Rest of the Middle East & Africa

South America
Construction Chemicals Market Scope

Report Coverage

Details

Page number

179

Base year

2022

Historic period

2017-2021

Forecast period

2023-2027

Growth momentum & CAGR

Accelerate at a CAGR of 6.86%

Market growth 2023-2027

USD 18,807.31 million

Market structure

Fragmented

YoY growth 2022-2023(%)

6.4

Regional analysis

APAC, North America, Europe, Middle East and Africa, and South America

Performing market contribution

APAC at 52%

Key countries

US, China, India, Japan, and Germany

Competitive landscape

Leading Vendors, Market Positioning of Vendors, Competitive Strategies, and Industry Risks

Key companies profiled

3M Co., Akzo Nobel NV, Ardex Endura Ltd., Ashland Inc., Covestro AG, Dow Inc., Fosroc International Ltd., GCP Applied Technologies Inc., Guangzhou Jointas Chemical Co. Ltd., H.B. Fuller Co., Henkel AG and Co. KGaA, Huntsman Corp., Lanxess AG, Mapei SpA, Momentive Performance Materials Inc., Pidilite Industries Ltd., RPM International Inc., Sika AG, Wacker Chemie AG, and Arkema SA

Market dynamics

Parent market analysis, Market growth inducers and obstacles, Fast-growing and slow-growing segment analysis, COVID 19 impact and recovery analysis and future consumer dynamics, Market condition analysis for forecast period

Customization purview

If our report has not included the data that you are looking for, you can reach out to our analysts and get segments customized.
Request for Free Sample Report
What are the Key Data Covered in this Construction Chemicals Market Report?
CAGR of the market during the forecast period
Detailed information on factors that will drive the growth of the market 

 

between 2023 and 2027
Precise estimation of the size of the market  size and its contribution of the market in focus to the parent market
Accurate predictions about upcoming trends and changes in consumer behavior
Growth of the market industry across APAC, North America, Europe, Middle East and Africa, and South America
Thorough analysis of the market's competitive landscape and detailed information about vendors
Comprehensive analysis of factors that will challenge the growth of construction chemicals market vendors
We can help! Our analysts can customize this report to meet your requirements. Get in touch